Cleaning your bathroom is an important task that should be done regularly. Use our bathroom cleaning checklist to keep your bathroom looking its best.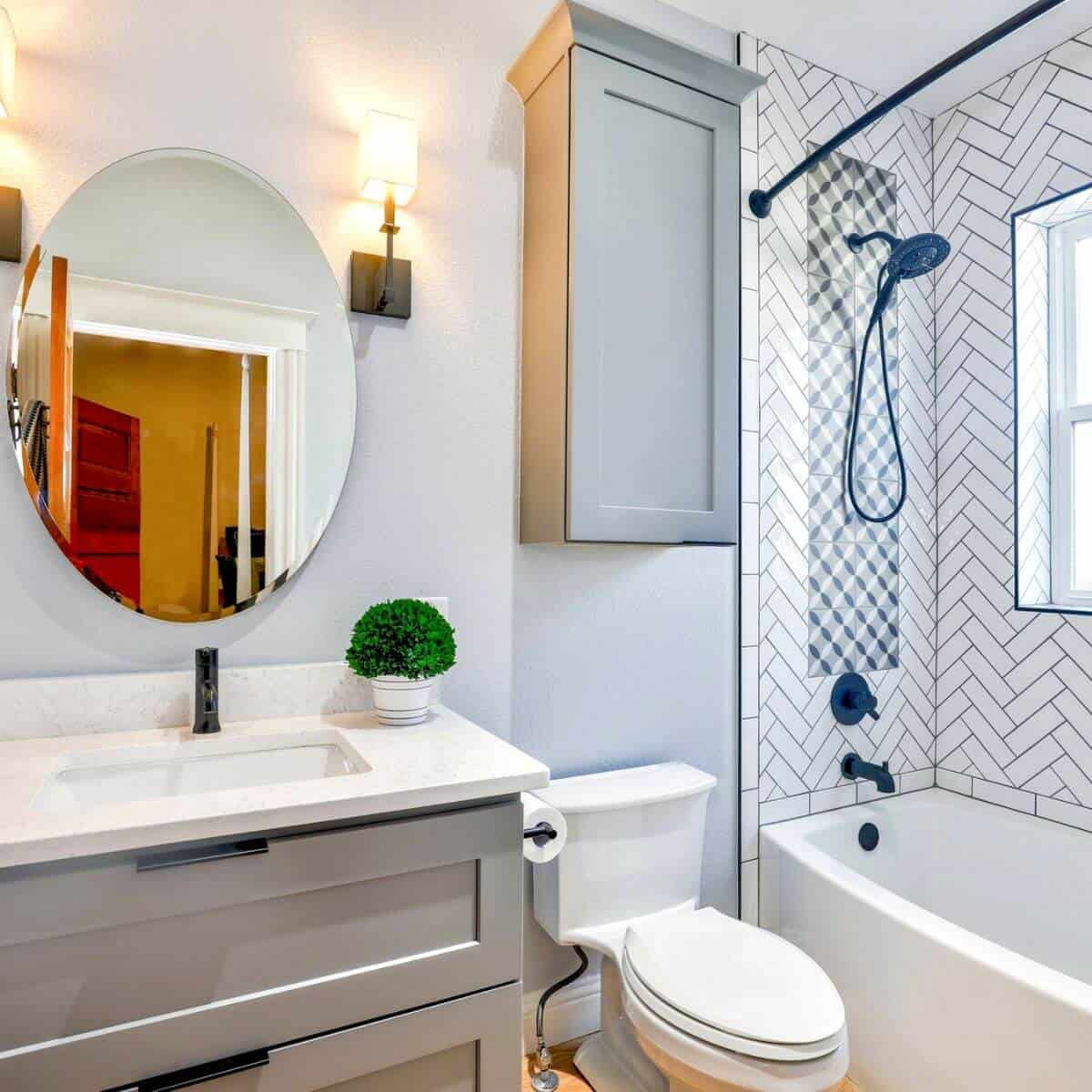 We receive a commission on purchases made through links on this page. For more information, read Affiliate Disclosure.
Contents:
Importance of keeping your bathroom clean
To maintain a clean bathroom, you'll need to do both speed cleaning and deep cleaning. Not only will your bathroom look better, but it'll also disinfect it, which will keep you from getting sick (Source: CDC).
It's easy to feel too busy to clean. However, it's important for your health and well-being, so be sure to carve out time to clean it.
Related: How to organize your closet
Another reason to clean your bathroom is to prevent the build-up of grime and mold. Since bathrooms are moist and humid, maintaining a clean bathroom will reduce the chances of grime and mold.
Materials that you'll need
The following are materials that you'll need to have a successful cleaning session:
Bathroom cleaning checklist
Each day, you should wipe down the counters and sink. Once a week, you can do a speed clean, and once or twice a month, a deep clean.
The following is a speed cleaning checklist:
Wipe down all surfaces and counters with an all-purpose cleaner.
Spray the mirrors with mirror cleaner and wipe them down with a microfiber cloth.
Wipe down the outside of your toilet.
Empty the trash.
Vacuum the bathroom floors.
When it's time to deep clean, do the speed cleaning steps in addition to the following:
Scrub the sink.
Disinfect the inside and outside of the toilet.
Clean the toilet paper holder.
Clean the tub and shower.
Wipe down the showerhead.
Clean the shower rods and rings.
Vacuum the floor, then mop the floor or use a Swiffer WetJet.
Dust or vacuum air vents.
Clean the drains and drain caps.
Wipe down the dust boards and cabinets.
Wash the shower curtain, liner, and rugs.
Clean the trash can.
Tips and hacks
1. Use a squeegee. A great way to keep your shower and tub clean is to use a squeegee to dry it after every use.
2. Let cleaning products soak. Instead of taking it one task at a time, spray the surfaces that you plan to clean and allow it to soak.
3. Soak the showerhead in vinegar. To give it a great clean, soak the showerhead in vinegar. It'll remove the hard-water deposits and limescale.
4. Keep wipes handy. To make it convenient, keep disinfectant wipes close. If you regularly disinfect the counters, it'll remain fresh for a longer time.
Conclusion
Using a bathroom cleaning checklist will help you stay focused and ensure that you don't miss anything. Finding time to clean your bathroom can be difficult. However, be intentional and schedule a time to do it. Speed cleaning regularly will also help keep things clean for longer.
More resources:
Featured photo courtesy of Pexels.