Chelsea boots are essential footwear items that should be in every man's shoe rotation. Finding the right pair and color can be tough. This guide is to help you build confidence in buying and incorporating Chelsea boots into your daily outfits.
Are Chelsea Boots for Men?
This post is to guide those of you looking to try out Chelsea boots or buy them for the very first time. You may not have a clue of what to look for or if guys even wear boots (I remember people telling me that boots are for girls).
Yes, guys can wear boots. In fact, they are a great-looking pair of boots every man should own.
My hope is that you find this helpful in your search. This is how to style and find the perfect pair of Chelsea boots for men.
Chelsea Boots are Versatile
Chelsea boots are an absolute favorite type of boots for many. They can be worn with many different outfits and through various seasons.
Some people say not to wear leather boots in the summer, however, that is completely up to you. I find myself wearing them during the summer or when it is warm out, specifically on days that I don't plan to do a lot of walking.
I must admit, it can get a little uncomfortable if you need to walk around all day but it just looks so good!
These boots are also great for various occasions. You can wear them to work, weddings, casually or to business meetings. Whatever the occasion, you can wear Chelsea boots without being out of place.
The fact that these boots can be worn so many times throughout the year, make them a must-have pair of boots.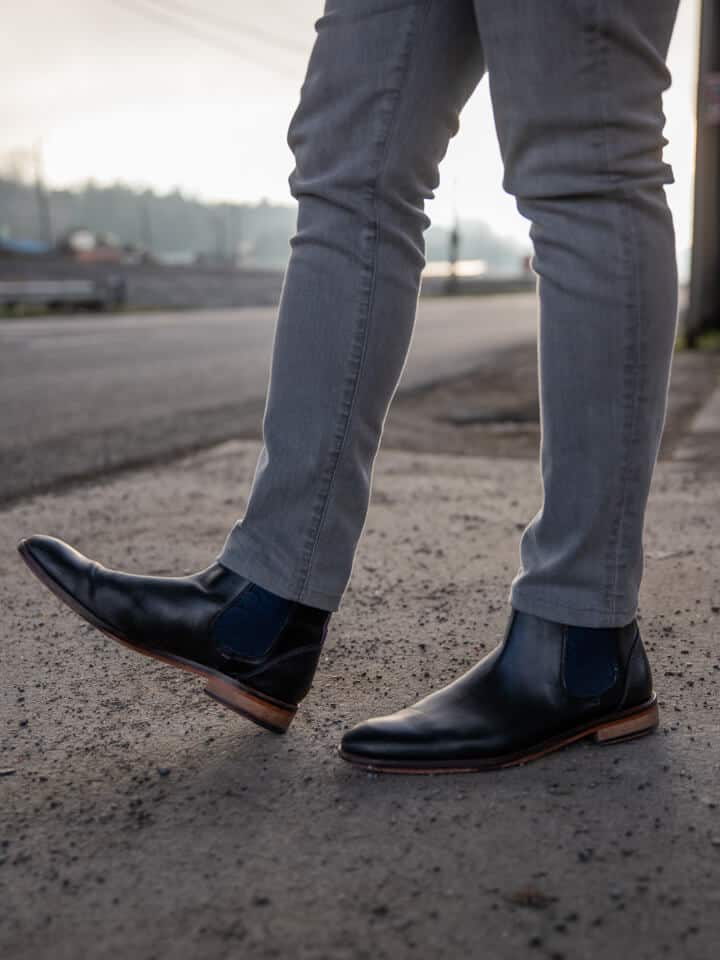 Timeless
The best thing about the Chelsea boot is that you won't have to worry about it going out of style. It's been around for over 150 years!
They are timeless shoes and you'll be able to work it into your wardrobe for any season.
Classic and timeless are two characteristics that you really want to think about when it comes to your clothes. Sure, something can be trendy for a short amount of time but items like Chelsea Boots are proven to stick around. That makes them worth investing in.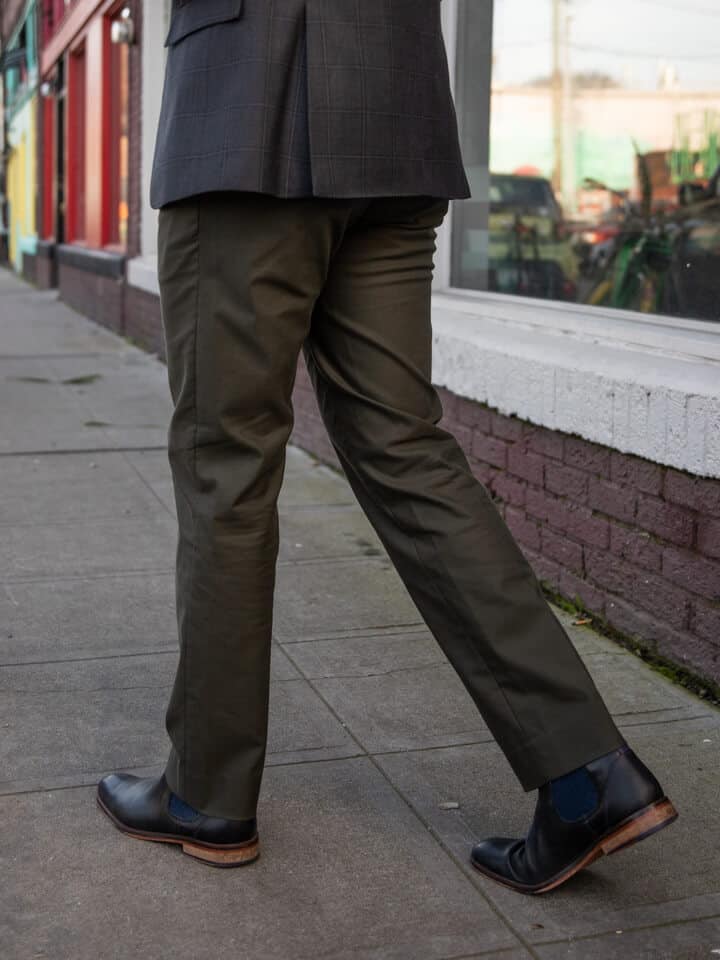 What Material? Suede or Leather?
Along the journey of your search, you will find Chelsea Boots in different materials. Such as, suede and leather.
Both are great options and you should eventually, have both in your footwear rotation.
If this is going to be your first pair, I recommend leather because it can be dressed up like a dress shoe and down, like an everyday boot.
Once you have the essential first pair, you can explore other options. You can get another leather pair in a different color or try a suede pair.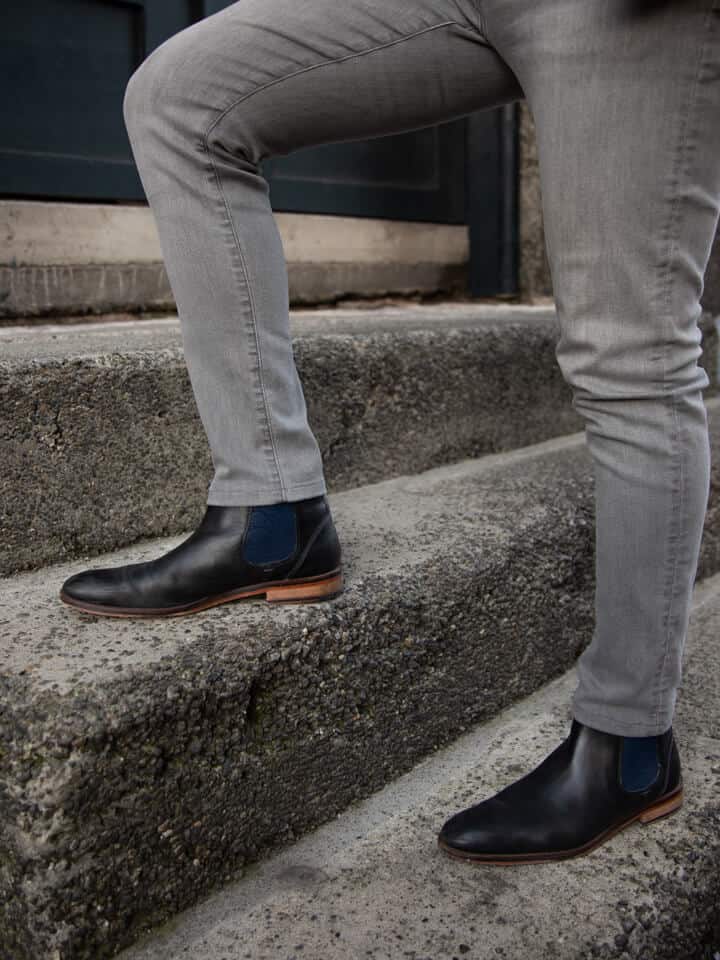 What Color Should I Get?
You can buy Chelsea boots in many colors. Although there are a great variety, it's good to stick to the essential and basic colors.
For color, stick to brown, tan, grey and/or black. By having these colors, it allows you to wear it with the majority of your clothes rather than having a shoe that can only go with one single outfit.
These colors also allow for great versatility, which is important when you are building a wardrobe. You want to have flow in your wardrobe – meaning that it is easy to put together outfits, instead of having one-off pieces.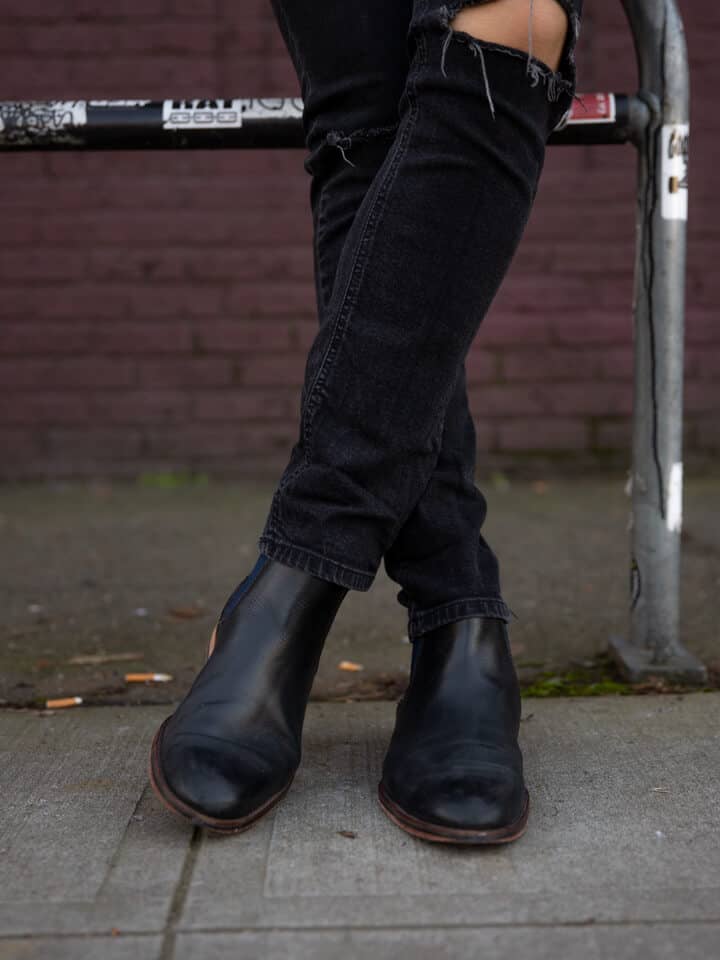 How Chelsea Boots Should Fit
When buying these boots, I recommend actually trying them on. The reason I say that is because there are a few important things to think about when it comes to these boots.
They don't have laces. This means you lose the luxury of tightening or loosening when a shoe doesn't fit well. When you try these boots on, you have to make sure they fit and are comfortable.
The fit you're looking for is a snug fit and you don't want your toes to be squeezed together.
Instead of sizing up or down, you'll have to change the width of the boot. This may mean going with a different brand and that is okay. Finding the perfect fit will ensure that the boots last you a long time.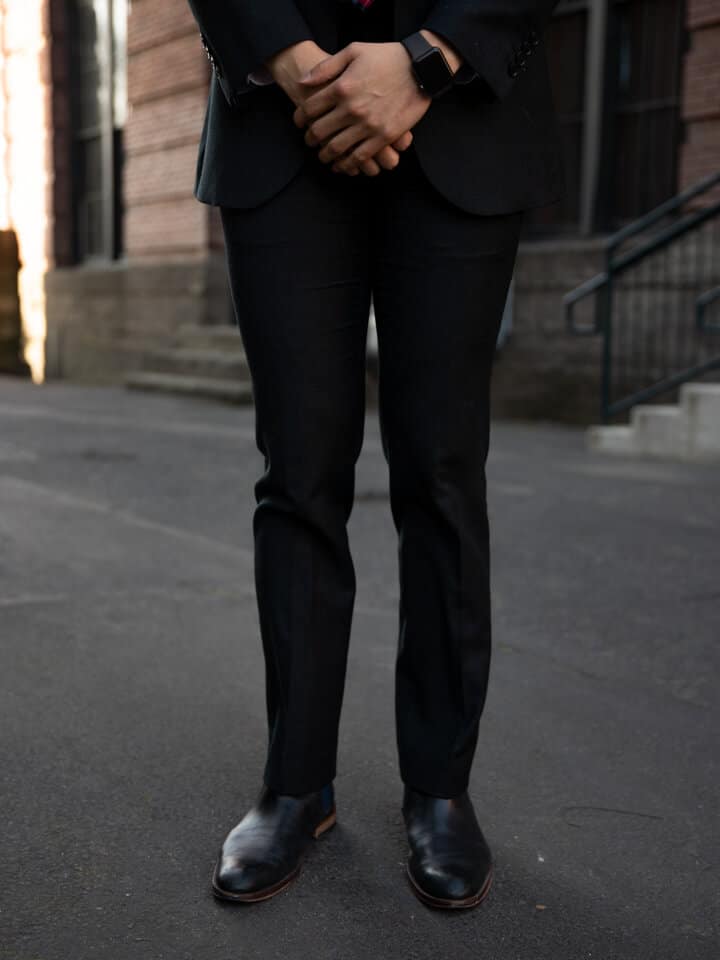 How to Wear
Chelsea boots can be worn with jeans in a skinny or slim fit and with dress pants. Below I will show you different looks to style the same pair of black Chelsea boots I have from Ted Baker.
If you're looking for the same pair, you can find them at Nordstrom.
Take a look at the outfits prepared for inspiration and try it out. Combine outfits to your liking and you'll figure out how to style Chelsea boots for you.
Once you get used to wearing Chelsea boots, you'll find yourself wearing them very often. They are a great pair of boots that can be worn with a variety of outfits, which makes them essential.
Same boots, four different ways to wear it.
Blue Corduroy Jacket + Grey Jeans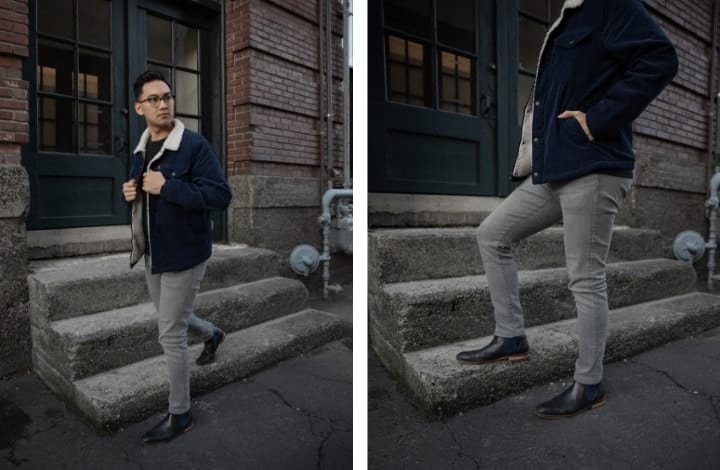 A blue corduroy jacket brings back a classic piece in mens outerwear. The jacket pairs well with grey jeans and looks amazing finished off with chelsea boots. This look is perfect for a day out or during the fall and winter.
Denim Jacket + Black Jeans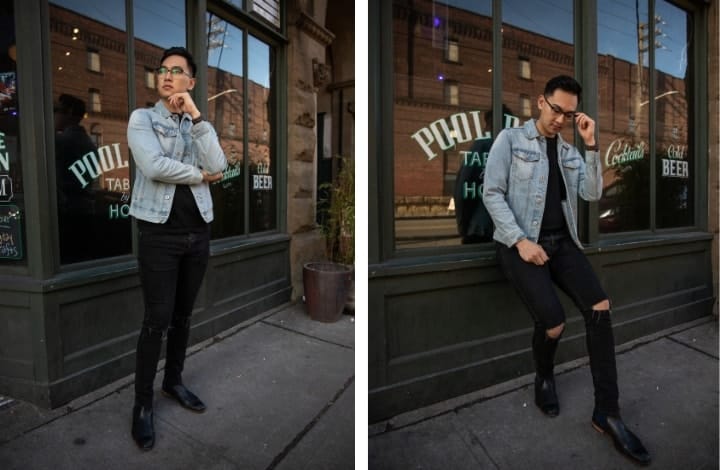 In this outfit, I went with a light blue denim jacket and black everything else. This allows the denim jacket to have that pop of color, which makes the outfit more interesting.
Business Casual (Sport coat + Dress Pants)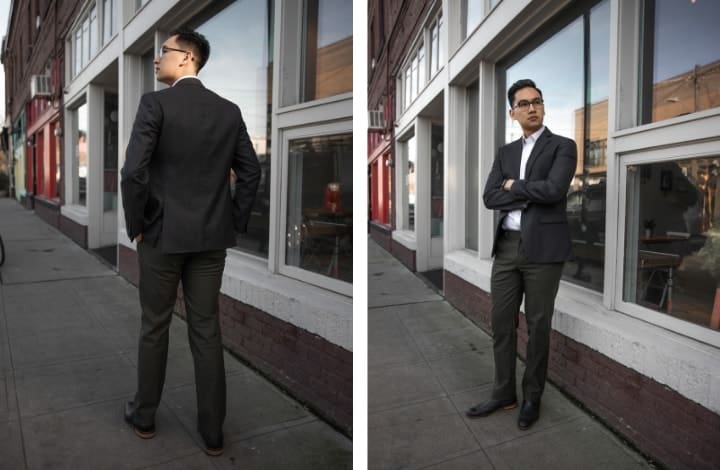 With the business casual look, you can wear it to business meetings or work.
Black leather Chelsea boots work well for this outfit because they are very similar to sleek dress shoes. Although there aren't any laces, they are simple and classy.
Business (Charcoal Suit)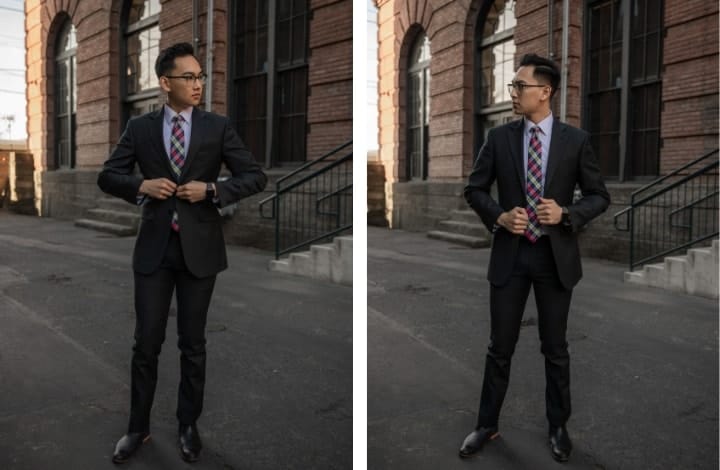 Chelsea boots are great for fancy, dapper and business dress codes. In this outfit, we put together a charcoal suit with black leather chelsea boots.
Rain Jacket + Grey Jeans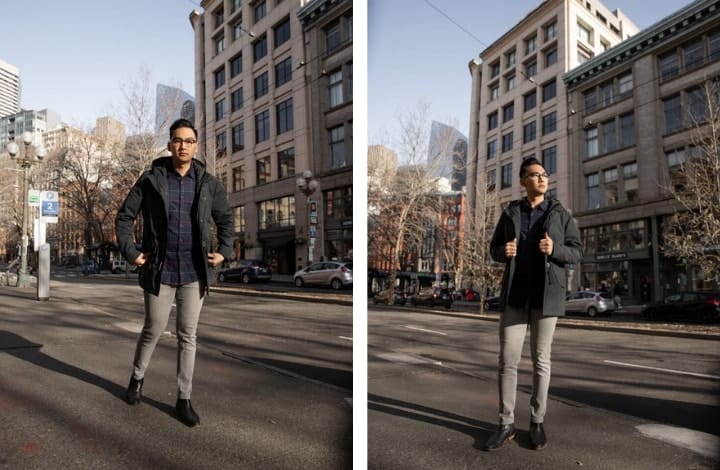 If it's raining out, don't worry. That doesn't have to stop you from wearing these stylish boots.
These boots also pair well with a rain jacket on top. In this outfit, I wore a button up, grey jeans and topped it off with a black rain jacket.
Grey Sweater + Black Jeans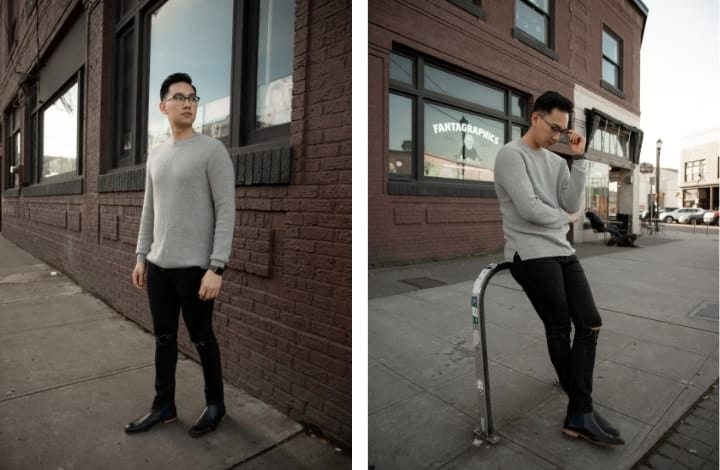 This outfit creates a ton of contrast which makes an outfit eye-catching. It is a very simple and easy outfit to put together. Yet, with the chelsea boots – it looks so sleek.
Slim Fit Denim Jeans + Plaid Button Up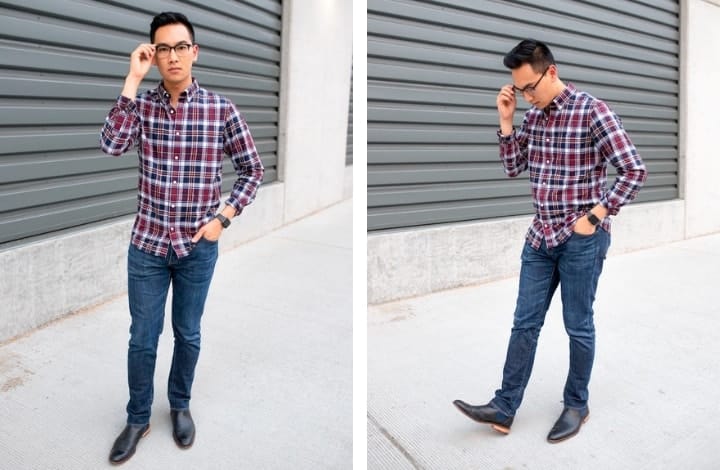 With slim fit jeans and a plaid button up, it creates a more casual look. Not too casual but perfect for a date, meeting with a friend or just being out and about.
This outfit is perfect for summer days, since you can roll up your sleeves if you get a little too hot. It's also perfect for an overcast day where it isn't too cold or too hot.
Grey Jeans + Blue Button Up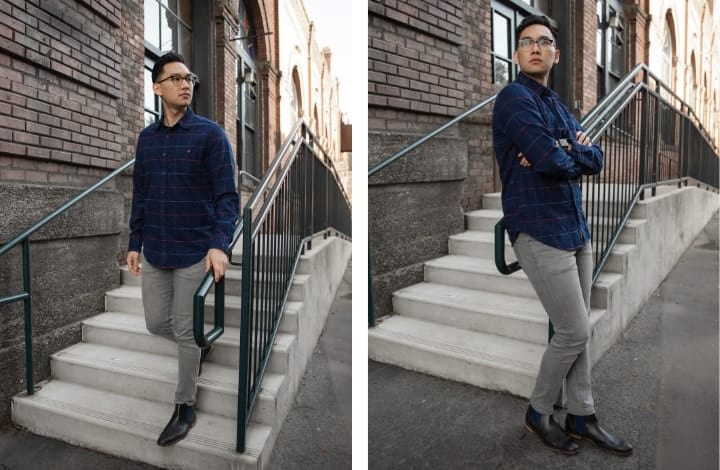 The dark top and light bottom pairs well with black leather chelsea boots. There is contrast, which is always a great starting point and the boots make this a little bit more formal.
Black Skinny Jeans + Short Sleeve Button Down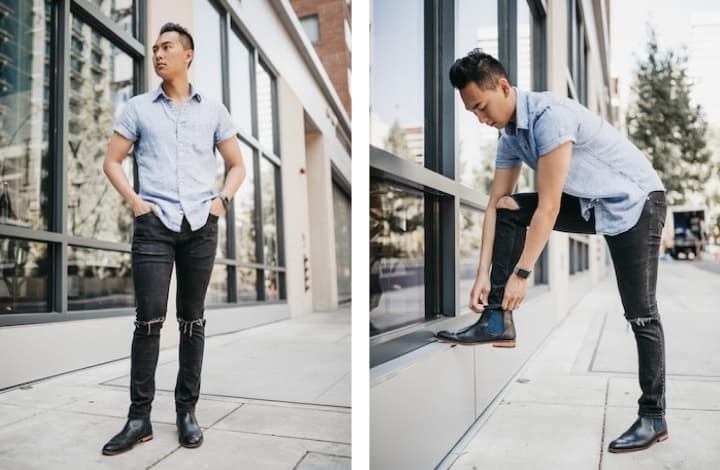 The skinny jeans offer a more trendy and hip look yet still good for an everyday outfit.
Black jeans pair well with black leather Chelsea boots. The bottom of your jeans wraps around the top of the boots nicely without making it look weird or feel uncomfortable.
Dark Green Overshirt + Black Jeans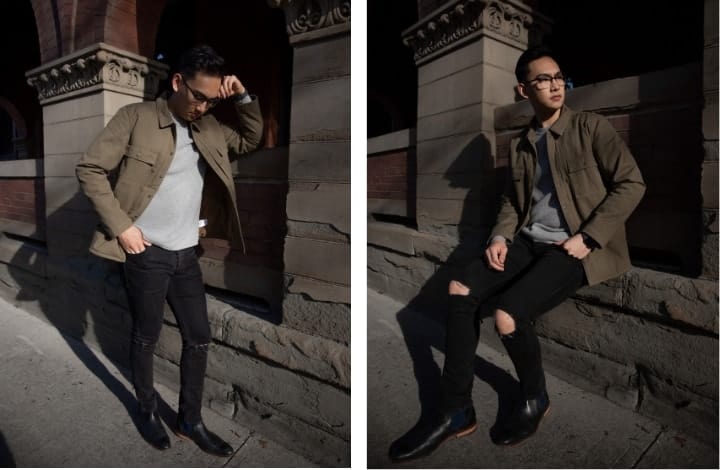 The overshirt, with a sweater, black jeans and black leather chelsea boots make for a great colder weather outfit. Not only will you stay warm, it's very stylish.