Driving shoes are also known as driving loafers. They provide comfort and grip while you're driving, which prevents your foot from slipping.
We receive a commission when you buy through affiliate links on this page.
Whether you're going on a road trip or commuting to work, your shoes impact your comfort and experience.
Related: 11 best men's dress socks
Stiff dress shoes or sneakers can be uncomfortable while driving shoes enhance your experience.
Driving shoes are recognizable by their thin, flexible, and grippy soles. Typically, they have pebbled rubber soles, which are like soft and small nubs.
Related: 7 types of dress shoes
The purpose of a driving shoe is to ensure your foot doesn't slip off of the pedal. It offers a good grip, and it's comfortable to wear while you drive.
Its upper material can vary, as it can be leather, suede, or nubuck. Aside from the material, it can have laces, tassels, or a plain toe.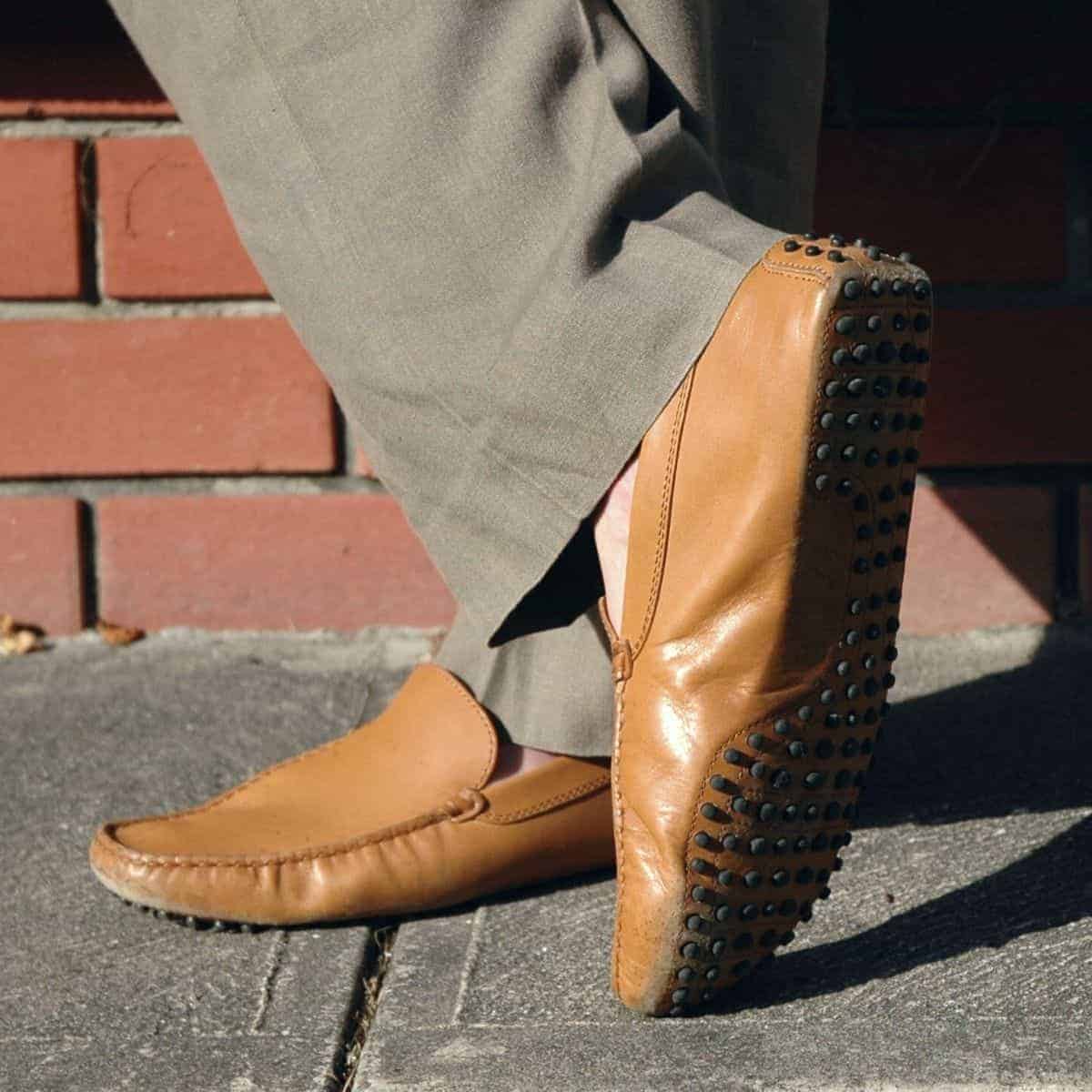 There are many excellent driving shoes out there. The following are the best men's driving shoes, also known as driving loafers, mocassins, or mocs, for short.
Related: How to clean sneakers
1. Cole Haan Somerset Venetian Driver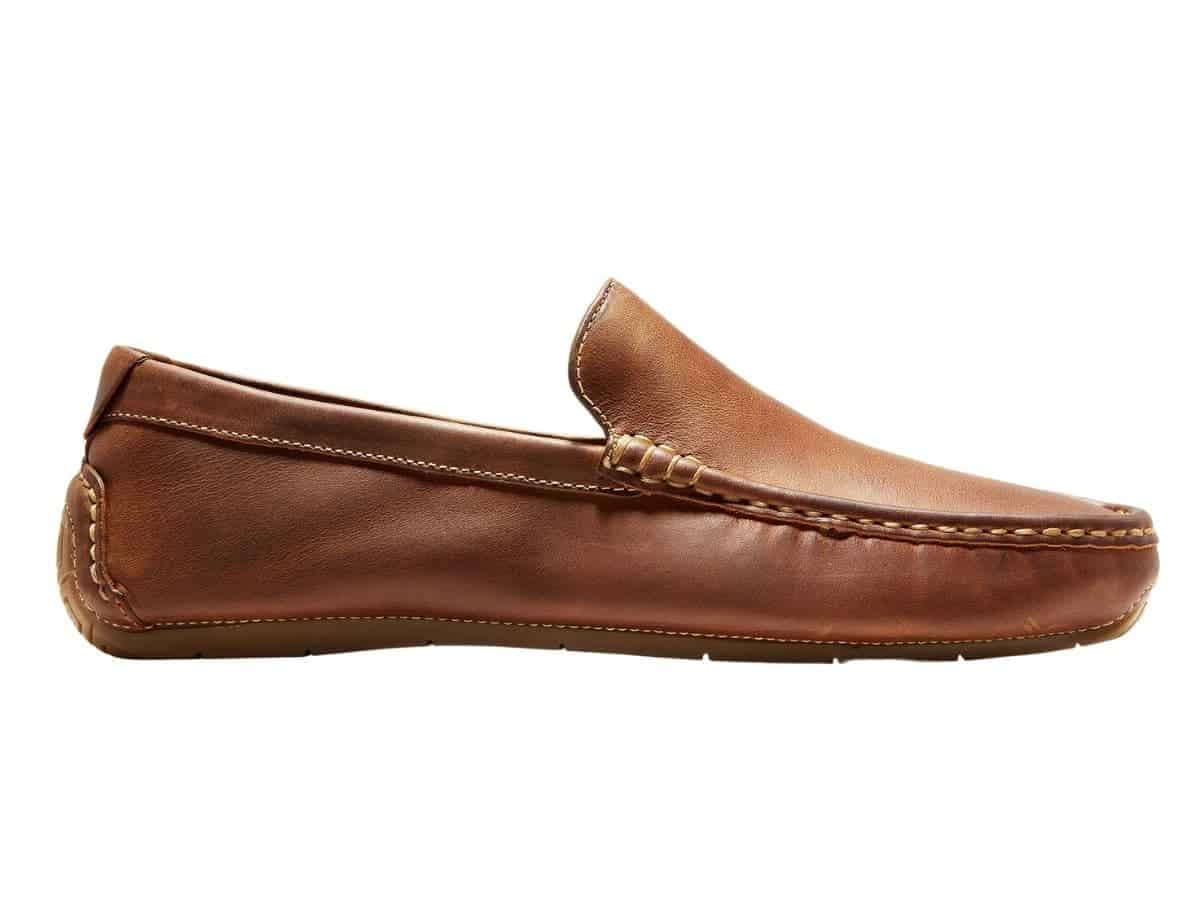 Pros:
Stylish leather moccasin construction.
Easy to slip on and off.
Looks more expensive than it costs.
Cons:
Runs a little small.
Genuine leather.
Buy the Somerset Venetian Driver from Cole Haan for $99.95.
Cole Haan's Somerset Venetian Driver is the best overall driving shoe because it's stylish and looks more expensive than it costs.
You can choose between black or brown. Both colors look great. Plus, the shoes aren't shiny. It gives them a rich leather look even though it's genuine leather.
The Somerset Venetian Driver runs a bit small. However, Cole Haan offers a wide range of sizes, from 6 to 15. You can also choose between a medium or wide width.
Related: 10 best driving gloves for men
2. Oliver Cabell Driver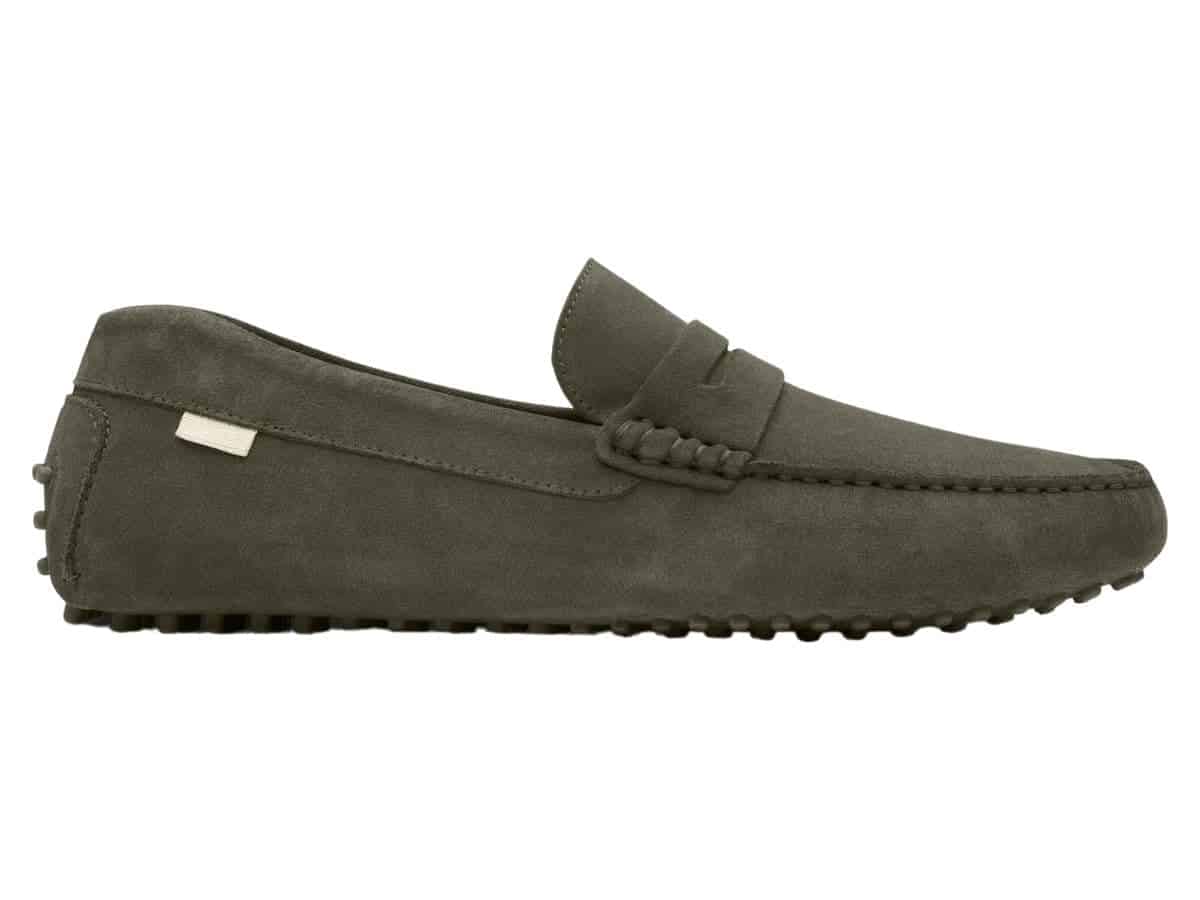 Pros:
High-quality Italian calfskin leather and 3-ounce suede leather.
Classic and stylish.
Durable and well-constructed.
Cons:
Suede is easy to damage.
Feels a little stiff.
Only one width.
Buy the Driver from Oliver Cabell for $170.
Oliver Cabell's Driver may feel a bit stiff, but it's a beautiful and well-constructed driving shoe.
The upper is 3-ounce Italian suede, while the footbed and lining are Italian calfskin leather.
Under the footbed's leather is Arneflex microfoam, which makes the driver feel comfortable and supportive.
The Oliver Cabell Driver is made in Italy, and you can choose between sizes 6 and 15.
While there's only one width available, the shoes fit true to size. There are also many colors of suede available.
3. Minnetonka Classic Driver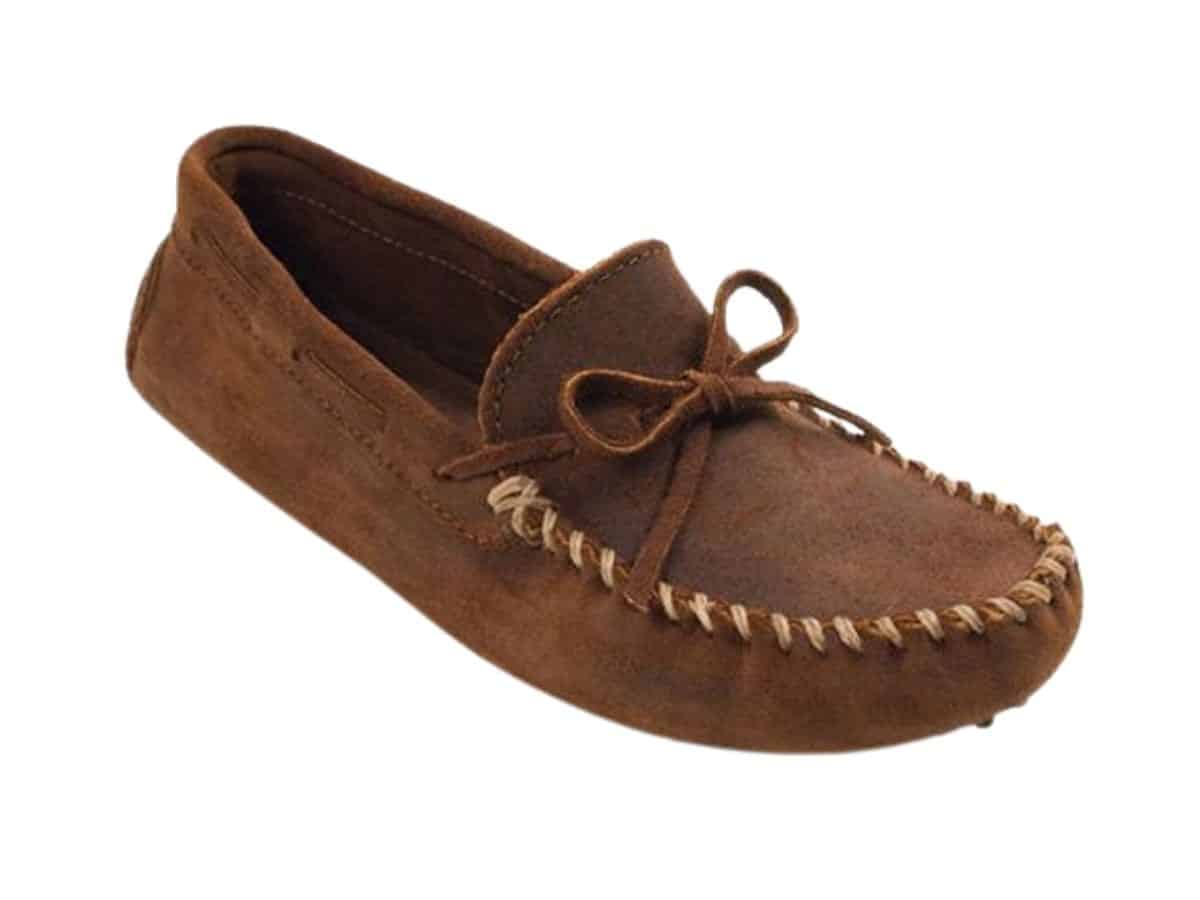 Pros:
Long history of high-quality driving shoes.
Padded insole.
Classic look.
Less than $100 for a durable moc.
Cons:
Takes time to break in.
Only one width.
Maximum of size 13.
Buy the Classic Driver from Minnetonka for $67.95.
Minnetonka released its first driving moccasin in 1986. Since then, it has become the gold standard for driving shoes.
The Classic Driver is lightweight and comfortable. It has a padded insole, which makes it possible to be worn comfortably outside of the car.
Also, it has the classic moccasin design, a nub-bottom sole that provides grip and flexibility. You can't go wrong with a classic.
The only drawback has to do with size options. It ranges from sizes 6 to 13, and there's only one width available.
4. Tod's Gommino Driving Shoes in Leather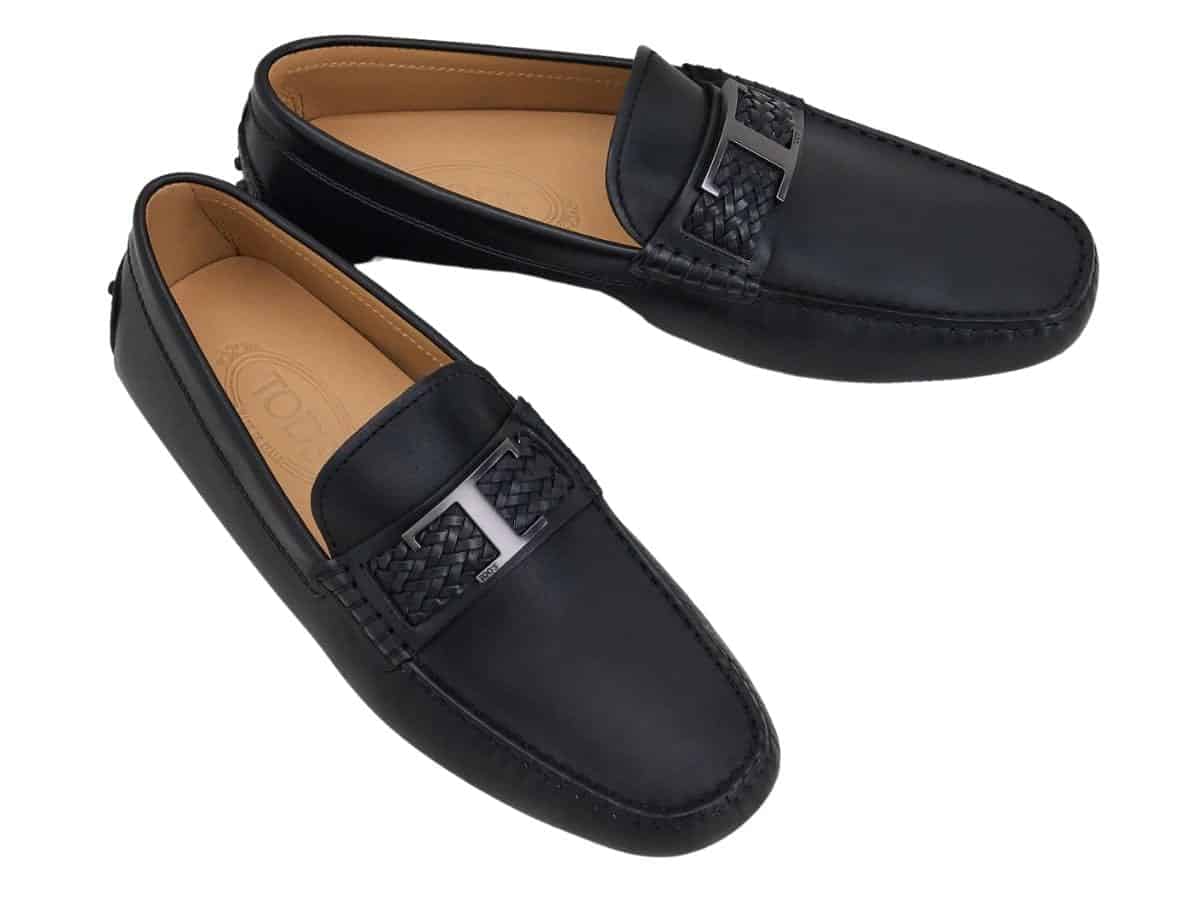 Pros:
High-quality Italian leather.
Wide range of colors and materials.
Stylish luxury shoe.
Smallest size is 4.
Cons:
Expensive.
It's stiff at first.
Slightly narrow toe.
Only one width and maximum of size 13.
Buy Gommino Driving Shoes in Leather from Tod's for $695.
While the Tod's Gommino driving shoes are a luxury pick, they're worth getting because they can last many years and have a timeless style.
At first, it'll feel a bit stiff. After breaking it in, you'll love the flexibility and grip while you drive. It has an iconic design and top-notch craftsmanship.
Aside from the style and quality, Tod's also offers sizes 4 to 13 and only one width.
Another benefit is that you can find the Gommino style in many different colors and materials.
5. Allen Edmonds Boulder Venetian Driving Moccasin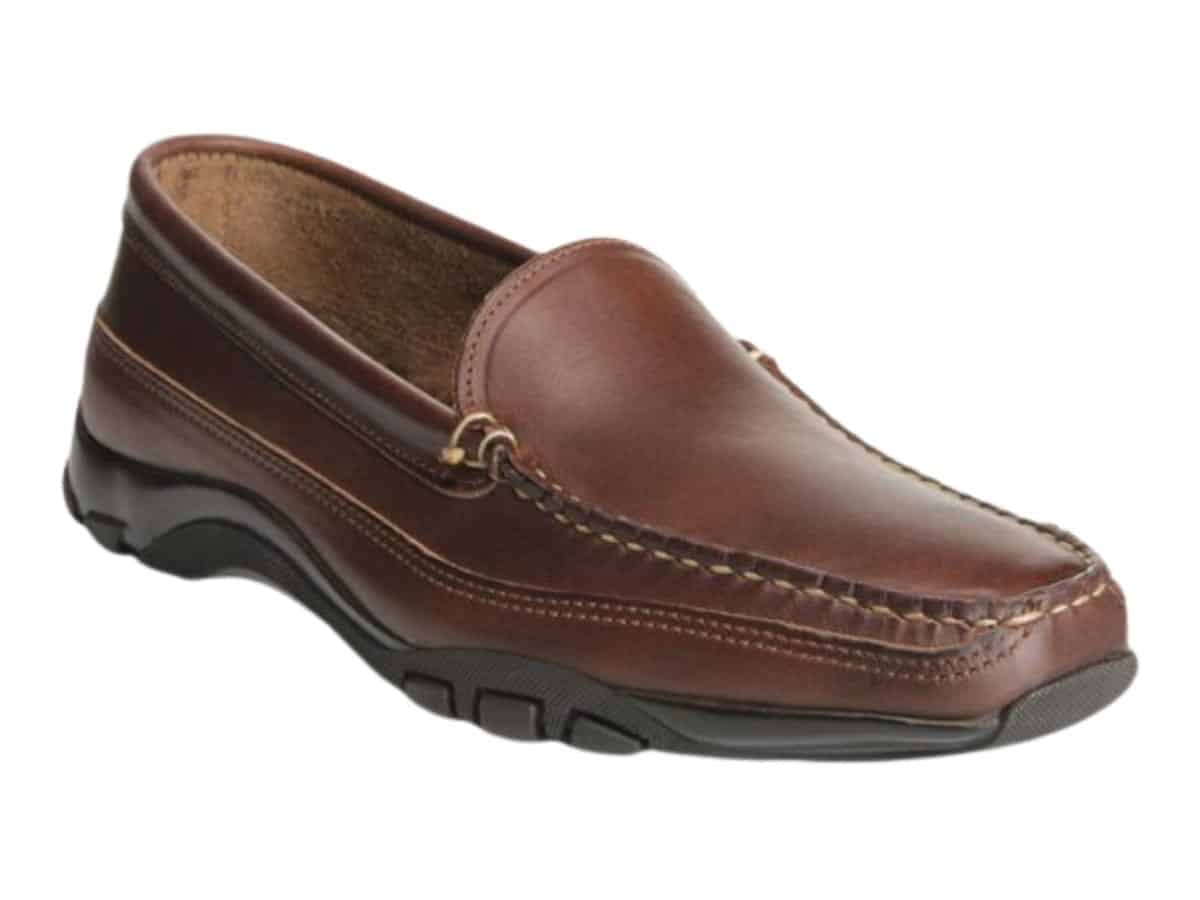 Pros:
Roomy fit.
Classic moccasin-styled upper.
Premium and durable leather.
Comfortable rubber sole.
Wide range of sizes and widths.
Cons:
Looks chunky due to the sole.
Heavy.
Seam on the inside rubs against your heel.
Buy the Boulder Venetian Driving Moccasin from Allen Edmonds for $275.
Allen Edmonds is a big and reputable name for men's shoes, and the Boulder Venetian Loafer is a prime example of why.
It's a hand-sewn, comfortable, and well-crafted driving shoe. The shoe repels dirt, which allows it to stay clean. It also has a rubber sole that offers excellent traction.
There are two main downsides of the shoe. First, it's not the most stylish option. The sole gives it a chunky look and heavy feel.
Another reason to avoid it is that there's a seam on the inside that rubs against your heel. If you plan to walk in the show, it can irritate your heel.
If you can move past the two drawbacks, it's an overall high-quality and durable driving shoe.
6. Magnanni Alarico Driving Shoe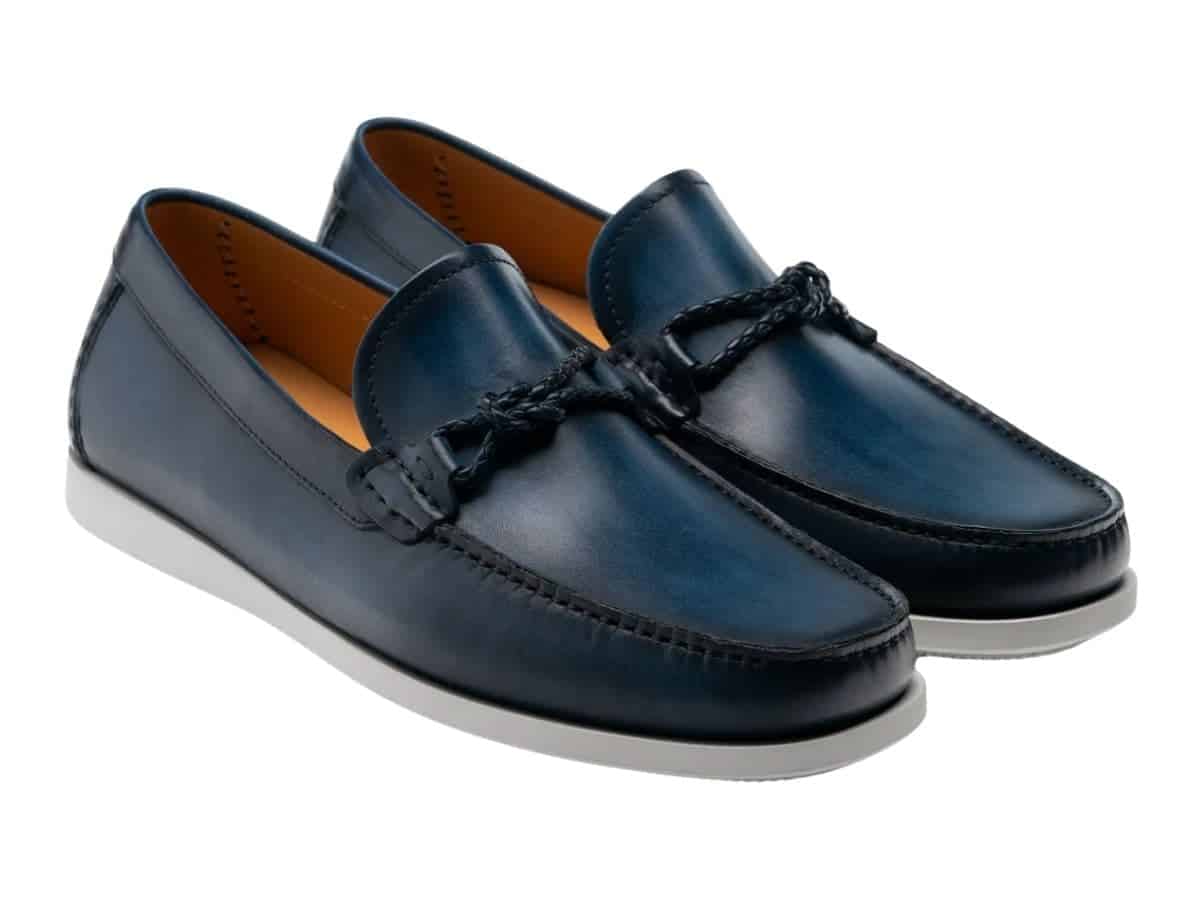 Pros:
Sneaker-like sole.
Durable Italian leather.
Comfortable and stylish.
Can walk in them.
Cons:
Expensive.
Takes time to break in.
Runs a bit large.
One width and limited sizes.
Buy the Magnanni Alarico Driving Shoe from Nordstrom for $325.
Magnanni's Alarico Driving Shoe is a high-quality and luxury choice. What makes it stand out is that it has a sneaker-like sole that's comfortable and casual.
The high-quality Italian leather upper is stylish, nicely textured, and rich navy. To help with comfort, Magnanni included cushioned arch support to make walking painless.
Magnanni only offers one width and sizes 7 through 12. There aren't as many options as other driving shoes. Plus, it runs a bit large, meaning you may need to size down.
If your shoe size is within the range, the Alarico Driving Shoe is a stylish and excellent choice. It can also be worn with chinos, jeans, and shorts, making it versatile.
7. Sperry Gold Cup Davenport Driver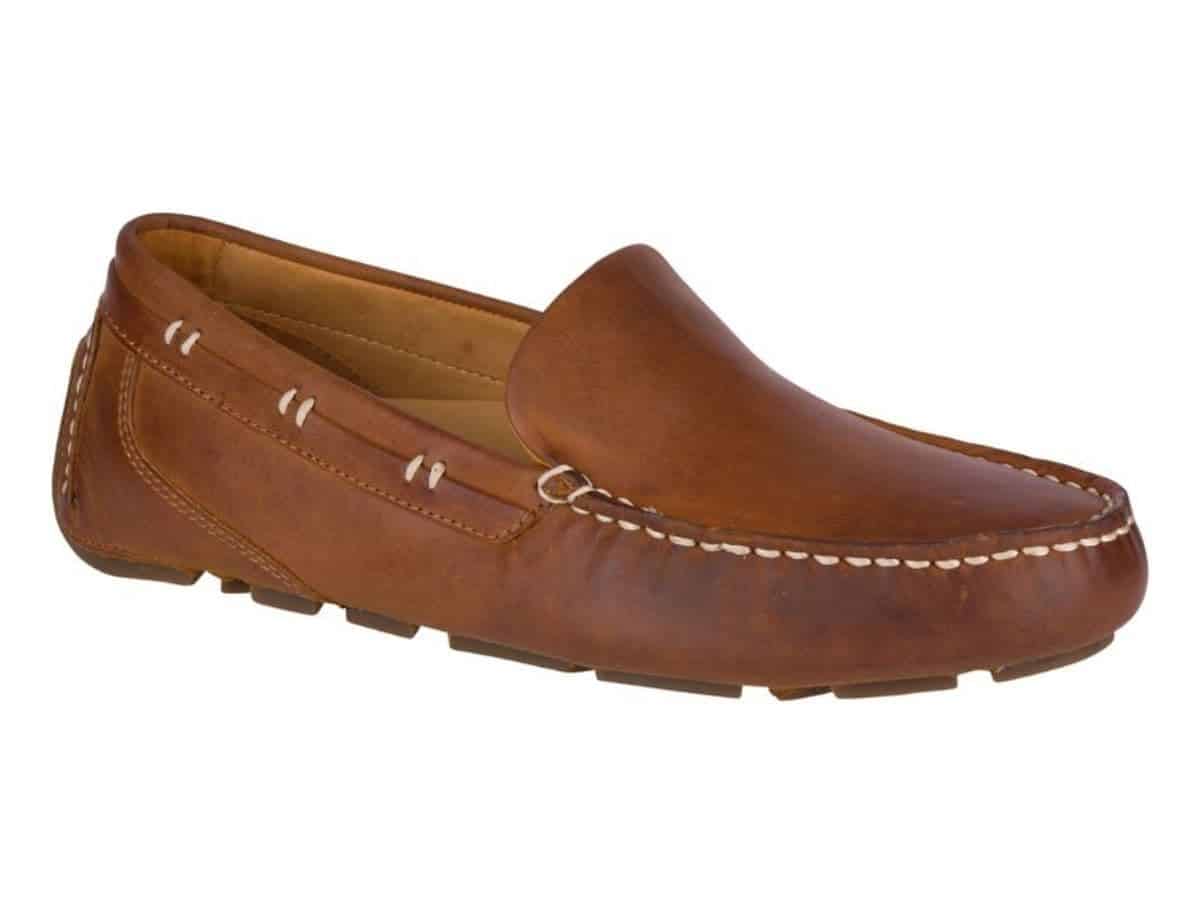 Pros:
Various sizes and widths.
Upper is full-grain leather.
Stylish and sleek.
Comfortable footbed.
Excellent traction.
Cons:
Runs a little narrow.
Needs to be broken in.
Buy the Gold Cup Davenport Driver from Sperry for $164.95.
The Sperry Gold Cup Davenport Driver offers incredible traction and all-day comfort. Thanks to its cushioned anti-shock and vibration footbed, you can comfortably walk around in it.
Overall, it's near-perfect. The only downsides are that it runs a bit narrow, and it's stiff when you first get it. With time, you'll break it in, and it'll feel great.
For the Davenport Driver, Sperry offers a medium or wide width. It also offers sizes 7 through 15. For a mid-tier price, you get a top-notch pair of driving shoes.
8. Salvatore Ferragamo Driver with Gancini Ornament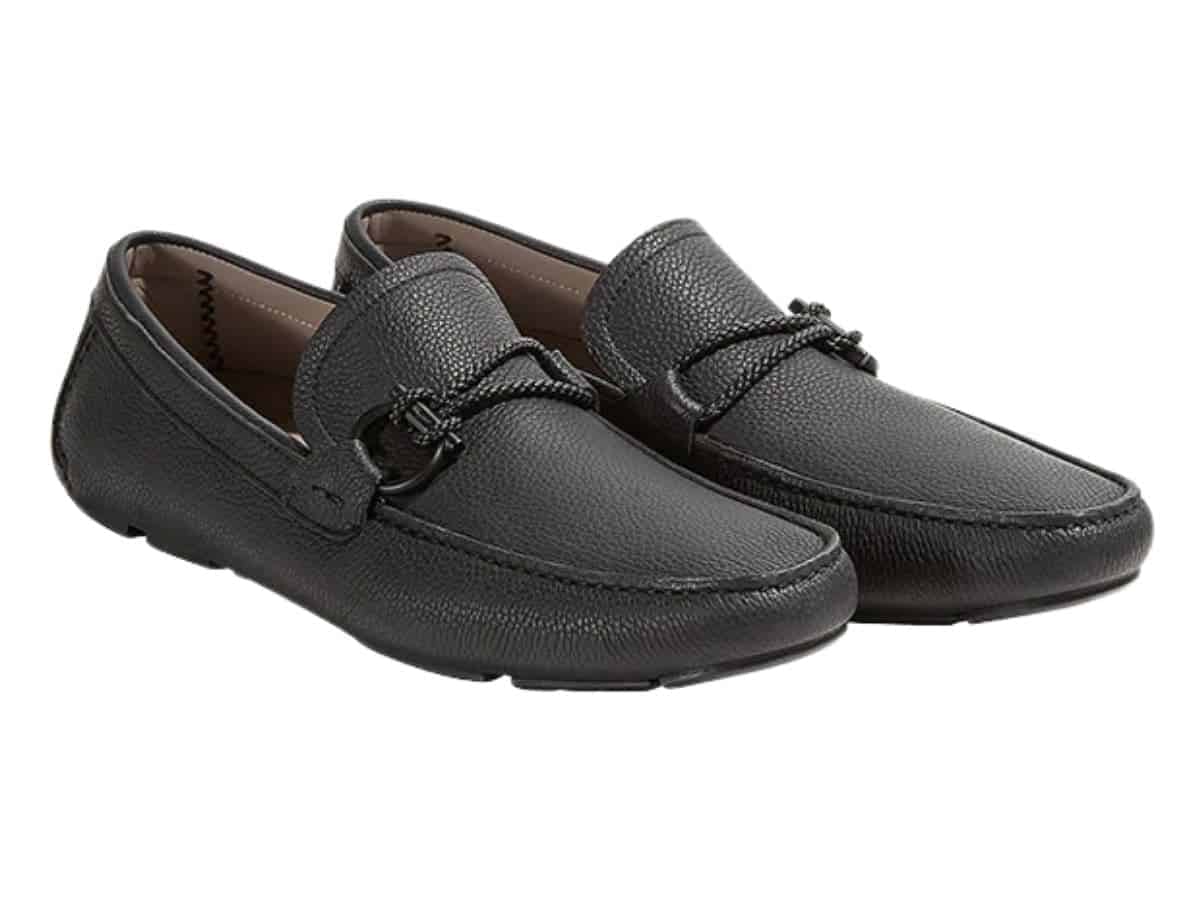 Pros:
Nice luxurious texture.
Well-fitting and stylish.
Lightweight and durable.
Cons:
Expensive.
Not much padding on the footbed.
Buy the Driver with Gancini Ornament from Salvatore Ferragamo for $630.
Salvatore Ferragamo is known for being one of the top luxury Italian brands. The hand-crafted Driver with Gancini Ornament is well-constructed and one of the best-looking driving shoes.
As with other Salvatore Ferragamo shoes, it has a Gancini. It holds a braided leather lace across the upper.
The shoe is made from Italian calfskin leather and looks incredible when you wear it. While it doesn't have much padding for walking, it offers an excellent grip for driving.
9. Aurélien Driving Shoes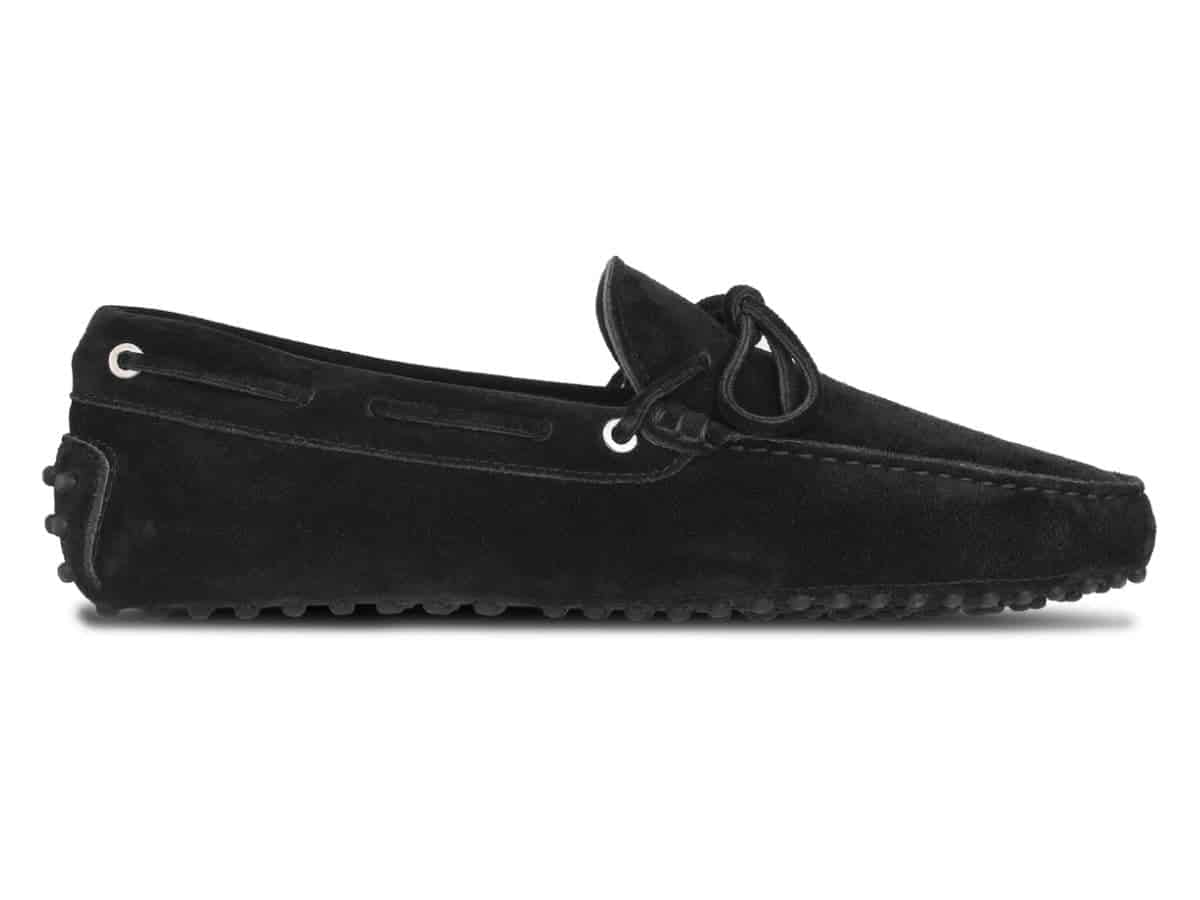 Pros:
Relatively low price for a luxury option.
Soft calfskin suede.
Flexible and comfortable.
Many color options.
Cons:
Limited sizing.
One width.
Buy Aurélien Driving Shoes from Uncrate for $195.
Aurélien works with the same manufacturers as designer brands. While you aren't getting the same quality, the Aurélien Driving Shoes are superb.
The soft suede looks and feels incredible. It also comes in many colors. So, you'll be sure to find one that fits your style.
The main drawbacks with the driving shoes from Aurélien are that they only offer sizes 8 to 13 and one width. There aren't as many options as other brands.
Regardless, they're less than $200, and you'll get a stylish and durable pair of suede driving shoes with a traditional rubber pebble sole.
10. RaceQuip 303 Series SFI Racing Shoe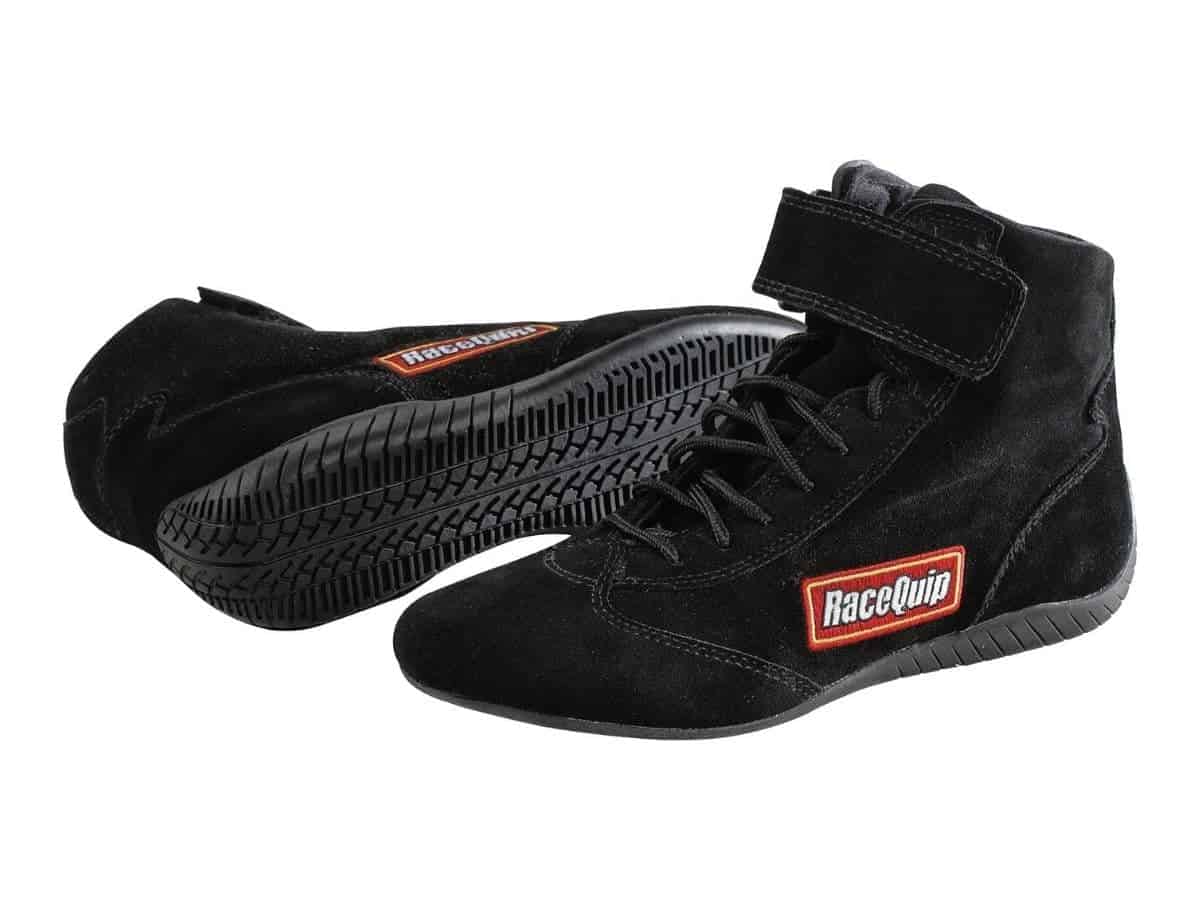 Pros:
Designed for high-performance driving.
Exceeds SFI 3.3/5 rating.
Pyrovatex flame retardant liner.
Cons:
Not for everyday use.
Limited sizes.
Buy the RaceQuip 303 Series SFI Racing Shoe from Amazon for $69.95.
If you're looking for something sporty and built for performance, the RaceQuip 303 Series SFI Racing Shoe is it. However, it's not designed for everyday use.
It's one of the most popular and best-rated racing shoes. The soft suede leather on the exterior has a flame retardant Pyrovatex liner and padded ankles to make it safe and comfortable.
It also features an Achilles flex opening in the back of the shoe and arch support.
The two main drawbacks are that it's only available for sizes 8 through 13, and it's not practical for everyday usage. It's made for racing. So, you won't be wearing it to go on a regular drive to the grocery store.
Frequently asked questions
Are driving shoes worth it?
Driving shoes may seem like an old-school concept. However, they're still worth having because the soles have a strong grip that prevents your foot from slipping off the pedals.
Do you wear socks with loafers?
In most cases, loafers look the best with no-show socks. You can wear dress socks when it's cold, or you don't want to expose your skin. For your safety and hygiene, always wear socks.
Are driving shoes good for walking?
No, most driving shoes aren't good for walking because they don't provide much support. It'll be uncomfortable, and the bottom of your feet will hurt. Instead, look for loafers that have some padding and support.
What's the difference between driving shoes and loafers?
They're related. However, driving shoes are more casual and sporty than loafers. They're meant for driving, as they have a strong grip that ensures your foot doesn't slip off of the pedal. Loafers are closer to dress shoes, as they don't have rubber pebble soles.
Conclusion
Driving shoes are functional, as they ensure you have control of the pedals. Not only do they serve a purpose, but they're also stylish. While most aren't meant for walking, they offer a way for you to drive in style.
Related articles:
Featured image courtesy of Canva.
About David Em
Founder
David Em is the founder of Next Level Gents, the ultimate destination for tips and advice about style, grooming, fitness, and success.