Your sweatpants must be comfortable, warm, well-fitting, and stylish. Find out what the best sweatpants for men are.
Estimated reading time: 15 minutes
We receive a commission on purchases made through links on this page. For more information, read Affiliate Disclosure.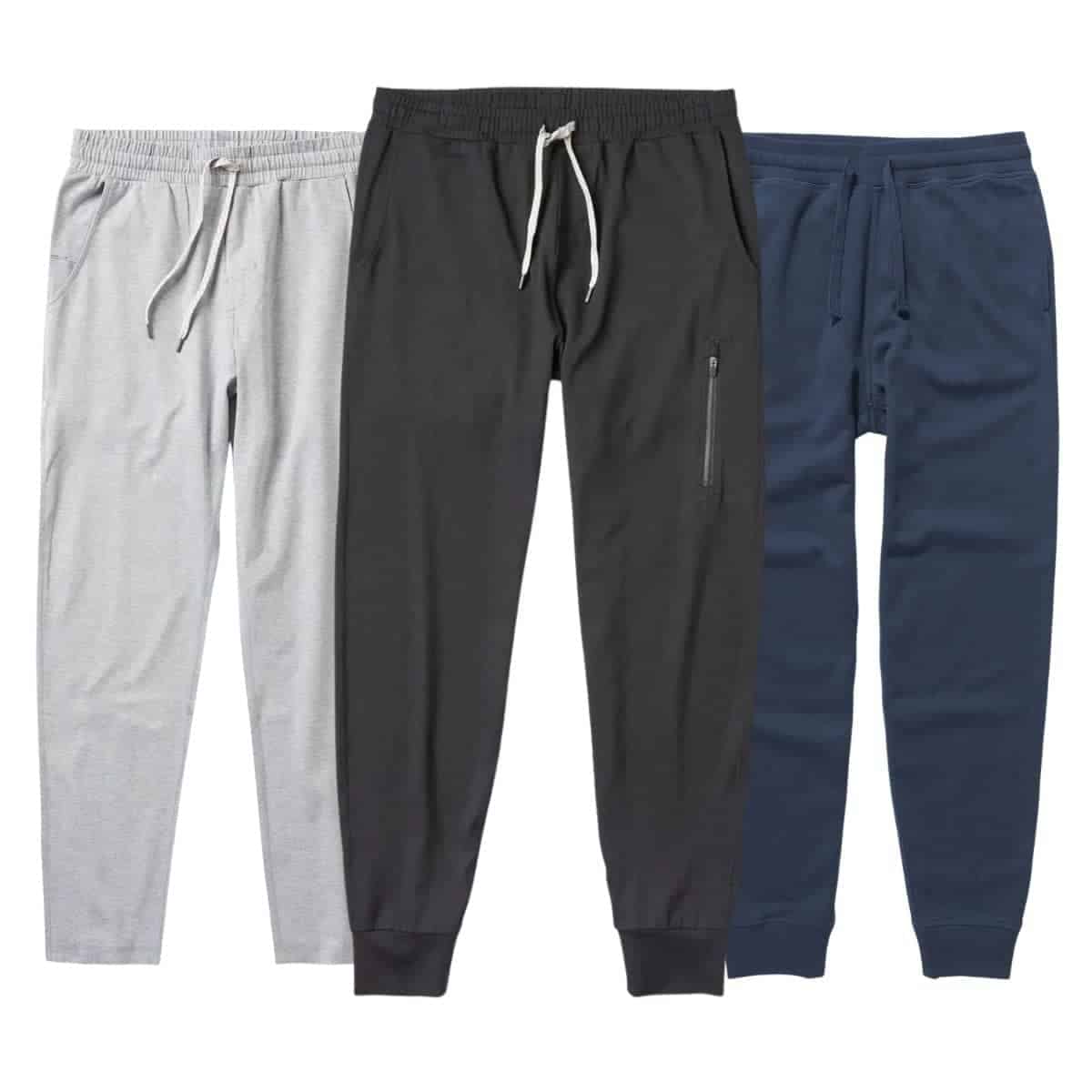 Related: 17 best hoodies for men
1. Nike Sportswear Tech Fleece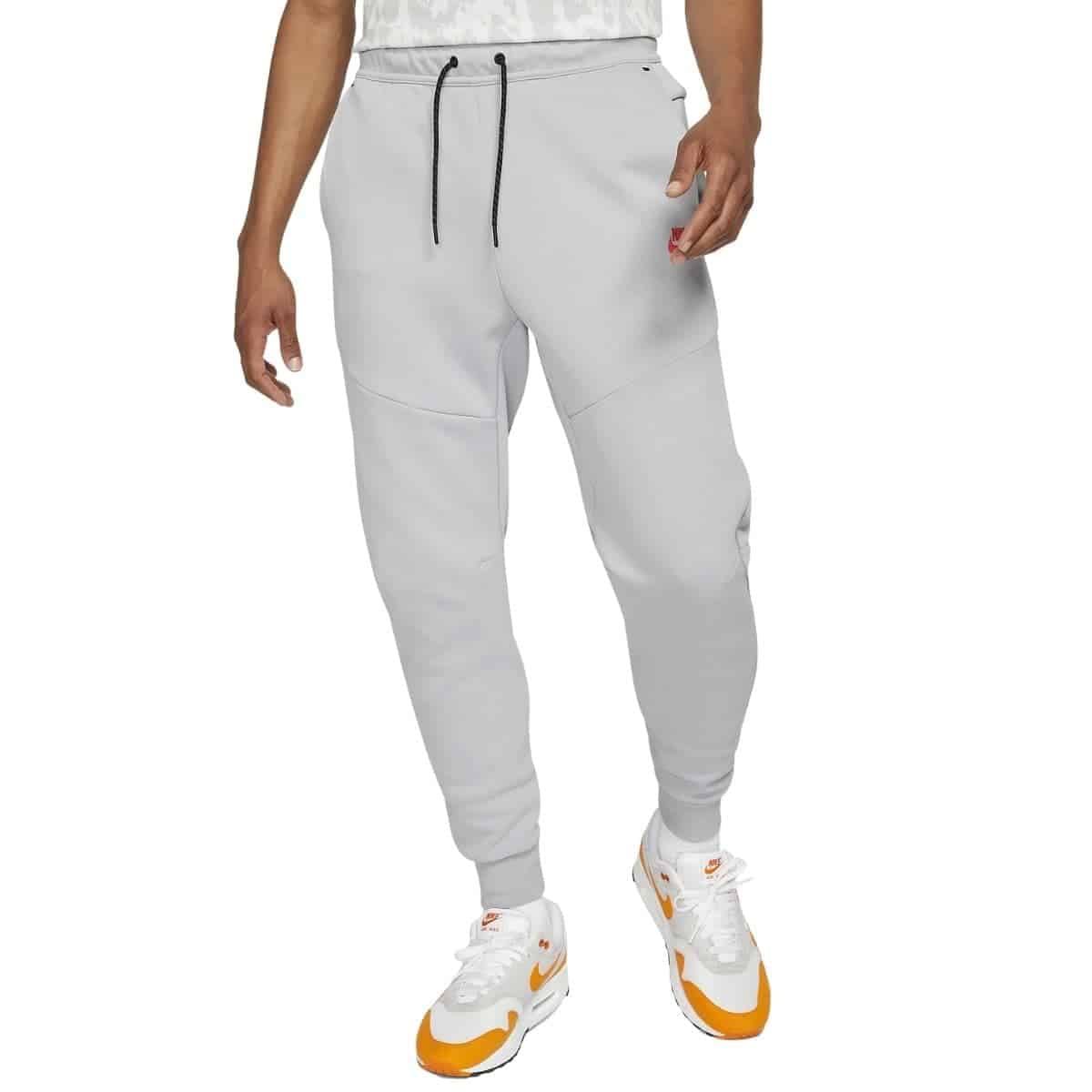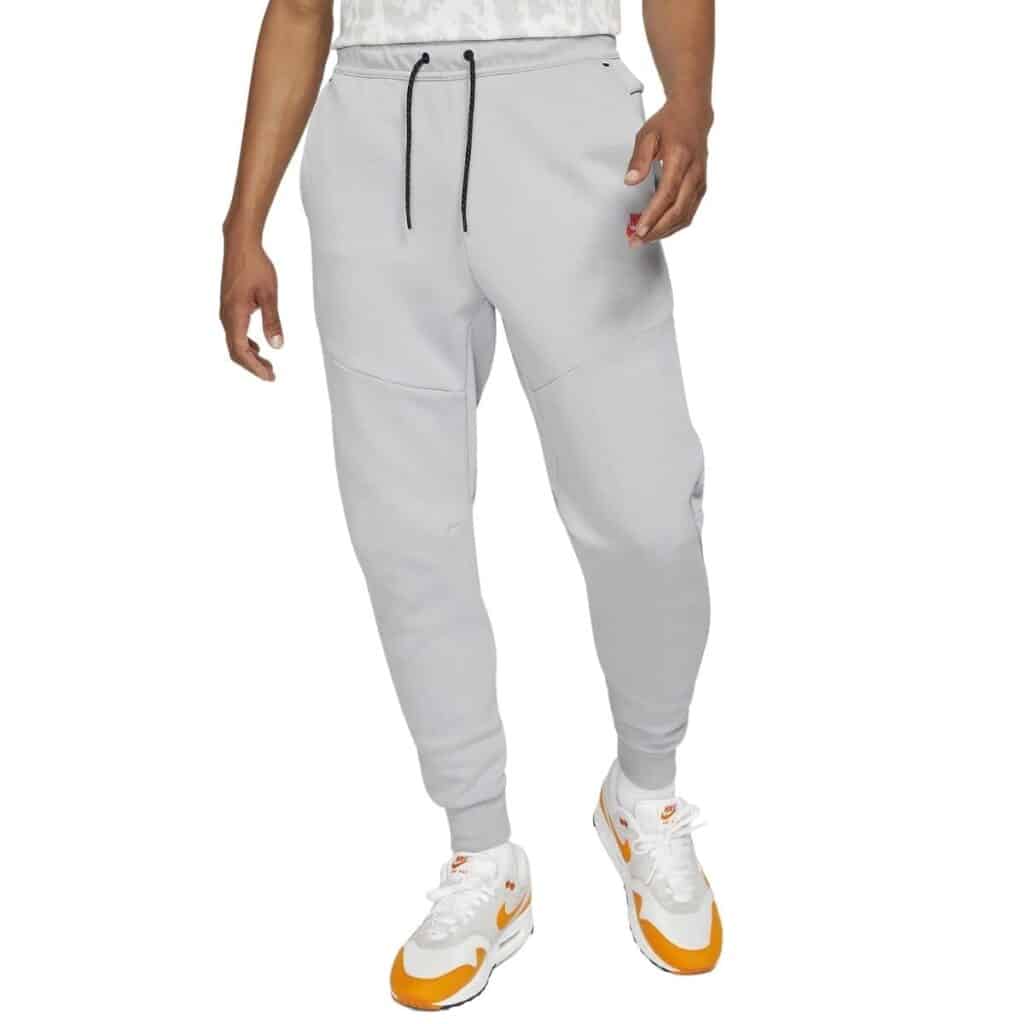 Nike's Sportswear Tech Fleece tops the list because it's roomy along your thighs and has a tailored fit down to your ankles. The tapered styling looks stylish, and it also comes in many different colors.
While some sweatpants may not keep you warm, the Tech Fleece does. It's made with a blend of cotton and polyester, which gives you warmth and comfort without feeling heavy.
It also has pockets with zippers, so you can securely keep your small essentials with you on the go.
Buy the Sportswear Tech Fleece from Nike for $110.
2. Vuori Sunday Performance Jogger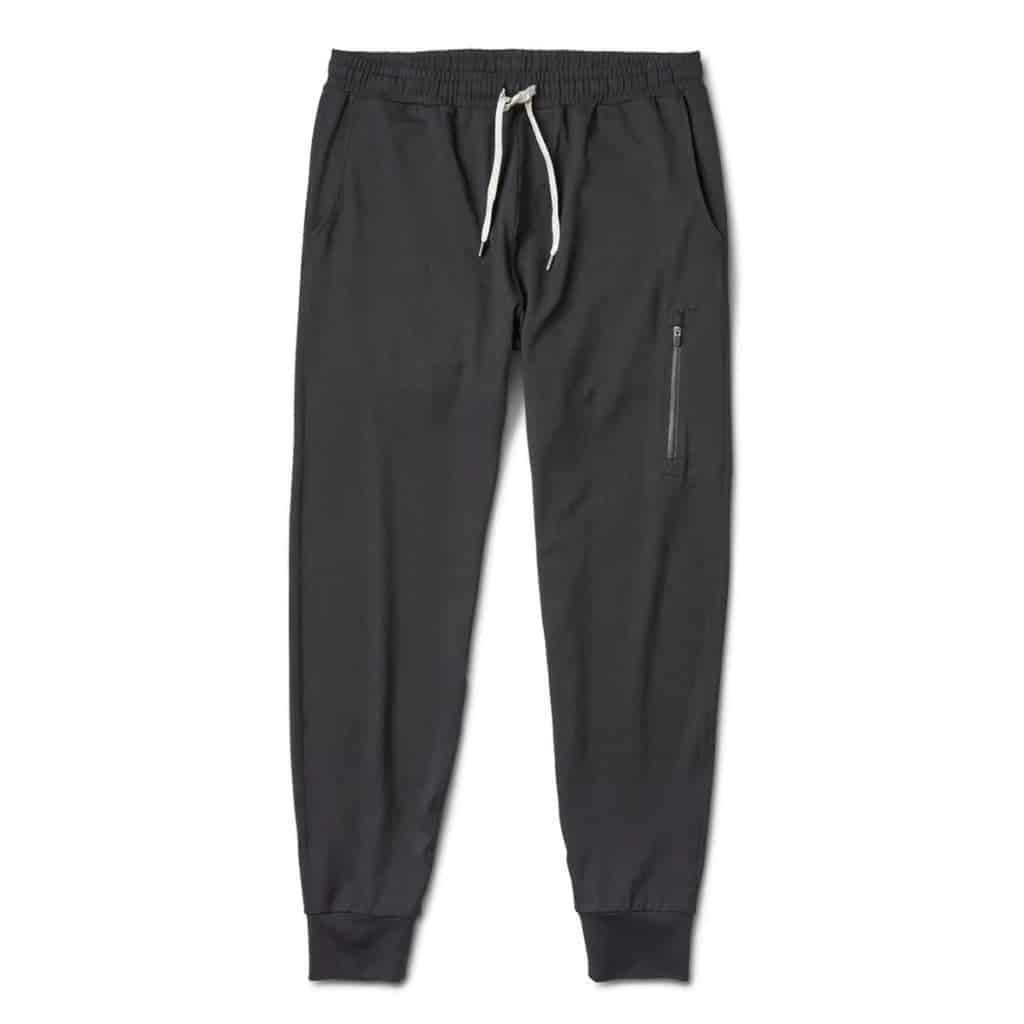 Vuori makes some of the best athletic clothing that you can find. The Sunday Performance Jogger needs to have a place in your athleisure wardrobe because it's comfortable, looks stylish, and has a soft stretch.
It's made with a combination of polyester and elastane, which gives it a 4-way stretch and makes it moisture-wicking. The Sunday Performance Jogger can be worn to the gym or out while you're running errands.
Vuori offers joggers in many earthy colors. You'll be able to find the right color that matches with other clothing items in your closet.
Buy the Sunday Performance Jogger from Vuori for $89.
3. Vuori Ponto Performance Pant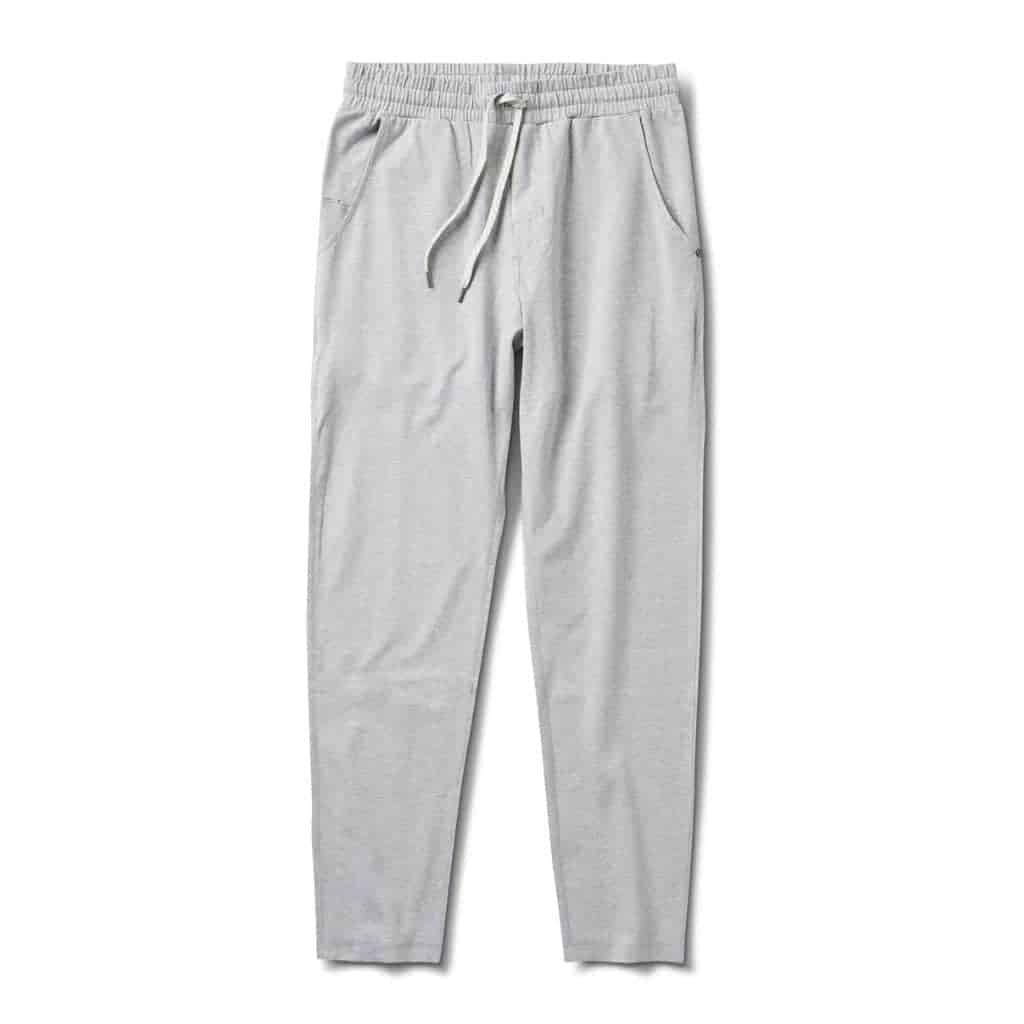 Vuori made it on the list twice, and it's well-deserved. The Ponto Performance Pant is the best choice if you're looking for classic-looking sweatpants.
It doesn't have the tapered bottom like joggers do. Instead, the Ponto Performance Pant has an open bottom, but it's not baggy. It has a relaxed fit that's tailored down to your ankles.
Like the joggers, it's made with polyester and elastane, which makes it stretchy, moisture-wicking, and comfortable.
Buy the Ponto Performance Pant from Vuori for $84.
4. John Elliott LA Sweatpants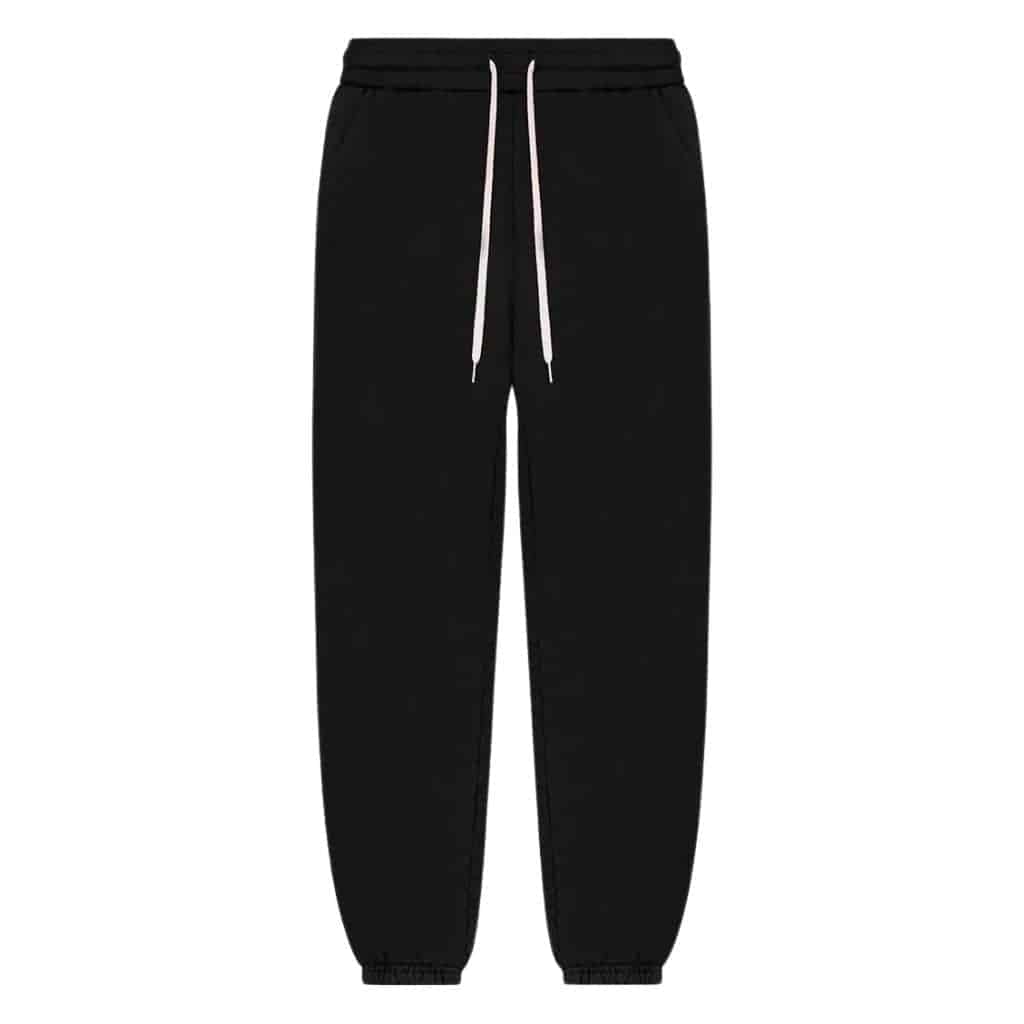 If there's one word to describe the LA Sweatpants from John Elliott, it would be cozy. It's made completely out of cotton, has a relaxed fit, and has an elastic cuff at the bottom.
What's great about the LA Sweatpants is that they'll get softer and more comfortable as you wear them more.
Since it comes in black, you'll be able to wear it with many different shirts and shoes. It'll give you a sleek look.
Buy the LA Sweatpants from John Elliott for $198.
5. Rhone Bolinas Beach Jogger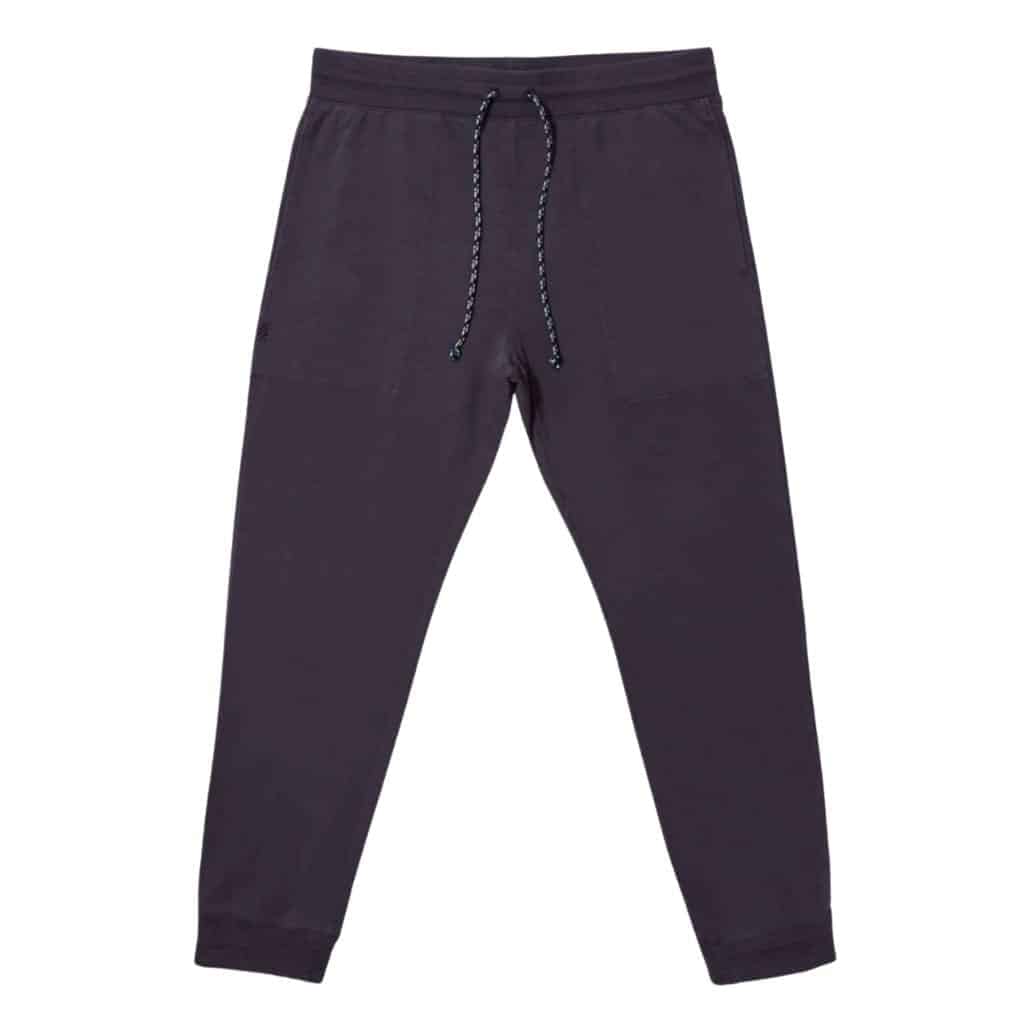 Rhone's Bolinas Beach Jogger is a comfortable option that's designed for lounging around. It has an open bottom with rib detailing at the bottom, so it's not a straight-fit look all the way down.
The sun-dyed black has a faded look. It looks like a mixture of black, grey, and blue. Since the color looks faded, it's not as sleek as a pure black or grey pair of sweatpants.
It's made with cotton and elastane, which makes it durable, soft, and stretchy.
Buy the Bolinas Beach Jogger from Rhone for $98.
6. Champion Reverse Weave Joggers, C Logo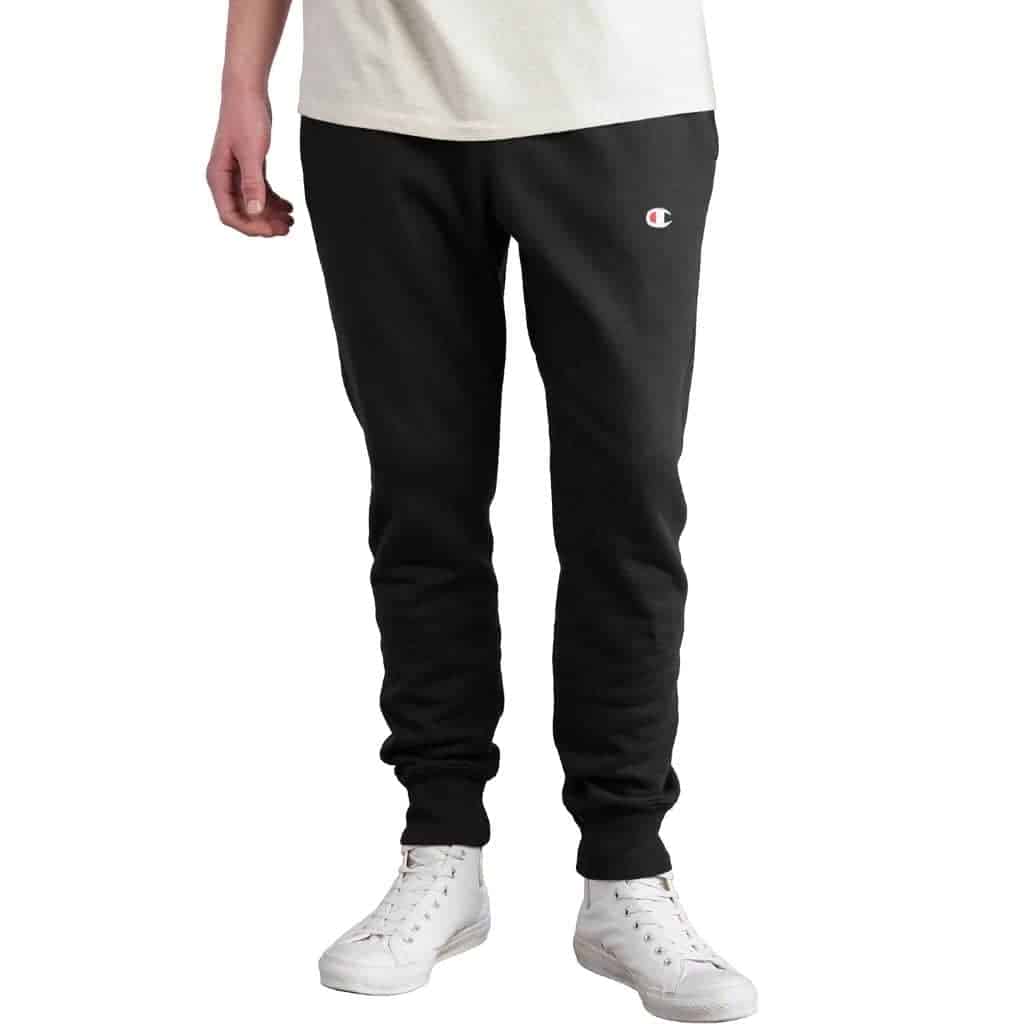 Champion is one of the first brands that comes to mind when thinking about a classic pair of sweatpants. They've stood the test of time while offering trendy and classic options.
The Reverse Weave Joggers have a tailored fit and the classic Champion logo on the left pant leg. It's made with heavyweight fleece material, so it's on the warmer side. It's a cold-weather essential.
Buy the Reverse Weave Joggers, C Logo from Champion for $50.
7. Alo Baseline Sweatpant
Alo's Baseline Sweatpant is a high-quality and minimal choice. The fleece fabric is extremely comfortable, and you'll love wearing it inside or outside of your home.
It has a tapered look, which gives you a nice and slim silhouette. Alo offers them in 5 different colors. You can get the classic navy or black, which gives you a clean look. You can also go with something lighter, such as gravel, eucalyptus, or mineral blue.
Buy the Baseline Sweatpant from Alo for $108.
8. Lululemon City Sweat Jogger French Terry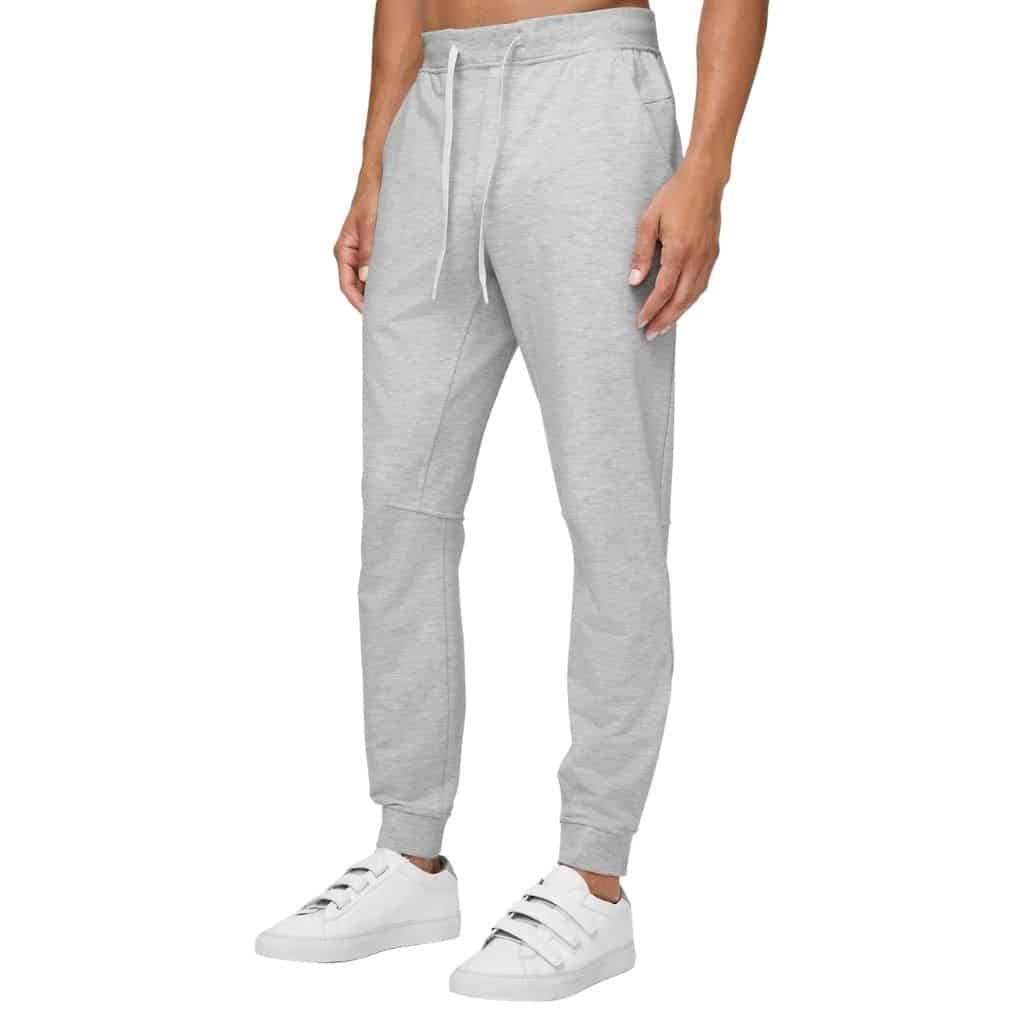 Lululemon is one of the greatest brands for athleisure. The City Sweat Jogger is a breathable, stretchy, and soft jogger with a clean, tapered fit.
It has two front pockets that are left open for easy access, and the back pocket is secured by a zipper for your small and important belongings.
You can get the jogger in several great colors. Of course, Lululemon offers black and navy. However, you can also get dusky lavender, white opal, chambray, and light grey. The lighter colors give you a more playful look, which is also good for warm weather.
Buy the City Sweat Jogger French Terry from Lululemon for $118.
9. Lululemon Discipline Pant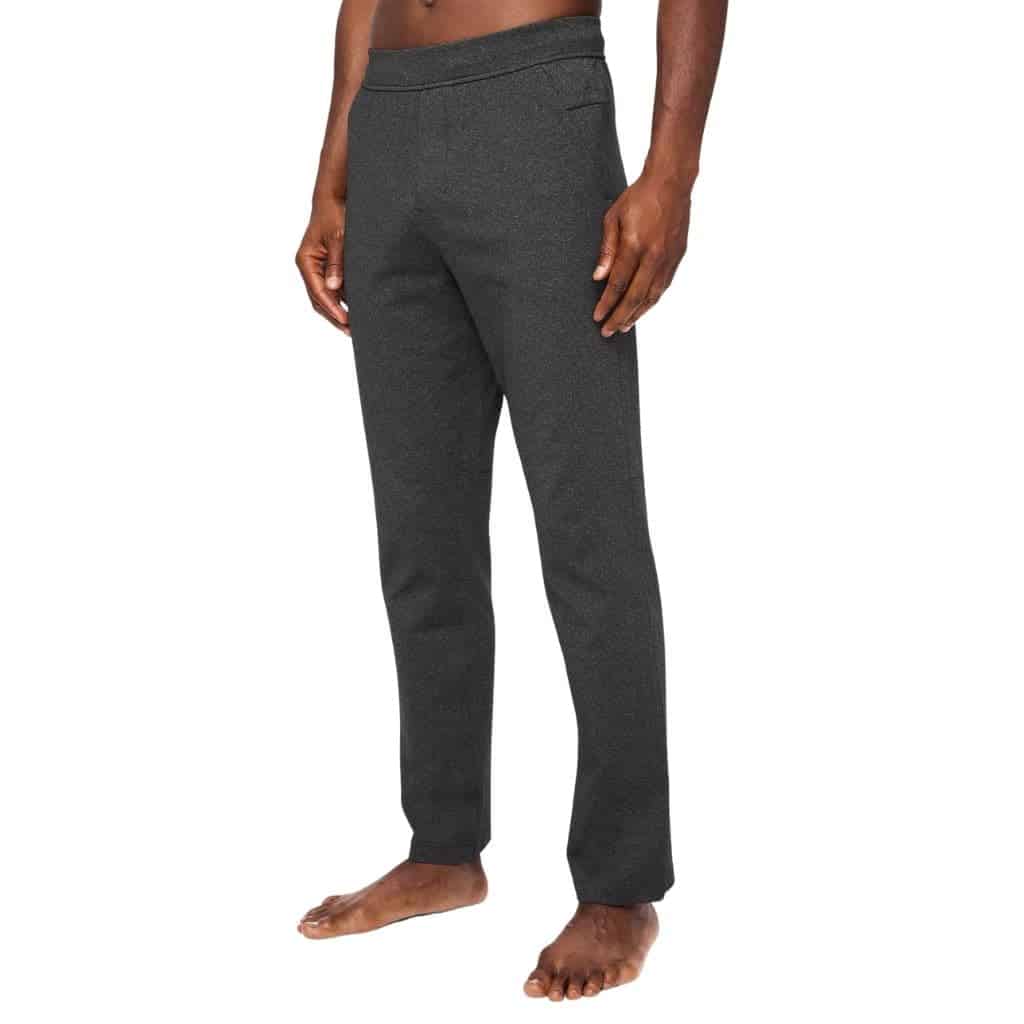 Since Lululemon is such a great brand, they made it on the list twice. The Discipline Pant offers a different style than the jogger. Having an open bottom gives you more of a relaxed look.
The pants are made with nylon, polyester, and elastane. It's what Lululemon calls Luon® fabric. It's soft like cotton, has a four-way stretch, wicks away sweat, and is breathable.
Although it has a slim fit, you'll be able to freely move around. Overall, it's a great pair of sweatpants to wear to the gym, yoga, or running errands.
Buy the Discipline Pant from Lululemon for $108.
10. Richer Poorer Recycled Fleece Tapered Sweatpant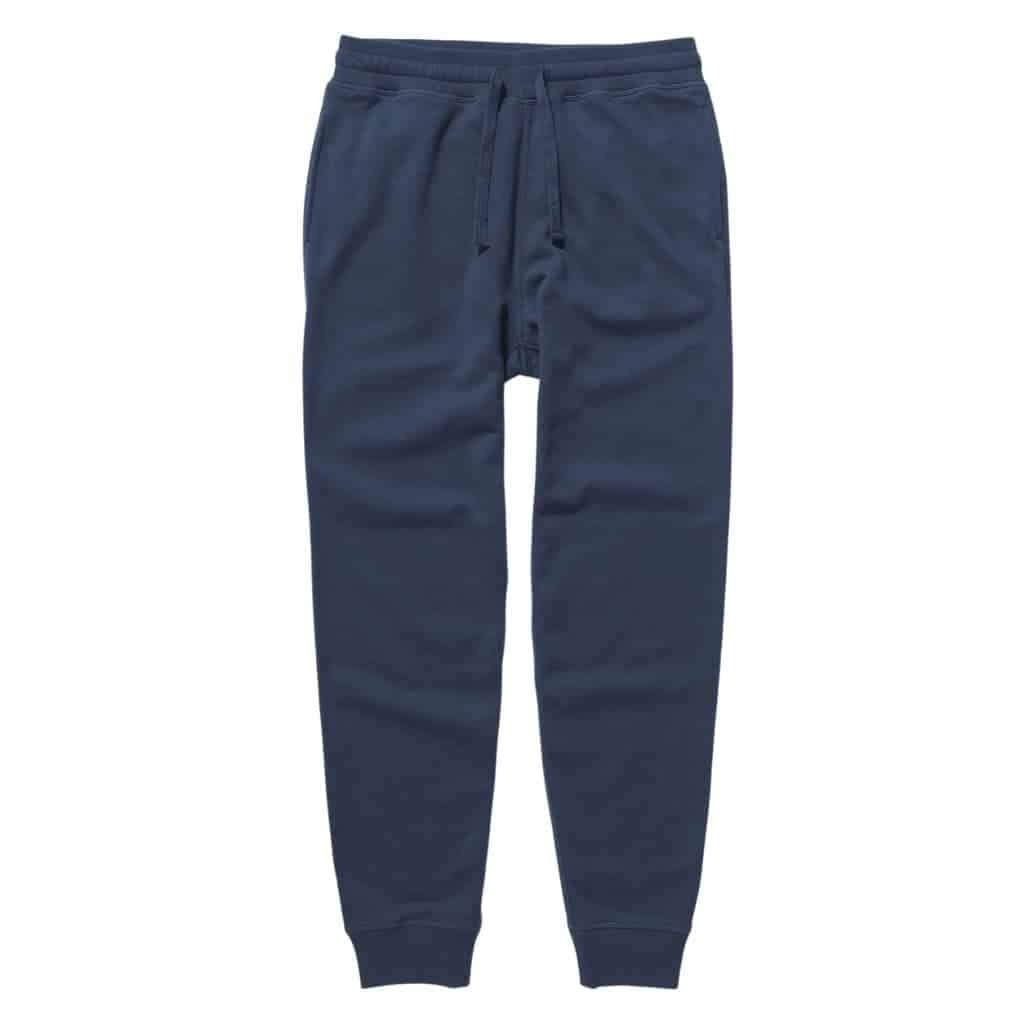 Can a pair of sweatpants make a positive impact on the earth? Sure, it can. Richer Poorer's Recycled Fleece Tapered Sweatpant looks and feels amazing. The best part is that it saves about 40 plastic bottles from landfills.
It has a classic and comfortable fit. You can get it in 7 different colors. If you want to make a statement, go with the Mirage Wash, which is inspired by nature and uses a hand-dyed technique.
Buy the Recycled Fleece Tapered Sweatpant from Richer Poorer for $72.
11. Thom Browne Cotton Loopback Sweatpants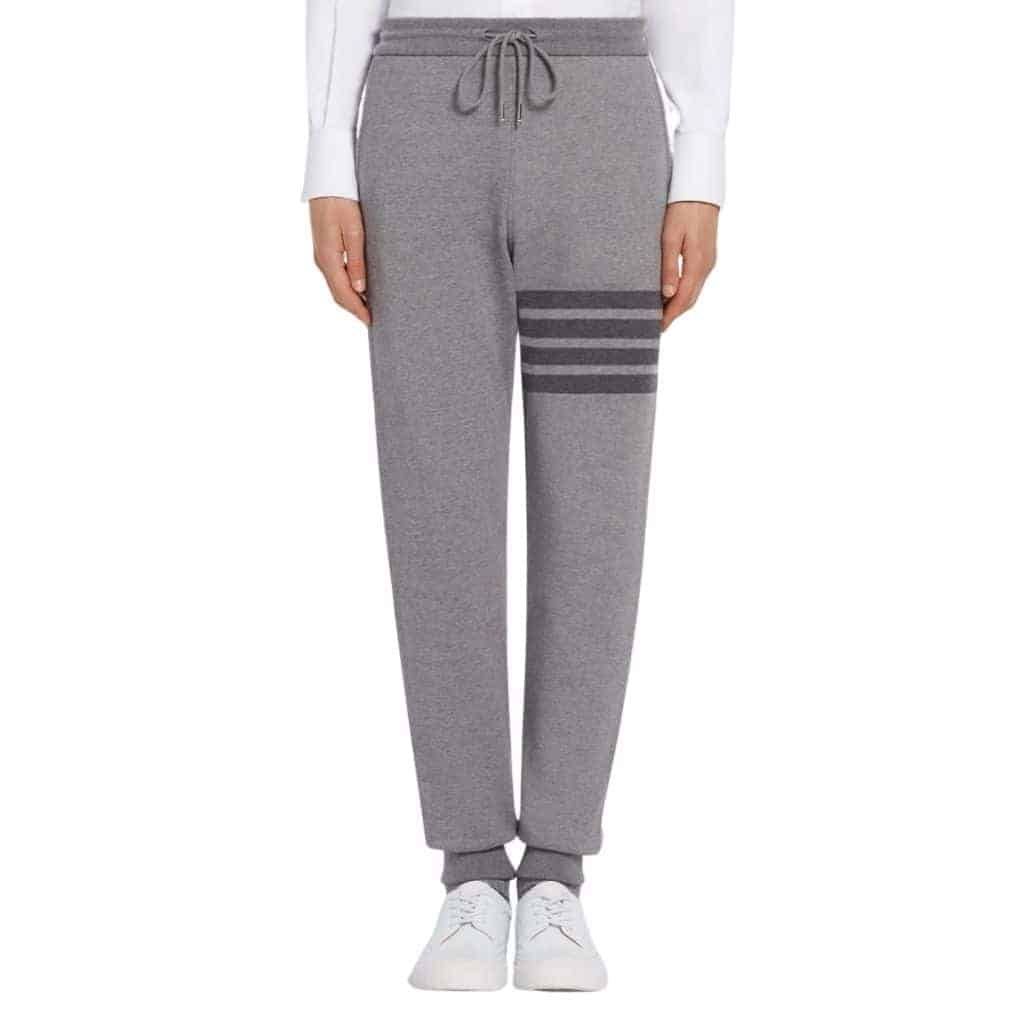 If you're looking for designer sweatpants, Thom Browne has the best pair that you can buy. It's luxurious, feels great, and takes your sweatpant game to the next level.
The Cotton Loopback Sweatpants have a minimal look with the 4-bar stripes. It adds a touch of uniqueness without being overwhelming. On the back of the sweatpants, you'll also find Thom Browne's signature Grosgrain Loop Tab.
Buy the Cotton Loopback Sweatpants from Thom Browne for $690.
12. Bather Olive Sweatpant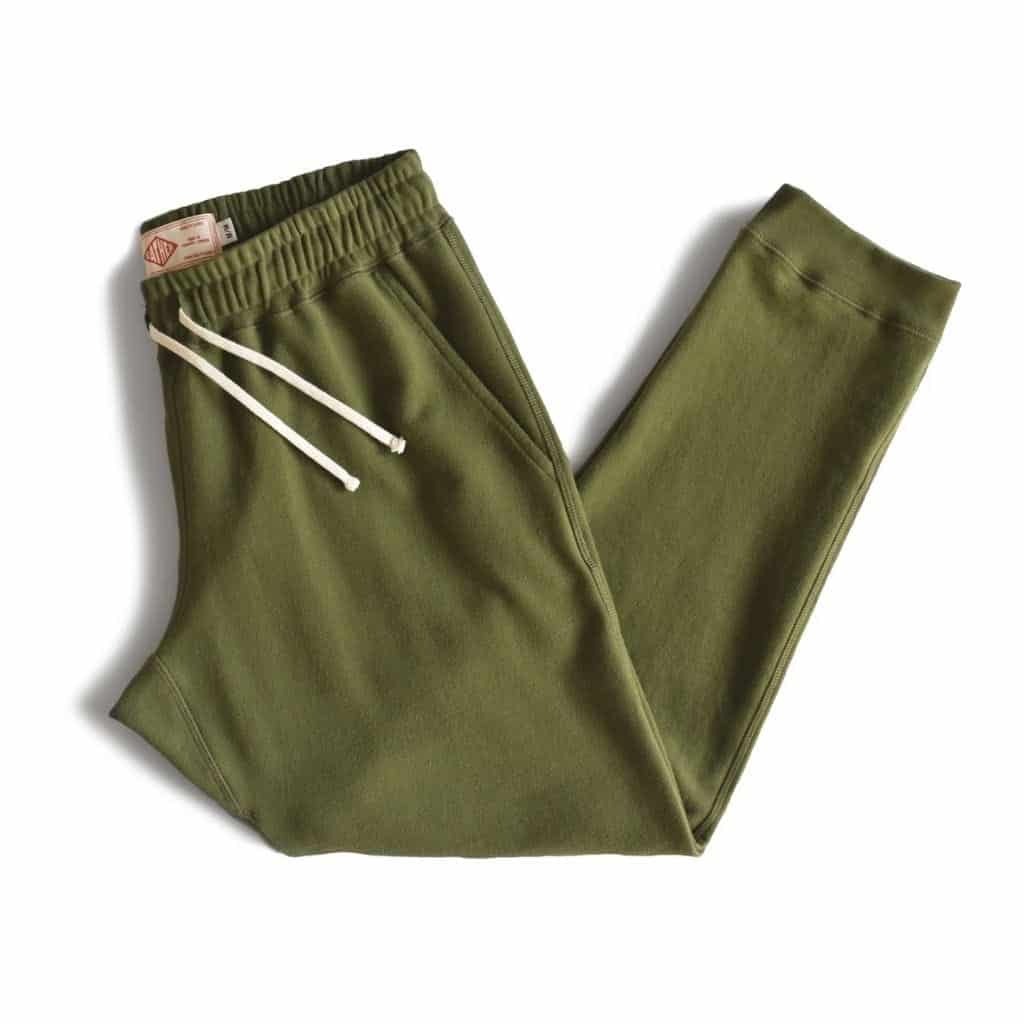 Bather's Olive Sweatpant is a premium pair of sweatpants made in Canada with 100% French Terry cotton. It also has a regular fit, which gives it more of a relaxed and casual feel.
Once you wear it, you'll notice a difference between Bather's sweatpants and others. That's because they finish them with a unique sueding process, which makes them soft and comfortable.
Buy the Olive Sweatpant from Bather for $105.
13. Todd Snyder + Champion Jogger Sweatpant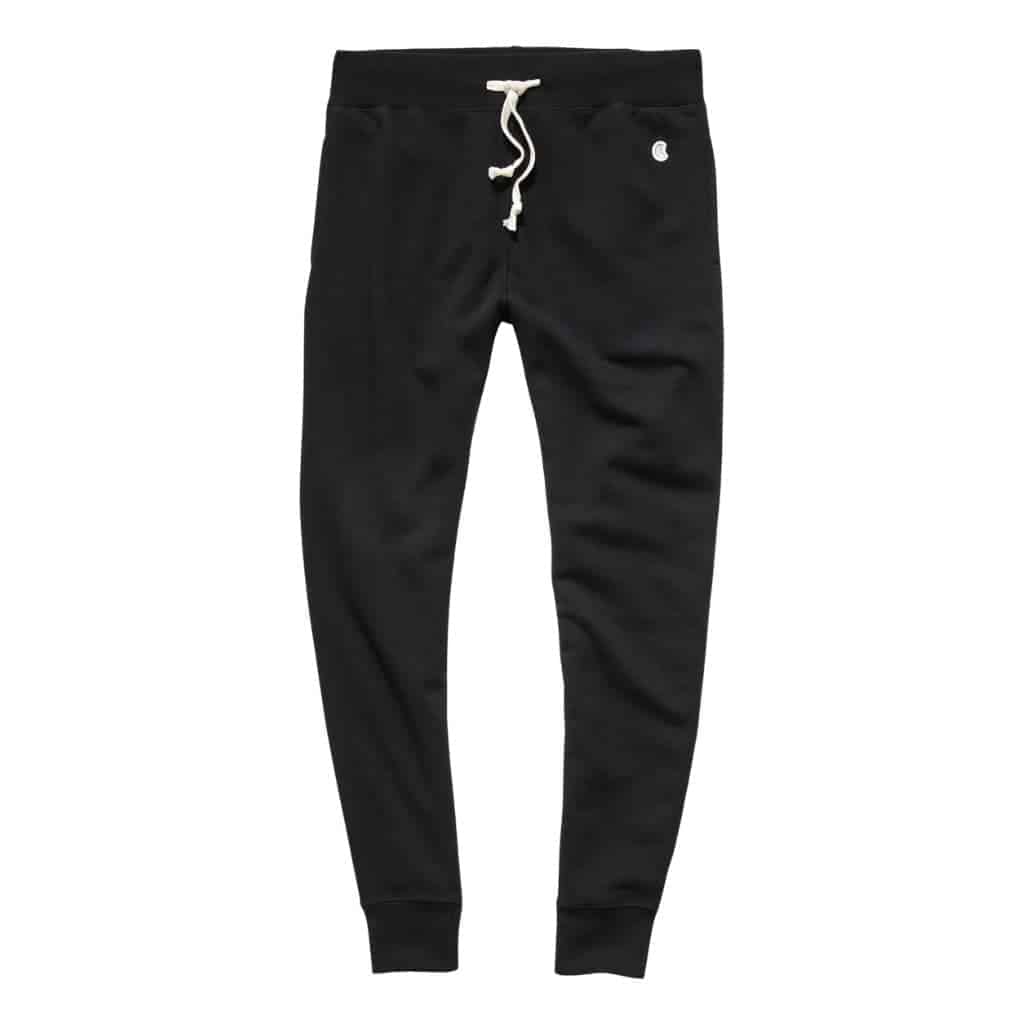 The Todd Snyder and Champion collaboration produced one of the most popular and comfortable sweatpants on the market. It's made completely out of French Terry cotton and is garment-dyed, which gives it a worn and vintage look.
Being a midweight jogger, it's perfect for a cool day. You can wear it inside and outside. When you wear it out, expect to get a few compliments on them.
Buy the Todd Snyder + Champion Jogger Sweatpant from Todd Snyder for $118.
14. Outdoor Voices All Day Sweatpant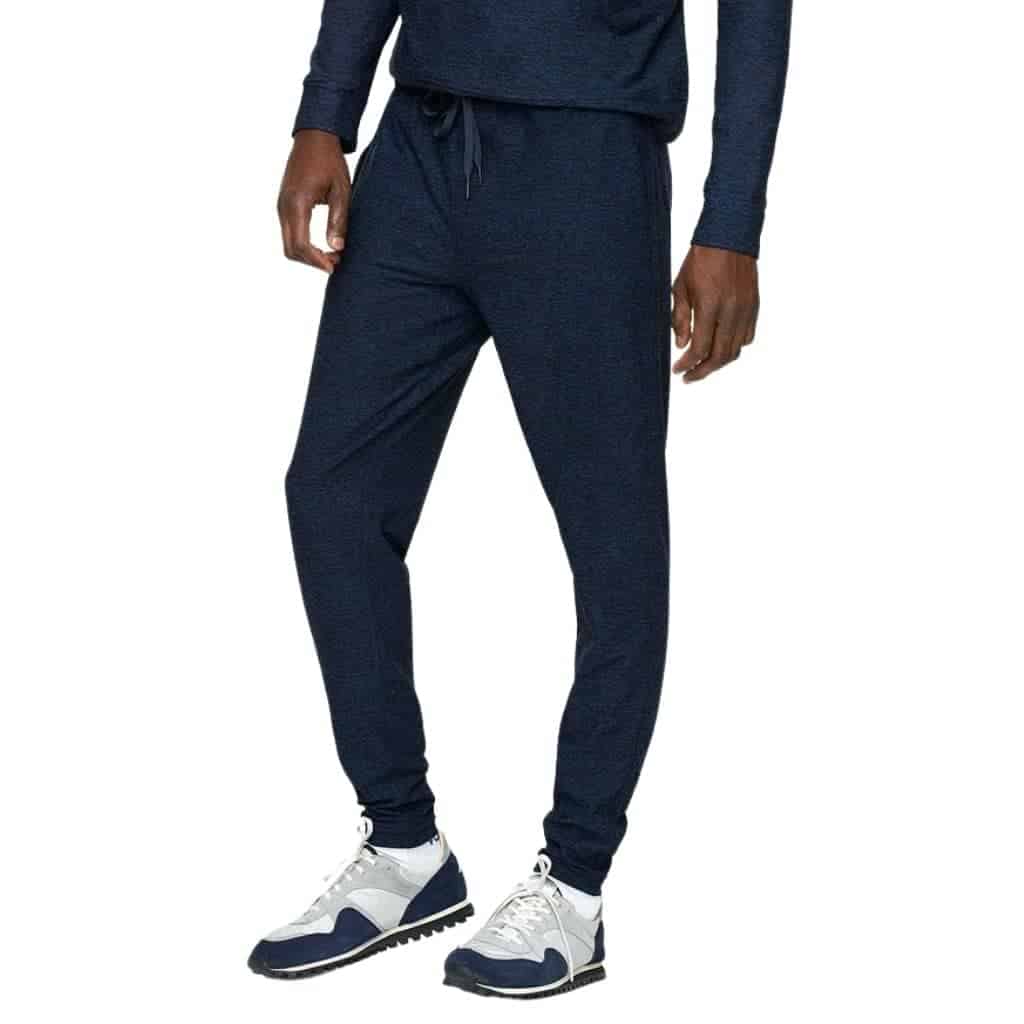 There's a good reason that Outdoor Voices named their sweatpants the All Day Sweatpant. It's extremely comfortable and one that you can live in because it's made with their CloudKnit fabric.
You can get them in navy, grey, or black. It doesn't matter what color you get because they all look great. Pair them with a hoodie and a clean pair of sneakers.
Buy the All Day Sweatpant from Outdoor Voices for $88.
15. Everlane The ReNew Air Pant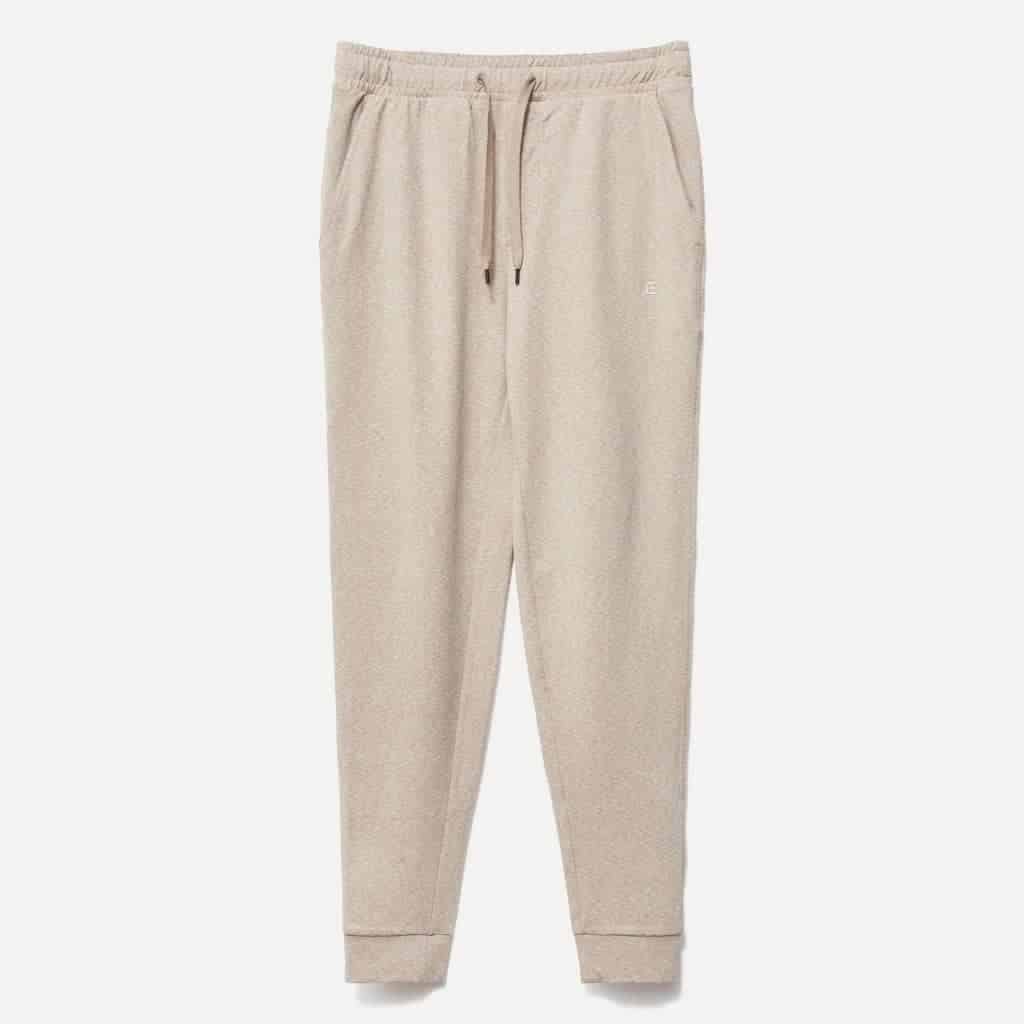 The ReNew Air Pant by Everlane is another sustainable option. It's made completely out of recycled polyester and elastane. It's soft, moisture-wicking, quick-drying, and has a four-way stretch.
They're lightweight, so it's best to wear them indoors or on days where it isn't too cold. You can choose between dark grey, blue, light green, or heather putty, which is similar to beige.
Buy The ReNew Air Pant from Everlane for $68.
16. Fourlaps Rush Jogger Pants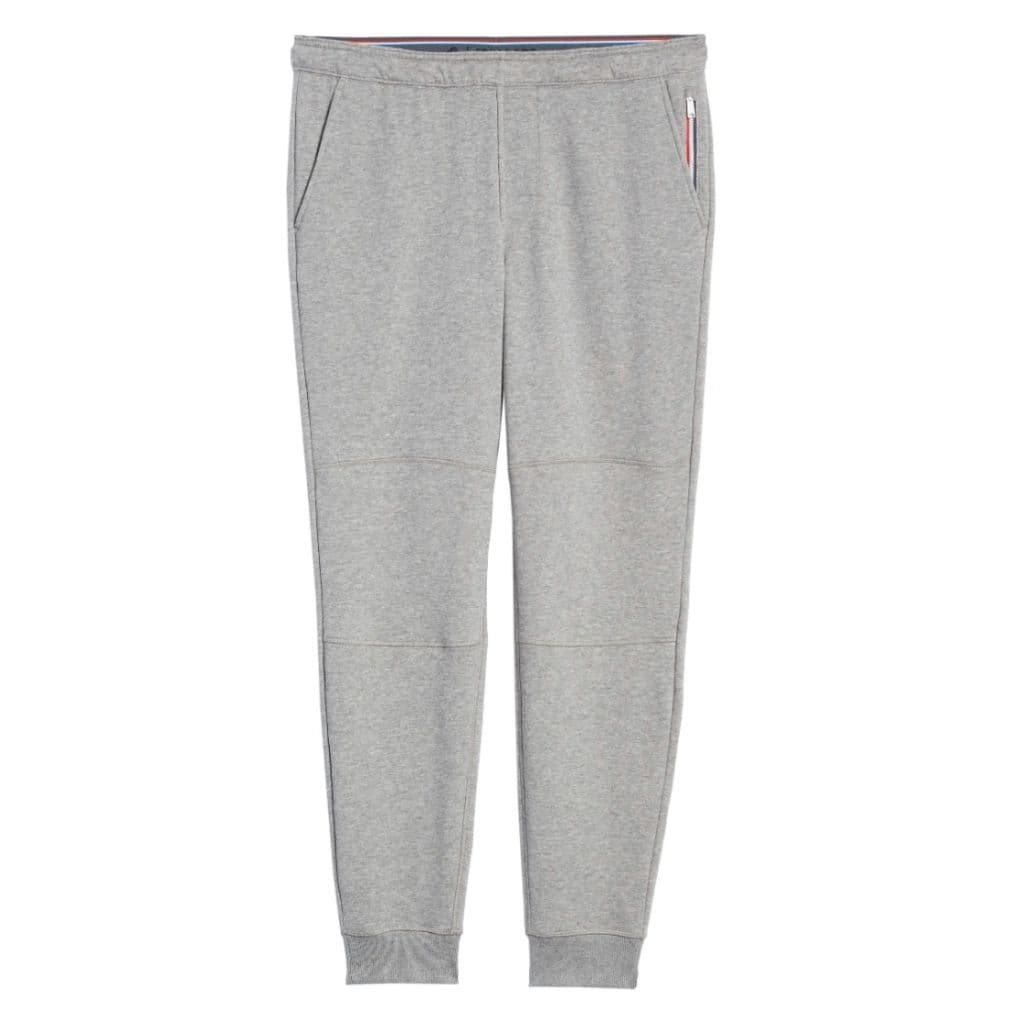 Fourlaps is known for its high-performance athletic clothes. The Rush Jogger Pants are designed to be functional and comfortable.
It's made with a combination of French Terry cotton, polyester, and spandex. It has an athletic fit. You can wear them for a workout, to do outdoor activities, or relax at home.
One of the best features is the interior phone pocket. It's a pocket in a pocket that's designed to hold your phone in place. You won't have to worry about it flying out of your sweatpants and cracking the screen.
Buy the Fourlaps Rush Jogger Pants from Nordstrom for $88.
17. Under Armour Armour Fleece Pants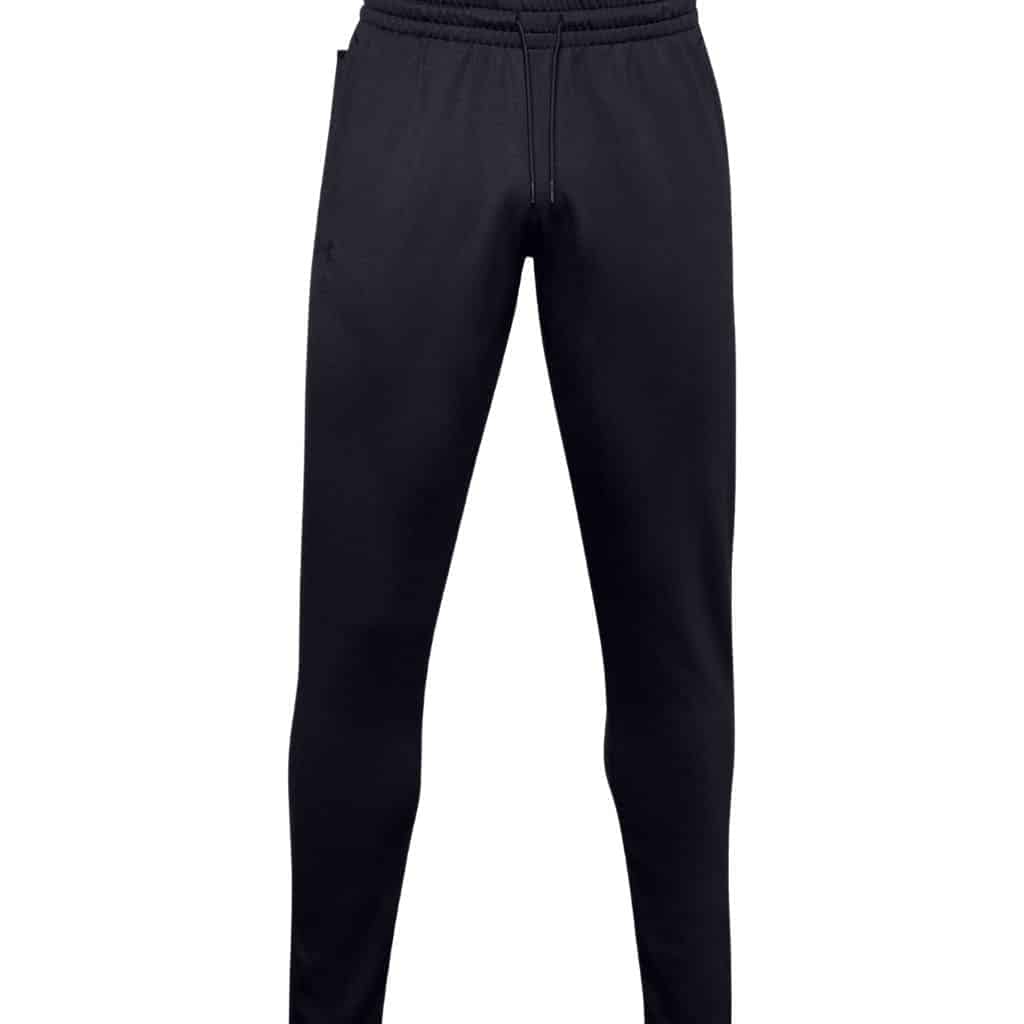 The Armour Fleece Pants are one of Under Armour's best sweatpants. If performance and comfort during your workouts are priorities for you, these will be your new favorites.
They're 100% polyester, lightweight, breathable, offer a good amount of stretch, and aren't tight. You'll be able to work out without feeling restricted. It'll give you a nice and free feeling.
Buy the Armour Fleece Pants from Under Armour for $55.
18. New Balance Essentials Stacked Logo Sweatpant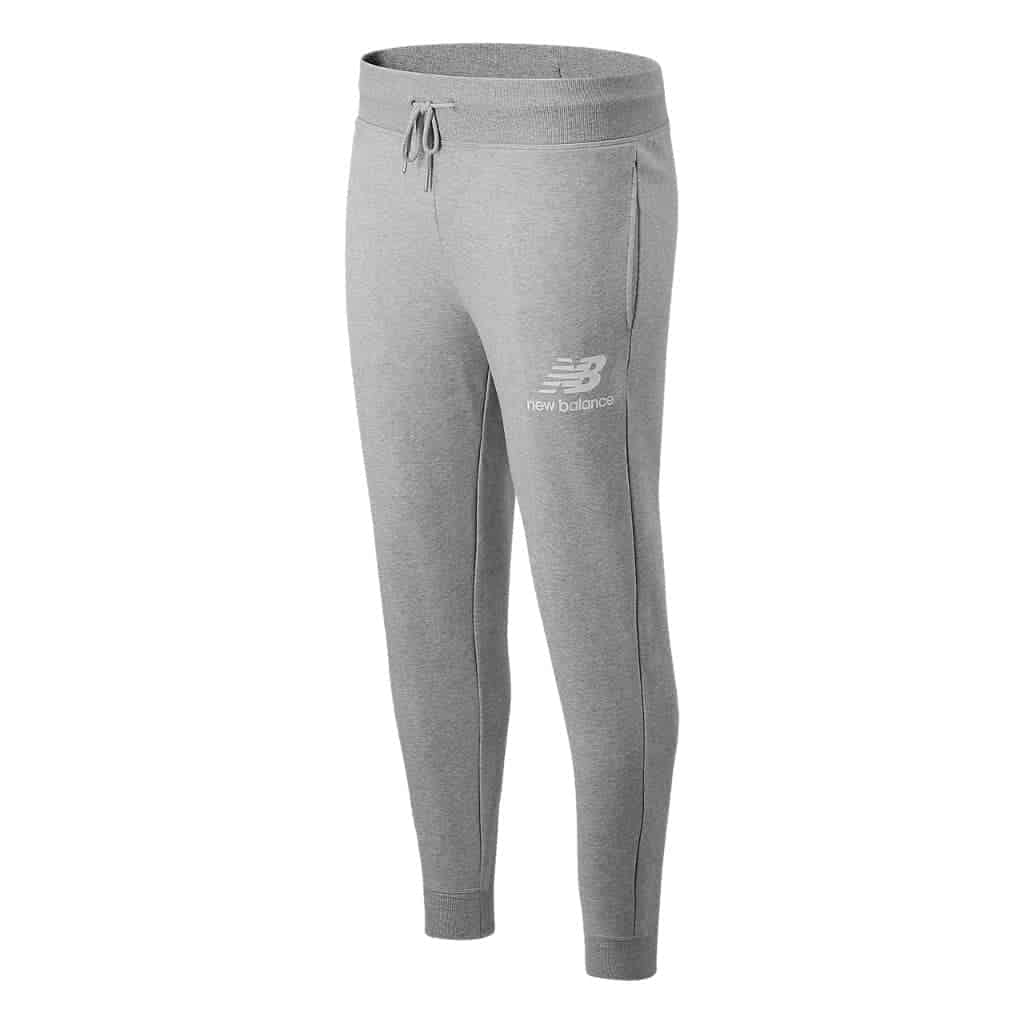 New Balance's Essentials Stacked Logo Sweatpant has the perfect combination of style, comfort, and functionality. It's made with French Terry fleece and has a tailored fit.
They're designed to fit close to your body while offering a good amount of stretch. It works well for active movements and isn't too tight.
The only drawback is that the logo stands out. If you want something more subtle and minimal, there are other options. Otherwise, the New Balance sweatpants pair well with a hoodie.
Buy the Essentials Stacked Logo Sweatpant from New Balance for $59.99.
19. Adidas Sportswear Tapered Pants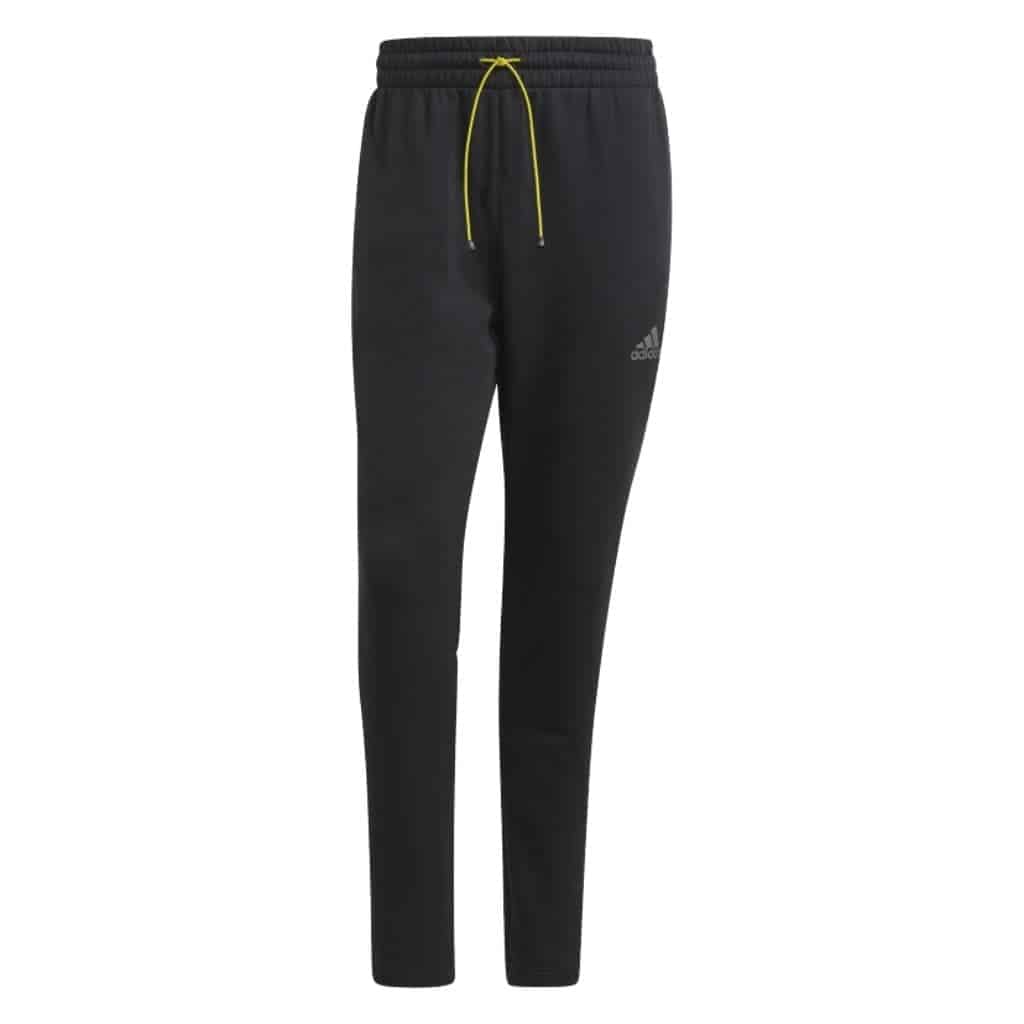 The three stripes on the side are the classic Adidas look. While it's great, the Sportswear Tapered Pants are better because it's more subtle and looks sleeker.
It's made with a blend of cotton and recycled polyester fleece, giving it a comfortable and athletic feel. The minimal styling and streamlined fit are what make the Adidas sweatpants a top-notch choice.
Buy the Sportswear Tapered Pants from Adidas for $60.
20. Zella Pyrite Pocket Joggers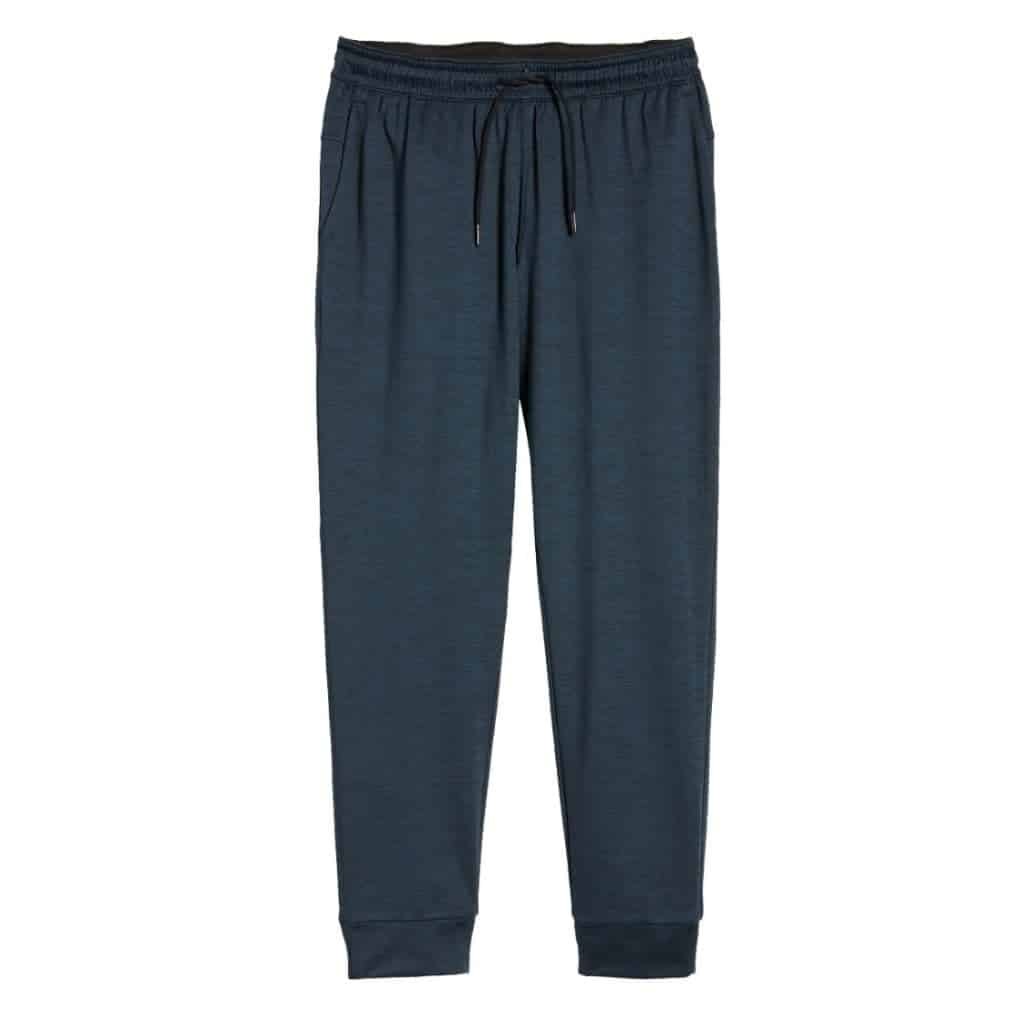 Zella is Nordstrom's athletic wear brand, and the Pyrite Slim Fit Pocket Joggers are worth a try. It costs less than other comparable sweatpants when you consider the excellent fit and quality.
It's made with polyester and spandex, which is designed to make it easy for you to move around. Whether you're hitting the gym or taking a walk outside, the Pyrite Pocket Joggers allow you to do in style.
Buy Zella Pyrite Slim Fit Pocket Joggers from Nordstrom for $59.
21. Amazon Essentials Fleece Sweatpant
If you're looking for a no-frills and budget-friendly pair of sweatpants, Amazon Essentials has you covered. Plus, you can get them in 13 different colors.
The Fleece Sweatpant is made with a heavyweight blend of cotton and polyester. It also has a straight-leg and relaxed fit. They're perfect for cooler weather, have a simple and classic sweatpant look.
Buy the Fleece Sweatpant from Amazon for $21.70.
Frequently asked questions
What's the best brand for sweatpants?
Overall, Nike is the best brand for sweatpants. They're stylish, comfortable, and functional.
How do I look good in sweatpants?
To look good in sweatpants, make sure they're well-fitting, in good condition, and wear them with a crisp tee, henley, or hoodie. It'll give you a relaxed, casual, and athletic look.
Can I wear sweatpants in public?
You can wear sweatpants in public as long as they fit well and are in good condition. If they don't look good, don't wear them outside of your home.
Conclusion
The perfect pair of sweatpants are functional, breathable, comfortable, and well-fitting. When you don't feel like dressing up, you can wear sweatpants with a hoodie or crisp t-shirt, and you'll still look great.
More resources:
Featured image courtesy of Vuori and Richer Poorer.
About David Em
Founder
David Em is the founder of Next Level Gents, the ultimate destination for tips and advice about style, grooming, fitness, and success.