A chronograph is a type of watch that's used as a display watch and stopwatch. It'll have dials, which keep track of seconds, minutes, and hours.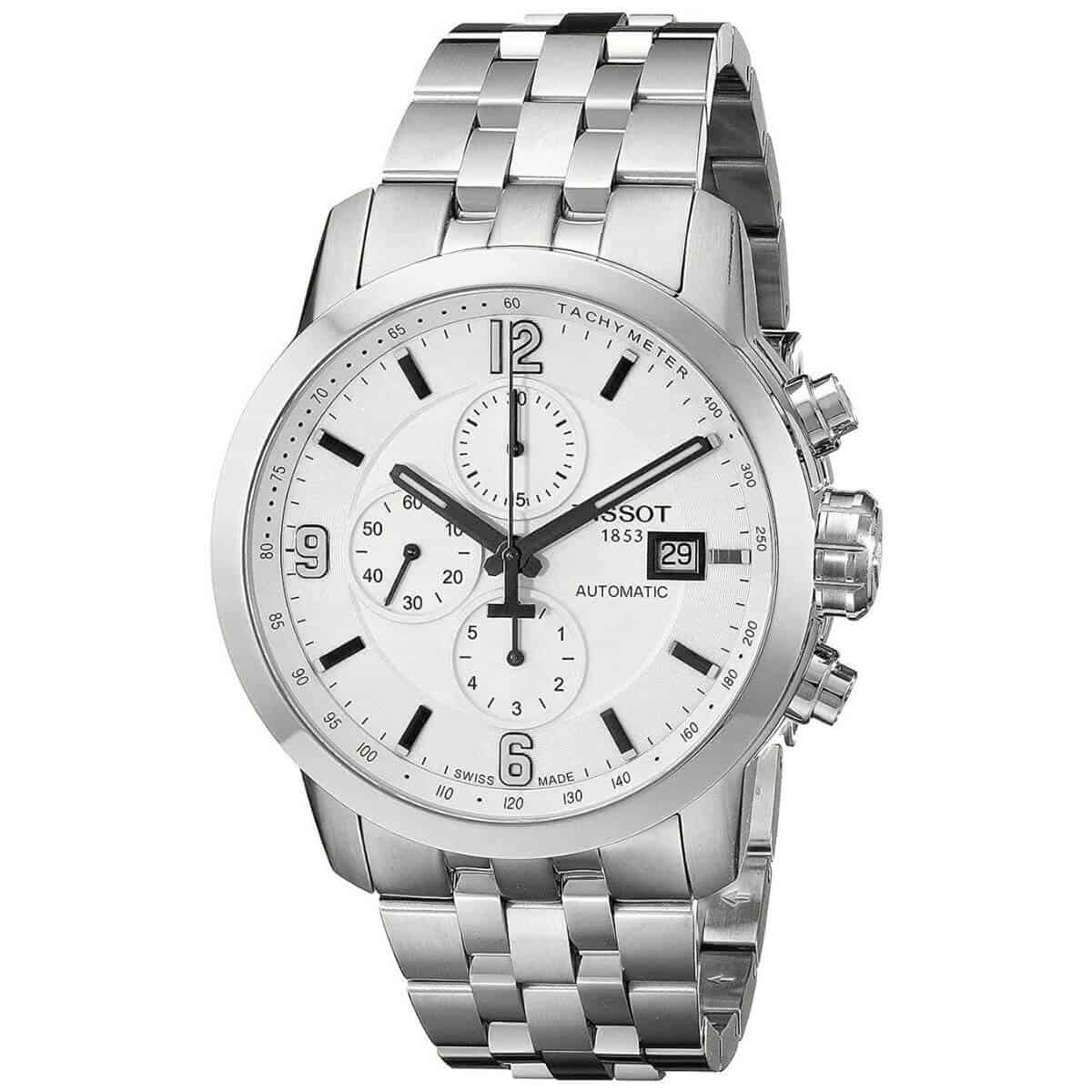 What's a chronograph watch?
A chronograph watch is a visually appealing timepiece that works as a display watch and a stopwatch.
Related: Best watches that cost less than $500
A typical watch will only tell you the time, and possibly the day, whereas the chronograph can track seconds, minutes, and hours.
History of the chronograph
The chronograph was invented in 1815 by the French watchmaker, Louis Moinet. Originally, Moinet had designed it as a pocket stopwatch exclusively for astronomers.
In 1821, another French watchmaker by the name of Nicolas Mathieu Rieussec invented and named the chronograph that would be sold to consumers.
The word chronograph directly translates to time writer. In the next year, he filed for a patent on the watch.
What began as a pocket watch made its way to wristwatches. In 1913, Longines built a mono-pusher chronograph, which was accurate to a fifth of a second.
This led to more watchmakers coming out with chronograph watches.
In 1915, Breitling released the first wristwatch chronograph with an independent push-piece. Then, Universal Geneve released its wristwatch chronograph in 1917.
In the early 20th century, chronograph watchmakers began selling them with a fixed bezel, which would be used as a tachymeter.
The tachymeter scale measures speed over a specific distance, which was commonly used by aviators and racers.
In 1958, the first rotating bezel tachymeter was introduced by Heuer, who was favored among racers. Now, Heuer is known as Tag Heuer.
Just over 10 years later came 1969, which was a big year for the chronograph. That's when Heuer, Breitling, and Buren partnered with Dubois-Depraz, a movement expert, to develop the Caliber 11, also known as the Chronomatic.
Then, Caliber 12, 13, 14, and 15 were released with updates and improvements.
Today, the chronograph watch is a common watch worn and loved by many.
What to look for when purchasing one
Before you buy a chronograph, you need to make sure you know what you need. The perfect watch depends on how you use it and what you want in a watch.
The following are features that'll help you pick a great chronograph:
Easy-to-read with markings that are readable at night.
Can track the measurement of time that you need.
Known for quality and accuracy.
A date display if you need it.
Water-resistant.
Decide on whether you want mechanical or quartz.
They tend to be larger watches, so consider the fit, and what you'll wear with it.
The features in the watch play a role in the price. Exotic movements will cost more. So will premium materials such as sapphire crystal, and a steel bracelet.
How to use a chronograph watch
The versatile watch has many uses. It can be used to time a run, meeting, or for brewing coffee.
Typically, a chronograph has a button at 2 o'clock and 4 o'clock. The activate the timer, press the button at the 2 o'clock position, and stop the timer by pressing the button again.
To reset the chronograph, press the button at the 4 o'clock position. The buttons are also known as pushers.
There are also normally 3 dials or circles, which measure the time that has elapsed. The 3 dials are the second, minute, and hour dials.
They're also called sub-dials, and the positions can vary depending on the watch manufacturer.
9 best chronograph watches
Regardless of your budget, there are chronograph watches that are made for you. When it comes to quality, vintage watches are the best options.
However, the following are the best chronograph watches for different budgets:
Timex Southview Multifunction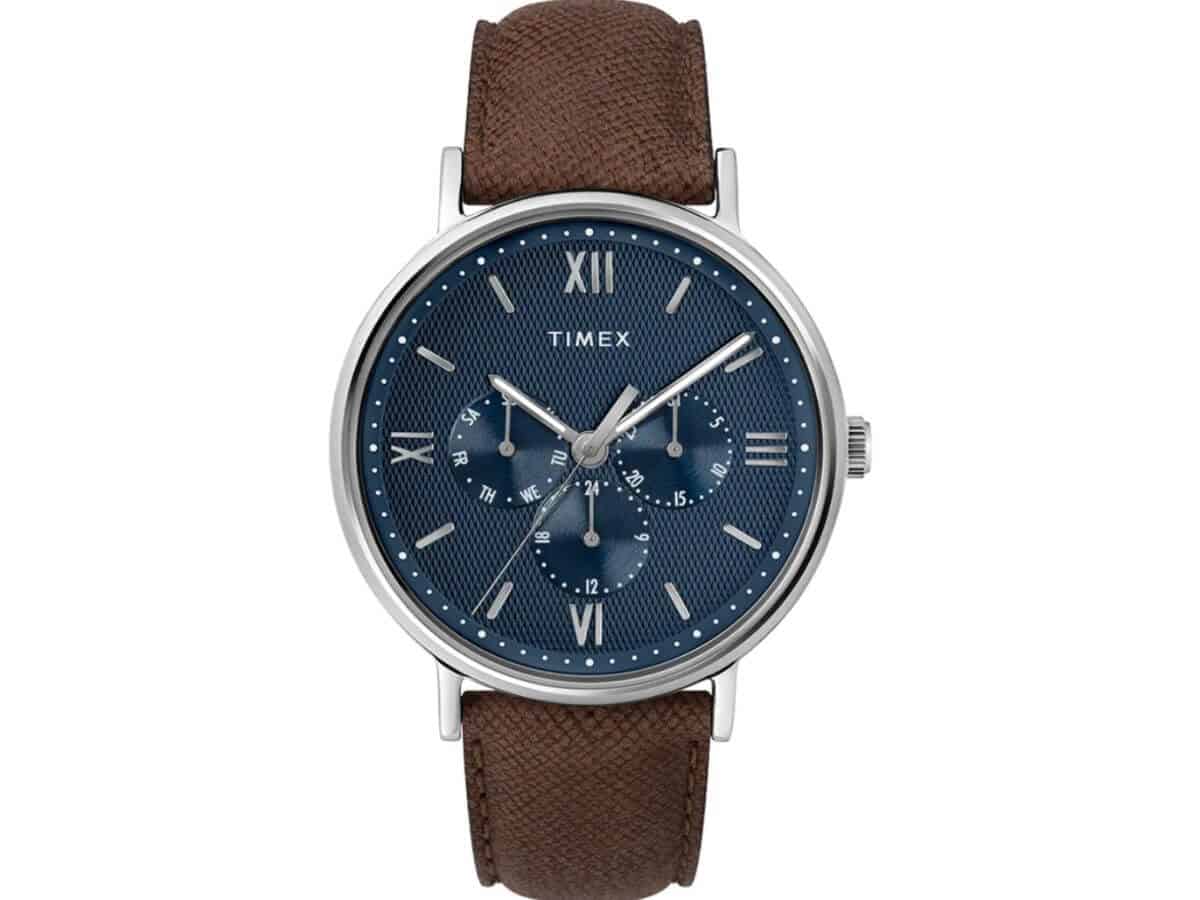 The Timex Southview is an affordable watch that you can wear any time of the day. It has a 41mm low lead brass case and has a water-resistance of up to 30 meters.
Buy the Timex Southview from Amazon (opens in a new tab).
Seiko Classic Black Leather Chronograph Dial Watch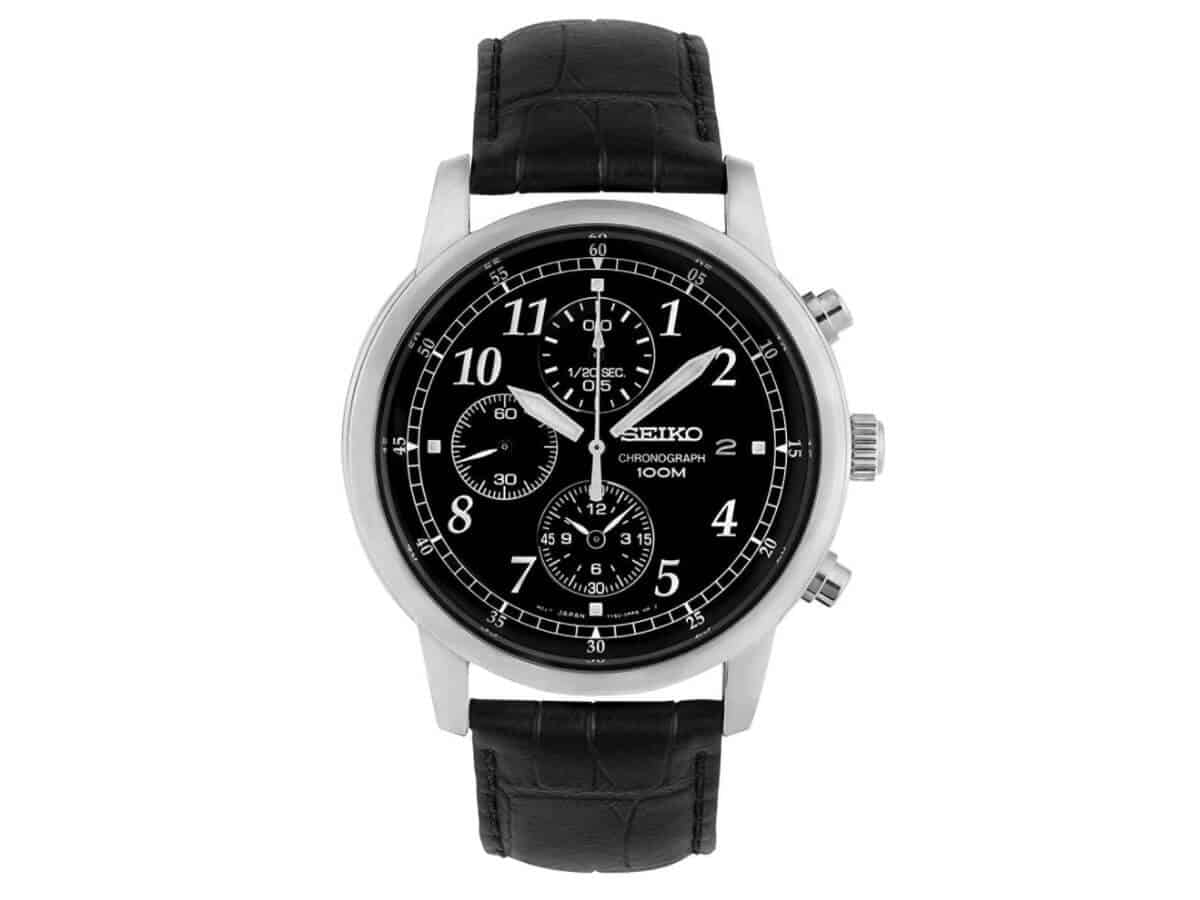 The Seiko Classic Chronograph is a simple and classic watch. It has a 40mm stainless steel case and a calfskin band with buckle closure. It also has a water-resistance of up to 100 meters.
Buy the Seiko Classic Chronograph from Amazon (opens in a new tab).
Tissot PRC 200 Automatic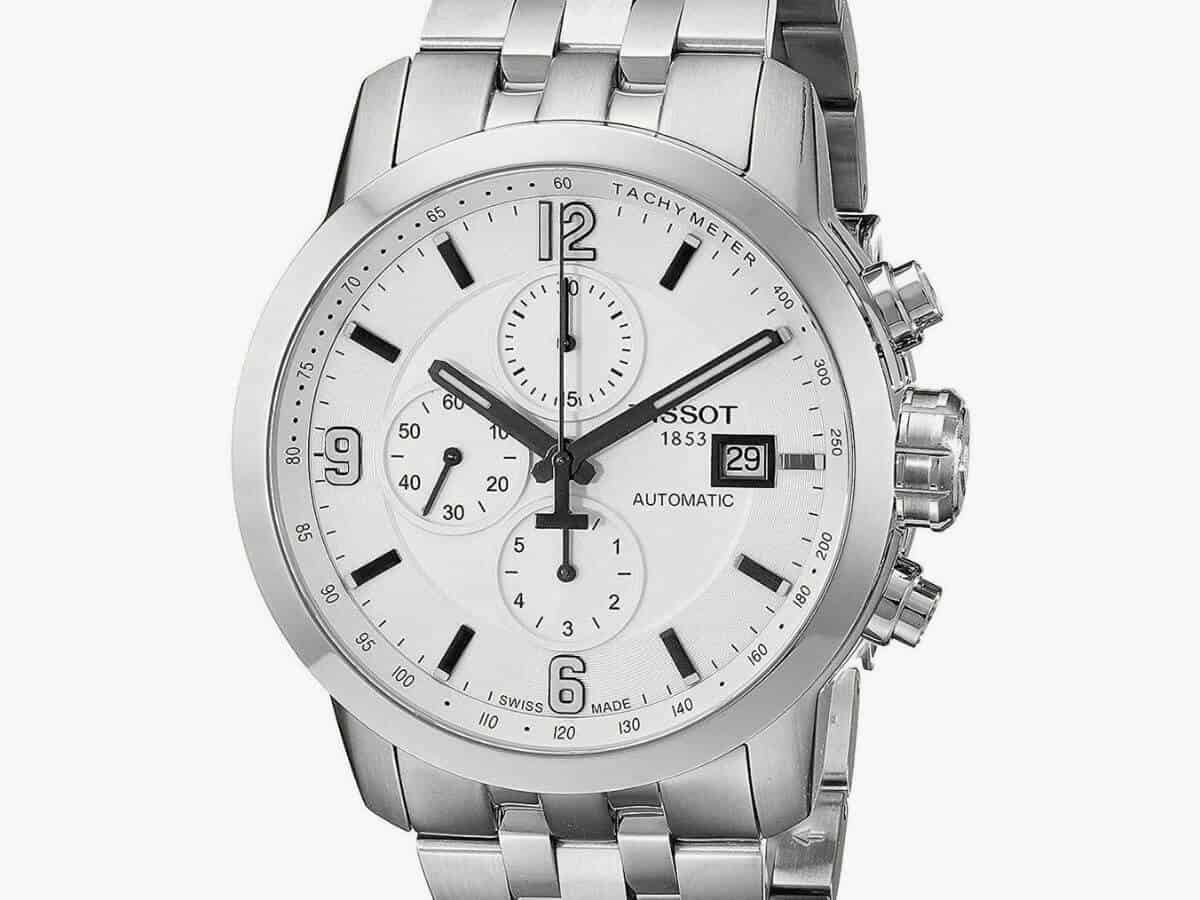 The Tissot PRC 200 is a high-quality Swiss-made watch. The classic 316L stainless steel case and scratch-resistant sapphire crystal make it an appealing watch. It also has a water-resistance of up to 200 meters.
Buy the Tissot PRC 200 from Amazon (opens in a new tab).
IWC Pilot Chronograph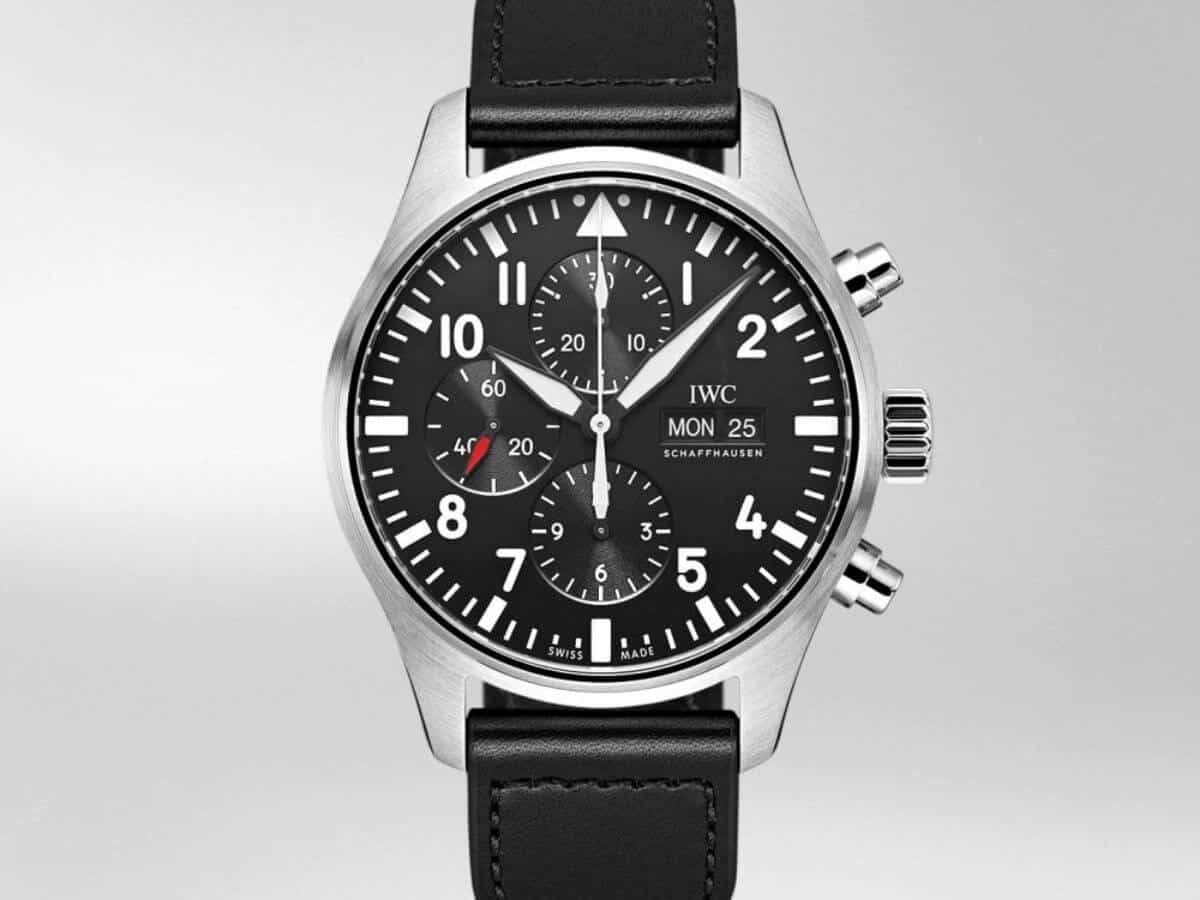 The IWC Pilot's Watch is designed for the cockpit. It has a 43mm stainless steel case, a black dial with luminescence, and a calfskin strap. It also has a water-resistance of up to 6 bar.
Buy the IWC Pilot's Chronograph
Tag Heuer Aquaracer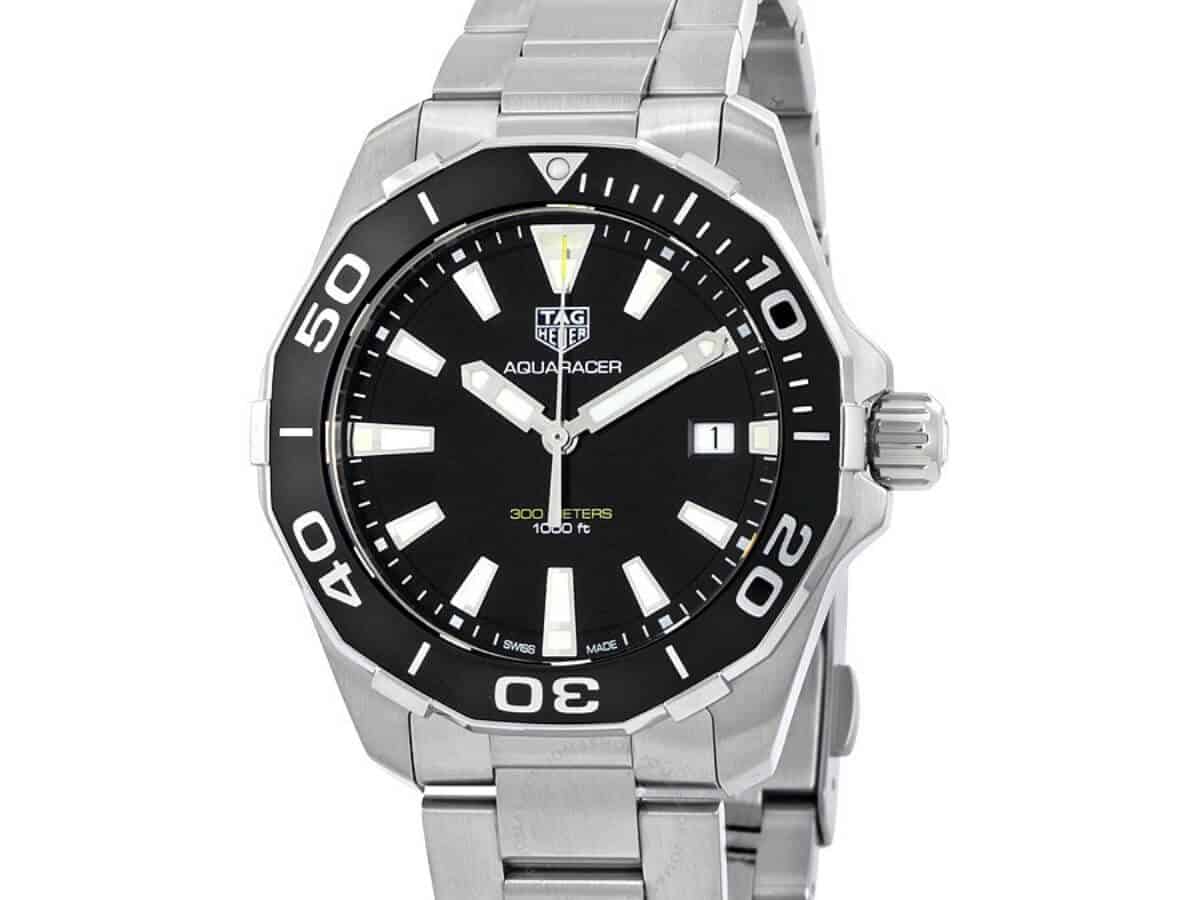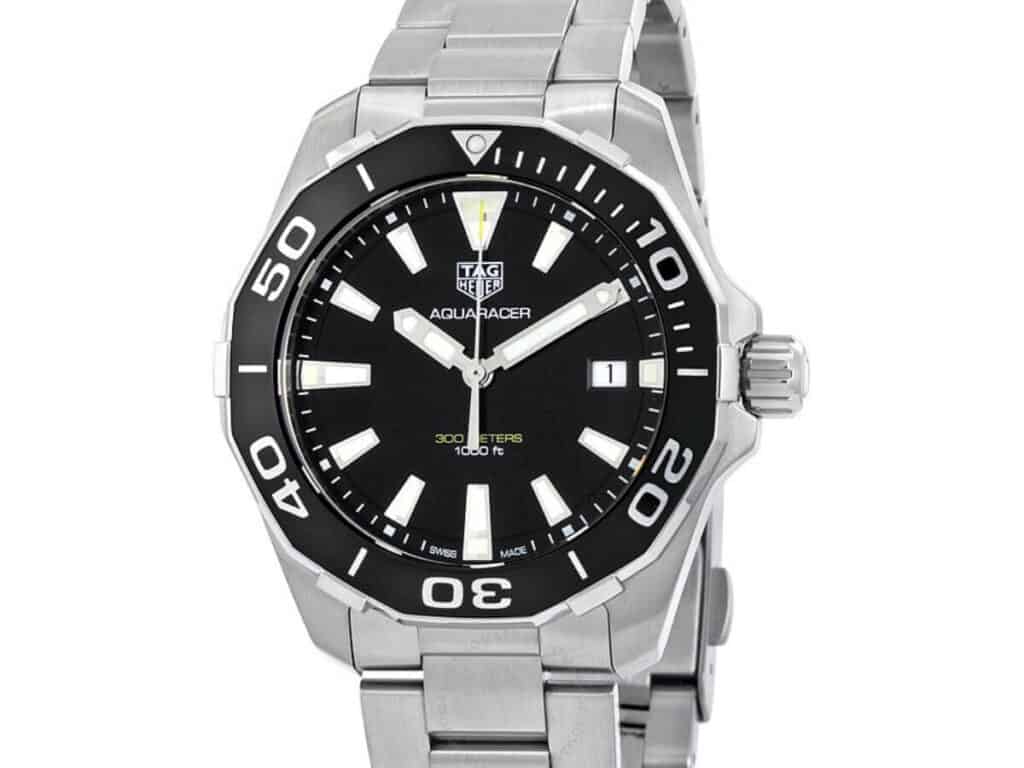 The Tag Heuer Aquaracer is recognized by its 12-facet bezel with built-in riders. It has a 43mm brushed and polished steel case. It also has a water-resistance of up to 300 meters.
Buy the Tag Heuer Aquaracer from Amazon (opens in a new tab).
Omega Speedmaster Moonwatch Professional Chronograph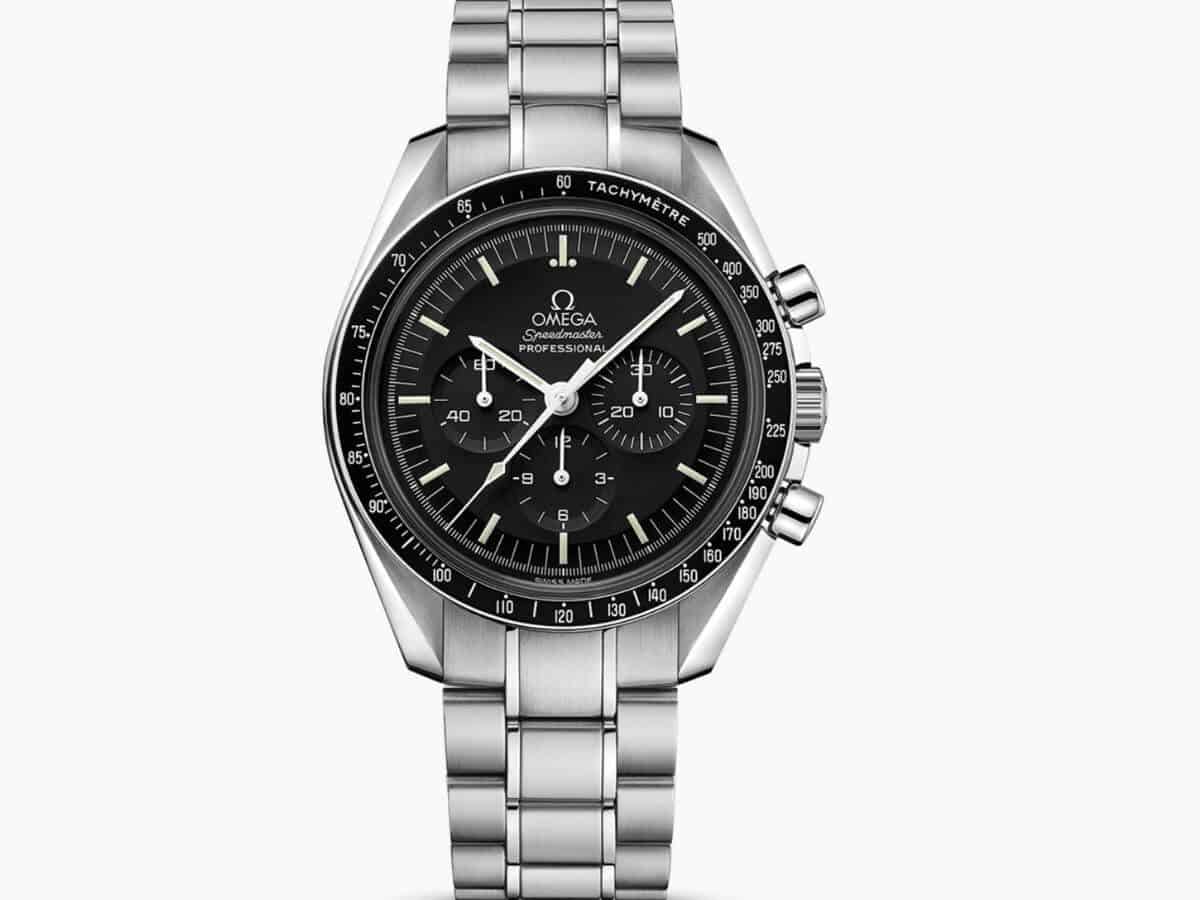 The Omega Speedmaster is one of the most famous watches. When Buzz Aldrin stepped on the lunar surface in 1969, he was wearing the Omega Speedmaster.
It became known as the Moonwatch. It has a 42mm stainless steel case, 48-hour power reserve, and manual-winding.
Buy the Omega Speedmaster Moonwatch from Amazon (opens in a new tab).
Breitling Aviator 8 Mosquito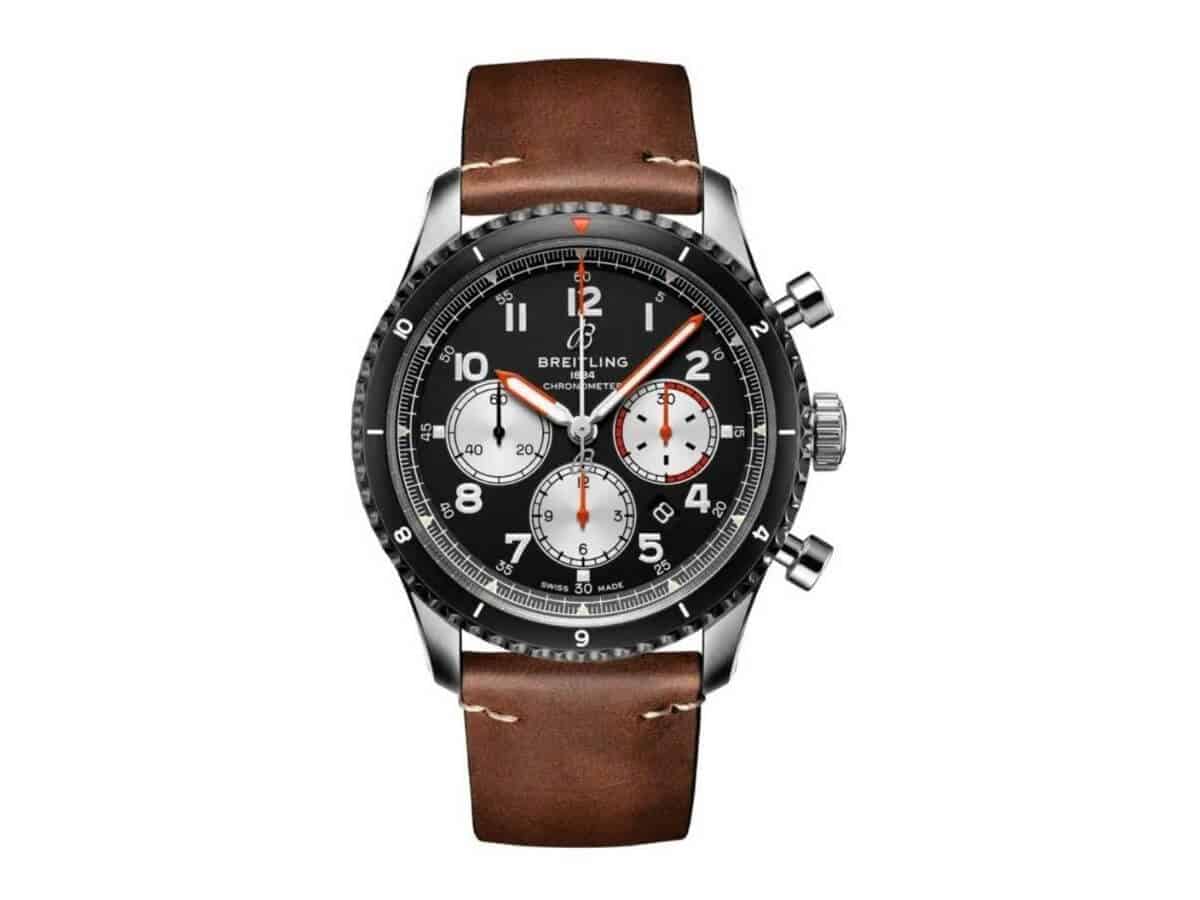 The Breitling Aviator 8 was made to honor De Havilland Mosquito, a British aircraft whose lightweight wooden construction made it one of the fastest planes in the skies during World War II.
It has a self-winding mechanical movement, 100-meter water-resistance, and a 43mm steel case.
Buy the Aviator 8 Chronograph 43 from Breitling (opens in a new tab).
Frederique Constant Flyback Manufacture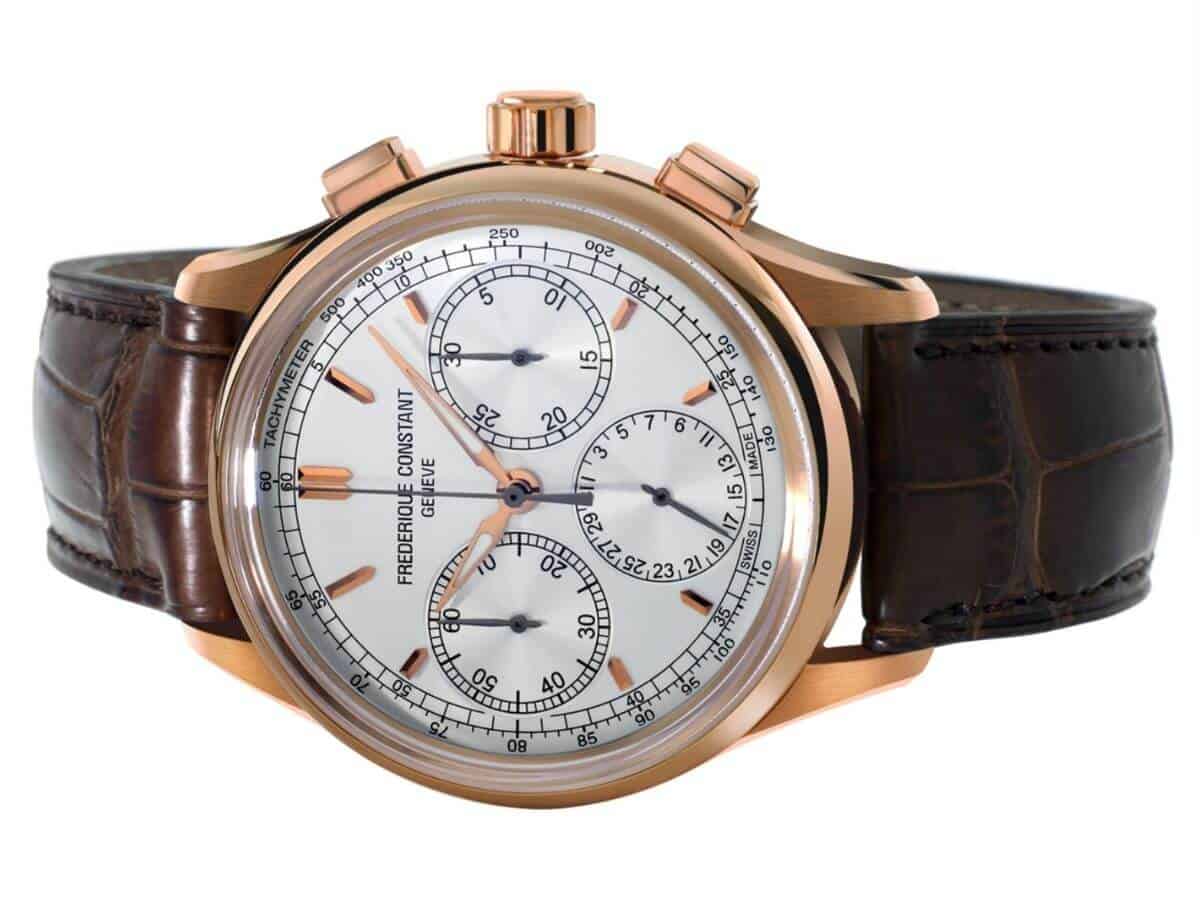 The Frederique Constant Flyback Manufacture has a rose gold plated polished and satin stainless steel 3-parts case that's 42mm. It's also water-resistant to 5 ATM and has a brown alligator strap.
Buy the Frederique Constant Flyback Manufacture from Jomashop (opens in a new tab).
Zenith Chronomaster El Primero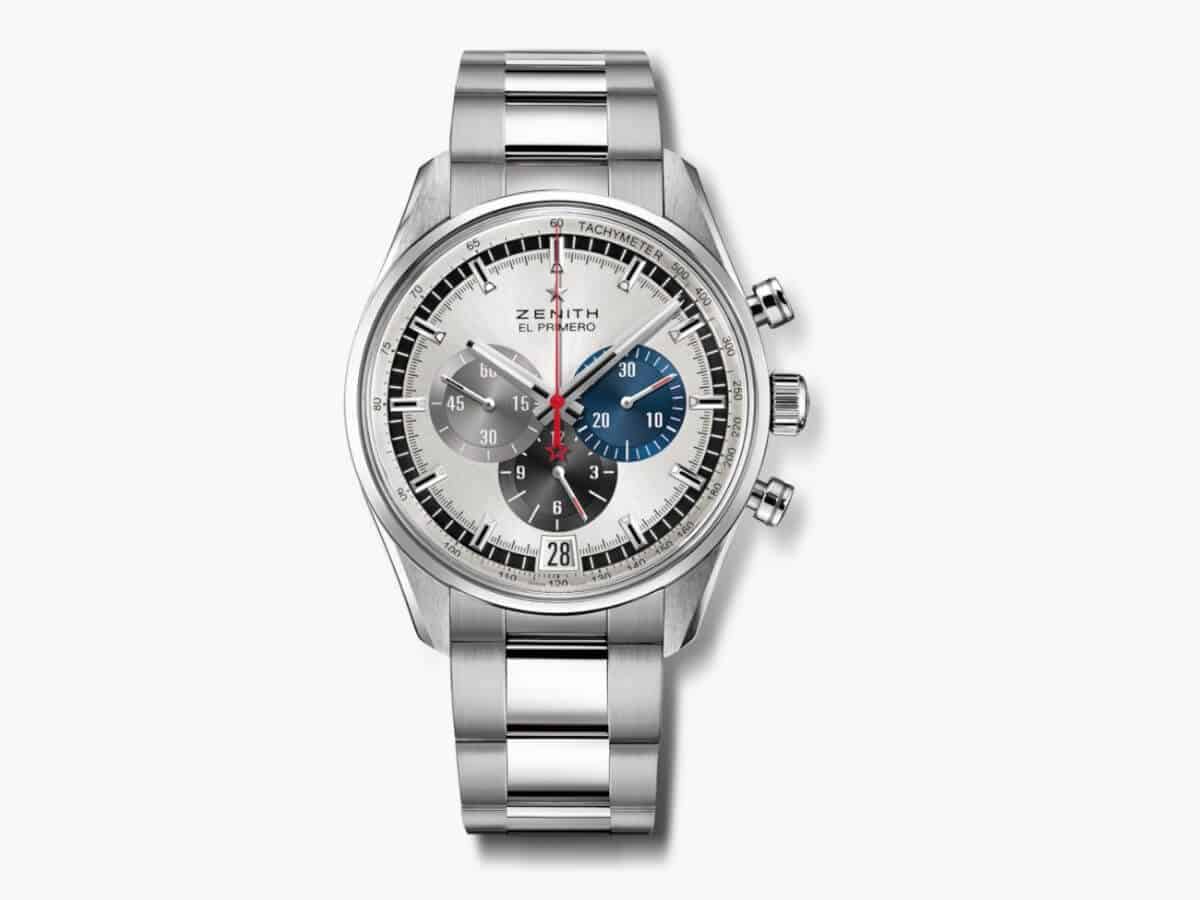 The Zenith Chronomaster El Primero is a classy watch. It has a 42mm steel case and is water-resistant to 10 ATM.
The El Primero has a central chronograph hand, a 12-hour counter at 6 o'clock, and a 30-minute counter at 3 o'clock. It also indicates the date at 6 o'clock.
Buy the Zenith Chronomaster El Primero from Amazon (opens in a new tab).
Frequently asked questions
Is it bad to leave a chronograph running?
Leaving a chronograph watch running will eventually cause the oils to dry, which results in wear on the parts of the watch subject to stress. Although it's not bad to leave it running, it may result in having to service your watch sooner than normal.
Is a chronograph watch worth it?
The watches that are built with quality are worth the money. Avoid chronograph watches that are overpriced and not built well.
Why are they expensive?
Chronograph watches are expensive because of the details and hard work that goes into making one. They're complicated timepieces due to the buttons that activate and reset the timer.
How are they powered?
Chronograph watches can be self-winding, manual or quartz powered.
Conclusion
Chronograph watches are a great pick because they offer more than one function.
Not only do they display the time, but they also work as a stopwatch to track time and distance.
Their classy and high-quality design will ensure that it lasts you a lifetime.
Featured image courtesy of Tissot.
About David Em
Founder
David Em is the founder of Next Level Gents, the ultimate destination for tips and advice about style, grooming, fitness, and success.