If you're like most men, you've probably searched "how to tie a tie" in your search bar. Here's your complete step-by-step guide.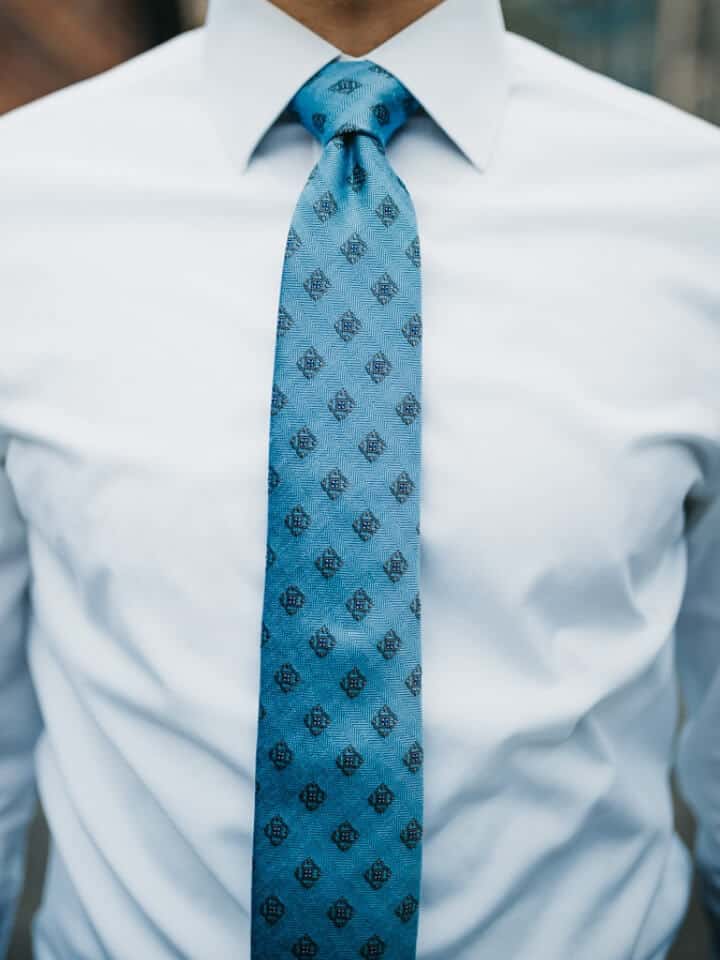 Why Do I Need to Know How to Tie a Tie?
You may be getting ready for an interview, starting a new job, going on a date or to a wedding when you realize, "shoot… I don't know how to tie a tie."
So you go to YouTube and try to find the easiest video that explains it step-by-step and in slow motion so that you can follow along in the mirror.
There are many reasons for why you should have this skill. Whatever that reason is, here are the only 2 knots you need to know.
Ties are also one way to instantly look better. People tend to give you more respect and take you more seriously. For other ways to improve your look check out my 7 things to do to instantly look better.
The Four-In-Hand Knot
This is typically the first tie people learn and the most popular. Why? It's simple and easy.
The Four-In-Hand is the perfect knot for ties that are made of heavier materials. It's great because it is a slim and slightly asymmetrical tie knot.
What makes this knot so great is that it is so easy to tie. An easy knot that is also very professional.
The Windsor Knot
The Windsor knot is a more complex than the Four-In-Hand yet it is still fairly simple. This knot is elegant and timeless.
You may not know the Windsor by its name but many of you have probably seen it before. It is a large, thick knot that fits well between any collar.
This knot is perfect for formal events.
What About the Other Knots?
There are plenty of knots. Along your search, you'll find many different styles. From simple to complex, there are so many different ways and techniques.
The Four-In-Hand and the Windsor are the two essential knots that you can use for any occasion. If you want to learn more knots, go for it.
If you are just starting out or are still trying to learn how to tie your first know, the two listed here are should be the first two you learn.
What Color Should I Get?
The color should complement the rest of your outfit or suit. It should also pair well with your shoes and belt.
Different colors also have different meanings. Red means business. It represents power, authority, and strength. Blue represents trust, persistence and confidence.
Depending on the occasion, you should consider the color and the subtle message you're portraying.
Blue and red should be the first ties to buy. From there you can explore other colors and see what fits best.
Different Tie Materials
When it comes to ties, there are many different materials and textures. For your first one, silk is a great option because it can worn in any season.
Great silk ties:
The Tie Bar $19, Buy from Nordstrom
Ted Baker $95, Buy from Nordstrom
Nordstrom Men's Shop $80, Buy from Nordstrom
Wool is a great material to have for colder months. Wool ties are a lot warmer and thicker than silk ties. This makes it perfect for the fall and winter.
Great wool ties:
The Tie Bar $19, Buy from Nordstrom
Ted Baker $95, Buy from Nordstrom
Also, 2.5 inch to 3.25 inch ties are great widths that will not fail you.
Become a Pro + Share With Others
Once you get this down, teach and share this with others. Use the hashtag #NextLevelGents or tag me @nextlevelgents. I'd love to see you use this guide and have it benefit you!