In the market for a new body wash? Find out what the best body washes are to make you smell great, feel fresh and clean.
Estimated reading time: 9 minutes
We receive a commission on purchases made through links on this page. For more information, read Affiliate Disclosure.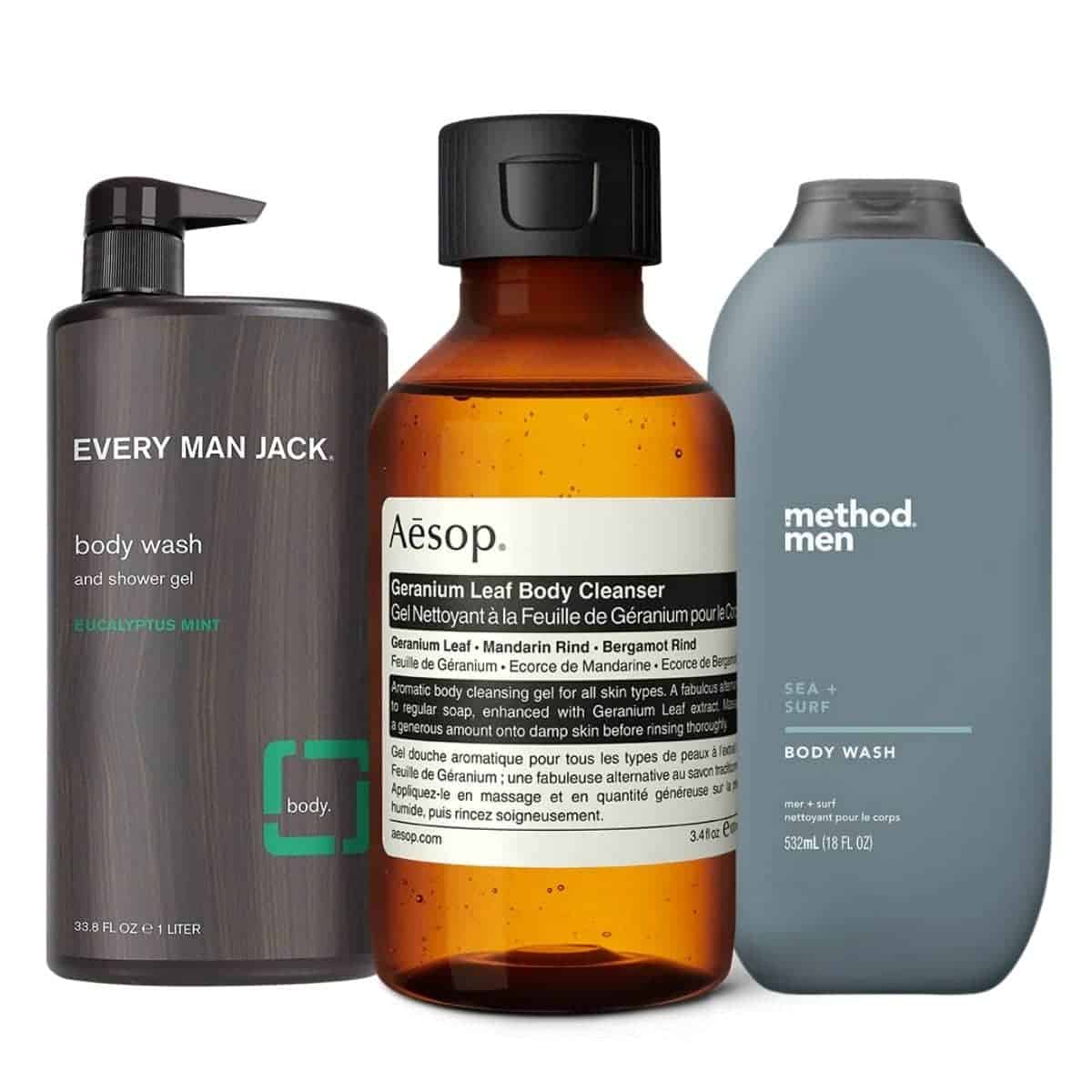 Related: The best deodorants for men
1. Method Men Body Wash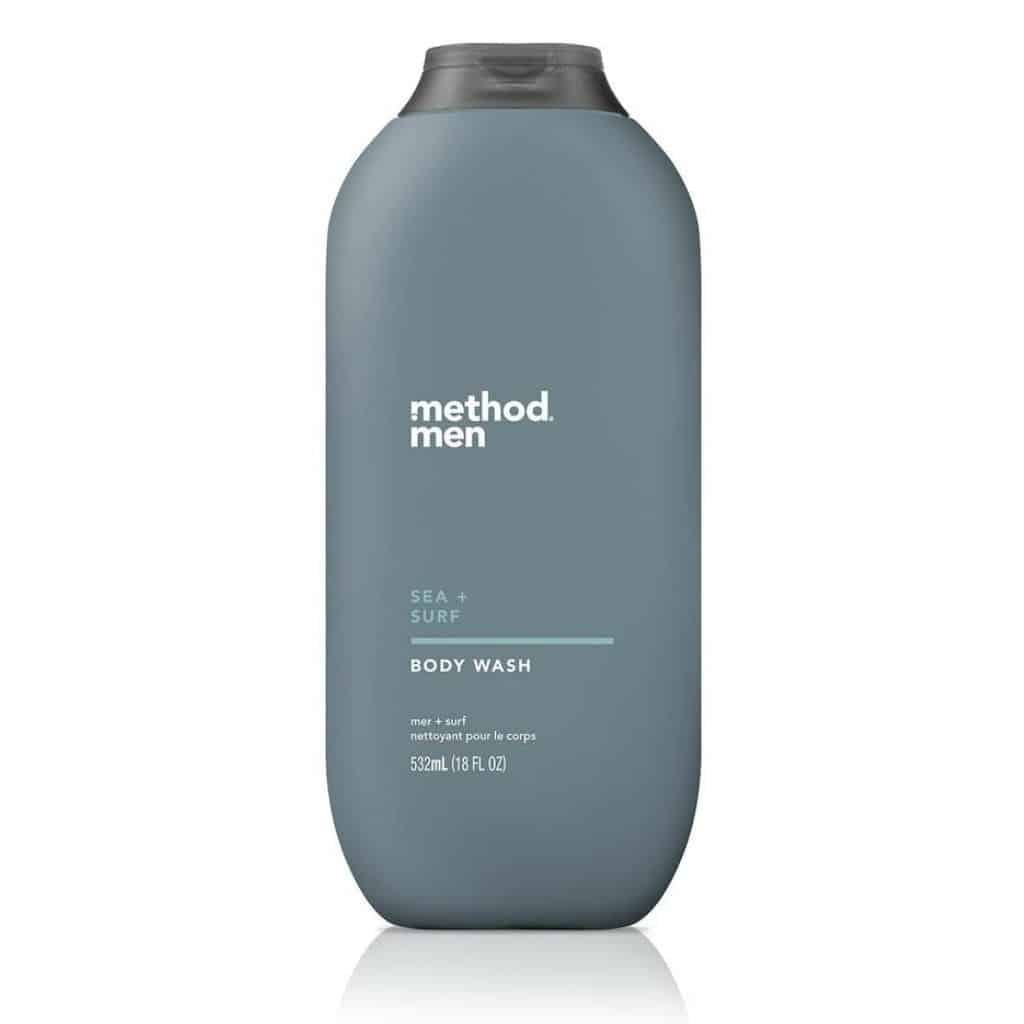 Method became popular for their natural and non-toxic cleaning supplies. Now, Method has expanded into body care, and it's great that they did.
The Sea and Surf body wash is made with plant-based cleansers while being free of parabens and phthalates. It's one of the best-smelling body washes for men, as it has a crisp and clean scent with nautical notes.
Buy Method Men Body Wash from Target for $7.49.
2. Jack Black All-Over Wash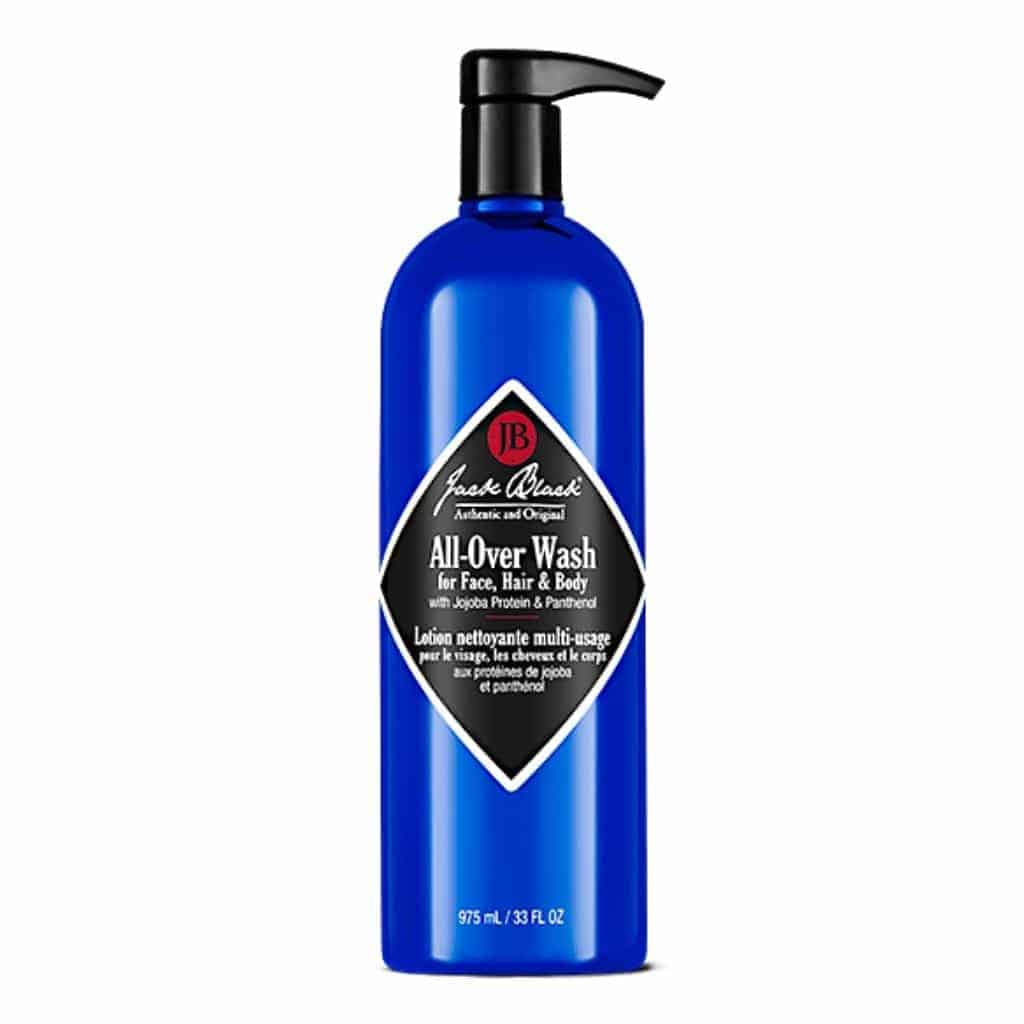 Looking for a body wash that you can also use on your hair and face? While most 3-in-1 washes aren't anything special, Jack Black's All-Over Wash is. It's an effective, multipurpose, and sulfate-free wash.
It does an excellent job at removing dirt and cleaning your skin and hair without drying it out. The pH-balanced cleansers ensure that your skin stays moisturized.
Buy All-Over Wash from Jack Black for $21.
3. Aesop Geranium Leaf Body Cleanser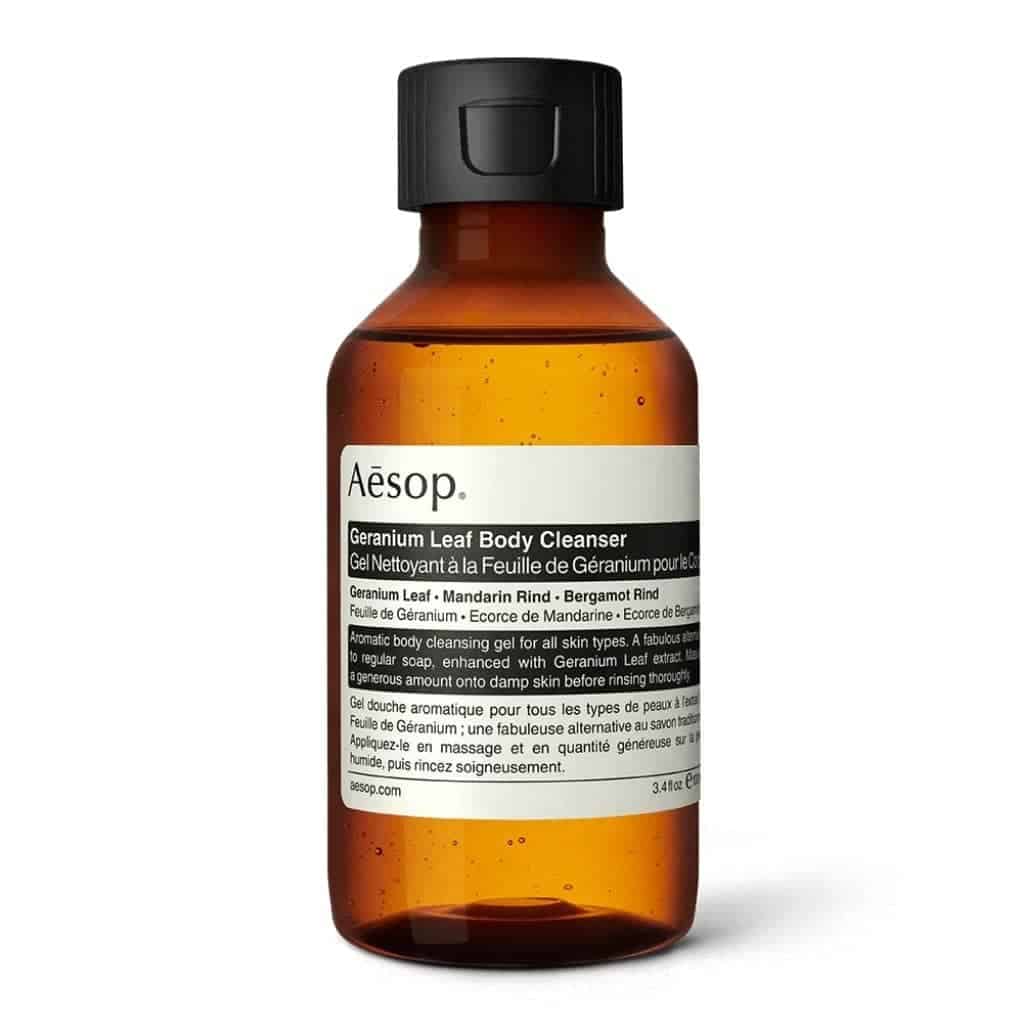 For a luxurious, sophisticated, and good-smelling body wash, Aesop has the best one. The Geranium Leaf Body Cleanser removes dirt and sweat while nourishing your skin.
It's a gentle cleanser that has a fresh citrus scent. The main ingredients are geranium leaf, Mandarin rind, and bergamot rind. You can wash your body in style and leave feeling refreshed.
Buy Geranium Leaf Body Cleanser from Aesop for $17.
4. Le Labo Hinoki Shower Gel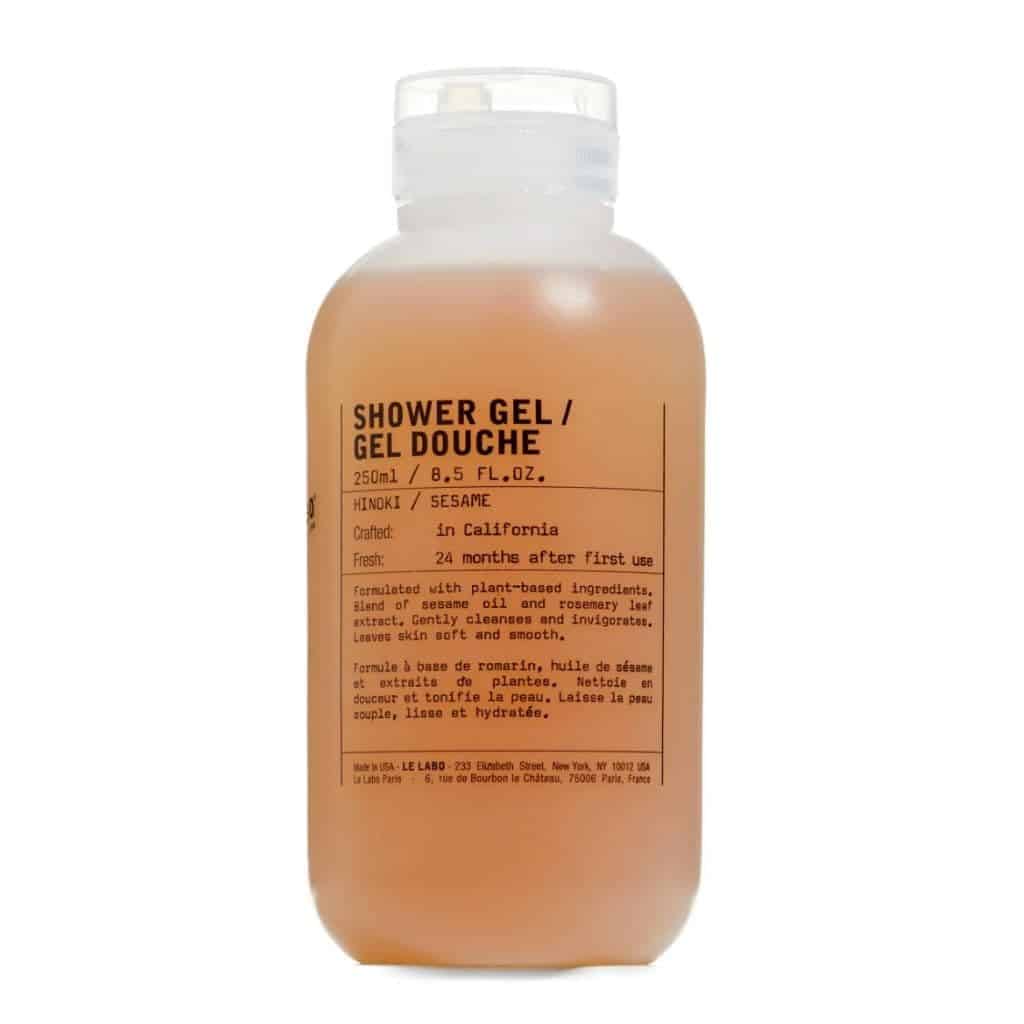 Le Labo makes top-notch and unisex personal care essentials. The Hinoki Shower Gel is one that you need to have. Not only does it come in a minimal and stylish bottle, but it's also effective.
It's made with a plant-based formula that's gentle and creates a rich and thick lather. It's free of parabens, phthalates, and artificial colorants. The key ingredients are sesame, rosemary leaf, and sunflower oil.
Buy Le Labo Hinoki Shower Gel from Nordstrom for $27.
5. Malin + Goetz Bergamot Hand + Body Wash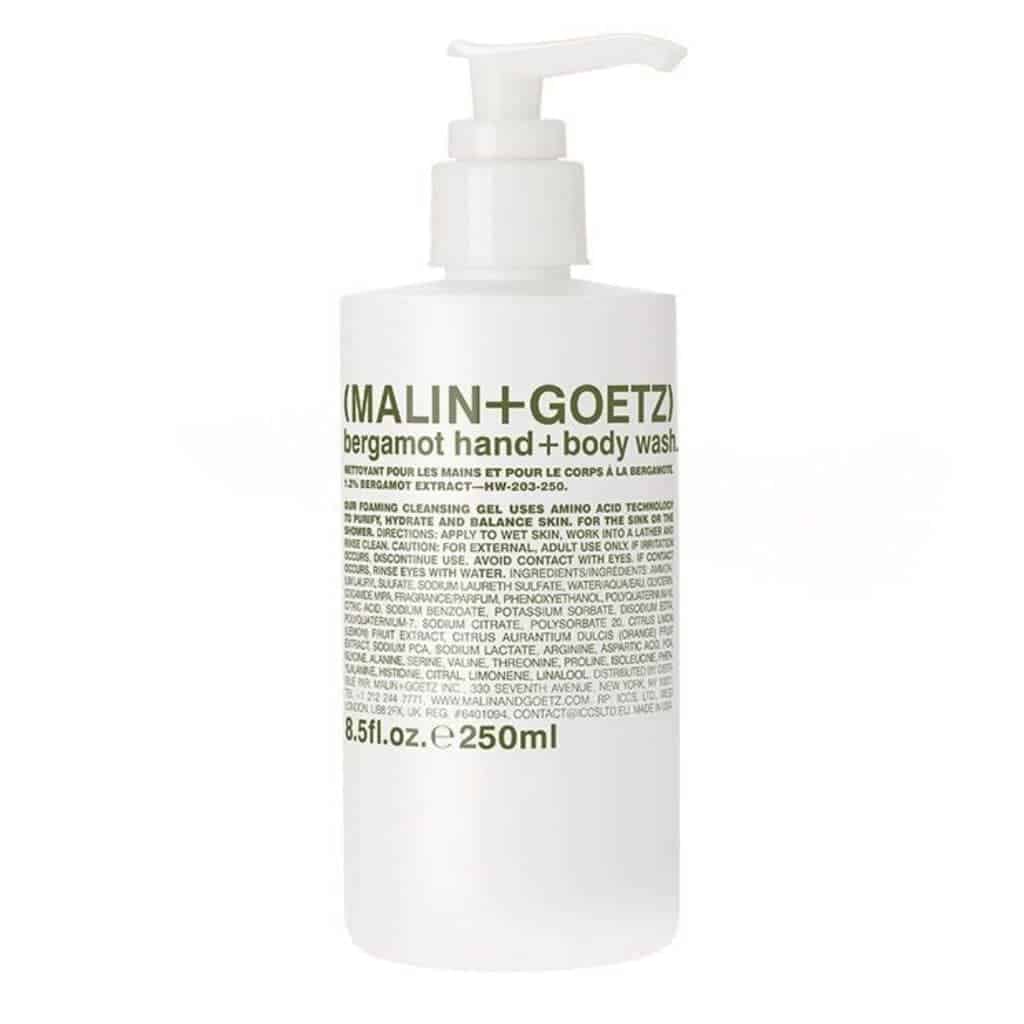 Can a body wash double as a hand wash? Absolutely, it can. Malin + Goetz changes the game with a hand and body wash that lathers into a rich and thick foam. It does a great job at washing away dirt, grime, sweat, and debris.
While it thoroughly cleans your skin, the amino acids and glycerin ensure that your skin doesn't dry out. The bergamot scent is light and has a nice touch of citrus.
Buy Bergamot Hand + Body Wash from Malin + Goetz for $24.
6. Harry's Body Wash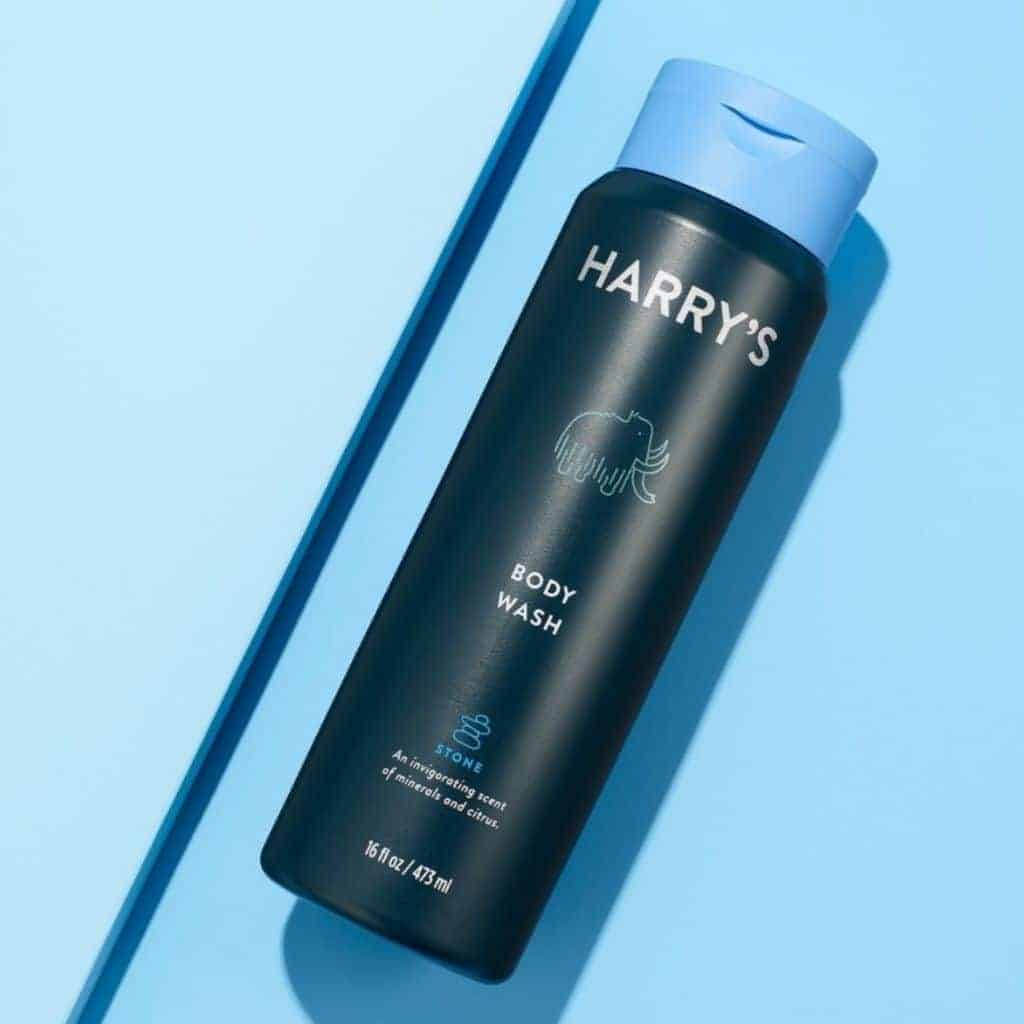 Harry's body wash is incredible. It's free of sulfates, parabens, and dyes. It comes in a 16-ounce bottle, smells amazing, and costs $7. You're not going to find a better body wash at that price.
It's packed with gentle ingredients that cleanse deeply. It creates a rich and thick lather, which leaves your skin nourished and clean.
The Stone scent tops the list. It has a cool, fresh, and citrus scent. The key ingredients for the smell are Japanese Yuzu, charcoal, and bergamot.
Buy Body Wash from Harry's for $7.
7. Native Body Wash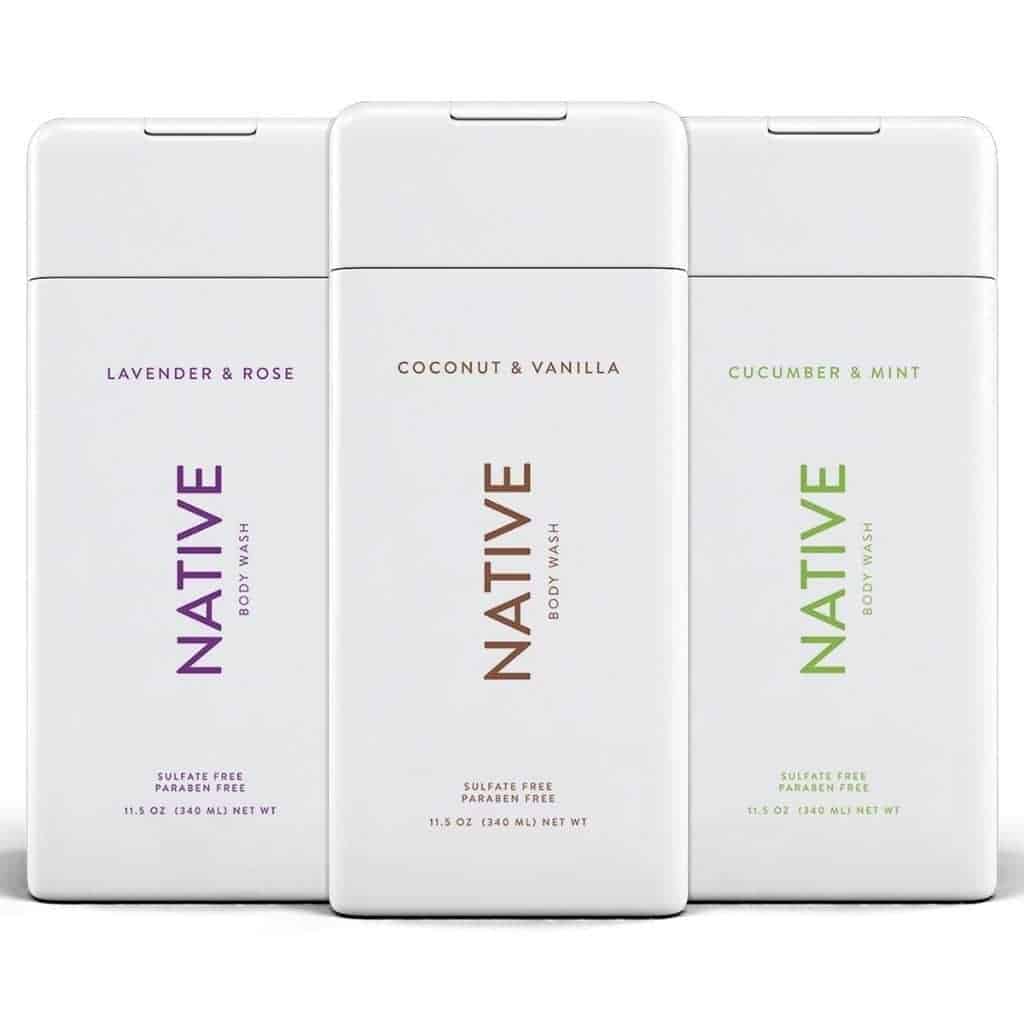 Initially, Native became popular for its deodorant. Now, they've expanded into other products, such as body wash. Native body wash will leave your skin soft and clean. It has many scents to choose from and an unscented option if you have sensitive skin.
It's made with water, different salts, coconut oil derivatives, and citric acid. The clean formula is free of parabens and sulfates. It cleans well and nourishes your skin.
Buy a 3-pack of Native Body Wash from Amazon for $20.97.
8. NIVEA Men Sensitive 3-in-1 Body Wash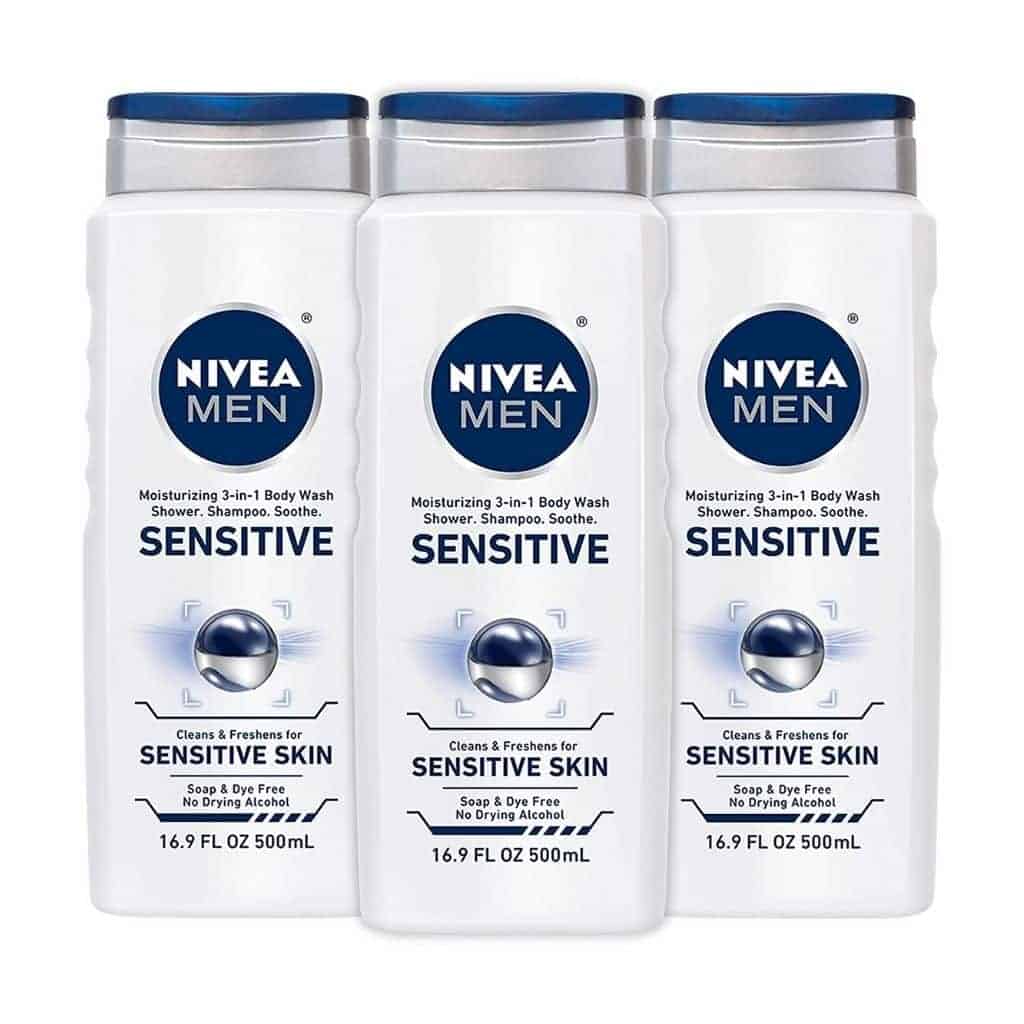 NIVEA is one of the largest and most well-known personal care brands. The 3-in-1 wash works on your body, face, and hair. It's a versatile wash that's also gentle enough for sensitive skin.
The formula is free of dyes, soap, and drying alcohol. This ensures that it leaves your skin moisturized instead of stripping it away.
Buy NIVEA Men Sensitive 3-in-1 Body Wash from Amazon for $10.56.
9. Everyone 3-in-1 Soap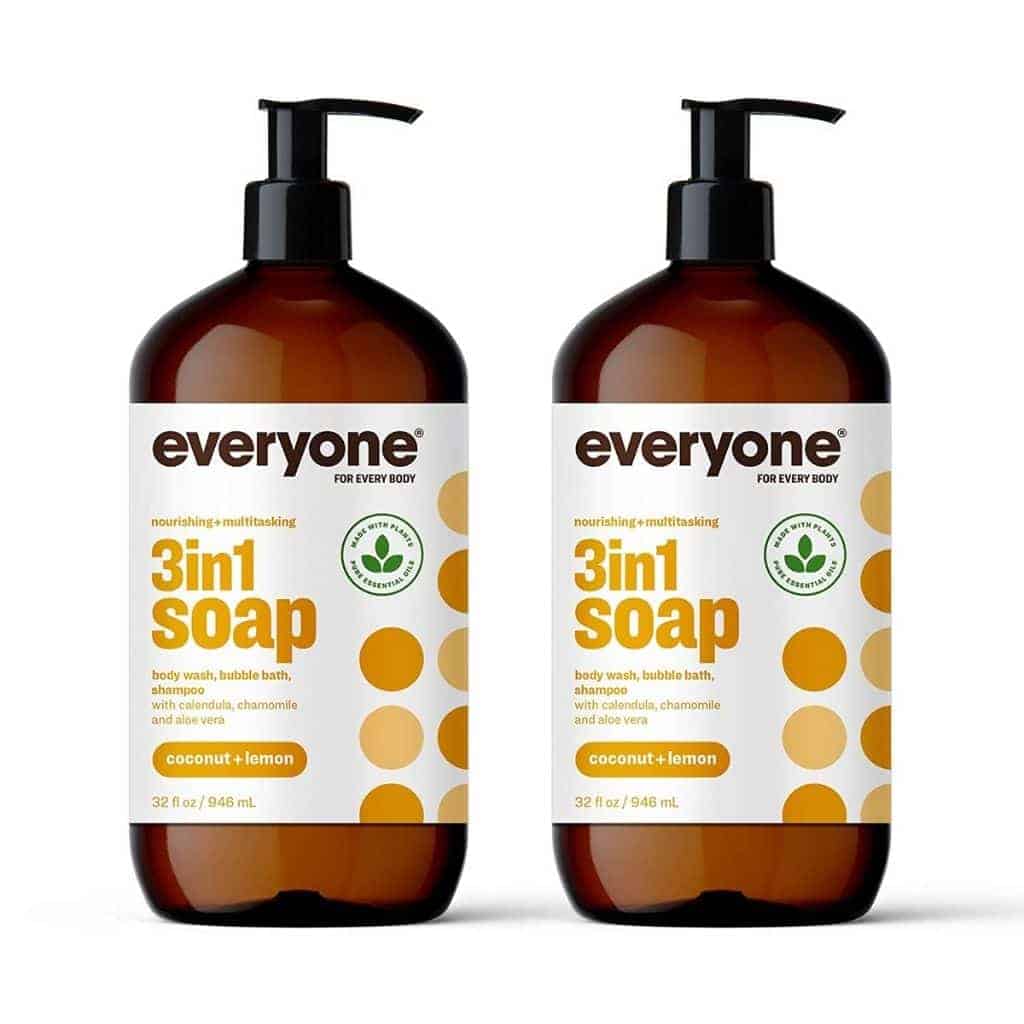 As the name suggests, Everyone creates products for everybody. The 3-in-1 soap is versatile, effective, and made with a plant-based formula. You can use it as body wash, shampoo, or for a bubble bath.
It's one of the best products to use as a body wash because it's made with organic herbs, such as calendula, aloe vera, and chamomile, which soothe your skin. It also has antioxidants, including white tea extracts, vitamins E, and vitamin B5.
Buy Everyone 3-in-1 Soap from Amazon for $18.27.
10. Dove Men+Care Elements Body Wash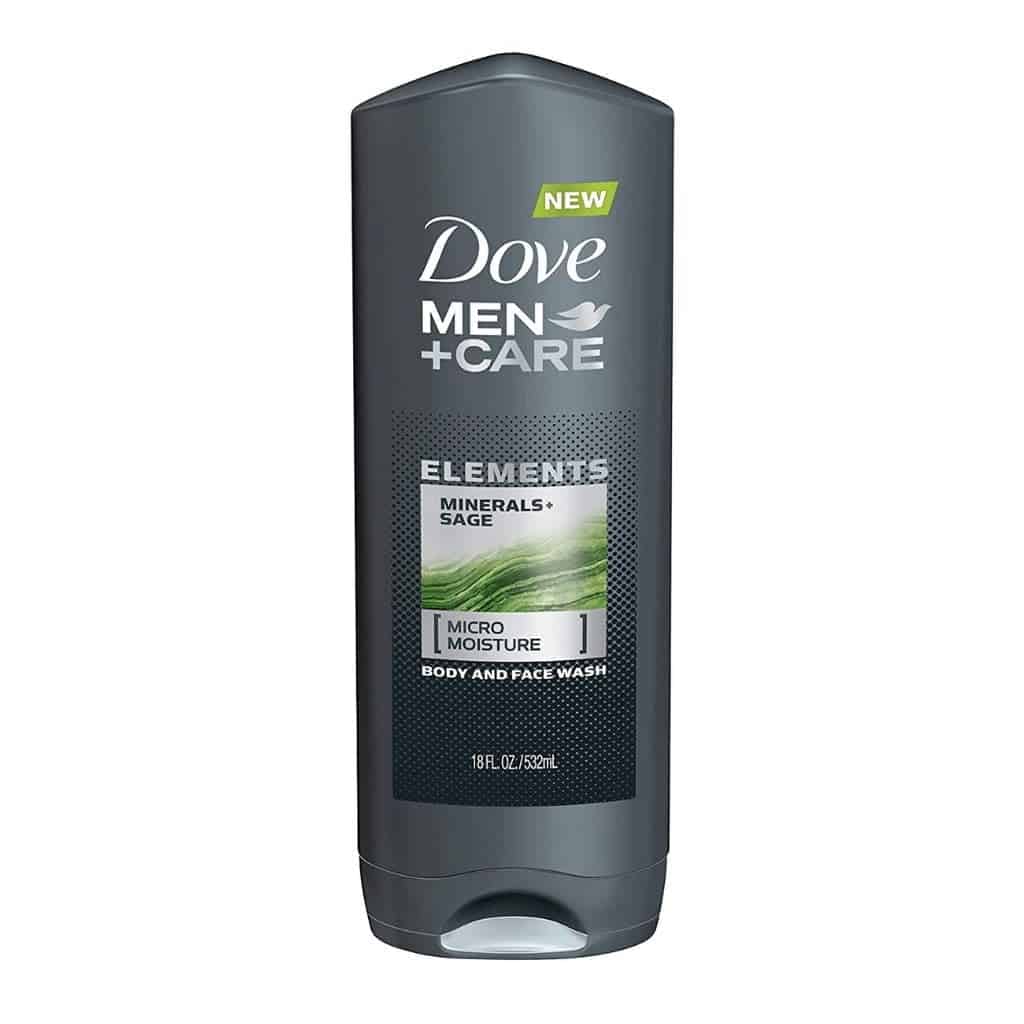 Dove is a popular brand when it comes to personal care. The Elements body and face wash leaves you feeling fresh and clean. It lathers nicely and washes off easily.
It has a scent of sage, peppermint, and eucalyptus, which provide is energizing and comforting at the same time. If you're looking for quality and are also on a budget, Dove's body wash is an ideal choice.
Buy Dove Men+Care Elements Body Wash from Amazon for $5.27.
11. Jo Malone London Pomegranate Noir Body Wash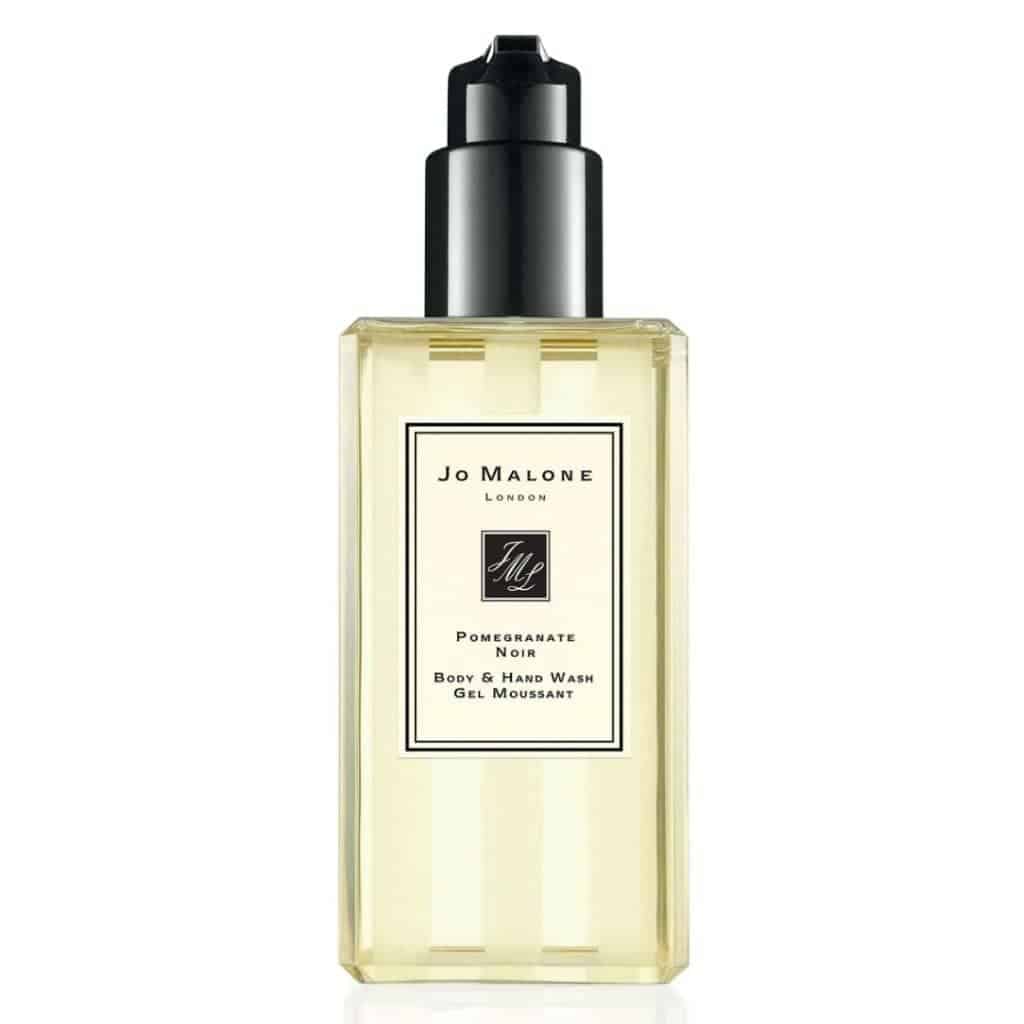 The pomegranate body wash by Jo Malone London is a high-end, classy, and luxurious wash. It works as a body and hand wash, leaving your skin cleansed and refreshed.
While other washes may leave your skin dry, Jo Malone's body wash features moisturizing agents. The fresh scent of pomegranate includes notes of raspberry, plum, pink pepper, Casablanca lily, and spicy woods.
Buy Jo Malone London Pomegranate Noir Body Wash from Nordstrom for $44.
12. Every Man Jack Body Wash
Every Man Jack offers a variety of men's grooming products. The body wash stands out from others because of its commitment to excellence. 97% of the formula comes from naturally derived ingredients.
There are many scents to choose from. However, the eucalyptus mint is great because it's refreshing and a great scent for unwinding after a long day. It also has coconut-derived surfactants for cleansing and glycerin for moisture retention.
Buy Every Man Jack Body Wash from Amazon for $17.62.
Frequently asked questions
Is body wash better than bar soap?
Body wash and bar soap are both great options for cleaning your body. However, bar soap is more sustainable and eco-friendly.
Can you use body wash as shampoo?
While you can use body wash on your hair, it's best to use shampoo because it's designed to clean and moisturize hair. If you use body wash on your hair, you may notice that your hair feels different after.
How do I pick the right body wash?
To choose the right body wash, you must understand the type of skin you have. Is your skin dry, oily, sensitive, or prone to acne? Different body washes are geared towards different skin types. If you're unsure, go with an unscented body wash made for sensitive skin.
Conclusion
Since you're using it every day, it's important to use a high-quality body wash. You can choose between a stand-alone body wash or a 3-in-1, which acts as body wash, face wash, and shampoo. Use one that's made with great ingredients and leaves you smelling fresh.
More resources:
Featured image courtesy of Amazon, Aesop, and Target.
About David Em
Founder
David Em is the founder of Next Level Gents, the ultimate destination for tips and advice about style, grooming, fitness, and success.