Learn how to hem your jeans, while keeping the original hem to give you the perfect fit. It'll make them last longer and look better.
We receive a commission when you buy through affiliate links on this page.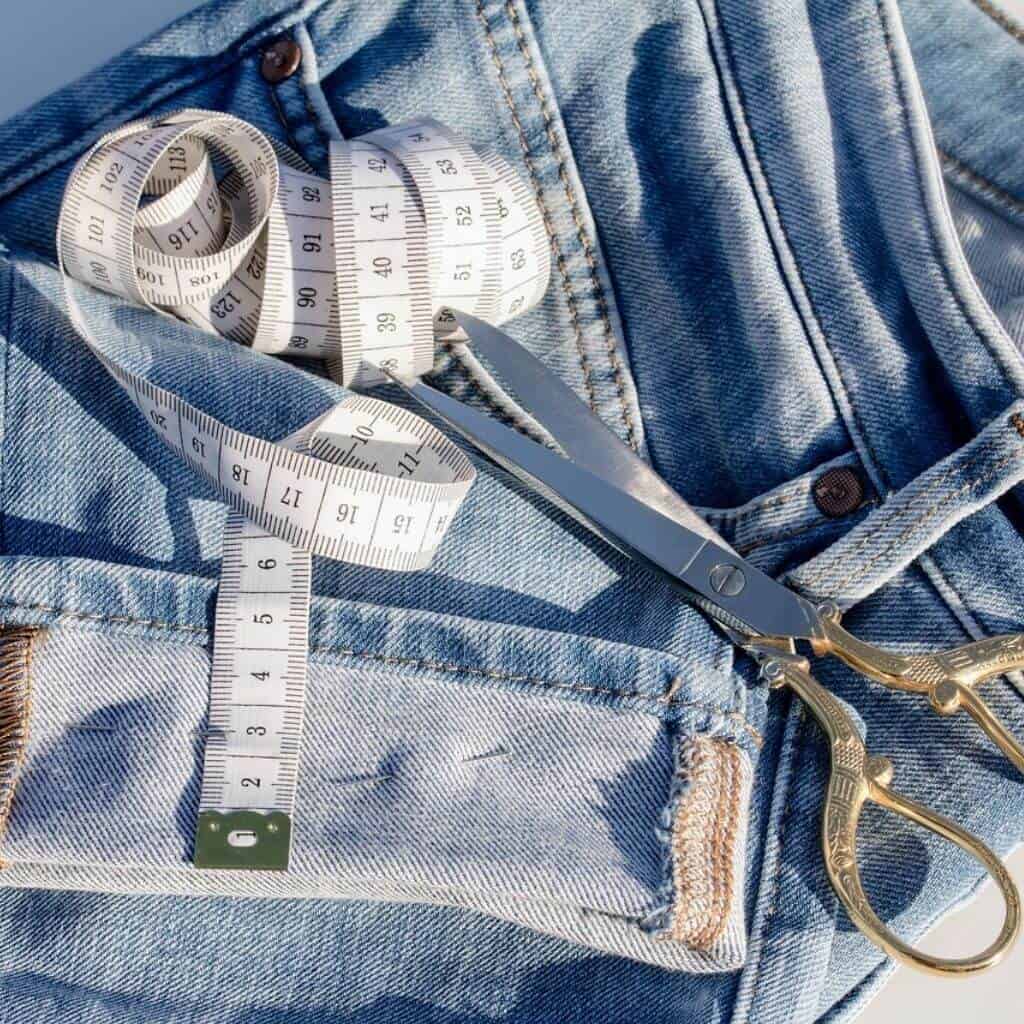 Supplies you'll need
When you buy jeans, it's unlikely that they'll fit you perfectly. Well-fitting jeans are one of the best ways to look well-dressed and put-together. That's why learning how to hem your jeans is important.
Related: What to wear with black jeans
Before you get started, make sure you have the right supplies. The following are the tools that you need:
How to hem jeans
Take the following steps to hem your jeans.
Total Time: 15 minutes
Figure out where to hem.
Put on the jeans with shoes that you'd normally wear. Fold the cuff inside the pant legs until you reach your desired length, and mark the back with tailor's chalk or a sewing pin. It's typically between 1 or 2 inches from the ground.
Take off your jeans, change your pants, and place your jeans on a table.
Now, you'll prepare to sew the hem.
Fold the bottom.
Based on where you marked your jeans, create a cuff that aligns with the chalk or pin.
Pin the hem to keep it in place.
Place sewing pins around the cuff that you made. This ensures that it stays in place when you sew it.
Sew the hem.
You can use a sewing machine or sew it by hand. Regardless of the method, stitch around the pant leg, right below the original hem.
Decide whether you'd like to keep or cut the excess fabric.
You can either tuck the excess fabric into the leg of your jeans or cut it off.
Unfold the cuff and iron it.
Iron your pants until it's been flattened, and looks natural. Once you finish, put away your supplies, and enjoy your jeans.
Related: 11 best men's hat styles
Frequently asked questions
How much does it cost to hem jeans?
If you don't want to do it yourself, you can go to a tailor to get your jeans hemmed, which will cost around $10.
Do I need to do anything to prepare my jeans for hemming?
If you're hemming new jeans, wash them before you begin because jeans will slightly shrink when you wash them for the first time. This ensures that you don't hem them too short.
What's the best stitching method?
The Triple Straight Stitch is an excellent method because it's strong and durable. You can do it by going two stitches forward, and one stitch back. It's also known as the backstitch, stretch stitch, or triple stretch stitch.
Conclusion
Learning how to hem your jeans is a great skill to have. It's one that can be used now and many years in the future.
Wearing jeans that fit well makes you look good. The right length is achieved by hemming them.
Featured image courtesy of Pixabay.
About David Em
Founder
David Em is the founder of Next Level Gents, the ultimate destination for tips and advice about style, grooming, fitness, and success.