Hats have been around for centuries. Today, hats are still popular. Find out what the best men's hat styles are and how to choose one.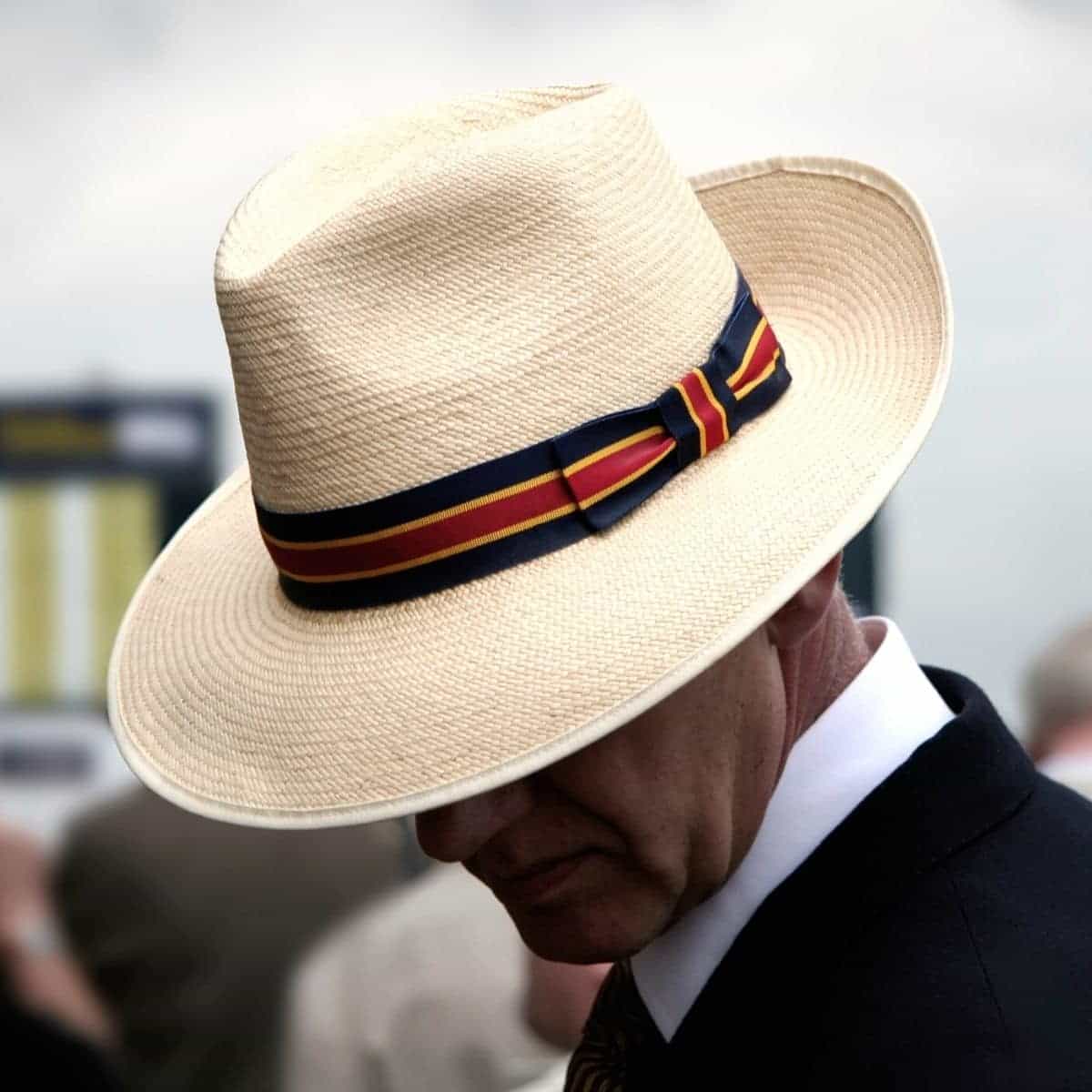 Hats are an excellent way to top off your outfit. Chances are, you have a hat or two in your wardrobe. Maybe you have a baseball cap and another one for dressing up.
Related: 10 best beanies for men
In addition to style, hats are important because they serve various vital roles.
If you have longer hair and exercise, hats can help keep hair out of your face.
Hats also protect your hair from the sun's harsh UV rays and provide shade for your face.
Now, what kind of hats should you have? Learn the anatomy of a hat and what the best men's hat styles are.
Related: What rings mean on each finger
Parts of a hat
The different parts of a hat have a purpose. Regardless of the hat style, each part of its design is for comfort, functionality, or aesthetic reasons.
The anatomy of a hat and the purpose for each part are as follows:
Crown. The dome-shaped part of the hat. It's also known as the body and it can be structured, unstructured, or have dents.
Brim. The horizontal part of the hat. It extends out from the crown. On baseball hats, it's known as the bill.
Hat band. It's purely decorative and can be any material with the most common being leather or fabric. It wraps around the crown.
Liner. The interior part of the hat. It provides a comfortable fit and also adds a layer to protect the hat from sweat. Some hats use it to add a subtle pop of color.
Pinch. Pinch points are also known as dents. It makes it easier to put the hat on and take it off. Plus, it works as a stylish feature.
Sweatband. It prevents sweat from reaching the hat's material. Plus, it's soft, which gives you a comfortable fit.
As you're shopping for a hat, you'll notice that most hats share the same features. The main difference is the crown type because there are many designs and styles.
From a center dent to a flat top, you have plenty of options. The key is to find the one that looks good on you and how you dress.
Related: What's a watch bezel?
11 types of men's hats you need to know
From casual hats to ones that you can wear with a suit, there are many types of hats. The following are the best men's hat styles today.
Related: 10 best driving shoes for men
1. Baseball cap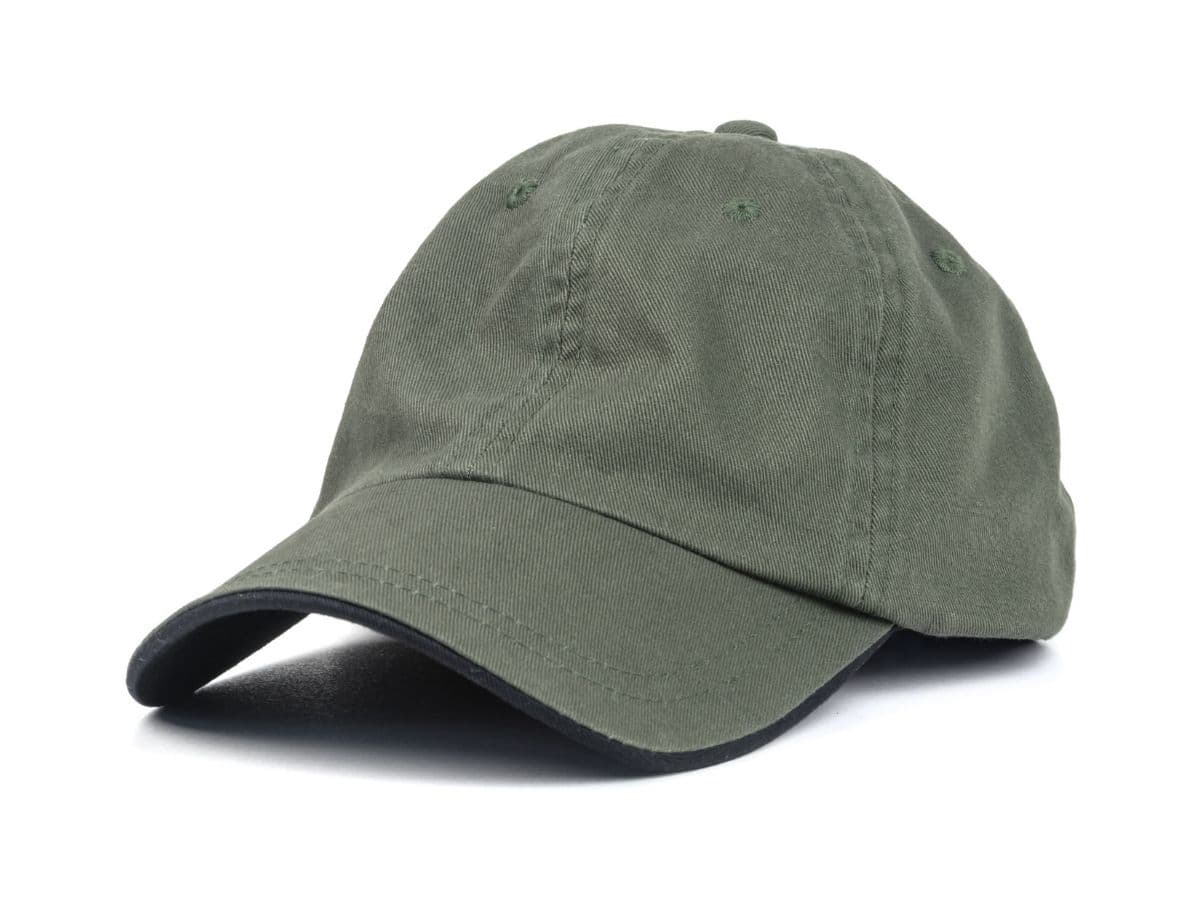 Baseball caps are one of the most popular hats because you can wear them casually. They also come in several variations.
They're characterized by having a round crown, a long bill, and a button at the top. Some baseball caps have straight bills, while others are curved.
They date back as far as the 1860s in the Brooklyn sports scene, particularly baseball. It quickly became a popular and commonly worn hat across the globe.
Baseball caps protect your face from the scorching sun and they're typically made of cotton.
They're also handy when you want to maintain a low profile in public or if you're out running errands.
Baseball caps are versatile. They can be found in many colors with or without logos.
Within the baseball cap family, you'll also find snapbacks and dad hats. The snapback has more of a structured feel and it has an adjustable strap at the back of the forehead.
Dad hats offer a relaxed and effortless look. They're a canvas or cotton material and have a sweatband for comfort in the inner lining. Typically, the back has an adjustable cord.
Shop for baseball caps on Amazon.
2. Fedora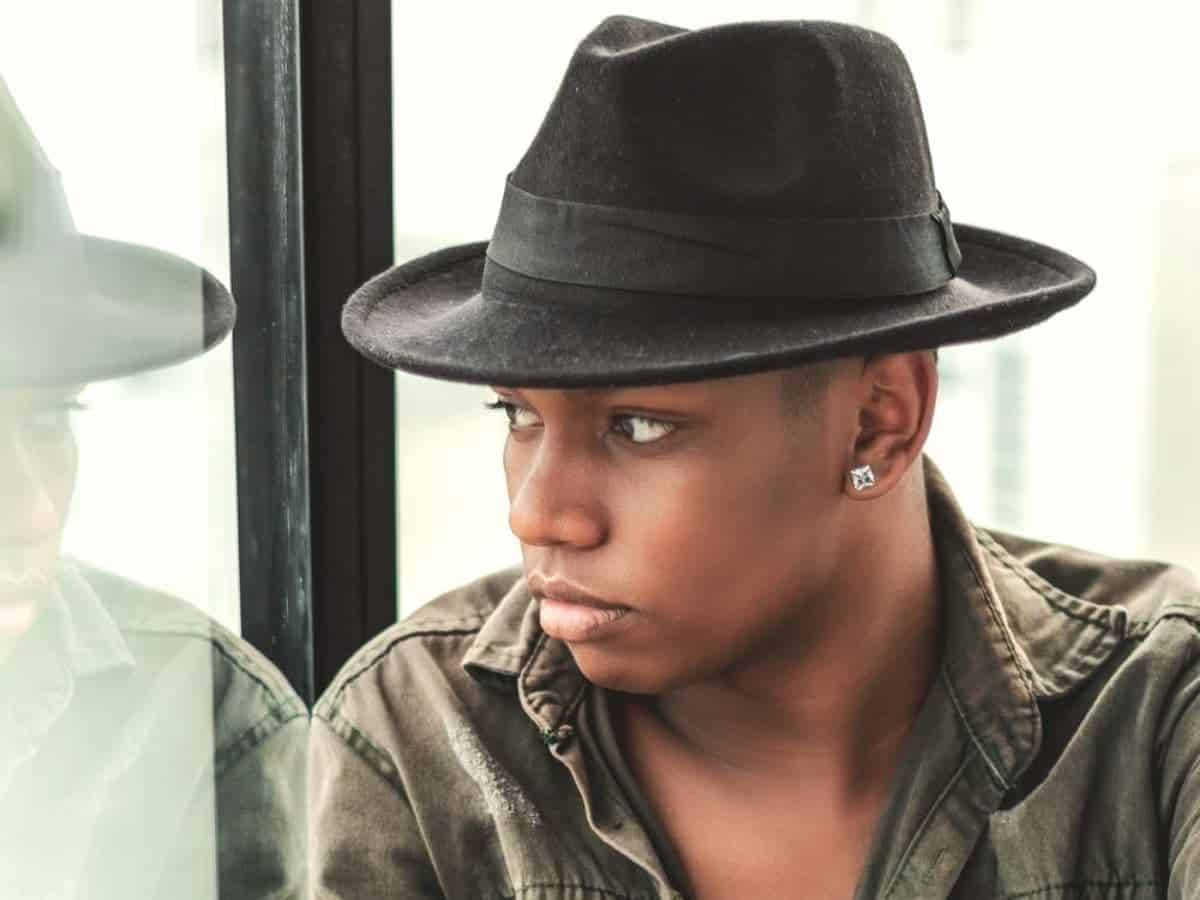 A fedora is the most charming men's hat style that has successfully captivated both ladies' and fellow gentlemen's attention. It's a symbol of great style and superior taste and continues to prove as much.
Fedora's consist of a soft material throughout while maintaining a firm structure. It's slightly pinched at the top and front of the crown.
Then, it subtly flows up to the base. The fedora also has a wide circular brim from the base, which completes its design.
A fedora is a staple wardrobe piece that pairs well with all elegant looks, from tropical-inspired shirts to long grey coats, well-fitting suits, casual shirts, and tailored pants outfits.
Fedora's aren't meant to be worn casually. It won't look good with jeans, trainers, and sweats. Wear a fedora when you're dressing classy.
A popular type of fedora is the trilby hat. Compared to a regular fedora, it has a shorter brim and an extended crown.
Trilby hats offer somewhat of a retro feeling. It's typically made of tweed and looks great when worn with casual or semi-formal outfits.
Buy a Stetson Fedora from Huckberry for $95.
3. Panama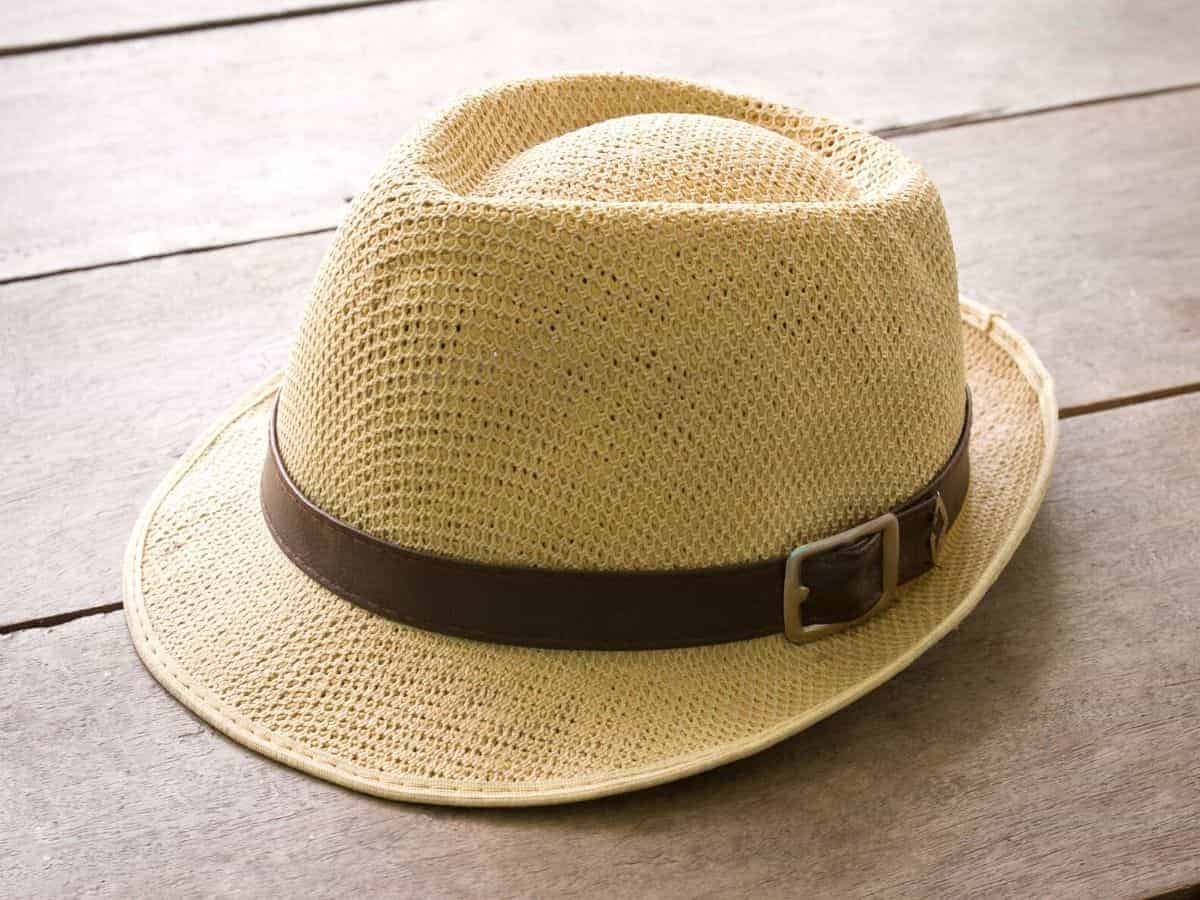 Despite their name, Panama hats originated from the coastal regions of Ecuador.
They're lightweight and light-colored Toquilla straw hats that are round with a high crown. The brim can be a short or medium length.
Being lightweight and made of straw, Panama hats are excellent to wear during warm weather. They match well with light-colored summer clothes. You can wear a
Panama hat to summer parties, brunch parties, pool parties, and other warm-weather events.
Shop for Panama Hats on Amazon.
4. Beanie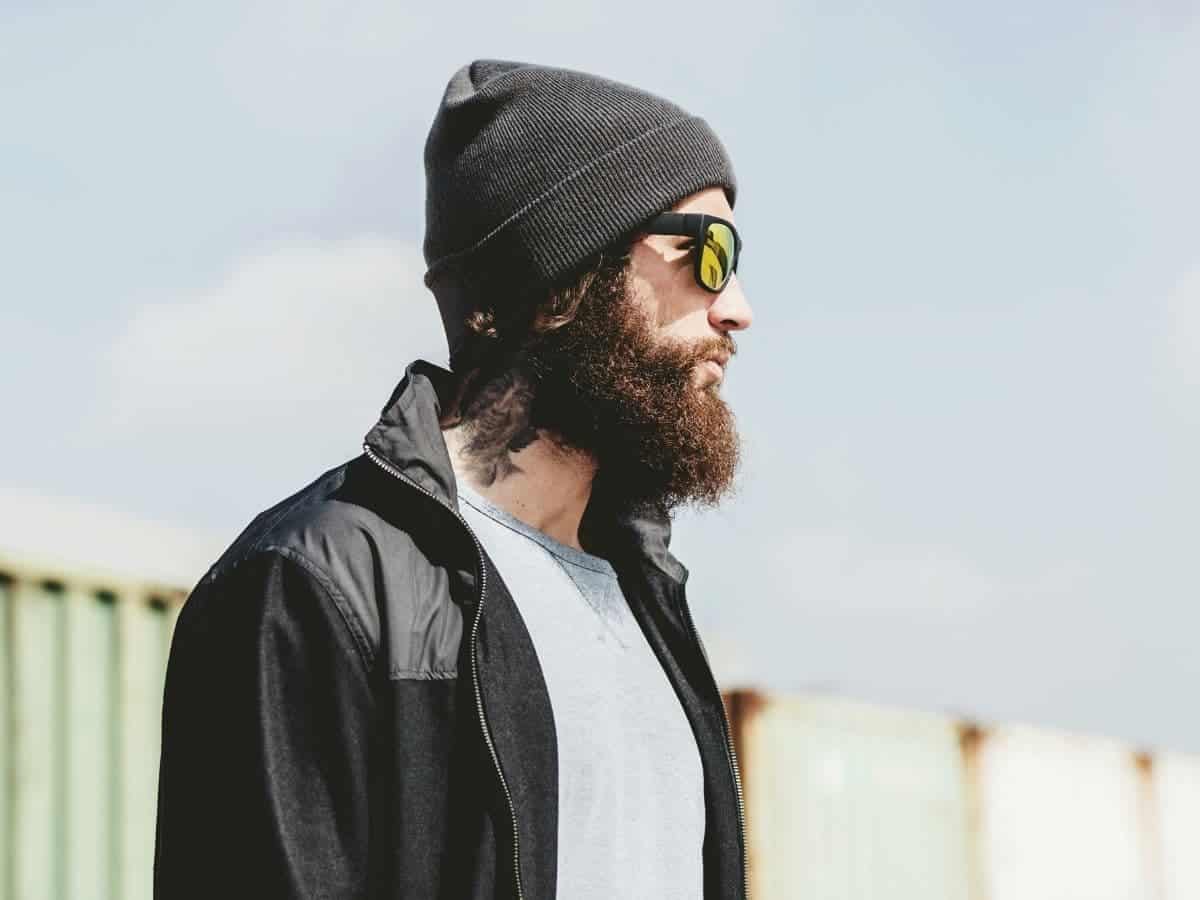 Beanies are also known as skull caps. They're one of the earliest inventions, as far as men's hats are concerned.
The beanie results from weaving different threads into a wide-sock-like structure. It has a length that's almost equal to the diameter.
They're popular among artistic men such as writers, actors, musicians, designers, and dancers. However, they're also functional and keep you warm.
Beanies have also been implemented into streetwear. If you're dressing casually and want to keep your head warm, wear a beanie.
5. Derby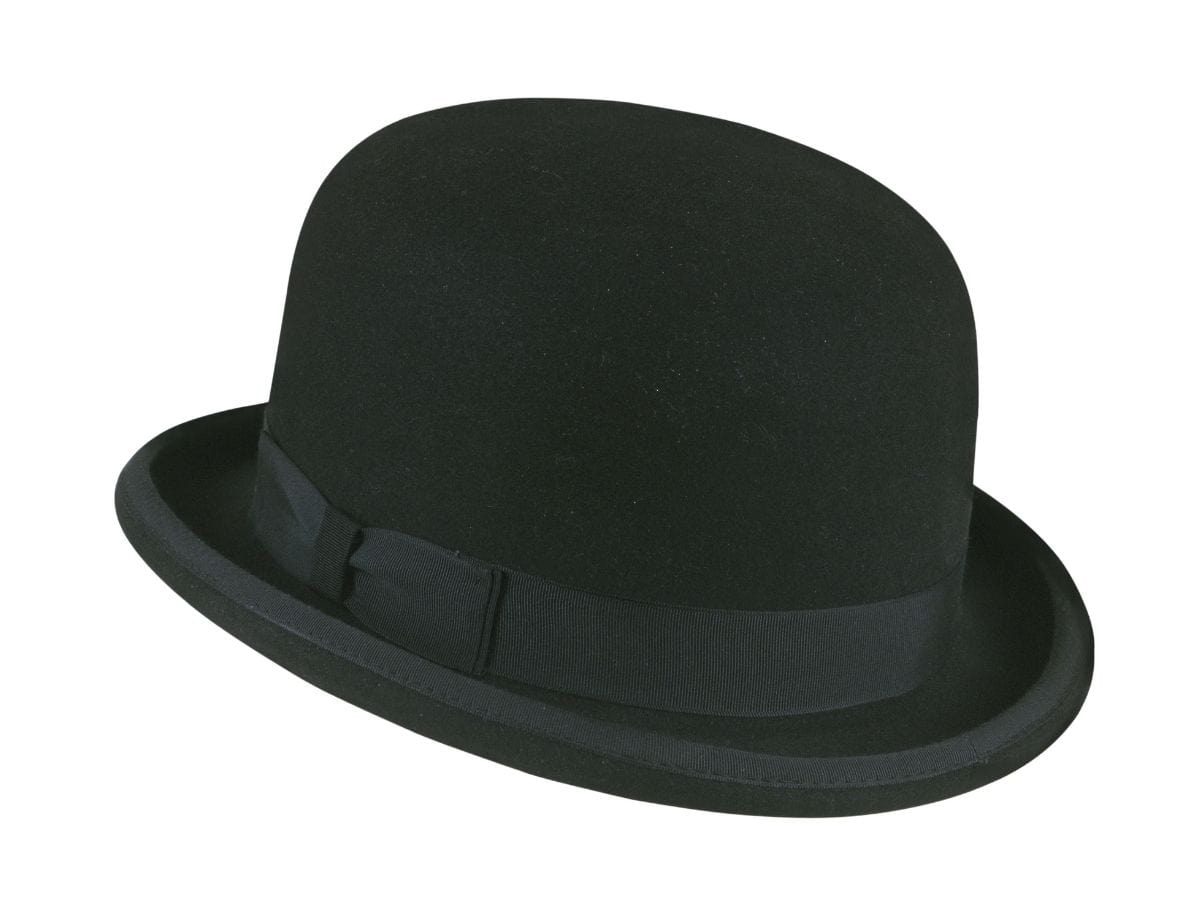 The derby hat is also called a Bowler hat. It's not trendy or seen as a cool hat, but it's iconic.
Typically, derby hats are made of hard felt. They have a rounded crown and a short brim that rolls up.
If you love classic British or old-fashioned style, the derby hat is a must-have. You may be one of the few that can pull it off with a classic suit.
Shop for derby hats on Amazon.
6. Flat cap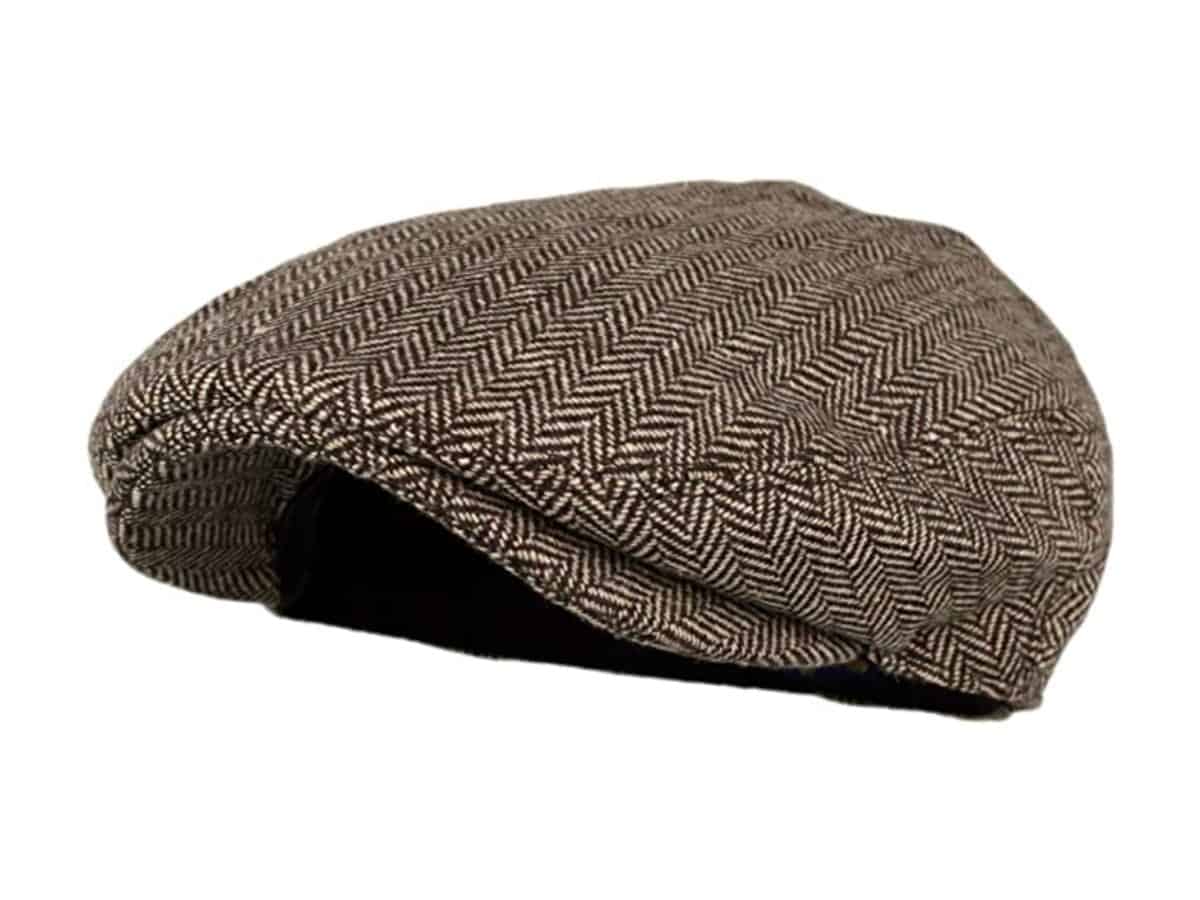 Flat caps are a beautiful and underrated type of men's hat. They're also known as Ivy caps or English driving caps.
They can be made of cotton, wool, suede, or leather. You can recognize a flat cap by its round and flat shape with a stiff and small brim.
It originates from English gentlemen, who paired it with clean-cut suits and long coats. These hats are classy and elegant if worn appropriately, and you're sure to catch any person's eye.
Flat caps are great accessories to wear with professional, casual, or smart-casual outfits. Don't wear a flat cap with sweatpants, though.
They look excellent when worn to events and places that require a casual, upscale, or dressed-up look. Flat caps are so versatile.
The ascot hat is a type of hat that's related to the flat cap. It's worn the same way and looks just as good. However, it has a rounded top instead of a flat one.
7. Pork Pie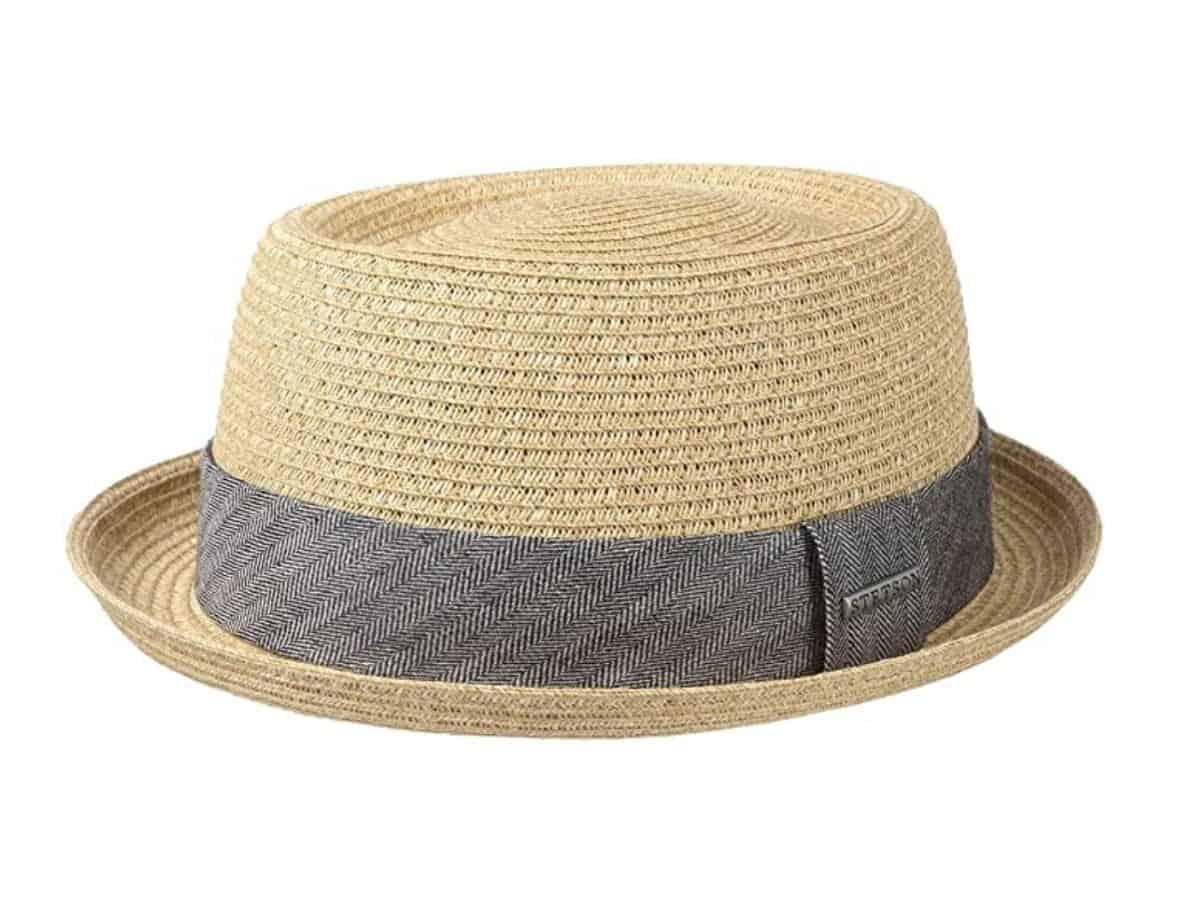 The Pork Pie hat was popular between the 1920s and 1940s. It's similar to a fedora and resembles a popular British food, the Pork Pie.
Pork Pie hats are characterized by their medium or high crown with a dent at the top. The brim is short and slightly curves up.
The hat is made of wool or felt and looks excellent when worn with casual or slightly dressed-up attire.
One of the reasons the Pork Pie became popular again is because Walter White wore it in Breaking Bad.
Buy the Stetson Robstown Toyo Pork Pie Hat from Amazon for $92.57.
8. Army cap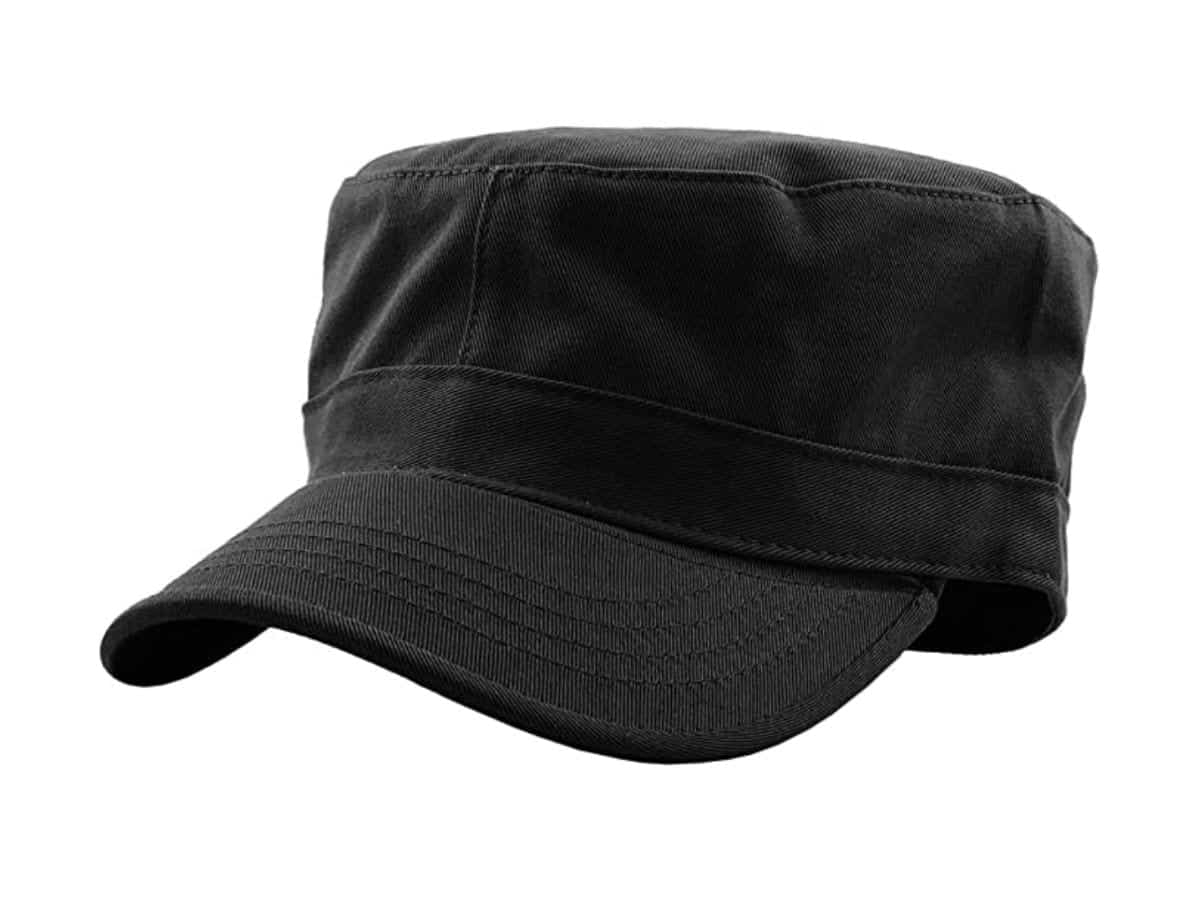 As the name suggests, army caps are inspired by military uniforms that date back to the 1900s.
The army cap has a close and snug fit. It has a slightly curved brim and a square-like crown.
They're generally wool or leather. However, you may find some that are cotton. If you want to wear one, make sure you pair it with a casual outfit.
Buy the KBETHOS Army Cap from Amazon for $11.99.
9. Boater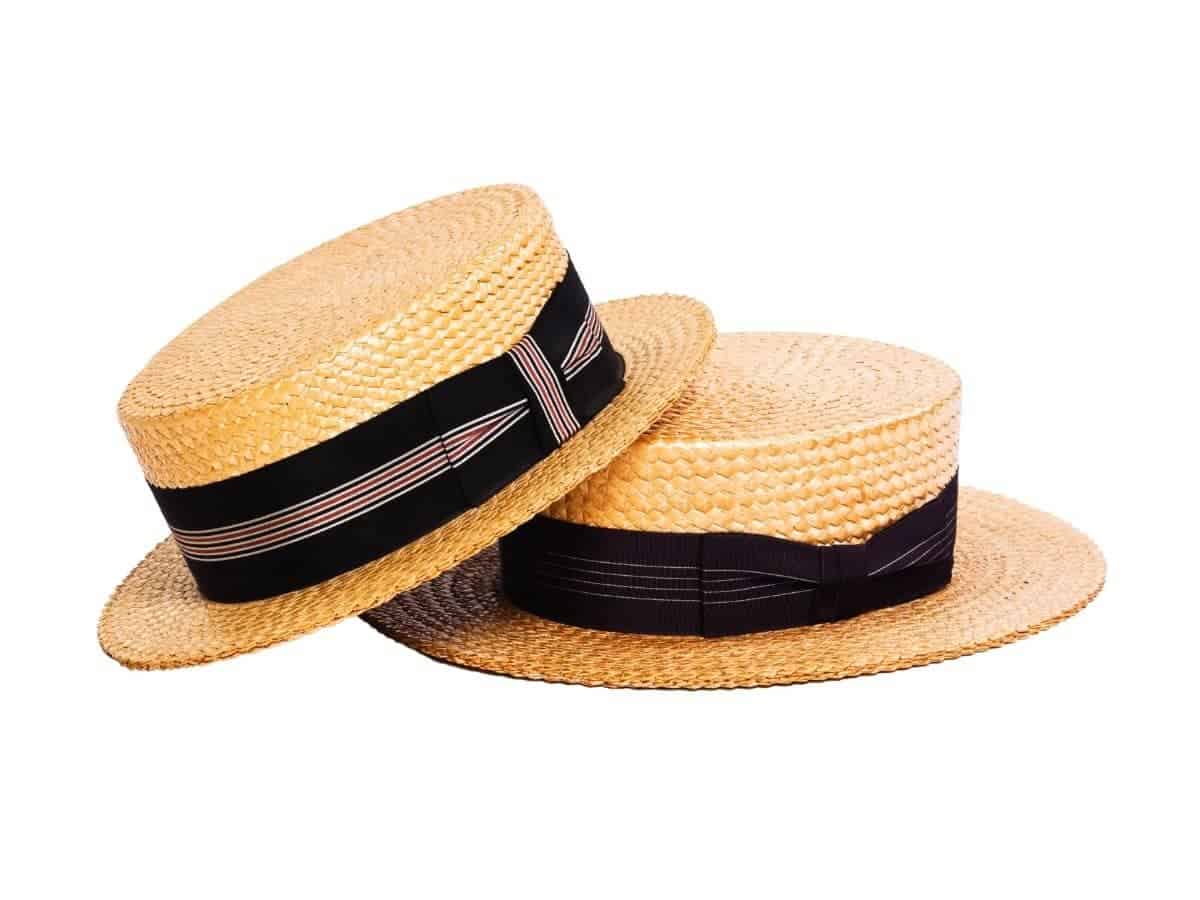 Boater hats are essential for summer. They're sennit straw hats with a flat crown and brim.
Around the crown, boater hats have a ribbon that provides contrast. Typically, the ribbon has two colors, such as navy and red.
While their popularity peaked in the late 1800s and early 1900s, boater hats are excellent for summer style.
Today, you can find them in different types of straw material. If you're going on a boat, to the beach, or strolling around in the heat, try wearing one.
Buy the ZAKIRA Straw Boater Hat from Amazon for $24.99.
10. Cowboy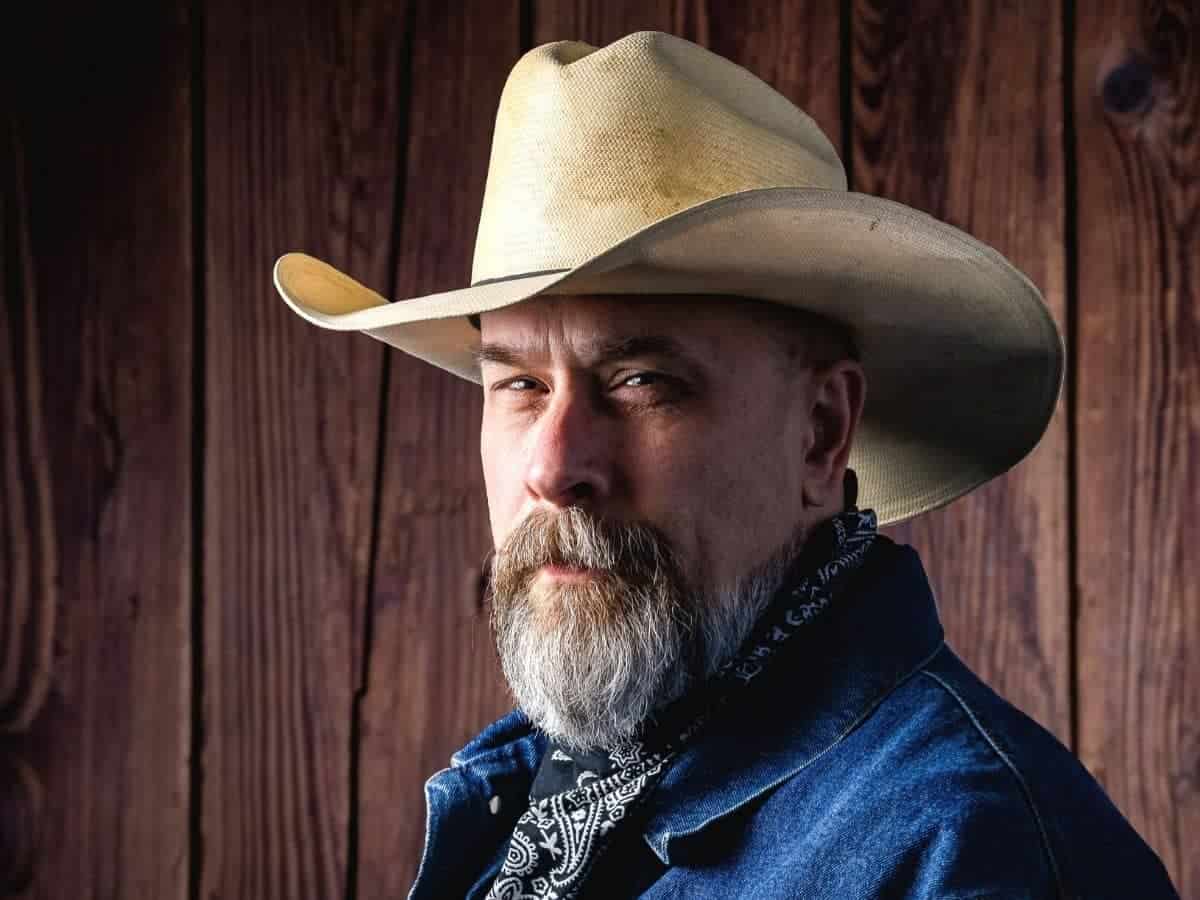 The cowboy hat is also known as a Western hat. It's an iconic American hat that's made of leather, felt, or straw.
It's recognizable around the world due to its tall, dented crown and wide curved brim. Not only do cowboy hats have a unique look, but the brim also protects you from the sun and rain.
If you want to wear a cowboy hat, it looks best with jeans, a casual button-up shirt, and a clean pair of cowboy boots.
When you're removing or adjusting your cowboy hat, always do so by using grabbing the crown.
Shop for cowboy hats on Amazon.
11. Bucket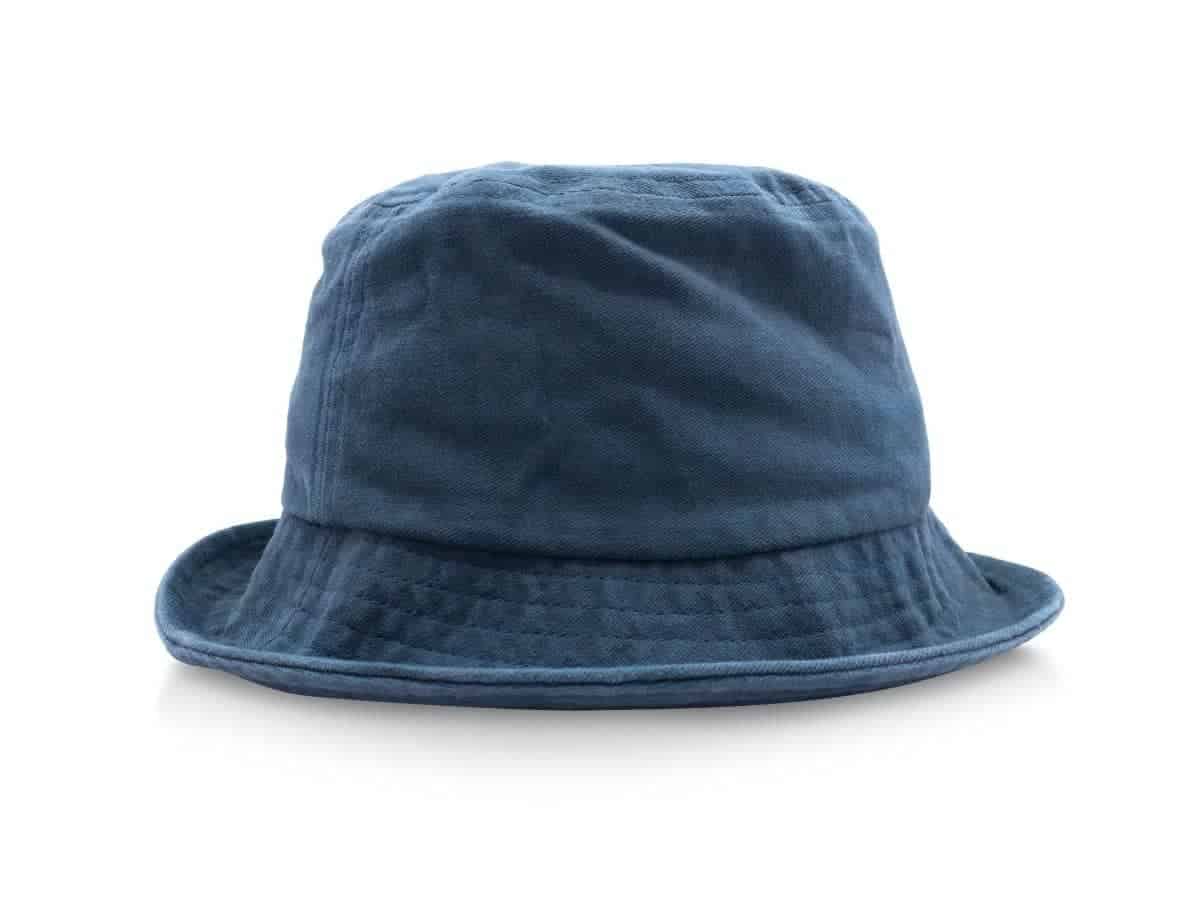 Bucket hats started as practical fishing hats and now are cool and stylish. Its simple bucket-like shape and flexible construction make it easy to travel with and wear.
They can be cotton, canvas, tweed, or leather. They're recognizable by their round and short brim.
The bucket hat is a very excellent statement accessory that keeps appearing in runways through several trends. Bucket hats pair well with casual outfits and streetwear.
Shop for bucket hats on Amazon.
Frequently asked questions
The following are answers to common questions about hats.
How do I choose a hat style?
To look stylish in a hat, you must choose one with your face shape in mind. Hats with a tall crown extend your face, while those with wide brims shorten it. If you have a longer face, choose hats that'll shorten it. With a shorter or round face, choose hats that'll lengthen it. If you have an oval-shaped face, you're lucky because all hat styles will look good.
Should a hat touch your ears?
A hat shouldn't touch your ears. Instead, it should sit right above it. Typically, it'll about an eighth of an inch about your ears and rest in the middle of your forehead.
Do hats cause hair loss?
Hats don't cause hair loss because a hat would need to be extremely tight to restrict blood flow. However, it can tug against your hair, which may pull some out here and there. Hats also protect your hair and head from UV rays from the sun, which is beneficial for your hair.
Conclusion
Hats are an excellent way to complete your outfit. Now that you know the different men's hat styles, you can find the perfect one depending on your preference.
Make sure you match the hat with the occasion, and in most cases, remove your hat when you're indoors.
Featured image courtesy of Canva.
About David Em
Founder
David Em is the founder of Next Level Gents, the ultimate destination for tips and advice about style, grooming, fitness, and success.