In partnership with Everlane
Spring can throw many obstacles when it comes to what you will wear. Who knows if it will be sunny or if it'll rain. Being warm and looking fashionable at the same time are the perfect duo. The key to surviving the spring weather while looking your best is through layering and warm, quality pieces.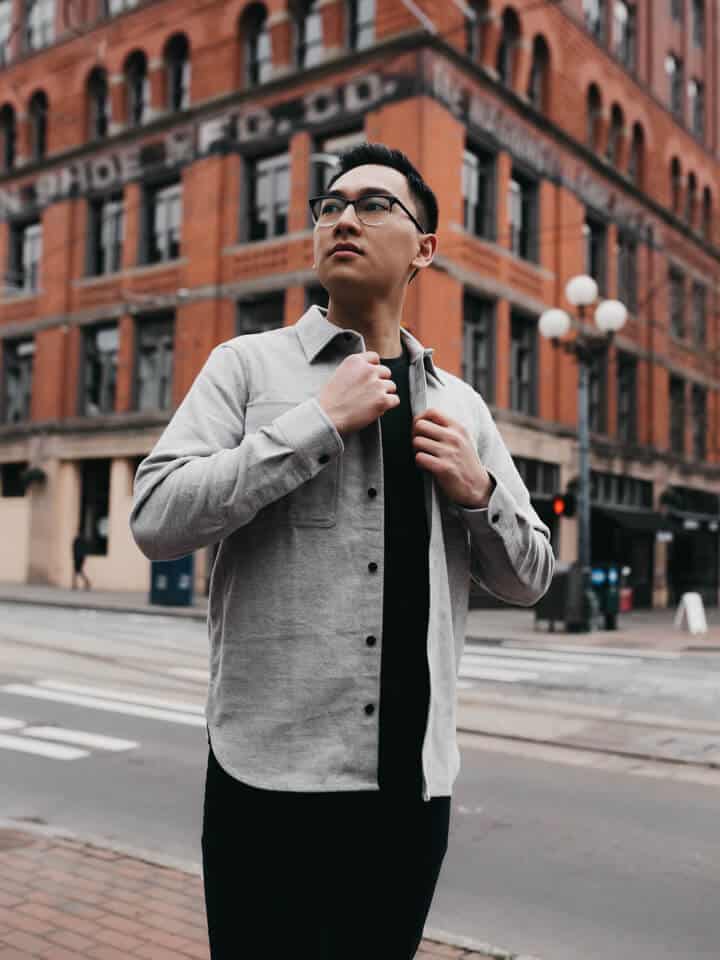 Warmth Begins With The Base
Being warm begins with your base layer. Having a high-quality base layer, that will keep you warm and comfortable is vital.
When choosing a base layer, opt for shirts that are "heavyweight". You can wear short or long sleeve t-shirts that are heavyweight t-shirts.
However, when searching for heavyweight shirts. Find ones that are thick and solid, but not restricting.
You want to have a base layer that will keep you warm and allow you to add layers on top of it. This also allows you to wear just the base layer if it is warm enough out.
How to Layer…Comfortably
Once you find your base layer, move onto the next. On top of the base layer, you can go down a few routes.
With either base layer, you can wear an overshirt, jacket or a winter coat, such as a parka.
If it's really cold, wear the parka over the jacket or overshirt.
If it is nice outside, a lightweight jacket is perfect.
Doing so, you are able to stay warm when you are outside and once you go inside or the temperature warms up, just take off a layer.
High-Quality & Functional Pants
Pants are the one thing that you are not going to layer. So how do you choose what style of pants to wear.
Find high-quality pants that keep you warm when it's cold and cool when it is warm.
When it comes to pants, having a variety of options is best. Here are the 3 must-have pants to get you through the unpredictable spring stylishly:
Dark denim
Corduroy pants
Chinos
Not only will these styles help keep you warm (or cool), they will look great in any outfit. Functional and stylish is the perfect duo. Below are 5 Spring outfits for men.
5 Everyday Spring Outfits for Men
Below, I'll share 5 different outfits I put together using a minimal amount of pieces.
You'll notice that many of the pieces are reused because of how versatile they are.
Spring outfits are very simple. You can wear layers or not, depending on the weather. Scroll down to check out 5 outfit ideas for the Spring.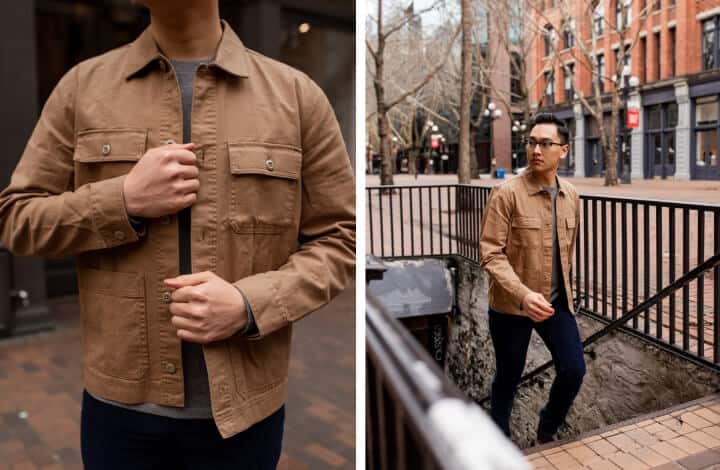 Outfit Details:
Shirt: The Heavyweight Long-Sleeve Crew (Mid Heather Grey)
Jacket: The Chore Jacket (Ochre)
Pants: The Corduroy 5-Pocket Slim Pant (Navy)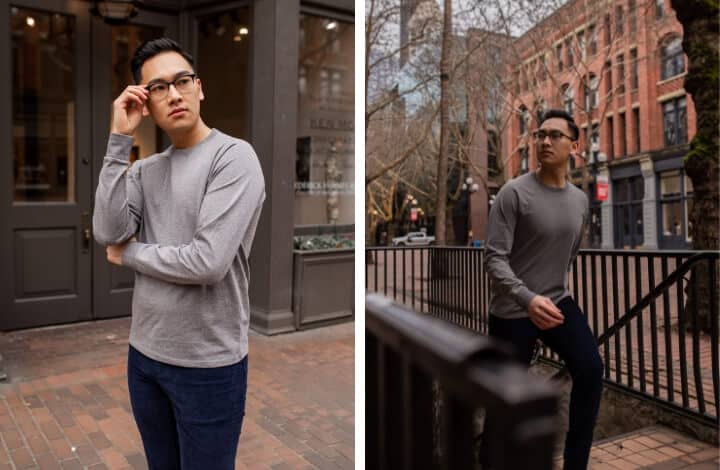 Outfit Details:
Shirt: The Heavyweight Long-Sleeve Crew (Mid Heather Grey)
Pants: The Corduroy 5-Pocket Slim Pant (Navy)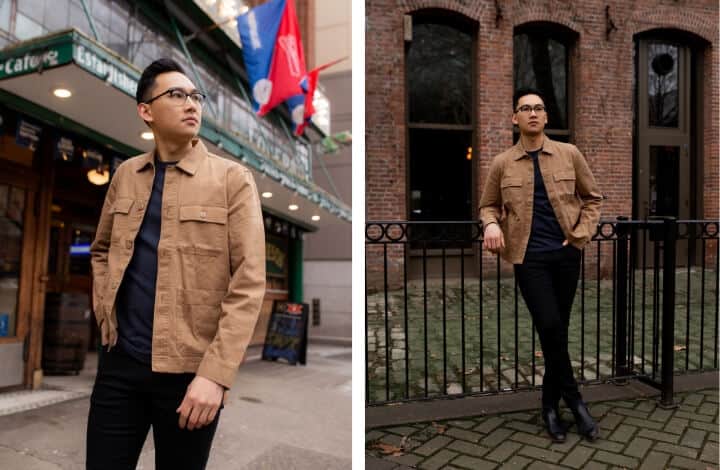 Outfit Details:
Shirt: The Heavyweight Pocket (Navy)
Jacket: The Chore Jacket (Ochre)
Pants: The Skinny Fit Jeans (Black)
Boots: Camroon 4 Chelsea Boot (Black)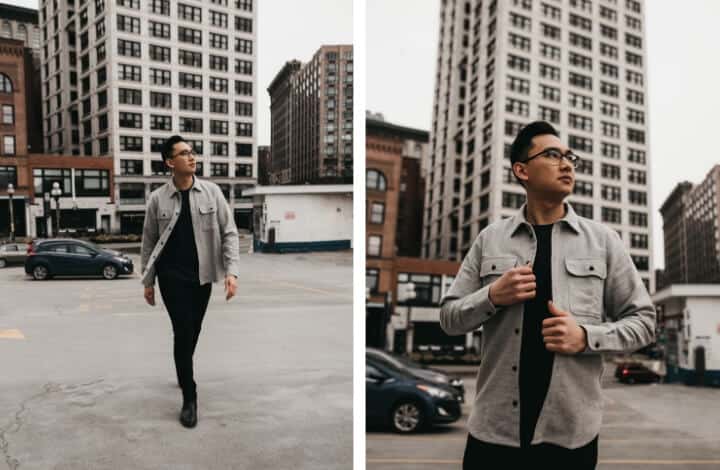 Outfit Details:
Shirt: The Heavyweight Pocket (Navy)
Overshirt: The Heavyweight Overshirt (Heather Grey)
Pants: The Skinny Fit Jean (Black)
Boots: Camroon 4 Chelsea Boot (Black)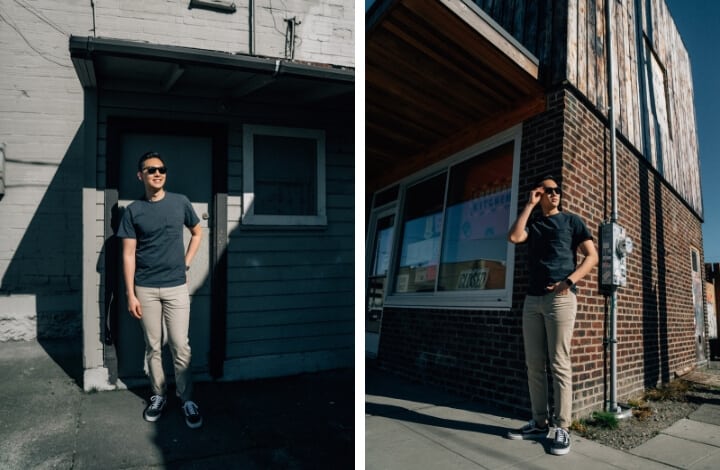 Outfit Details:
Sunglasses: Original Wayfarer Classic (Tortoise)
Shirt: The Heavyweight Pocket (Navy)
Pants: The Midweight Slim Chino (Khaki)
Shoes: Old Skool Vans (Black/White)