Shoulders are one of the most popular places to get a tattoo due to their shape and size. Get inspired by the coolest men's shoulder tattoos.
When it comes to shoulder tattoos, there are many options. Whether you want a tattoo with deep meaning or one that makes you look cool, your shoulders are an excellent place to get a tattoo.
Related: 40 best tattoo ideas for men
Typically, you'll either limit the tattoo to your shoulder or you can connect it by wrapping it around your back or chest.
Both options are common and it depends on how large and how many tattoos you want to have.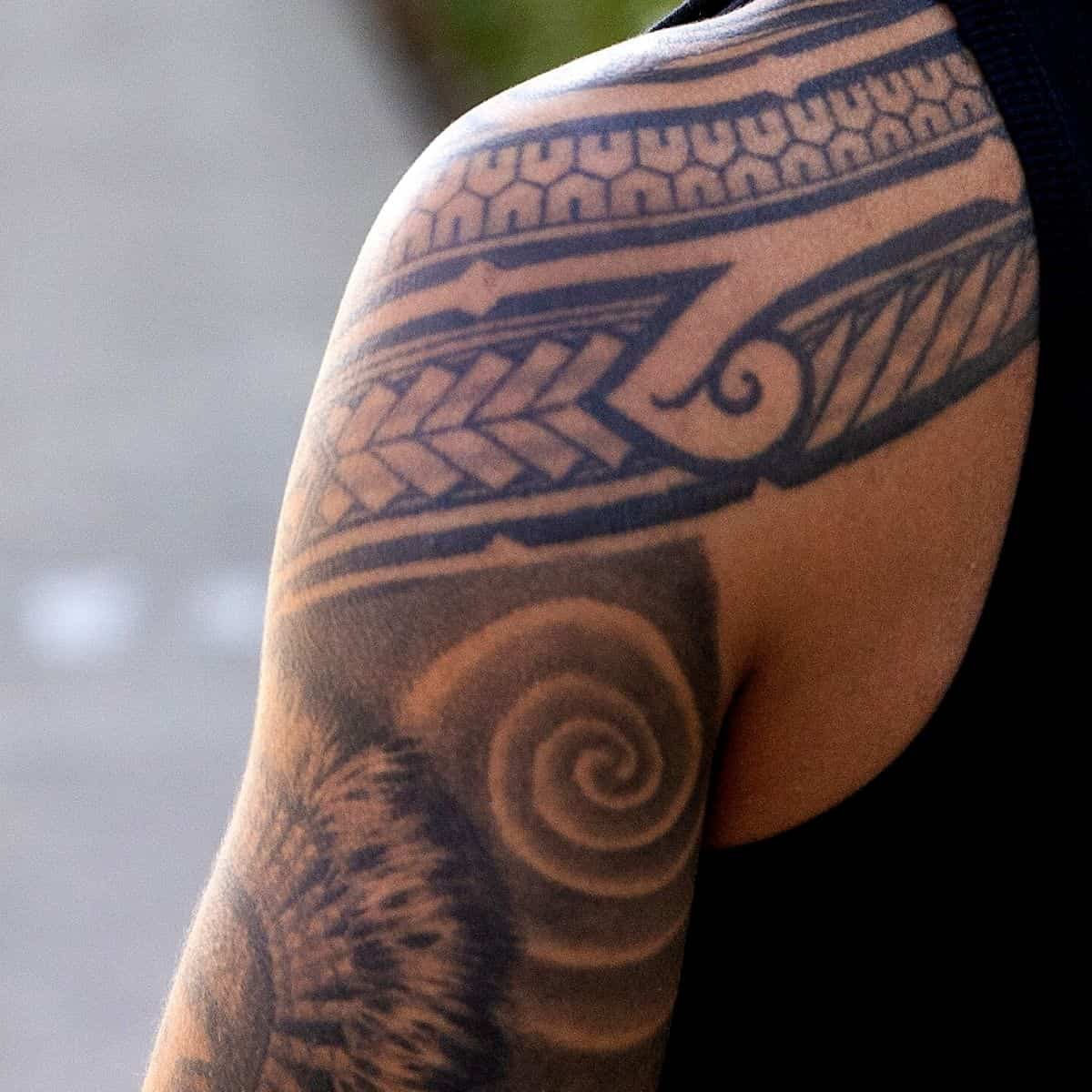 If you need inspiration for different shoulder tattoos, take a look at the following examples.
1. Simple shoulder tattoo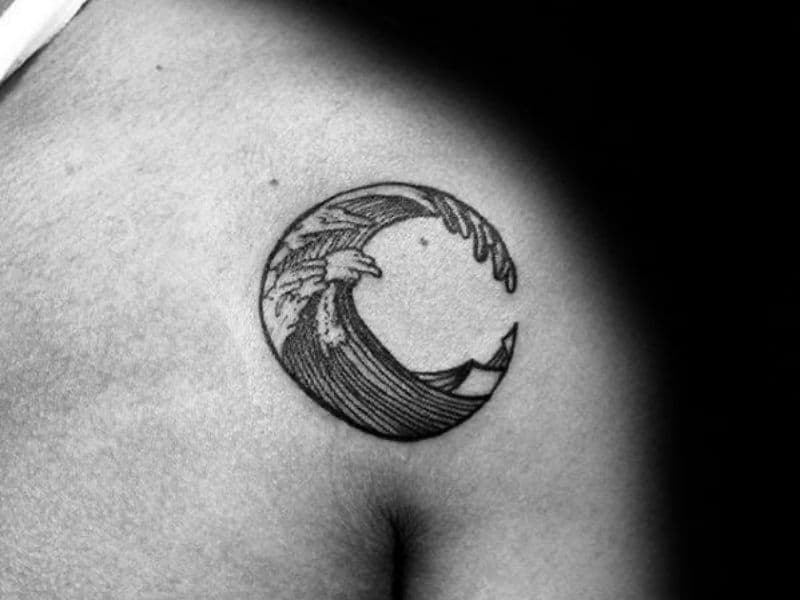 If you're getting your first tattoo or prefer a minimalistic design, stick with a simple shoulder tattoo.
You can get a tiny unique drawing, a statement, shape, or an outline of something you like.
By keeping it simple, it won't stand out as much as other options. It'll also give off a refined and clean look.
2. Tribal shoulder tattoo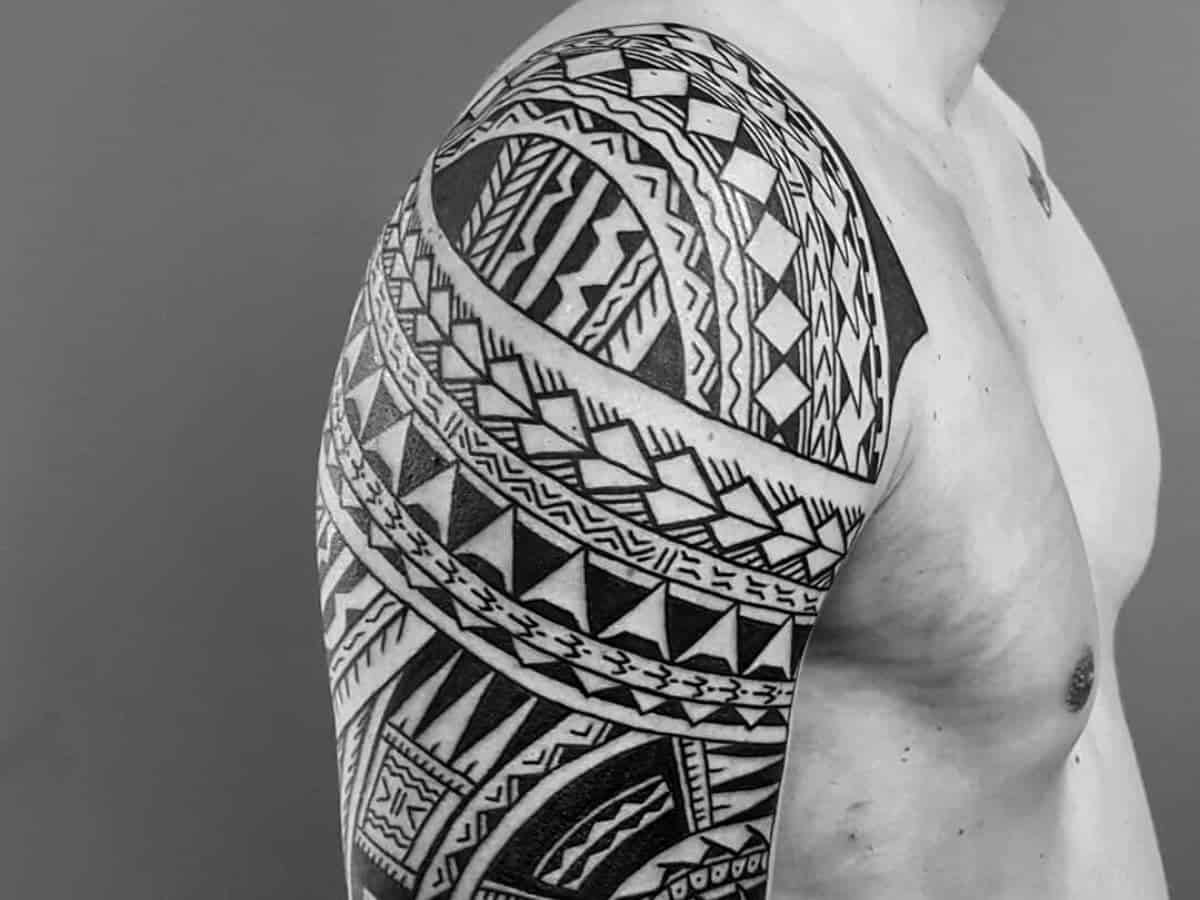 Tribal shoulder tattoos are one of the most common types because they provide intricate and cultural artwork.
Polynesian and African tribal designs are among the most popular.
The design of curves and shapes moves with your body, which gives it a striking and flowing look.
The tribal pattern may signify achievements, power, strength, bravery, or leadership.
3. Cross shoulder tattoo
If a cross represents your faith, it's an excellent choice for a shoulder tattoo. Typically, it features an outline or solid-colored cross.
While the cross tattoo is spiritual, it's also powerful. By getting a cross tattoo on your shoulder, it represents strength because your shoulders lift things.
Plus, it looks good with other tattoos. You can combine it with others to create a larger message or add elements, such as roses.
4. Dragon shoulder tattoo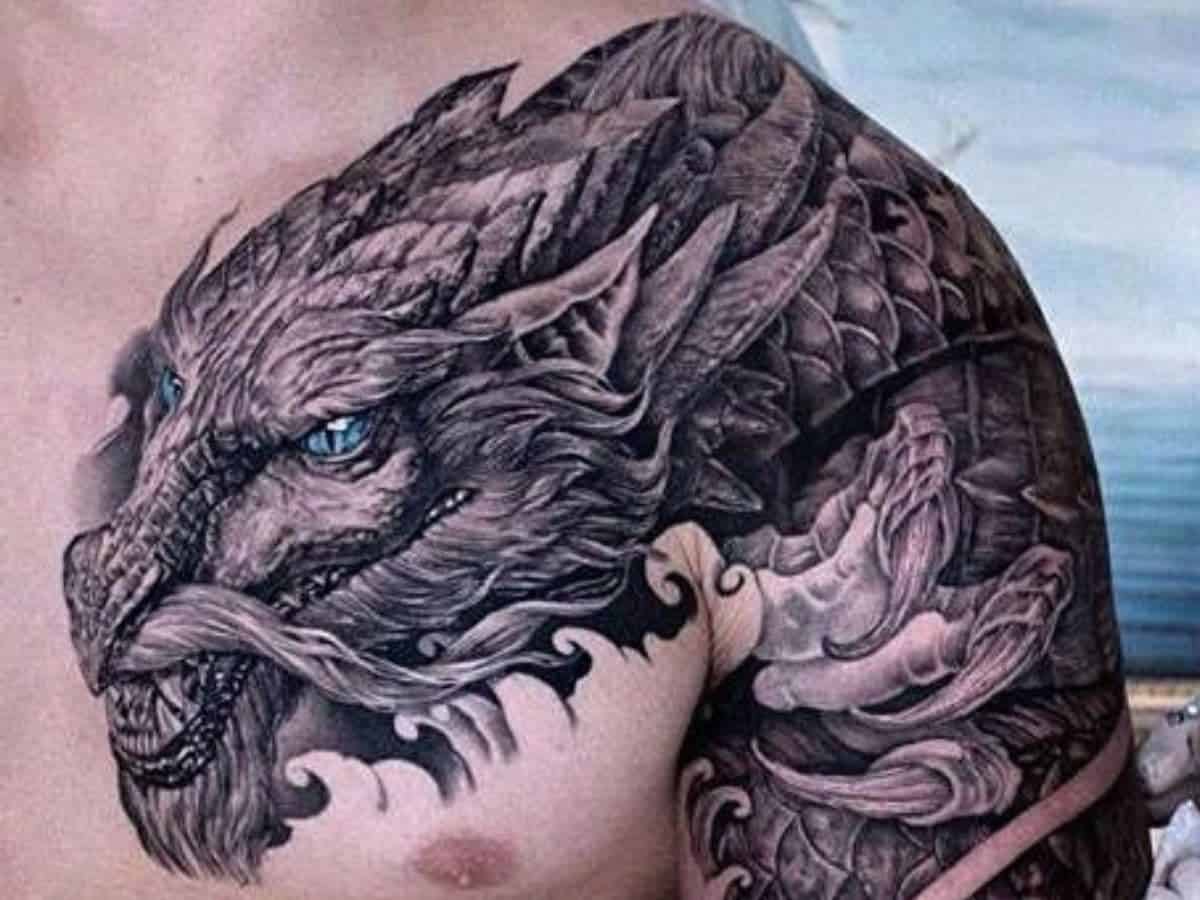 Dragon shoulder tattoos look incredibly appealing, as they depict your power, wisdom, and freedom.
There are many styles to pick from. Some of the most popular are traditional Chinese or Japanese-styled dragons with bodies similar to a snake.
A dragon tattoo looks good on your shoulders. However, you can also wrap it around your chest or back for a cool and eye-catching look.
5. Phoenix shoulder tattoo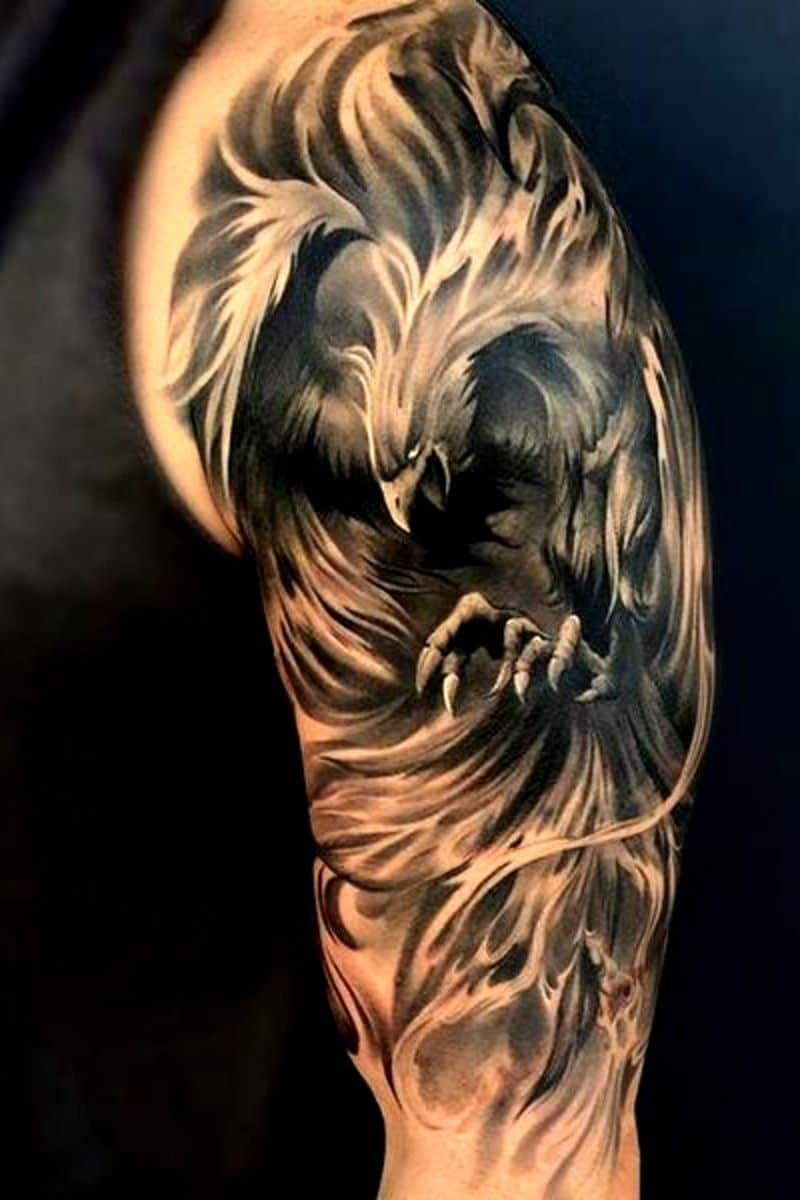 Phoenix shoulder tattoos are unique because they signify a rebirth, new beginnings, or renewal.
They're also quite eye-catching and look incredible. Typically, the phoenix extends upward towards your shoulder.
6. Skull shoulder tattoo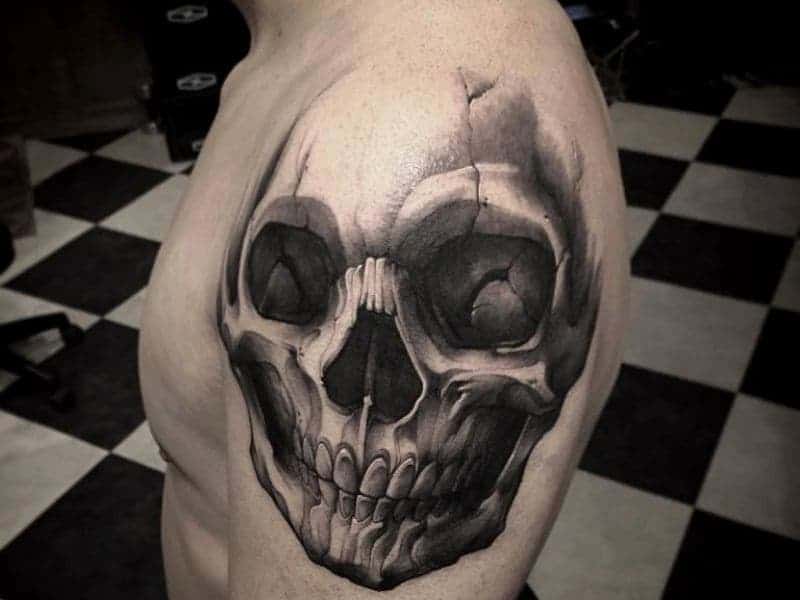 Skull shoulder tattoos can be small or large. It may also depict a cartoon-like or realistic skull.
It can mean that you're not afraid of death or as a reminder to live life to the fullest.
With it, you'll have a rugged, uncompromising, and tough appearance. A skull represents death.
7. Lion shoulder tattoo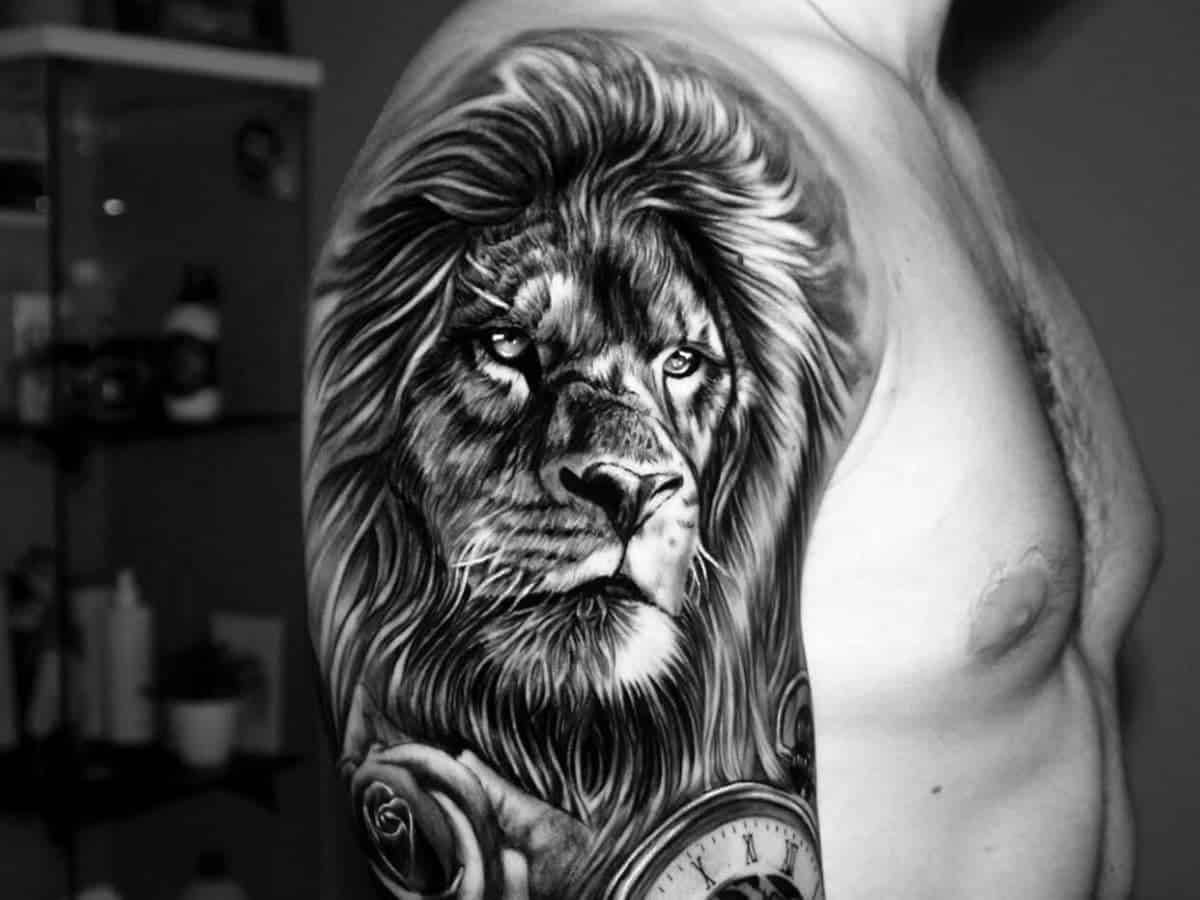 Lion tattoos look captivating when drawn on the shoulder. You can get a lion roaring or in a relaxed stance. They signify masculinity and strength, making them even more compelling.
8. Star shoulder tattoo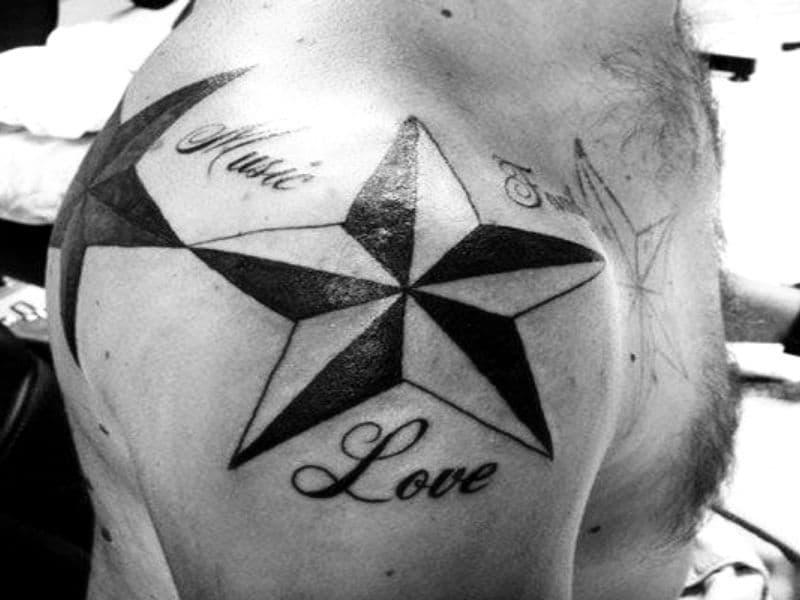 Star shoulder tattoos offer a stylish and timeless way of getting body art. A star tattoo signifies good fortune.
You can get one large star across your shoulder or several small stars in a distinctive pattern.
9. Family shoulder tattoo
Family shoulder tattoos are immensely appealing because they signify affection towards loved ones. It can depict family trees, portraits, names, and even crests.
10. Norse shoulder tattoo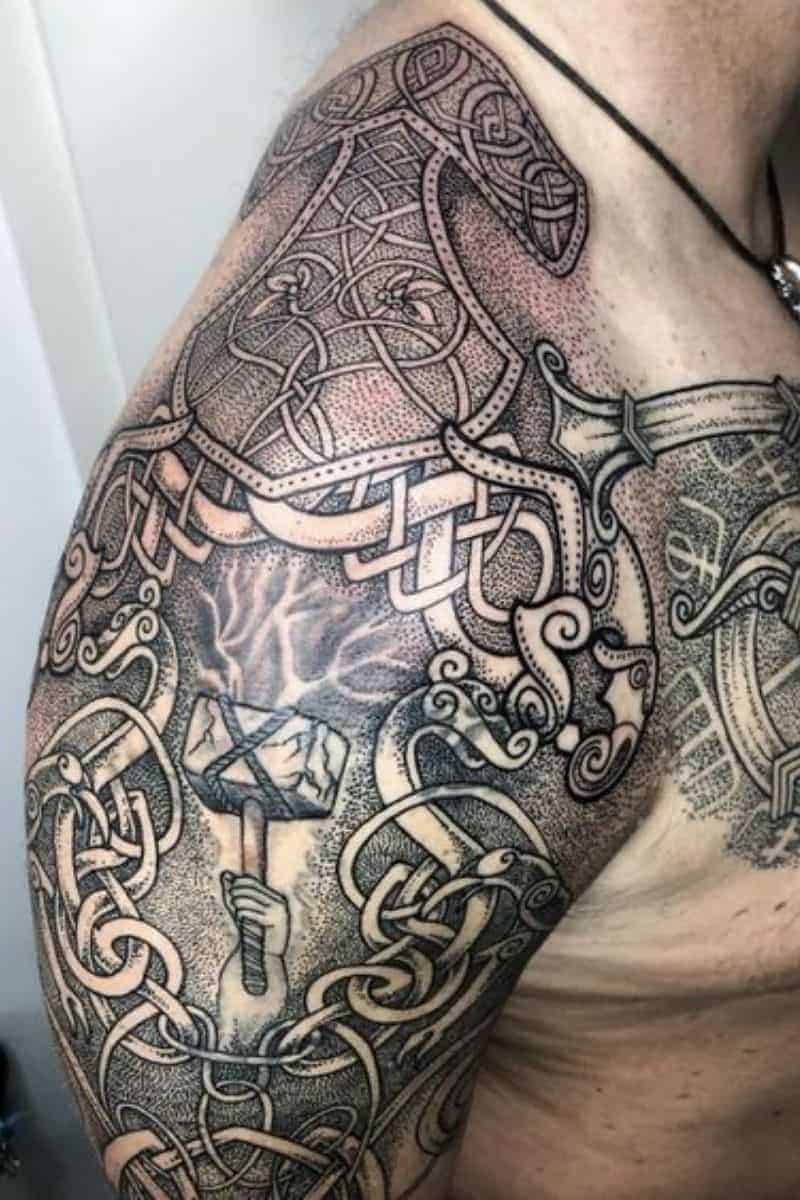 Norse shoulder tattoos may have a drawing of a Norse god or warrior. They embody the spirit and bravery of the Vikings, making them a fascinating tattoo choice.
11. 3D shoulder tattoo
Getting three-dimensional (3D) body art produces a beautiful optical illusion. It's a unique and excellent choice when it comes to shoulder tattoos because of its modern technological aesthetic.
12. Flag shoulder tattoo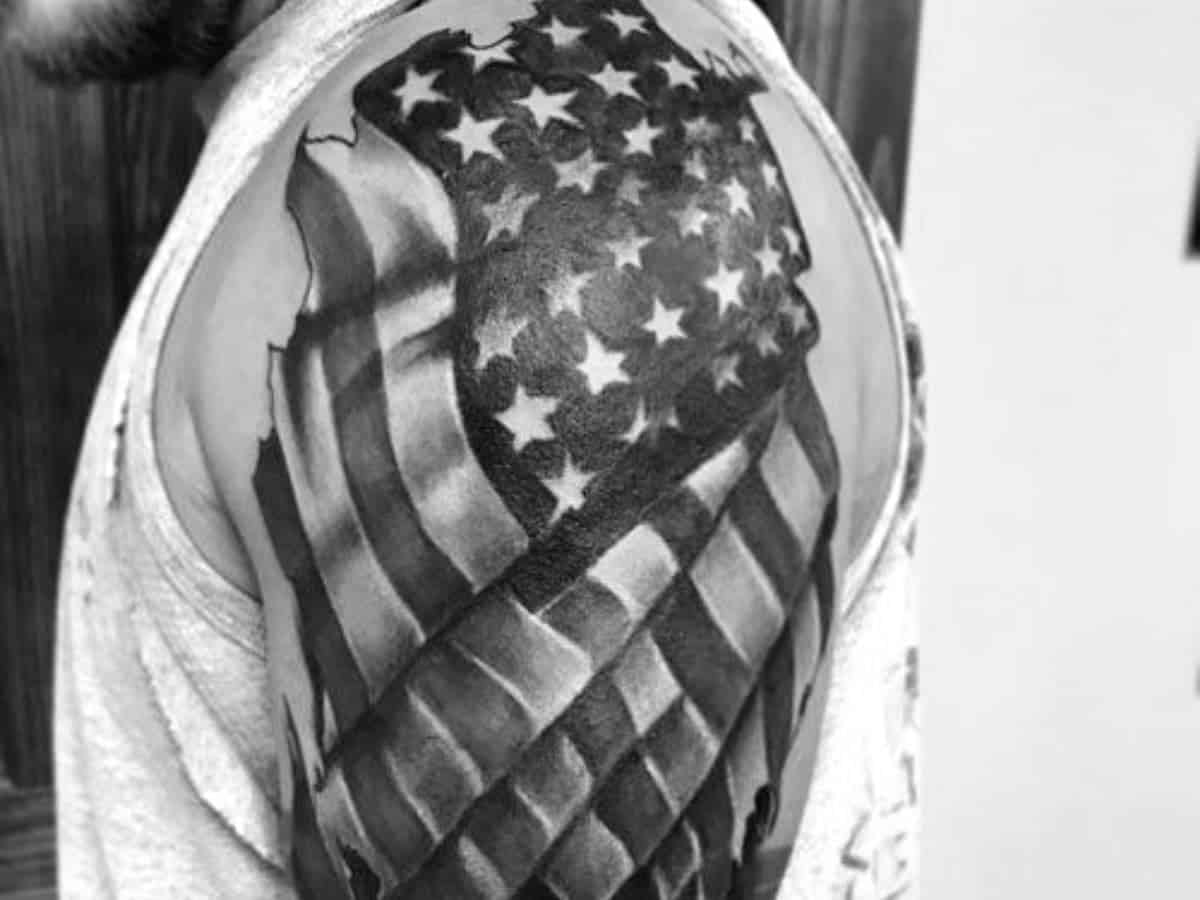 If you love your country and want to show patriotism, get a flag shoulder tattoo. It looks fantastic regardless of whether you get a black or colored one. You can feature a flag blowing in the wind or a static flag design.
13. Biomechanical shoulder tattoo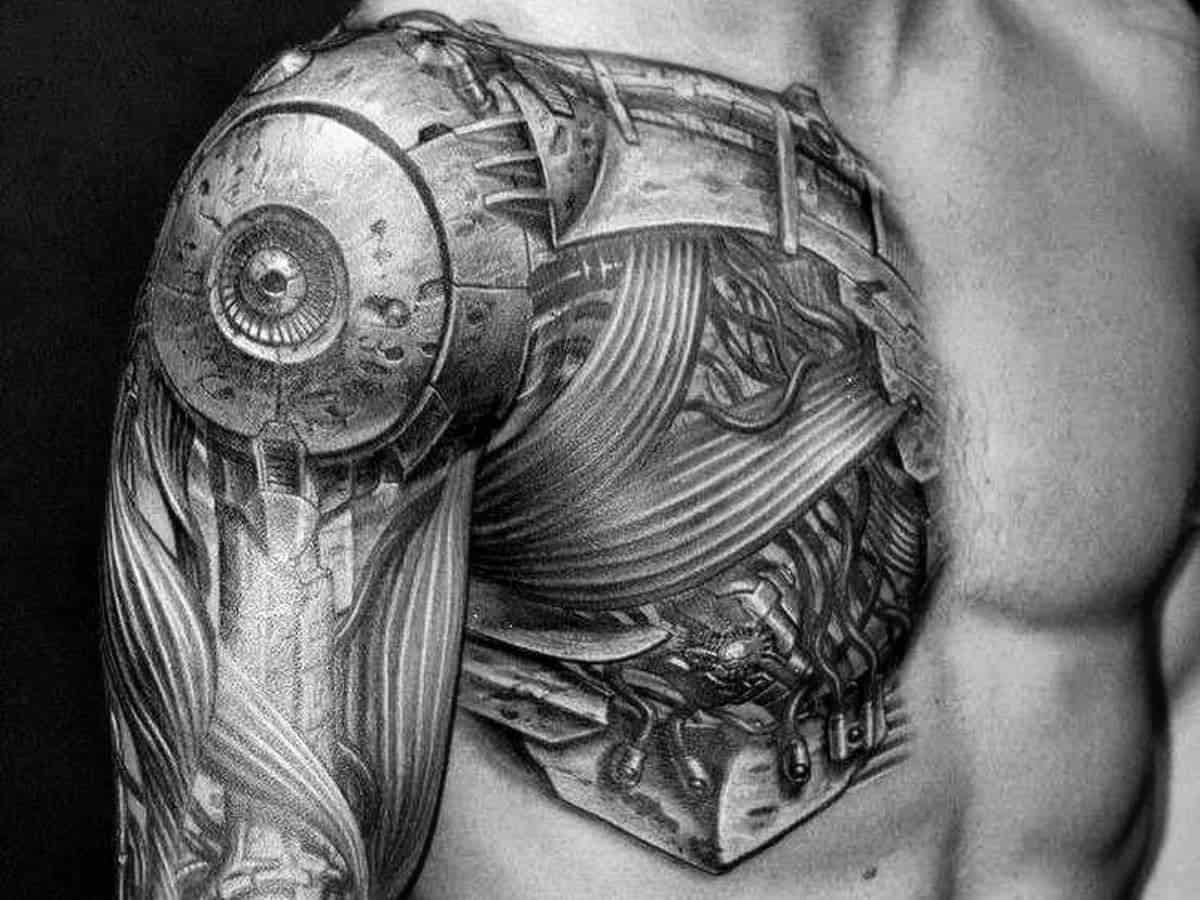 A biomechanical shoulder tattoo creates realistic body art that provides a science-fiction appearance similar to that of a biomechanical android.
These tattoos offer a futuristic and science-fiction aesthetic that's fascinating and attractive.
14. Crown shoulder tattoo
Crowns represent royalty, nobility, power, and victory. Getting a crown tattoo on your shoulder is similar to getting a badge. It's a good-looking tattoo that represents your power or triumph.
15. Bear shoulder tattoo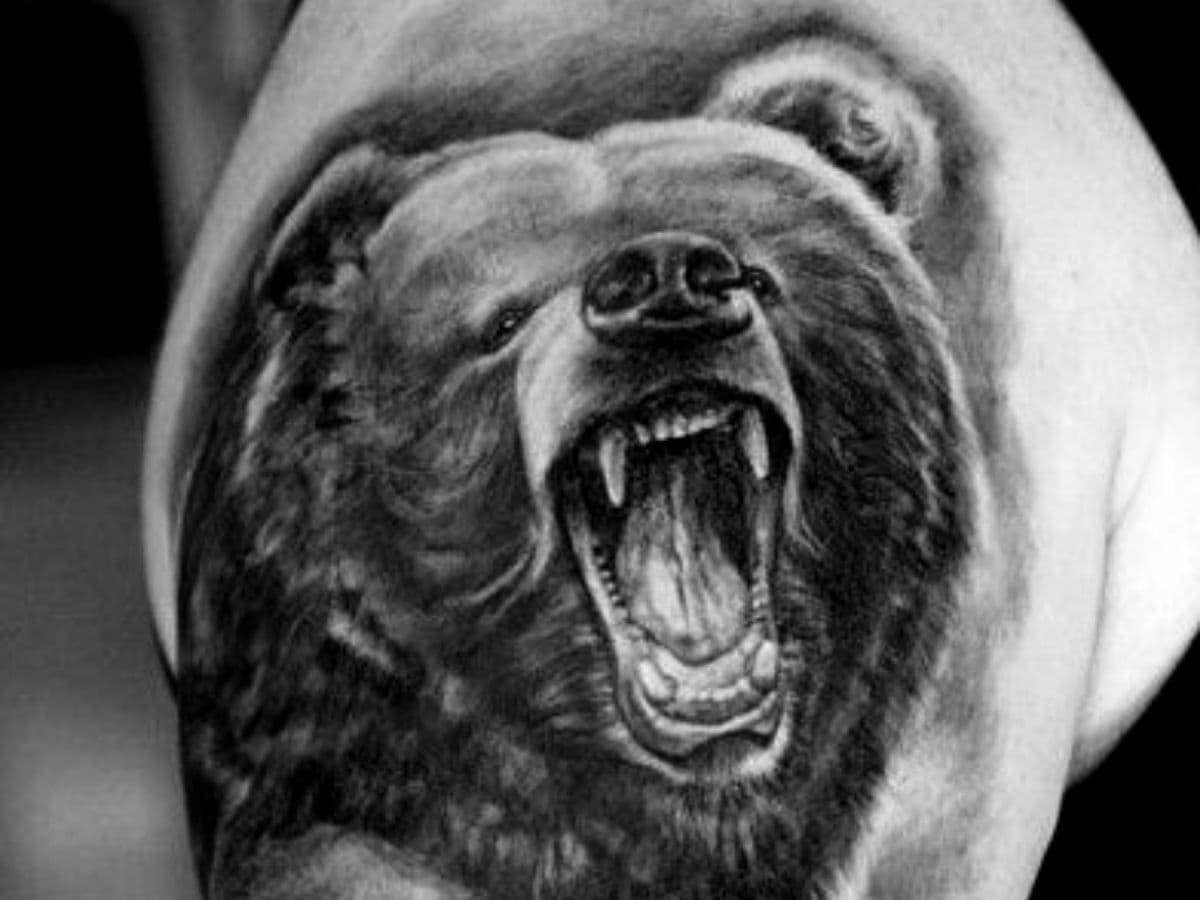 Bear tattoos represent strength, trust, protection, and a connection with nature. On your shoulder, bear tattoos are captivating. You can display a bear's face, claw, or entire body.
16. Samurai shoulder tattoo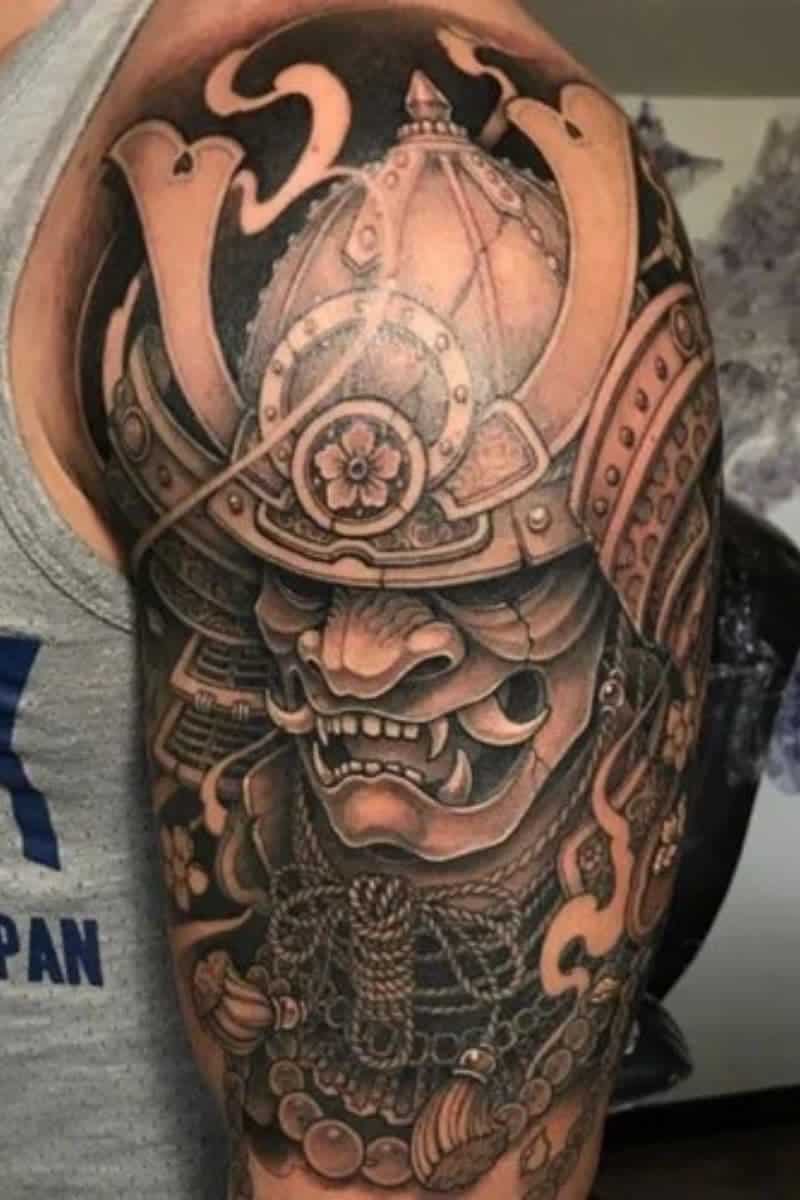 Samurai shoulder tattoos show a samurai warrior in his traditional war armor, and he may also be holding the iconic katana sword.
Not only are these tattoos appealing, but they also indicate courage and respect.
17. Feather shoulder tattoo
Feather tattoos are timeless yet fashionable. They can appear with a small or large filler design.
Feather shoulder tattoos are captivating as they're associated with freedom, wisdom, and courage.
18. Angel shoulder tattoo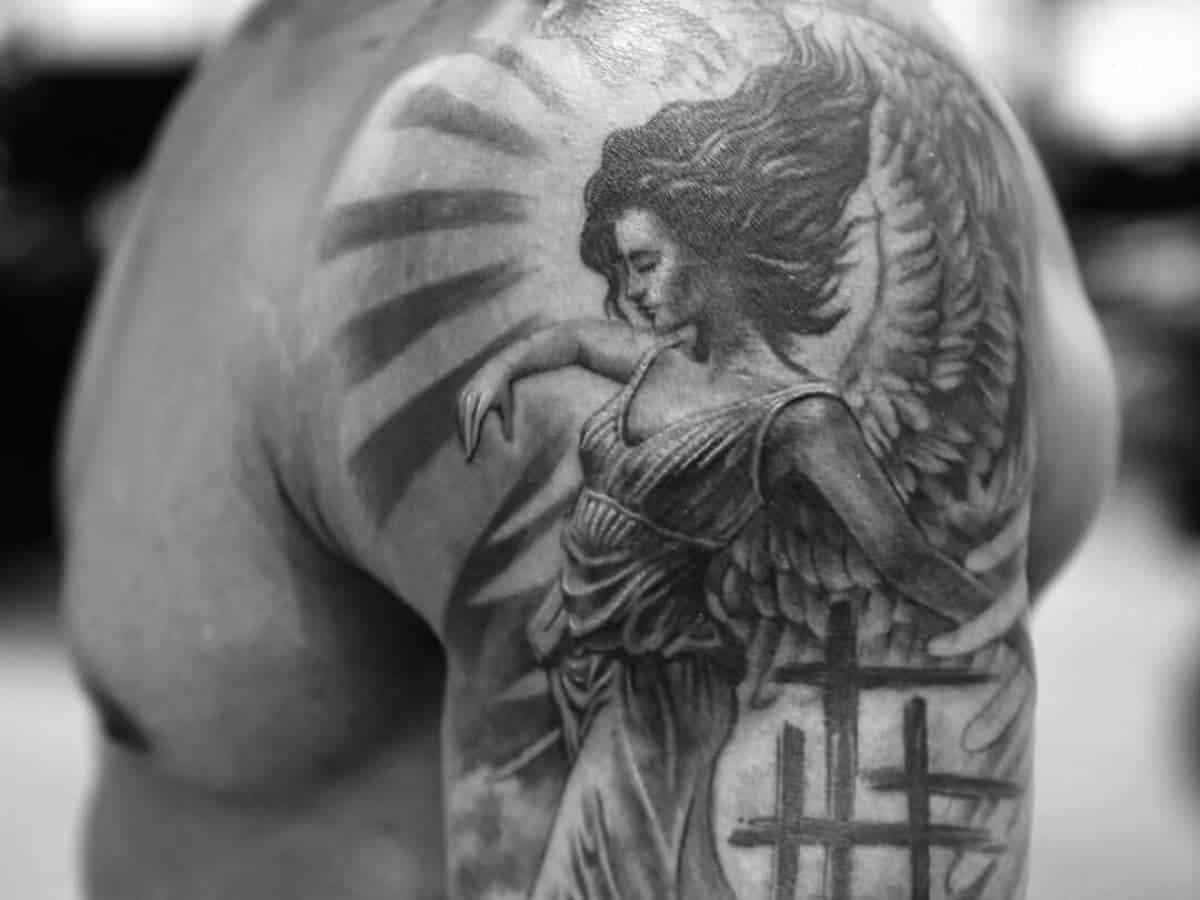 Angel shoulder tattoos are generally related to spirituality. They represent guidance and hope.
You can have an angel on your shoulder as a reminder that you're protected. You can choose between a full angel, a baby angel, or the wings for the design.
19. Demon shoulder tattoo
If you want a devilish look, demon shoulder tattoos are the way to go. Most demon tattoos showcase a demon with its classical horns, sharp teeth, and demonic tail.
It can represent darkness and power, while also being a reminder of the demons that you overcame.
20. Grim Reaper shoulder tattoo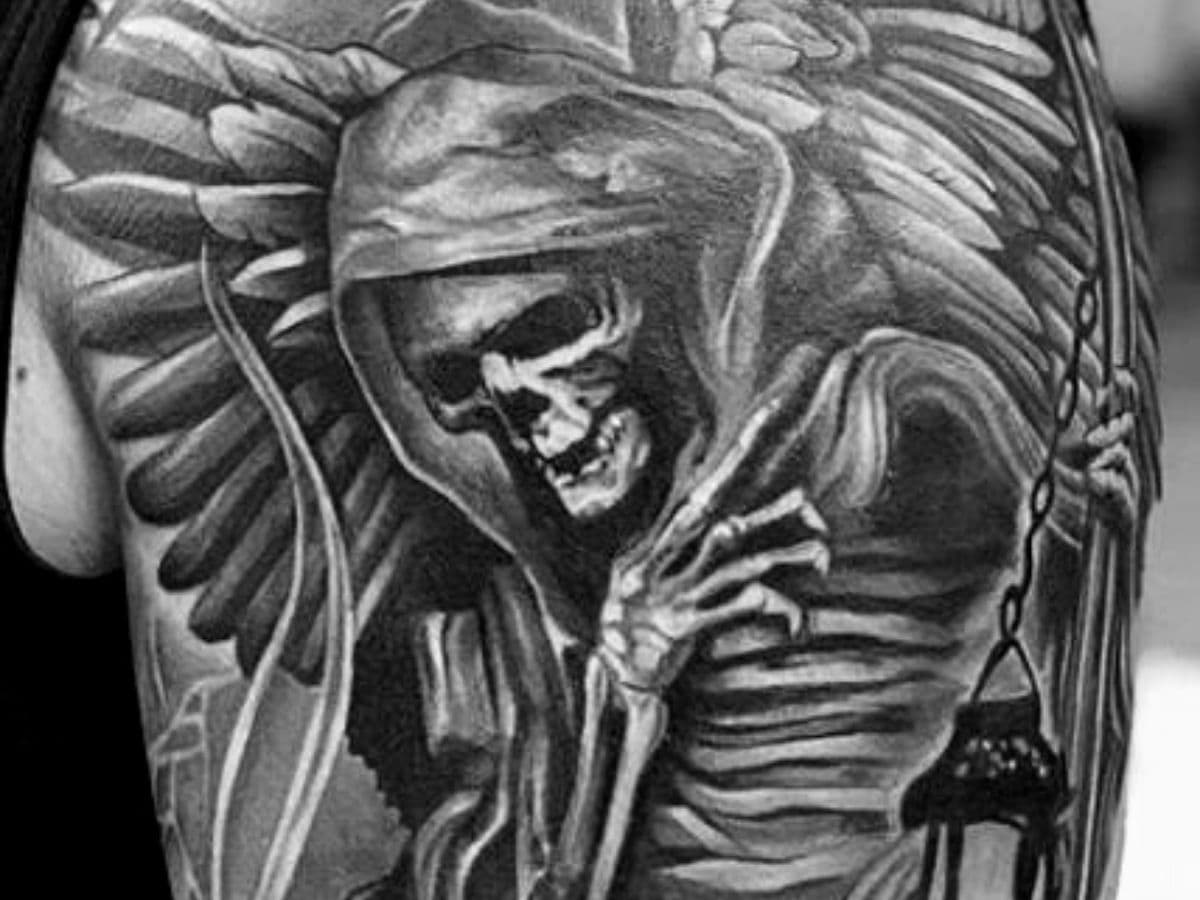 Grim Reaper shoulder tattoos are captivating, as they depict the cycle of life and bravery. It also represents darkness and death.
Such tattoos portray the Grim Reaper in various forms with his discernible black hooded robe.
21. Horoscope shoulder tattoo
Horoscope shoulder tattoos show your horoscope sign or zodiac animal. They offer an astrological beauty and provide different meanings depending on the particular horoscope sign.
22. Christian shoulder tattoo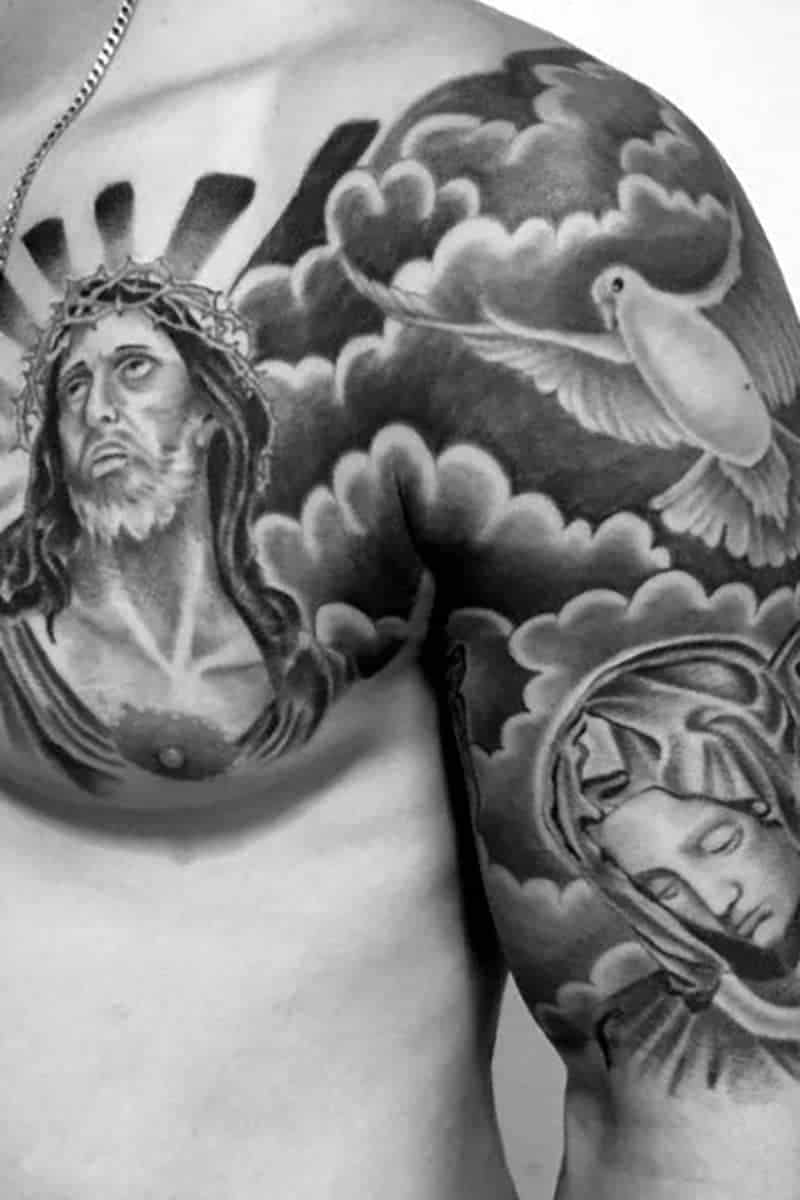 Christian shoulder tattoos involve drawings of Jesus' face, praying hands, and other Christianity-related art forms. If you're a Christian, it's a beautiful opportunity to show your faith.
23. Rose shoulder tattoo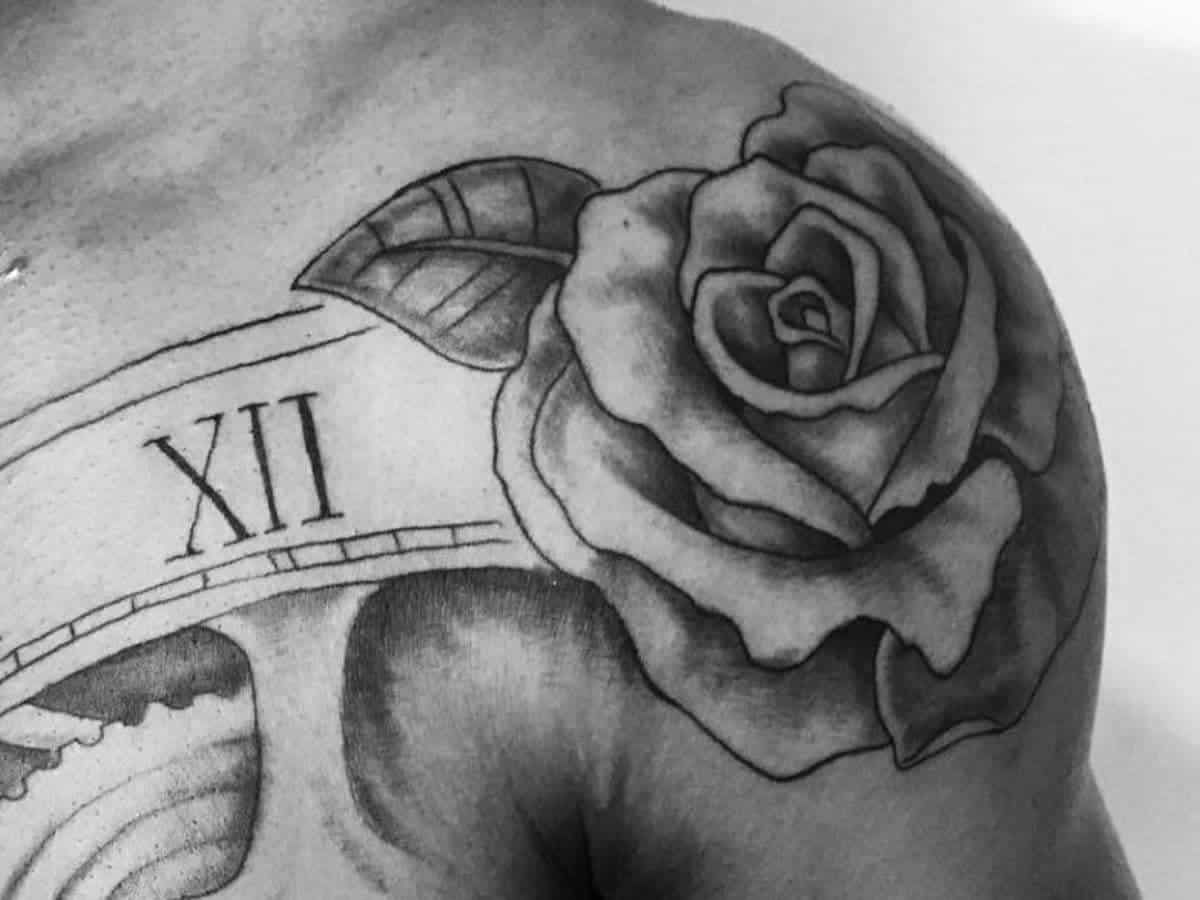 Roses symbolize fresh beginnings, optimism, promises, peace, and strength. On your shoulder, you can portray a budding or blossoming rose.
Plus, they can appear alone or in a mix with other tattoos.
24. Eagle shoulder tattoo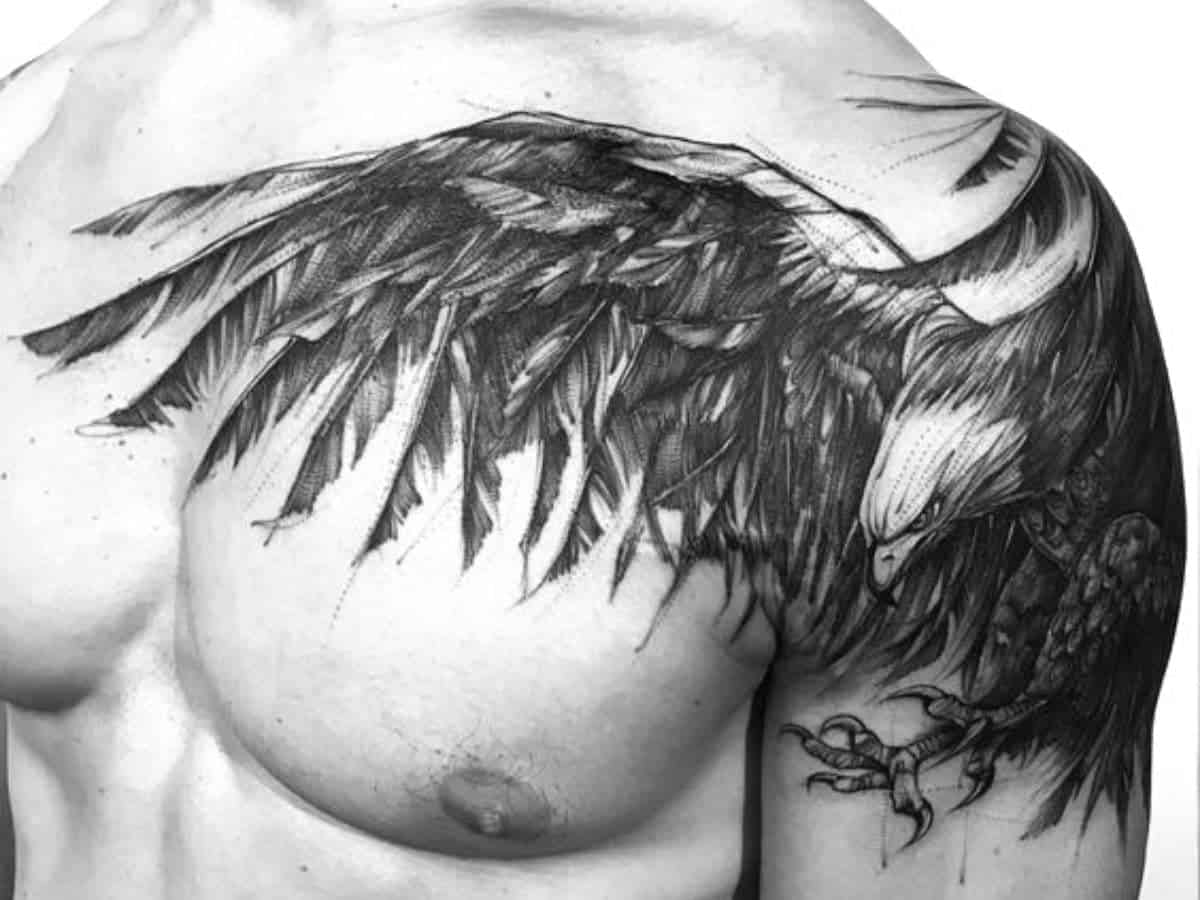 In many cultures, eagles represent dominance, authority, power, freedom, clarity, and luck.
An eagle shoulder tattoo can feature an eagle's head or whole body, portraying a landing or flying motion.
25. A wing on each shoulder
To give yourself a guardian angel look, get a wing tattoo on each shoulder. They're rich in symbolism and look incredible.
26. Japanese shoulder tattoo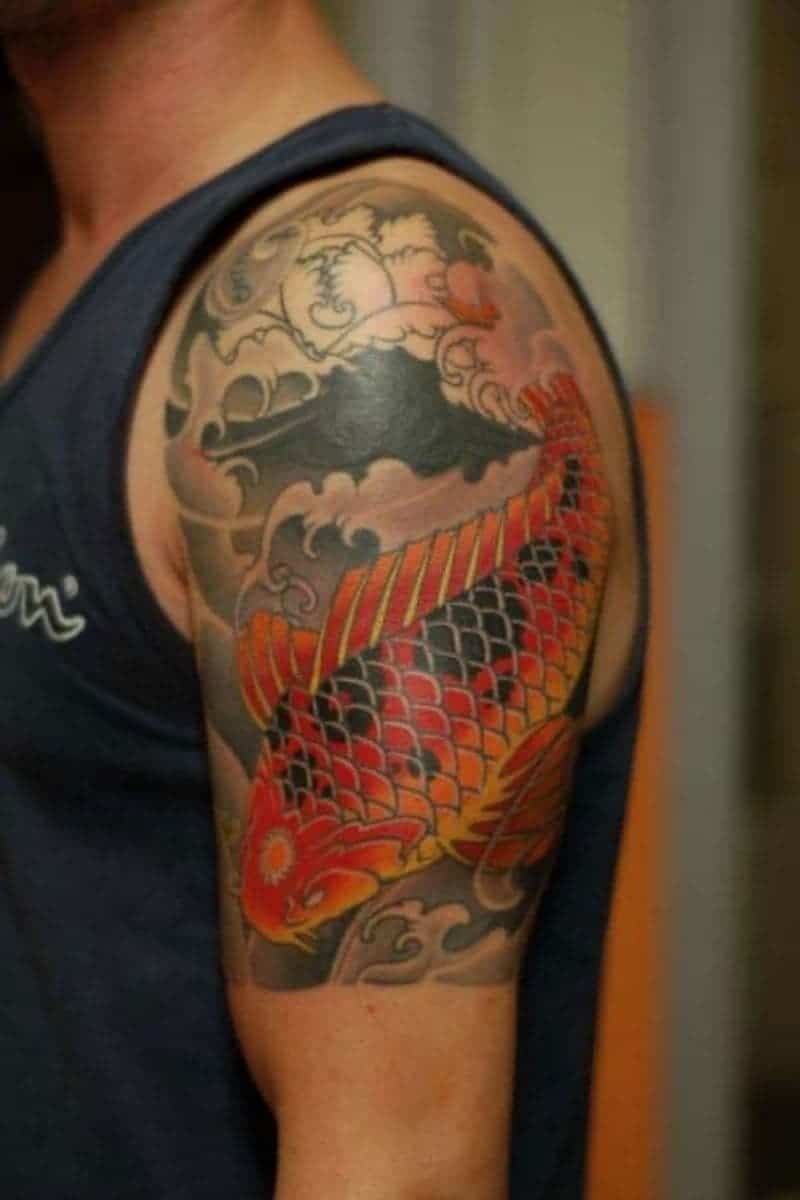 Japanese tattoos use a unique shading technique to produce brightly colored body artworks such as floral, Koi fish, and hourglass tattoos. Japanese shoulder tattoos create a unique and beautiful look.
27. Tree shoulder tattoo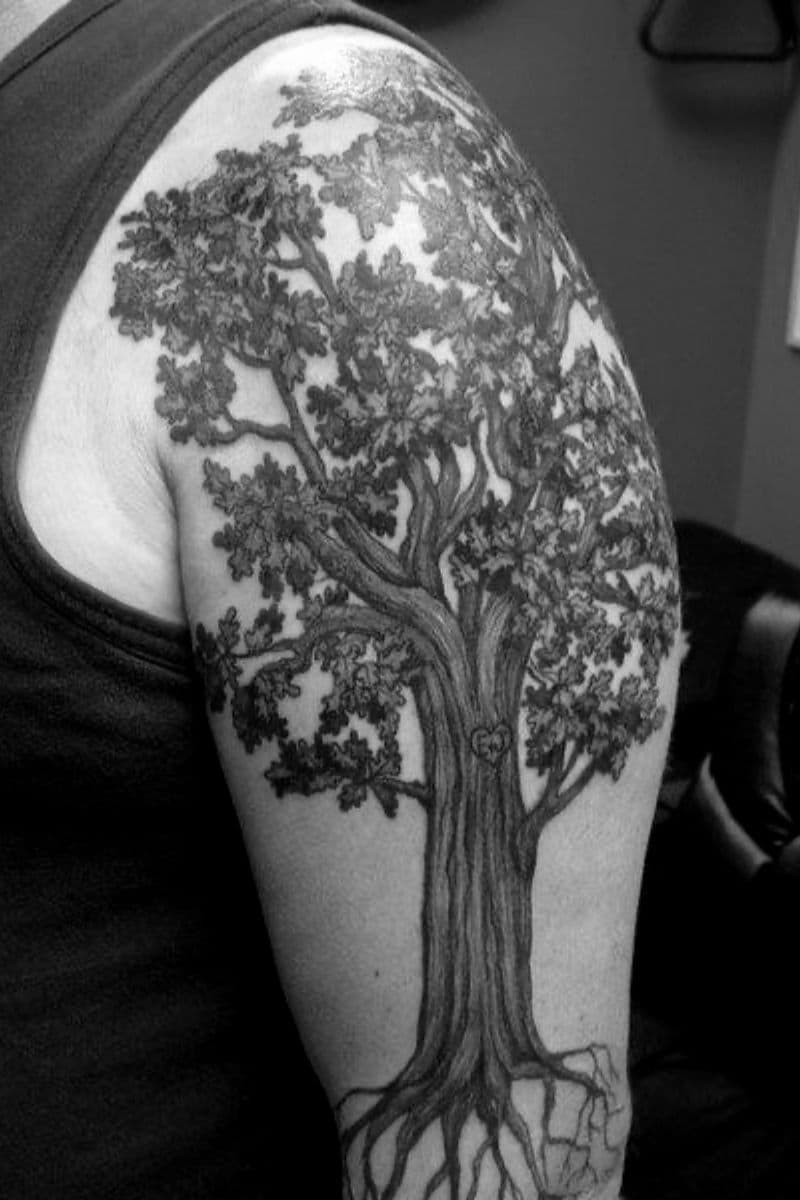 Tree shoulder tattoos represent life, wisdom, endurance, strength, loyalty, and a deep connection with nature.
Such tattoos feature a wide range of trees and may also feature the background landscape.
28. Compass shoulder tattoo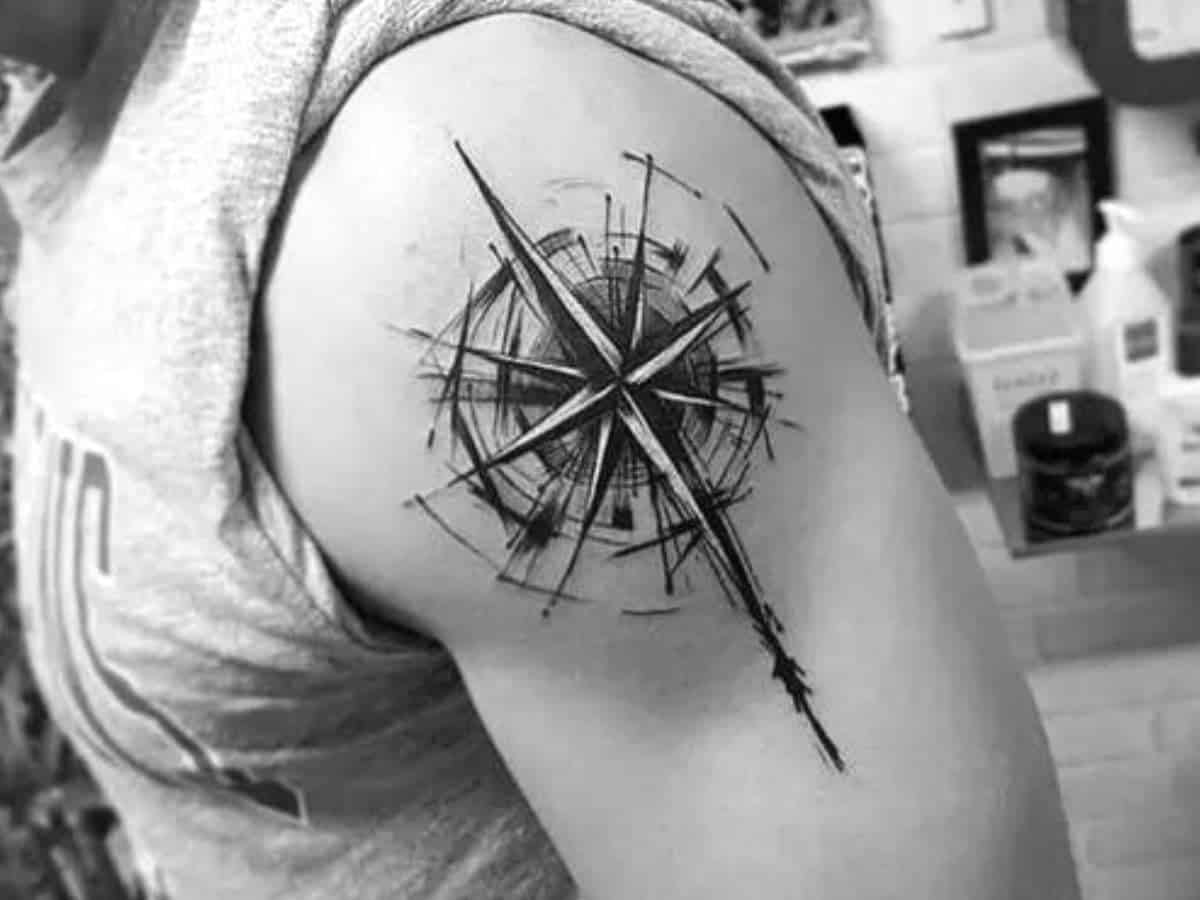 Compass shoulder tattoos typically involve drawings of a nautical compass and may also include a tropical background containing palm trees.
Such tattoos are captivating as they show you are on a personal journey
through life.
29. Heart shoulder tattoo
Heart tattoos signify love, passion, or desire, making them a popular design. It can also represent a lost loved one or pain, depending on how it's drawn.
Heart shoulder tattoos may depict a realistic or cartoon-like heart with different designs.
30. Music Shoulder tattoo
Music shoulder tattoos may contain an instrument, musical notes, or lyrics. They're appealing because they express your energy and love for music.
Conclusion
Getting a shoulder tattoo is an excellent way of adding ink to your body. The skin on your shoulder has a low susceptibility to aging and stretching.
A well-designed shoulder tattoo will look stylish, be meaningful, and remain in good condition for a lifetime.
Featured image courtesy of Canva.
About David Em
Founder
David Em is the founder of Next Level Gents, the ultimate destination for tips and advice about style, grooming, fitness, and success.