While there's nothing wrong with having a curly beard, you may want to straighten it to reduce tangling. Learn the best way to do it.
We receive a commission when you buy through affiliate links on this page.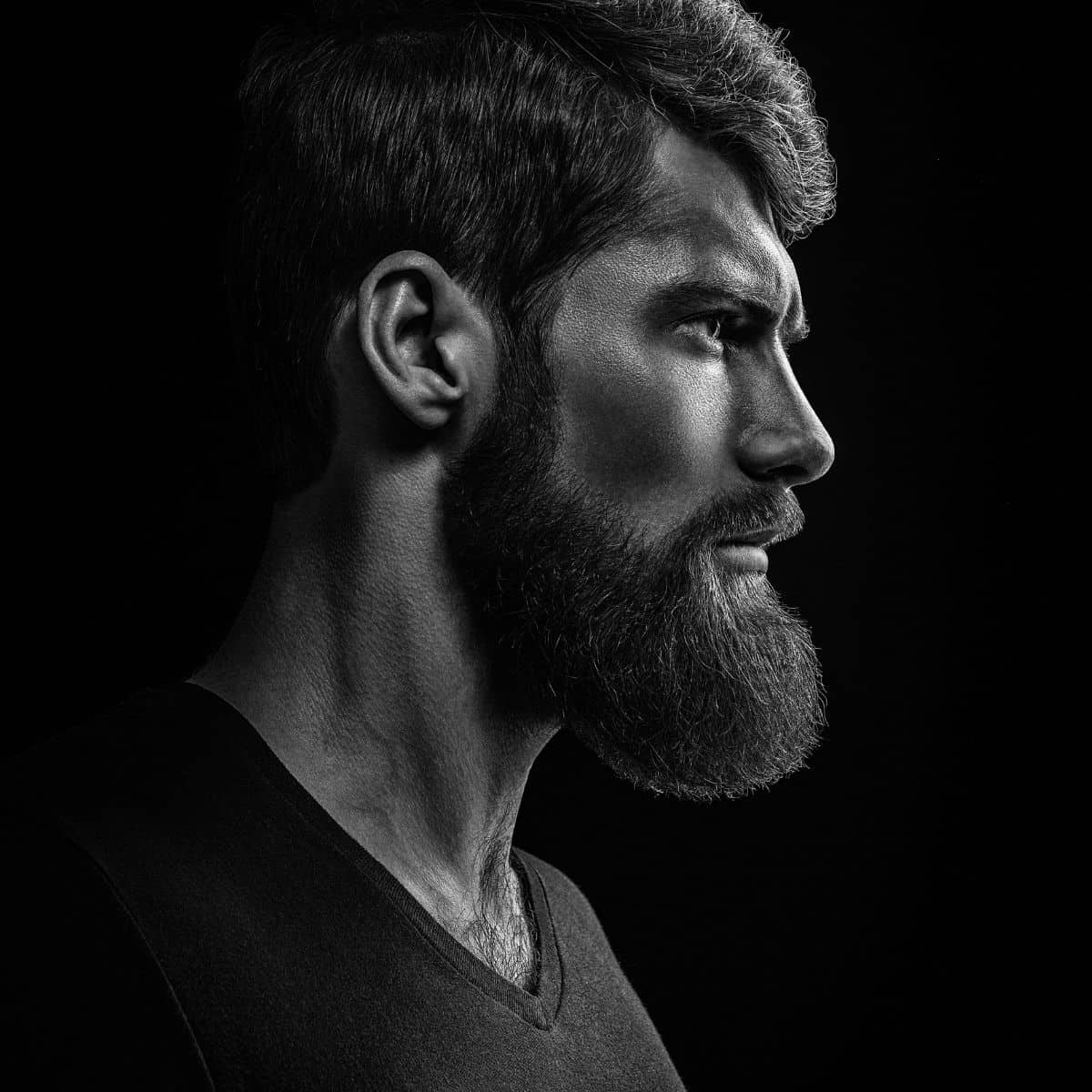 Having a well-groomed beard is essential, as it can boost your confidence and how you look. Few things are worse than having a tangled beard because it can ruin your appearance and self-confidence.
Related: 10 best beard shampoos and washes
While a curly beard looks full and dense, the risk of tangling may cause you to want to straighten it. A straightened beard looks clean, and it's easier to shape and style.
When you're straightening your beard, avoid using high heat. Low to medium heat is ideal because it'll protect your beard.
Related: The best electric shavers for men
While lower heat settings are better for your beard, it takes a little more time. Be patient, and you'll be happy with the results.
Take the following steps to properly and safely straighten your beard.
Related: The difference between beard oil and beard balm
What you'll need
Before you start straightening your beard, make sure you have the best tools. The following items will ensure you can straighten your beard and get the best results:
With the best tools and products, you can straighten your beard without worrying about damaging it. You'll look well-groomed, polished, and comfortable.
Related article: The Difference between Beard Oil and Beard Balm
6 steps to straighten your beard and keep it straight
Now that you have the materials needed, you're ready to straighten your beard. Take the following steps to get a straight and good-looking beard.
1. Wash your beard
Before doing anything else, make sure you have a clean beard. Use your beard shampoo or wash of choice to clean out dirt and excess oils.
While you can use regular shampoo, body wash, or soap, it's best to use a beard-specific cleaner because it won't lead to dry skin.
Beard shampoos and washes are more gentle than regular body wash or shampoo.
You can jump in the shower or wash your beard at the sink. Be sure to use warm water and thoroughly lather your beard. Then, rinse out your beard, and you're ready to move onto step two.
2. Pat your beard dry
After you wash your beard, pat it dry with a towel. Be gentle with your beard by not rubbing it.
Patting it dry ensures you don't break the hairs or cause them to tangle.
The goal is to have a slightly damp beard. So, don't worry about waiting for it to dry completely.
3. Apply beard oil
With a mostly dry beard, you're ready to apply beard oil. It'll soften your beard and protect the hair from the heat.
Put two to three drops of beard oil in your palm and use your other hand to spread it evenly across your hands.
After you've evenly distributed the oil, work it into your beard. Massage it into the sides, bottom, and top. Giving it a good rub ensures that you cover your entire beard.
4. Blow dry and flat iron (optional) your beard
After you've applied beard oil, you're ready for the heat. There are two ways to go about it. You can use a blow dryer or combine it with a flat iron.
Both options work well. A blow dryer is typically more readily available. However, adding a flat iron leads to better results.
Regardless of the method you use, make sure you use a low or medium heat setting.
Avoid using high heat because it'll damage your beard and cause dryness to your skin.
If you're using a blow dryer, keep it six to ten inches away from your beard.
Then, blow dry downward and move the blow dryer to follow the natural direction of your beard.
If you have a flat iron, make sure your beard is dry before using it. Then, get as close to your skin without burning yourself and slowly pull downward.
5. Use a round brush for styling
While you're blow-drying or flat ironing, use a round boar bristle brush to straighten your beard. A round brush is helpful for styling and removing curls.
One of the most challenging parts to straighten is directly under your chin. With a round brush, brush while you point the blow dryer up and outward. It's easier if you look up, as it gives you more space.
By using a round boar bristle brush, the majority of your beard will be straight. It's an excellent tool for straightening and styling.
6. Apply beard balm to keep it straight
At this point, your beard will be straight. However, there's one last step. The final step to get a straight beard that lasts is to apply beard balm.
Rub a dime-sized amount of the beard balm into your palm. Then, use your fingertips to apply the balm to your beard.
Start at the top, close to your face, and work your way down. Beard balm has beeswax or shea butter to provide a light or medium hold.
After applying beard balm, you can also use your brush to style it perfectly.
Are there other methods?
Yes, there's another method to straighten your beard. You can use a heated brush, which combines the flat iron and brush into one tool.
Tame's Beard Straightener is $33.95 on Amazon, which isn't too much compared to buying a new blow dryer or flat iron.
To use a heated brush or beard straightener, start with a clean and dry beard. Instead of leaving it damp, dry it as much as possible.
Then, apply beard oil and use the beard straightener to comb downward.
While it seems like a better option, heated brushes aren't the most effective. You'll get better results using the blow dryer and flat iron method.
Conclusion
Straightening your beard doesn't take too much time. However, the results are worth it.
You'll have a straight beard without tangles, which makes you look well-groomed and sophisticated.
Featured image courtesy of Canva.
About David Em
Founder
David Em is the founder of Next Level Gents, the ultimate destination for tips and advice about style, grooming, fitness, and success.