Whether you need a lightweight jacket or a parka, stay warm and look great during the winter with the 15 best men's winter jackets and coats.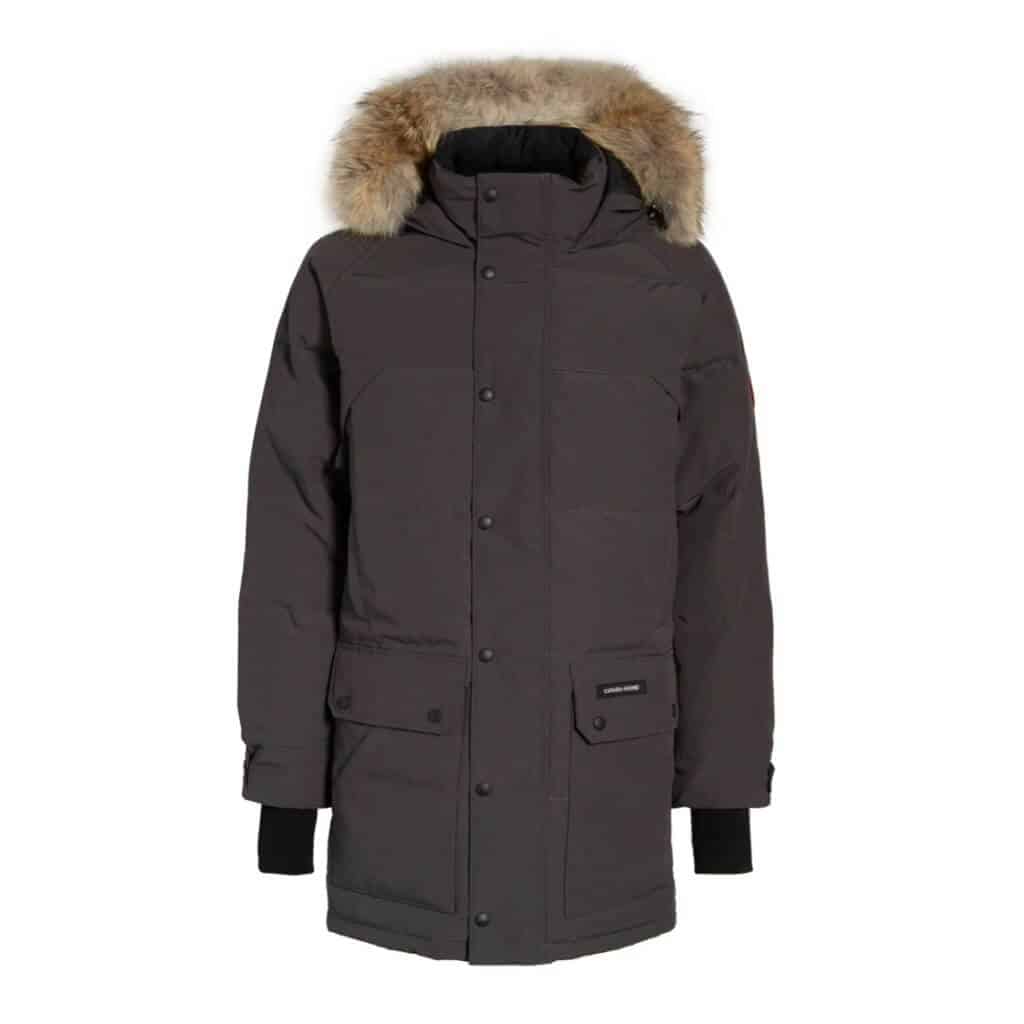 We receive a commission on purchases made through links on this page. For more information, read Affiliate Disclosure.
Estimated reading time: 9 minutes
1. Reiss Hardwick Wool-Blend Peacoat
The Reiss Hardwick Peacoat is a timeless double-breasted soft-grey peacoat that's made with wool and polyester. Peacoats are perfect for layering and offer a classy look. You can wear it with a button-up shirt, turtleneck, or a simple t-shirt.
Buy from Reiss (opens in a new tab).
2. Rodd & Gunn Archers Coat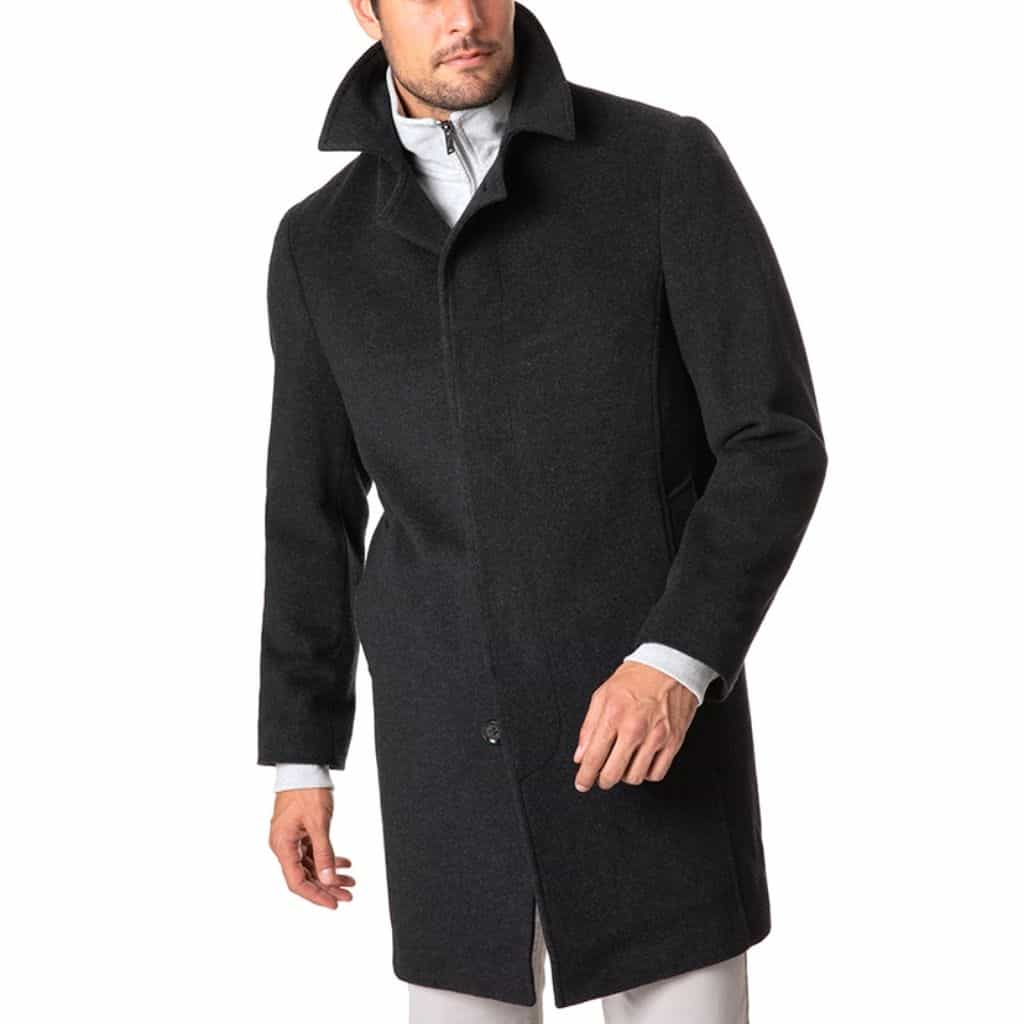 Rodd & Gunn offers the Archers Coat, which is a wool-cashmere car coat. The granite color and classic style make it a versatile coat. It's also buttoned on the inside of the jacket, which gives it a streamlined look when you button it up.
Buy from Rodd & Gunn (opens in a new tab).
3. Canada Goose Emory Genuine Coyote Fur Trim Parka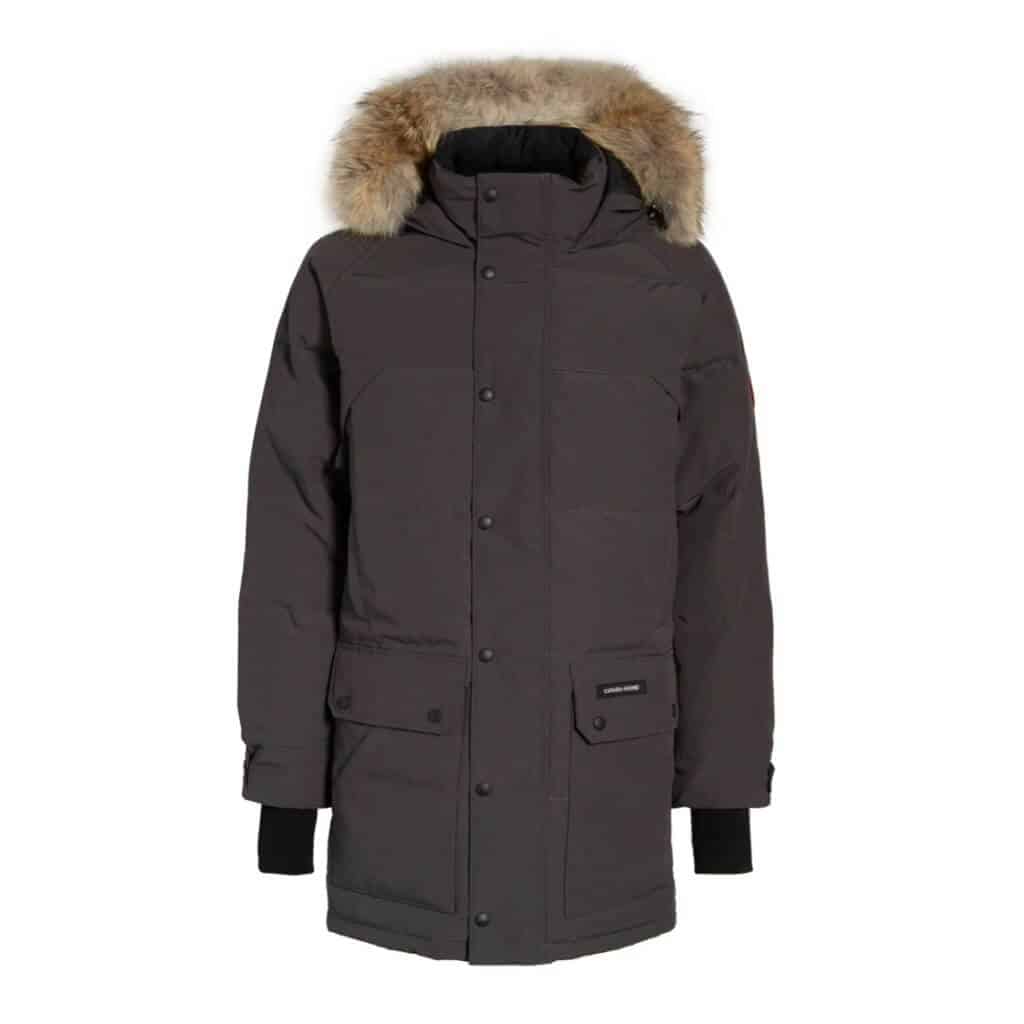 Canada Goose is one of the top brands when it comes to jackets and coats for winter. The Emory Parka is a 625-fill white duck down jacket that extends down to your thighs. It has a durable nylon lining and is treated with a water-repellent finish.
Buy from Nordstrom (opens in a new tab).
4. Tommy Hilfiger Arctic Cloth Full-Length Quilted Snorkel Jacket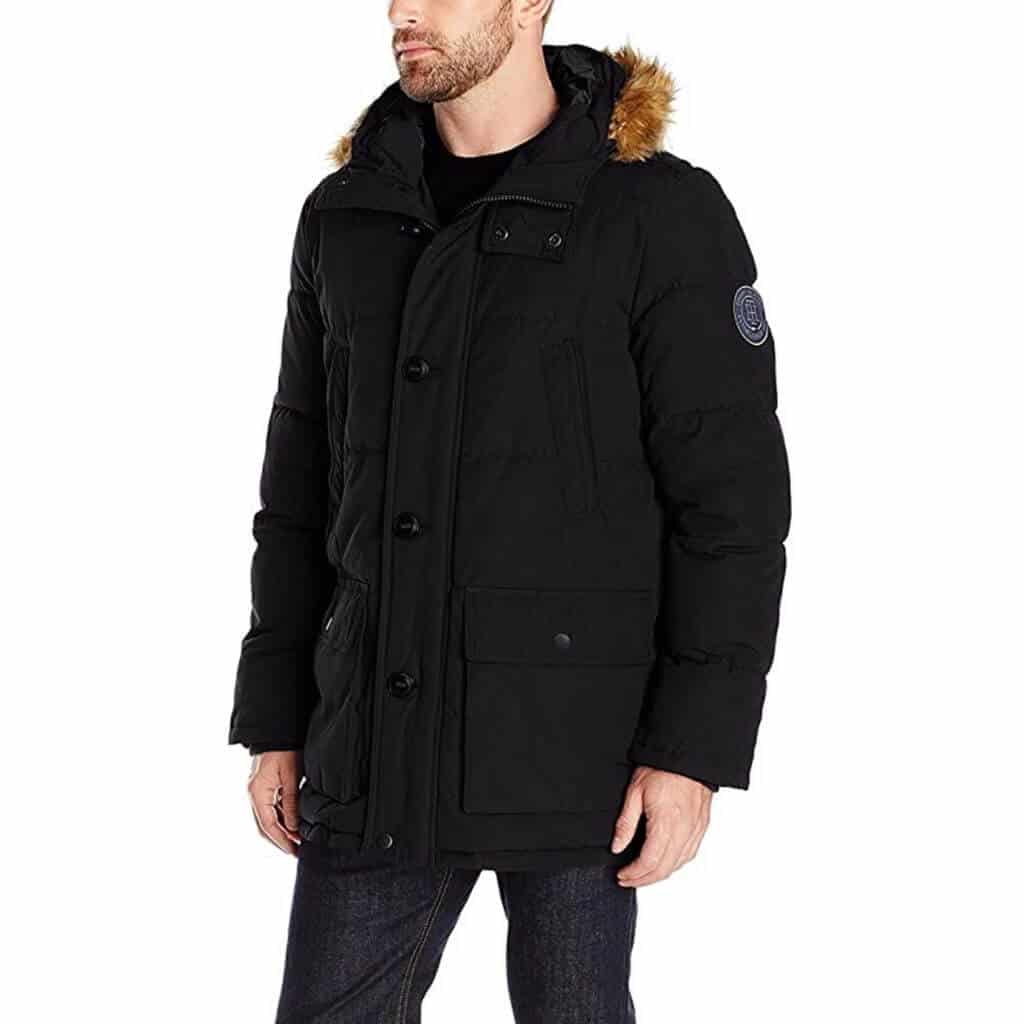 Tommy Hilfiger's Arctic Cloth Quilted Snorkel Jacket is made with a polyester filler. It keeps you warm by offering a two-step sealing system. First, you zip up the jacket. Then, you can button it closed. It also has a removable faux fur hood.
Buy from Amazon (opens in a new tab).
5. Marmot Men's Guides Down Hoody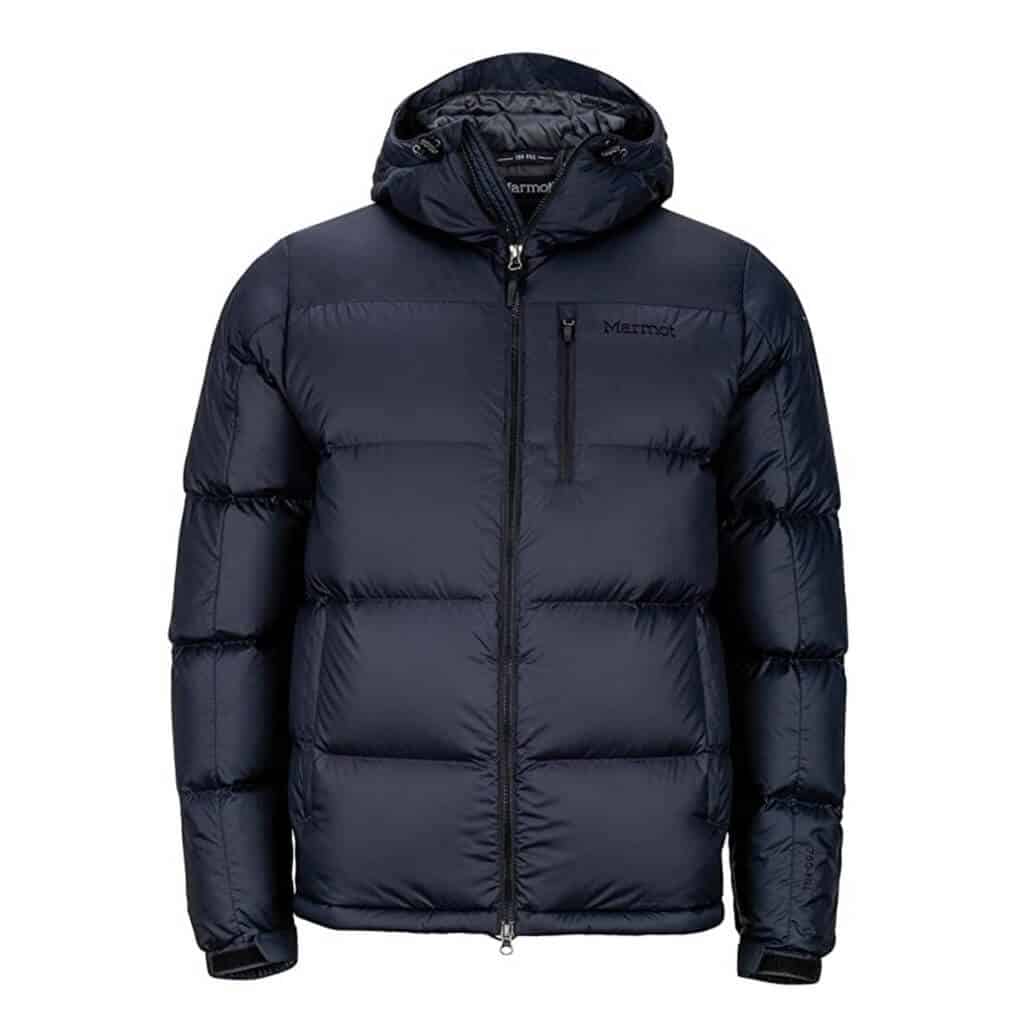 The Marmot Men's Guides Down Hoody is made with Down Defender, which is a specially treated highly water-resistant down. It also prevents the down from clumping and losing its loft when exposed to water The jacket also has velcro cuffs and a drawcord hem, allowing you to keep the heat in.
Buy from Amazon (opens in a new tab).
6. The North Face Stretch Down Jacket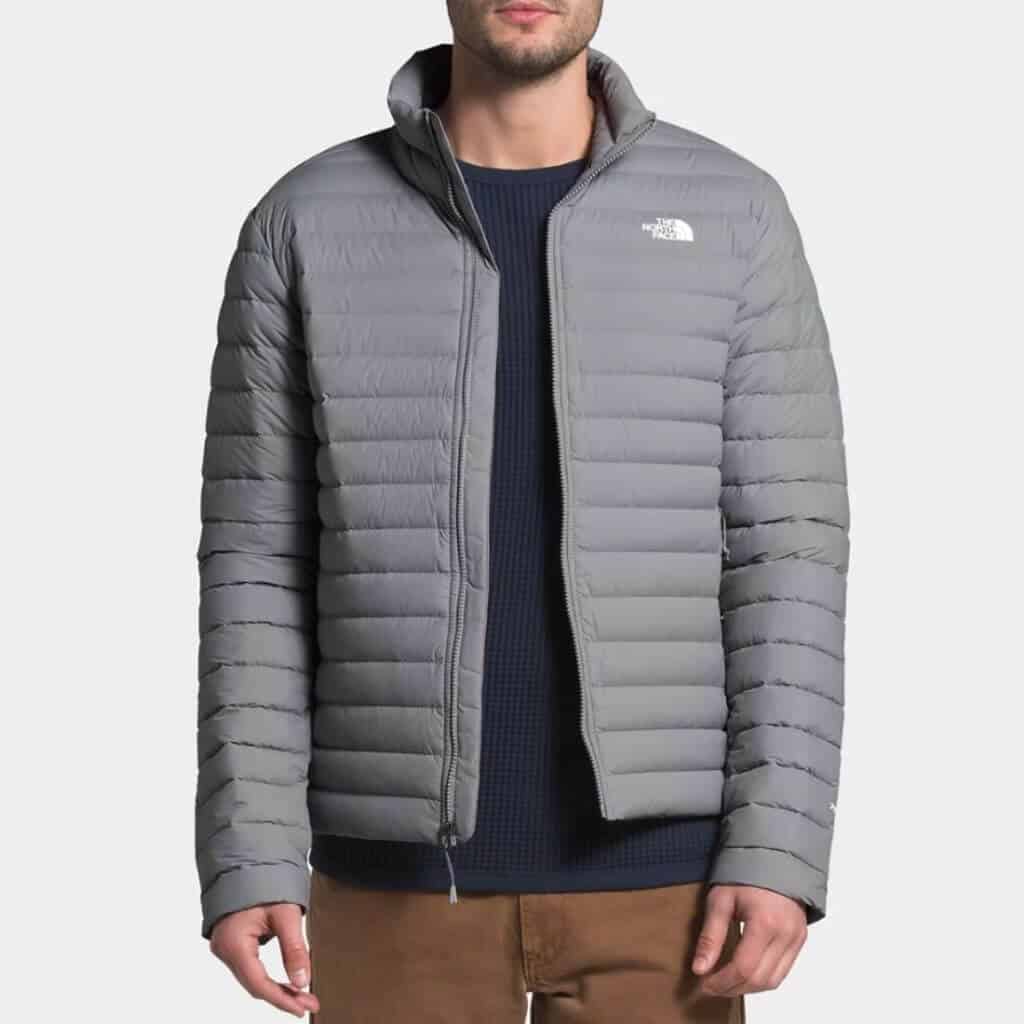 The North Face has the Stretch Down Jacket, which is an excellent and functional winter jacket. It's made with 700-fill goose down, and the stretch-woven fabric allows you to move around without restriction.
Buy from The North Face (opens in a new tab).
7. Patagonia Frozen Range Parka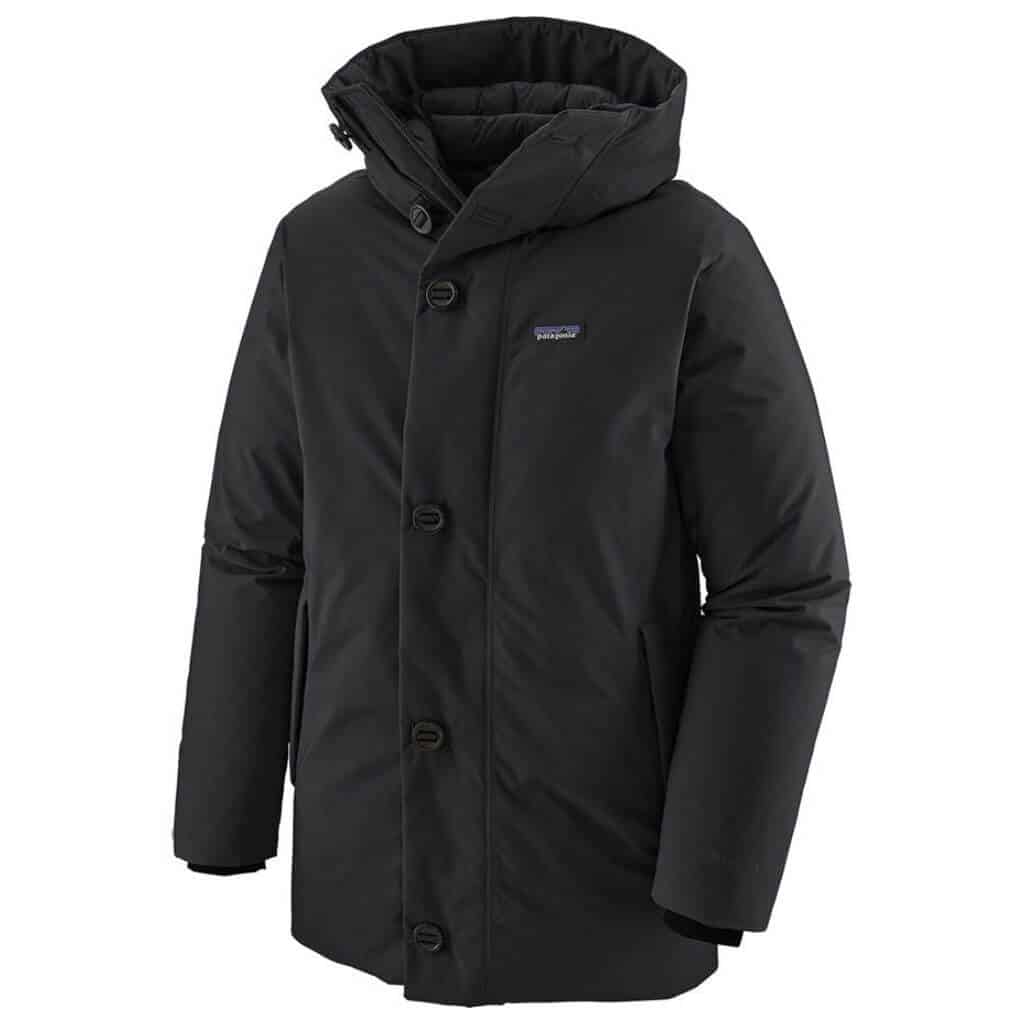 Patagonia's Frozen Range Parka is a fashionable choice that'll undoubtedly keep you warm. It combines Gore-Tex waterproofing with 700-fill down insulation. It also has an adjustable hood, storm cuffs, and extends down to your thighs to ensure warmth during winter weather.
Buy from Backcountry (opens in a new tab).
8. Arc'teryx Camosun Parka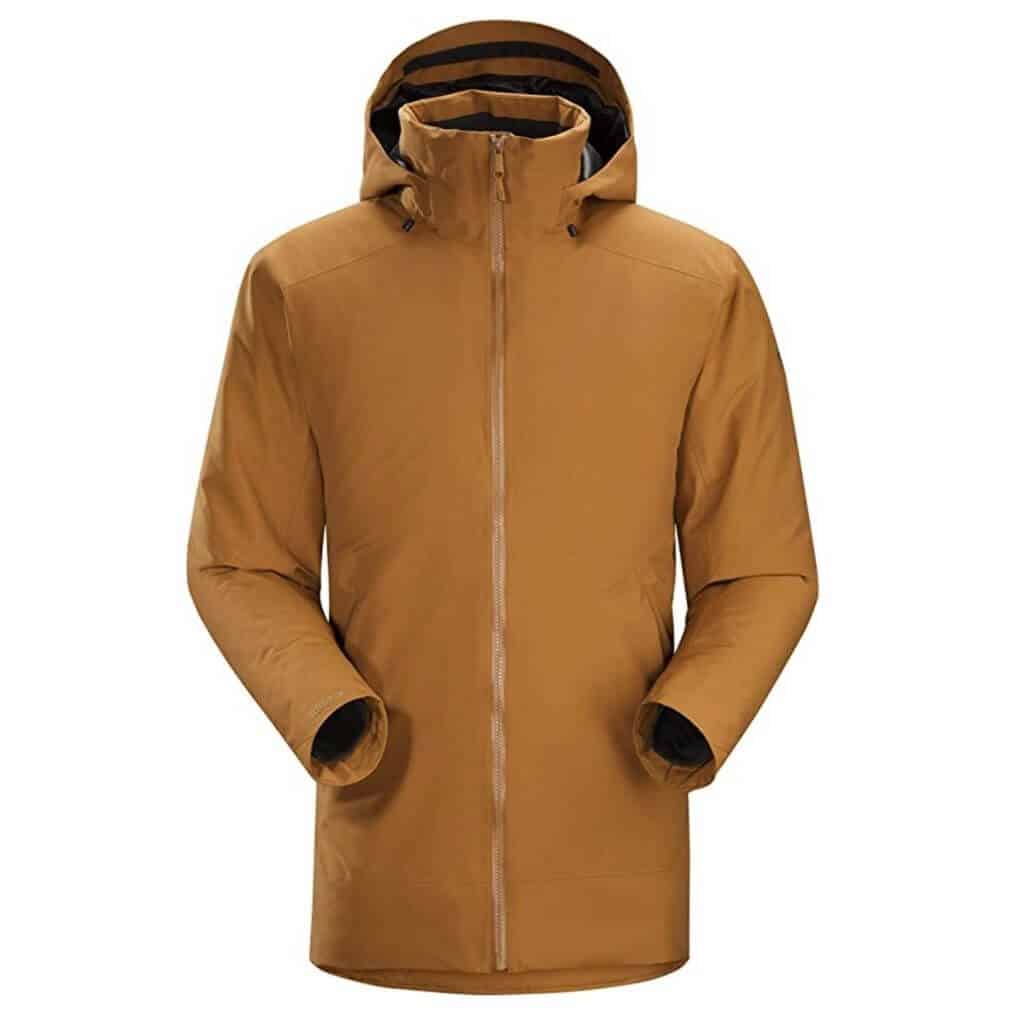 The Camosun Parka by Arc'teryx is a stylish, warm, and weatherproof parka. It offers waterproof, windproof, and breathable protection, which is necessary during winter. The parka has 750-fill power European goose down along the core and sleeves, which is where it's most needed.
Buy from Amazon (opens in a new tab).
9. Caterpillar Heavy Insulated Parka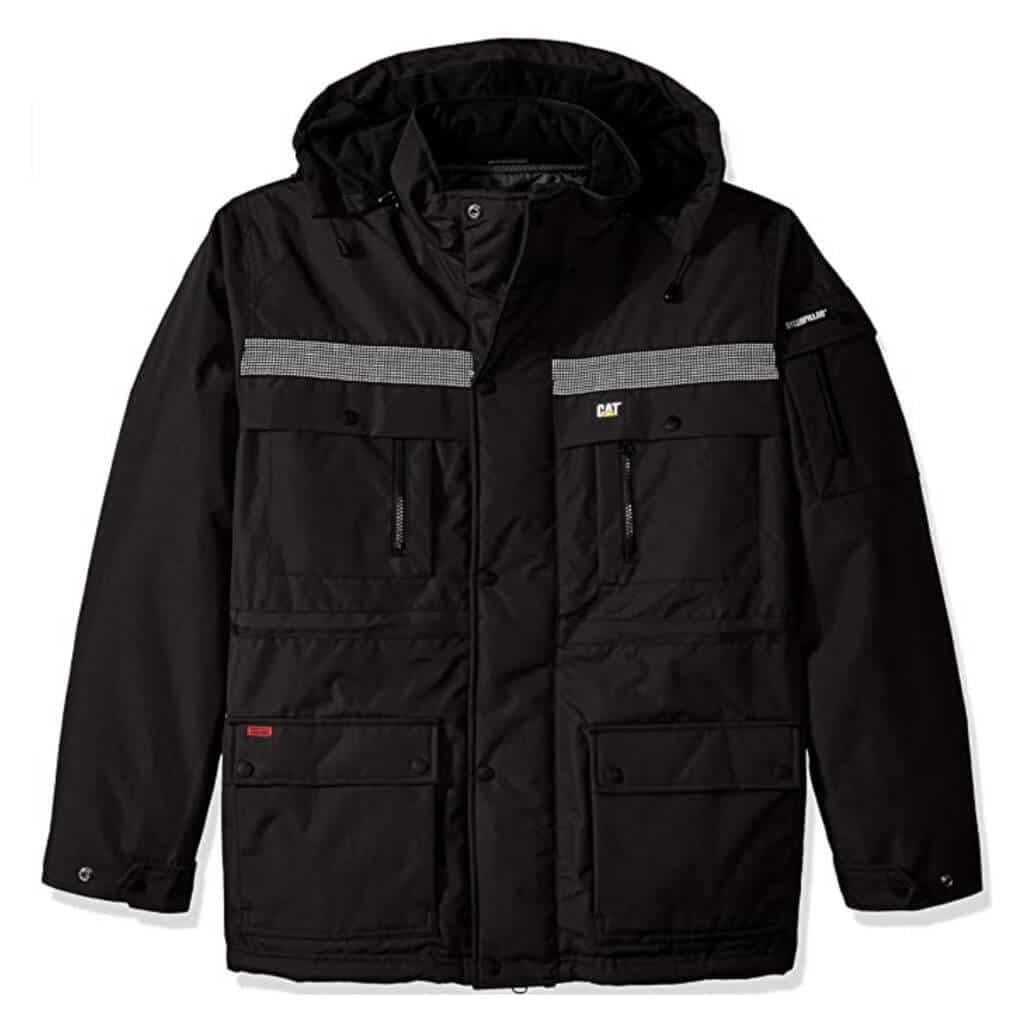 For a heavyweight, durable, tough, and comfortable parka, the Caterpillar Heavy Insulated Parka is an excellent choice. It's designed to take on the most extreme weather conditions, and on the chest area, there are reflective webbing accents to keep you safe in low-light situations.
Buy from Amazon (opens in a new tab).
10. Columbia Horizon Explorer Insulated Jacket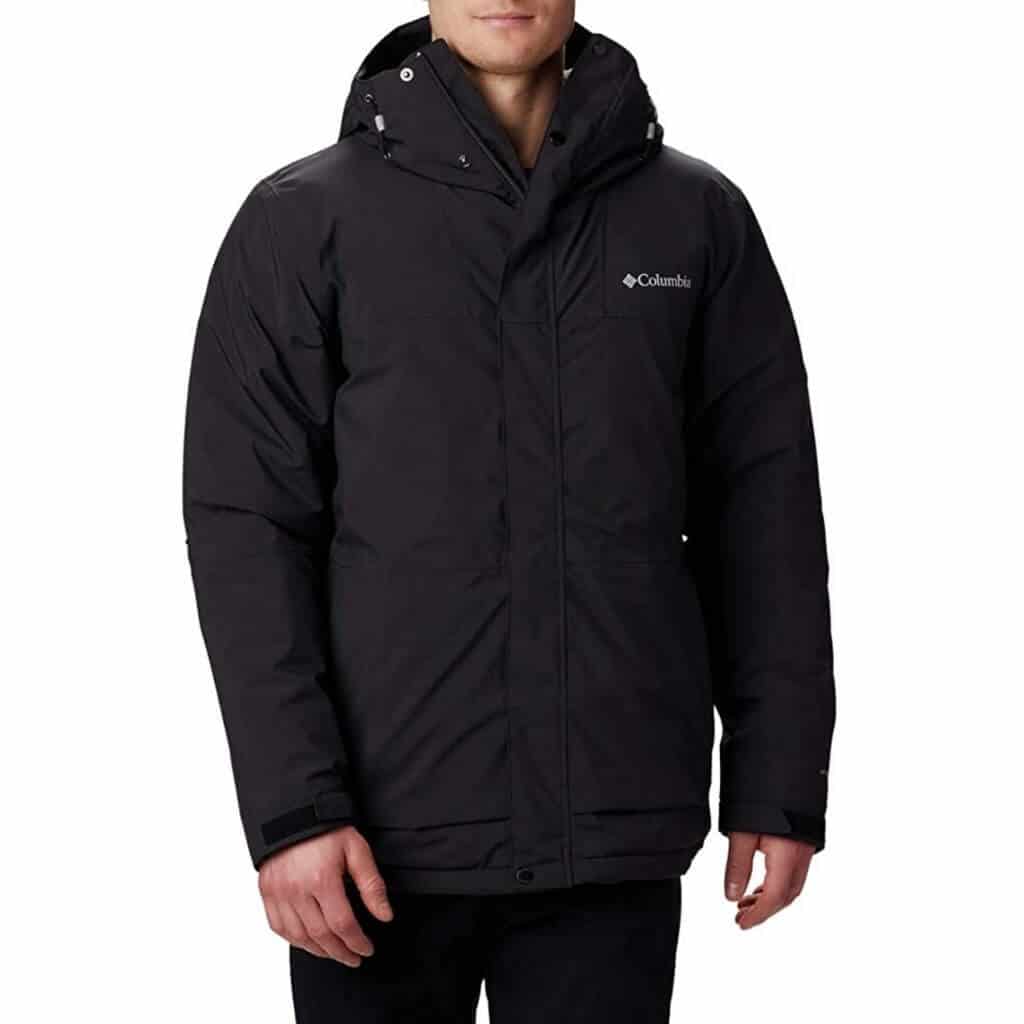 The Columbia Horizon Explorer Insulated Jacket is built for maximum comfort and protection. When you're wearing it, you can trust that it'll get you through inclement weather. The Omni-Heat and Thermarator insulation keep you warm, while the Omni-tech laminate keeps you dry.
Buy from Amazon (opens in a new tab).
11. Mountain Hardwear Firefall 2 Jacket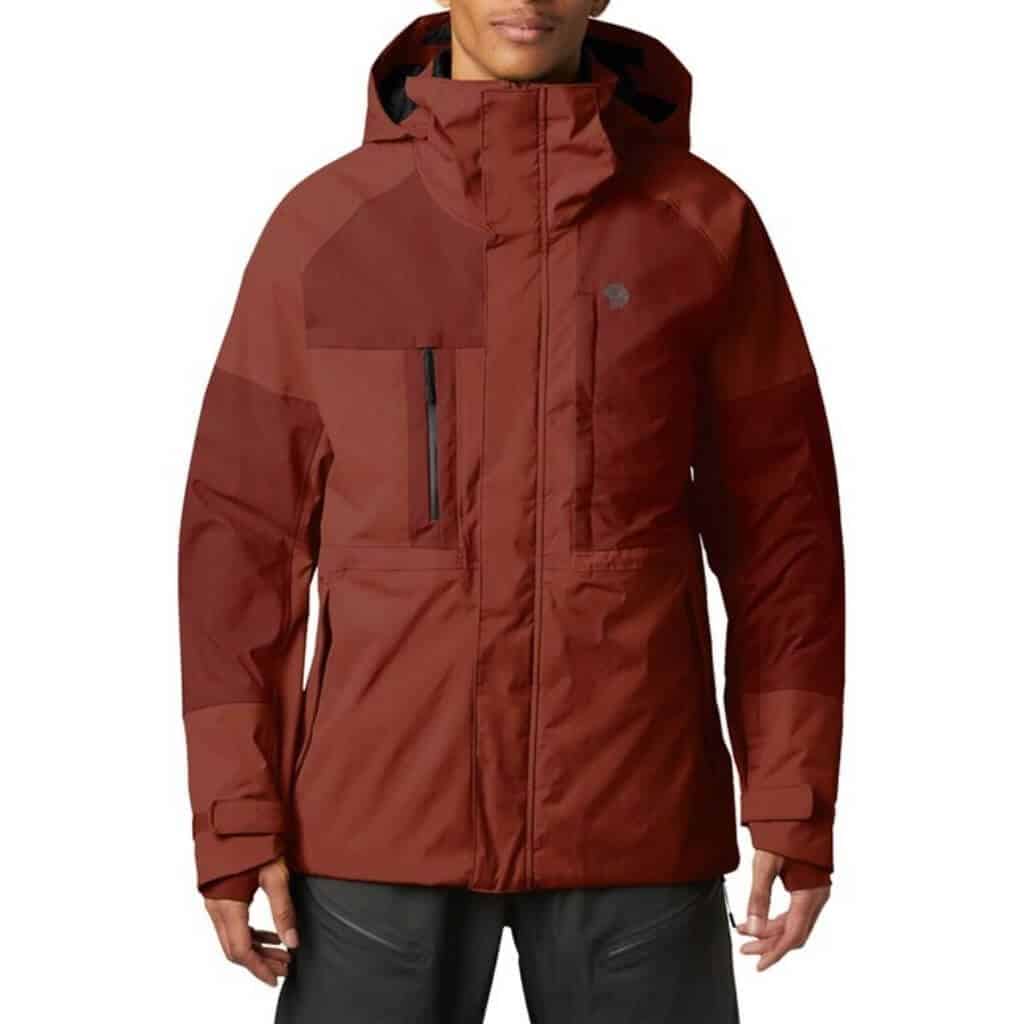 Mountain Hardwear's Firefall 2 Jacket is made with 2-layer nylon plain weave, which is waterproof, durable, and comfortable. If you like to ski or snowboard, you can take the Firefall 2 Jacket with you because it has a helmet-compatible hood with a three-way drawcord adjustment.
Buy from Backcountry (opens in a new tab).
12. Barbour Navy Quilted Puffer Jacket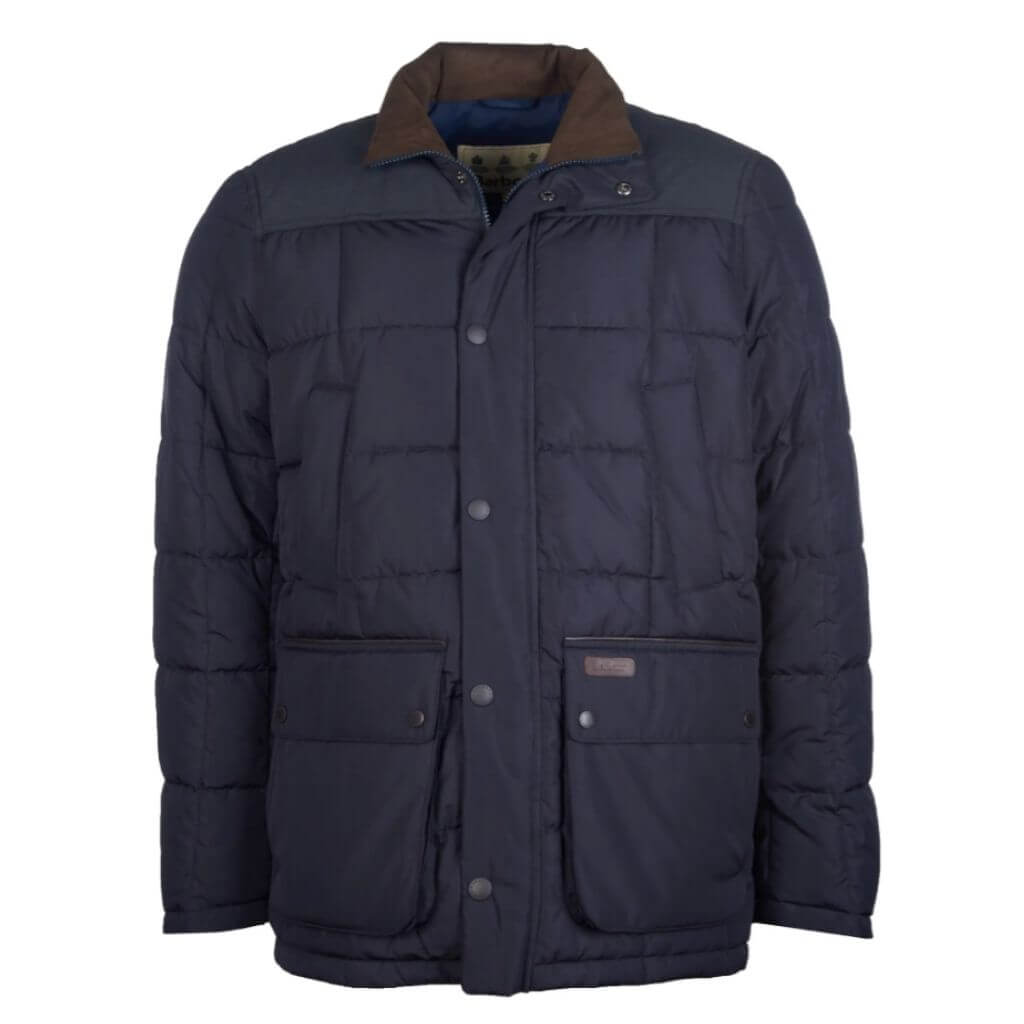 The Barbour Quilted Puffer Jacket is one of the warmest styles that Barbour offers. It's made of polyester and has several versatile pockets. The collar can be worn down or buttoned to the top of your neck if you want to stay warm.
Buy from Nordstrom (opens in a new tab).
13. Everlane The ReNew Long Parka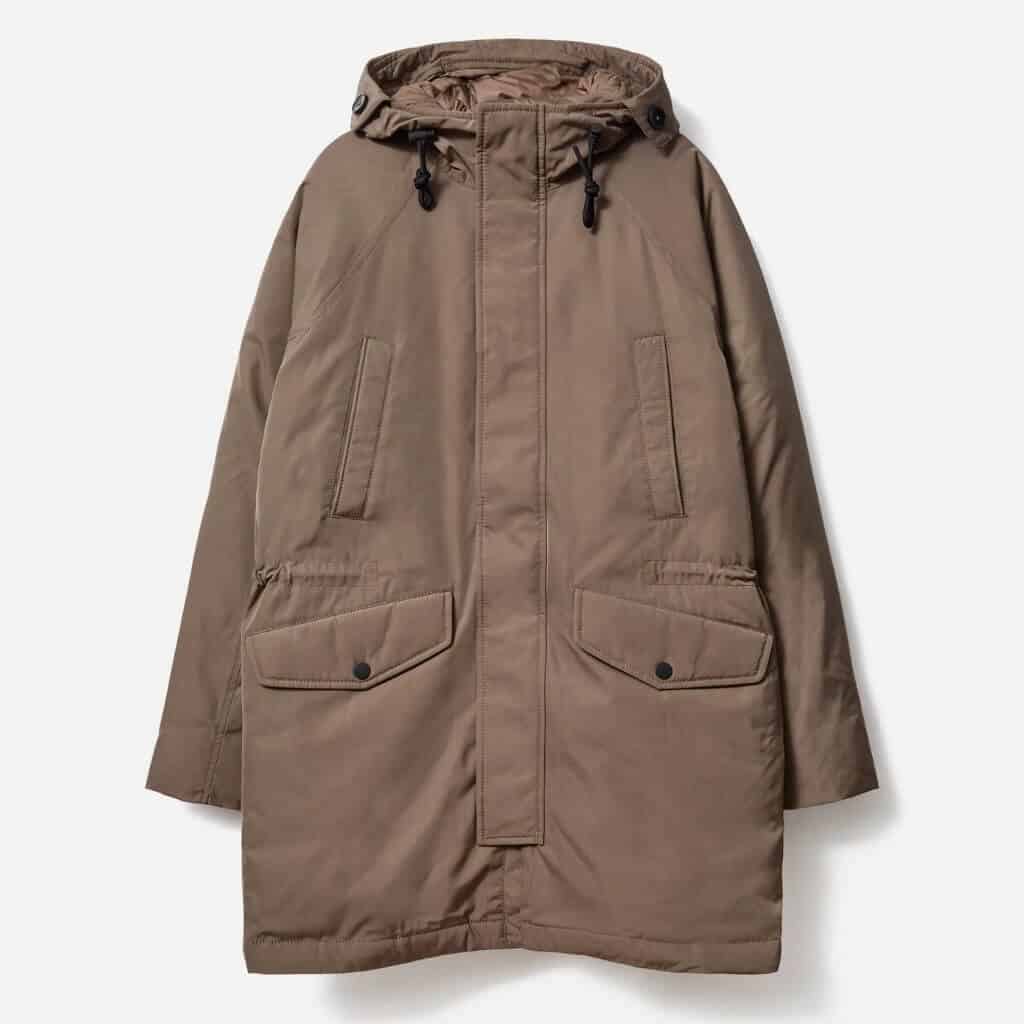 Everlane's ReNew Long Parka is made of recycled polyester, 64 renewed plastic bottles to be exact. It has a long, relaxed fit with oversized cargo pockets. Aside from being sustainable, it extends to your thighs and keeps you warm during frigid temperatures.
Buy from Everlane (opens in a new tab).
14. Hugo Boss Slim-Fit Virgin Wool and Cashmere-Blend Overcoat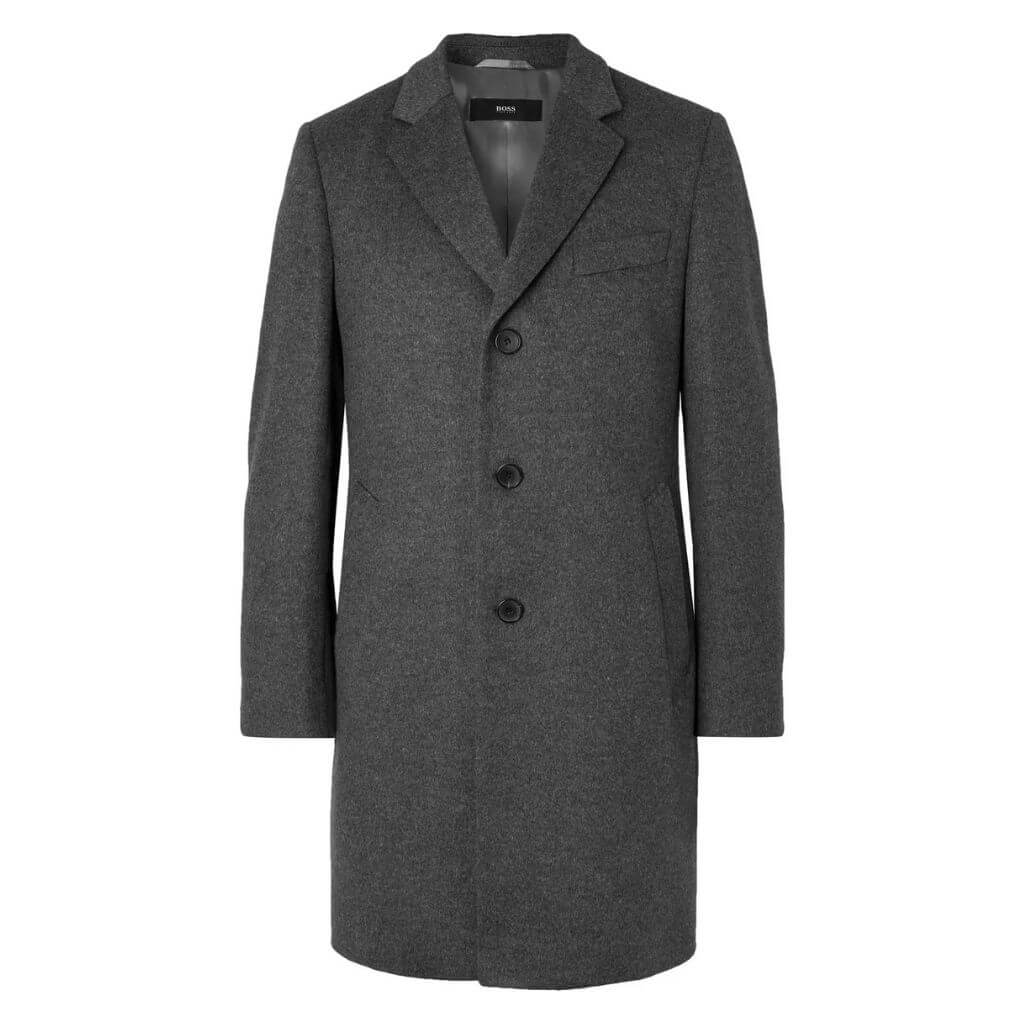 The Hugo Boss Wool and Cashmere Overcoat is an essential coat to have in your winter wardrobe. Overcoats are versatile, as it looks great dressed up in a suit and with casual outfits. The slim and streamlined silhouette gives you an elegant appearance.
Buy from Mr Porter (opens in a new tab).
15. Amazon Essentials Heavyweight Hooded Puffer Coat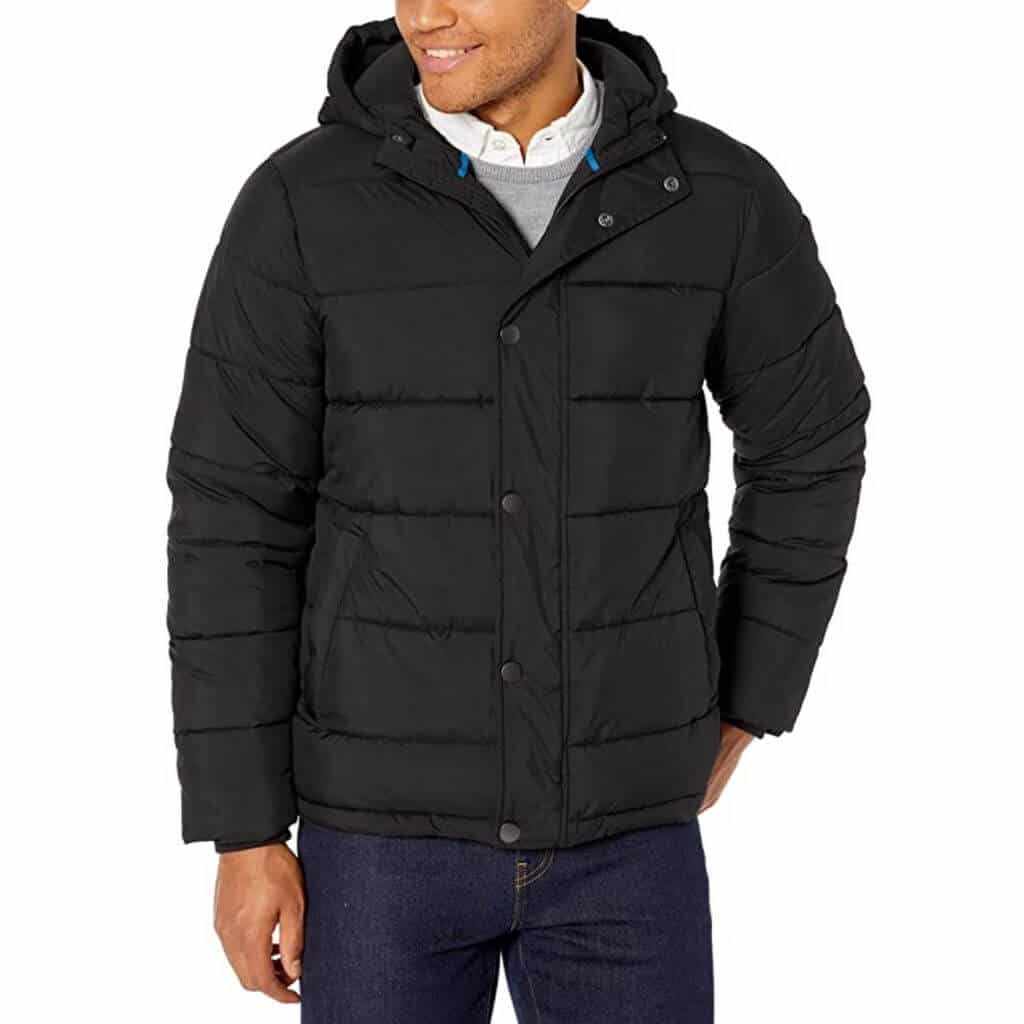 Amazon Essentials has the Heavyweight Hooded Puffer Coat, which is water-resistant and taffeta-lined. It also features a reflective zipper and a stretch cuff with a thumbhole to protect your hands in cold weather.
Buy from Amazon.com (opens in a new tab).
Frequently asked questions
How do I choose the right winter jacket?
Before you buy a jacket or coat, think about how you'll use it, your budget, and how it looks on you.
What brand makes the warmest winter jackets?
Canada Goose, The North Face, Columbia, and Patagonia are brands that make the warmest jackets and coats.
Which type of coat is the best for winter?
Parkas and wool coats are the best due to their warmth and good looks.
How much does a good winter jacket cost?
A high-quality jacket or coat is an investment. On average, it'll cost at least $100 to $300.
Conclusion
Having several high-quality winter jackets and coats will ensure that you stay warm and fashionable during the colder months. Before you purchase one, consider the weather where you live and how you intend to use it. Doing so, you'll buy the right jackets and coats for you.
More resources:
Featured image courtesy of Nordstrom.