Peacoats are one of the best types of outerwear for the fall and winter. They're stylish, warm, and make you look professional.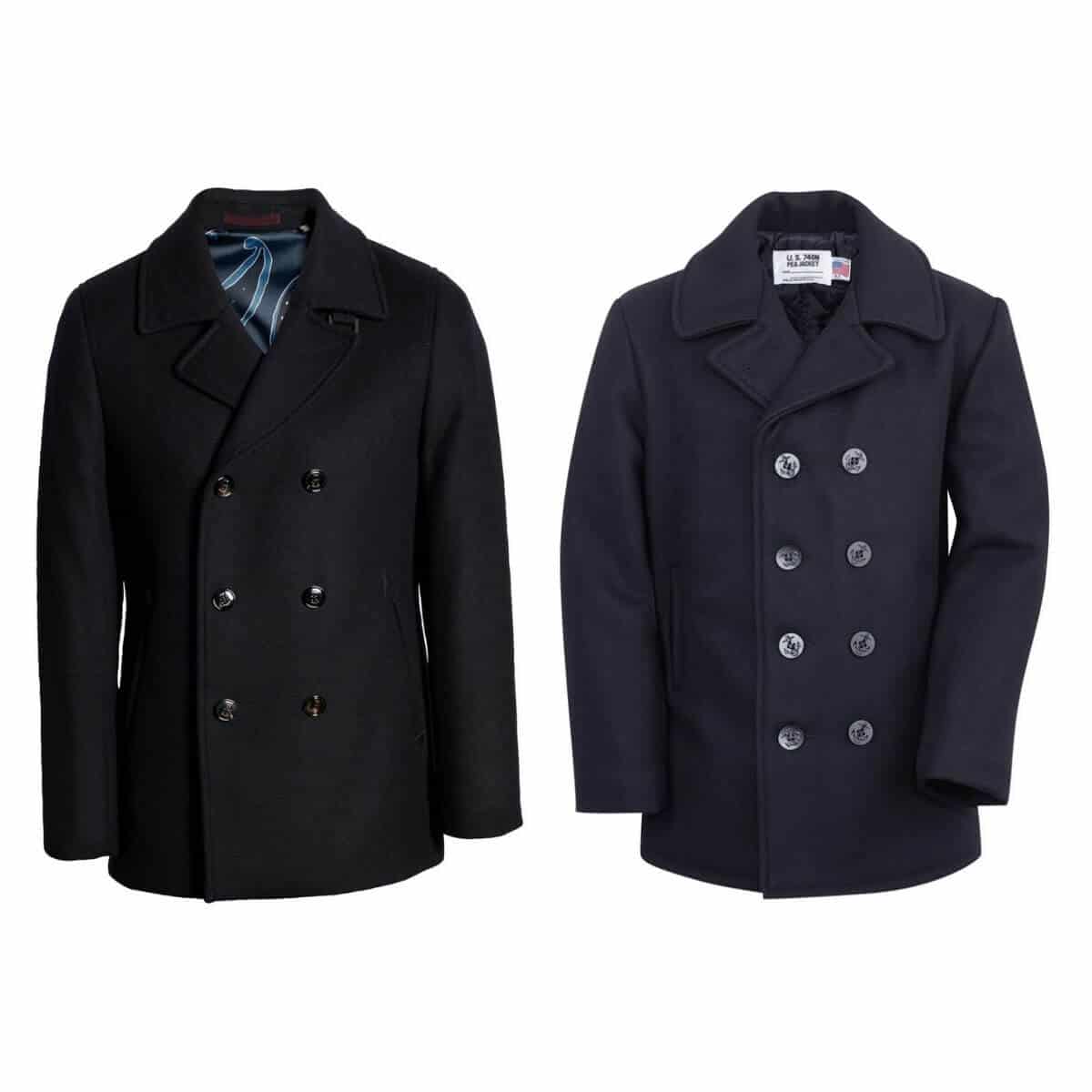 We receive a commission on purchases made through links on this page. For more information, read Affiliate Disclosure.
How to choose a peacoat
The peacoat is a classic menswear piece that combines class with comfort. Originally, it was used as a military piece of clothing by the British Royal Navy in the 18th century. Now, it's a stylish, durable, and functional coat that'll protect you from cold weather.
Related: 7 men's winter fashion essentials
It's designed to keep you warm while offering mobility. The end of the coat goes down to your hips, which allows you to move around easily.
When you're shopping for a peacoat, there are several features that you need to look for, they're as follows:
Double-breasted. Although you'll find single-breasted peacoats, the double-breasted style is classic. It looks incredible and provides more warmth.
Made of wool. Melton wool is one of the most common materials that you'll find because it's one of the most robust, dense, and thick options. You'll find coats that are made with 100% wool, and some others are blends. The coats that are blends have less wool and are generally not as warm, but they're cheaper.
Buy a neutral color. Dark and neutral colors look the best. Look for colors like black, grey, navy, camel, and olive green because you'll be able to wear it with many different outfits.
Not too long, not too short. Ideally, the bottom of the coat should end right below your hips. If it's too long, it'll look more like the overcoat, and if it's too short, it won't look good.
Aside from the features, your body shape is an important factor. The peacoat tapers in at the ribs, which means it won't look as good if you're larger, and it'll feel constricting.
If this is the case for you, wear a longer overcoat because it'll look much more flattering.
Top 5 peacoats that'll keep you warm and stylish
The following are the best peacoats that are functional and classy:
1. Ted Baker Westun Double-Breasted Peacoat
The Ted Baker Westun Peacoat has a classic look because it's double-breasted, and comes in navy or charcoal. It's a wool blend, made with 75% wool, so it'll keep you warm. One of the best features of this coat is the textured wool, which adds a nice touch.
2. J. Crew Dock Peacoat With Thinsulate®
J. Crew's peacoat is made of a wool blend. It's on the heavier side, so it does a great job at keeping you warm. You can buy it in grey or navy, which are both versatile colors.
3. Schott NYC Classic Melton Wool Peacoat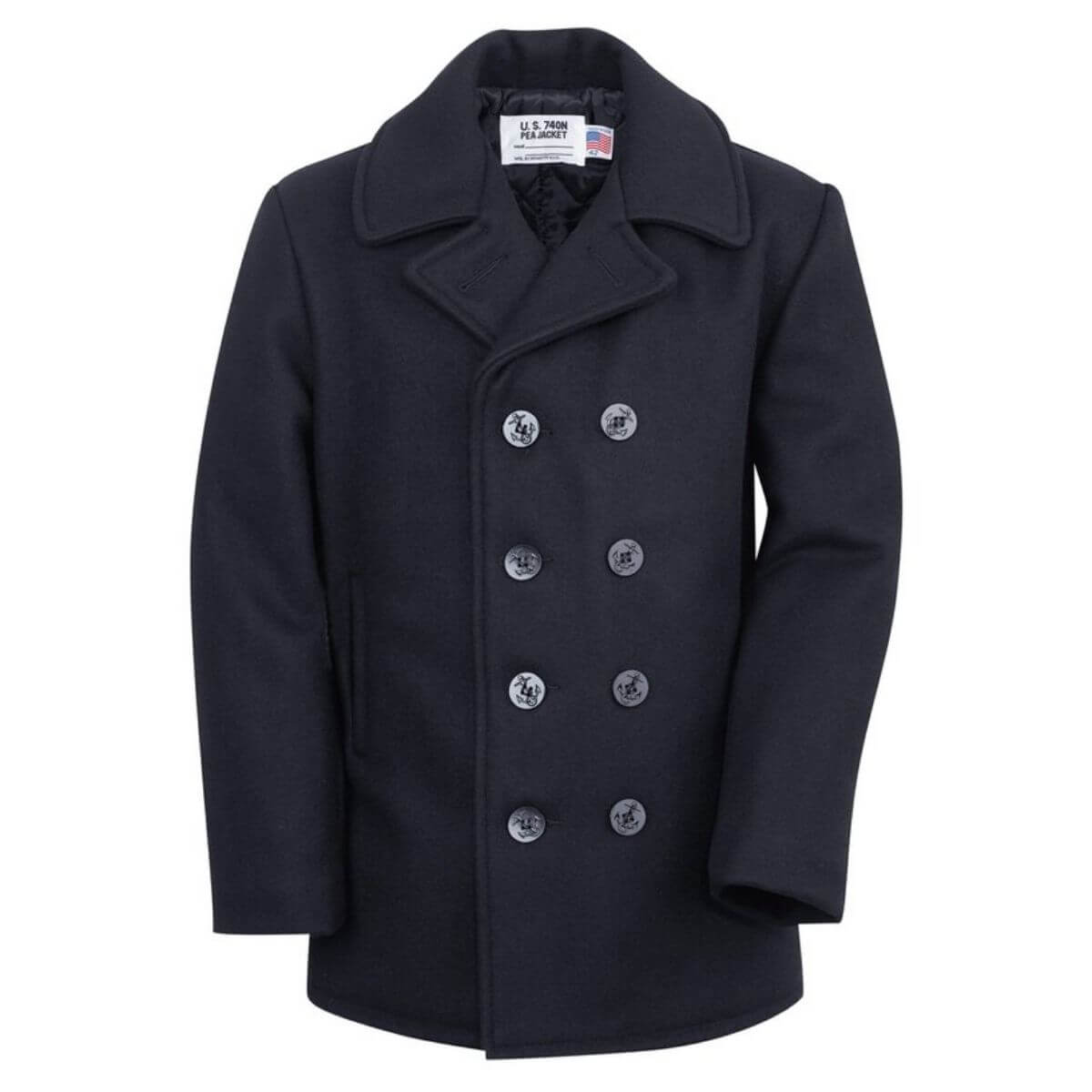 Schott NYC makes classic high-quality clothing, and they're known for their excellent outerwear. The peacoat is no exception. Schott's double-breasted peacoat is made of Melton wool and comes in black, grey, or navy.
4. Eidos Horn-Button Double-Breasted Wool Peacoat
For a high-end and luxury option, the Eidos peacoat is an exceptional option. It's made with wool in Italy, and the gold buttons make it look more classy. Therefore, it's a coat that you'd wear with a button-up, rather than a t-shirt.
5. Reiss Hardwick Wool-Blend Peacoat
If you're looking for a lighter-colored peacoat, Reiss offers a light grey one that's easy on the eyes. It's made with 51% wool, and the other 49% is polyester. The colors look great during the colder days of spring, and you can pair it with dark pants for a luxurious look.
Frequently asked questions
What do you wear under a peacoat?
You can wear a sweater, button-up, or a t-shirt depending on how cold it is, and the formality.
Can you wear a peacoat over suit?
No because the peacoat will be too short to cover the entire suit jacket.
Can you wear a peacoat in the rain?
If it's raining lightly, you can. However, it's not meant to get drenched. If it's raining hard, you'll need an umbrella, or waterproof jacket.
Conclusion
For a classic coat, that'll continue to look good, the peacoat is a great pick. It's perfect for colder weather because it'll keep you warm and classy. There are plenty of options, from department stores to designer brands. Regardless of the brand, you'll look incredible wearing a well-fitted peacoat in the fall and winter.
More resources: