Turtlenecks are an excellent way to improve your cold-weather style. It's versatile, warm, comfortable, and will make you look great.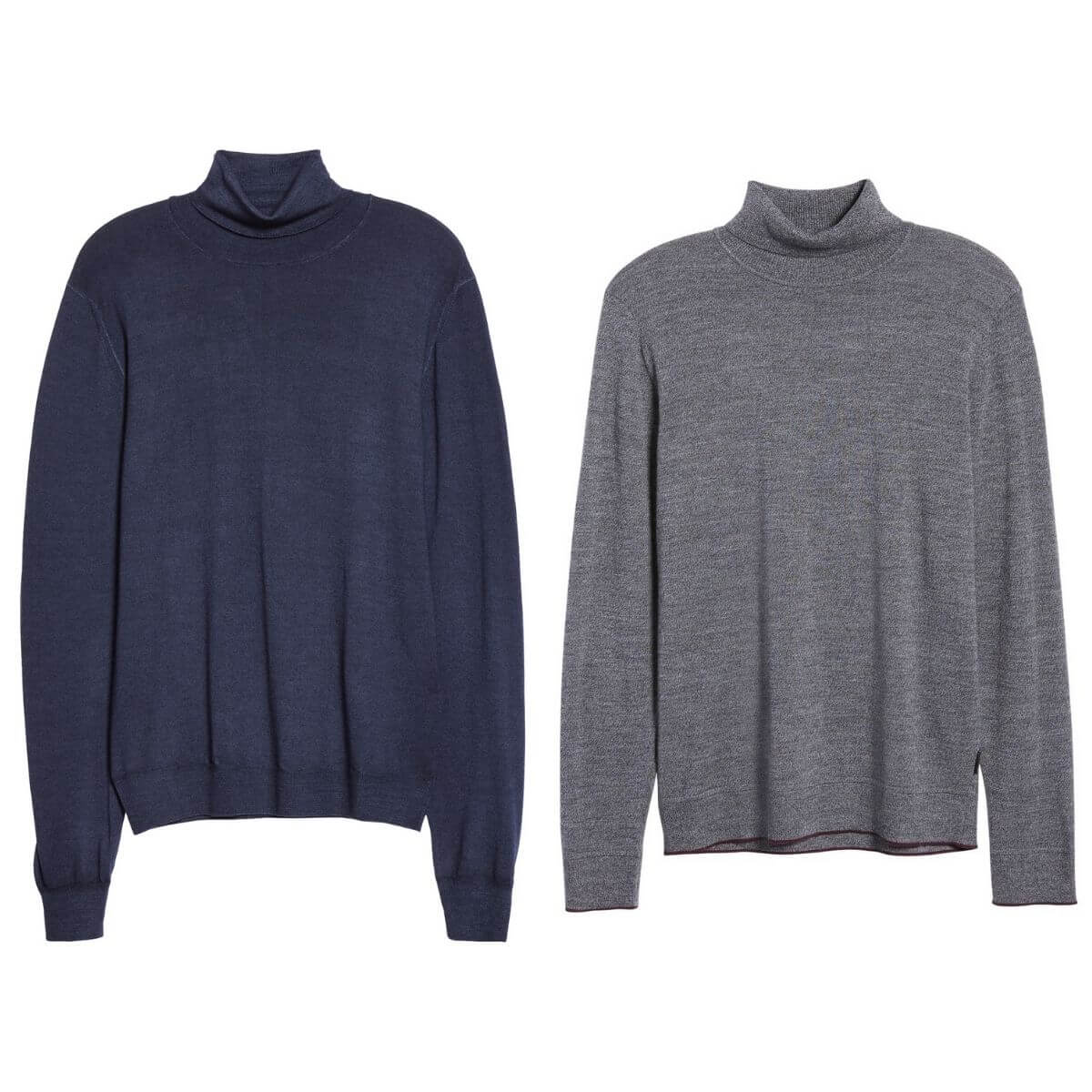 All products featured on Next Level Gents are independently selected. We may receive an affiliate commission on purchases made through links on this page. For more information, read Affiliate Disclosure.
Table of contents
What's a turtleneck sweater?
The turtleneck sweater is also known as a polo neck or roll-neck. It's a sweater that can be thick or thin, which has a long collar that folds over.
Related: Best clothes to wear during the fall
It thrives in the fall and winter, as the main purpose is to keep your upper body warm and covered.
When you're shopping for a turtleneck, pay attention to how the sweater fits. It's a slim-fitting sweater, so there should be a small amount of space between the sweater and your body.
The collar should fit closely around your neck while allowing you to move and turn freely. However, it shouldn't be tight or restricting because that'll make it uncomfortable.
Related: The ultimate guide to matching your clothes
Depending on the weather and temperature, you may be able to wear a turtleneck by itself. It also looks great when it's layered with a sports coat, denim jacket, and if it's really cold, a parka.
10 best men's turtlenecks
The classic way to style a turtleneck is to wear it under an overcoat. It looks classy and makes you look incredible during the colder seasons. However, the versatility of this sweater makes it great for most occasions.
Regarding the color, dark and neutral colors are perfect. Black, navy, olive green, tan, grey, and burgundy are solid options.
The following are the best turtleneck sweaters for men:
1. John Smedley Easy Fit Turtleneck
The John Smedley turtleneck sweater is made of merino wool and has a slightly looser fit. Being a khaki color, it looks great when you pair it with olive green or navy pants. It's a thin sweater, which makes it perfect to layer with a sports coat, or light jacket.
2. COS Merino-Yak Roll-Neck Sweater
A dark green turtleneck is perfect for the fall and winter. The sweater by COS is soft, warm, and comfortable. It's made from a blend of merino and yak, which makes it feel nice on your skin.
3. Goodthreads Marled Turtleneck Sweater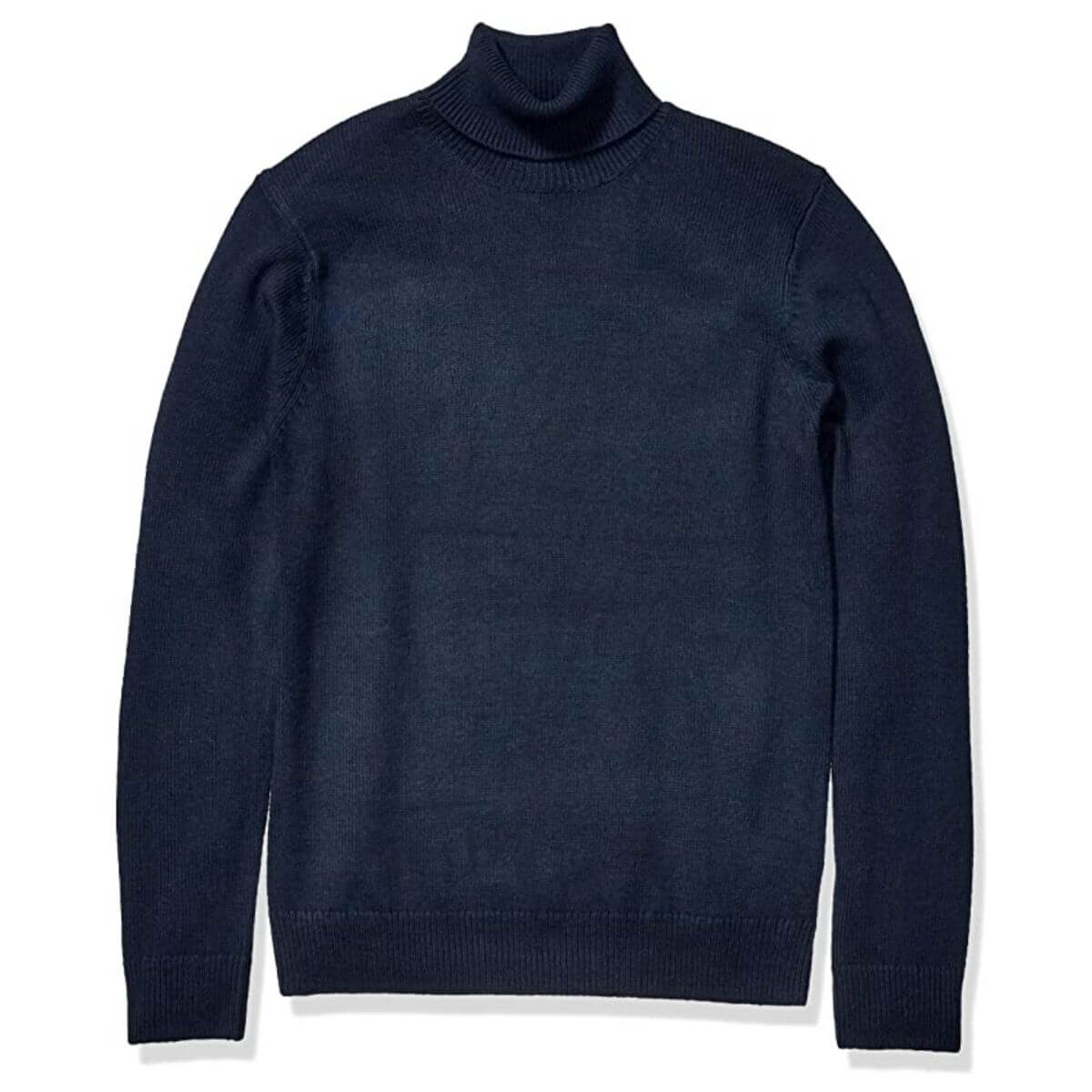 For an affordable option, Amazon's Goodthreads offers a turtleneck that has ribbing on the hem, collar, and cuffs. It's made of acrylic and nylon, so it's not as warm as a wool sweater. However, they have several colors that you can choose from, and the price-point can make it worth sacrificing quality.
4. H&M Fine-Knit Turtleneck Sweater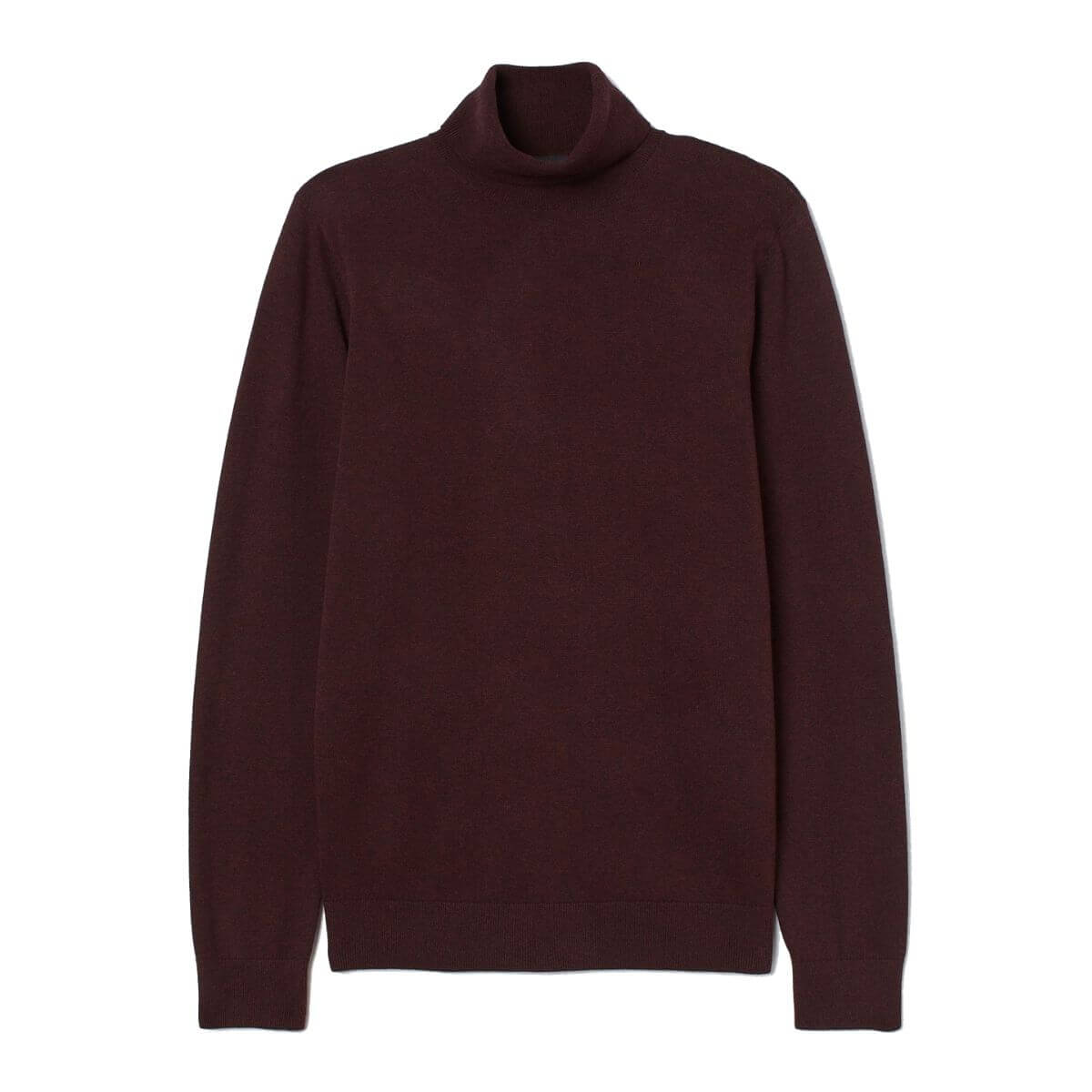 H&M's turtleneck is another affordable option. It's made of cotton and has ribbing at the cuffs and hem. This sweater comes in all of the essential colors that you would need. It's also on the lighter and thinner side, which means you'll have to layer it on a cold day.
5. Brooks Brothers BrooksTech™ Merino Wool Turtleneck Sweater
The turtleneck sweater by Brooks Brothers is made of Merino wool, is wrinkle-resistant, and lightweight. Whether you're on the road or need a solid base layer to wear, this sweater is an excellent choice.
6. Ted Baker London Newtrik Turtleneck Sweater
For a classy, slim-fitting, and wool-blend turtleneck, Ted Baker offers a subtle grey option. It looks great under a suit, overcoat, and alone with a pair of chinos. If you wear it underneath dark colors, it'll be a nice pop of light.
7. Oliver Spencer Talbot Wool Turtleneck Sweater
The Oliver Spencer turtleneck is made completely of wool and offers a unique pattern with the ribbing and thumbholes. It's on the thicker side, so it can be worn on its own, and with an undershirt.
8. Banana Republic Italian Merino Turtleneck Sweater
Banana Republic's turtleneck sweater is made of 100% Merino wool and spun by Italian mill Zegna Baruffa, who's known for their top-quality knitwear. It comes in beige, grey, navy, or tan, which are all versatile colors.
9. Sandro Paris Roll-Neck Wool Sweater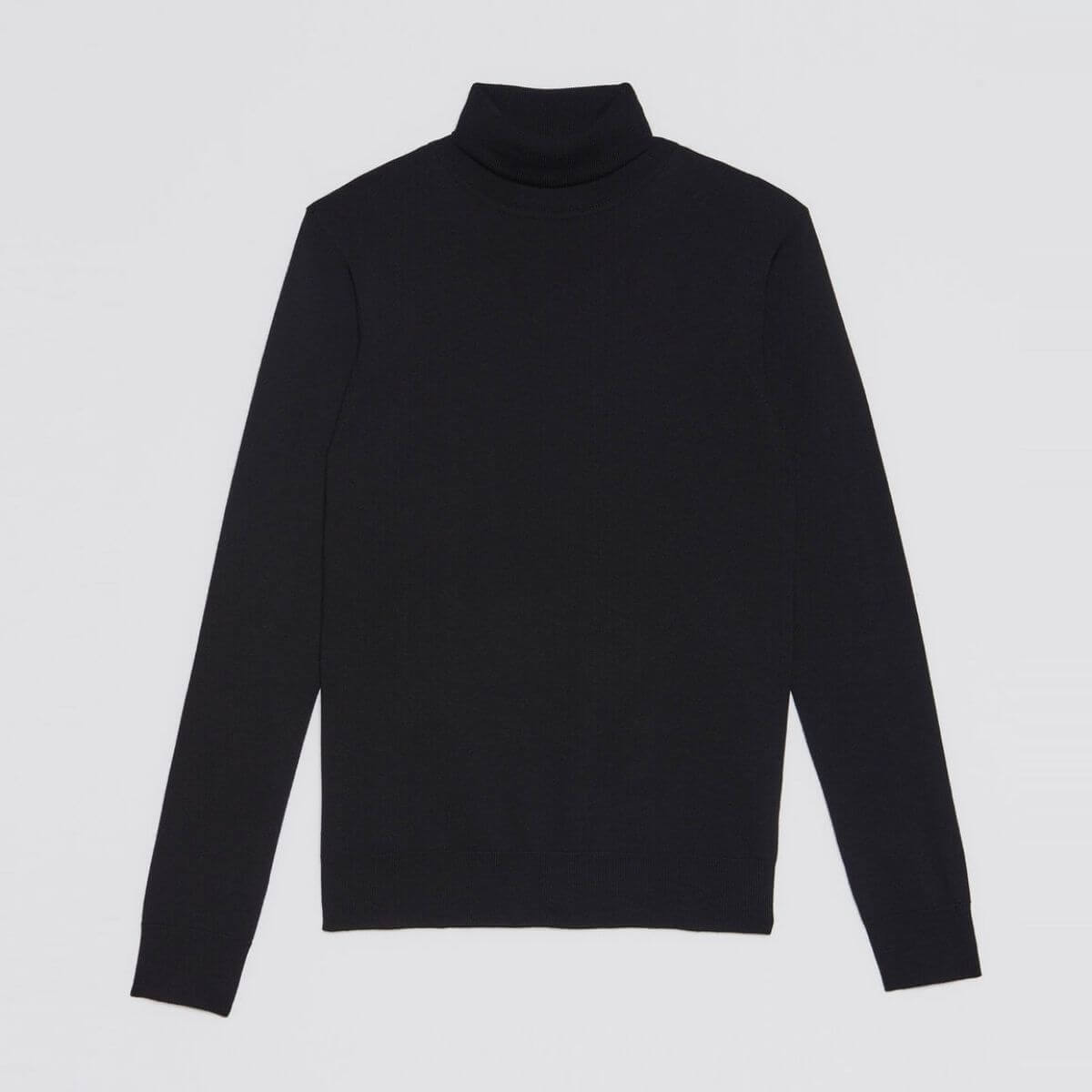 The roll-neck sweater by Sandro Paris is a high-end option, that looks incredible. It's made of 100% wool, feels warm, soft, and is comfortable for everyday wear. When you're wearing a sleek black sweater, it looks great when paired with trousers and chinos.
10. Boglioli Garment Dyed Wool Turtleneck Sweater
Boglioli's turtleneck sweater is made with 100% wool, and the navy color looks great with other neutral colors, such as a pair of tan chinos. It's a slim sweater that gives your body a nice silhouette.
Frequently asked questions
Do you wear anything under a turtleneck?
If you're wearing a thin turtleneck, you don't need to wear anything underneath. However, a thick sweater can be worn with an undershirt.
Do turtlenecks make you look fat?
If you're on the heavier side, a turtleneck will make you look bigger because it accentuates your neck, which is one of the skinniest parts of your body. From there, it'll make your body look much bigger than it is.
Can I wear a turtleneck in the summer?
Yes, a lightweight turtleneck can protect your neck and arms from the sun. As long as it's thin enough, and a lighter color, it can be a good fit for the summer.
Conclusion
Implementing turtlenecks into your outfits will immediately improve your look. They're functional sweaters that'll keep you warm and can be worn with many different outfits. You can wear it casually with a pair of chinos, or dress it up with a sports coat.
More resources:
Featured image courtesy of Nordstrom.