Turtlenecks are versatile, handsome, and comfortable. Some are thin and slim, while others are chunkier. So, you can find one that suits you.
The turtleneck is also known as a polo or roll-neck sweater.
Turtlenecks are excellent for fall and winter due to their warmth and style.
There are various types, as some are thick and others are thin.
Thick and chunky knit turtlenecks are casual and perfect to wear with jeans.
Slim-fitting turtlenecks are more dressy. You can wear them with jeans, chinos, or a sports jacket.
Regardless of the type you get, make sure it fits well.
The sweater should allow you to move without being uncomfortable.
If you're ready to pick up a turtleneck or two, the following are the best options to buy.
Lands' End Super Soft Supima Turtleneck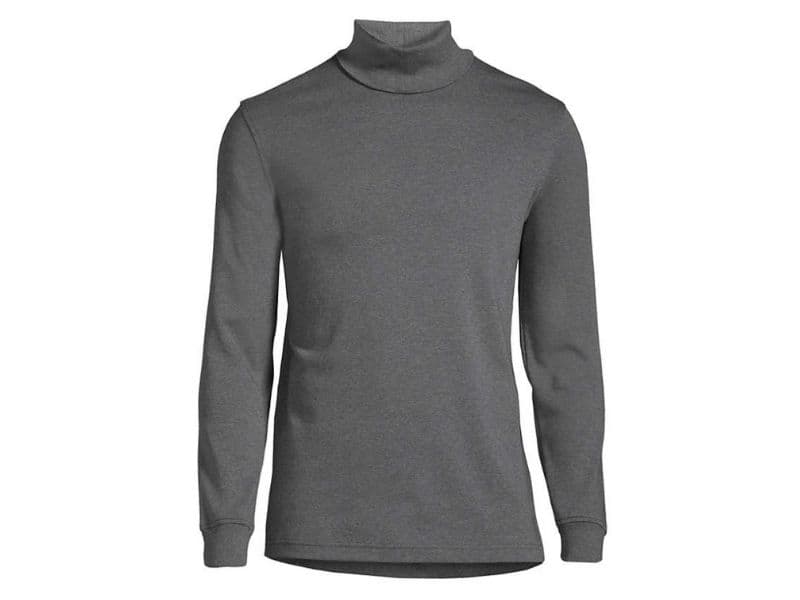 When it comes to value and quality for the price, Lands' End offers one of the best turtlenecks you'll find.
It's 100% Supima cotton, making it durable, comfortable, and soft.
The sweater has a timeless and versatile style. So, you can wear it with casual or semi-formal outfits.
It's also an excellent layering piece.
The Supima turtleneck is available in black, navy, grey, blue, and white.
John Smedley Easy Fit Turtleneck
John Smedley's turtleneck sweater is merino wool and features a fine 30-gauge knit.
It provides a handsome silhouette, and you can wear it with jeans, chinos, or trousers.
Since it's thin, the sweater is the perfect top to wear under a sport coat, denim jacket, or overcoat.
While the sweater will fit your body well, you may find the neck too tight if you have a thick neck.
It's available in black, grey, and olive. All the colors are versatile and stylish.
Ralph Lauren Purple Label Turtleneck Cashmere Sweater
The Ralph Lauren Purple Label Turtleneck Cashmere Sweater exudes class and quality.
It's a thick and elegant cashmere material with a classic fit. The sweater is available in shades of brown, grey, and navy.
The Ralph Lauren turtleneck is the perfect sweater to wear under a suit or overcoat.
H&M Fine-Knit Turtleneck Sweater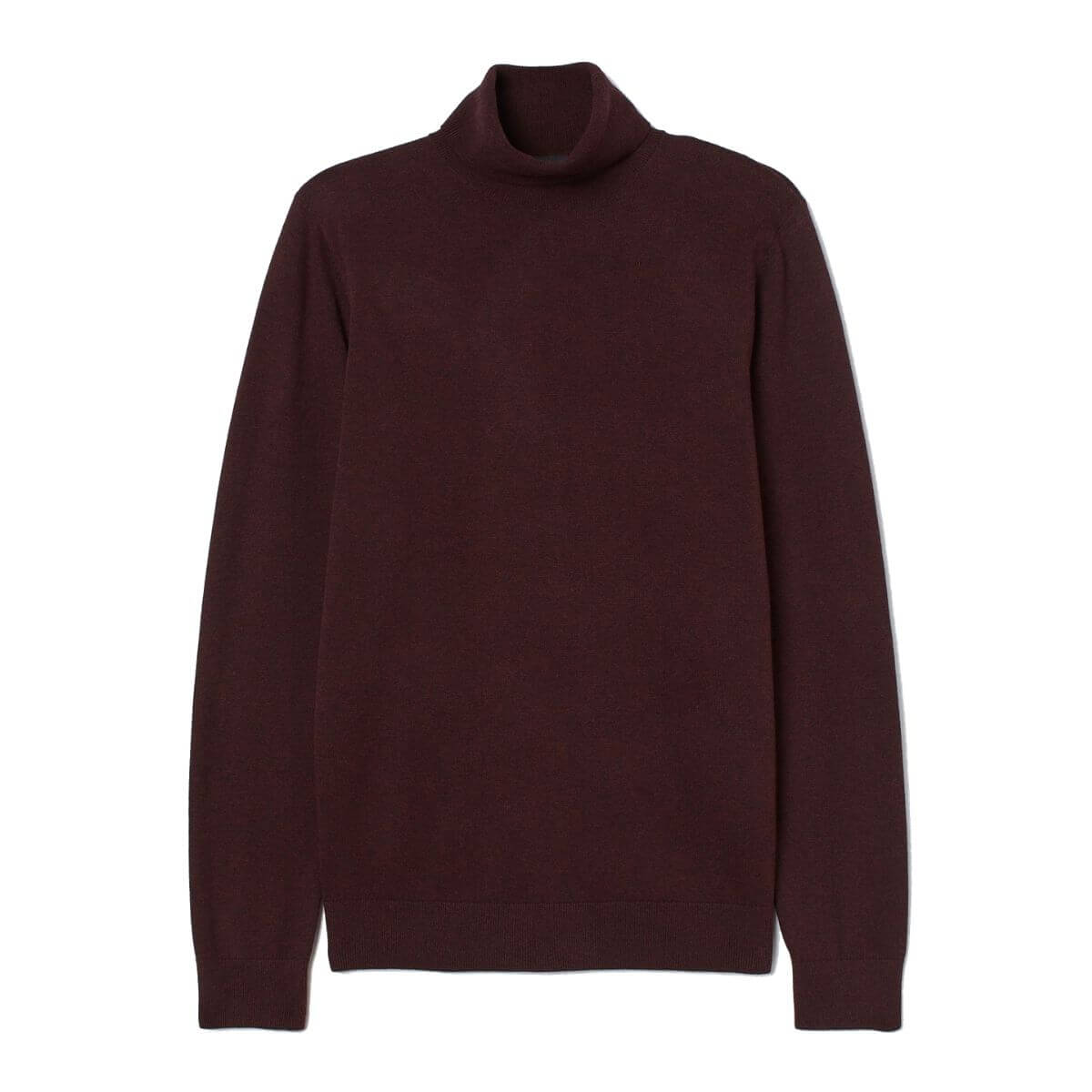 H&M offers a turtleneck that's affordable, 100% cotton, and has a slim fit.
It also comes in many colors, including white, burgundy, grey, and khaki green.
While the H&M sweater has a slim fit, there's enough space between you and the fabric to be comfortable.
The cotton material provides a soft and lightweight feel.
If it's cold or windy, layer it with a coat or jacket because the sweater is thin.
Sandro Roll-Neck Wool Sweater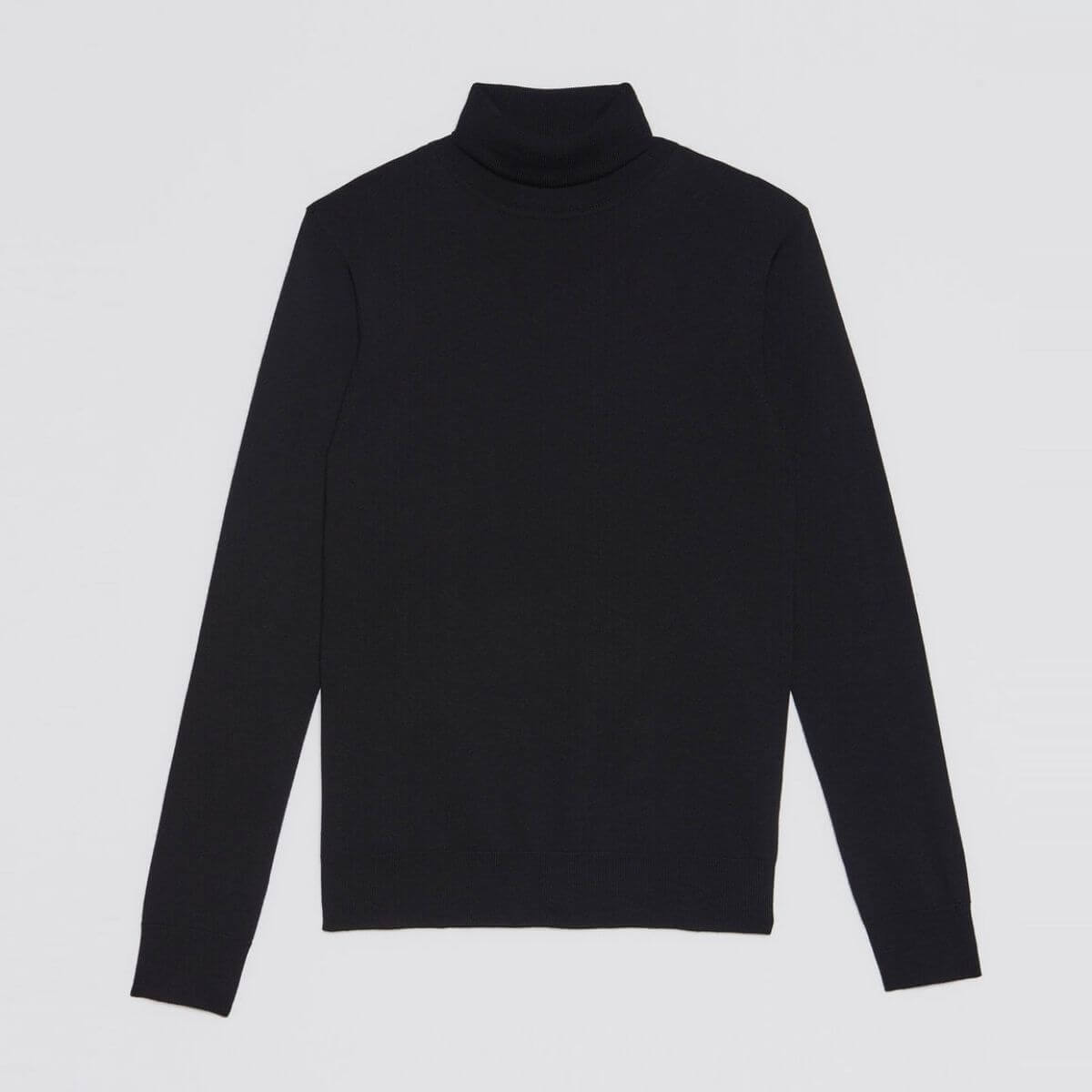 Sandro's roll-neck is an excellent high-end sweater. It's 100% wool, which is warm and absorbent.
The sweater is soft, comfortable, and gives you a sophisticated look. Wear it under a sport coat, vest, or jacket.
It runs small, so buy a size larger. Aside from sizing, the Sandro roll-neck sweater is superb.
L.L.Bean Organic Cotton Turtleneck Sweater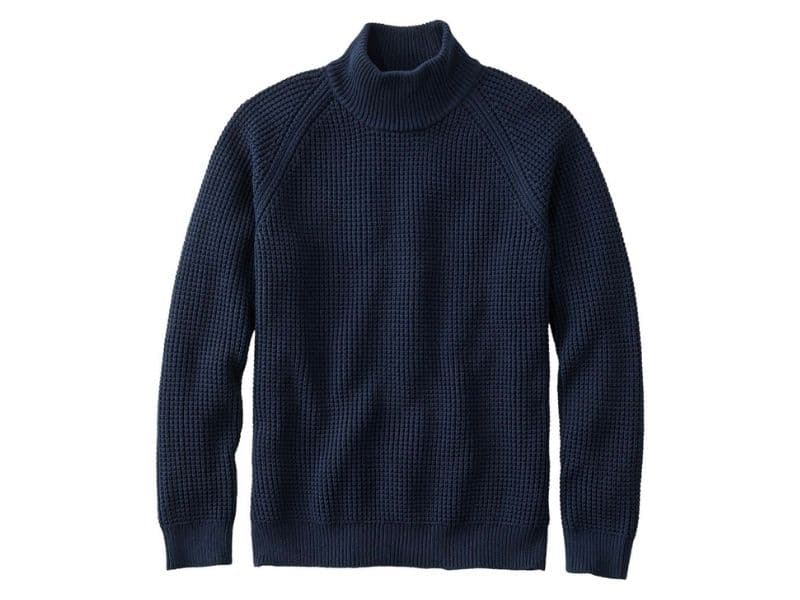 A waffle-knit turtleneck sweater is essential for cold temperatures.
L.L. Bean offers a cotton one that features a classic and versatile design.
The sweater is a bit longer than most, but it ensures you stay warm.
It's also available in burgundy, navy, and dark green.
If you want a casual and heavyweight turtleneck for fall and winter, L.L. Bean has your perfect match.
Club Monaco Merino Wool Turtleneck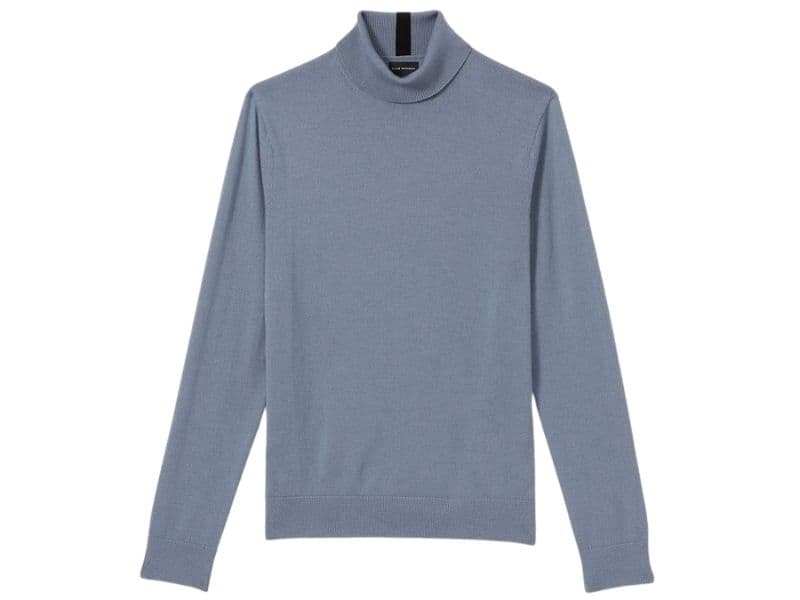 Club Monaco offers a luxurious and stylish turtleneck sweater.
It's Merino wool, making it lightweight with the right amount of warmth.
The sweater has a tailored and streamlined fit. So, you can layer it or wear it on its own.
On the back of the neck, there's a black strip. It's subtle but adds interest and contrast to the turtleneck.
The Club Monaco sweater is an excellent choice. But, you need to hand-wash it.
If you're willing to follow the care instructions, it's one of the best options available.
Goodthreads Marled Turtleneck Sweater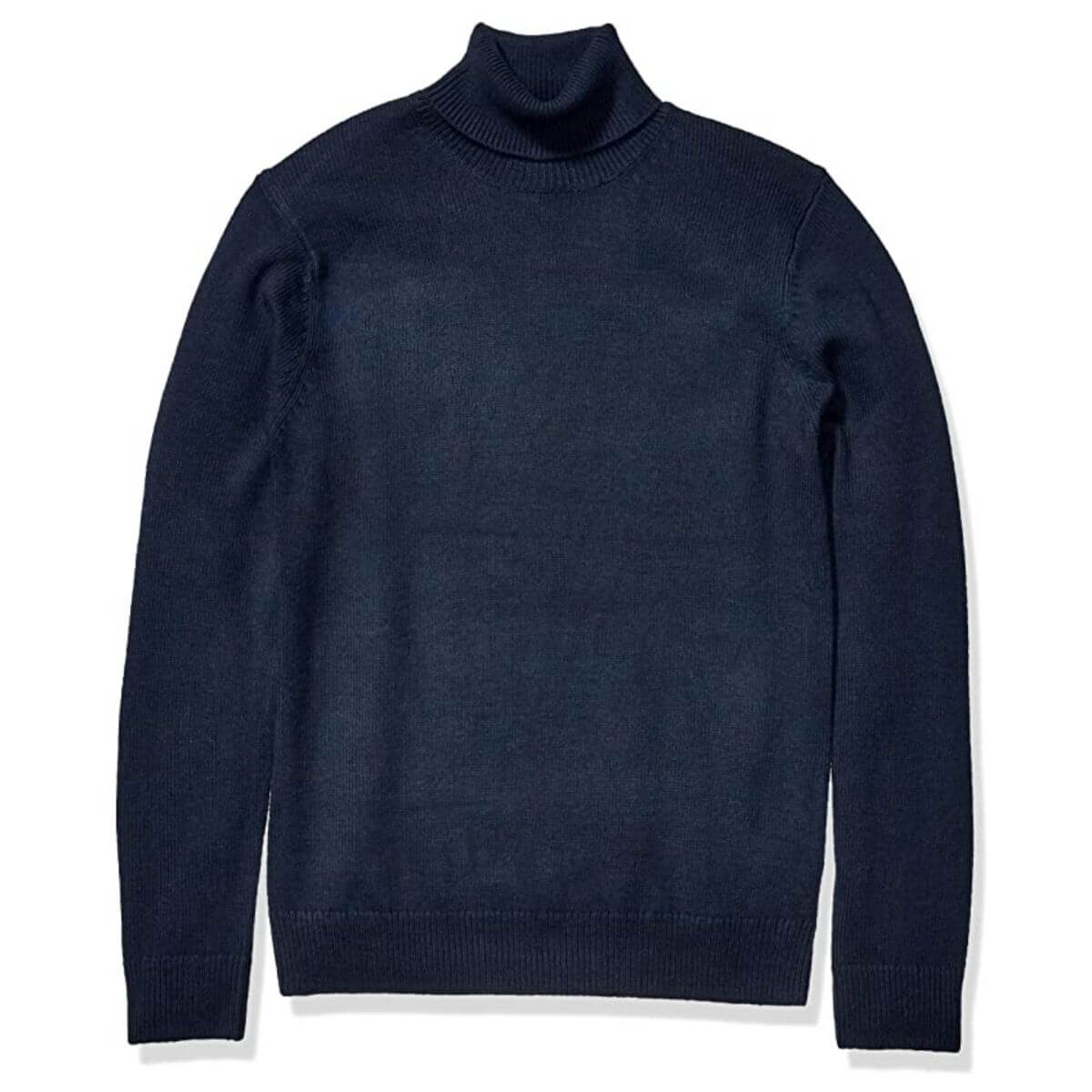 Goodthreads offers a turtleneck with a classic silhouette.
It's not too thick or thin, as it sits in the middle. But, the neck is on the thicker end.
The sweater features ribbing on the hem, collar, and cuff.
Its material is acrylic and nylon. So, not as warm as wool.
The style is also more casual, making it perfect to pair with jeans.
For under $50, the Goodthreads turtleneck sweater is solid choice.
Frequently asked questions about turtleneck sweaters
Do you wear anything under a turtleneck?
If you're wearing a thin turtleneck, you don't need to wear anything underneath. However, a thick sweater can be worn with an undershirt.
Do turtlenecks make you look fat?
If you're on the heavier side, a turtleneck will make you look bigger because it accentuates your neck, which is one of the skinniest parts of your body. From there, it'll make your body look much bigger than it is.
Can I wear a turtleneck in the summer?
Yes, a lightweight turtleneck can protect your neck and arms from the sun. As long as it's thin enough, and a lighter color, it can be a good fit for the summer.
Conclusion
Turtlenecks are perfect for any outfit because they're functional and stylish.
They'll keep you warm, but also help improve your look.
Versatility allows you to dress them up or down.
You can wear a turtleneck casually with jeans, or with trousers and an elegant sport coat.
Remember, thick turtlenecks are casual, while slim ones are dressier.
Featured image courtesy of Nordstrom.
About David Em
Founder
David Em is the founder of Next Level Gents, the ultimate destination for tips and advice about style, grooming, fitness, and success.