Denim is one of the most popular types of pants. Learn how to wear it correctly because it'll enhance how you look.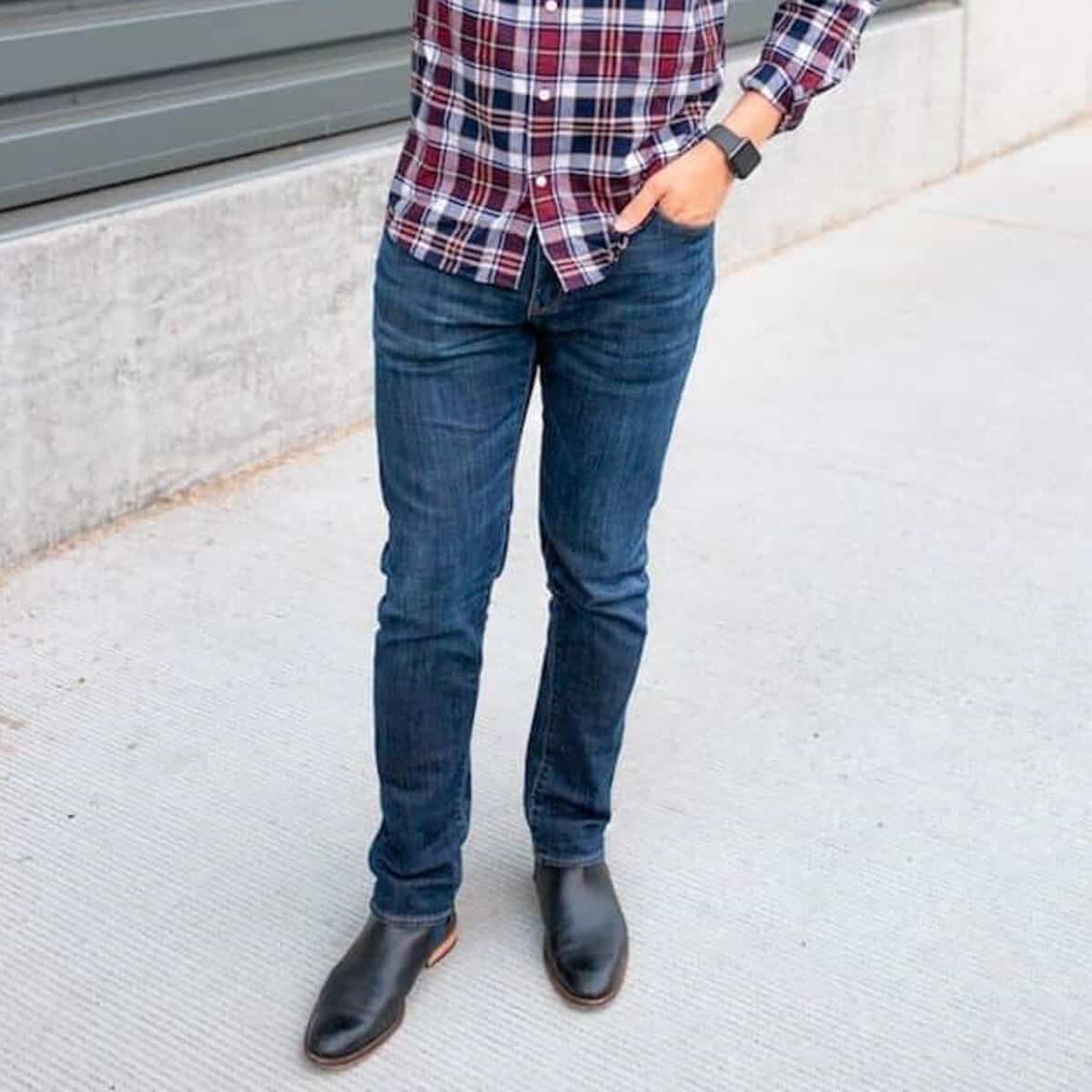 Estimated reading time: 8 minutes
We receive a commission on purchases made through links on this page. For more information, read Affiliate Disclosure.
History of jeans
In the late 1800s, American gold miners needed clothes that were strong, long-lasting and durable without tearing easily.
Jacob Davis and Levi Strauss invented and supplied the miners with the first work pants. Today, they're known as jeans.
Related: Black jeans outfit guide
Jeans became popular as actors such as James Dean and Marlon Brando wore them in films. Today, denim is one of the most commonly worn and popular articles of clothing.
Types of jeans
The following are different types of jeans:
Colored denim: Jeans that are dyed.
Ecru denim: It's the natural and undyed color of denim, which is made of cotton.
Raw denim: Hasn't been through the washing and distressing process. Also called dry or unwashed jeans.
Selvedge denim: Tightly woven jeans that are more durable than most denim. It's also called self-edge or selvage denim.
Slub denim: Slub is a type of yarn that is used to crosshatch denim.
Stretch denim: It's a blend of cotton or cotton and polyester denim with elastane which creates the stretchy material.
Fit and length
Like other pants, denim should fit your waist without needing a belt and the legs should be a slim-fit without being skin-tight.
Denim comes in different fits which are designed for different body types. The following are common denim fits:
Skinny: A tight fit from your waist to your ankles. Due to the tightness, skinny jeans don't offer much mobility unless you find a pair that's made of a material that can stretch.
Slim: Slim jeans are slim through your thighs and have a narrower leg opening. It gives you a sleek silhouette and shape to your legs.
Regular: Regular fit jeans are straight from your hip through your legs. The leg opening is fairly large which is great for covering the top part of a pair of boots. If you aren't skinny and also not thick-boned, the regular fit is perfect for you.
Relaxed: The relaxed fit is comfortable through your hips and thighs and has a larger leg opening.
Loose: A baggy fit that gives your legs plenty of space. If you have a large waist or legs, loose-fit jeans will be the most comfortable option.
Finding the perfect pair for you will require trial and error. Try on different fits to see which is the best option. Once you find the right fit, stick with it.
If you need to wear a belt to keep your pants up, it's too big. If the jeans fit tightly like yoga pants, it's too tight.
Note: Aim for a fitted or tailored fit.
As far as length, they should go down to your ankles without stacking. A quarter, half, or full break are the perfect lengths for jeans because you can also cuff your pants.
Rise explained
Rise determines where the jeans will sit on your body. It's the distance from the middle of the crotch seam to the top of the waistband.
Low crotch jeans are worn low on the waist, give your pants a saggy look, and should be avoided for that reason.
Low rise jeans typically sit below the waist and right at your hips. It gives you a casual and relaxed appearance.
Mid-rise or regular rise sits at your waist and is considered the ideal rise for pants. Chinos and trousers are often mid-rise pants.
High rise jeans are good if you're taller or bigger boned. It sits right above your waist and can have a more balanced look. Generally, the waistband will cover your navel.
Remember, the rise of the pants is more important than the length because the length can be altered by a tailor while you can't change the rise.
Denim washes
Whether you're wearing a jacket or pants, denim is a versatile material that has many washes.
The one you choose depends on the occasion and what you're wearing. The following washes are the most common:
Dark wash: Raw denim is unwashed and identified by its dark blue color. It's a versatile color that can be dressed up and down. If you were to have one pair of jeans, dark wash jeans are essential.
Rinse wash: These jeans are rinsed with water to remove excess dye. The wash makes it softer and appears cleaner. Rinse wash jeans generally come in dark blue.
Acid wash: Mixing chlorine, pumice stones, and water during the washing process results in acid wash jeans. It's identified by the shades of blue with spots of white and grey.
Mid wash: These are similar to rinse wash jeans. However, the denim is lighter because more of the dye has been removed. This process creates a mid-blue color.
Light wash: Washed for a longer period of time, this process removes most of the dye which results in a light blue color. Light wash denim is great for the spring and summer.
Black and grey wash: Black and grey jeans are washed using the same process as blue jeans but use a different color dye.
How to wear jeans
With a variety of fits and colors, denim is one of the most versatile pants. They can be worn for many occasions ranging from casual to business casual.
The following outfits are examples of what you can wear with jeans:
Black jeans look great dressed up or down. They're appropriate for some occasions and when you go out on the weekends.
You can wear it with a chambray shirt or all black with a camel coat.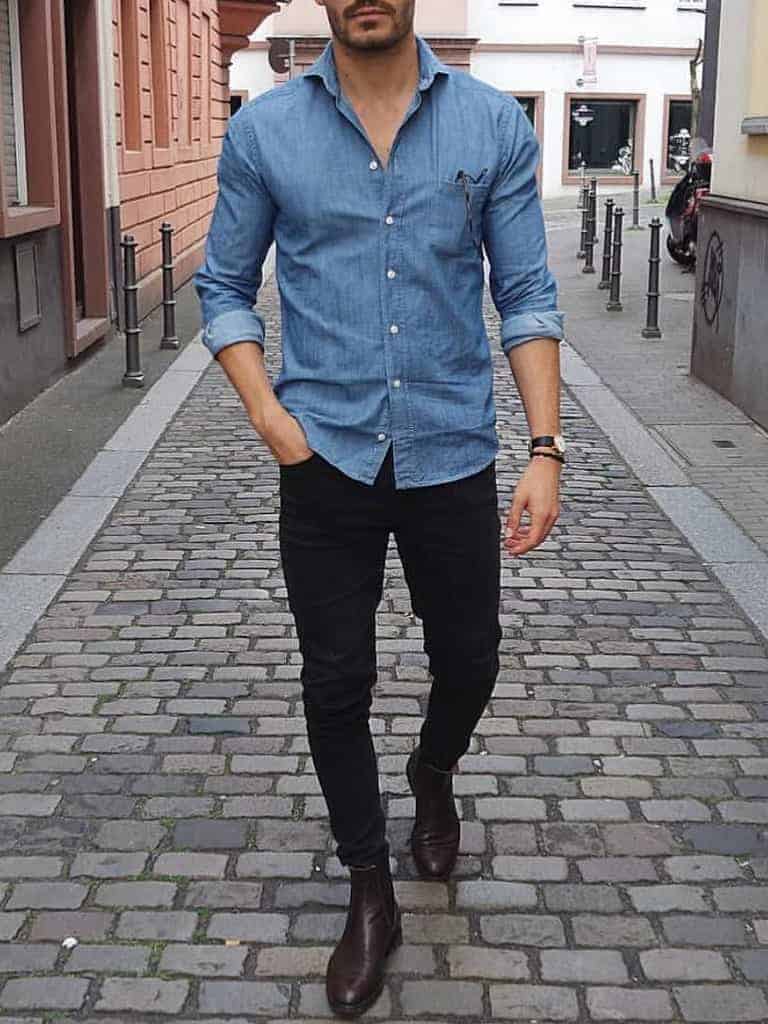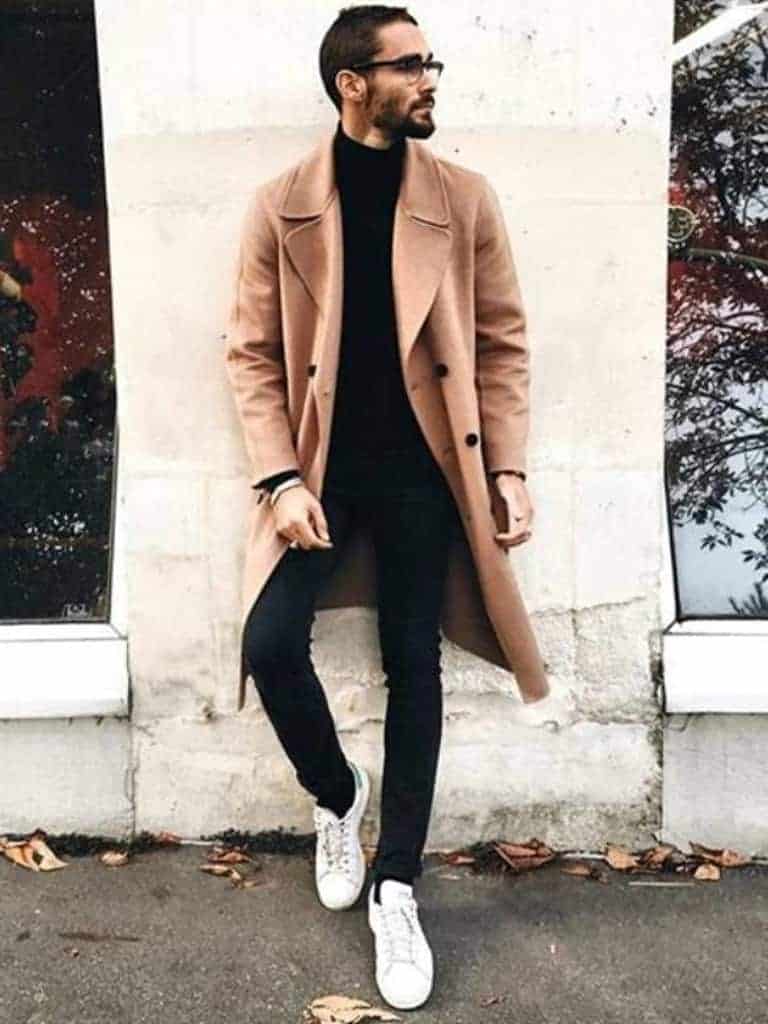 Dark wash jeans are the most versatile wash. They're perfect for a night out or a walk in the park.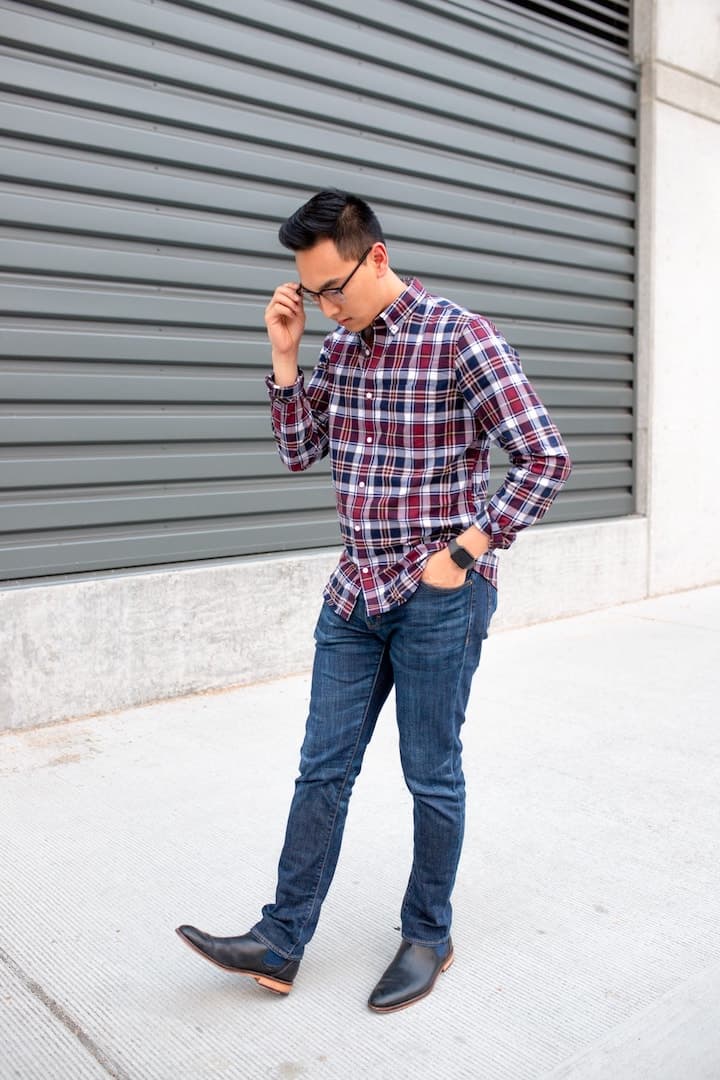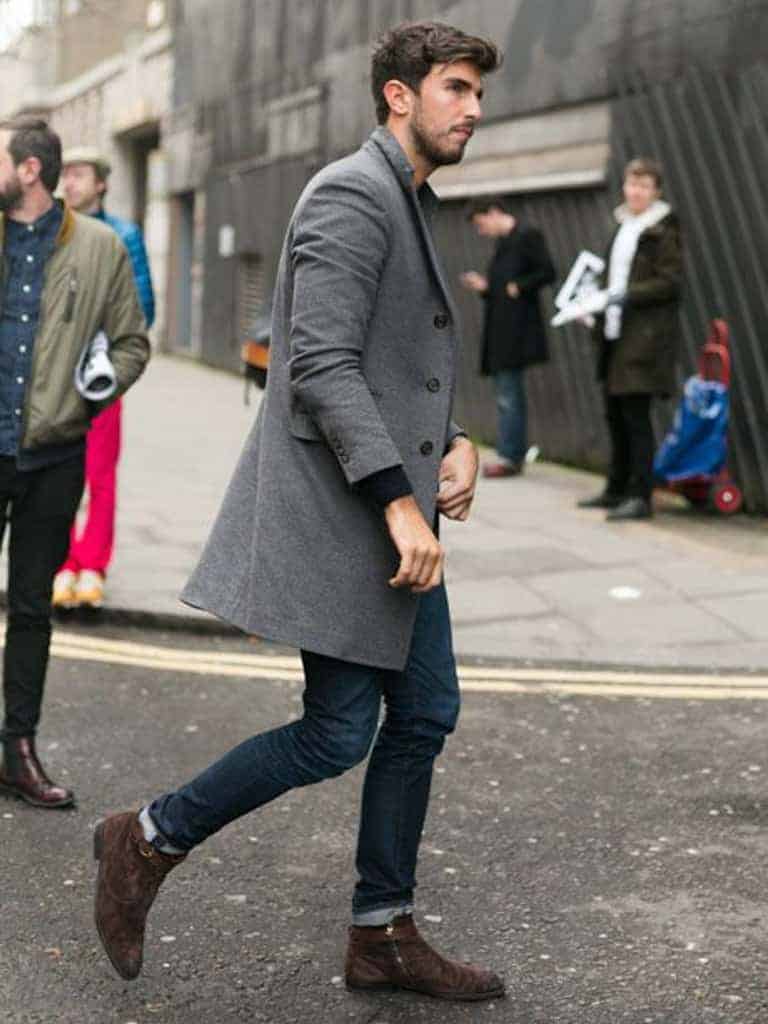 Light wash jeans are great for casual or warm-weather outfits. The lighter color makes the denim look more used instead of brand new.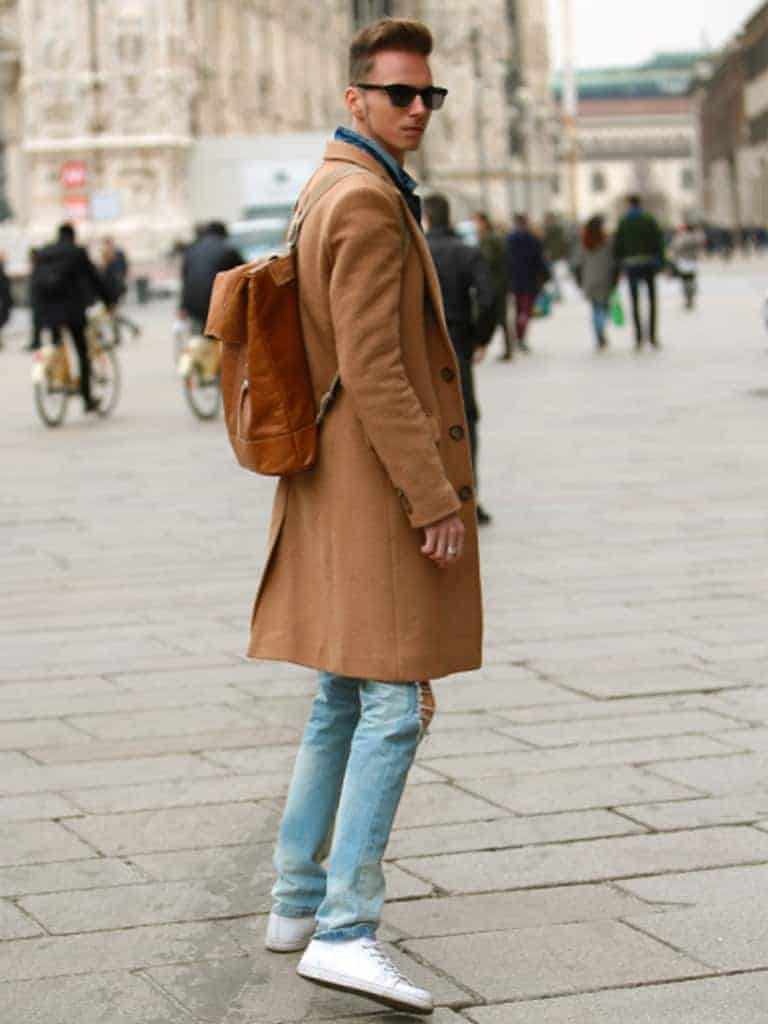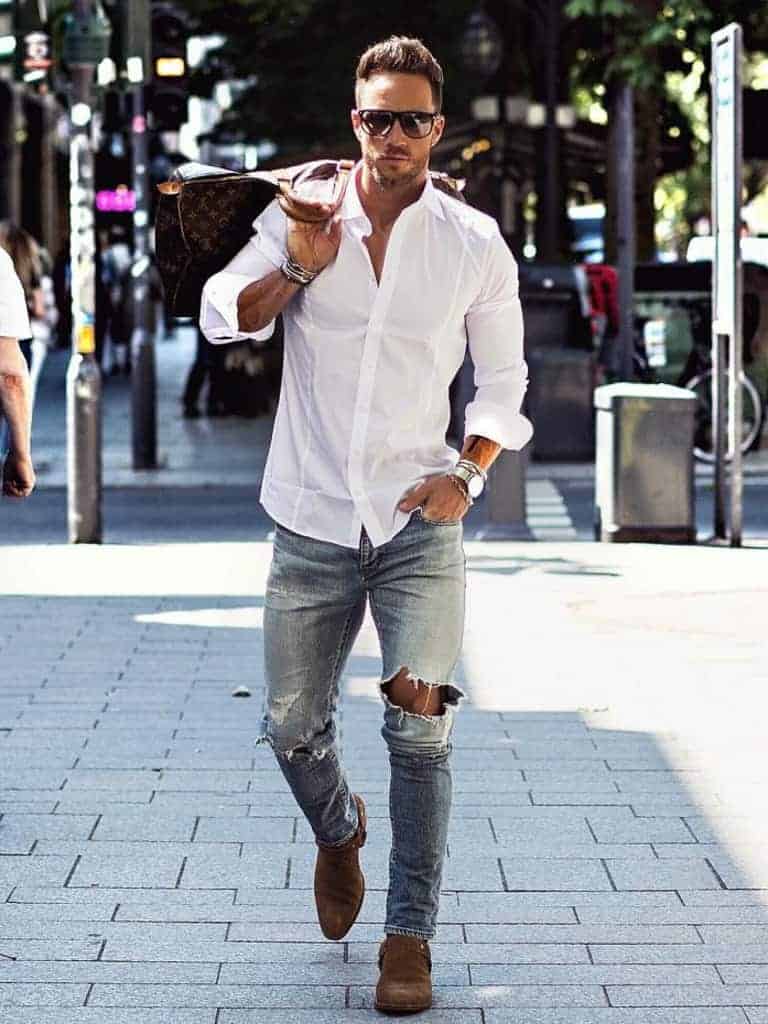 Grey jeans are a versatile and easy-to-wear staple that gives you a lighter feel than wearing black or blue. It's a great alternative and can make you stand out.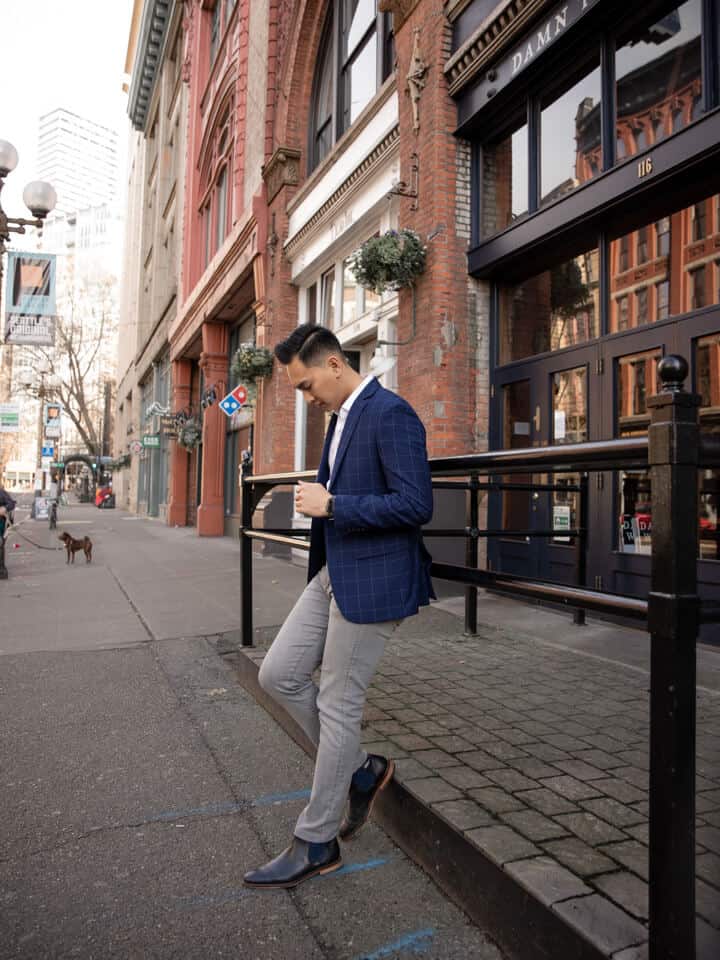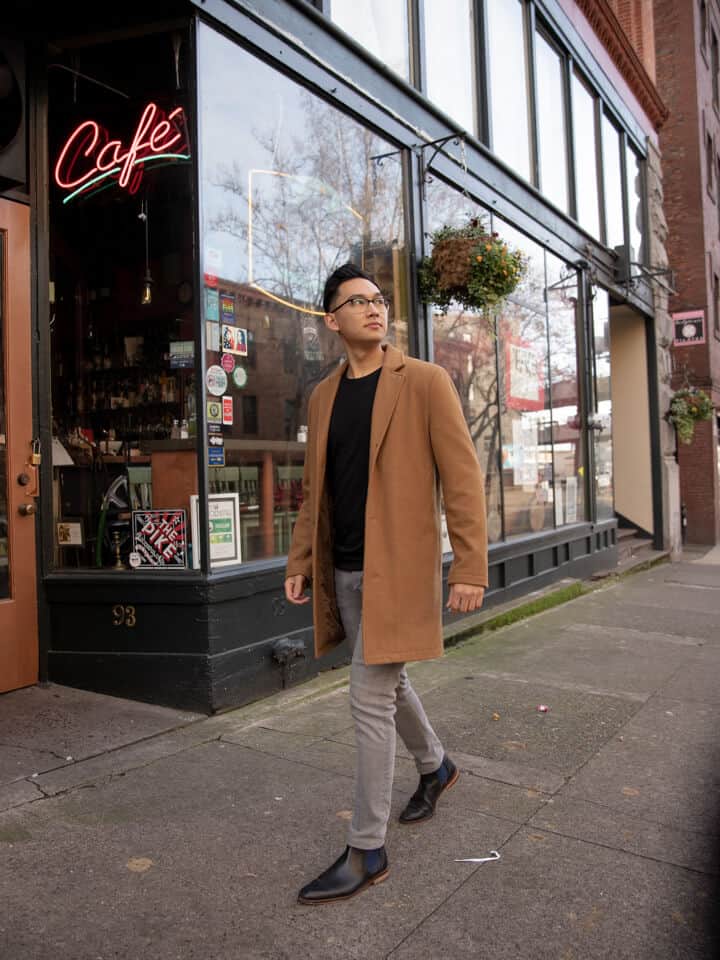 Recommended brands
Although jeans are a personal preference, the following are brands that are known to make quality and comfortable denim:
Frequently asked questions
How do you dress up a pair of jeans?
If you want to dress up jeans, you have to choose the right pair. The characteristics to look for are dark, well-fitting, clean, and straight-leg.
What's the pinch test?
Using your thumb and forefinger, pinch the fabric of the side of your thighs. The goal is to have half or one inch of fabric. If you have less, it's too tight and if you have more, it's too loose. You can do this test with your calves as well.
What's the best way to find my size?
When you're at a store, try on three at a time. Grab the size that you think you are, a size smaller and a size up. This will save you time from going in and out of the fitting room.
Conclusion
There are many types of jeans and to find the perfect pair, try them on to see what looks best on you. A great pair of jeans can be dressed up or down and meet the dress code for many occasions.
More resources:
Featured photo by David Em/Next Level Gents.