Chinos are one of the best pants you can have because they're versatile and comfortable. Also, they make you look sophisticated.
We receive a commission when you buy through affiliate links on this page.
Chinos are a must-have item in your wardrobe. They pair well with many outfits, and you can dress them up or down.
Any time you don't want to wear jeans, put on chinos. They're a little classier than jeans and look better.
You can wear chinos with a t-shirt and sneakers, or a sport coat and dress shoes.
The following is everything you need to know about chino pants.
What are chinos?
Chinos are lightweight pants made with a cotton twill fabric.
The ideal chino pant has a tailored fit and visible stitching. Also, they come in many colors.
The origins of the pants date back to the 19th century during the Spanish-American War.
In 1898, the twill fabric of American military uniforms came from China.
Chino is the Spanish word for Chinese. So, they called the pants chinos.
The pants are stylish and elegant but not formal or casual. Chinos sit between jeans and dress pants.
Since the pants are versatile, you can wear them for work, dates, and events.
Also, the lightweight fabric is breathable. It's excellent for cool and moderate temperatures.
But, you may need to switch to wool trousers or khaki pants in cold weather.
The difference between khakis and chinos
Khakis and chinos are similar pants, but they have distinctive qualities.
The weight of the material is the main difference.
Chino pants are lightweight cotton, while khakis are heavyweight cotton.
The sturdier and warmer fabric also makes khaki pants more casual.
When you see khaki chinos, the chino pants are a khaki color. It's a light shade of tan.
How chinos should fit
Like other pants, chinos should fit well around your waist without a belt.
The seat should be snug and not tight. You must be able to sit and move around without too much restriction.
When it comes to your thighs, the goal is for the fabric to lie close to your legs.
The ideal fit allows for an inch of excess fabric when you pinch the side.
For the length, there should be a slight or no break. With casual or warm-weather outfits, you can cuff your pants.
When you shop for chinos, the two most common styles are slim and straight leg.
If you have a skinny, slim, or regular build, slim chinos are the best choice.
If you have a larger build, straight-leg chinos are ideal.
Your chinos will shrink after the first wash because they're cotton.
A high heat setting in the dryer will also cause shrinkage.
If you iron or steam your pants, they'll return close to the original size.
What to wear with chino pants
You can wear chino pants almost anywhere. That's what makes them straightforward to style.
They'll integrate well into your daily outfits.
The best part is that chinos look excellent on all body types. So, you'll look stylish and dapper when you wear them.
For outfit inspiration, the following are examples of how you can style chino pants.
How to style burgundy chinos
Burgundy and maroon chinos are excellent for fall and winter.
The deep red provides an opportunity to add color to your outfits without being too bold.
You can wear burgundy chino pants with a t-shirt or sweater and sneakers.
To dress them up, wear a button-up shirt, sport coat, and dress shoes. The shoes can be monk-strap or Chelsea boots.
Burgundy adds a nice and deep pop of color.
How to style green chinos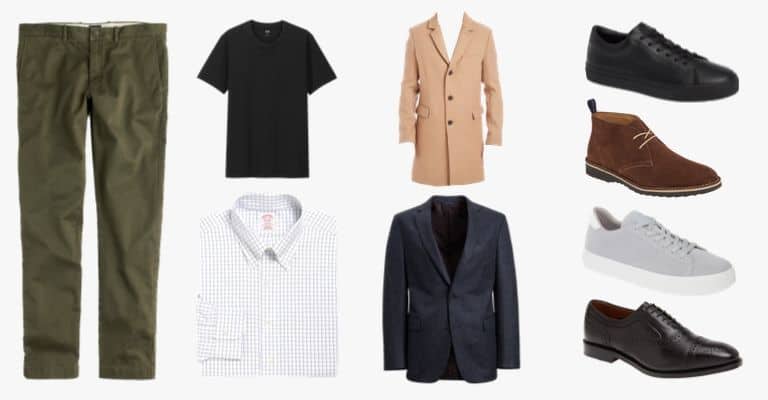 Green chinos, especially dark green, are stylish and act as a neutral color.
The only colors that don't pair well with them are bright orange and red. All other colors look excellent.
For a smart casual outfit, wear them with a black t-shirt, camel overcoat, and black dress sneakers.
You can dress them up with a button-up shirt, sport coat, and dress shoes or boots.
Green is a color you often see in nature. It provides feelings of growth, balance, and calmness.
Green chinos are subtle and offer visual appeal.
How to style grey chinos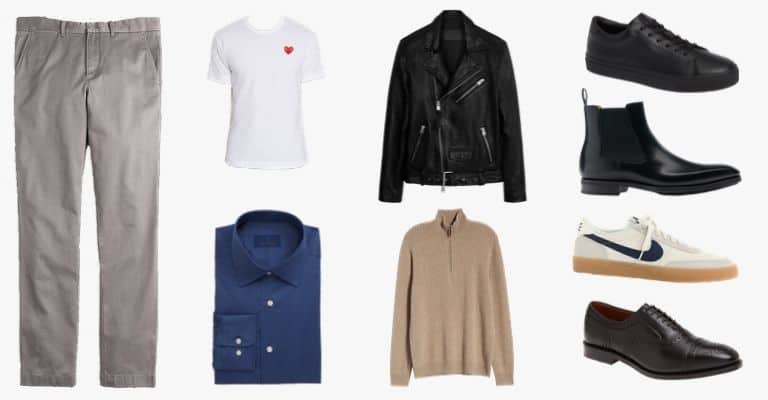 Grey is a neutral color with various shades. When it comes to formality, charcoal grey is more formal than a light grey.
You can wear grey chinos to casual get-togethers or dress them up.
While grey matches many colors, consider the tone.
If the grey feels cooler, wear other cool tones. The same goes for warm tones.
Grey chinos are also the perfect base to create contrast in your outfits.
Wear a camel, blue, green, or red top to create a striking outfit.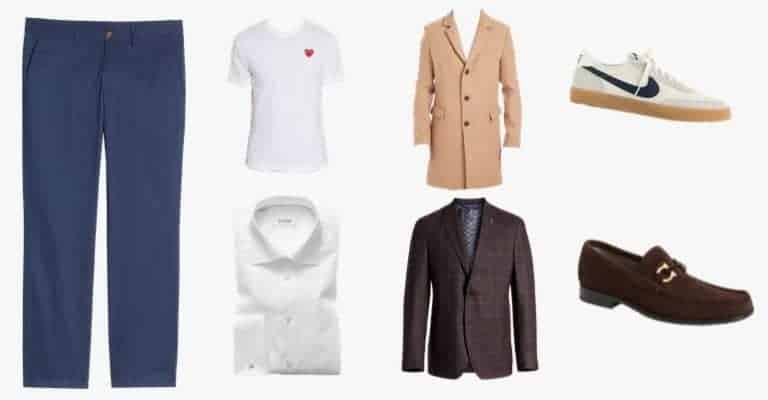 Navy chinos are a menswear essential.
They're the next-level version of dark denim and the perfect alternative to a full suit when you dress up.
With navy chino pants, you'll look put together and have many outfit options.
One of the best ways to style them is to combine a white shirt with a brown coat.
Navy pants also look stylish with a light grey sport coat if you want a light and neutral color for contrast.
You can wear navy chinos year-round, which makes them a must-have.
How to style beige, tan, or khaki chinos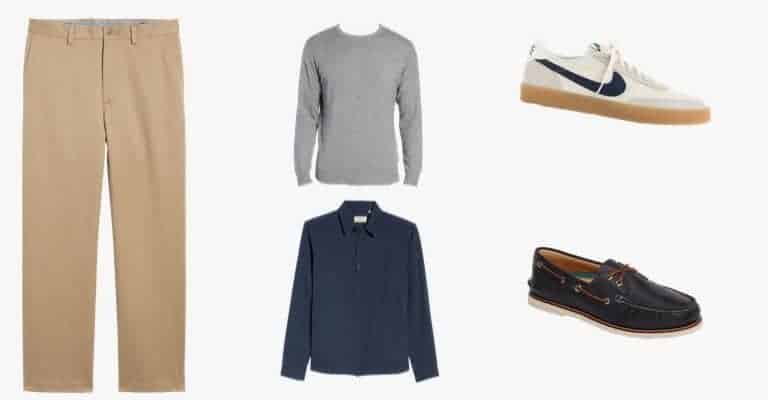 Tan, beige, and khaki are in the same color family.
The shades of brown are excellent for chinos because they look stylish year-round.
Also, they provide a neutral base that stands out. You can wear them with a white, grey, or navy shirt.
When it comes to shoes, wear sneakers, loafers, boat shoes, or boots.
Beige, tan and khaki chinos are versatile. They work well for most casual and smart casual occasions.
How to style white chinos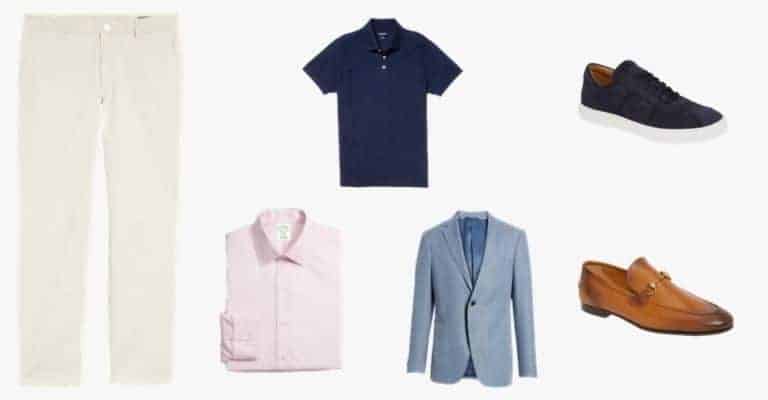 White is perfect for spring and summer outfits. Also, it's ideal for casual occasions.
Don't wear white chinos in professional settings, even with a sport coat.
White chino pants are a statement piece because it takes confidence to wear them well.
They also provide a clean, fresh, and polished look.
White chinos look best with contrasting colors. Blue, pink, brown, grey, and green look incredible with white.
Avoid wearing a white top with white pants because it looks off. You'll look too bright and washed out.
Stick to dark and rich colors to create an appealing outfit.
Frequently asked questions about chino pants
Answers to common questions about chino pants are as follows.
Which brand is best for chinos?
Bonobos, J.Crew, A.P.C., Theory, Flint and Tinder, and Everlane are the best brands for men's chinos.
Can chinos be smart?
Yes, chinos are the best pants to wear for smart casual outfits. They're versatile, classy, and make you look well-dressed. The most important factor is to nail the fit.
Are chinos better than jeans?
Jeans are tougher than chinos. But, chinos are lighter, more breathable, and better-looking. Chinos are also better because they work well in professional and casual environments.
Conclusion
Chino pants can elevate any casual outfit.
Since you can buy various styles and colors, there's a pair for any season or occasion.
Versatility is one of the main benefits of chinos. You can wear them with sneakers, loafers, and dress shoes.
If you don't have any, your first pair should be navy, black, beige, khaki, or grey.
Start wearing chinos today, as you'll look stylish and sophisticated.
Featured photo by David Em/Next Level Gents.
About David Em
Founder
David Em is the founder of Next Level Gents, the ultimate destination for tips and advice about style, grooming, fitness, and success.