Chinos are menswear essentials that are a great way to dress up your outfit while still being casual. Here's how to wear chinos.
This post contains links to products from one or more of our advertisers. We may receive compensation when you click on links to those products. For our affiliate disclosure, visit this page.
What are Chinos?
Chino pants are lightweight pants made from twill fabric. Originally, they were made completely from cotton but in modern times, they can be found made from a synthetic cotton blend (man-made).
They look similar to the khaki pants, which have been around longer than chinos but are different. Chinos are lightweight and considered to be dressier than khakis, which are more heavy and have different weaving patterns.
The History of Chino Pants
In the 19th century, Chinos were developed to be used in the military uniforms of the British and French. Moving to the 20th century, the U.S. Army adopted it into their uniform.
The word "chino" originated during the Spanish-American War in 1898. It became the word for the twill fabric because the material was sourced from China. In Spanish, "chino" translates to "Chinese".
Now, Chinos are acceptable pants for casual and smart-casual attire. They're versatile pants that can be worn to work, a date, and are even considered the perfect weekend pants.
How Should Chinos Fit?
Similar to jeans and other pants, Chinos should fit perfectly around the waist without needing a belt. Throughout your butt and legs, they should be snug but not too tight.
As far as length, it's best to have no break or a slight break. You can also roll your pants if needed.
Two common styles for chinos are slim-fit and straight-leg. If you're skinny, slim, or have a "regular" build, stick to slim-fit chinos. If you have a larger build, straight-leg chinos will be perfect for you.
Do They Shrink or Stretch?
Shrinking will occur during its first wash. Chinos are made of cotton, which will also shrink slightly in the dryer using high heat. However, after ironing or steaming, the pants will return close to its original size.
It's best to wash chinos with similar fabrics and colors. This will be a great way for you to ensure they last and look great.
Best Colors for Chinos
These pants come in a variety of colors. Here are the best colors for chinos:
Sand, Khaki or Tan
Navy
Green
White
Burgundy
Grey
What Shoes Should I Wear?
The great thing about chinos is that they're versatile, here are the types of shoes you can wear with them.
Boat Shoes
Boots
Dress Shoes
Loafers
Monk Strap
Sneakers
Are They Formal?
No. Chinos are in between jeans and trousers which means they're the perfect middle ground between dressing casually and dressed-up.
How to Wear Chinos
The versatility of the chino pants makes them easy to style and integrate into your daily outfits.
Here's how to wear chinos organized by color. Keep in mind, many of the pieces can be mixed and matched with other colors.
Burgundy Chinos Outfit
Green Chinos Outfit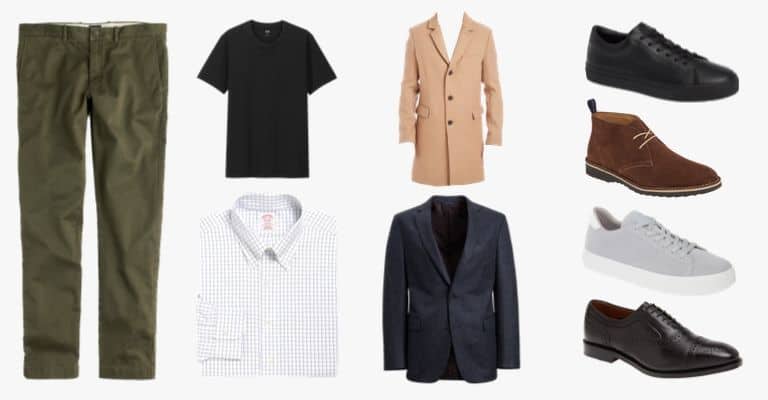 Grey Chinos Outfit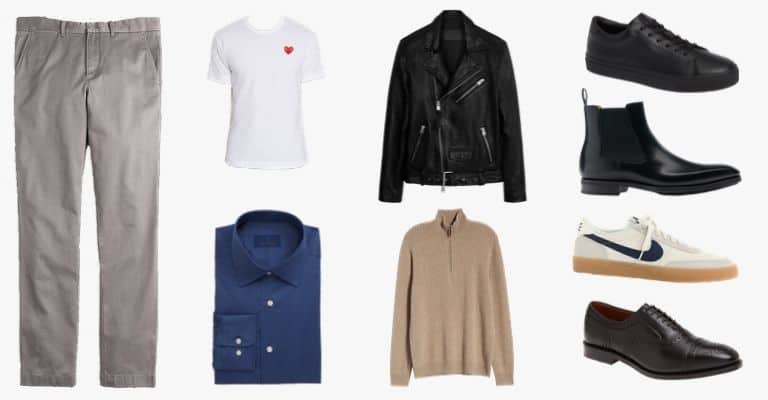 Navy Chinos Outfit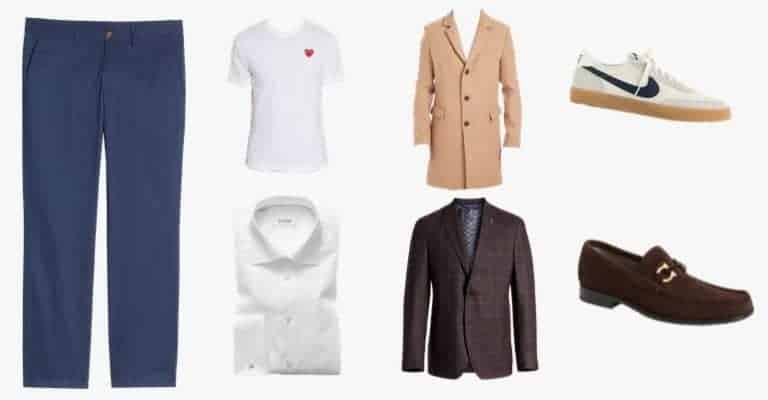 Sand, Khaki or Tan Chinos Outfit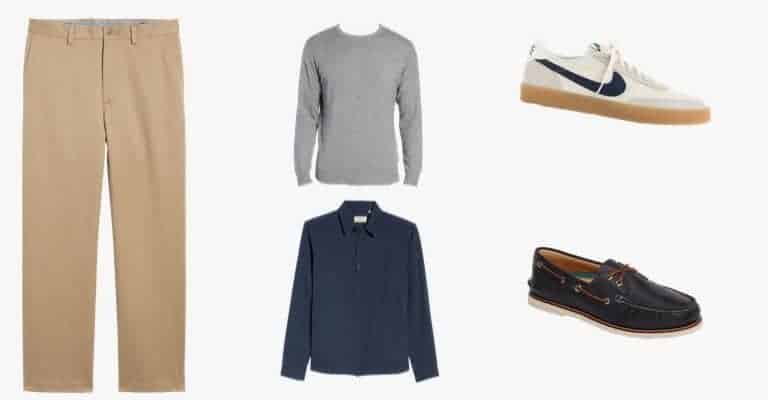 White Chinos Outfit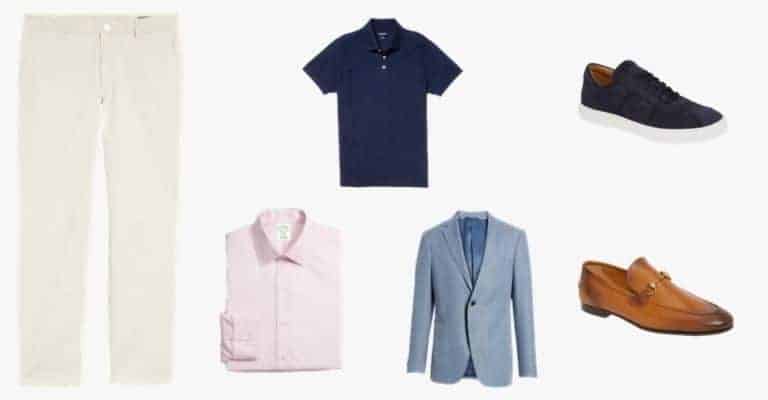 Which Brand Has the Best Chinos?
Here are a few brands that make great chinos, along with the fits that they offer.
Conclusion
It isn't too difficult to figure out how to wear chinos because they work well with so many different outfits. They're a special type of pants which can help you step-up any casual outfit.
Although chinos aren't quite formal, they're a great way to have a semi-formal to smart-casual look.
Additional Men's Pants Resources
Want to learn more about pants, or need outfit inspiration? Here are a few more resources:
Stay connected with us on Instagram and Facebook!
Featured photo by David Em/Next Level Gents