Chelsea boots are a must-have in your wardrobe because they're versatile and timeless. You can dress them up or down.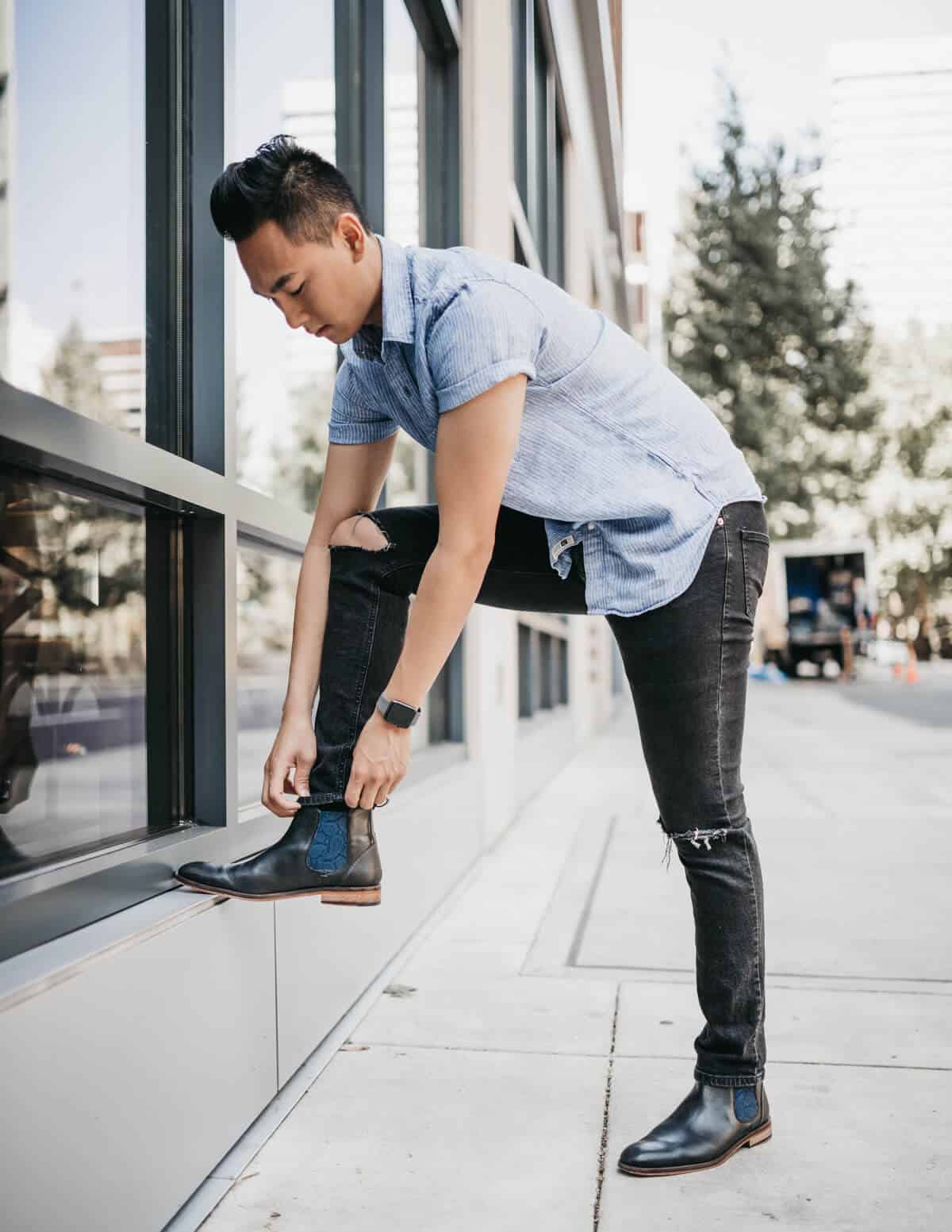 Few shoe styles look as good or are as versatile as the Chelsea boot.
Regardless of your age or style preferences, you'll look fashionable in Chelsea boots.
Related article: The best turtleneck sweaters for men
They thrive in almost every season, except summer. Boots don't offer much breathability.
Also, Chelsea boots can pair with casual or dressy outfits.
The following covers many ways to wear Chelsea boots. Also, you'll learn about the different materials, features, and best options.
What's a Chelsea boot?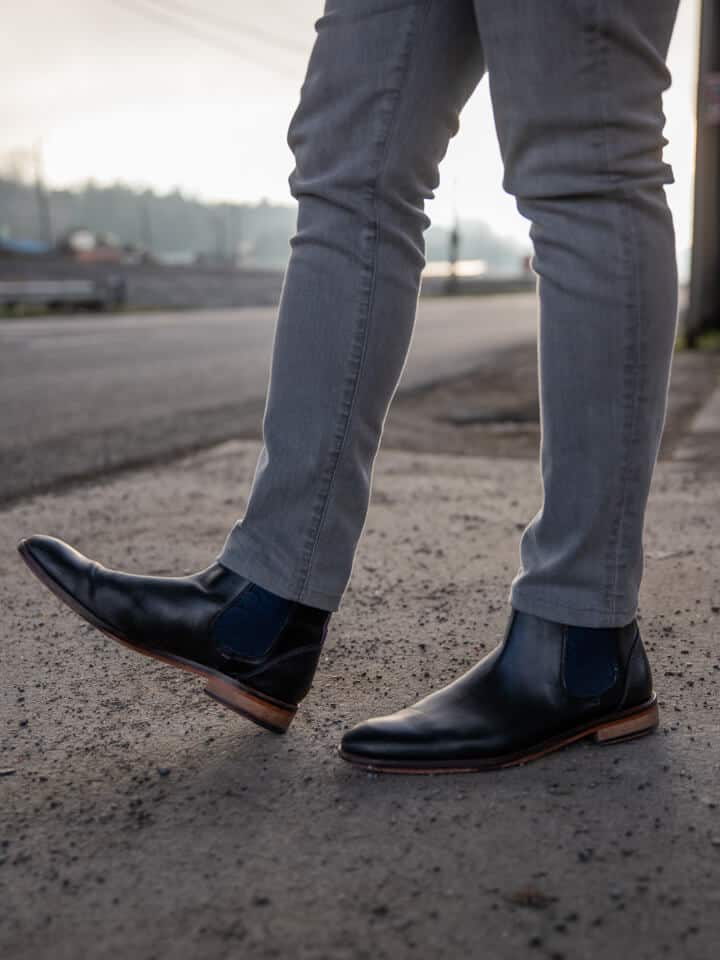 Chelsea boots are ankle-high boots that have an elastic side panel and a tab on the back, which makes them easy to slip on.
Since they're timeless, these refined boots will look great on you regardless of age or personal style.
Related: 15 best suede Chelsea boots
If you need shoes that go with jeans and a t-shirt while also pairing well with a suit, Chelsea boots are the way to go.
They're popular because they can be worn with many different outfits and through various seasons.
These boots date back to the Victorian era, which was between the mid-1800s to early 1900s.
J. Sparkes-Hall was the first to design and patent the elastic ankle boot, which is now known as the Chelsea boot.
The word "Chelsea" comes from the South West in London, an area called Chelsea.
Aside from its origination in London, the Rolling Stones and the Beatles made the Chelsea boot very popular as well.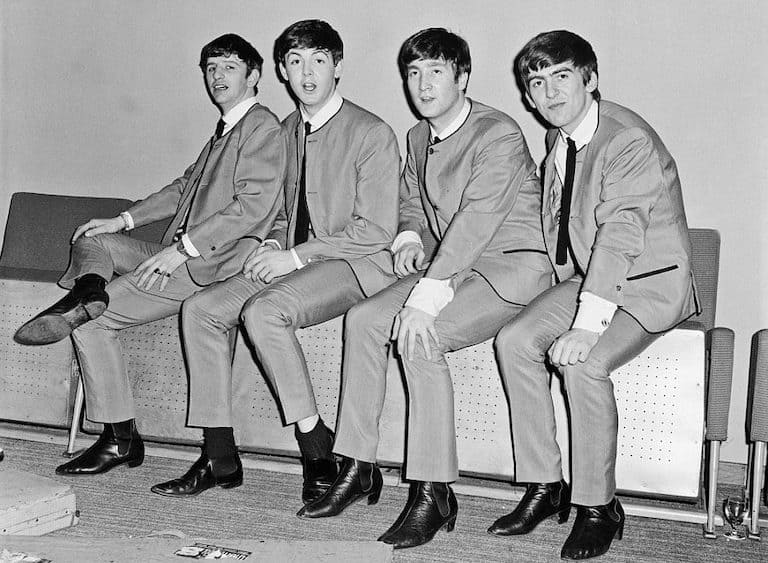 Stormtroopers from Star Wars wore white Chelsea boots, too.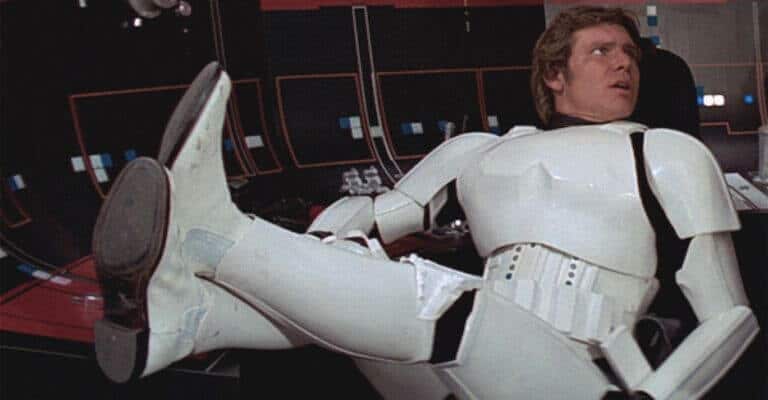 They're great for numerous occasions such as work, weddings, parties, or business meetings. You won't have to worry about being out of place.
Due to their timeless design, Chelsea boots will be in style now and in the future.
Chelsea boots outfits
The following are different outfits with black leather Chelsea boots.
Use the outfit examples as a base. You can pair different pieces with various Chelsea boot materials and colors.
Chelsea boots with jeans
When you wear jeans, swap your sneakers for Chelsea boots. They're an excellent and stylish alternative.
You can wear leather or suede, as both look incredible.
Wear them with jeans and a t-shirt, casual button-up, or sweater. They'll elevate any casual outfit.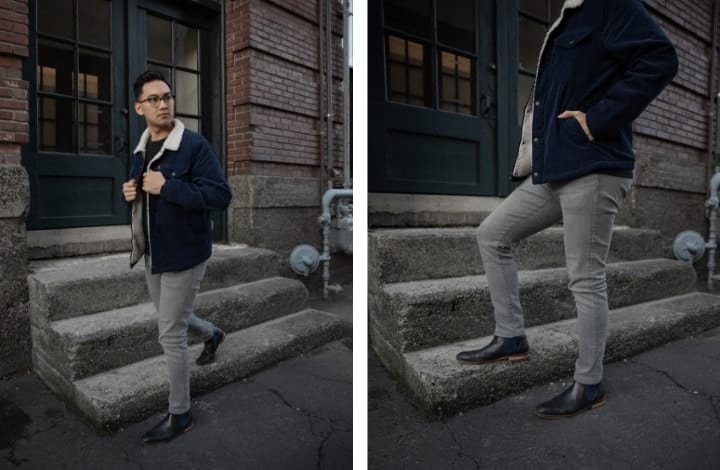 A blue corduroy jacket brings back a classic piece in men's outerwear. The jacket pairs well with grey jeans and looks amazing finished off with Chelsea boots. This look is perfect for a day out or during the fall and winter.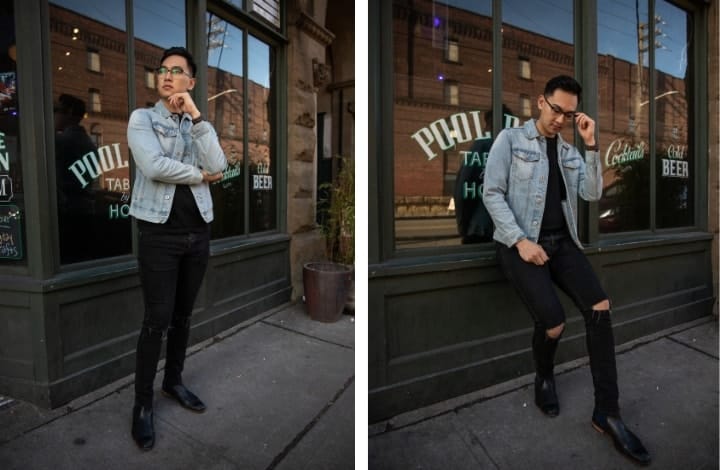 Wearing black jeans, a black shirt, and a denim jacket creates a pop of color, which makes the outfit more interesting.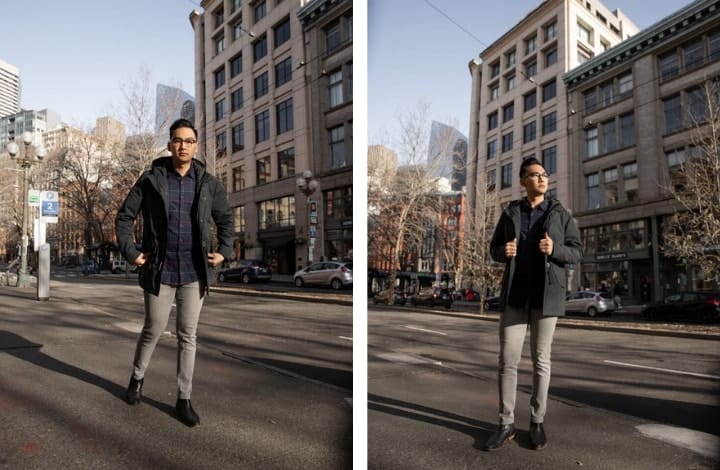 Regardless of the weather, these boots will look great. Pair the boots with a classic rain jacket for the perfect rainy day look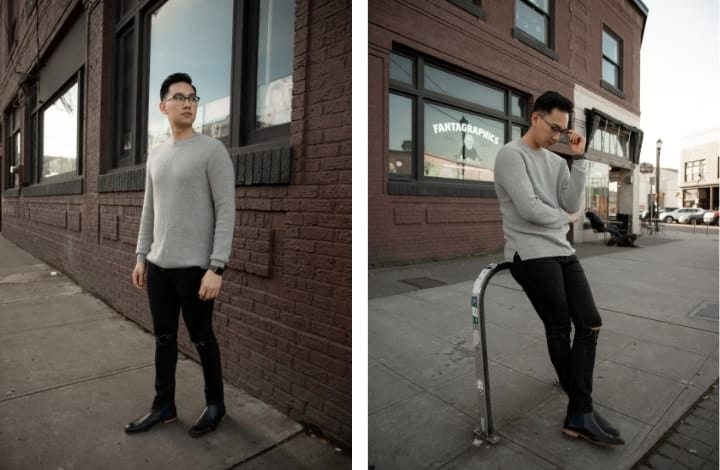 One of the essential rules for matching clothes is to create contrast. Wearing a light shirt with dark pants and shoes will do the trick.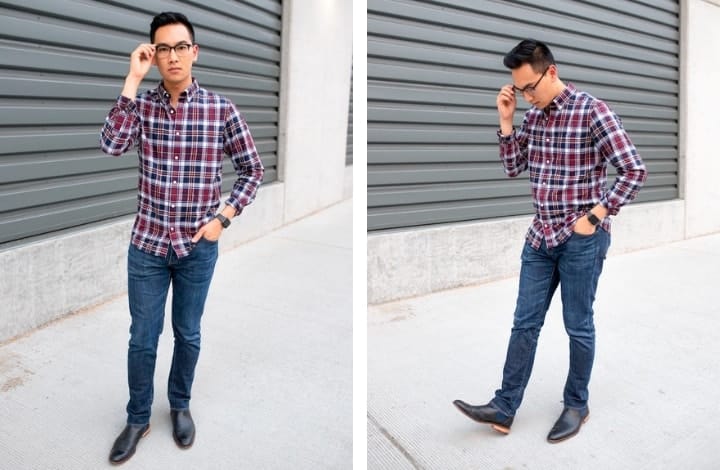 For a casual yet put-together look, wear jeans and a plaid button-up. It's perfect for a date or meeting with a friend. If it's warm, you can roll up your sleeves.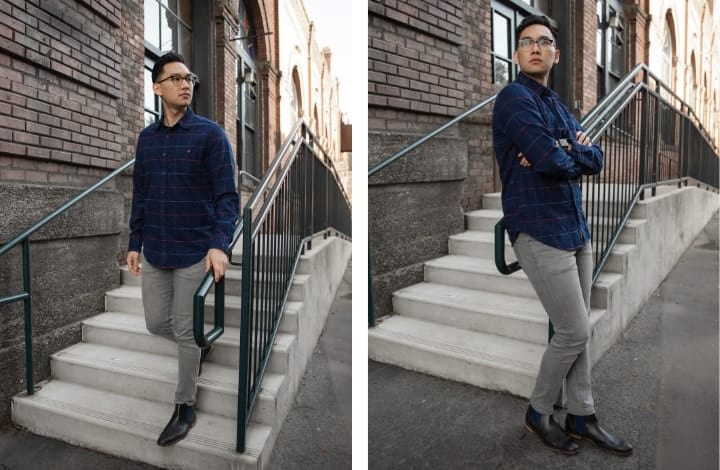 Contrast is a great place to start when you're putting together an outfit. A dark top, light pants, and dark shoes will create an eye-catching outfit.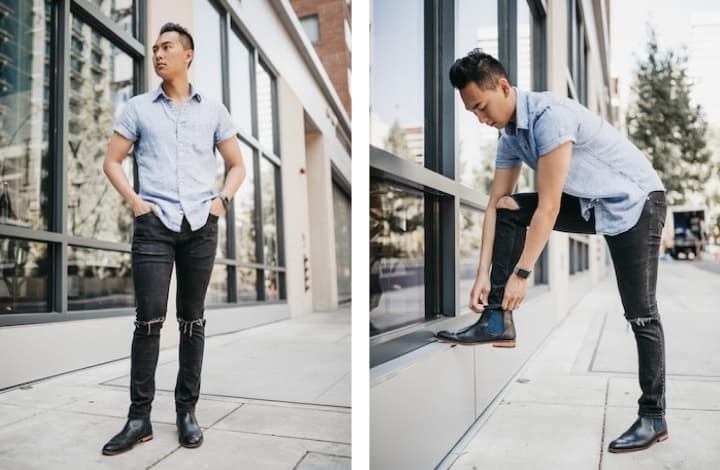 Black jeans pair well with black leather Chelsea boots. The bottom of your jeans wraps around the top of the boots nicely without making it look weird or feel uncomfortable.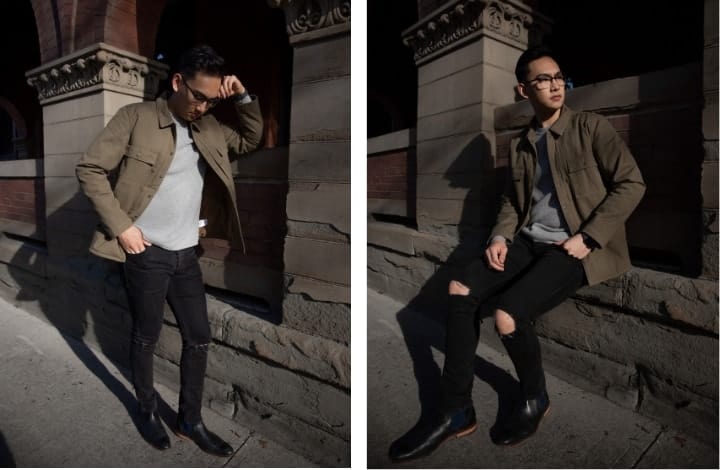 When it's cold, staying warm and stylish is the goal. Wearing a military jacket, light sweater, and dark jeans looks great during the colder weather.
Chelsea boots with trousers
Chelsea boots also pair well with trousers.
Wear them with trousers, a button-up shirt or turtleneck, and a sport coat. You can also swap the sport coat with an overcoat.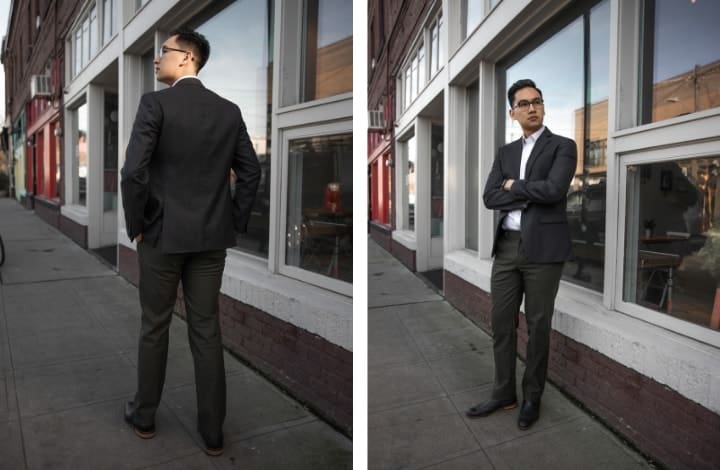 With the business casual look, a suit without a tie, you can wear it to business meetings or work.
Black leather Chelsea boots work well for this outfit because they're similar to sleek dress shoes. Although there aren't any laces, they're simple and classy.
Chelsea boots with a suit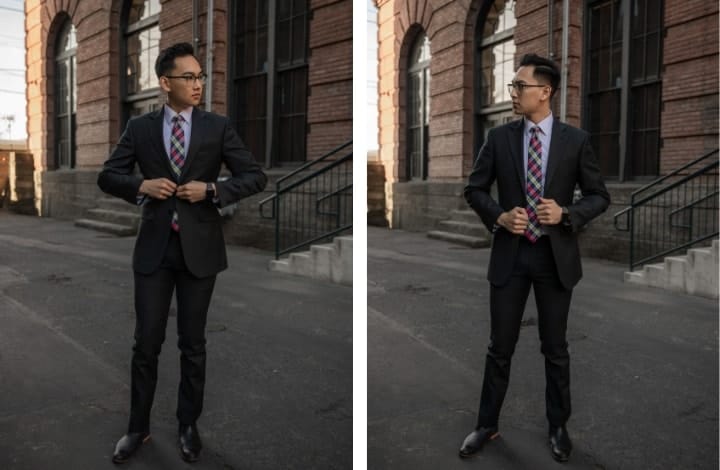 Chelsea boots are great for formal and business dress codes. Aside from occasions that require a tuxedo, you can pair these boots with a suit and tie.
Chelsea boot materials and designs
The main characteristics of Chelsea boots are the pull-tab on the back and the elastic side panel.
When it comes to the material and style, there have various options. Leather and suede are the two materials.
While both materials are excellent, your first pair needs to be leather.
They're traditional, sleek, and allows you to dress semi-formally or casually.
For the design, the toe of the boot is where they differ. The toe can be plain or have a wingtip or cap-toe.
Plain-toe Chelsea boots are the most versatile, as wingtip and cap-toe are more casual.
Best colors for Chelsea boots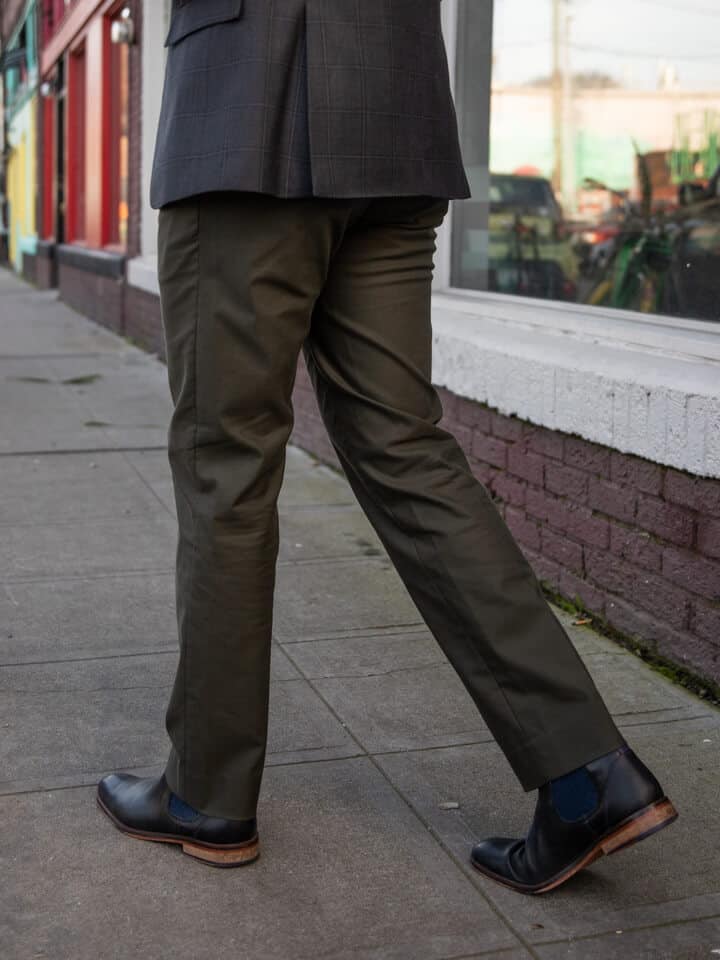 There are many colors available for Chelsea boots. Black and brown are the most common.
If you want to buy your first pair, choose brown because it's more versatile.
You can dress brown Chelsea boots up or down with ease.
Black is also an excellent color. But, it's best with formal outfits.
After a brown pair, expand your collection to black and experiment with other colors.
Burgundy is a stylish and versatile color, while tan and grey are ideal for casual outfits.
Again, the most versatile boot color is brown, so start with that.
How to style Chelsea boots
Chelsea boots are versatile. So, you can wear them with many outfits.
To look good, learn how to style them. An essential aspect is your pants.
Whether you wear trousers, chinos, or jeans, make sure the pants sit on top of your boots.
Your pants should have a slight break or no break.
If you wear jeans, don't tuck them into your Chelsea boots. Instead, cuff your jeans.
After the pants, you can wear any top that matches the occasion and pant style.
Chelsea boots have a clean silhouette. They're perfect for and elevate most outfits.
Wear them casually as a substitute for sneakers.
For a smart-casual outfit, wear Chelsea boots with chinos, a turtleneck sweater, and an overcoat.
For business casual, wear them with trousers, a button-up shirt, and a sport coat.
When you need a semi-formal outfit, wear black leather Chelsea boots with a suit.
Can you wear Chelsea boots year-round?
You can wear Chelsea boots year-round.
But, they aren't breathable, so your feet may feel too hot and sweaty in hot temperatures.
As boots, they're ideal for mild and cold weather. In the winter, wear thick or wool socks to keep your feet warm.
Chelsea boots buyer's guide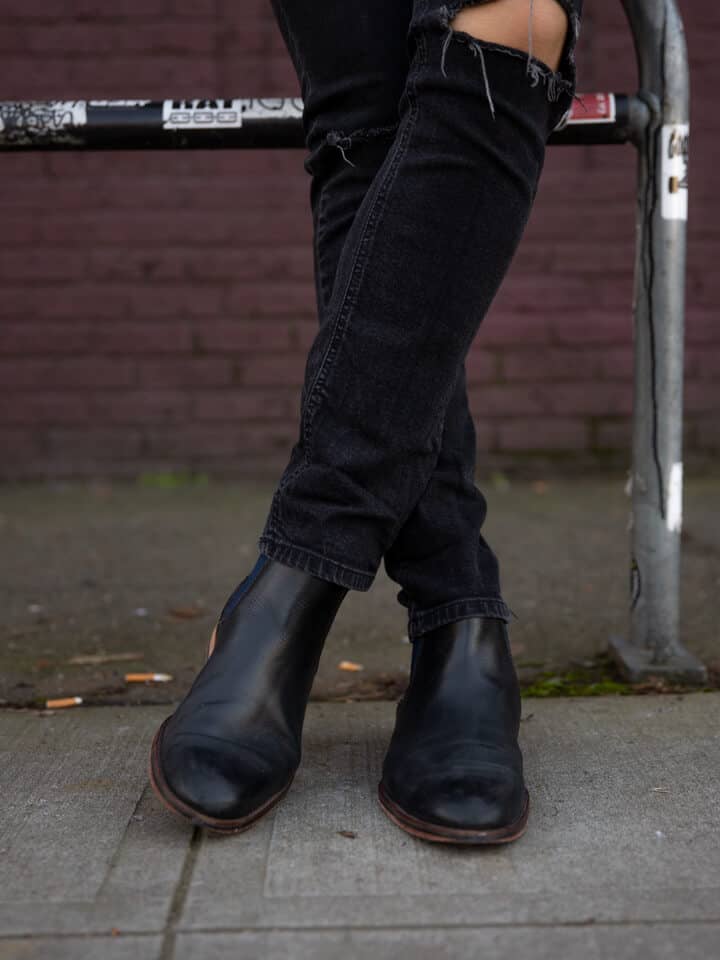 Chelsea boots deserve a spot in your footwear collection. They're stylish, functional, and comfortable.
Before you buy a pair, remember to invest in quality. Many high-quality Chelsea boots cost more than $200.
The following brands sell the best and highest-quality Chelsea boots:
When you shop for Chelsea boots, the main features to pay attention to are the fit, leather, soles, and elastic.
Since Chelsea boots are close-fitting, proper sizing is essential.
Avoid relying on standard shoe sizes because they may not be accurate with Chelsea boots.
Since there are no laces, you need an exact fit.
The only flexibility is in the elastic side panel, which comes into play when you put on and take off the boots.
So, try them on and walk around. Make sure your toes have a little room to move around.
Often, you won't size up or down. Instead, you'll need to change the width, which may mean trying a different brand.
A snug fit without too much restriction is what you want.
The soles are another essential feature.
Traditional Chelsea boots have leather soles. Now, there are boots with wood or rubber soles.
The sole thickness also matters. A thin sole is excellent when you wear formal attire.
A thick or commando sole looks casual and provides grip in slippery situations.
While you shop for Chelsea boots, you may find some with a zipper instead of the elastic side panel.
A brand may call it a Chelsea boot, but it isn't. The elastic side panel is a characteristic that identifies a Chelsea boot.
Conclusion
Chelsea boots deserve a spot in your footwear collection. They'll elevate any outfit and will work with many combinations.
Whether it's fall, winter, or a transitional part of a season, Chelsea boots should be your go-to shoes.
Featured image by David Em/Next Level Gents.
About David Em
Founder
David Em is the founder of Next Level Gents, the ultimate destination for tips and advice about style, grooming, fitness, and success.