When the temperatures drop, don't sacrifice style. Get ready to look good while staying warm with the best jackets for men.
Outerwear is an essential part of your wardrobe.
There are many jackets available. Some are trendy, while others are timeless.
Related article: Which is better, belts or suspenders?
The best ones allow you to enjoy life and look stylish even when the temperature drops.
Several must-haves are a jacket to keep you dry in the rain, warm in the snow, and a lightweight one for cool days.
Classic styles won't go out of fashion. But, the materials may change.
An example is the trucker jacket. It's available in different materials, such as corduroy or denim.
Whether you want to replace an old jacket or try new styles, the following is a round-up of the best jackets for men.
You'll find classic bomber jackets, puffer jackets, and many other items.
Biker jacket
You can wear a biker jacket without a motorcycle.
Few things will make you look as charismatic, edgy, and confident as a biker jacket.
Also, many price ranges are available, from high-end designers to fast fashion brands.
When you shop for a biker jacket, black is the best option, as it matches most outfits.
The classic biker jacket look includes black jeans, sneakers, and a white t-shirt.
You can also dress it up with chinos, an untucked button-up shirt, and boots.
It's a classic and iconic jacket style, making it a must-have.
The following are some of the best biker jackets you can buy.
Buck Mason Black Leather Bruiser Moto Jacket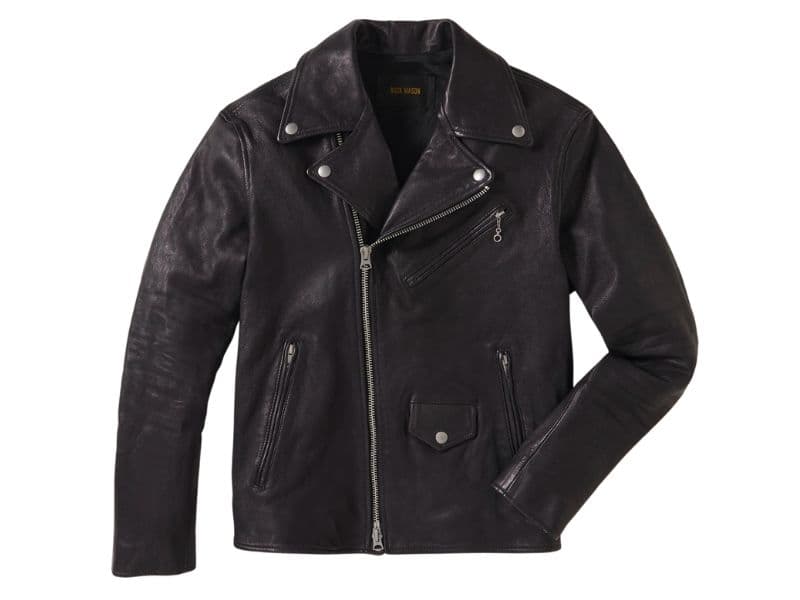 Allsaints Milo Leather Biker Jacket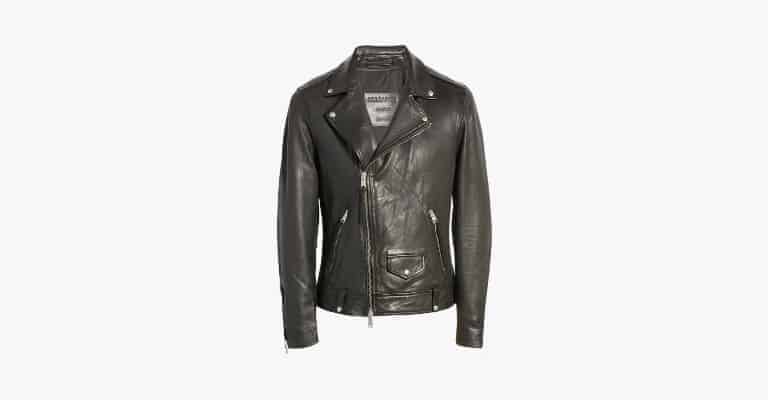 Schott NYC '50s Oil Tanned Cowhide Leather Moto Jacket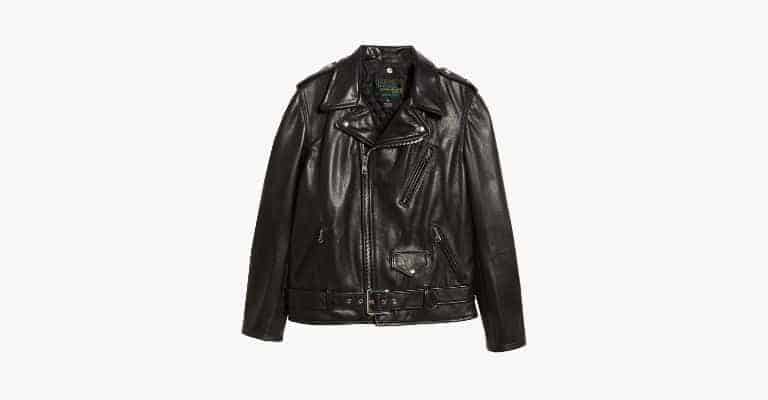 Denim jacket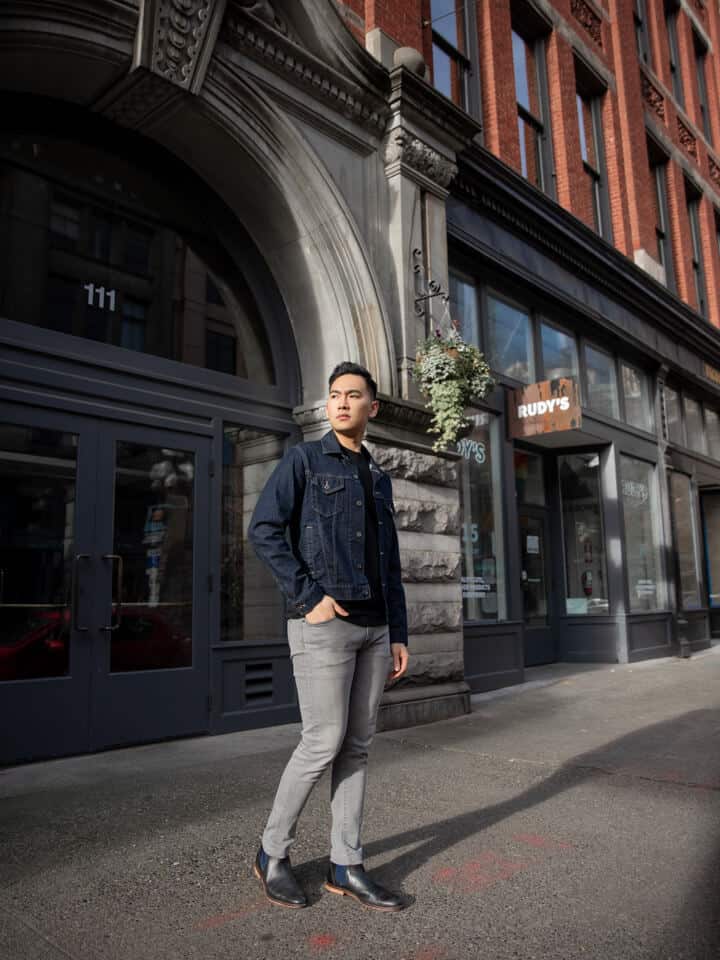 The denim jacket is a classic and versatile piece that you can wear with many different outfits.
There are many washes available, like light or dark blue and black.
Light denim is best for spring and summer, while dark blue or black denim is best for fall and winter.
Denim jackets have a classic fit, giving you enough room to layer and move around.
When it's cold, you can layer a hoodie underneath. In moderate or warm temperatures, you can wear a t-shirt.
The casual jacket is an excellent addition to your wardrobe.
The following are the best choices for denim jackets.
Levi's Denim Trucker Jacket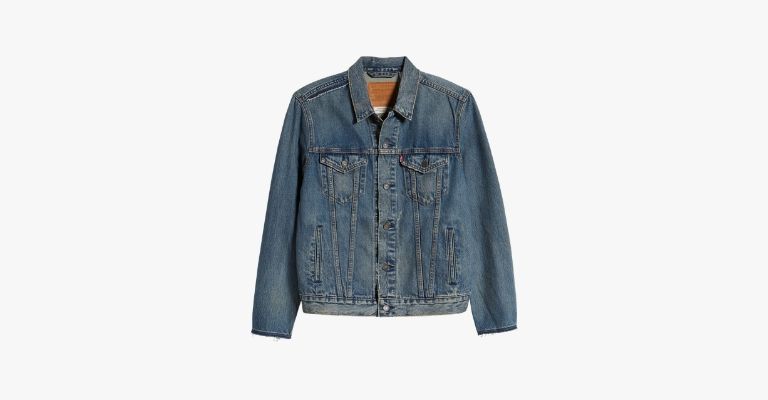 Madewell Classic Jean Jacket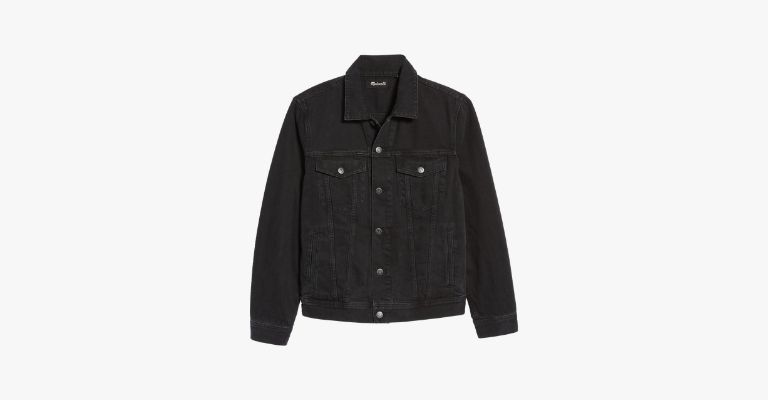 Double RL RRL Lot 271 Midweight Denim Jacket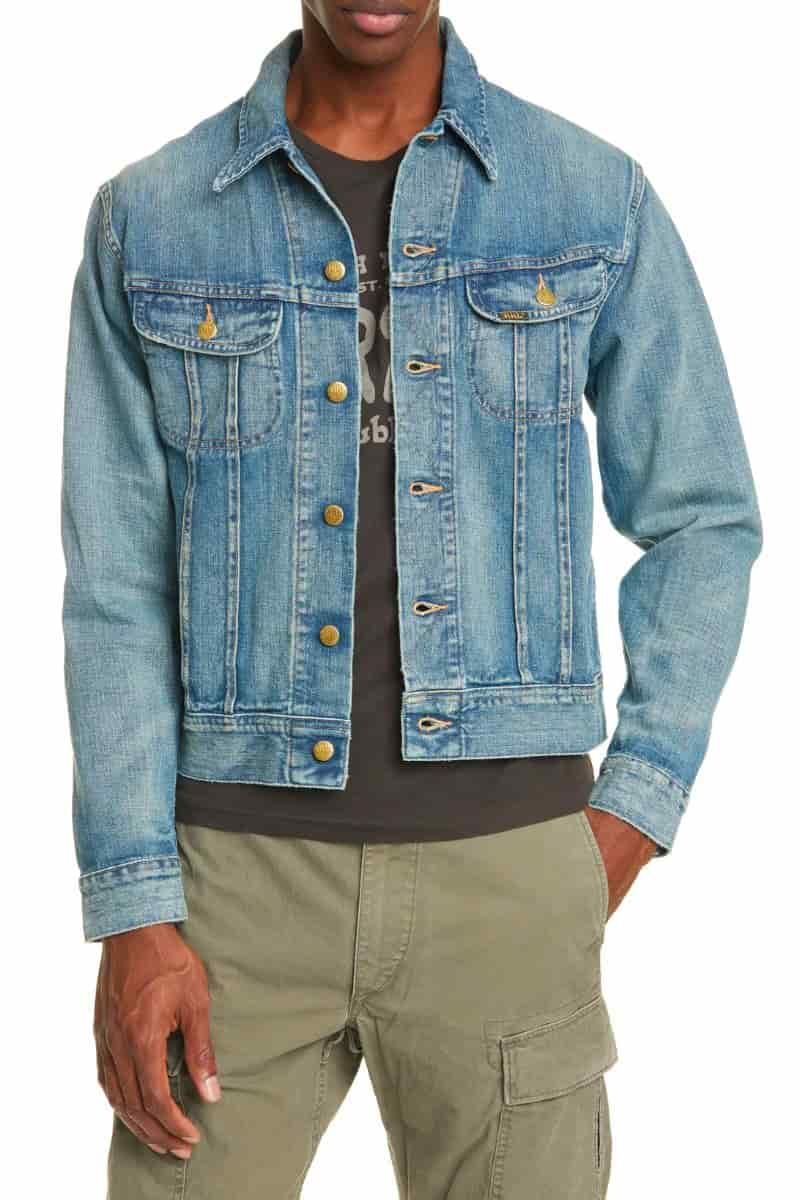 Bomber jacket
Bombers jackets are a classic style, but they're also on-trend.
They're also known as flight jackets, dating back to the United States fighter pilots.
The original bomber jackets were thick and padded. Now, they're lighter without as much structure.
You can wear them in many casual or smart casual outfits.
Pair a bomber jacket with jeans or chinos and a t-shirt or button-up shirt.
While the jackets are stylish, they're also functional.
When you wear a bomber jacket, you'll have protection from the wind. You'll be warm without a bulky jacket or coat.
The following are excellent options for bomber jackets.
Topman Icon Bomber Jacket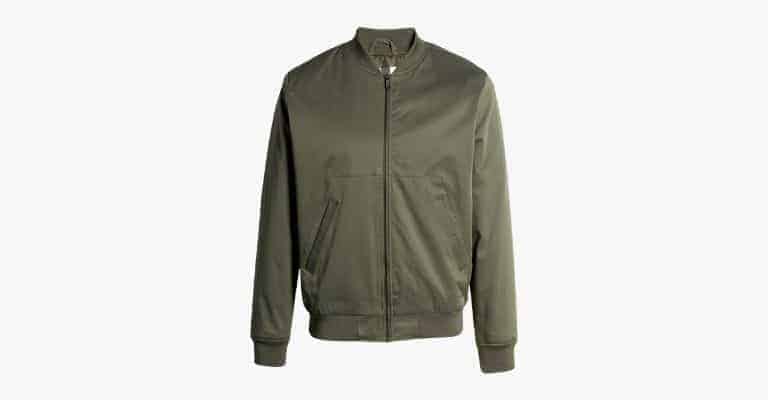 Everlane The Bomber Jacket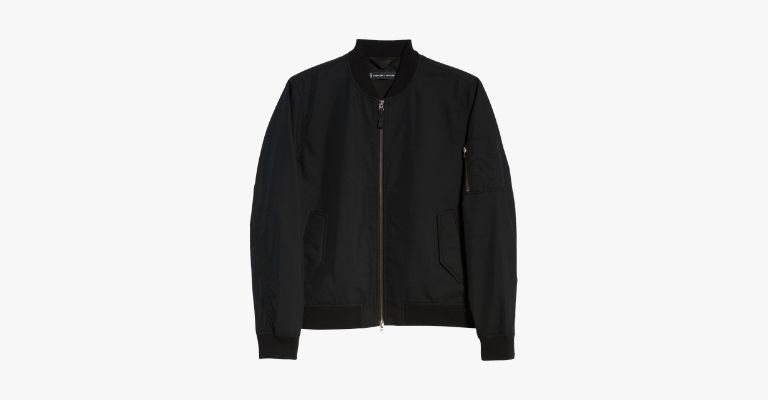 Alpha Industries MA-1 Bomber Jacket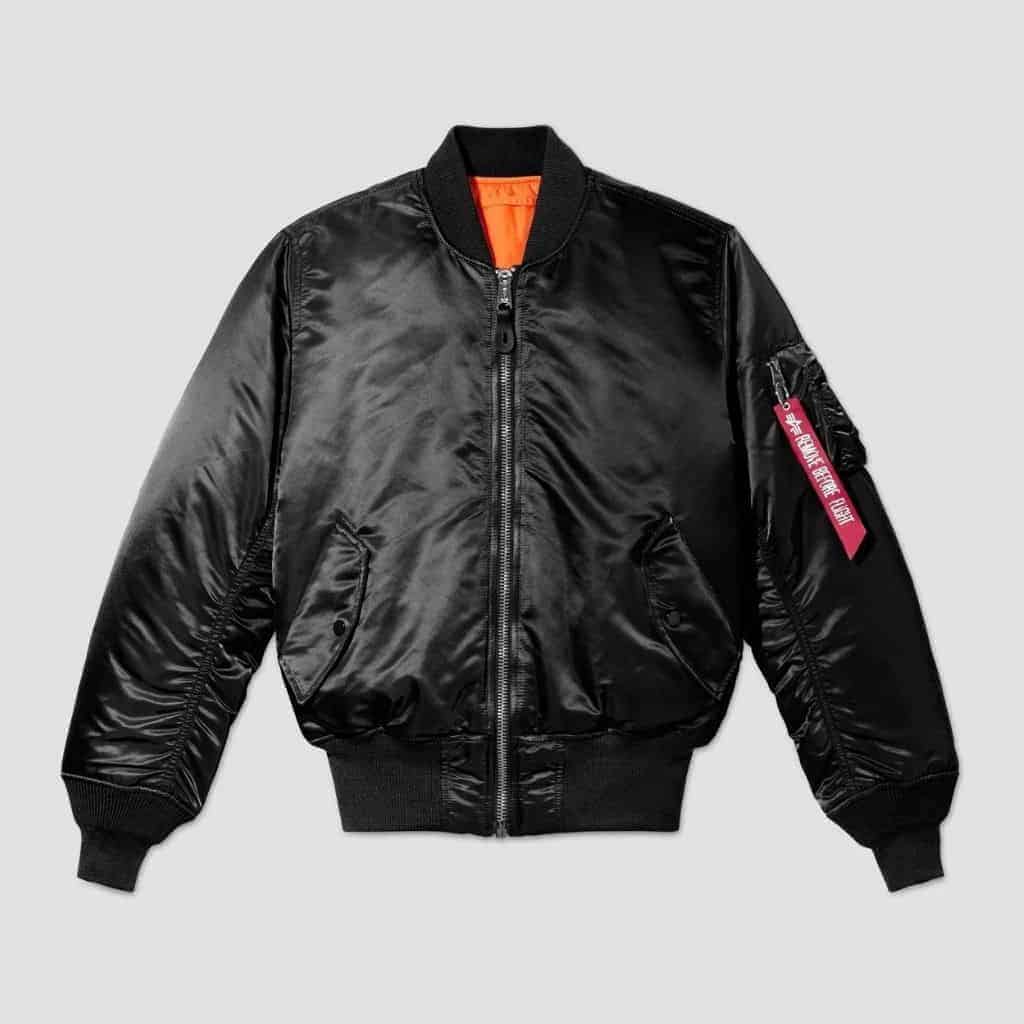 Chore jacket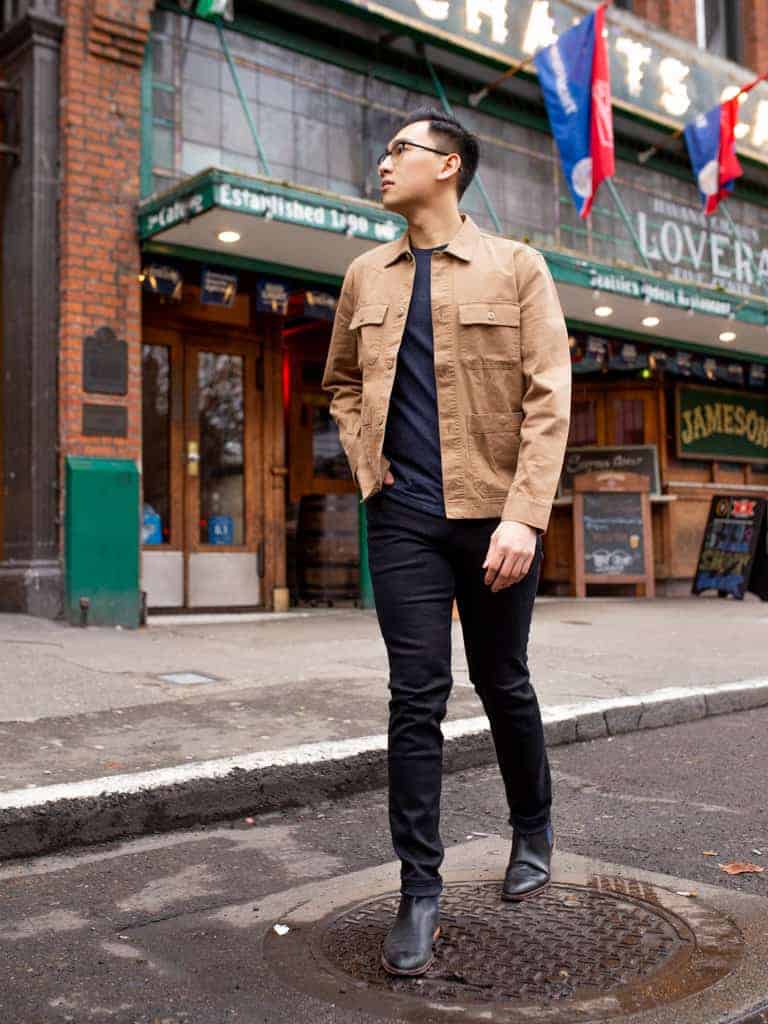 The chore jacket, also known as the French work jacket, is a lightweight jacket with a timeless design.
For decades, it's been a menswear and outerwear staple. The jacket's material is heavy twill, denim, or canvas fabric.
A few distinct features are the one to two chest pockets with oversized hip pockets on the side.
Also, chore jackets have a button closure and a pointy collar.
It's best with a t-shirt or slim turtleneck sweater underneath. You can wear the chore jacket open or closed.
The following are the best chore jackets available.
Le Mont St Michel Genuine Work Jacket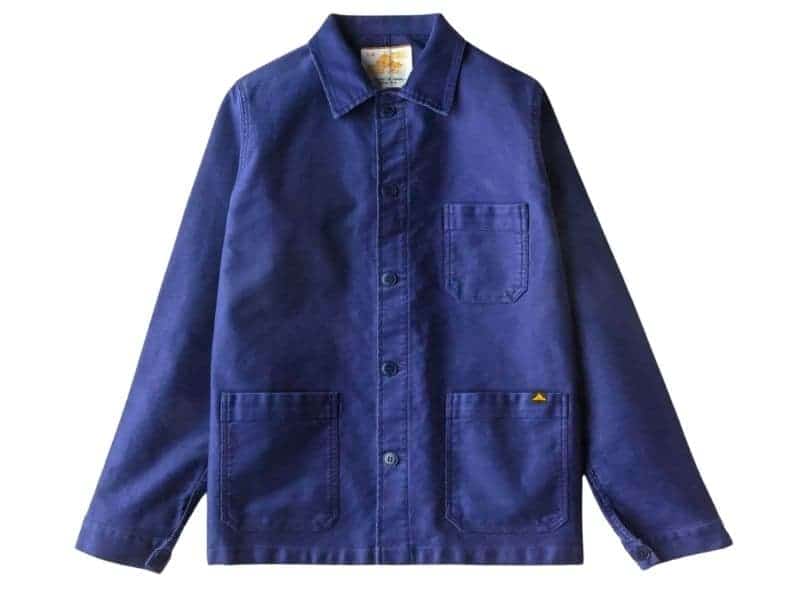 Taylor Stitch The Ojai Jacket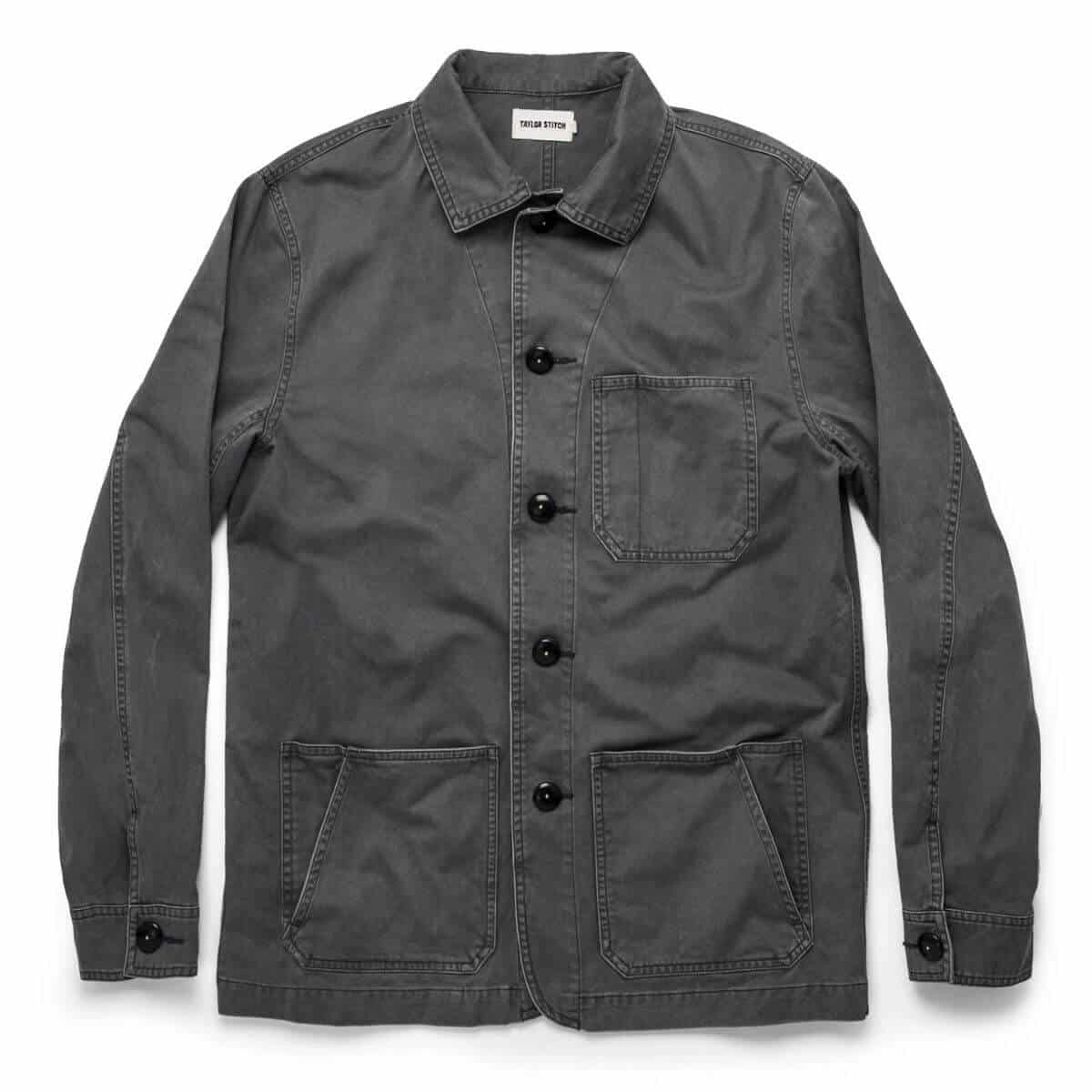 Alex Mill Garment-Dyed Work Jacket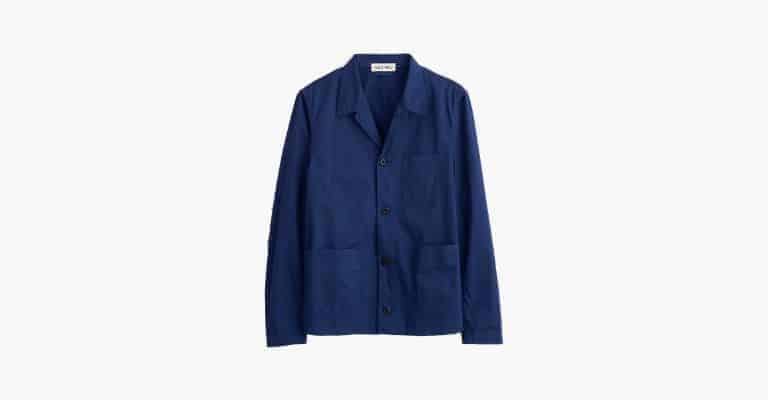 Harrington jacket
The Harrington jacket is a lightweight and classic style. It's also known as a G9 or Baracuta jacket.
There are two main features, a full front zipper and flap hip pockets. Also, it's water-resistant and versatile.
Whether you're running errands or meeting friends, the Harrington jacket is a go-to.
The sleek silhouette and quality ensure you look good in it for years to come.
The following are the best Harrington jackets.
Baracuta G9 Jacket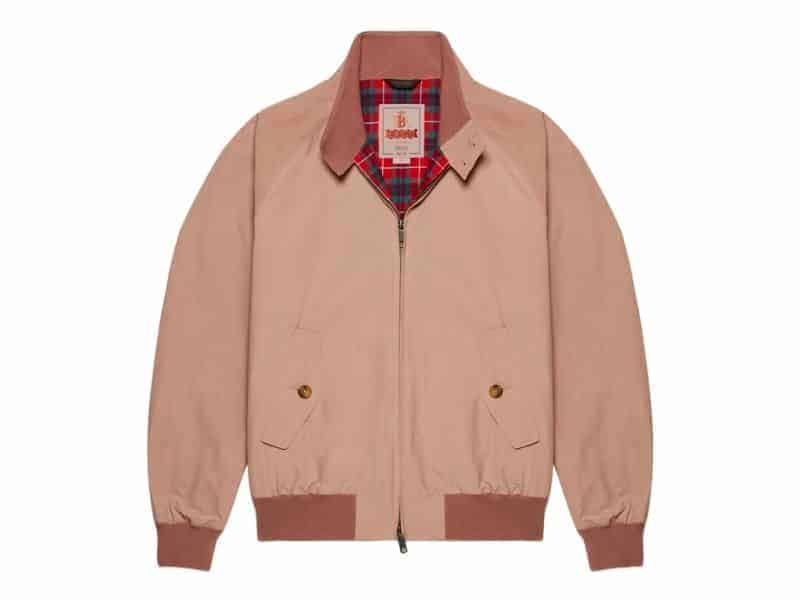 Bonobos The Harrington Jacket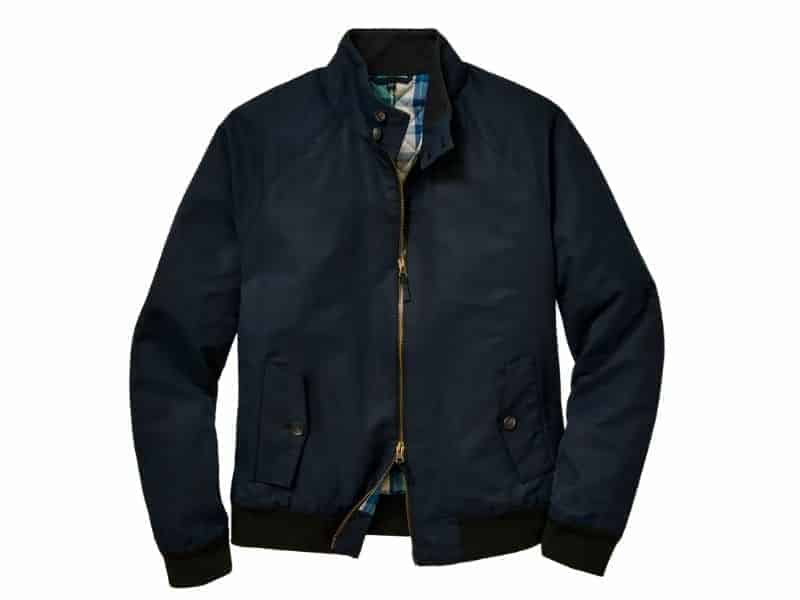 Overcoat and top coat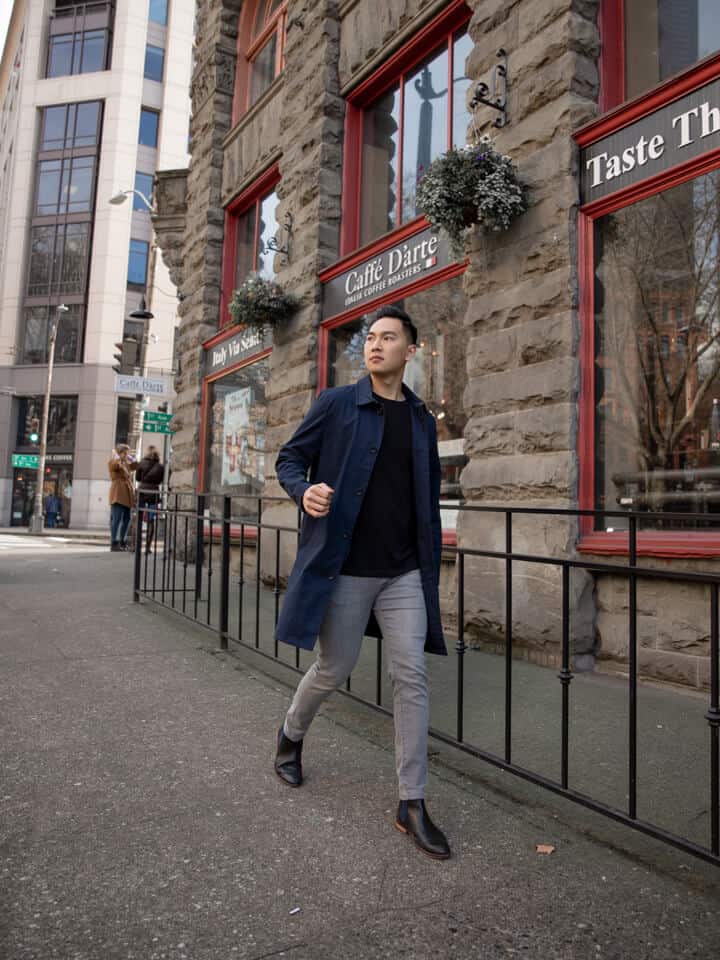 Overcoats and top coats are timeless, dapper, and keep you warm.
They're one of the most flattering and attractive things you can wear.
There are two types of overcoats, single-breasted and double-breasted. The latter is more formal.
When it comes to the length, an overcoat ends about mid-thigh.
The original overcoats would extend down to your ankles. Now, mid-length is the most popular.
Versatility is an excellent feature of the overcoat. You can wear it over a suit, chinos with a sweater, or jeans with a t-shirt.
The overcoat or top coat enhances your silhouette. You'll look more confident and attractive.
The following are the best overcoats and top coats.
Hart Schaffner Marx Sheffield Classic Fit Wool & Cashmere Overcoat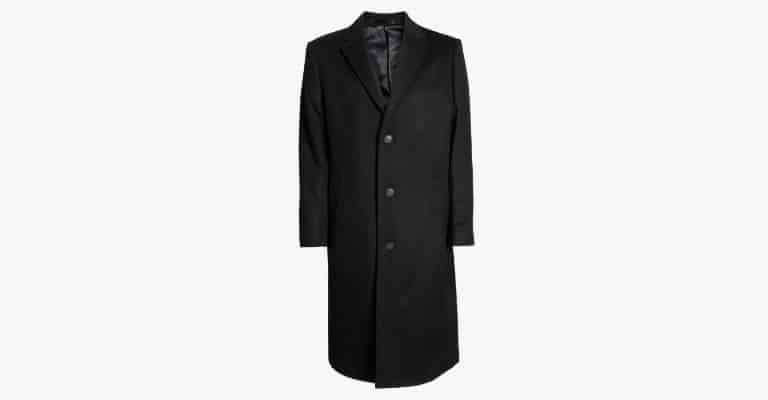 Cardinal of Canada Seth Wool Overcoat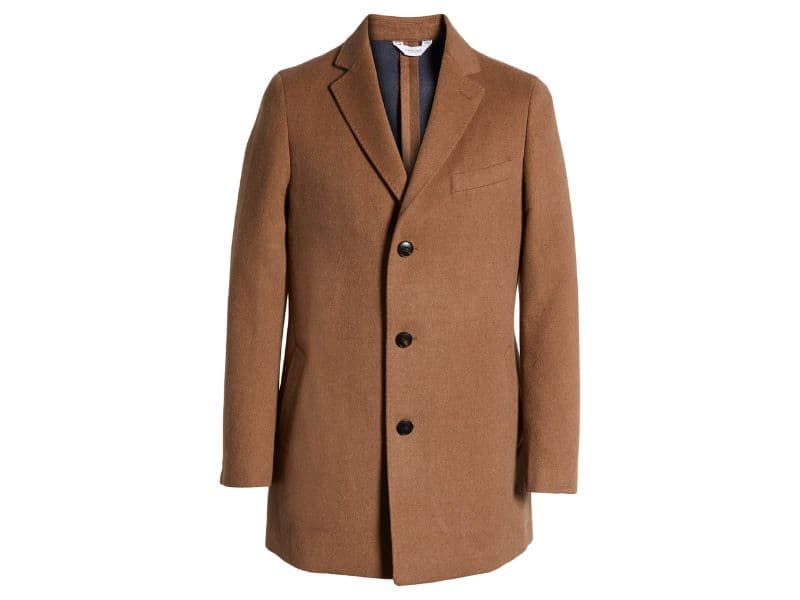 Utility jacket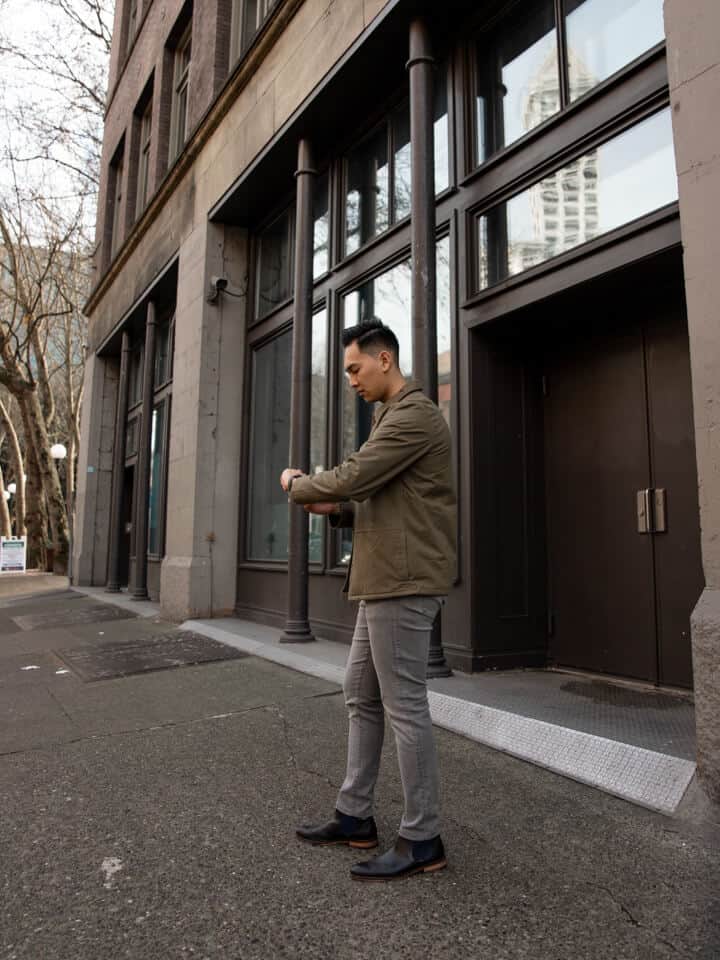 Utility jackets are also known as military or field jackets.
The style is essential because of versatility, as you can wear it in various settings.
If you want a jacket that can transition from the office to the outdoors, the utility jacket is it.
It's also ideal if you work in a manual labor job or enjoy spending time outdoors.
It can withstand tough conditions, making it a reliable jacket. You'll have warmth and protection from the elements.
Another benefit of the utility jacket is that it has ample storage. If you have many items you carry every day, it's perfect.
The following are the best utility and field jackets.
L.L.Bean Utility Jacket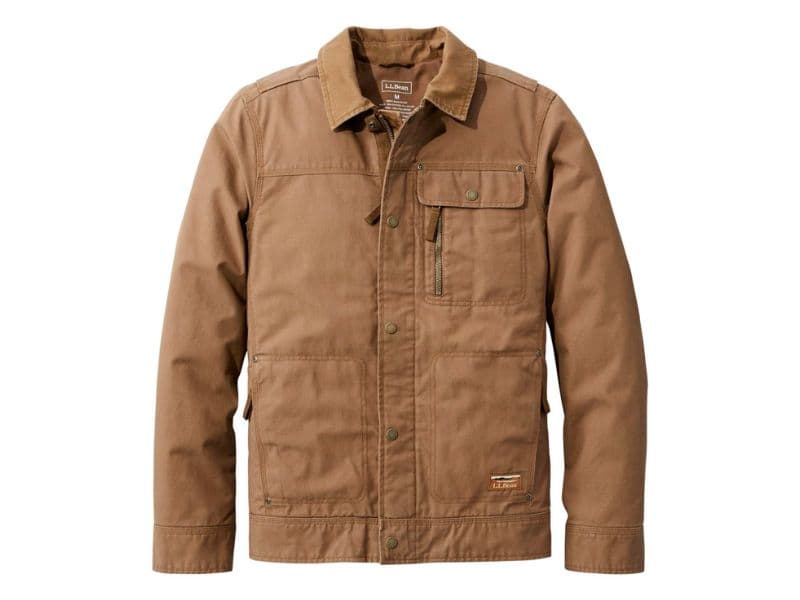 Barbour Sapper Regular Fit Weatherproof Waxed Cotton Jacket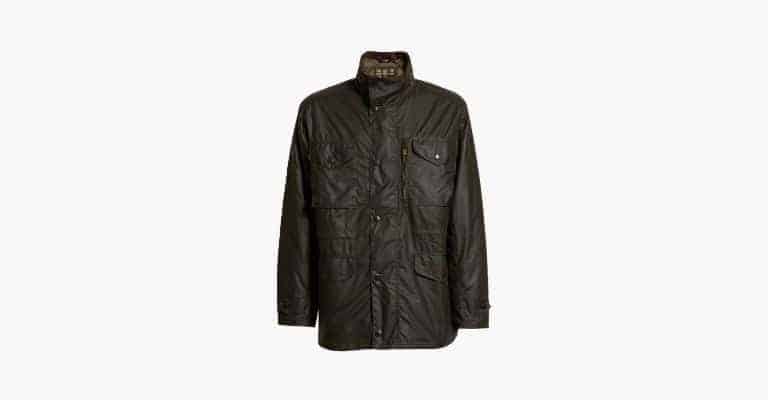 Rain jacket
Whether you live somewhere with a lot of rain or rarely, rain jackets are excellent to have in your wardrobe.
While the classic rubber jacket works well, there are many options.
You'll find rain jackets with or without hoods and various lengths. Some also pack down small enough to fit in a bag or pocket.
The following are the best and most stylish rain jackets.
Stutterheim Stockholm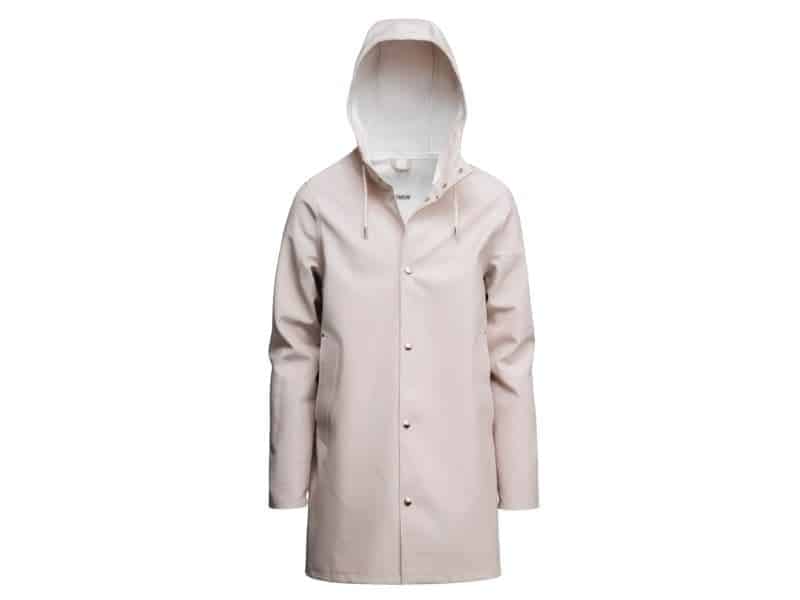 Polo Ralph Lauren Packable Water-Repellent Jacket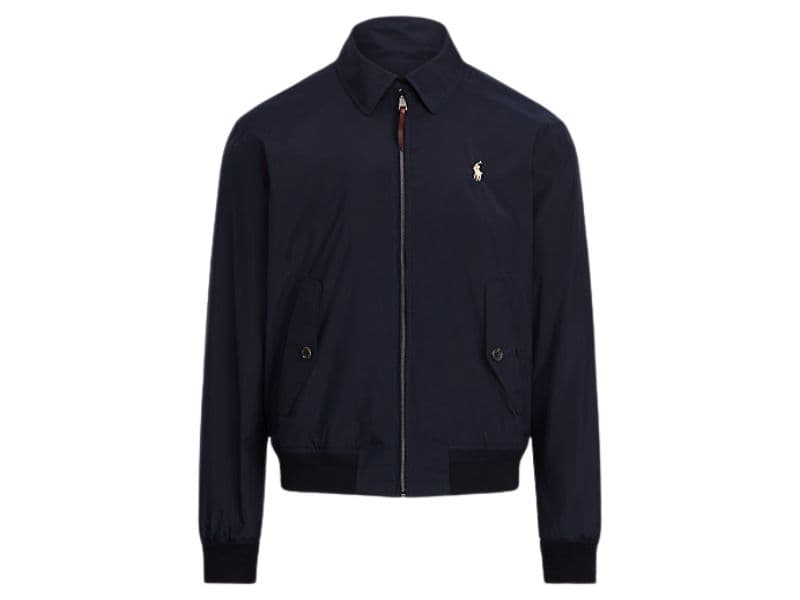 Rains Waterproof Hooded Long Rain Jacket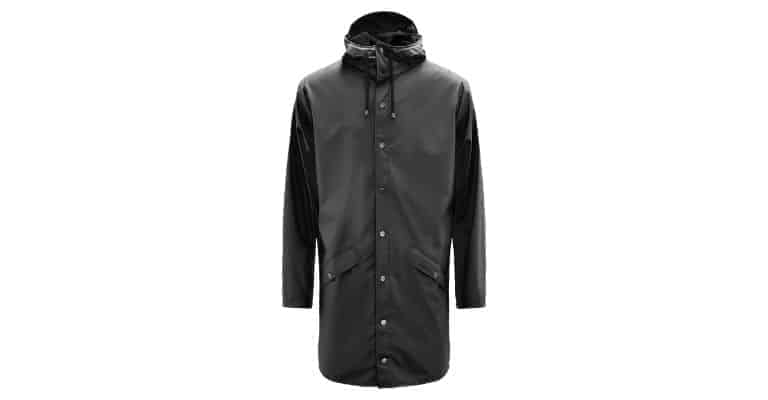 Suede jacket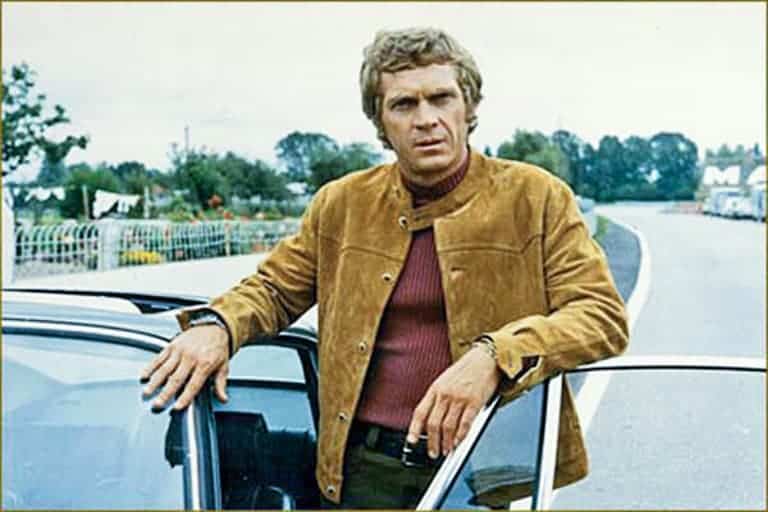 You have many options when it comes to the material of a jacket. Some are best for casual outfits, while others are more formal.
Regardless of your style, you need a suede jacket.
The soft and supple material looks incredible on most jacket styles. It also makes you stand out and exudes confidence.
Buck Mason Olive Canyon Suede Bomber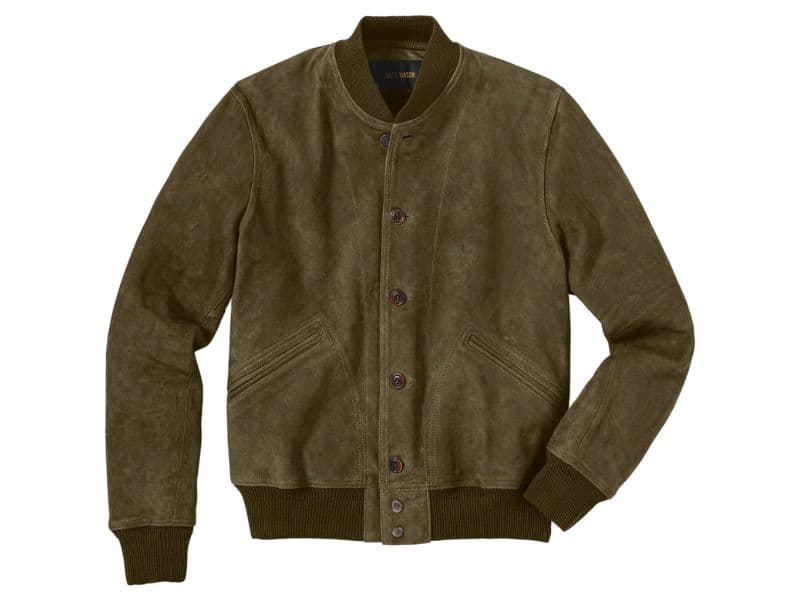 Corduroy jacket
Textures and patterns add interest to an outfit. Corduroy jackets are a staple in mens outerwear because of the texture.
The thick and durable fabric provides a rich appearance. It also gives you warmth and comfort when you wear one.
Corduroy jackets are available in many colors. The best are neutral colors because you can wear them with more outfits.
If you want to elevate your style game, get a corduroy jacket.
You can get them in styles, such as bomber, trucker, and sport coats.
The following are the best corduroy jackets. Add one to your wardrobe today.
Brixton Utopia Corduroy Jacket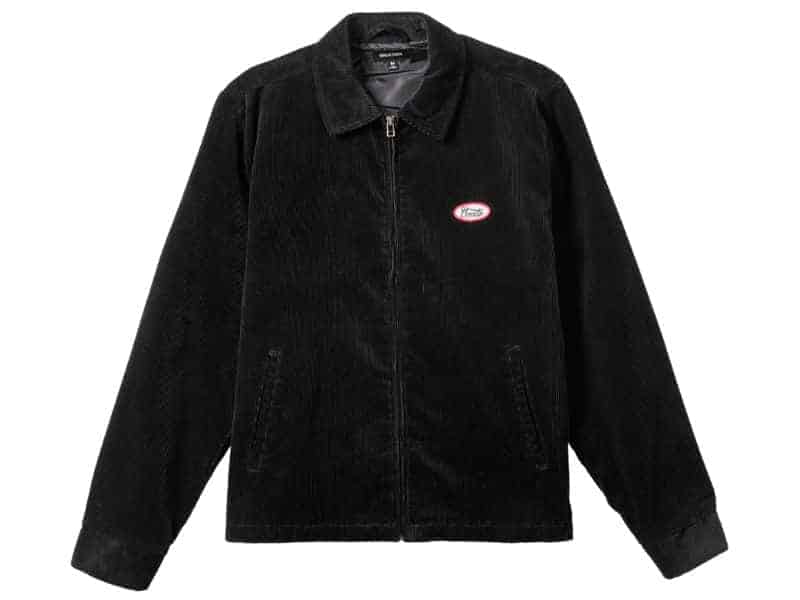 A.P.C. Gilles Corduroy Bomber Jacket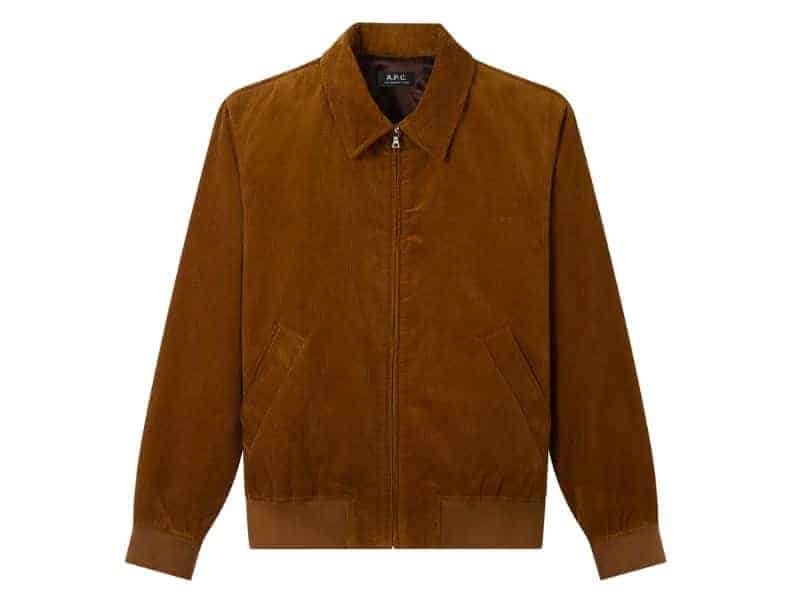 Puffer jacket
If you want to stay warm, get a puffer jacket. It's a staple in the winter.
It provides insulation, comfort, and protection from the wind.
Puffer jackets have down or synthetic filling in pockets to trap heat.
Aside from functionality, you can layer a puffer jacket over many outfits.
Due to the casual nature of the jacket, it's not one to wear with a suit. But, it's excellent for almost every other situation.
Whether you're going on a winter vacation or walking in the snow, puffer jackets are essential.
The following are excellent options.
Patagonia Packable Windproof & Water Resistant Goose Down Sweater Hooded Jacket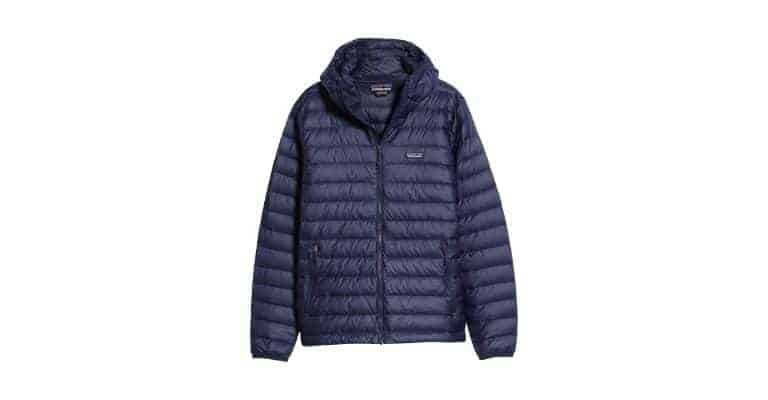 Outerknown Hooded Puffer
Shearling jacket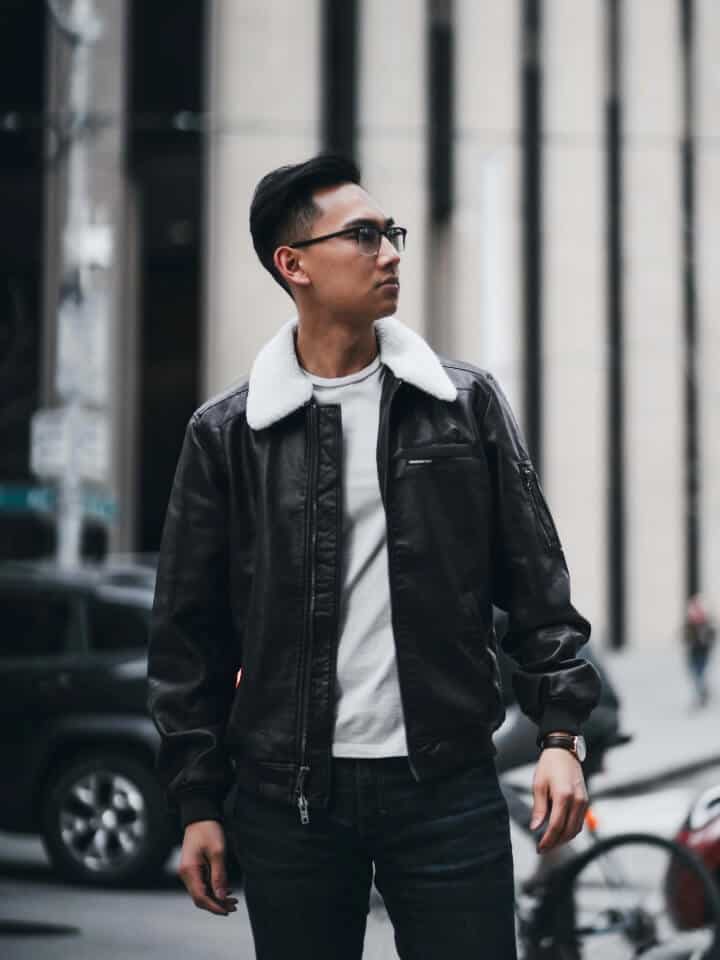 Shearling jackets are excellent. The fur neck and sides provide warmth and a luxurious look.
Also, the leather or suede exterior is tough and durable.
In cold weather, it provides warmth, but not at the expense of breathability.
You can wear a shearling jacket over jeans or dress it up with chinos and a sweater.
It's a versatile piece and a must-have. So, add one to your wardrobe.
The following are the best shearling jackets.
Schott NYC Vintage Buffalo Leather Trucker Jacket with Genuine Sheepskin Collar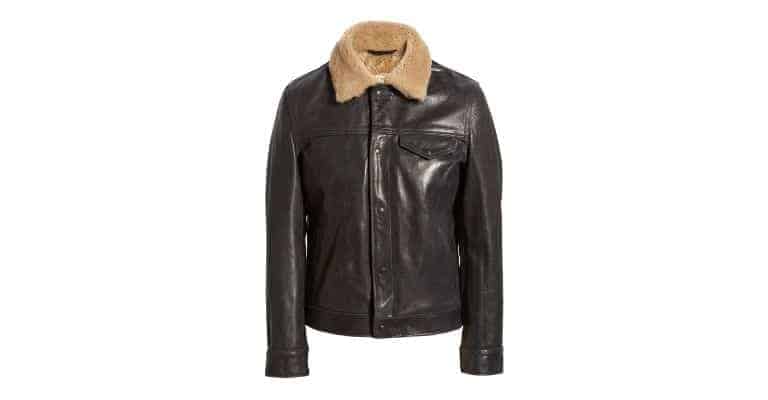 Calvin Klein Shearling B-3 Bomber Jacket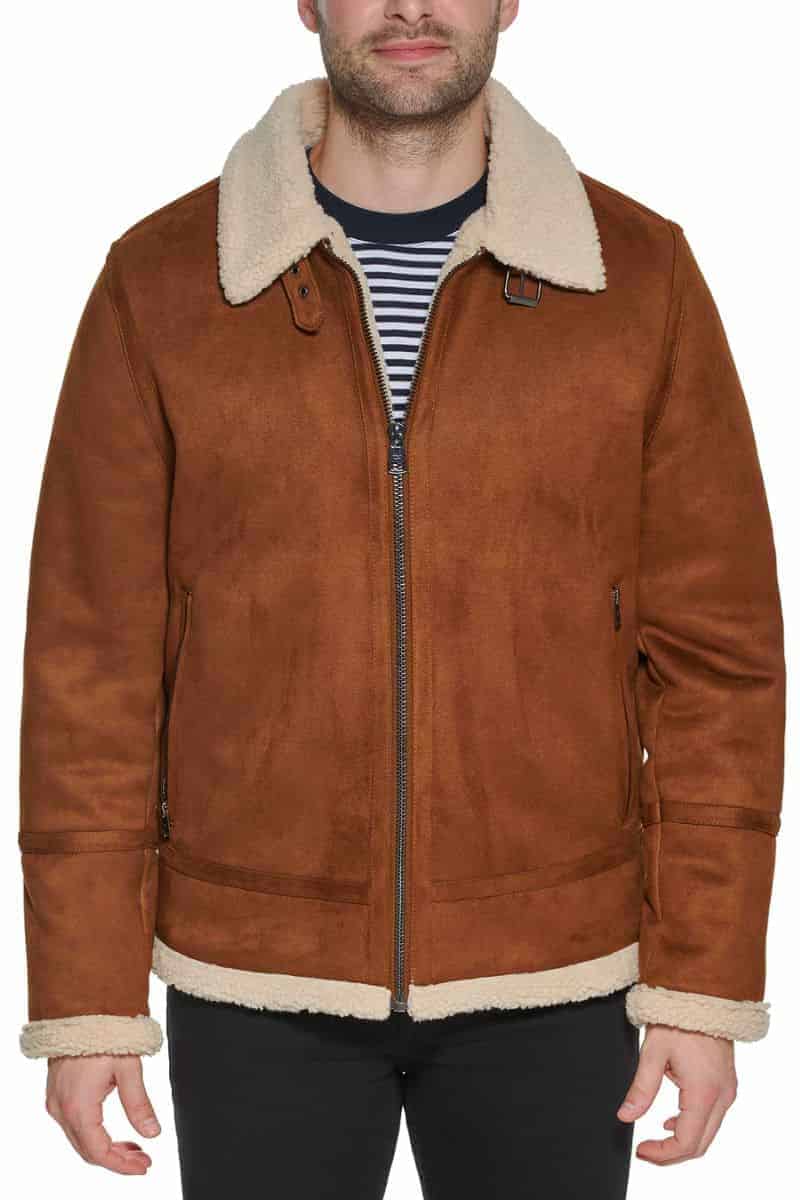 Conclusion
Regardless of where you live, outerwear is a wardrobe staple. There are many types of jackets.
Some are best for rain, while others are ideal for sunny but cold days.
Be sure to have a jacket for every season and weather condition.
Featured photo by Thirachet Lapjaturapit/Next Level Gents.
About David Em
Founder
David Em is the founder of Next Level Gents, the ultimate destination for tips and advice about style, grooming, fitness, and success.