If you want to stay warm and protect your head and ears from the cold, hoodies are essential. Compare the best options to find one for you.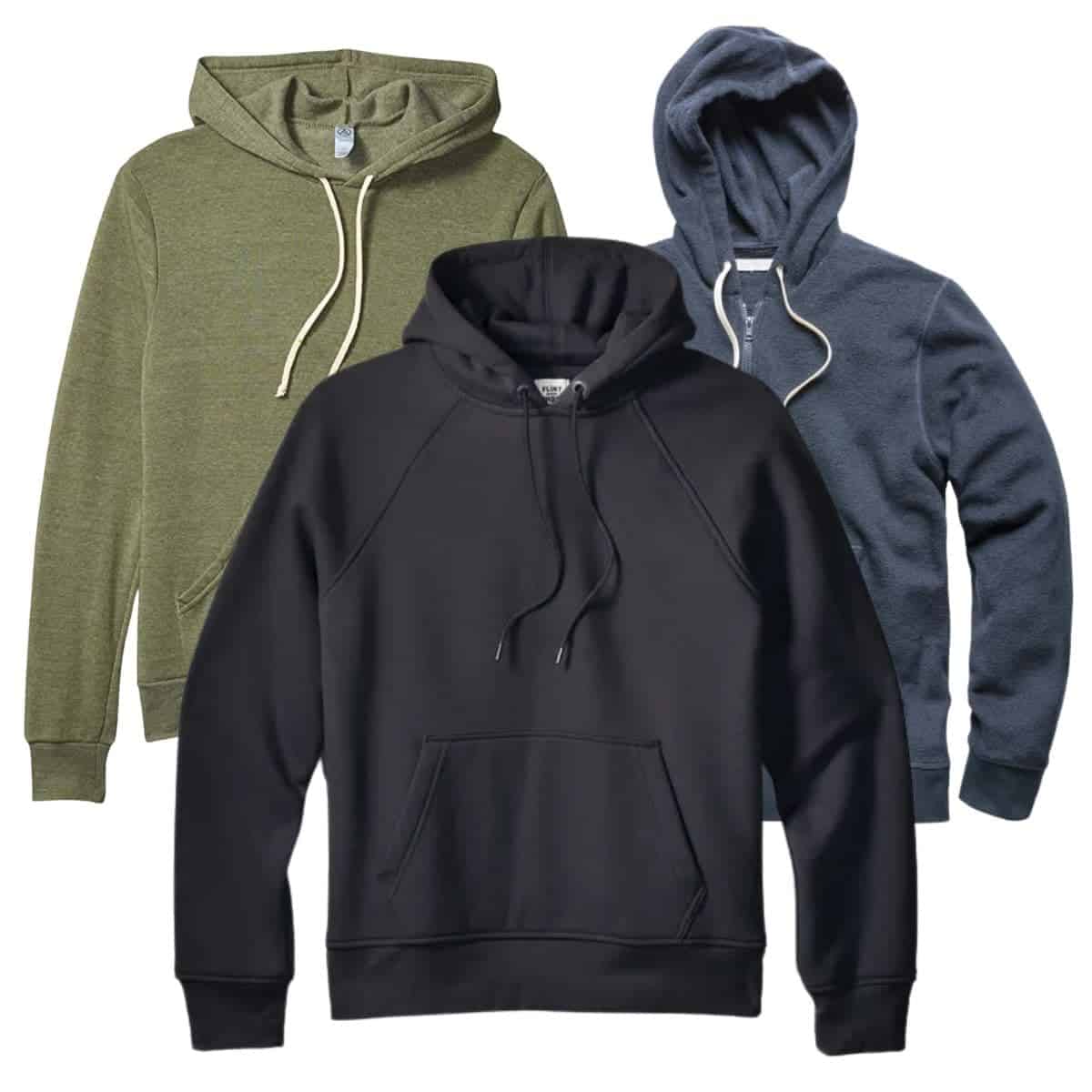 Whether you're hanging out at home, running errands, or going for a walk, hoodies are one of the best items to wear.
They're versatile because you can wear them with jeans or sweatpants.
Also, you can be on-trend and wear it under a casual blazer, jacket, or coat.
When you wear a hoodie, you can cover your head with the hood or wear a hat or beanie.
The humble hoodie is available in different colors, patterns, materials, and brands.
Some feature a pullover style, while others have a zipper.
If you're ready to pick up a hoodie, the following are the best options.
Related article: What's slow fashion?
Flint and Tinder 10-Year Pullover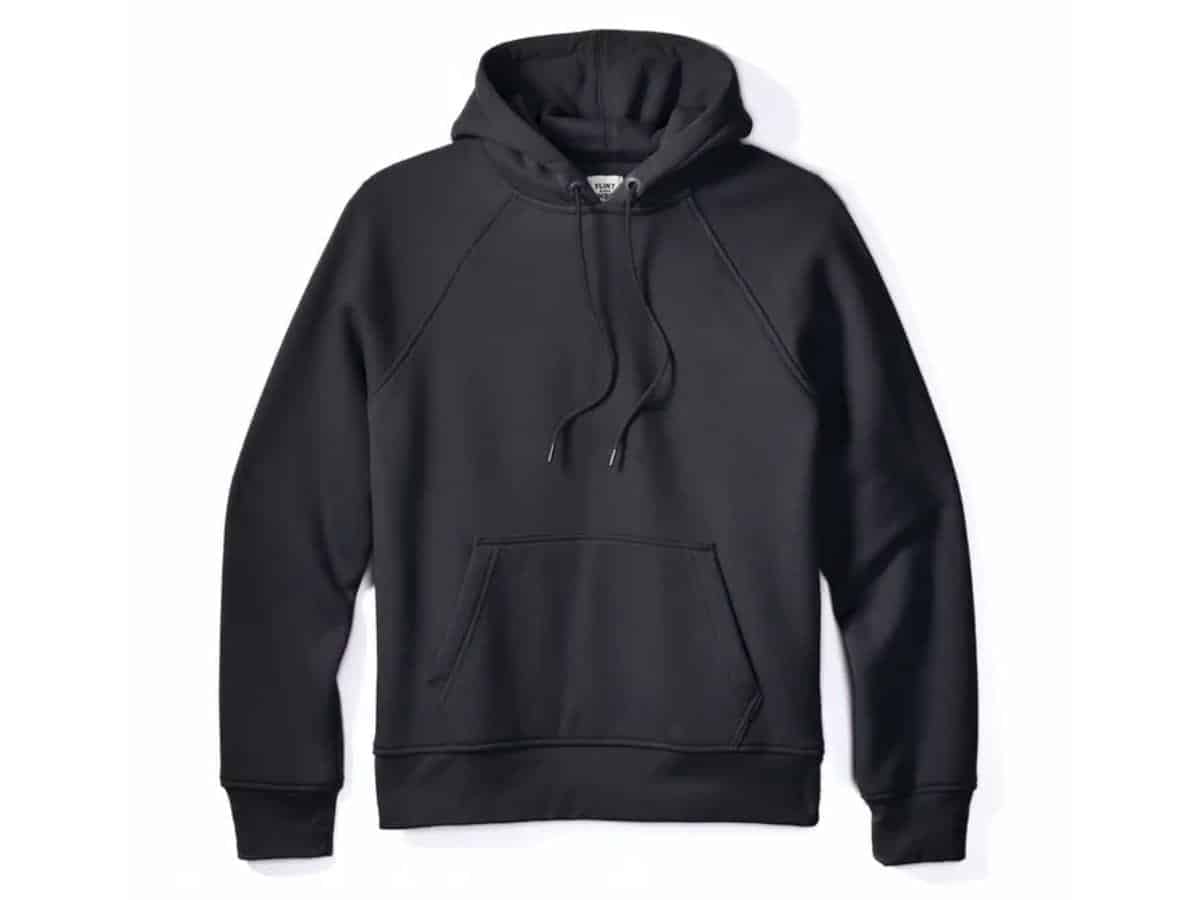 For the best overall hoodie, go with Flint and Tinder's 10-Year Pullover. It comes in various neutral colors, which are essential for a versatile wardrobe.
The 10-Year Pullover is a durable blend of cotton and polyester. It uses 23 -ounce extra soft fleece from South Carolina and has a double-lined hood to keep your head warm.
Most hoodies won't remain in good condition for a decade, but the Flint and Tinder hoodie will.
Within the next decade, Flint and Tinder will repair your hoodie if it rips, tears, or comes apart at the seams.
Olivers Porter Hoodie
Olivers offers a merino wool hoodie that's hard to beat. It's a high-quality choice with the finest fabric.
Wool repels water, wicks away moisture, is odor-resistant and regulates your temperature.
If you want an upscale hoodie that performs at the highest level, the Porter Hoodie is it. It has a tapered and comfortable fit.
The only drawback is that the hood feels oversized.
Other than that, the Porter Hoodie is one you'll fall in love with wearing.
John Elliott Beach Hoodie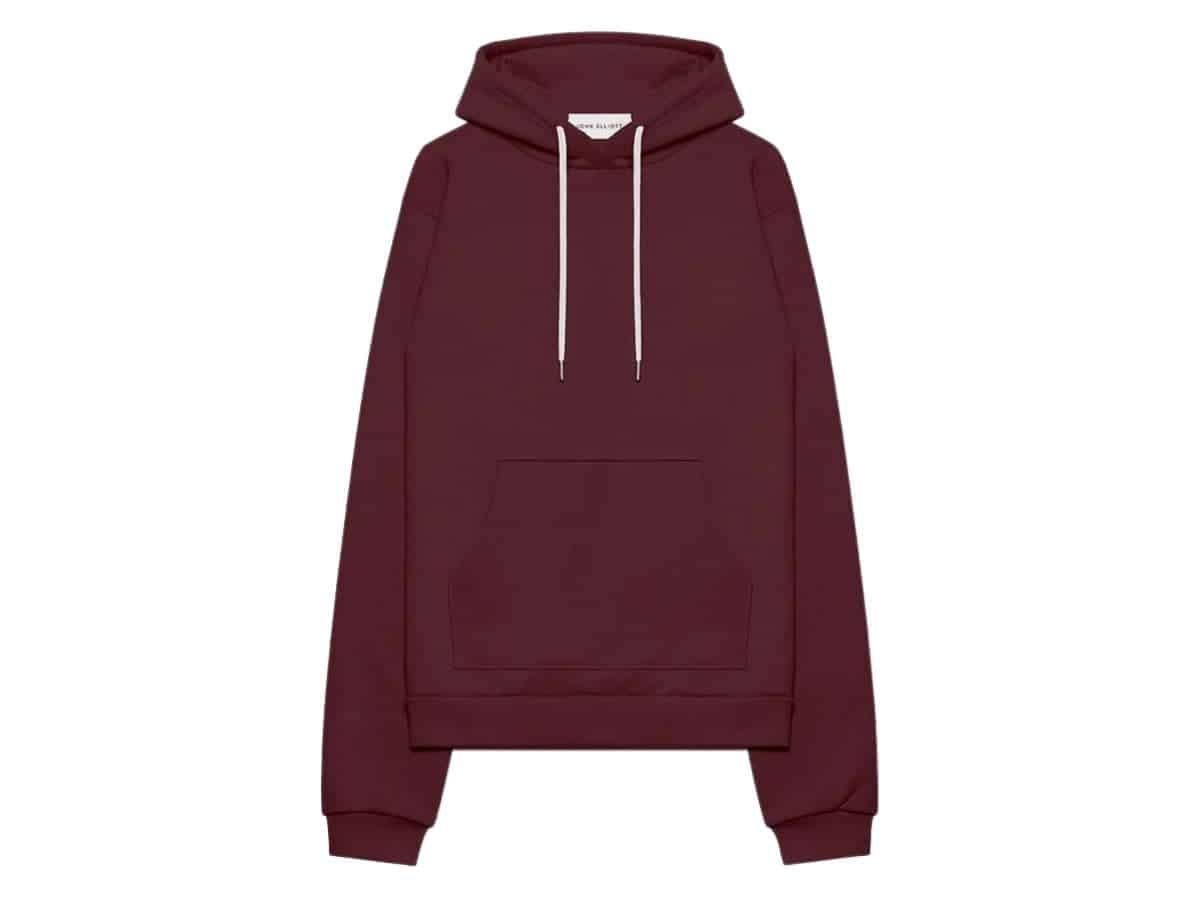 John Elliott's Beach Hoodie is a premium option that's 100% cotton and American-made.
It has a relaxed and dropped shoulder fit in a custom knit French terry, which is comfortable and excellent for absorbing moisture.
The Beach Hoodie has kangaroo pockets at the waist, a bright white drawstring at the hood, rib-knit waist, and cuffs.
It has a minimal and classic look and plenty of colors to pick from.
Reigning Champ Midweight Terry Pullover Hoodie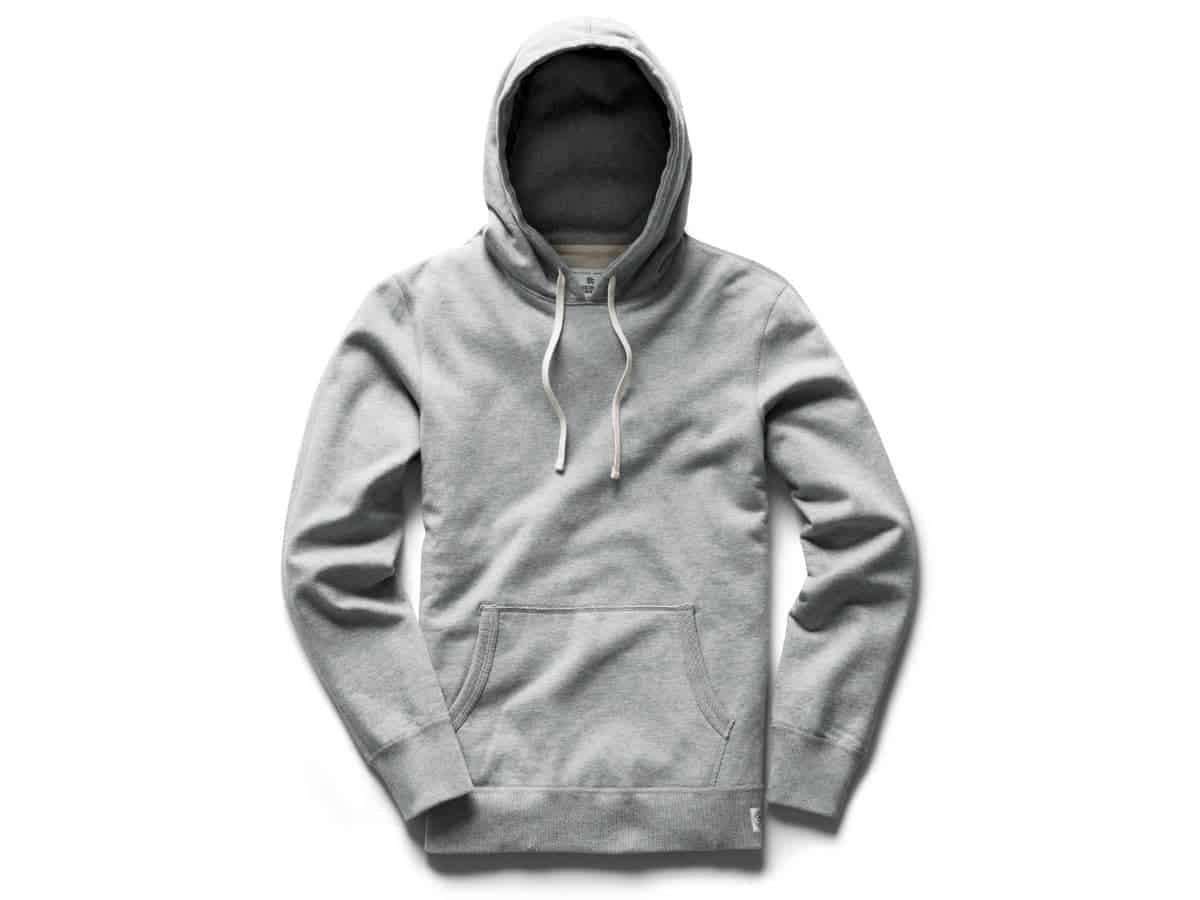 Reigning Champ's signature Canadian-made pullover hoodie is well-constructed and will last many years.
It's midweight Terry, has low abrasion flat-locked seams, and offers a snug fit. If you plan to wear layers underneath, choose one size up.
Being midweight, it's perfect for a chilly day. The hoodie is soft and warm while not being too thick.
It looks excellent with anything from a simple pair of jeans to streetwear.
Relwen Superfleece Hoodie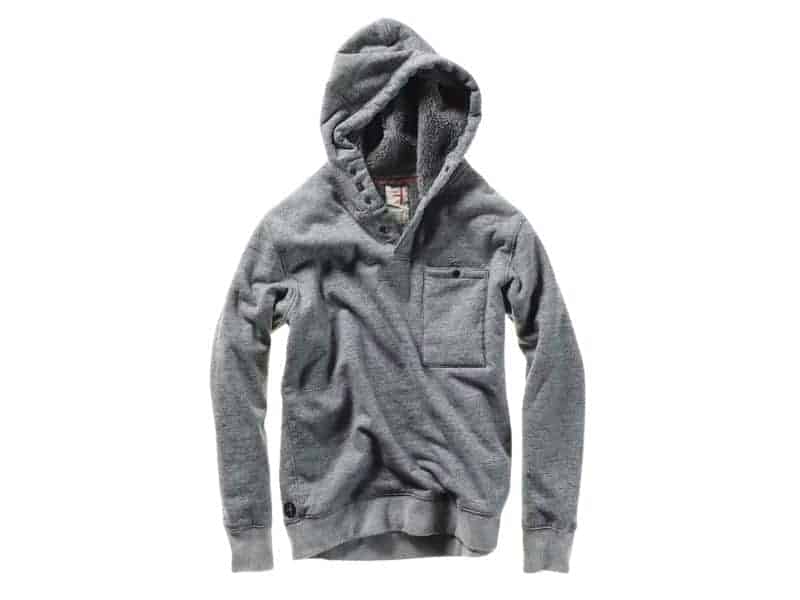 The Superfleece Hoodie from Relwen is the perfect match for cold and windy days.
It has a cotton jersey exterior and polyester interior for warmth and softness.
Instead of being a pullover or full-zip, Relwen gave the hoodie a snap-button.
So, you can button it up when it's cold and unbutton it for airflow.
The hoodie has an athletic fit, not too tight or boxy. Its warmth, durability, and functionality make it a must-have.
Ten Thousand Midweight Tech Hoodie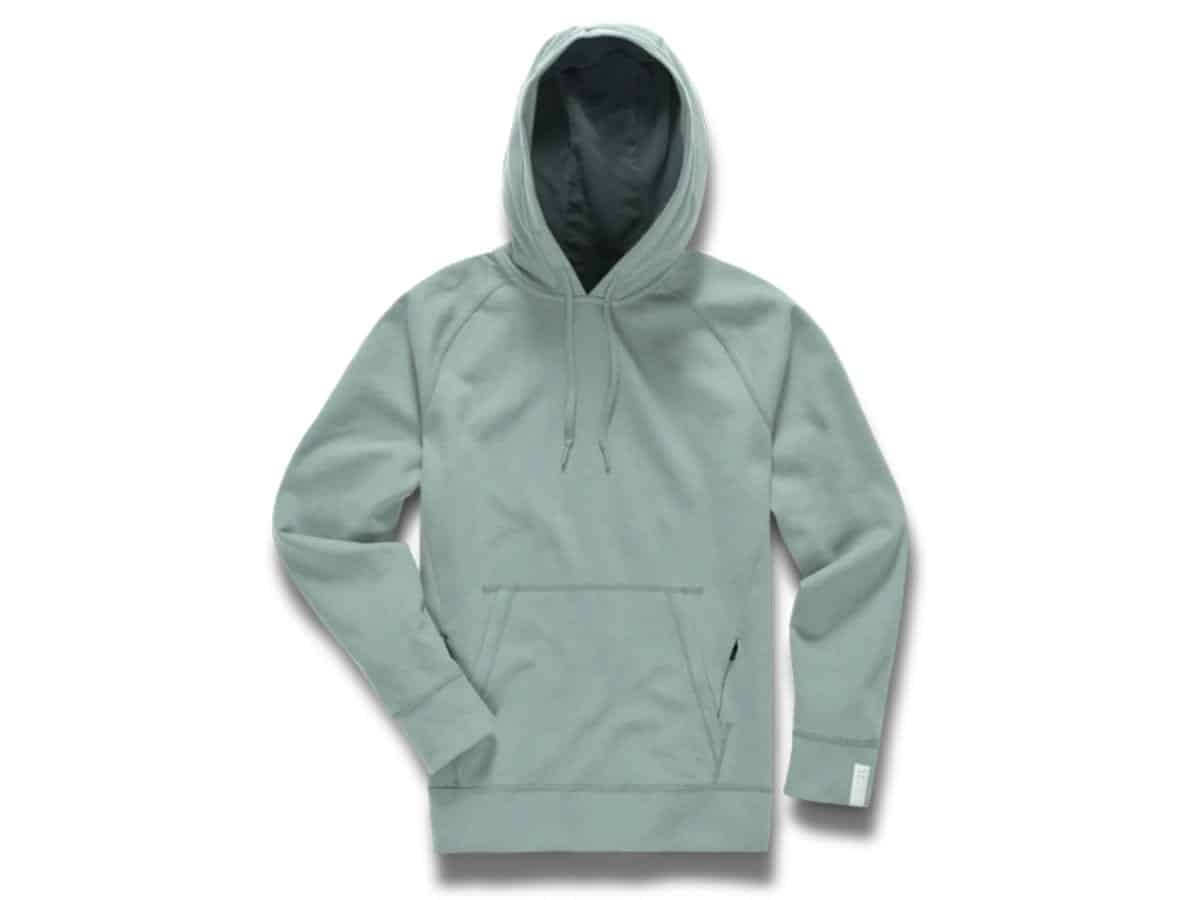 Ten Thousand's Midweight Tech Hoodie is designed for performance and is known as the go-anywhere, do-anything hoodie.
It's a blend of cotton, polyester, and spandex, which work together to provide 4-way stretch.
The Midweight Tech Hoodie is comfortable, offers excellent mobility, and wicks away moisture.
It also has permanent silver ion anti-odor treatment, which prevents it from getting smelly.
You can wear it to the gym, wash it, and wear it out without worrying about the scent.
Champion Reverse Weave Hoodie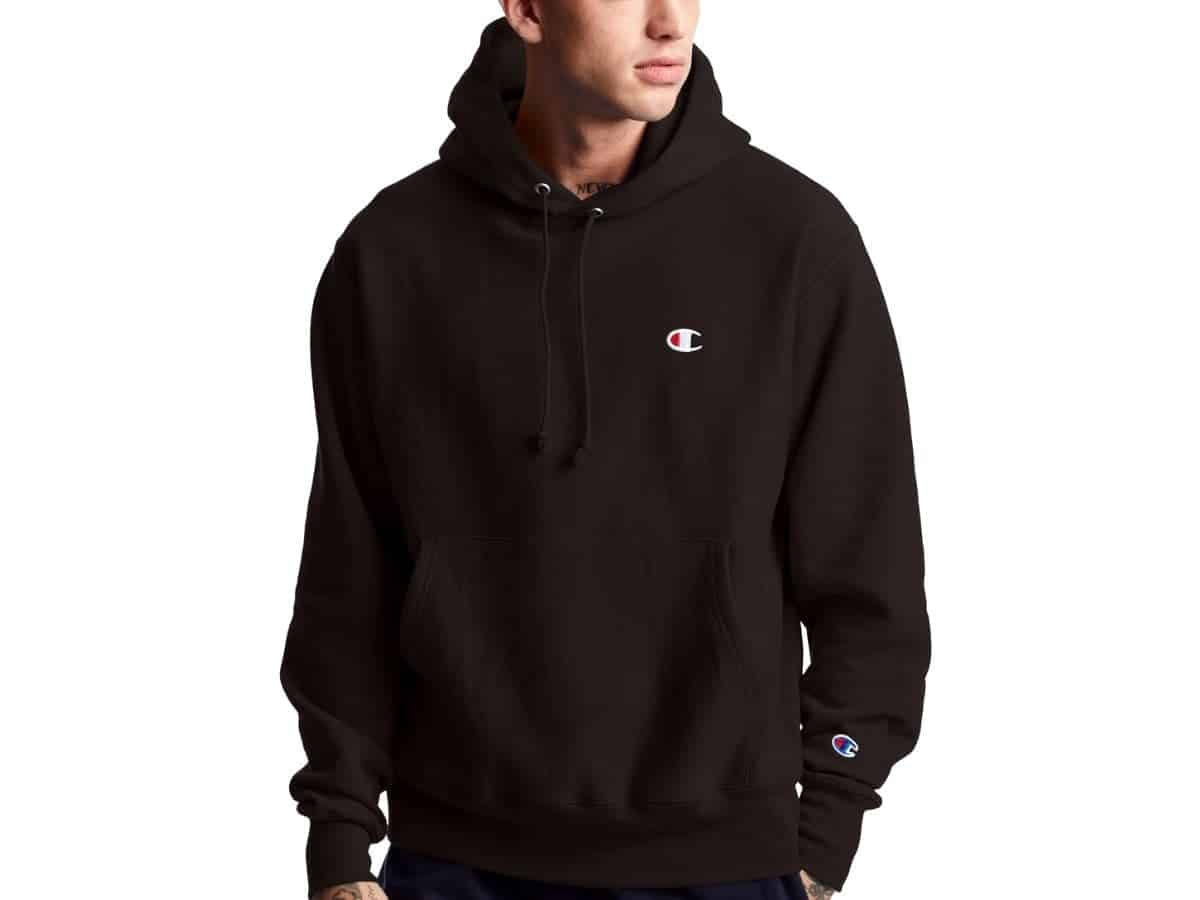 Champion invented the hoodie in the 1930s and has been one of the best hoodie brands since then. So, why not go with the original?
The Reverse Weave Hoodie offers Champion's classic look. It's a heavyweight fleece hoodie that's excellent for cold weather.
Another reason to get the Champion hoodie is that the patented reverse weave keeps its shape and size.
It resists shrinking, which means you can wash it with peace of mind.
Todd Snyder + Champion Midweight Full Zip Hoodie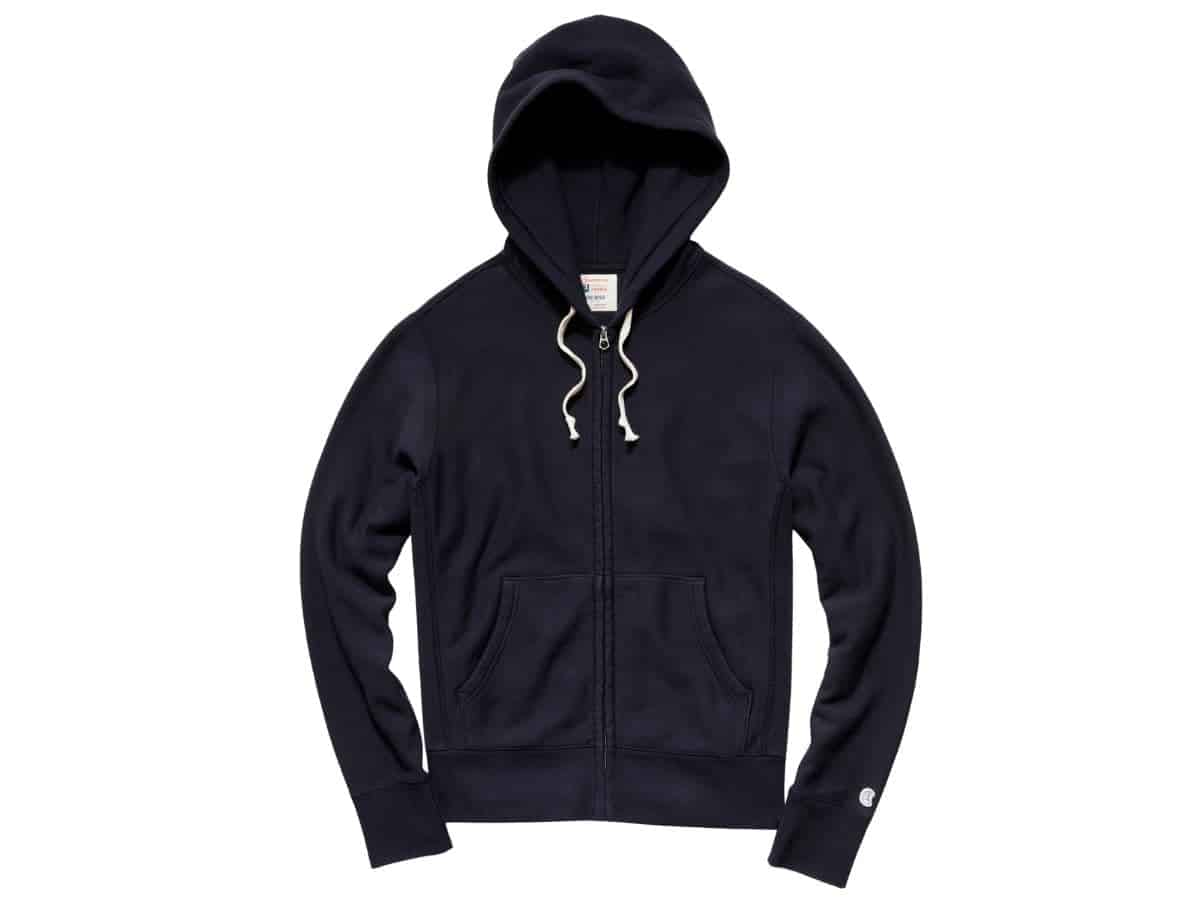 Todd Snyder is known for well-crafted and good-looking menswear. When you combine that with Champion's legacy, you get the top-notch Midweight Full-Zip Hoodie.
The zipper matches the color of the hoodie, which ensures it looks streamlined and doesn't stand out.
The garment-dyed 18-ounce French Terry is comfortable, absorbs moisture, and it's 100% cotton.
You can choose between light grey, black, or navy. All three colors look incredible and pair well with your favorite casual outfit.
Hanes EcoSmart Pullover Hoodie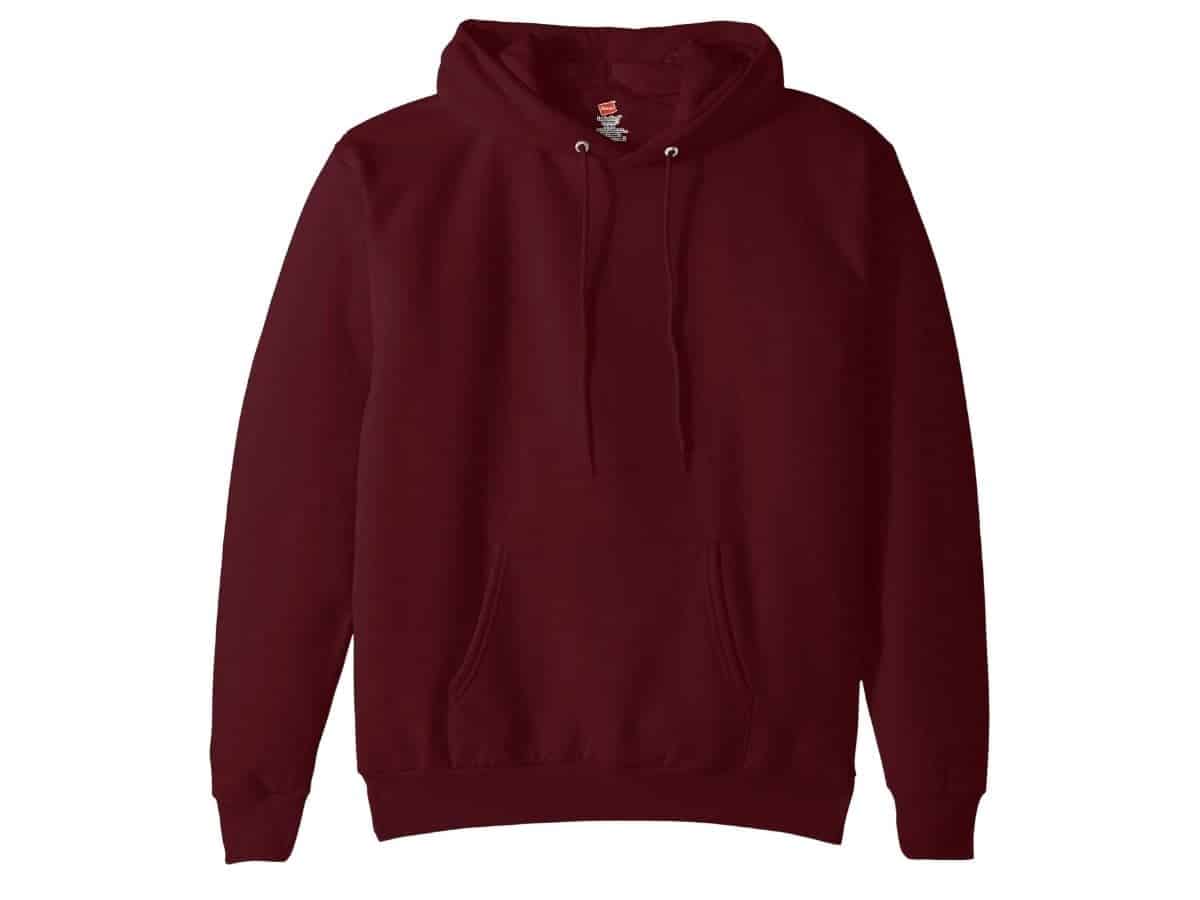 When it comes to value, Hanes offers an all-around great hoodie for less than $30.
Aside from being the best budget pick, some of the polyester material is from recycled plastic bottles. It's a fifty-fifty blend with cotton and polyester.
It's a midweight, soft, and durable fleece hoodie that's also pill-resistant. You can wear and wash it many times, and it'll keep its texture.
Hanes also offers the hoodie in 29 colors. If you're looking for a way to stay warm and comfortable without spending much money, this is it.
Alternative Apparel Challenger Eco Pullover Hoodie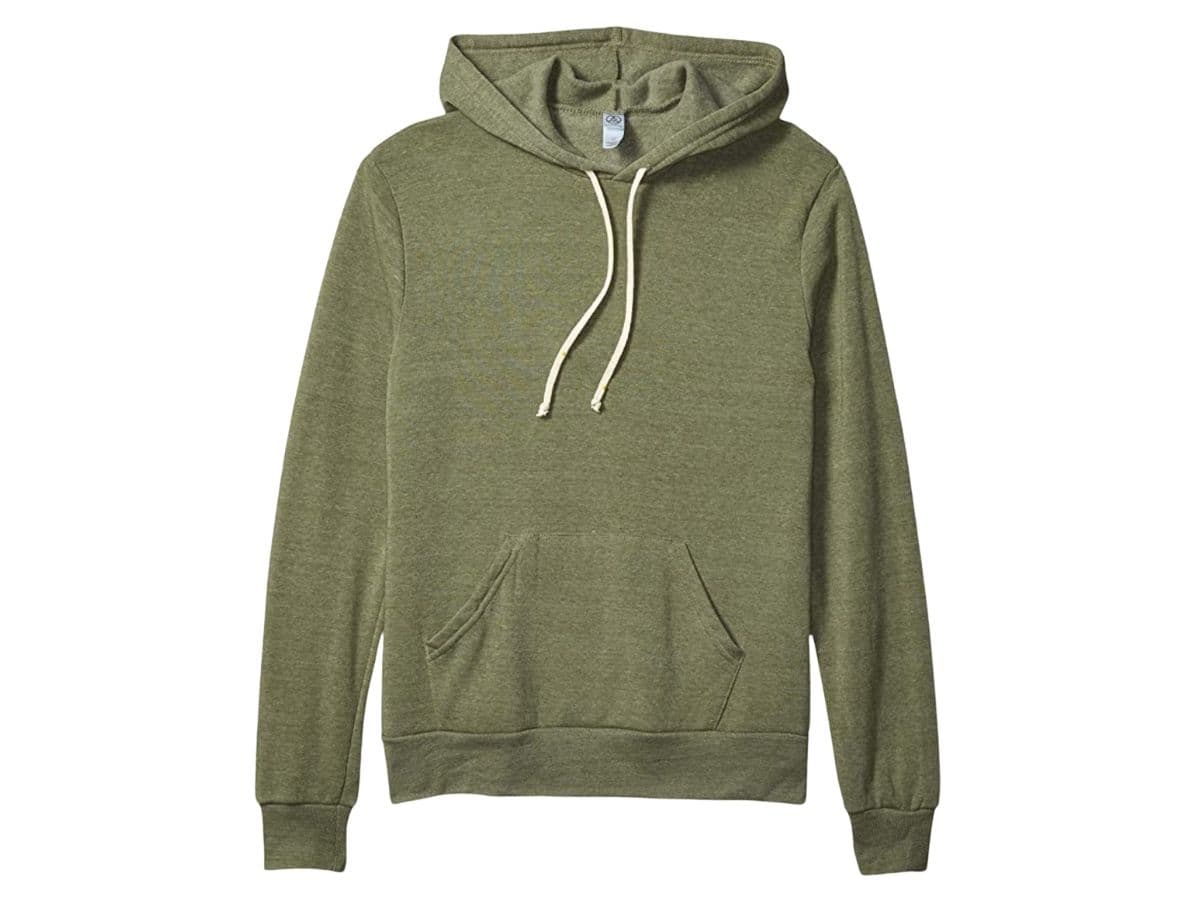 If you love eco-friendly clothing, Alternative Apparel offers the top-rated Challenger Eco Pullover Hoodie.
It's made from organic and recycled materials that you'll feel good about wearing.
The Alternative Apparel hoodie is also around $30, which makes it a budget-friendly option. While the army green color is nice, you can choose between 12 other colors.
The blend of cotton, polyester, and rayon makes it a soft fleece hoodie that isn't too warm or cool.
Don't expect it to last as long as other hoodies made with higher quality, but it's a great budget pick.
Everlane The French Terry Hoodie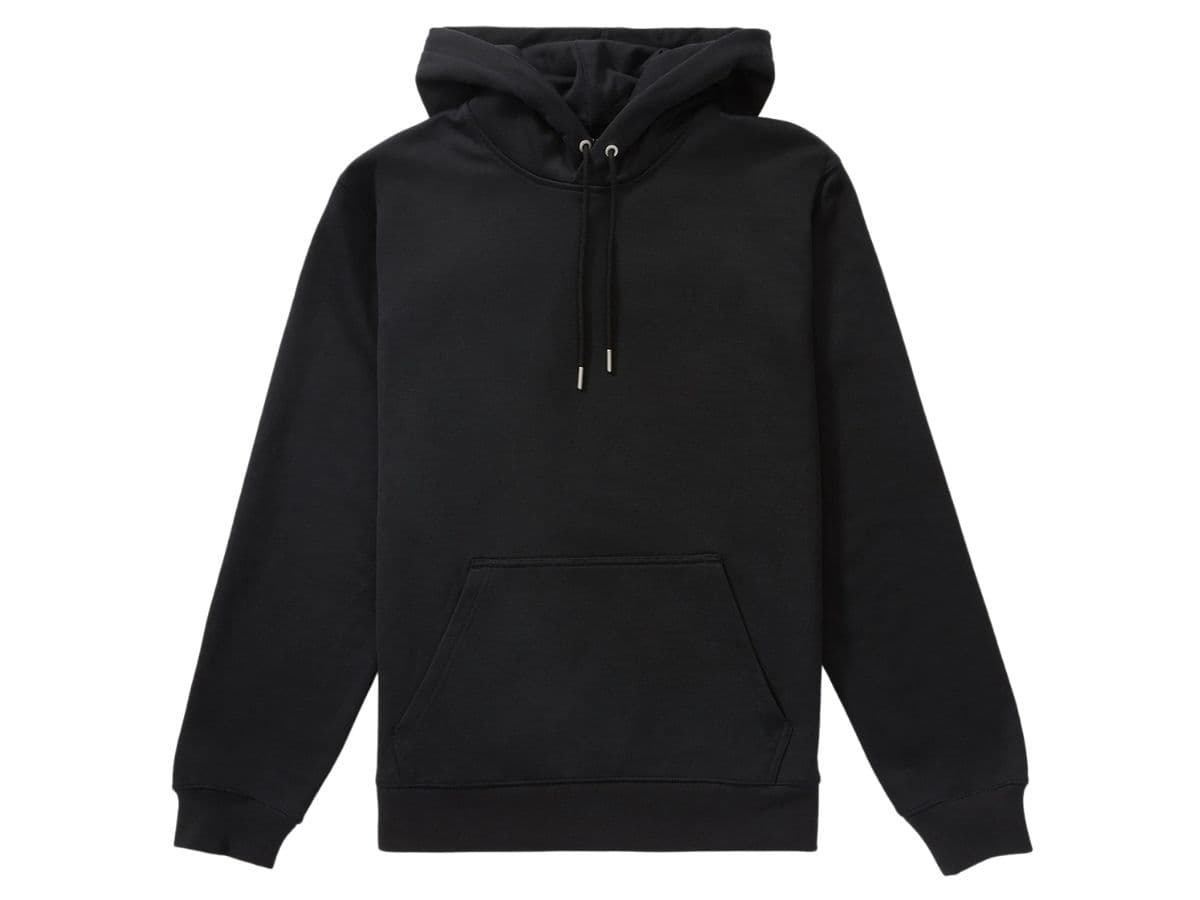 Everlane is well-known for offering high-quality clothes without a massive mark-up. The French Terry Hoodie is an excellent example, and it's backed by a 365-day guarantee.
The French Terry is 100% cotton and tightly spun, which ensures durability. It'll also last many wears and washes without fading or shrinking.
Everlane's hoodie is comfortable and will easily become one of your favorite things to wear. It's a must-have and versatile item.
prAna Cardiff Fleece Full Zip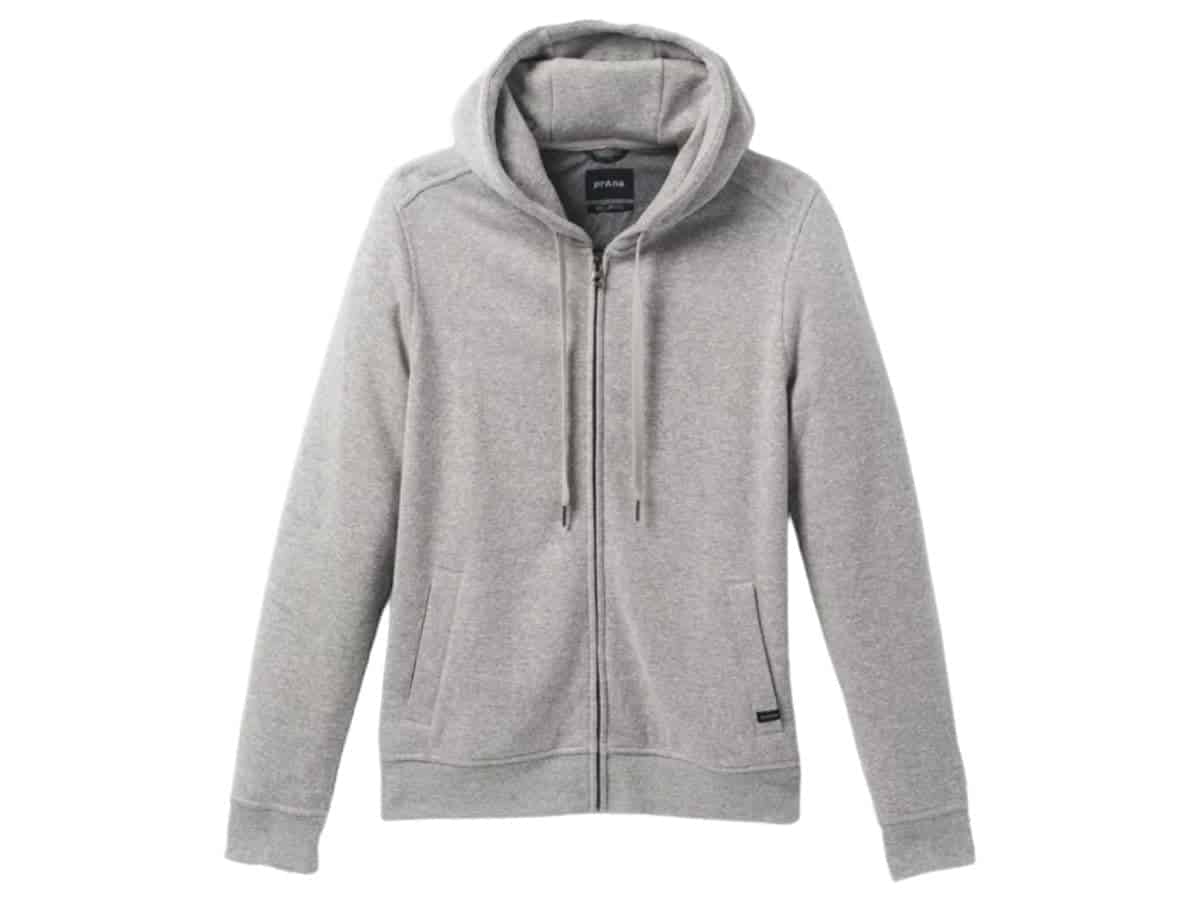 The prAna Cardiff is one of the best full-zip hoodies you'll come across. Unlike other options, it doesn't contain cotton. Instead, prAna uses a blend of hemp, recycled polyester, and lyocell.
It's a sustainable hoodie that's soft and breathable while offering optimal warmth. When it's cold, put on the double-layered hood, and you'll be ready to take on the day.
The Cardiff hoodie is also strong and durable. It fights against odor and has UPF 50+ for sun protection. Overall, it's an excellent spring and fall hoodie.
Buck Mason Brushed Loopback Hooded Sweatshirt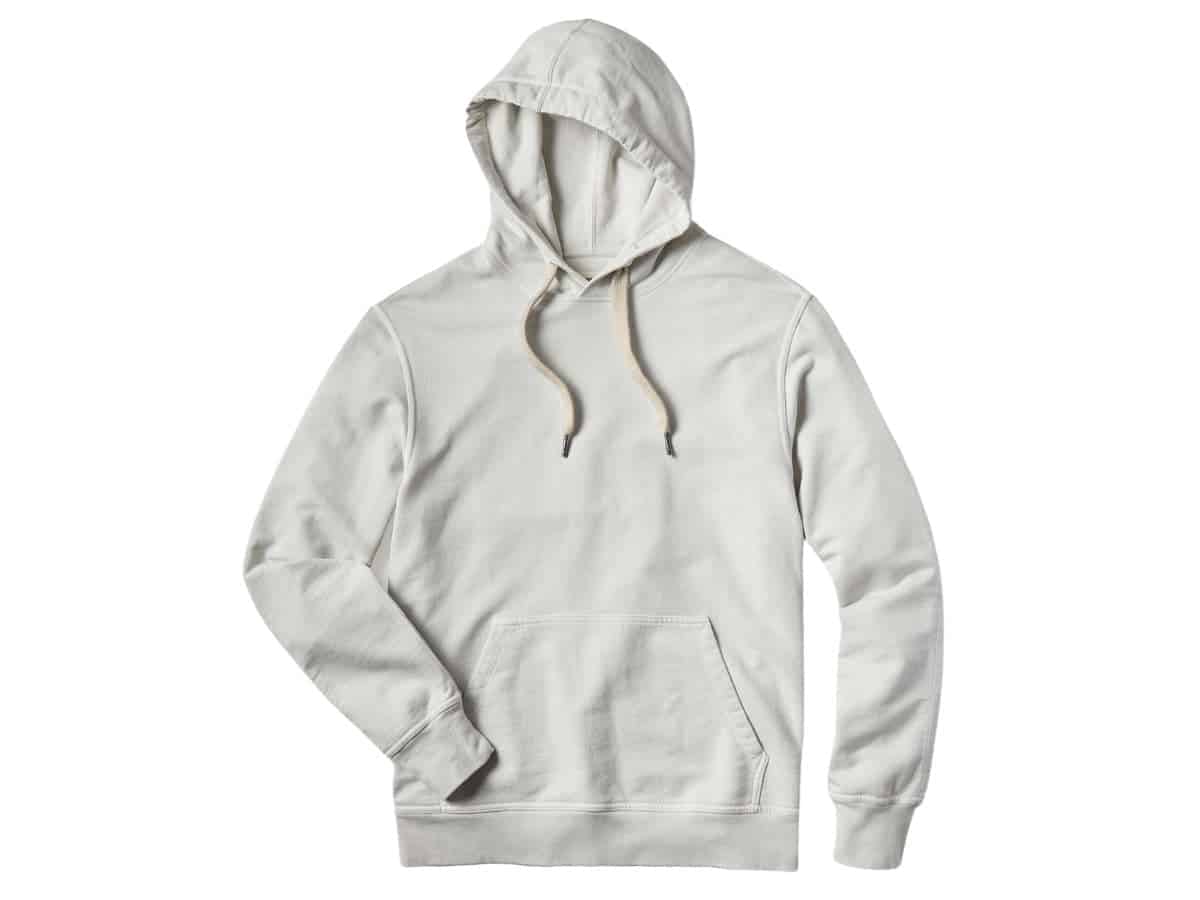 Buck Mason's Brushed Loopback Hoodie is slim, comfortable, and a high-quality option. All 7 of the colors look incredible and are stylish.
The hoodie is brushed French Terry and 100% cotton. It'll keep you warm in harsh weather, and the durable construction ensures it lasts.
One of the best features is the reinforced elbow patches. If you're an active person, the Buck Mason hoodie is excellent because it'll allow you to move around without being restrictive or wearing out.
State Cashmere The Full Zipper Hoodie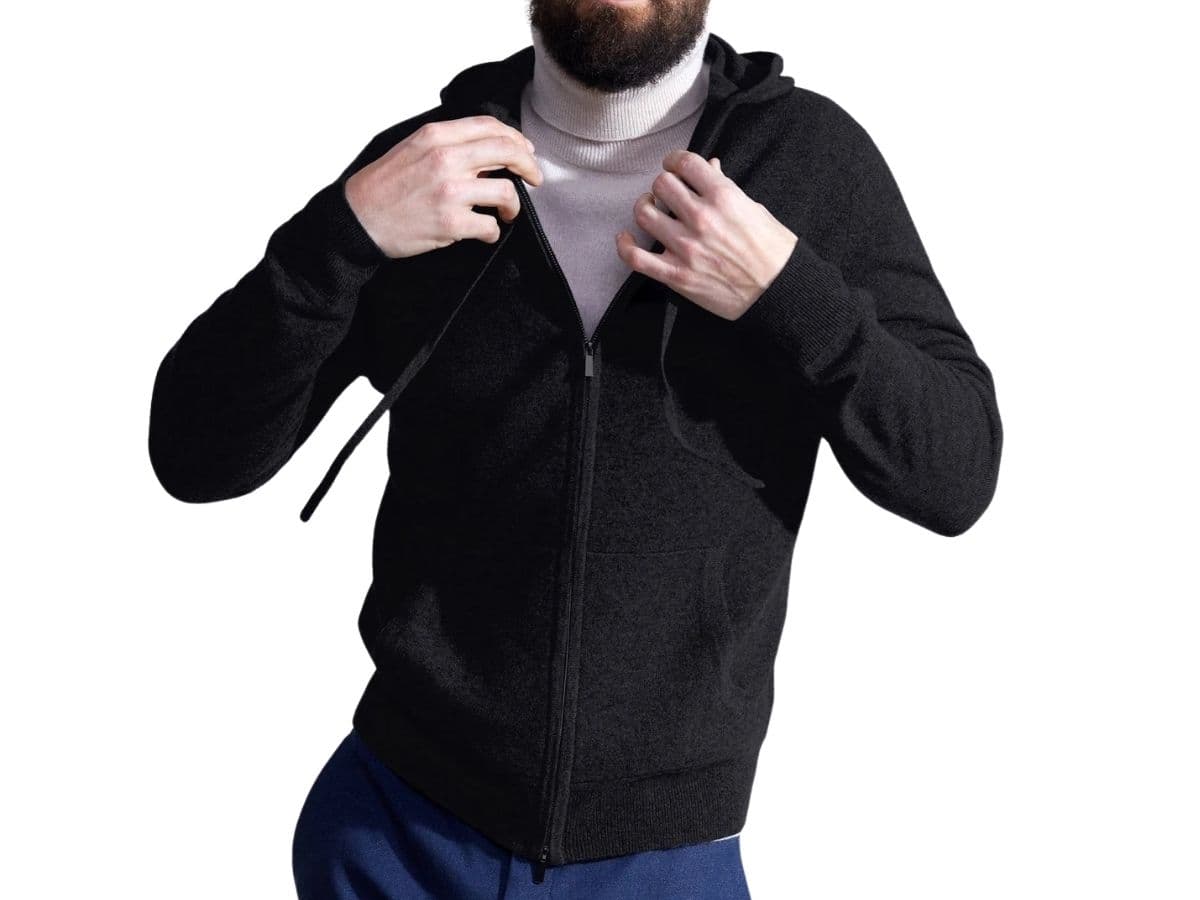 Cashmere can remain in top-notch quality for decades and even centuries, especially with good care. If you want a cashmere hoodie, the State Cashmere Full Zipper Hoodie is an excellent choice.
State Cashmere offers the hoodie that's 100% Inner Mongolian Cashmere for less than $200.
While it doesn't have the designer finish, you get good quality for the price. They also offer free repairs if anything happens to it.
It's soft and comfortable to wear. Pair it with your favorite jeans or chinos, and you'll look stylish in cashmere.
Filson Prospector Hoodie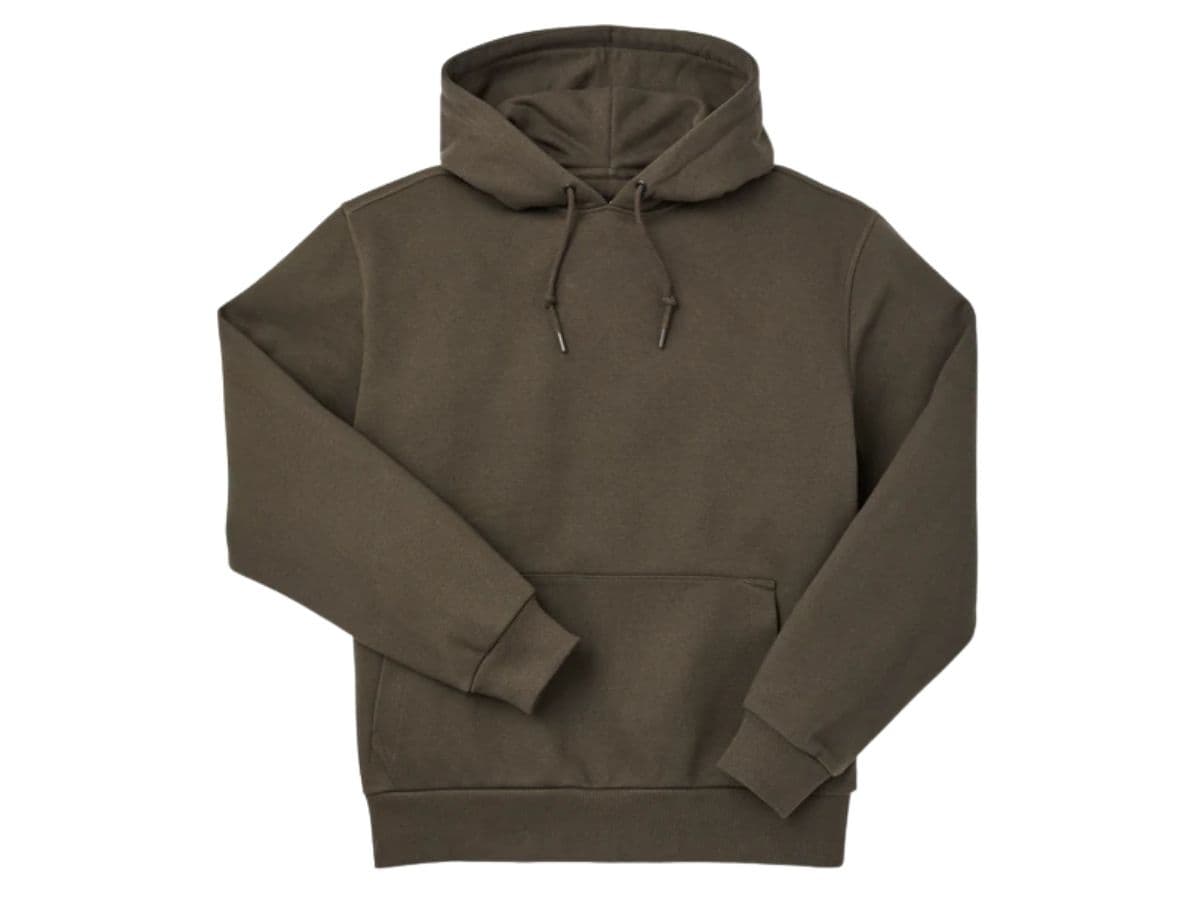 Filson is a Seattle-based company known for its premium outdoor clothing. The Prospector Hoodie is a durable and well-constructed piece.
It's a thick 13-ounce cotton-blend fleece that'll keep you warm while you're running errands or working.
It also has a smooth exterior surface that's resistant to pilling and shrinking.
If you're looking for a hoodie to wear during fall and winter, the Prospector Hoodie should be at the top of your list.
Outerknown Hightide Half Zip Hoodie
If you love pull-over hoodies and the adjustability of a zipper, Outerknown's Hightide Half Zip Hoodie combines the best of both worlds.
The zipper goes down to the bottom of your chest, which offers great flexibility. It's also a sustainable hoodie, as it's 54% organic cotton and 46% recycled polyester.
Being cut from terry toweling, it's soft and plush. The material is unique, and it's a hoodie that you'll never want to take off.
Nike Sportswear Tech Fleece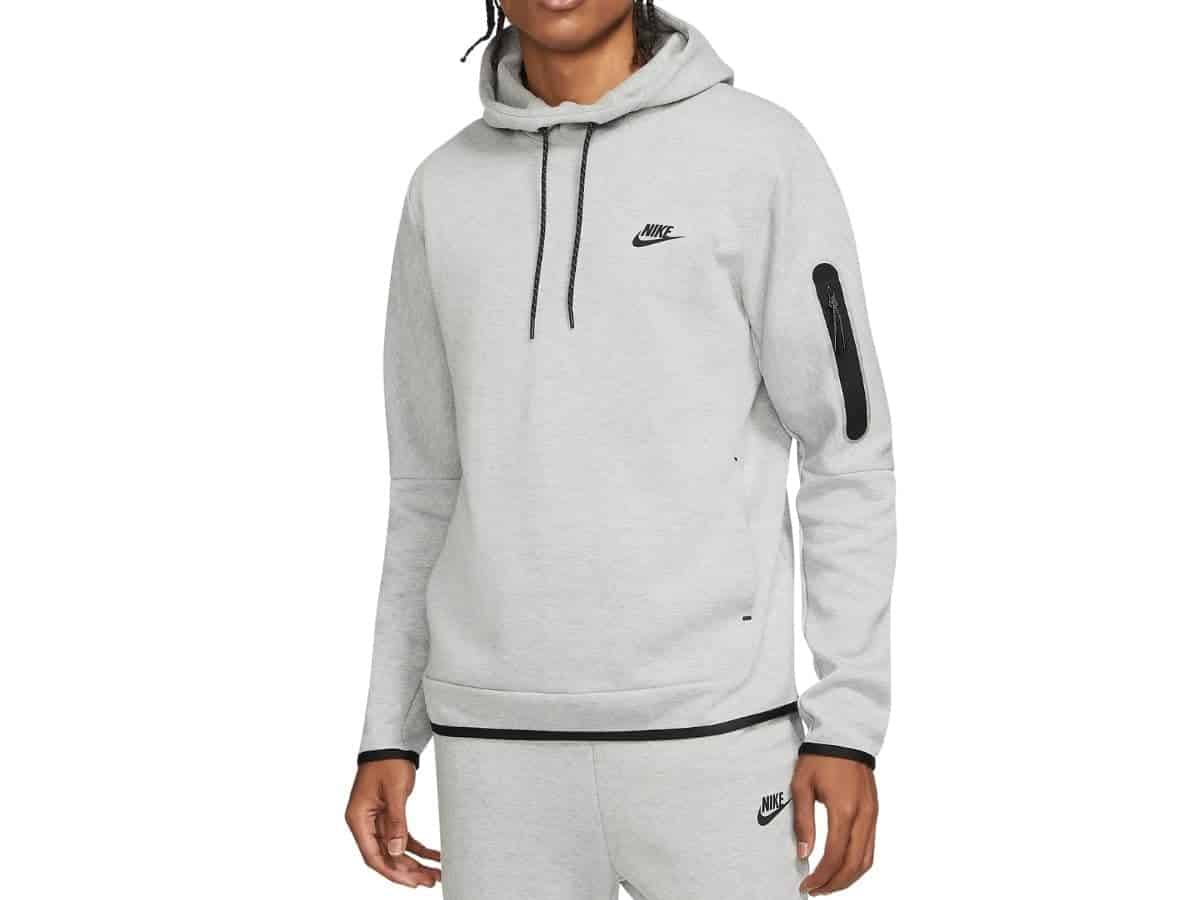 Nike's Sportswear Tech Fleece is a sleek hoodie that's perfect for the gym or anytime you wear athleisure.
It's a blend of cotton and polyester, which offers a comfortable and warm feel.
If it's windy, the Sportswear Tech Fleece is excellent because it goes up a bit higher on your neck than most hoodies.
The drawstring closure also keeps you comfortable in colder weather.
Lululemon City Sweat Zip Hoodie French Terry
If you want a hoodie that's well-crafted, looks stylish, and can handle being on the go, Lululemon has the perfect one.
The City Sweat Zip Hoodie French Terry is soft, breathable, and offers four-way stretch. It's a blend of cotton, polyester, and elastane, which helps retain its shape.
The hoodie has a classic fit that'll sit nicely on your body. If you're out and about or traveling, wear the City Sweat Hoodie. It also features hidden media and coin pockets.
Amazon Essentials Hooded Fleece Sweatshirt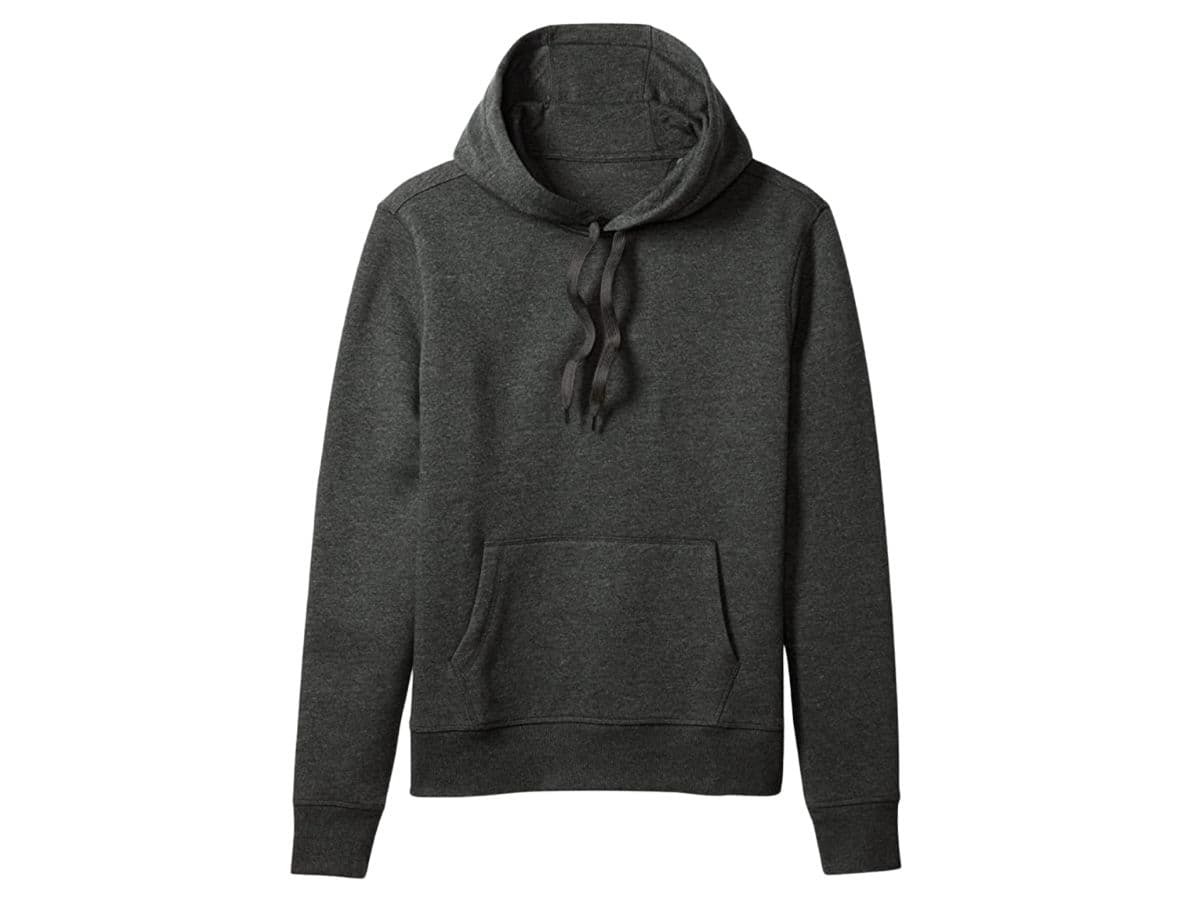 Amazon Essentials has quickly become a go-to place for low-cost and minimally-designed clothes.
The pull-over hoodie is a blend of cotton and polyester. It comes in many colors, which makes it easy to find one based on your style.
Amazon also offers a regular or slim fit for most sizes. Regardless of your body type, you can find a solid no-frills hoodie.
Terms you need to know
Drawstring: The two ends of a string that hang from the holes of the hood. It allows you to tighten the hood around your head.
French terry: A knit fabric made from cotton. It has a looped surface on one side and a smooth surface on the other. French terry fabric is also known as loopback cotton. It's soft, absorbent, durable, and affordable. French terry is a popular material for many different types of garments. It's easy to care for and can be machine washed and dried.
Kangaroo pocket: A pocket on the front of the hoodie. It allows you to put both of your hands into the pocket without blockage.
Conclusion
The hoodie is a casual piece of clothing that you need to have. While you don't need to have a ton, have at least one.
There are many options, and the best overall is the Flint and Tinder 10-Year Pullover.
You can look stylish by wearing a clean and minimally-designed hoodie with a crisp pair of jeans or chinos.
Featured image courtesy of Alternative Apparel, Huckberry, and Outerknown.
About David Em
Founder
David Em is the founder of Next Level Gents, the ultimate destination for tips and advice about style, grooming, fitness, and success.