Belts and suspenders are stylish and functional accessories that shouldn't be worn at the same time. Instead, wear one or the other.
Estimated reading time: 3 minutes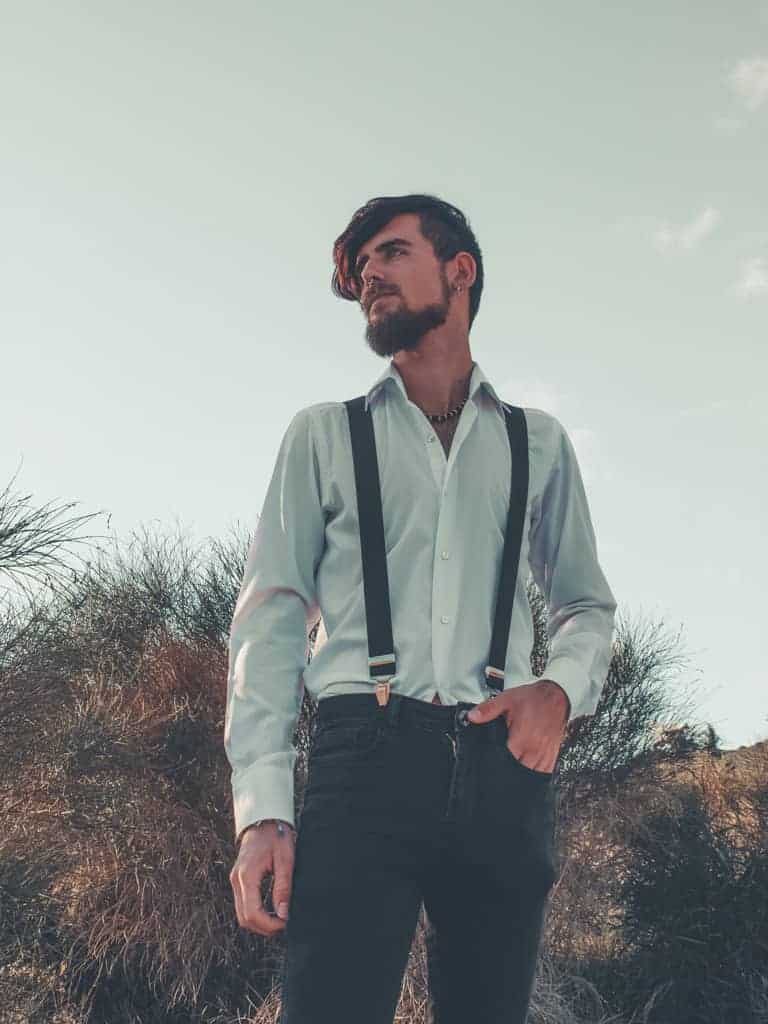 The same purpose
Belts and suspenders have the same purpose, to hold up your pants. You don't need both and shouldn't wear both at the same time because it doesn't look good.
Related: How long should a tie be?
Overall, suspenders look better than wearing belts because a belt breaks your outfit in half with a horizontal line.
Regardless of which one you wear, make sure it matches the color of your shoes. For example, if you're wearing black shoes, your belt or suspenders should be black.
Related: Best shoes for men
Before you decide to wear one over the other, there are different factors that you need to consider such as the type of pants and the look you're going for.
When to wear a belt
Remember, belts are an accessory and you don't always need one. In fact, your pants should fit well without a belt.
You should wear a belt in the following situations:
When you tuck in your shirt.
When you're wearing a jacket, sport coat, or blazer.
For professional events.
Note: Don't wear a belt with a suit, even if it has belt loops because it breaks up the suit.
Match the colors of your leathers because you'll create cohesion within your outfit, and that's what makes you look put-together.
When to wear suspenders
Suspenders are also known as suit braces and can be worn on many occasions. Not only are suspenders functional, but they also look great because they don't break up your outfit.
Clip-on and button suspenders are two common features.
Clip-on suspenders can be attached to all types of pants because they clip on the top, whereas button-on suspenders connect to buttons on the inside of your pants.
Button suspenders are a better choice because they give you a clean and put-together look. They're also more formal and traditional.
Note: Connect suspenders where your hip bones begin and right above your pelvis.
Belts vs. suspenders
At the end of the day, both accessories serve the same purpose, which is to hold your pants up.
The more stylish option is to wear suspenders. However, if your pants are loose, wear a belt.
Suspenders will hold your pants up but won't be able to make the waist smaller. In general, when you're shopping for pants, make sure that the waist fits perfectly without a belt.
Conclusion
Suspenders make you look more dapper and has a nice touch to your outfit.
While they're a great choice that works for many occasions, there's nothing wrong with a high-quality leather belt.
In fact, belts are the perfect choice for professional occasions or work. When you wear a belt, make sure your leathers match.
More resources:
Featured photo courtesy of Unsplash.