Belts and suspenders are the two accessories that keep your pants in place. Learn about both and why you'd choose one over the other.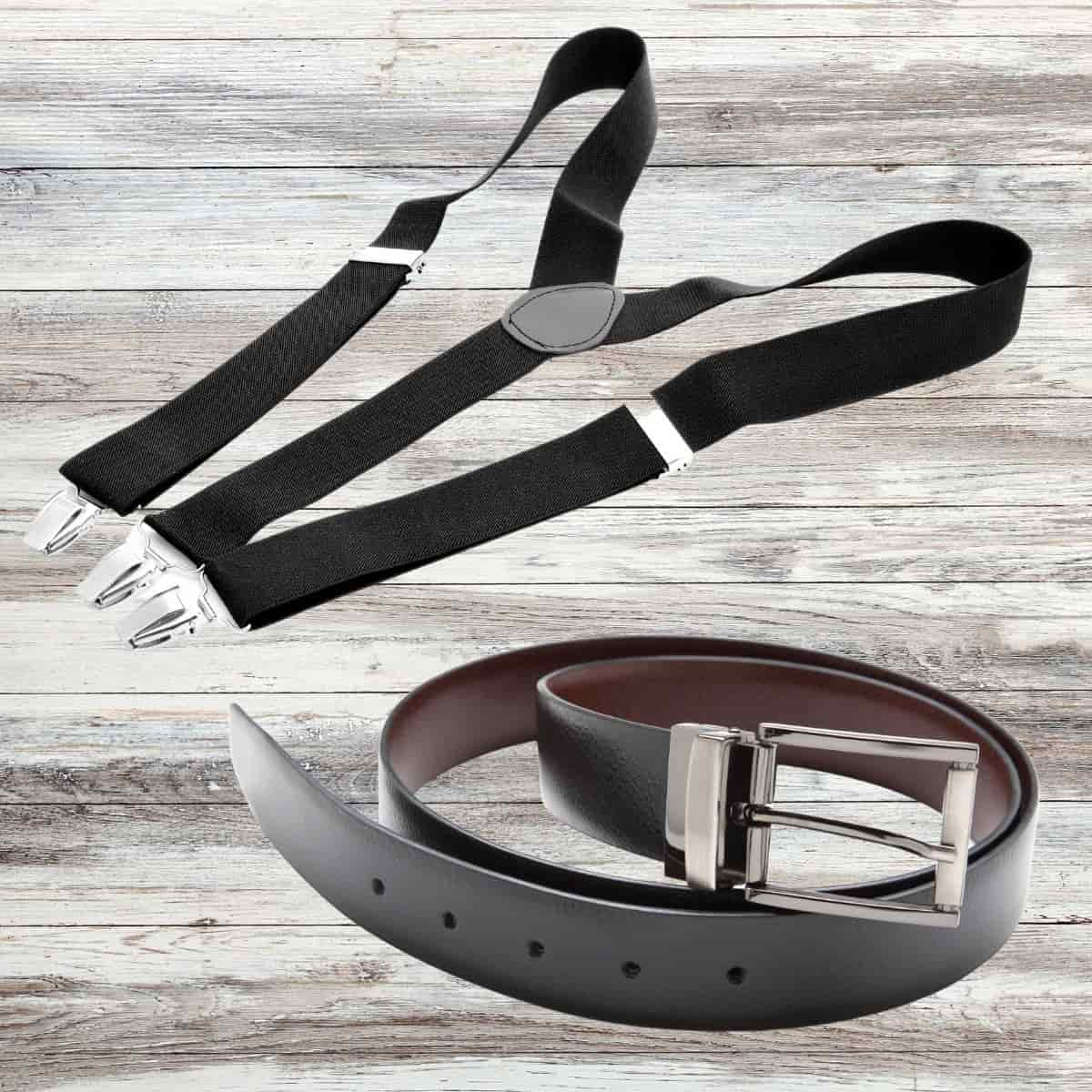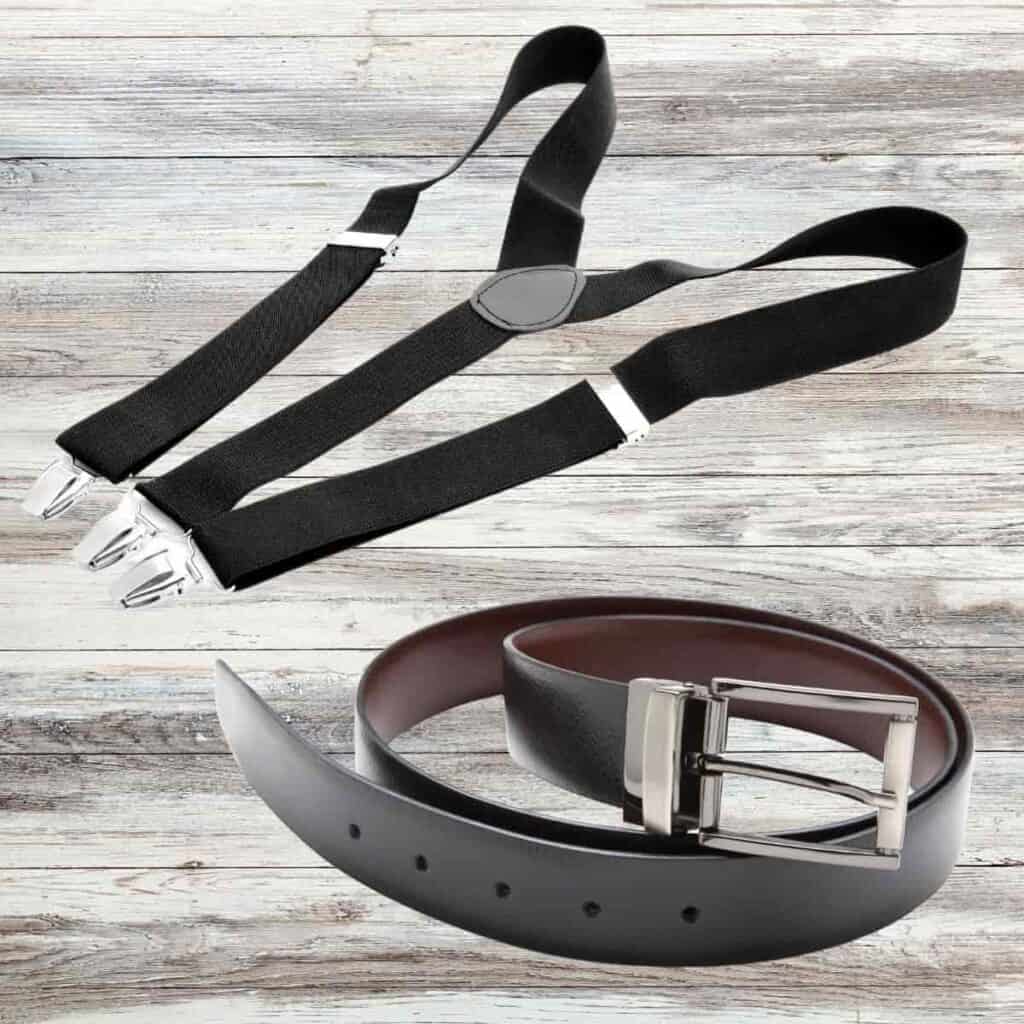 When it comes to accessories that hold up your pants, you can choose between belts and suspenders.
While both are essential for your wardrobe, avoid wearing them together.
Sometimes suspenders are better than belts, and other times, the opposite is true.
The following covers everything you need to know about belts and suspenders.
You'll also learn when to wear each accessory and get practical tips.
What are belts, and when should you wear them?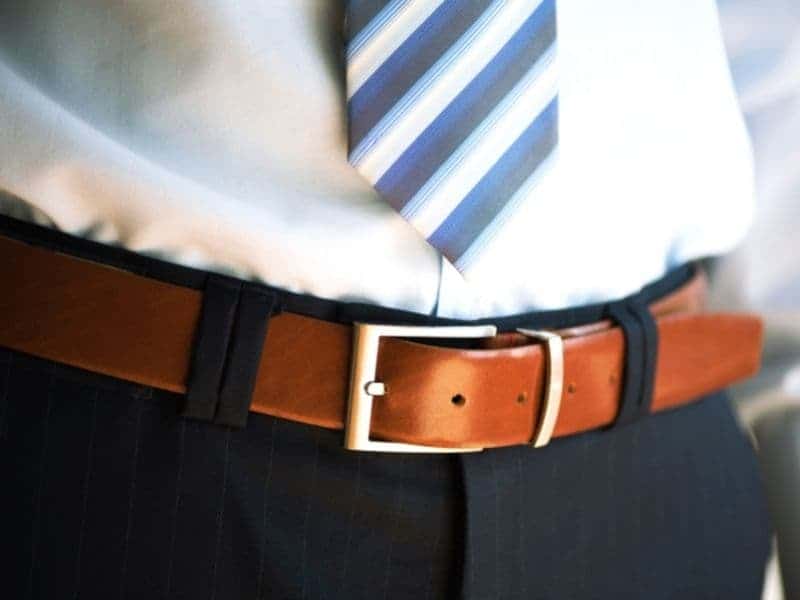 A belt is a band made with leather or another material. It has a fastening system that usually consists of holes.
The band goes through the belt loops on your pants and holds your pants in place.
You can wear a belt for functional or fashion purposes. But, your pants should fit well without a belt.
While there are formal belts, it's best to wear them with casual outfits.
Belts produce a horizontal line, which creates a break in a suit.
So, they're best for jeans and chinos.
How to style a belt
You can style a leather belt up or down. But, there are other types, such as braided ones.
A thin leather belt with a metal buckle is the most formal. The other types and styles are for casual attire.
You can wear a belt as a subtle accessory or a statement piece.
When you dress up, make sure your leathers match. So, the color of your belt should match your shoes.
An example outfit is navy chinos with a white button-up shirt, a brown leather belt, and brown leather derby shoes.
What are suspenders, and when should you wear them?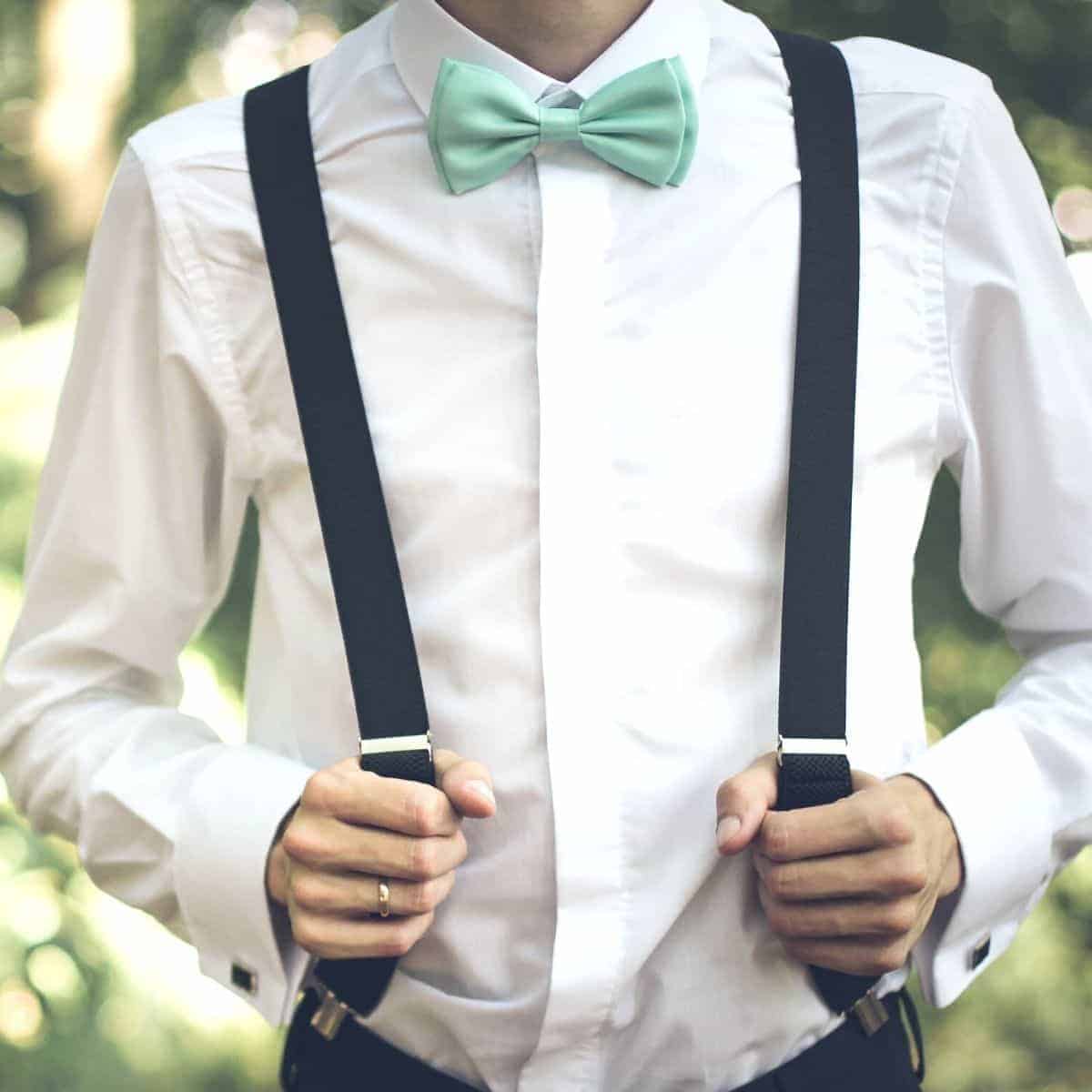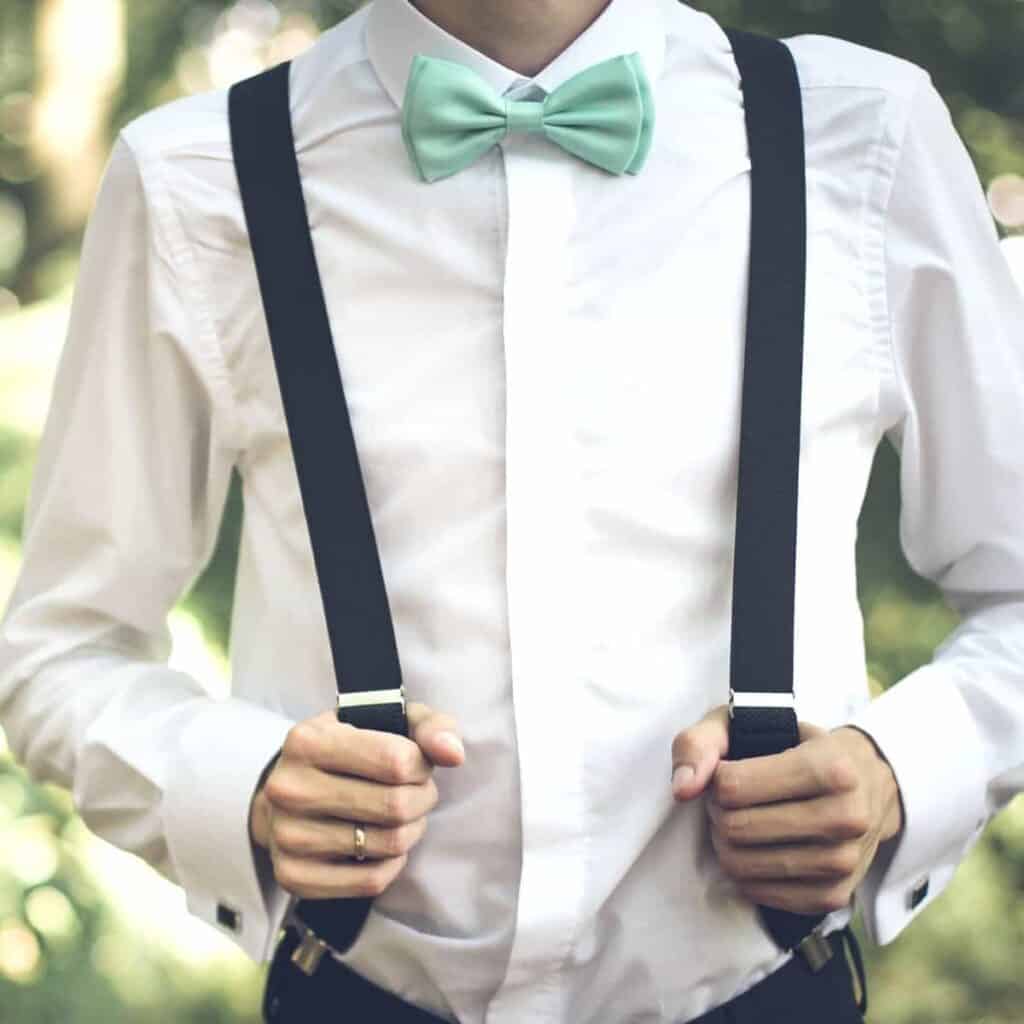 Suspenders are also known as suit braces. They work by going against gravity and holding your pants up.
There are two types, clip-on and button suspenders.
You can attach clip-on suspenders to any pants, but they don't look as elegant as ones that attach to buttons.
The button suspenders attach to the buttons inside your pants. They provide a clean and classy look.
The ideal location to attach suspenders is to line it up with your hip bone and above your pelvis.
Suspenders go over your shoulders and promote good posture.
The fabric forms an X or Y on your back. Both styles are functional and comfortable.
If you're wearing a suit or trousers and a dress shirt, wear suspenders.
How to style suspenders
Suspenders are best for formal and semi-formal attire. They create visual interest and add sophistication to your outfit.
Anytime you wear trousers with a sport coat, a full suit, or a tuxedo, wear suspenders.
Black suspenders are the classic color. But, you can experiment with other colors or patterns if you want to make a statement.
Belts versus suspenders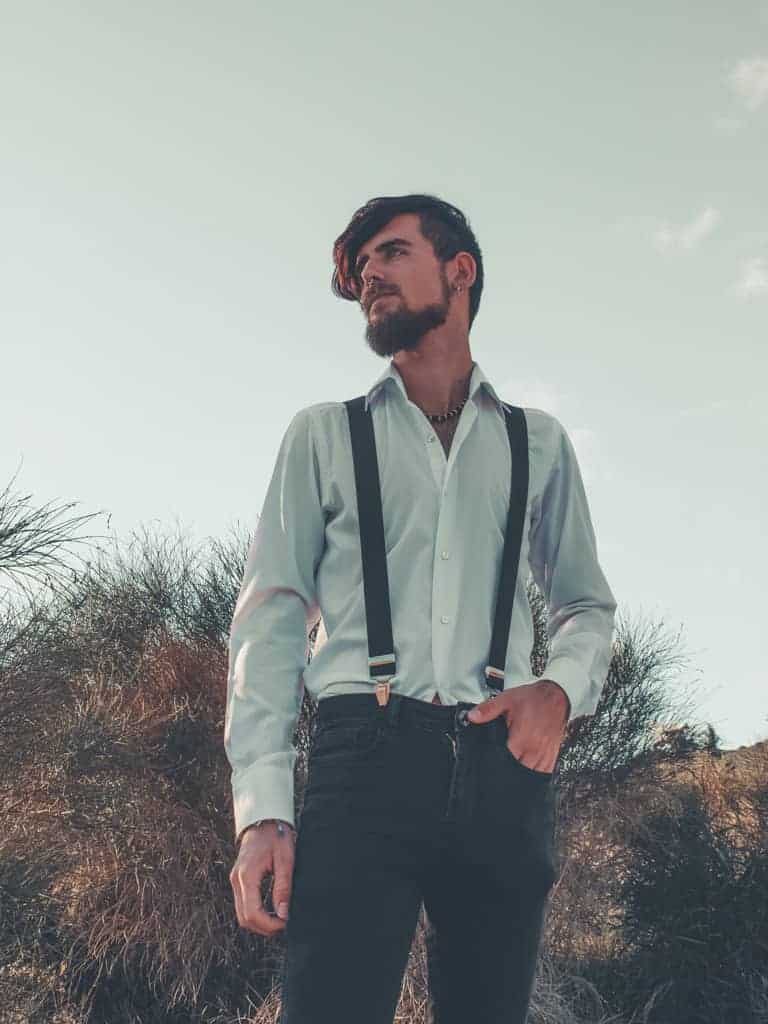 Both belts and suspenders serve the same purpose. When you compare the two, suspenders come out ahead.
Suspenders are more stylish than belts and better at holding up your pants.
They're also more comfortable, as you won't feel anything constricting your waist.
When you sit down with a belt, you may feel it cut into your waist. With suspenders, you won't have that issue.
Another benefit of suspenders is that your dress shirt won't bunch up. You'll look the best and most polished with them.
A belt is a better choice when you wear casual outfits. It's also your only solution if your pants are too big.
Suspenders are the best for formal and semi-formal occasions. Belts are best for casual and business casual occasions.
Also, your pants should fit well without either accessory.
Frequently asked questions about suspenders and belts
The following are answers to common questions about suspenders and belts.
Can you wear a belt with suspenders?
No, don't wear a belt with suspenders. It's redundant because they serve the same purpose.
The combination is also unflattering because it creates a square around your midsection.
Can you wear suspenders under a shirt?
Yes, you can wear suspenders under your shirt. They're known as undergarment suspenders. But, you need to wear a shirt or sweater without tucking it in.
Why did belts replace suspenders?
Trends will come and go. Today, people prefer belts over suspenders due to their ease, and they're more subdued.
Do suspenders help posture?
Suspenders can help your posture. When you wear them, you engage your core and straighten your back.
Also, make sure they're not too tight around your shoulders.
The right fit will benefit your posture, hold your pants up, and be comfortable to wear.
Conclusion
Suspenders and belts have the same job.
But, suspenders are more effective and stylish. When you wear a coat or suit jacket, they won't be noticeable.
Belts are more versatile. They work well for casual, smart casual, and business casual outfits.
Regardless of which you choose, only wear one of them. Then, wear it with confidence.
Featured image courtesy of Canva.
About David Em
Founder
David Em is the founder of Next Level Gents, the ultimate destination for tips and advice about style, grooming, fitness, and success.