Styling grey jeans can seem like a daunting task. You look at your jeans, then at your closet and can't seem to figure out what shirt or coat to wear. What should you even wear with grey jeans? Especially light grey jeans. After reading this, my hope is that you feel confident in styling grey jeans moving forward. This is how to style grey jeans for men.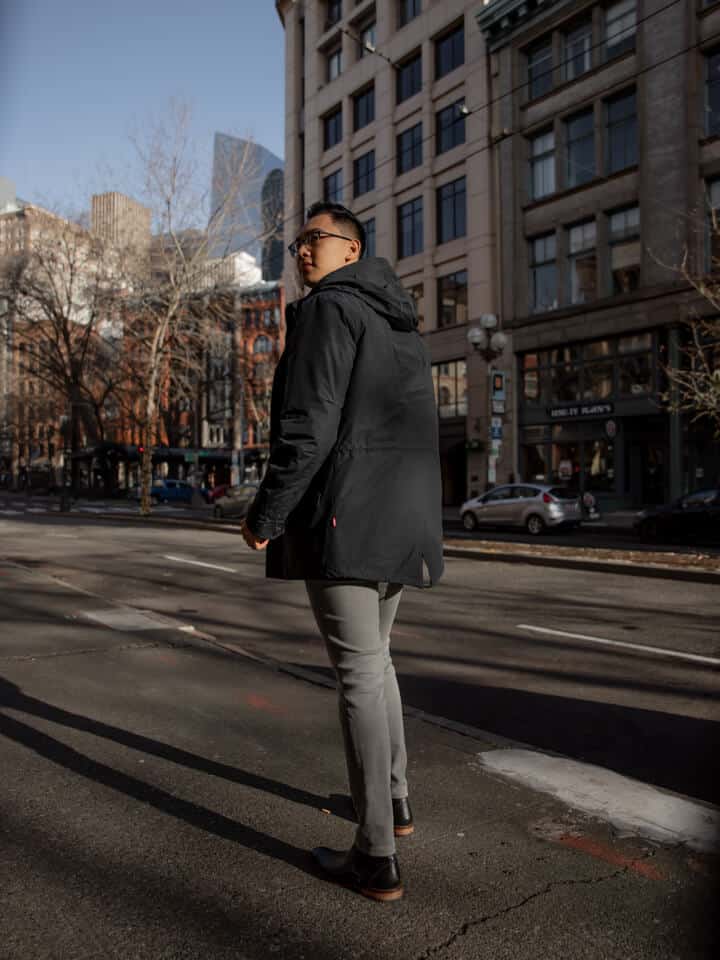 Why Should I Wear Grey Jeans?
Jeans are a great pair of pants that can be worn with a tee shirt for a casual setting or a sport coat for a semi-formal setting.
Many guys have black and blue jeans, which are the essentials. However, aside from blue and black – more colors exist! One more color to consider is grey.
Grey jeans can be tough to style… only if you don't know where to start. That goes for most things. If you don't know where to start, how will you get to the end result?
Which, in this case is to look good in grey jeans. Let's talk about a few key points of where to start.
Where to Start
To start off, you'll want to stick to a few guidelines when putting together an outfit with grey jeans.
First, contrast is key. This is one of the most important things to think about when you are looking in your closet for a shirt or jacket to wear. Unless you are going for a monochromatic look, stick to darker colors on top to create a lot of contrast.
Lighter colors also go well with grey jeans. You can pair it with a white tee shirt and white sneakers for a casual and lighter look.
Second, are you looking to dress it up or wear them casually? By figuring out the occasion first, it will be easier to choose a top that will be appropriate.
Beginning with these two guidelines in mind, you will be able to quickly and successfully put together an outfit with grey jeans. You will find that it is actually pretty hard to find something that does not pair well with grey jeans.
8 Ways to Style Grey Jeans for Men
Below are 8 ways to style grey jeans. You'll notice that many items, specifically the black Chelsea boots and base shirt, are used in many of the outfits.
The reason for that is because you can create various outfits that look completely different, yet are using the same pieces of clothing. It shows the incredible versatility of grey jeans.
Here are the 8 ways to style grey jeans, from casual to semi-formal.
1. Striped Sweater + Black Boots
A striped sweater works well with grey jeans because the navy blue creates contrast. That is the number one reason I chose this outfit. It's the perfect everyday, casual look.
Along with creating contrast, the stripes ignite interest. By adding patterns or prints, it makes an outfit more interesting by giving it a textured look.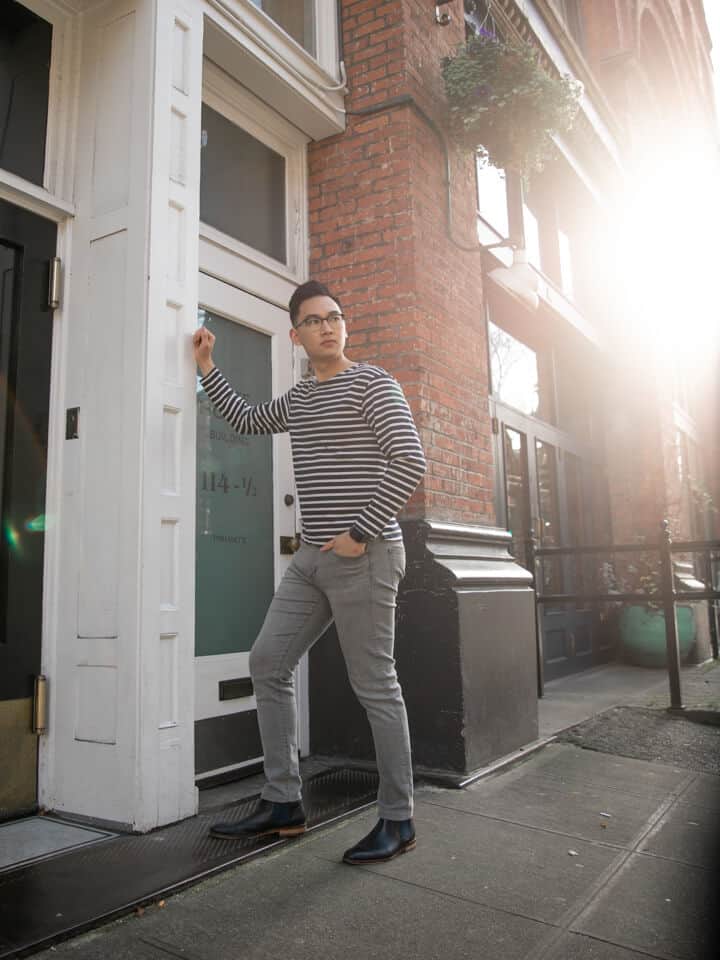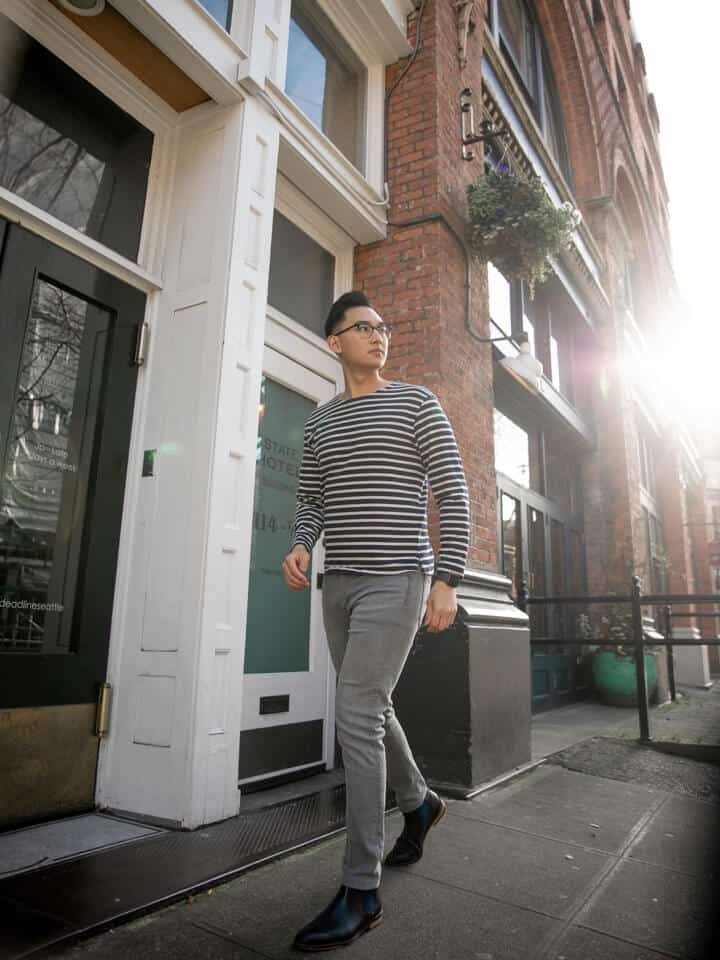 2. Navy Button-Up + Black Boots
This blue button up creates a lot of contrast with the grey jeans. You'll also notice that the stripes are red and light blue. Having the mixture of colors creates a pattern, which adds interest to the outfit.
Wearing a button up automatically boosts the formality level of your outfit. This makes it a great outfit to wear to a dinner or any event that requires you to wear something just above casual.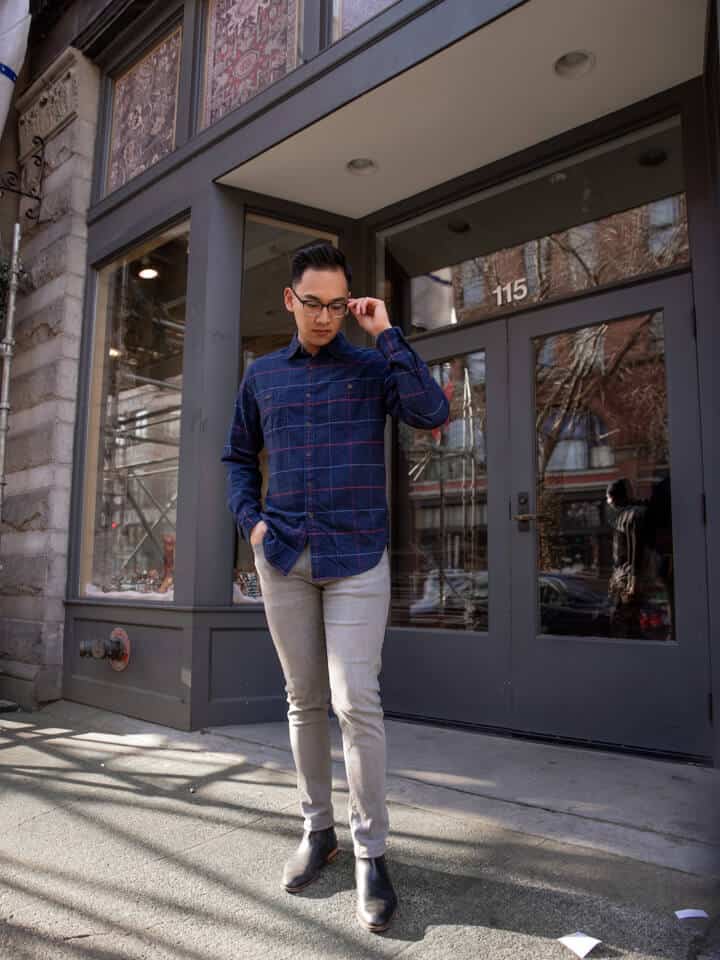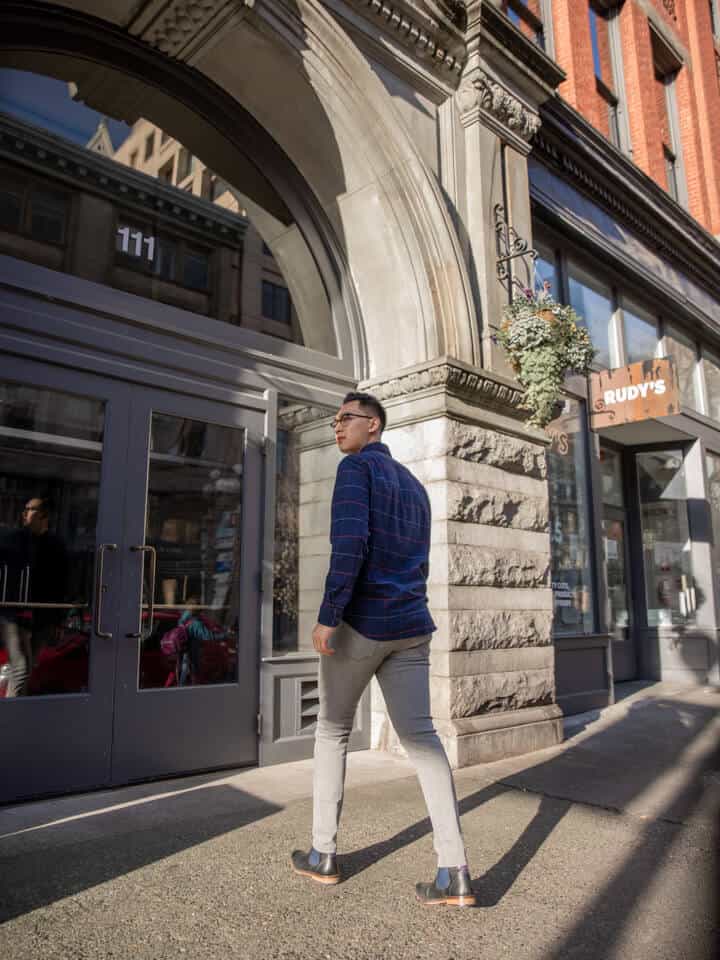 3. Camel Coat, Black Shirt + Boots
The camel coat and black shirt matches the camel and black in these boots. The contrast between the grey pants and the rest of the outfit makes it look very smooth.
There aren't very many colors that will distract you, which makes this a very simple outfit. Wearing the overcoat also makes you look more dapper, so it's perfect for a day out with friends, date or most events that don't require formal clothing.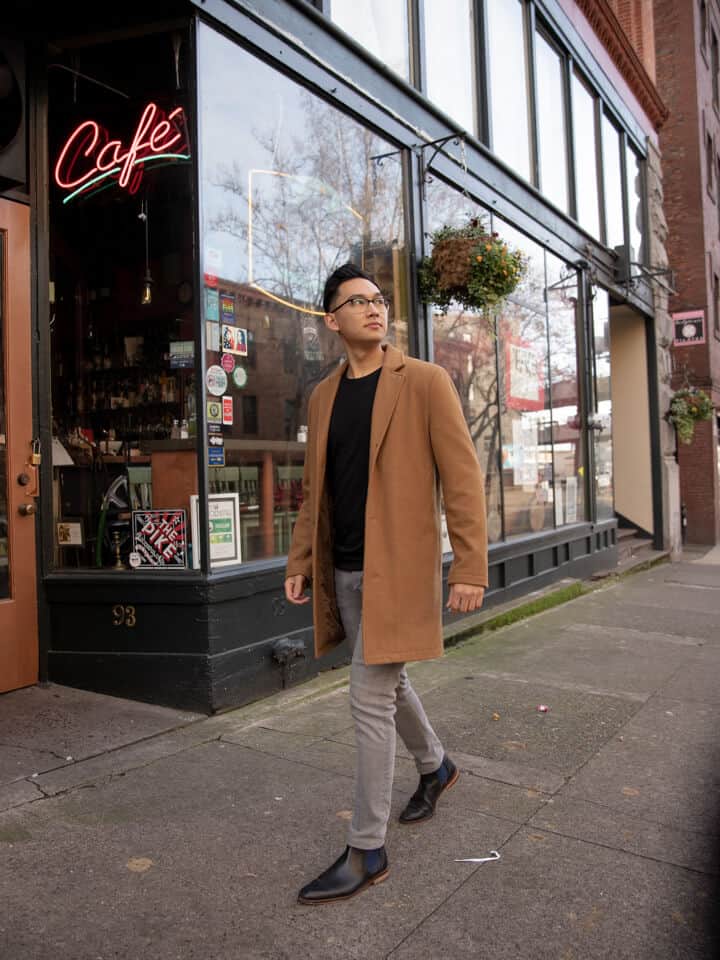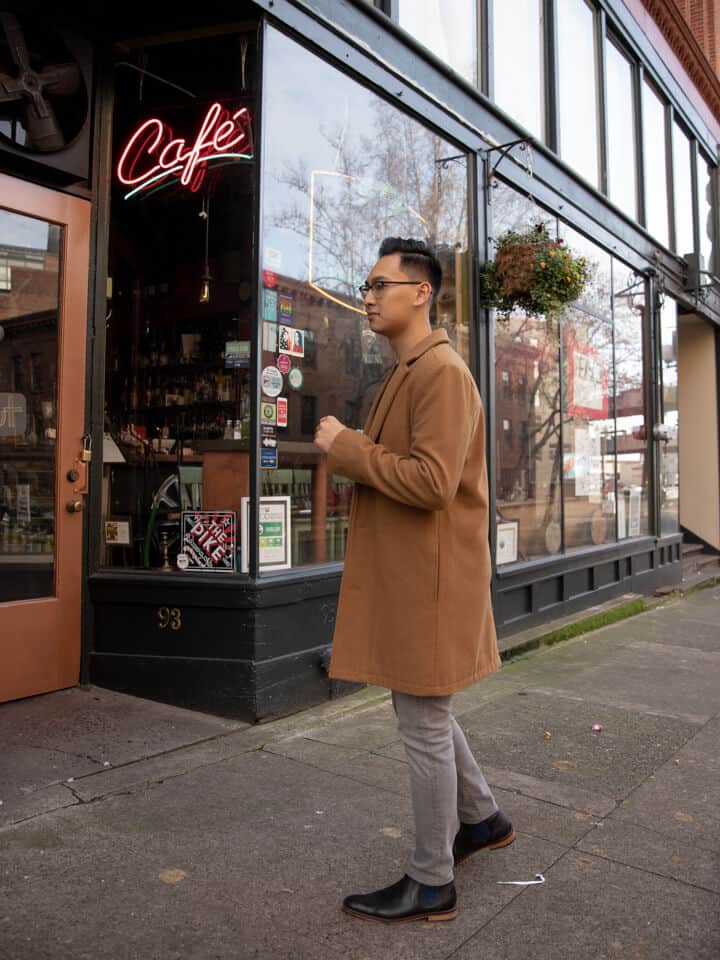 4. Olive Green Jacket, Black Shirt + Boots
An olive green jacket works perfectly with grey jeans. Olive green and grey are both slightly muted colors, which makes this outfit a more subtle and low key outfit when talking about colors. However, it is not a subtle outfit. In fact, it is one with a lot of character.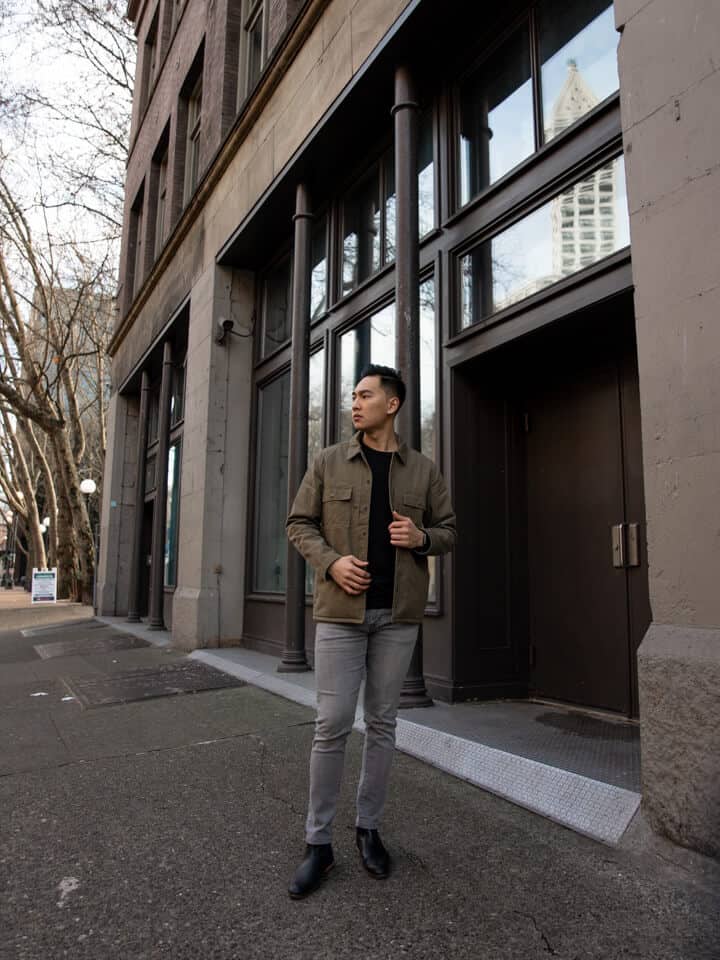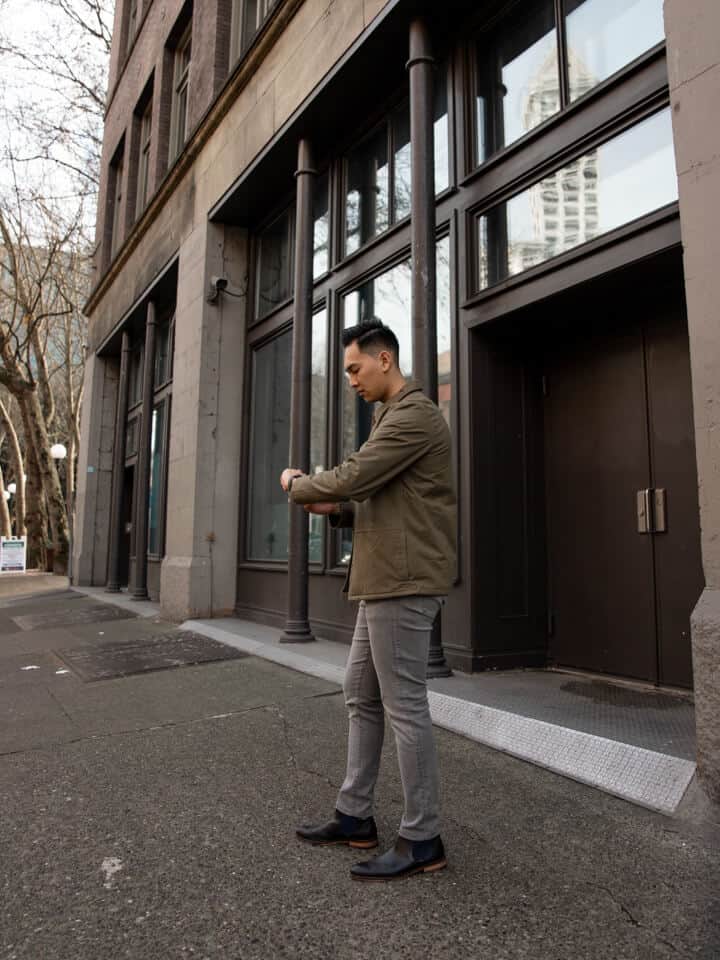 5. Blue Denim Jacket, Black Shirt + Boots
The denim jacket provides contrast and texture. Although people say to not wear denim on denim, that rule is true for same color denim on denim. However, when you wear different colors of the same material, it's hard to tell and it actually creates a very good look.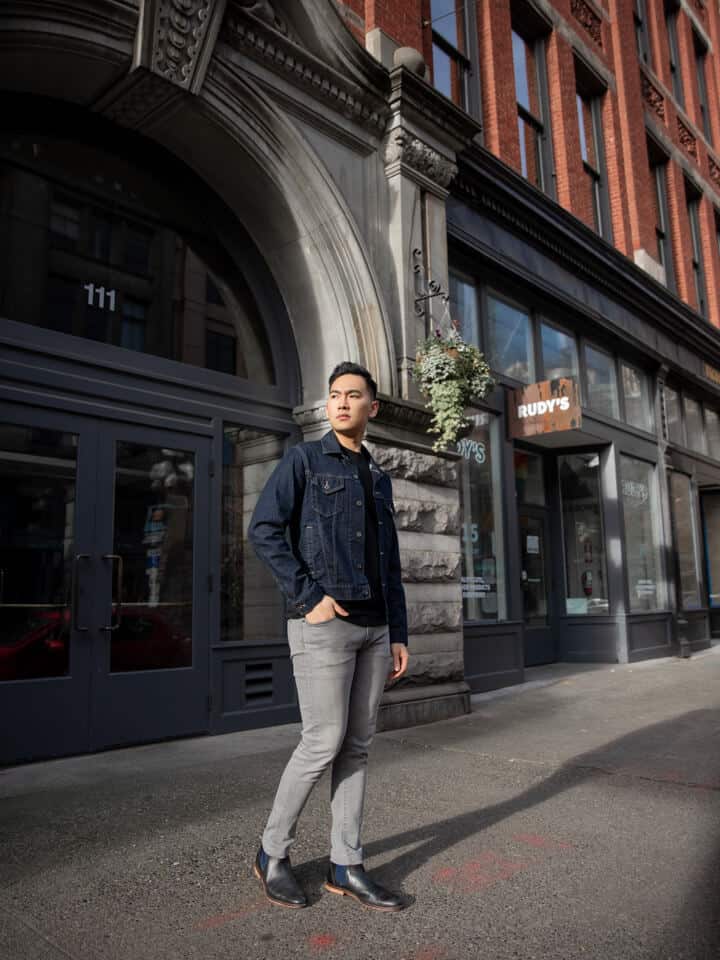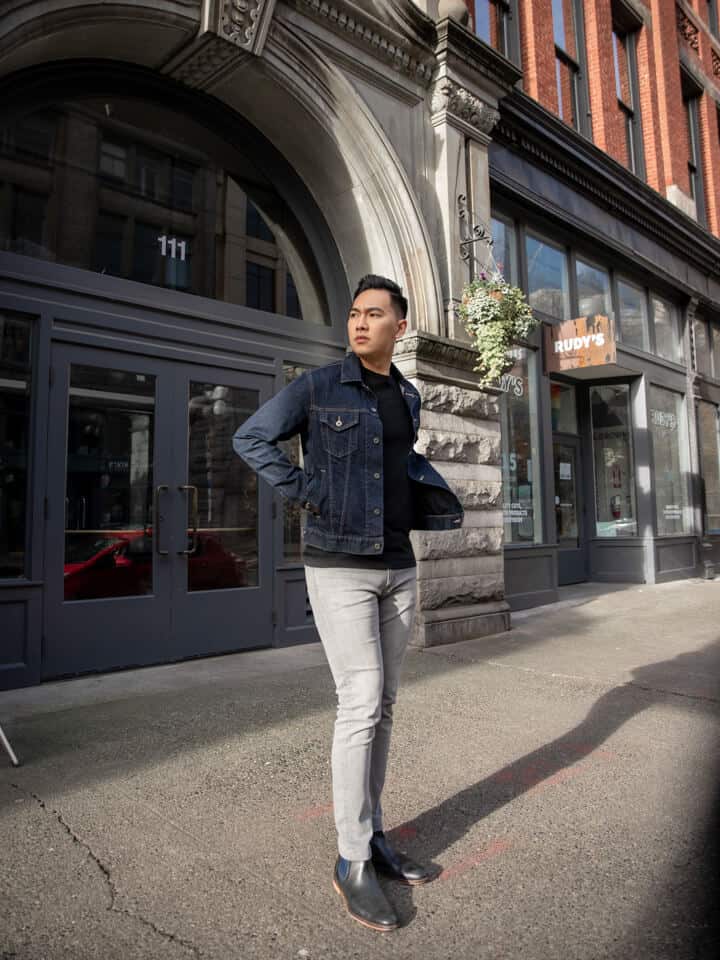 6. Navy Coat + Black Boots
Very similar to the camel coat, this navy coat is a great pair for grey jeans. This overcoat is more on the lightweight side, making it perfect for a day that isn't too cold but cold enough for a lightweight jacket.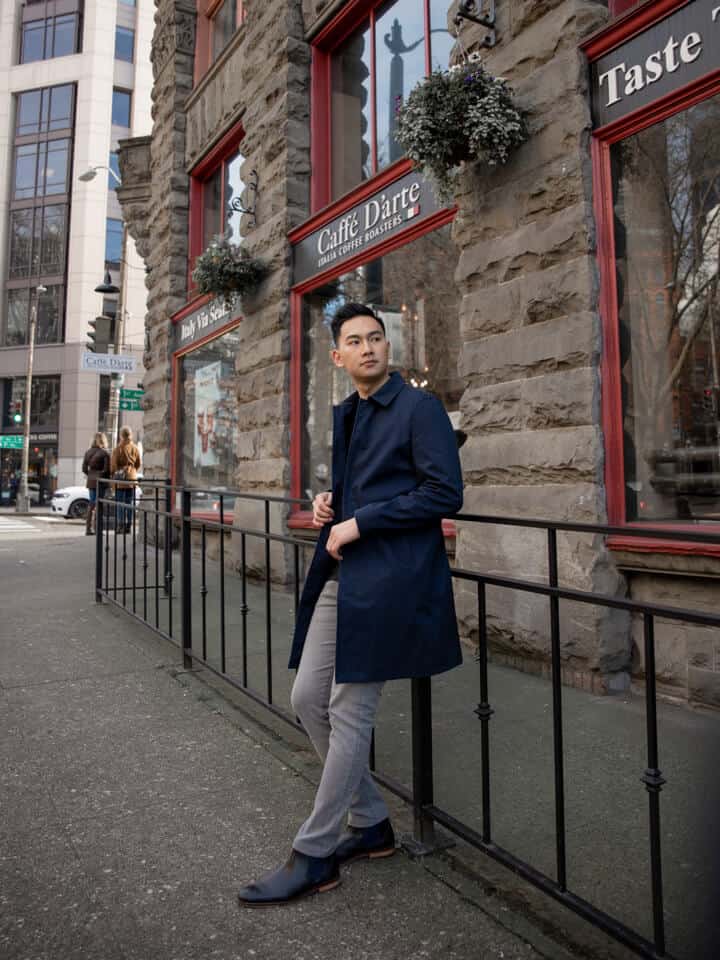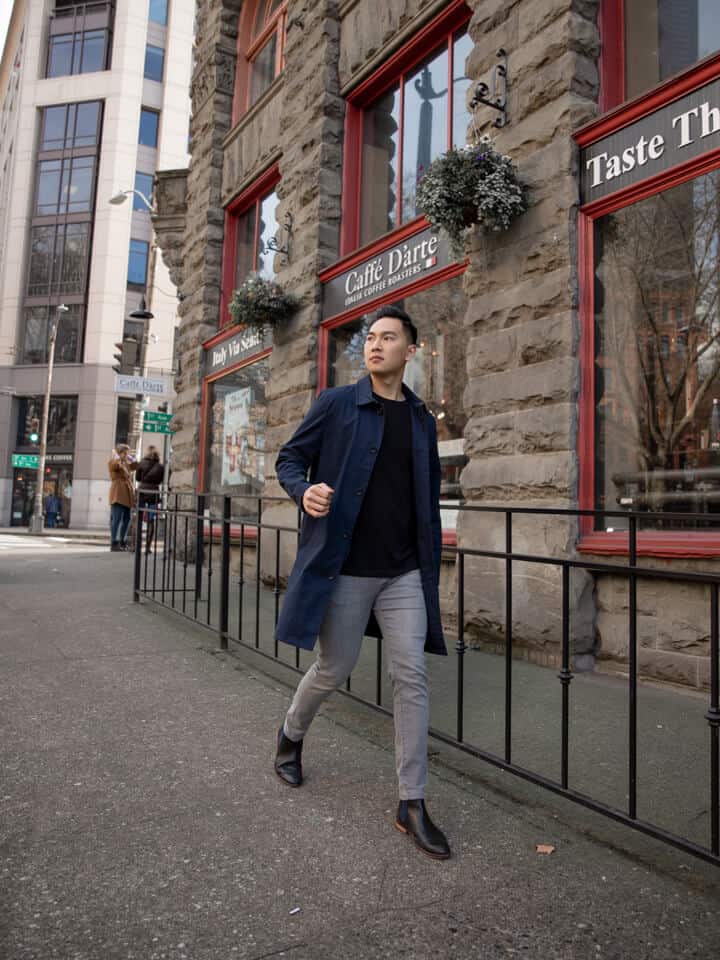 7. Black Rain Jacket + Boots
If it rains, you don't have to put away the grey jeans. They go perfectly with a dark raincoat. Not only is it great that there is contrast. The contrast allows the colors and patterns in a shirt to be more noticeable. The subtle details can now shine.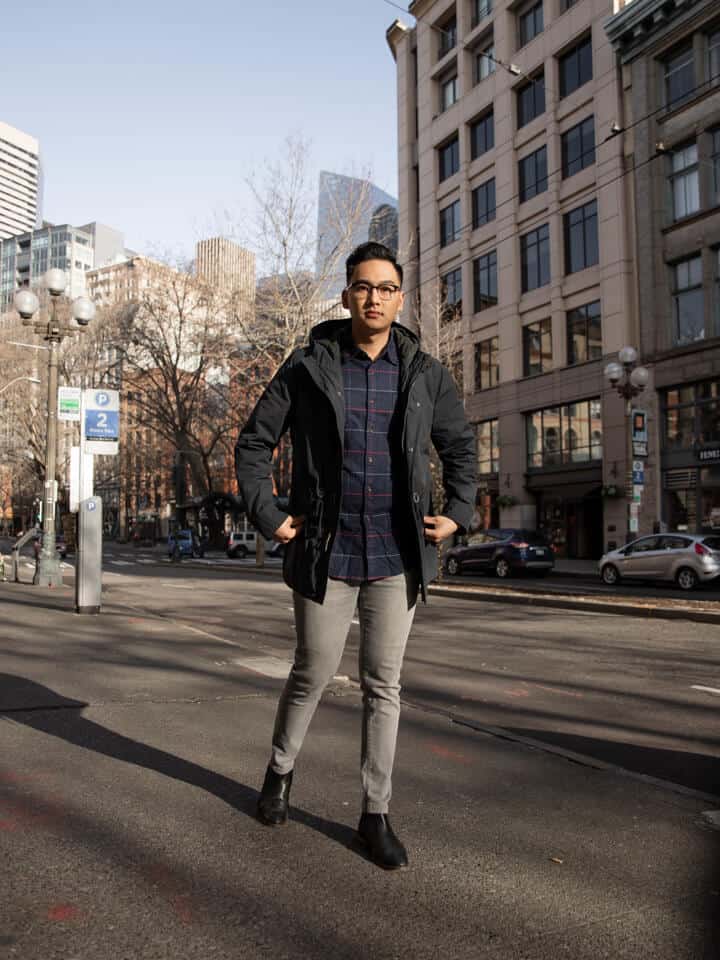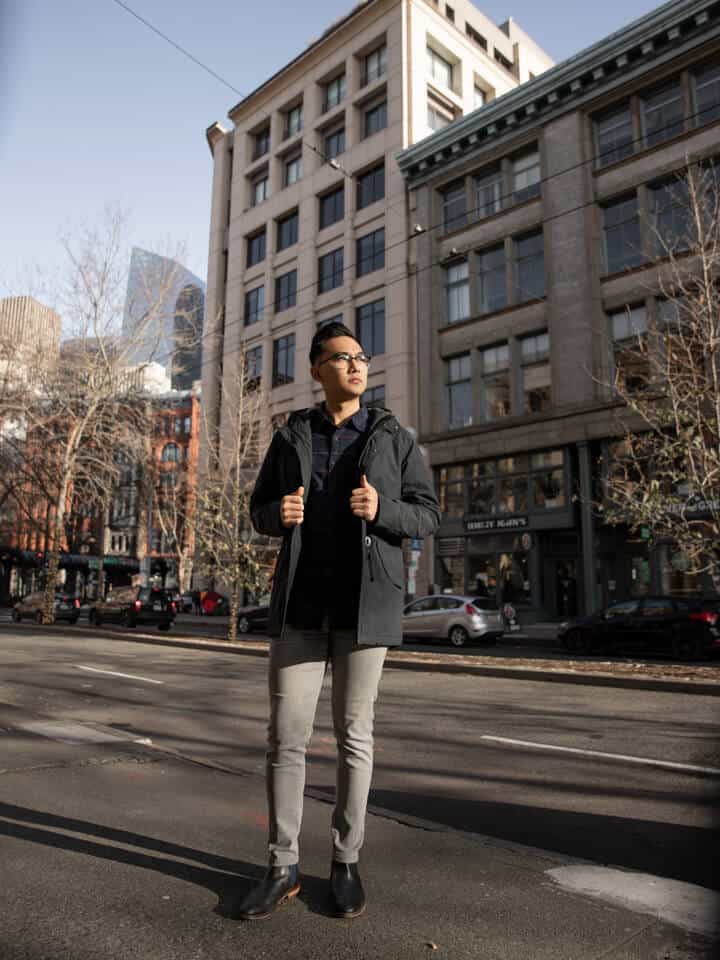 8. Blue Sport Coat, White Shirt + Black Boots
This look is perfect for a semi-formal or business casual event. The white shirt is a classic and the blue sport coat gives a pop of color. The sport coat also provides a great amount of contrast, which is rule number one!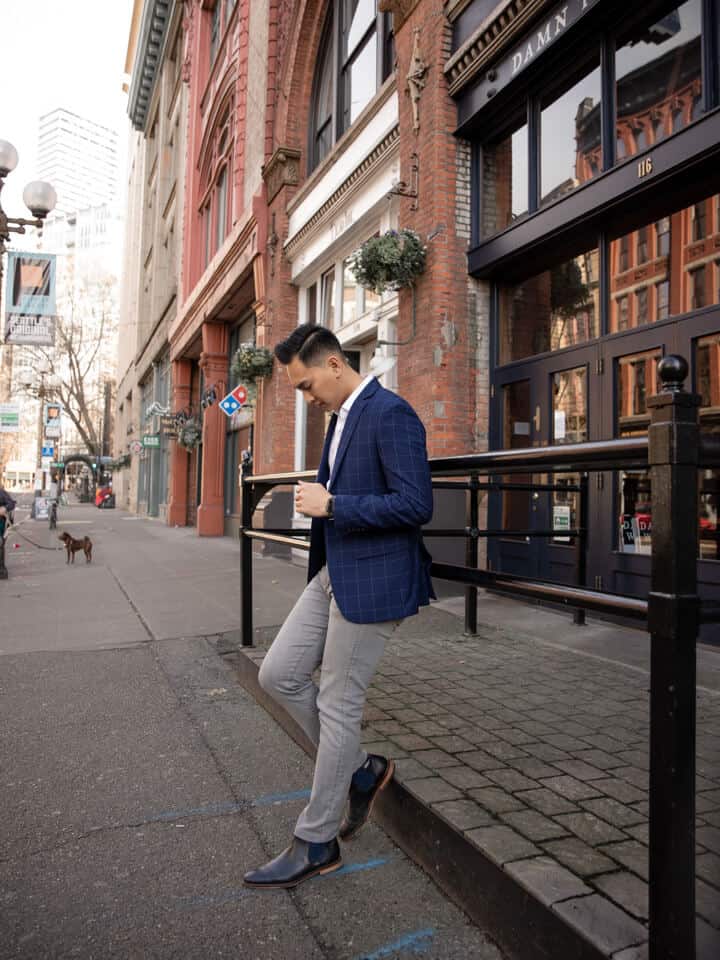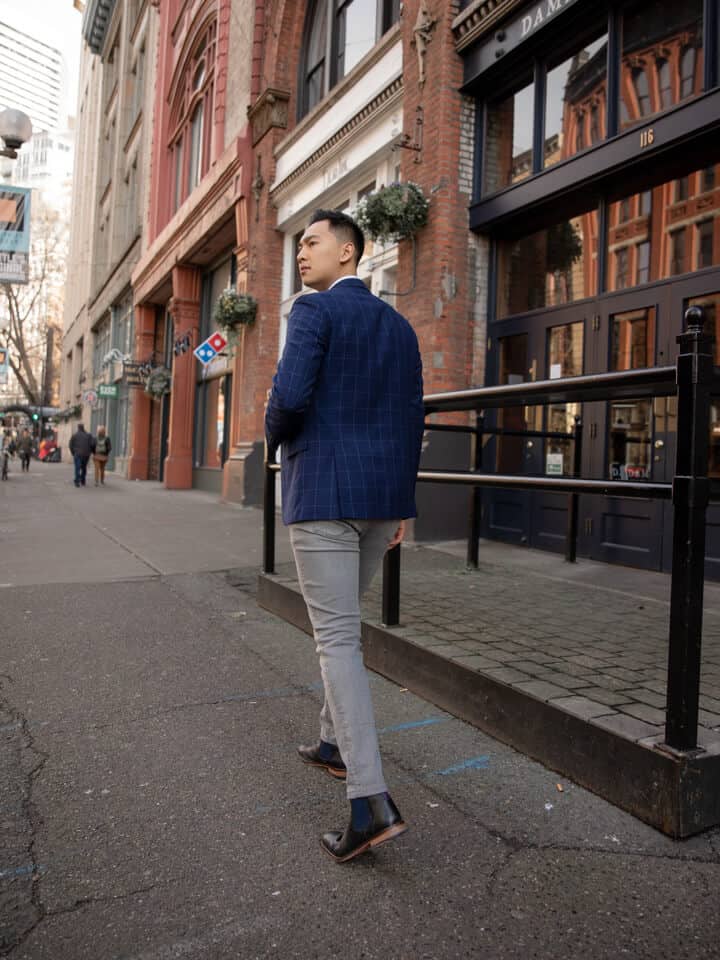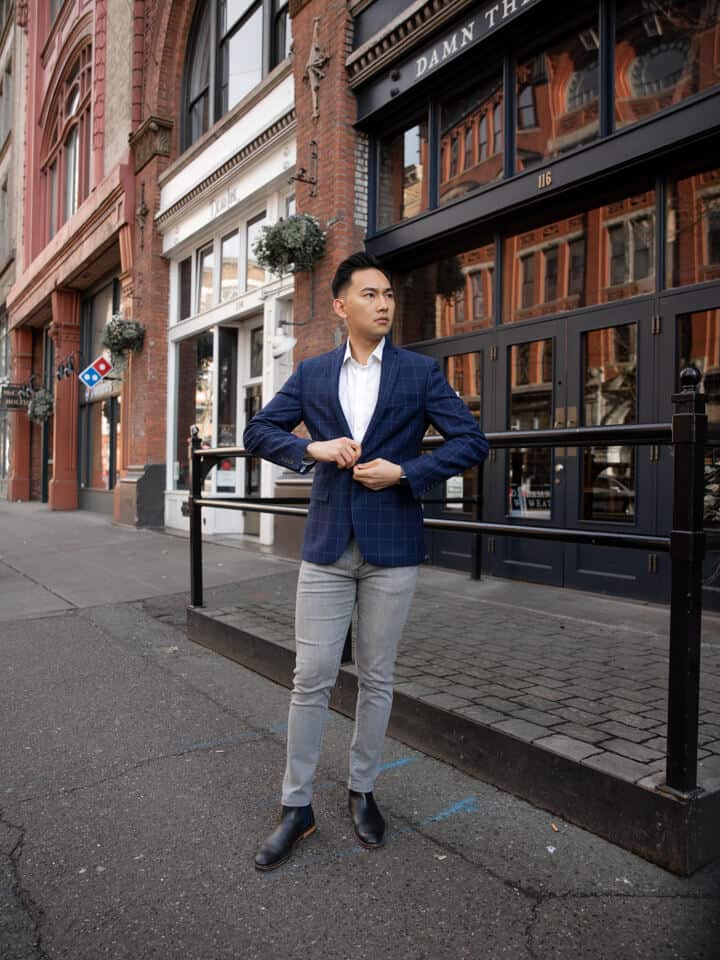 What If I Don't Have Black Chelsea Boots?
It's ok! You can replace them with a pair of sneakers in white or black. Sneakers are always a great option, especially when they are simple.
How Will You Style Grey Jeans?
I would love to see you style grey jeans. What outfits will you put together? Feel free to use the photos in this post as a baseline.
Tag me on Instagram @nextlevelgents or use the hashtags #nextlevelgents, #NLGinspired and/or #iamnextlevel.