Wearing a suit without a tie is one of the best ways to dress down a suit. Here's exactly how to wear a suit without a tie.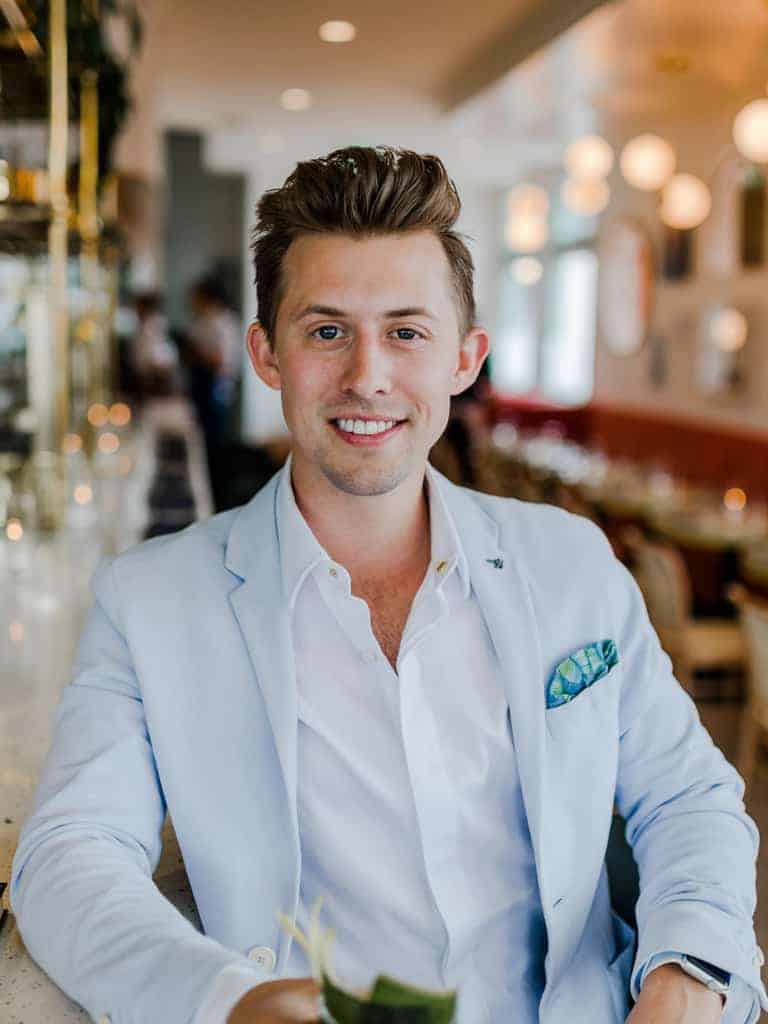 Can You Wear a Suit Without a Tie?
Yes, absolutely!
Is Wearing a Suit Without a Tie Business Casual?
Wearing a suit without a tie is considered business casual and can work in situations where that's the dress code.
Although it is considered business casual, it's not ideal. Instead of wearing a suit jacket, sport coats work better since they're not as formal. Sportcoats look great paired with trousers or chinos.
When Would You Wear a Suit Without a Tie?
There are many occasions where you can go without a tie. You may have forgotten your tie, going to a party, an interview or a date.
Regardless of the occasion, if the formality is dressed up but not extremely formal – go without the tie.
Things to Consider
There are a few rules to follow, they'll be listed below.
Make sure your collar is firm and can stand strong without a tie. You don't want it to be flimsy, that just looks bad.
Unbutton one or two buttons. This is up to you and how much of your chest that you want to be exposed.
Never show your undershirt. You may even want to consider skipping the undershirt.
Add other accessories. Consider adding a nice watch, pocket square or lapel pin as it will add interest.
By following these rules, you'll look just as incredible as you would if you were to wear a tie.
What If I Forgot My Tie?
Life moves quick and accidents happen. If you forget your tie for an important occasion, don't sweat it. Whether it's an interview or wedding, the key is confidence.
If you forget your tie, skip and roll with it. Take the advice listed above and you'll exude confidence.
How Formal Should My Suit Be?
If you're not going to wear a tie, your suit needs to be casual too. Instead of wearing a business suit, wear a suit that is less structured and made for more casual situations.
The lapel is another great place to decrease formality. A slimmer lapel is made for casual occasions, whereas a thicker lapel is made for formal situations.
Can You Wear Cufflinks Without a Tie?
Cufflinks can be worn with or without a tie. They give you a casual and cool look when you wear cufflinks without a tie. The one rule to follow is to never wear cufflinks without a jacket. It's better to roll up your sleeves in that situation.