Suede Chelsea boots are contemporary and stylish and texturize your outfit. They're more casual than leather, which is perfect for daily wear.
If you want to be on-trend and add some class, then suede Chelsea boots are what you need.
They look sleek yet timeless, making them perfect for many occasions.
The best thing about these boots is that you can wear them anywhere from work or a night out with friends.
They won't go unnoticed due to the texture and refined look.
If you're ready to pick up a pair of suede Chelsea boots, the following are the best options.
R.M. Williams Comfort Craftsman Boot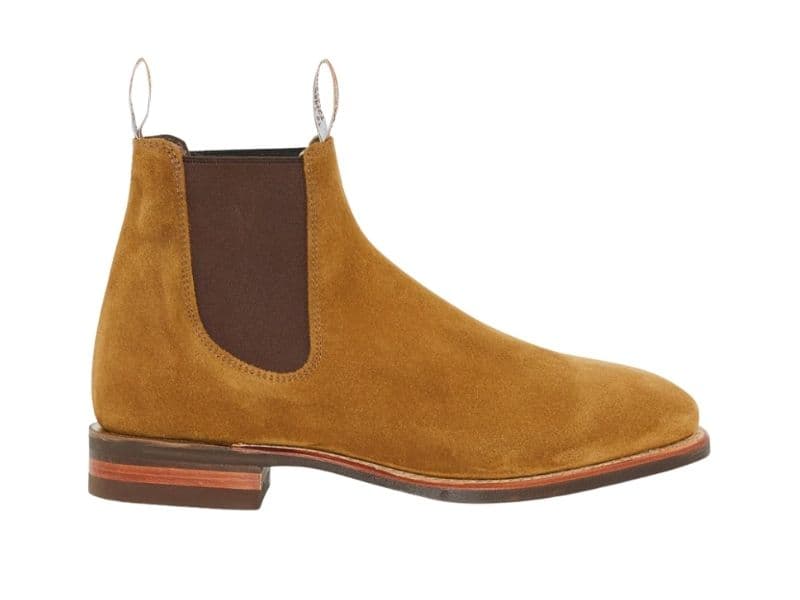 R.M. Williams is an Australian brand known for its quality. The Comfort Craftsman Boot is an excellent example.
It has a chiseled square toe box, Goodyear welted soles, and two pull tabs for ease.
While the R.M. Williams boots are pricier than most, they're one of the few worth the investment.
The boots use a single piece of suede for superior strength, durability, and comfort. They're well-fitting and good-looking.
Also, you can wear them with casual, smart casual, and semi-formal outfits.
Clarks Clarkdale Hall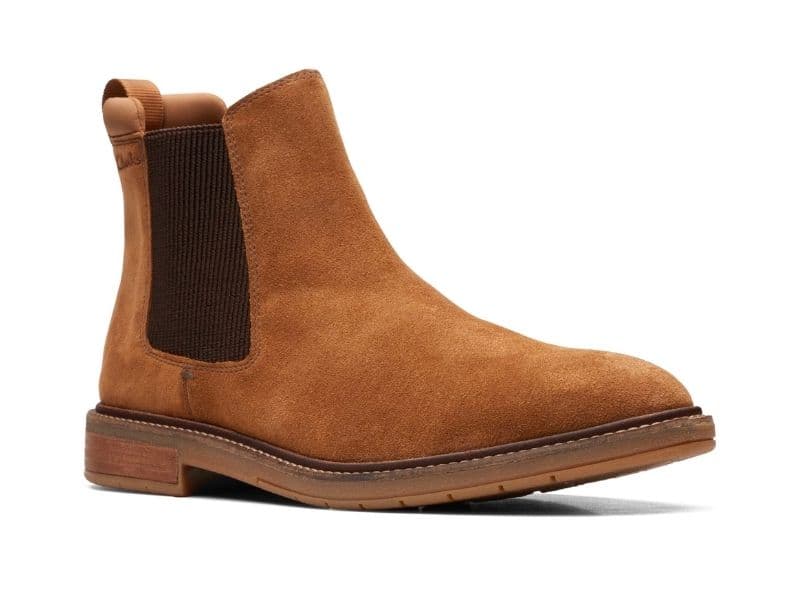 Clarks is famous for its desert boot. The company also makes an excellent pair of suede Chelsea boots, the Clarkdale Hall.
It has a wood and rubber sole, a removable insole, and a pad for your ankles.
The toe box is round, meaning it's for casual outfits.
Wear the Clarkdale hall with jeans or chinos and a casual top.
Beckett Simonon Bolton Chelsea Boots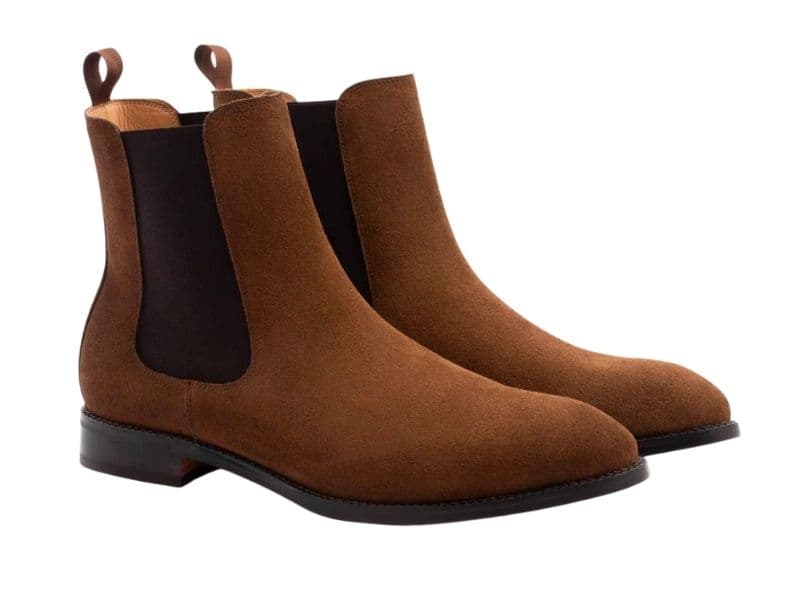 Beckett Simonon makes an excellent Chelsea boot with the Bolton.
It has a water-resistant suede material and a classic silhouette.
Also, it features a sleek leather sole, giving it a dressy vibe. You won't find better quality and style for the price.
They're available in dark brown or chestnut, both versatile colors.
Out of the box, the boots are a bit stiff. So, expect to wear them five times before they stretch and mold to your feet.
Common Projects Suede Chelsea Boots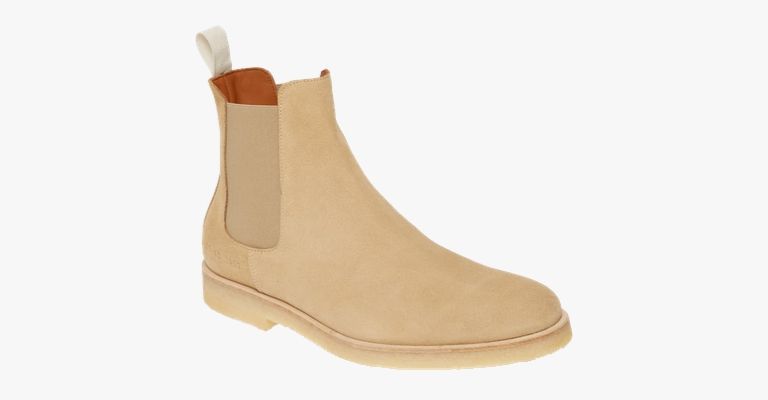 Common Projects is best-known for its minimalist sneakers. But, the brand also offers excellent suede Chelsea boots.
The Common Projects boots are Italian-made. They also have a unique gold-stamped serial number on the side.
The suede material is soft, and the boots are comfortable right out of the box.
They have a tapered toe box, giving them an elevated vibe. You can wear the boots with jeans, chinos, and trousers.
Frye Bowery Light Chelsea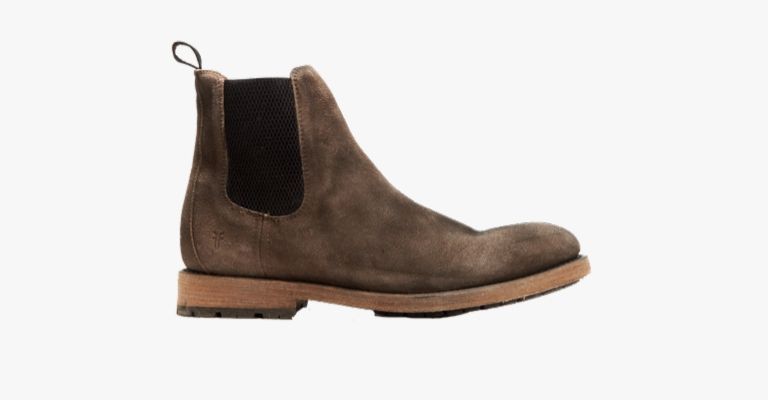 Frye's Bowery Light Chelsea boots are handcrafted from distressed oil suede.
The material has a broken-in look, adding character and ruggedness.
Also, the Frye boots have a thick, durable, and comfortable sole.
The thick sole and round toe box make the boots more casual.
So, wear the Bowery Light Chelsea with jeans. You can also wear a chore coat to complete the rugged look.
John Varvatos Amsterdam Chelsea Boot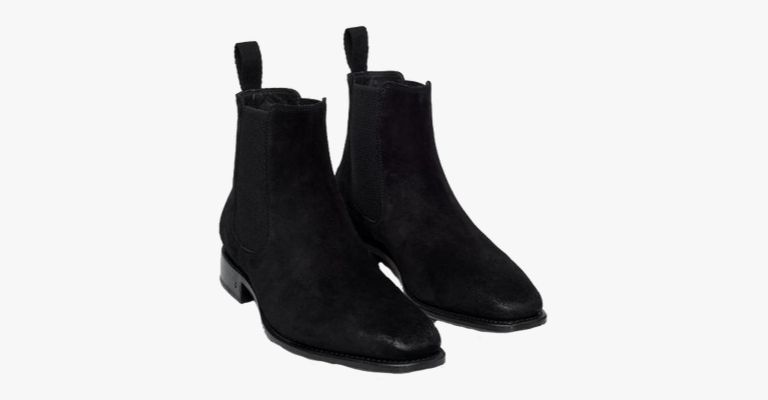 The Amsterdam Chelsea from John Varvatos is a classy and high-quality option.
Each pair is crafted and tanned by hand in Italy. The material is 100% calf suede.
They also have Goodyear welt construction. It adds extra durability and protection from the elements.
The Amsterdam Chelsea is also taller than many other boots. So, your skin or socks won't show when your pants lift.
It's an excellent choice because you can dress it up or down.
New Republic Sonoma Suede Chelsea Boot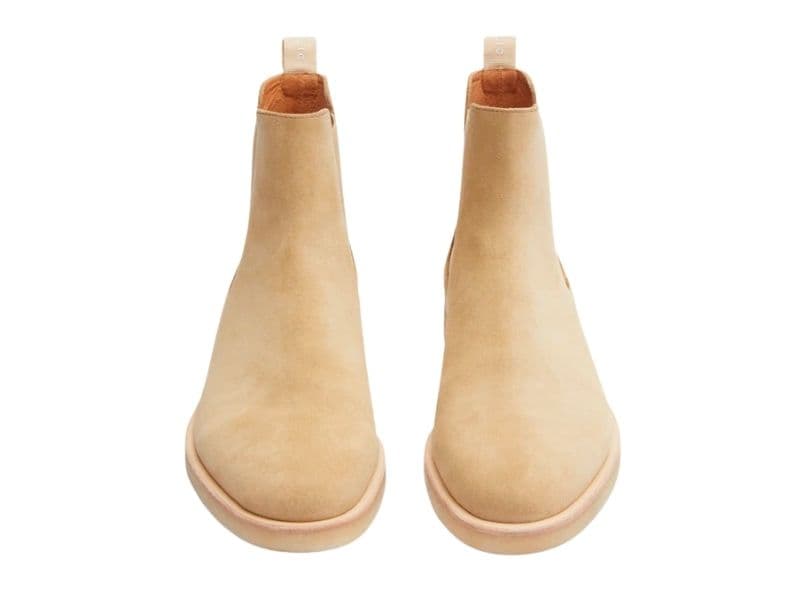 The New Republic Sonoma Chelsea Boot is one of the most popular shoes.
It features a classic shape, crepe sole, and a price point of under $100.
While the company uses genuine leather for the boots, it's an excellent pair for the price.
The classic design ensures you look sharp anytime you wear them.
Also, the Sonoma Chelsea Boot is comfortable right out of the box.
Once you get them, you can start wearing them right away without a break-in period.
Magnanni Shaw II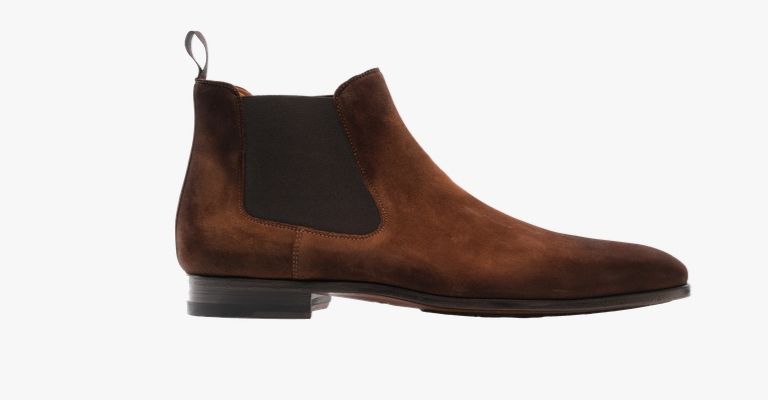 Magnanni's Shaw II is a stunning Chelsea boot. It also stands out because of its shorter height and narrow toe box.
The boots have a modern and sleek look, which you can wear with trousers, chinos, or jeans.
On the bottom of the boots, there's a leather outsole with two rubber areas, providing traction.
It's an elegant and modern boot with a wider elastic band, making it easy to put on and take off.
Saint Laurent Wyatt Chelsea Boot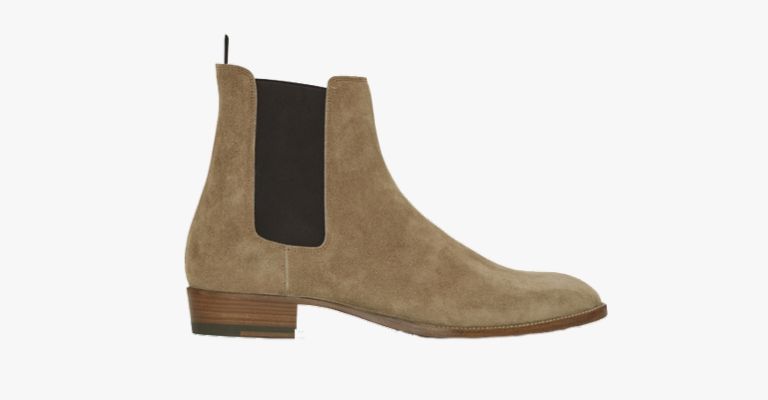 Saint Laurent's Wyatt Chelsea Boot is elegant and has a higher heel than most.
While it's not cheap, the Wyatt is the ultimate Chelsea boot. The material is 100% calfskin suede, and it looks incredible.
If you get the Saint Laurent boots, choose a full-size down.
While it may be uncomfortable, the suede stretches and molds to your feet.
They'll become one of the most comfortable shoes you have.
Shoe the Bear Dev Chelsea Boot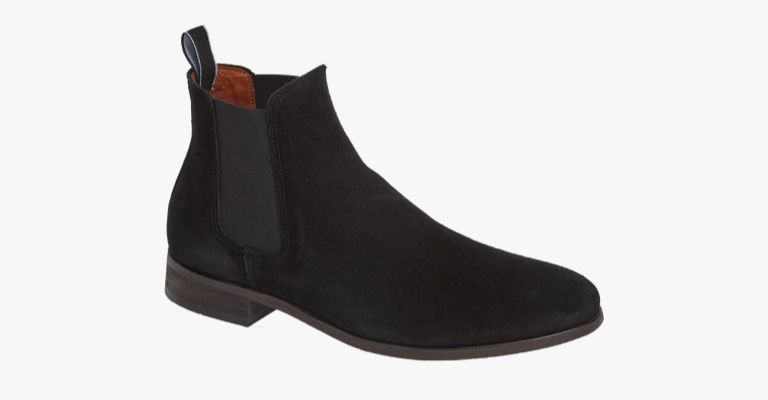 Shoe The Bear's Dev Chelsea Boot boasts superior quality for less than $200.
It has a slim sole, low heel, and sleek design.
Also, you'll be comfortable the moment you slide your feet into them. There's no break-in period.
The Dev Chelsea Boot is good-looking, valuable, and will last many wears.
Thursday Boot Co. Duke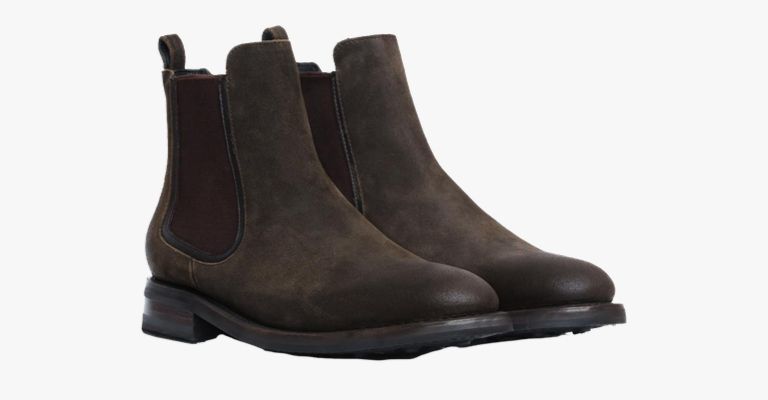 The Thursday Boot Co. Duke Chelsea boots are excellent for everyday wear.
For less than $200, the Duke offers a modern style, high-quality materials, and a durable rubber sole.
It's also a walkable pair of boots. It features Goodyear welt, cork-bed midsole, Poron insole, and DuraEVA comfort strip.
If you order the Duke, get a half-size smaller than your sneaker size. It runs a bit large.
The Duke is a casual boot. So, wear it with jeans and anything on top.
To Boot New York Shelby Grey Suede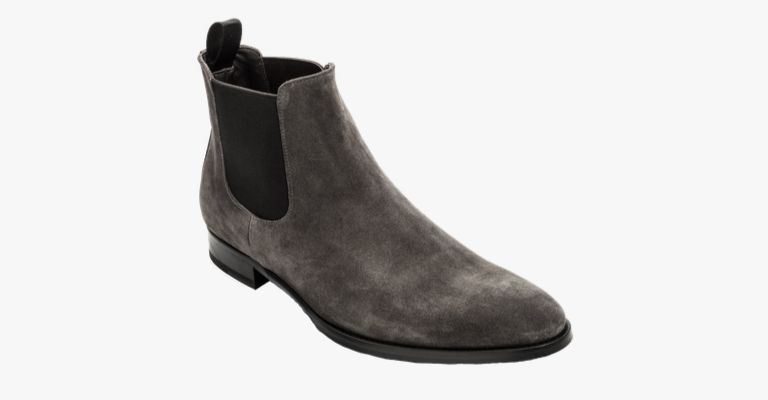 To Boot's Shelby Grey Suede is an appealing and quality Chelsea boot.
Grey suede is excellent because it matches many colors. So, you can wear it with a lot of outfits.
The boots have a plush Italian suede and a sophisticated almond-shaped toe box.
The Shelby boots look excellent with jeans, chinos, trousers, or a navy suit.
Be ready because you'll get compliments when you wear the boots.
How to clean suede boots
The timeless silhouette and design of Chelsea boots mean many years of wear. Maintenance and care ensure it lasts.
When it comes to suede material, you need to put in more effort to care for it.
You can clean most stains with a suede cleaning kit.
If your suede boots are wet, allow them to dry completely before cleaning or wearing them again.
Keep in mind that when the suede dries, it'll be stiff.
Once your boots are dry, use the following steps to clean them:
Insert paper or a shoe tree to hold its shape.
Use a soft brush to remove dirt.
Use an eraser to clean up specks or small marks.
Use a clean towel to touch up the boots.
Apply suede protectant spray.
Keep your suede Chelsea boots in good condition by cleaning them once per month.
If you don't wear them often, you can increase the time between cleanings.
Conclusion
If you're in the market for a new pair of shoes, invest in a good quality pair of suede Chelsea boots.
They're versatile and stylish, while the texture makes any outfit more interesting.
Be sure to clean them regularly to keep them looking their best.
Featured photo by David Em/Next Level Gents.
About David Em
Founder
David Em is the founder of Next Level Gents, the ultimate destination for tips and advice about style, grooming, fitness, and success.