Suede Chelsea boots are sleek, timeless and adds texture to your outfit. Investing in a high-quality pair that's comfortable for everyday wear is ideal.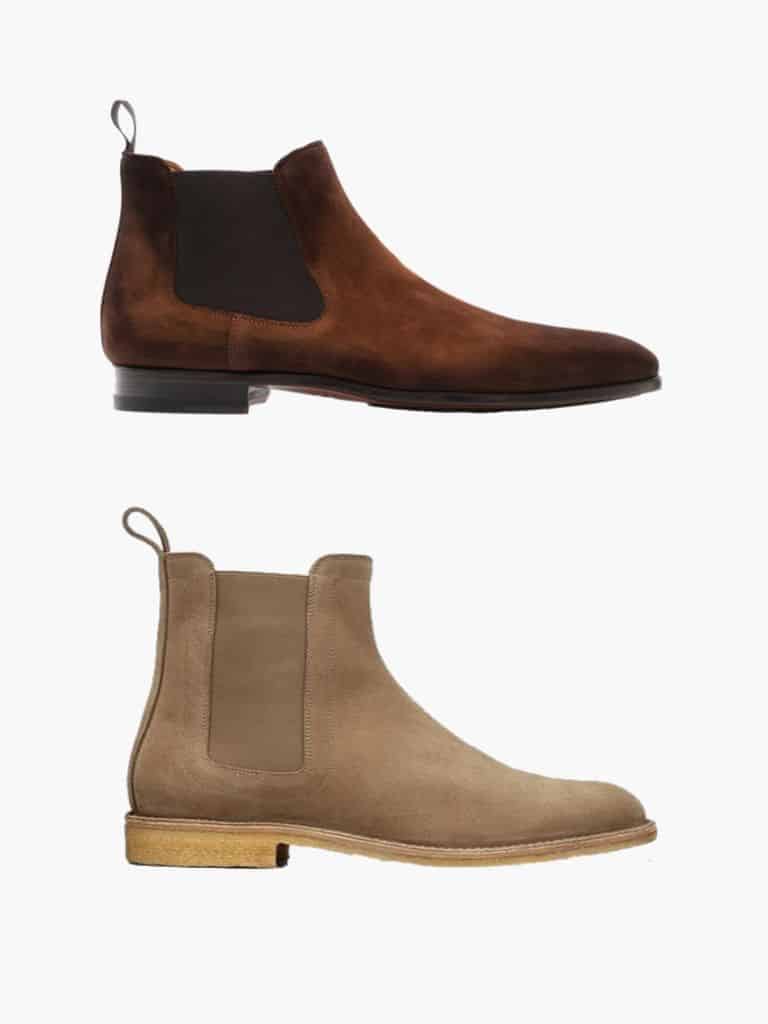 We receive a commission on purchases made through links on this page. For more information, read Affiliate Disclosure.
Suede for casual wear
Suede is more casual than leather. Therefore, suede Chelsea boots are perfect for casual and smart-casual wear.
Although they're more casual, they look amazing in many outfits and can be worn in any season. If it's your first pair, leather is the one to start with but if you already have a leather pair, suede is the way to go.
15 best suede Chelsea boots
The following are the best suede Chelsea boots:
Aquatalia Water Resistant Chelsea Boot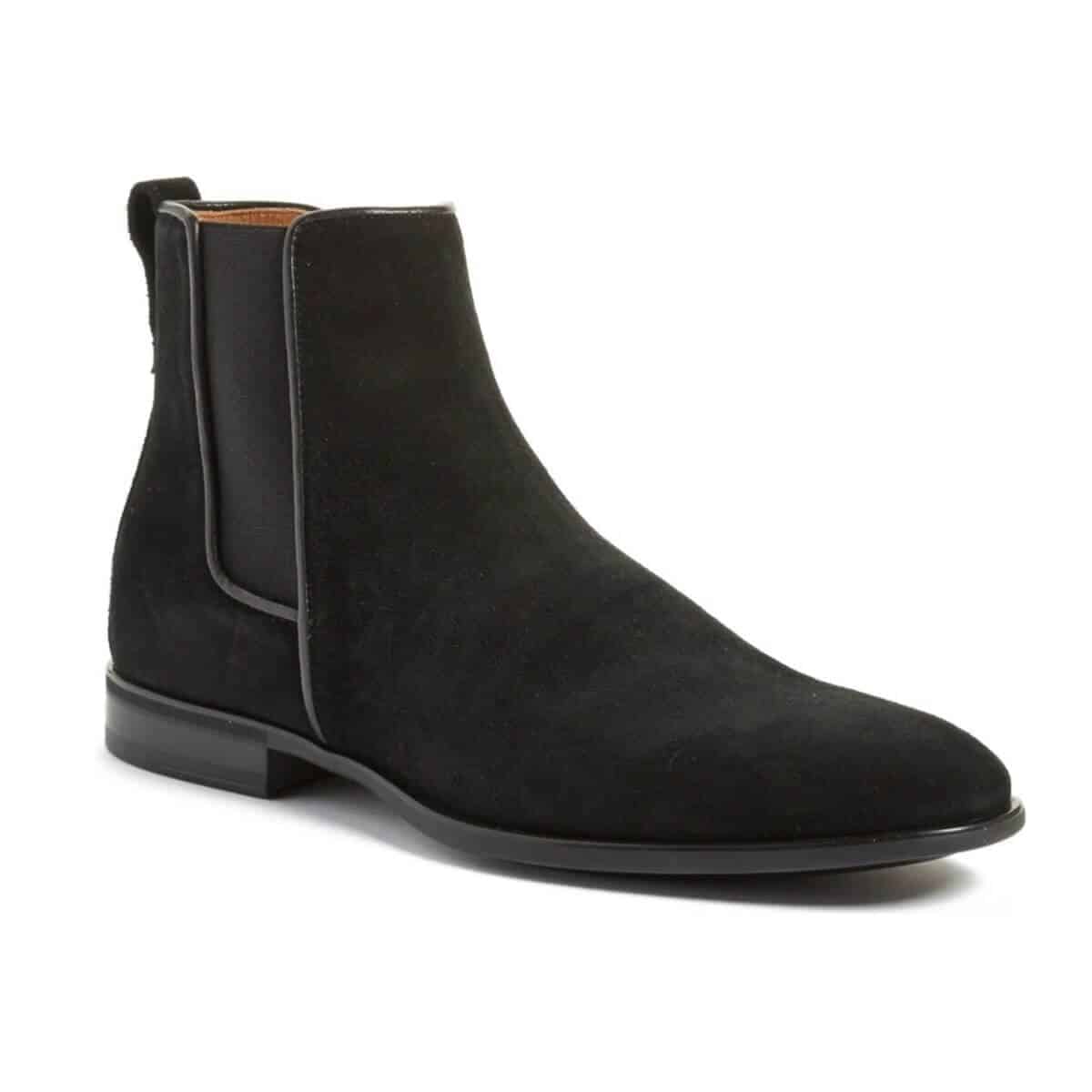 Aquatalia's Chelsea boot has a signature water-resistant finish that allows you to wear suede any day of the year. It's made with impeccable Italian construction and has a classic look.
Bottega Veneta Voortrekking Boot
For a luxury designer option, the Bottega Veneta Voortrekking Boot is an excellent choice. It looks elegant and is designed with durability in mind.
Clarks Clarkdale Gobi Taupe Suede
The Clarks Clarkdale Gobi Taupe Suede is a solid pair of Chelsea boots that's great with everyday wear. Clarks is also known for being durable shoes, the Chelsea boots don't fall short. They're comfortable and will last you a long time.
Cole Haan Wakefield Grand Waterproof Chelsea Boot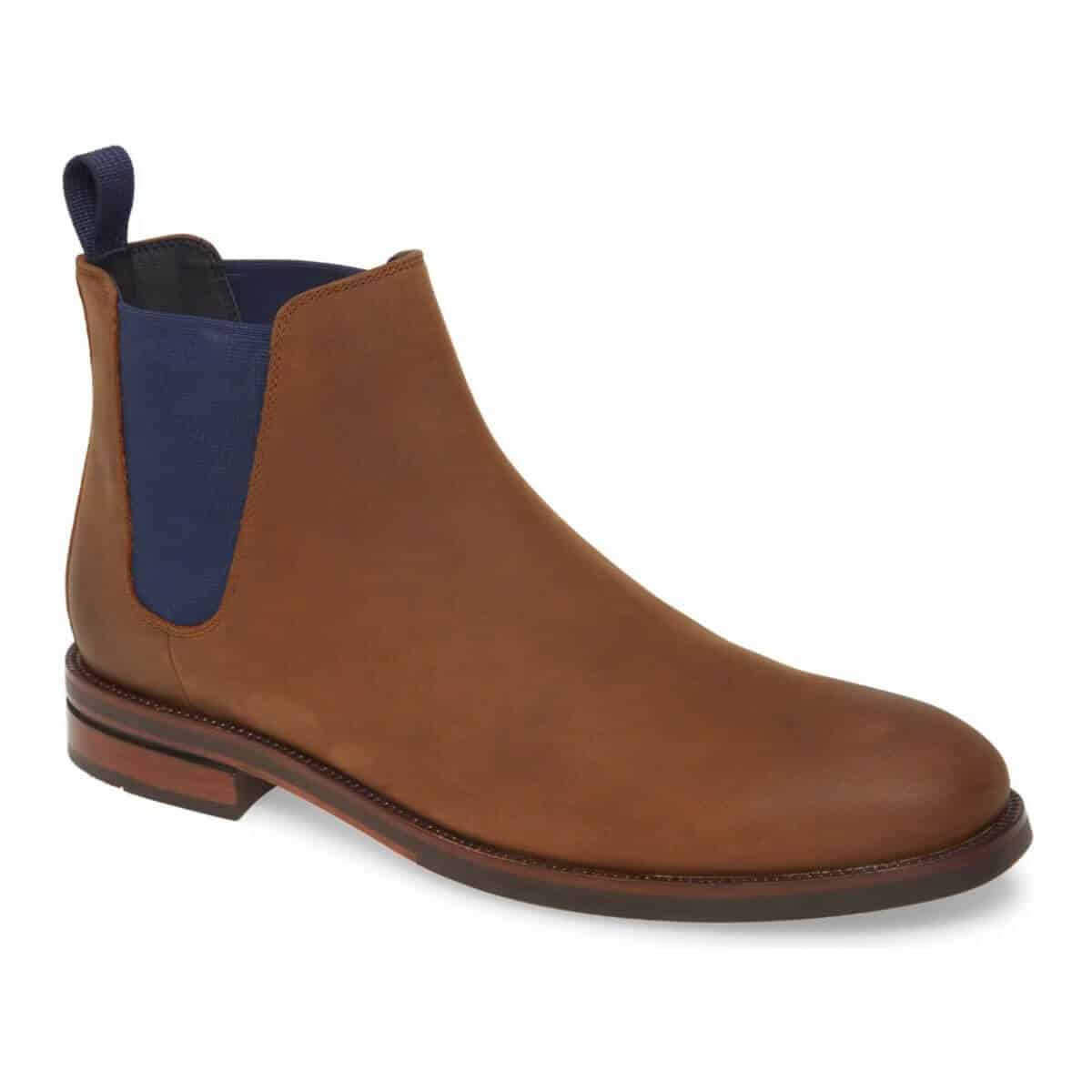 Cole Haan's Wakefield Grand Waterproof Chelsea Boot ensures that the rain doesn't stop you from being stylish. It has the Grand.OS cushioning in a leather-covered molded footbed, which guarantees comfort, and a proprietary-tread rubber sole ensures traction.
Common Projects Suede Chelsea Boots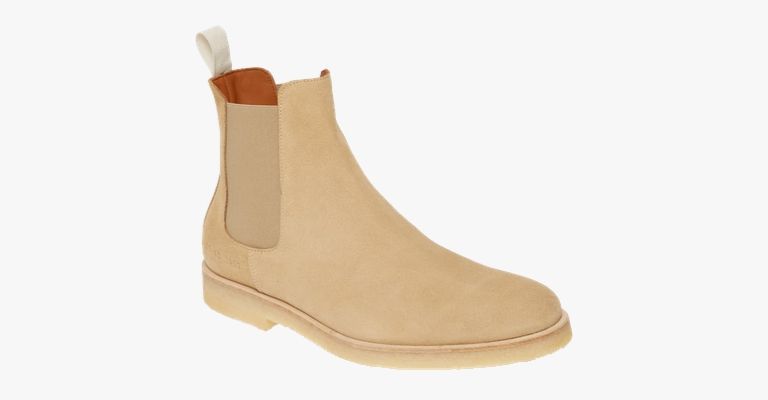 Common Projects is known for more than its sneakers. The suede Chelsea boots are minimal, sleek, and comfortable. If you're trying to decide on what to pair them with, wear olive or navy chinos and cuff your pants.
Frye Bowery Chelsea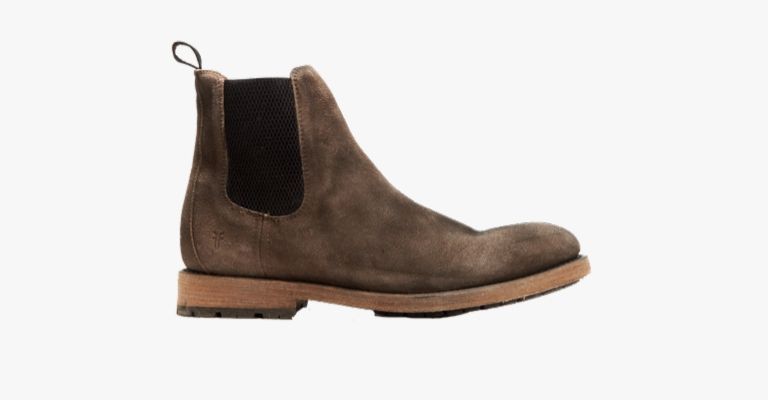 Frye's Bowery Chelsea boots have been handcrafted from suede that's been slightly distressed. It gives a worn and broken-in look, which adds personality to the boots.
John Varvatos Amsterdam Chelsea Boot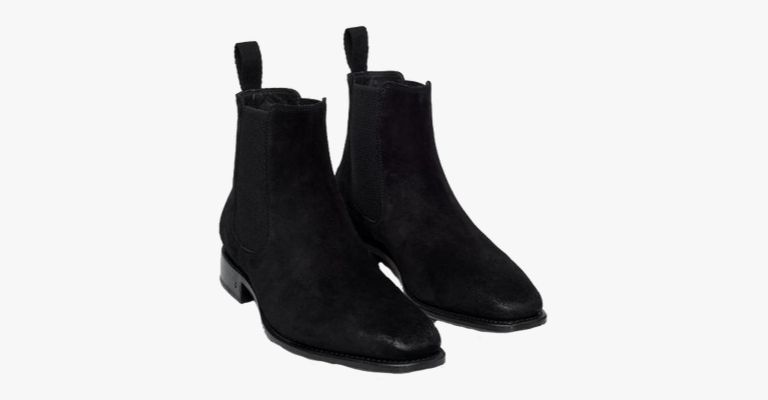 The Amsterdam Chelsea Boots by John Varvatos combine the suede look with a clean and classy boot. Each pair is crafted by hand from a fine calf suede with a velvet feel that's been tanned the distinctive hue.
Magnanni Shaw II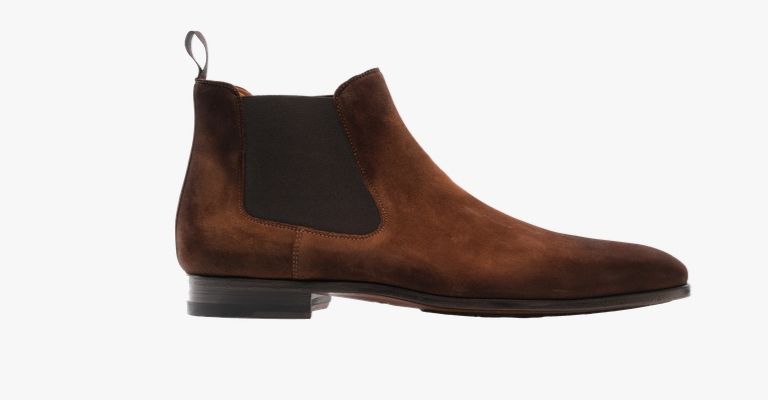 The Magnanni Shaw II in Cognac Suede is a stunning Chelsea boot. Compared to other Chelsea boots, the height is slightly shorter. It also has a narrower toe, which gives it a more modern and sleek look.
New Republic Chuck Suede Chelsea Boot
New Republic's suede Chelsea boot offers a classic and simple tan suede boot. However, the blue and orange tab is what makes the boots stand out.
Saint Laurent Wyatt Chelsea Boot in Suede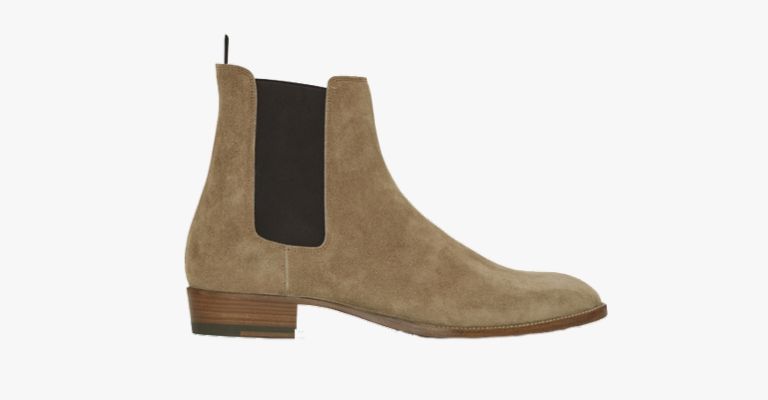 Saint Laurent's Wyatt Chelsea Boot has a higher heel than most. The stacked heel, longer side panel, and pointed toe make it a retro suede Chelsea boot.
Shoe the Bear Dev Chelsea Boot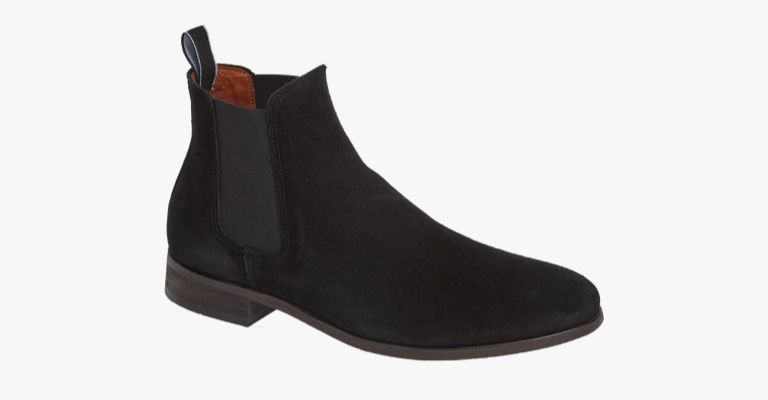 The Dev Chelsea Boot is made of high-quality suede in Portugal. Its simple and sleek design ensures that you can wear it for many years. The low heel and slim sole make it a classy option.
Taft The Jude Boot
The Jude Boot by Taft is made with Spanish suede that's tanned and milled in Almansa, Spain. It's a stylish Chelsea boot that offers grip, durability, and comfort.
Thursday Boot Co. Duke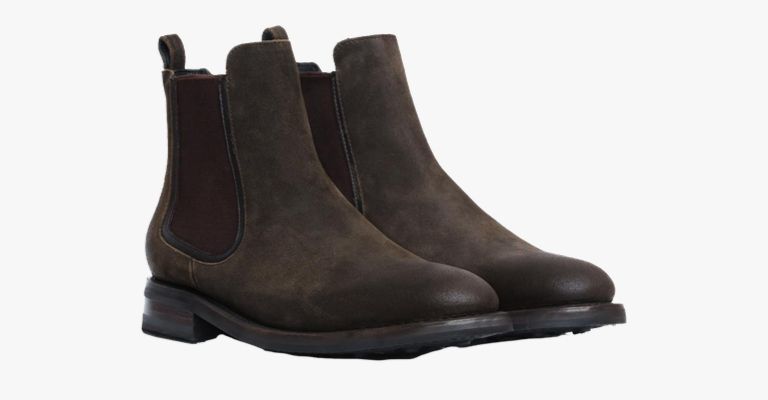 The Duke by Thursday Boot Co. is a lower-cost suede Chelsea boot that has high-quality materials. Be sure to get a half-size smaller than your size in sneakers because it runs small.
To Boot New York Shelby Grey Suede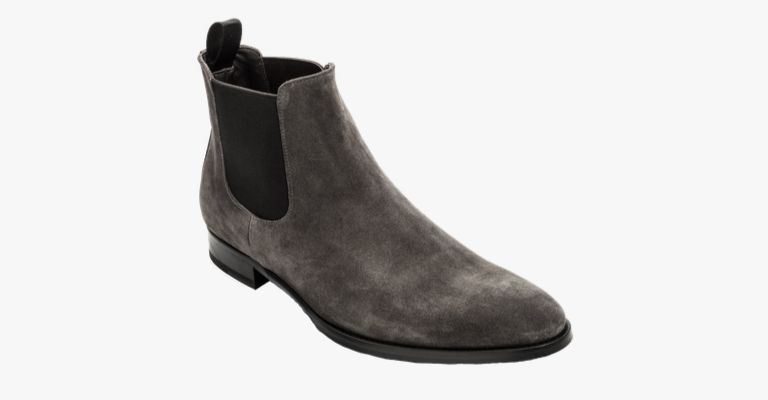 Grey suede is an excellent neutral color that matches with a lot of different colors. The To Boot New York Shelby Grey Suede Chelsea boot is made from plush Italian suede and has a sophisticated almond-shaped toe.
Trask Leo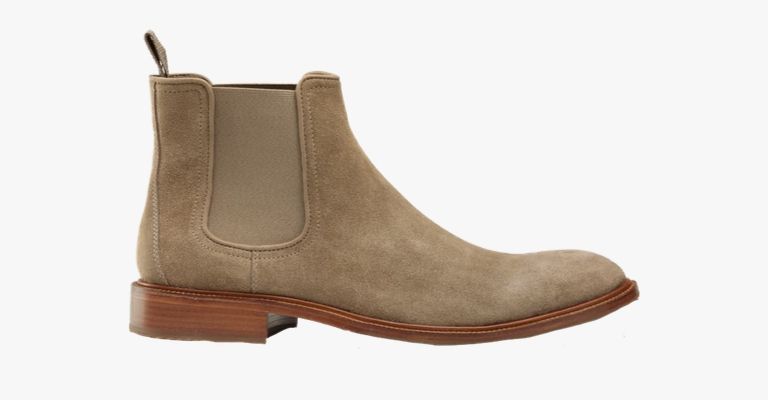 The Trask Leo is made with water-resistant English suede. It's specially tanned with a smooth full-grain reverse to make it comfortable right out of the box. The elastic side gores and webbing pull tabs make it easy to put on and take off.
Ungaro Wingtip Suede Chelsea Boots
The Ungaro Wingtip Chelsea boots are made with calfskin, and the brogue accent makes your outfit look more interesting. Since the heel and sole are thicker, it's better for casual outfits.
Cleaning and care
If your suede boots are wet, allow them to dry completely before wearing them again. Although your boots won't be ruined, you'll notice they'll be a bit stiff and that's normal when suede dries.
Once your boots are dry, take the following steps to clean it:
Insert paper or a shoe tree to hold its shape.
Use a soft brush to remove dirt.
Use an eraser to clean up specks or small marks.
Use a clean towel to touch up the boots.
Apply suede protectant spray.
To keep your suede boots in good shape, it's important to clean them once a month if you wear them often or once every few months if you don't wear them too often.
Conclusion
Suede Chelsea boots are essential. The texture makes your outfit more interesting, and the sleek design looks great with any outfit. Investing in a high-quality pair is worth it and make sure to clean it regularly to ensure they last long.
More resources:
Featured photo by David Em/Next Level Gents.