The chore coat began as workwear. Now, it's a functional, stylish, and durable outerwear item that you need to have in your wardrobe.
One of the best outerwear items is the chore coat, also known as the chore jacket.
It's lightweight, durable, and fashionable. The material is twill or canvas, allowing the jacket to withstand various conditions.
The features that make a chore coat are large pockets at your chest and hip, a button closure, and a pointed collar.
Whether meeting friends or running errands, you can use it as an everyday jacket.
It's also excellent for layers. You can wear it over a t-shirt, lightweight sweater, or button-up.
Also, the roomy pockets allow you to store everything you need to carry.
If you don't have a chore coat, get one today. The following are the best options.
Le Mont Saint Michel and Vetra were the original brands. You'll find them on the list, and newer brands, like Todd Snyder.
Le Mont St Michel Genuine Work Jacket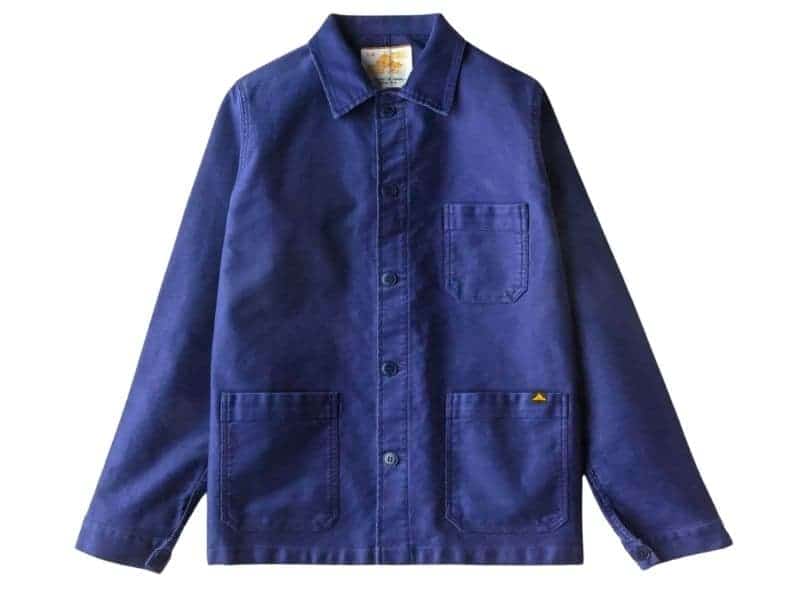 Buy the Genuine Work Jacket from Le Mont St Michel for $281
Since 1913, Le Mont St Michel continues to make the best and most authentic chore coat.
The material is 100% cotton moleskin, meaning it's durable and water-repellent.
It has three patch pockets and an elegant cut.
If you want an original chore coat that's stylish and practical, get the Genuine Work Jacket.
Vetra Workwear Jacket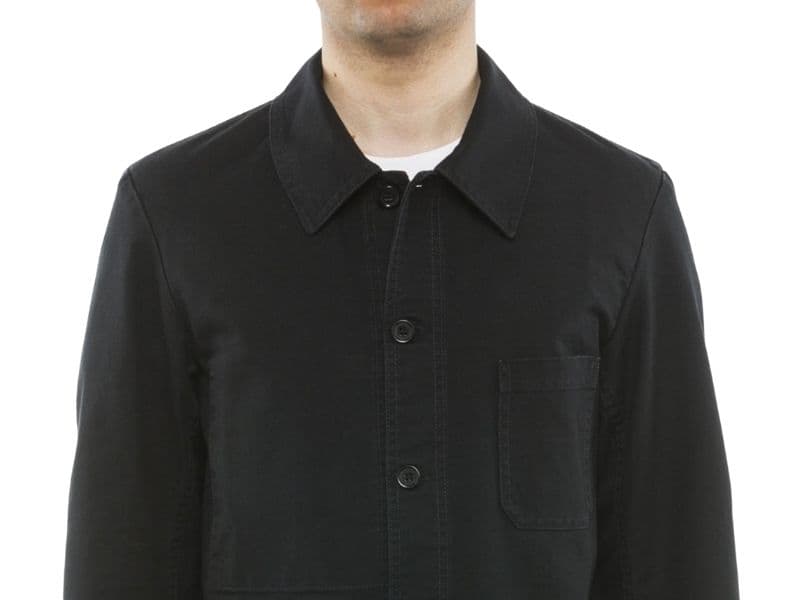 Buy the Workwear Jacket from Vetra for €165
Vetra is a French label and one of the original producers of the chore coat.
The Workwear Jacket features a classic design, slim fit, and twill fabric.
The jacket is excellent for layering, as it's lightweight.
It also has three large exterior pockets and an interior pocket for your phone or wallet.
Everlane The French Terry Chore Jacket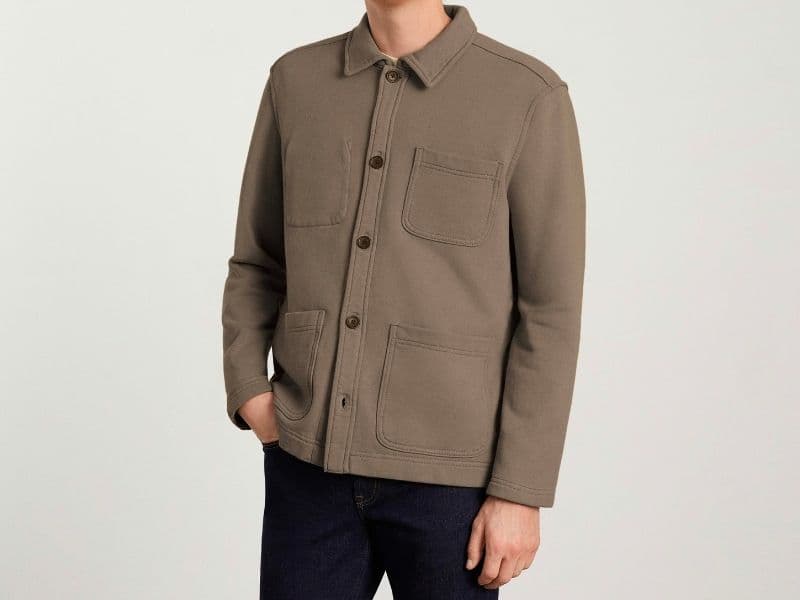 Buy The French Terry Chore Jacket from Everlane for $88
Everlane offers a classic-looking French Terry Chore Jacket in neutral colors and navy.
It's also 100% organic cotton, certified by the Global Organic Textile Standard.
The French Terry fabric is excellent, as it's soft, breathable, and can absorb a lot of water.
The Everlane jacket also sports the traditional point collar and four large pockets.
It would be perfect if Everlane launched an olive green and tan version, but it's still a solid choice.
Patagonia Iron Forge Hemp® Canvas Chore Coat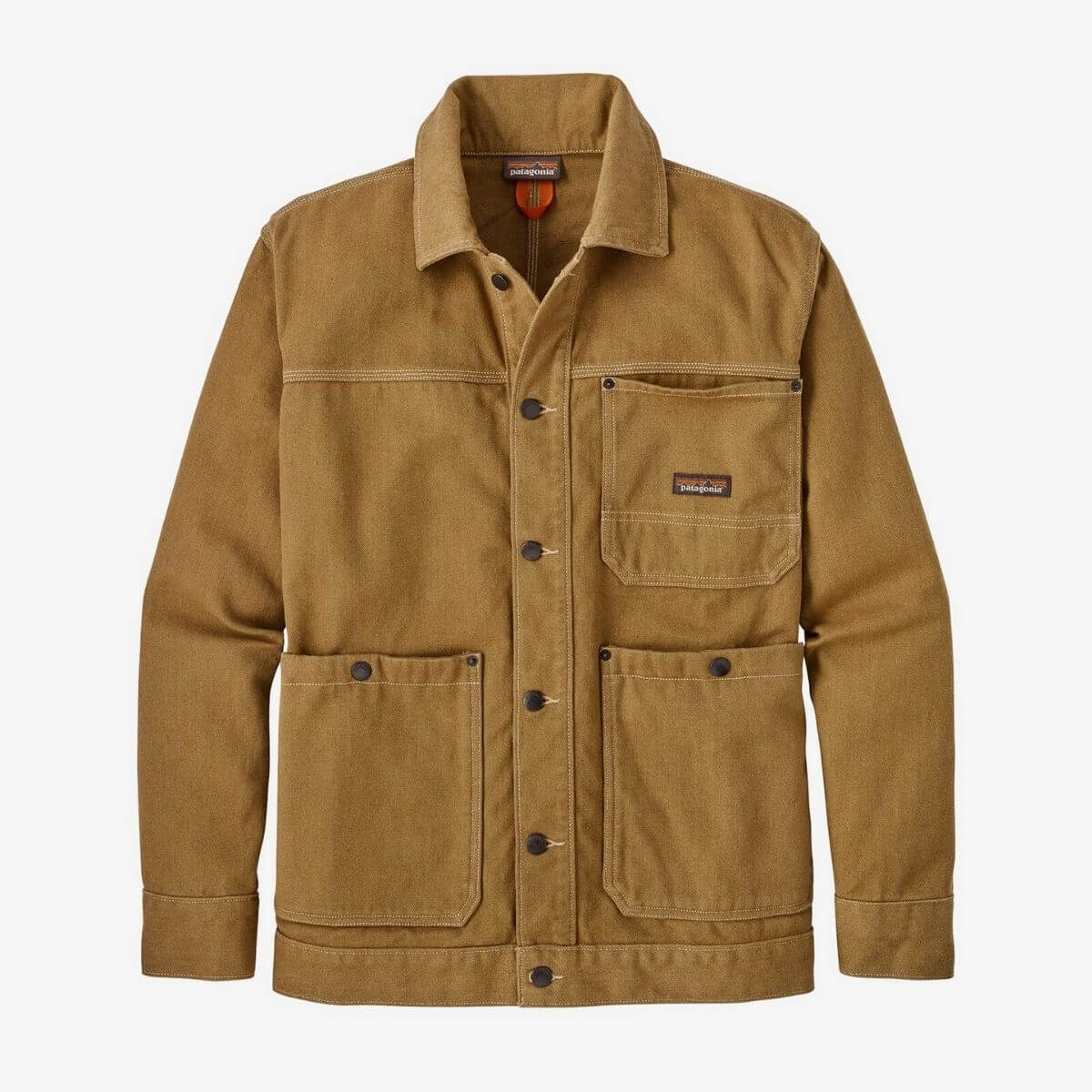 Buy the Iron Forge Hemp® Canvas Chore Coat from Patagonia for $149
You wouldn't associate Patagonia with workwear. But, the company makes one of the best chore coats available.
The material is hemp, polyester, and organic cotton.
Patagonia claims that it's 25% more abrasion resistant than conventional cotton duck canvas.
You'll feel how reliable and durable it is when you wear it.
The coat has three large pockets instead of four. But, it features an inner zip pocket.
For sizing, get one size down because it runs a bit large.
Carhartt Full Swing® Chore Coat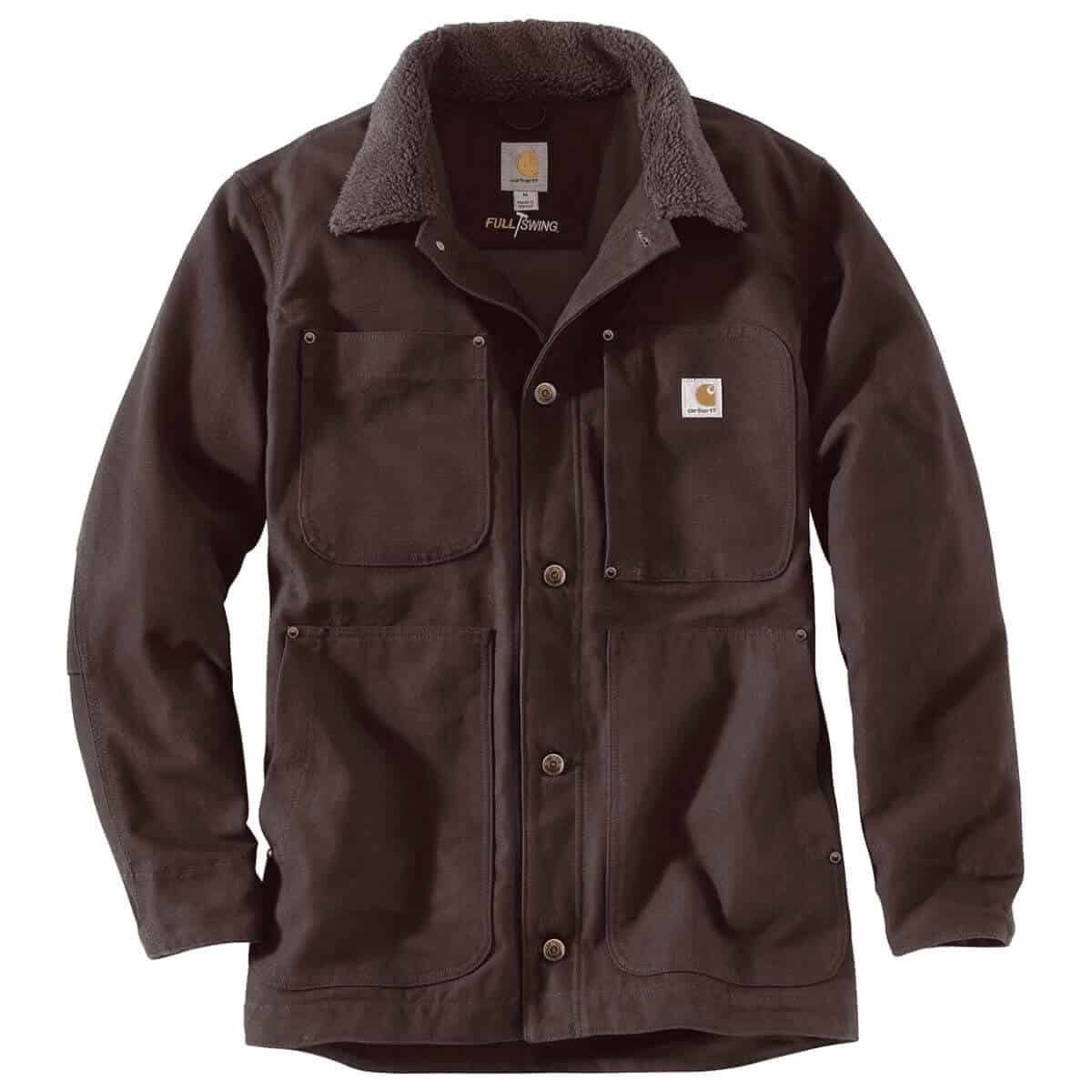 The following are Carhartt Full Swing® Chore Coat prices from different stores for you to compare.
Carhartt has over 120 years of experience in workwear. The Full Swing Chore Coat can handle anything you throw at it.
The outer material is a 12-ounce ring-spun cotton duck. Inside, it has a polyester fleece lining to keep you warm.
Due to the warmth and thickness, the Carhartt chore coat is best for colder temperatures.
Taylor Stitch The Ojai Jacket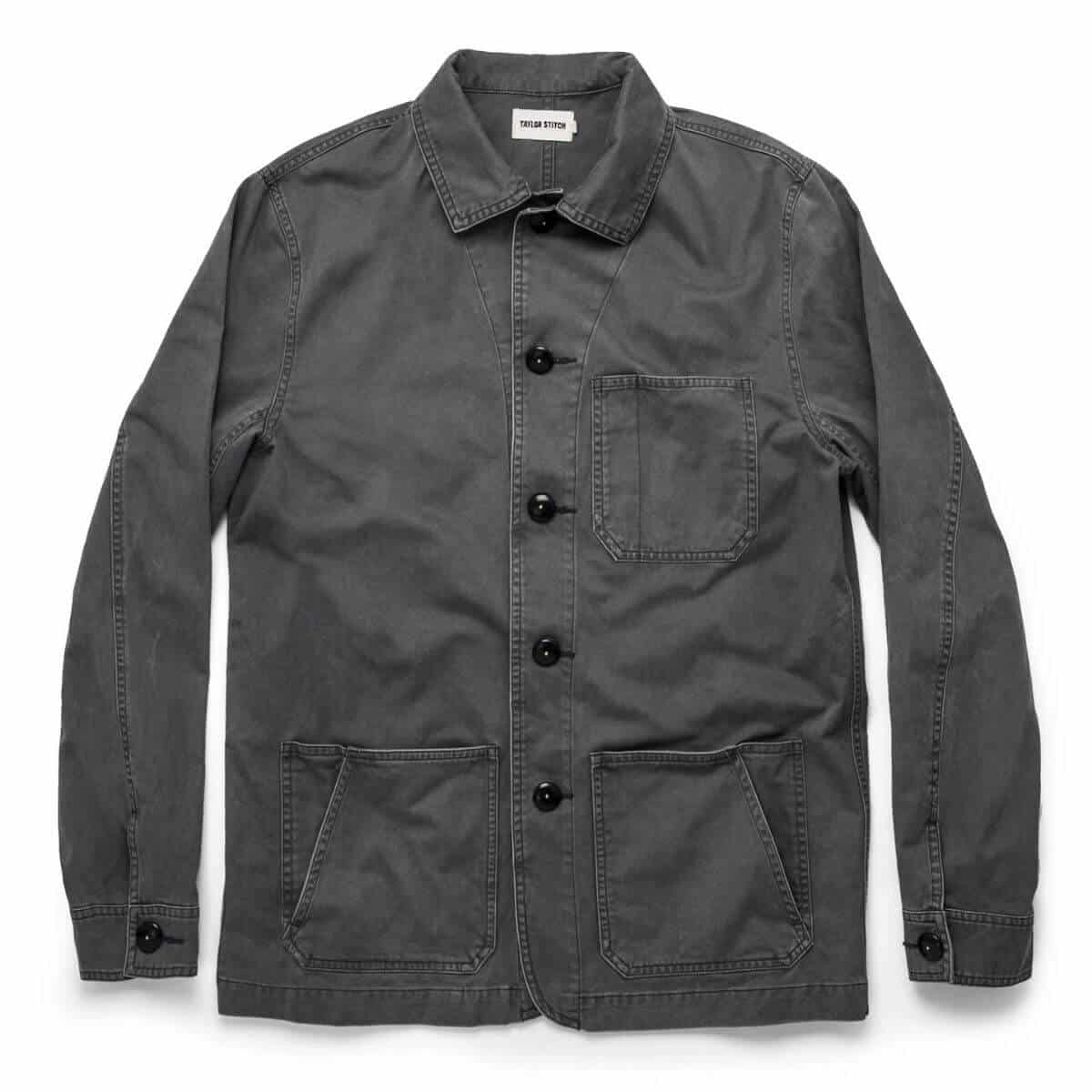 The following are the Taylor Stitch The Ojai Jacket prices from different stores for you to compare.
The Ojai Jacket from Taylor Stitch comes ready for work. It has a broken-in feel, a stylish design, and three large pockets.
The jacket is lightweight, as the material is 8-ounce cotton. So, it's best for spring, summer, or layering.
Taylor Stitch also offers 12 variations, ensuring you find the right match for your style.
When it comes to a modern and tailored take on a classic style, The Ojai Jacket is a must-have.
Buck Mason Felted Chore Coat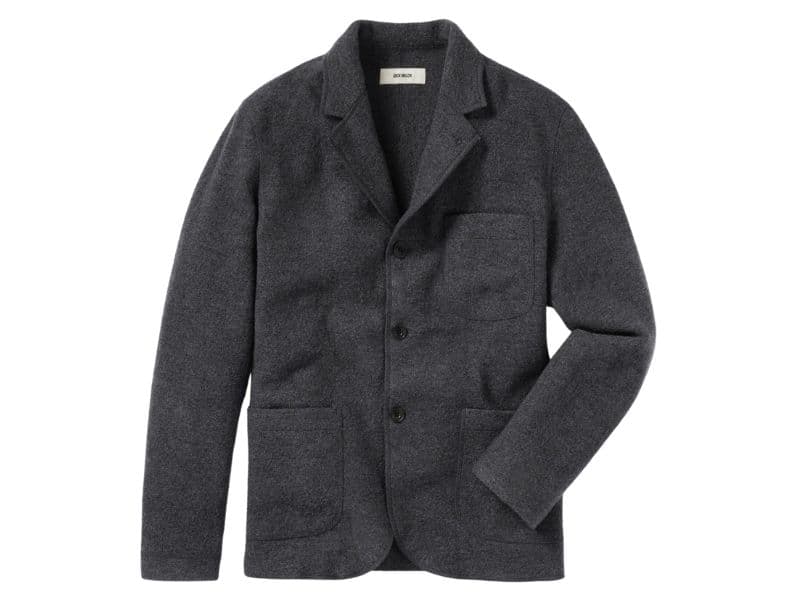 Buy the Felted Chore Coat from Buck Mason for $225
Buck Mason adds a twist to the chore coat, making it stand out from others.
The coat is felted merino wool. So, it's warm, durable, and absorbent.
It also has a smaller collar, which resembles a blazer. The collar gives you a classy and elegant touch.
Also, it has a slim and tailored fit. It's stylish and available in neutral colors.
If you want a warm and high-quality chore coat, Buck Mason has the ideal coat for you.
Orvis Montana Morning Chore Coat
Buy the Montana Morning Chore Coat from Orvis for $129
Orvis is a brand known for excellent craftsmanship.
Its Montana Morning Chore Coat is perfect for spring and summer.
Also, the coat has a light beige color and is a lightweight canvas.
It's roomy, so you can layer up when it's cold.
It's a coat you can dress up or down due to the neutral color.
Wear olive green or navy chinos or dark jeans to create contrast with the Orvis coat.
Frequently asked questions about chore coats
Answers to common questions about chore coats are as follows.
What's a French chore jacket, and why's it blue?
A French chore jacket is the blue or indigo jacket, which French laborers wore in the 1800s.
It's also known as bleu de travail, meaning work blues in French.
The original material was moleskin or canvas.
Its blue color comes from the dye. It was the color of most French workwear.
How do you wear a chore coat?
Chore coats have a minimal and streamlined silhouette. You can wear a chore coat with chinos or jeans.
On top, you can wear a t-shirt, lightweight sweater, button-up shirt, or polo shirt. For the shoes, wear sneakers, boots, or loafers.
When you wear a chore coat, you can button it up or leave it open.
Since it works for casual and smart casual outfits, the jacket is appealing and essential.
Are chore coats warm?
Most chore coats are light or medium weight. So, they're ideal for moderate temperatures.
If you need a warm jacket, look for a heavyweight chore coat or wear a hoodie underneath.
Conclusion
The chore coat is a classic workwear item that's become a menswear staple.
It's a reliable jacket that'll last decades. Thanks to the durable twill or canvas material.
Whether you want a dapper smart casual or rugged casual look, you can achieve it with a chore coat.
Featured image courtesy of Todd Snyder.
About David Em
Founder
David Em is the founder of Next Level Gents, the ultimate destination for tips and advice about style, grooming, fitness, and success.