The chore coat was originally designed as a protective coat worn for work. Now, it's a classic, stylish and durable coat that you need in your wardrobe.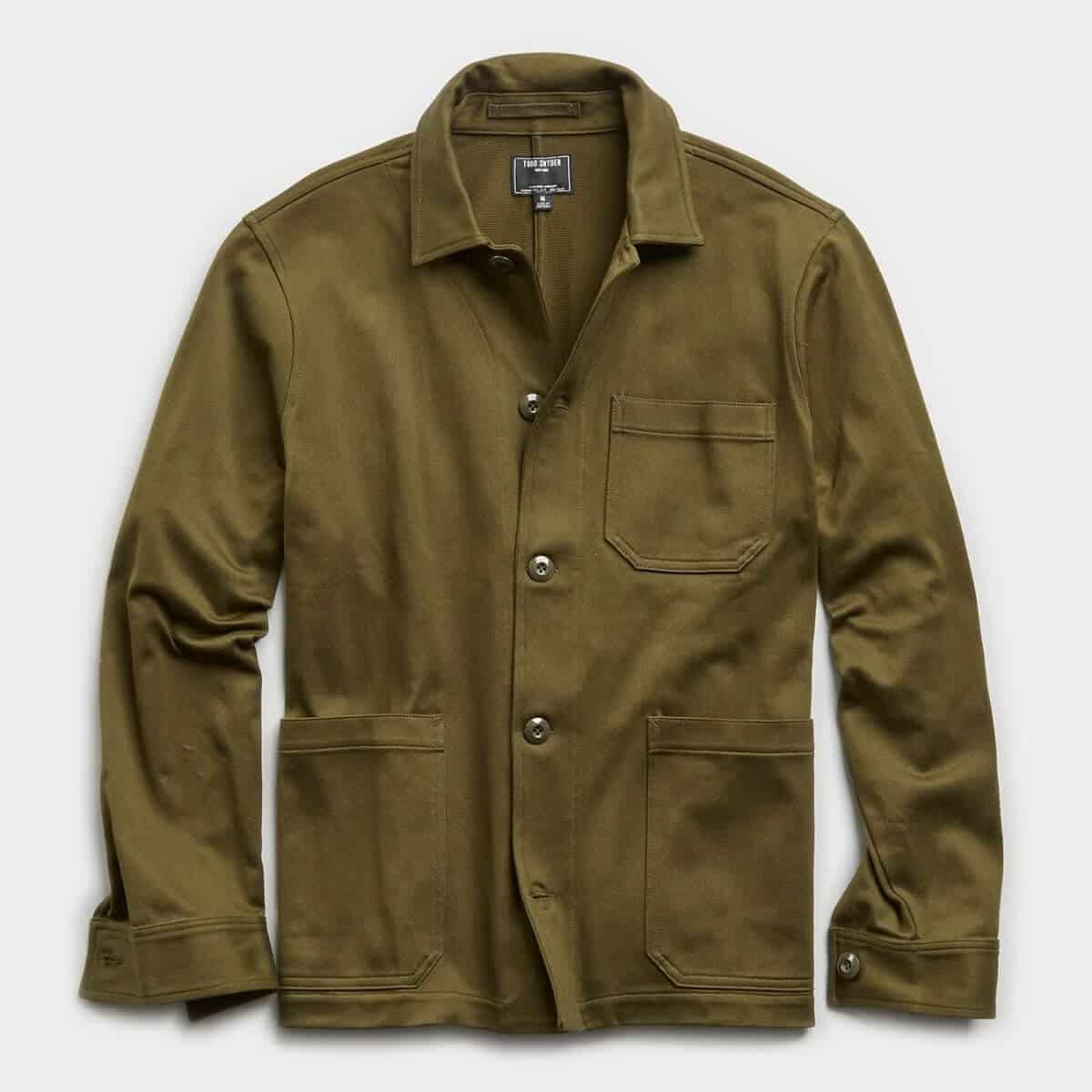 Estimated reading time: 6 minutes
We receive a commission on purchases made through links on this page. For more information, read Affiliate Disclosure.
What's a chore coat?
The chore coat is an essential jacket that's perfect for spring and fall. When the weather is slightly cooler and not too cold, a lightweight jacket is a good choice.
Related: Best jackets to have in your wardrobe
Today, there are many versions of the chore coat as it has evolved.
Traditionally, the coat was made with twill or canvas fabric, which was durable and could withstand many scenarios.
Most chore jackets are designed similarly. They have large pockets at your chest and hip. They also have a button closure, a pointed collar, and the fit is more relaxed.
Related: What to wear with a corduroy jacket
If you're looking to get things done, this is the jacket you need. Since the original purpose was for work, the material is water-repellant.
Being water-repellant is an important feature because your jacket won't get soaked or ruined with a little bit of rain.
You don't have to be doing physical labor to wear one of these.
If you're leaving your home to run errands, go to a party, on a date, or wherever you find yourself going, it'll look great on you.
8 best chore coats for your jacket rotation
The following are the best chore coats for men:
Everlane Chore Jacket
Everlane's chore jacket is designed like a classic. It's made with durable cotton twill and is suitable for many different occasions.
It comes in navy, ochre, and pine, which are three great colors to have in your wardrobe.
Buy The Chore Shirt Jacket from Everlane (opens in a new tab).
Filson Workshop Chore Jacket
Filson is known for its high-quality and durable clothing. Their chore coat is no exception.
It's made with water-repellent and virtually windproof tin cloth. This jacket is great for outdoor work or everyday wear.
Buy the Workshop Chore Jacket from Filson (opens in a new tab).
Patagonia Iron Forge Hemp® Canvas Chore Coat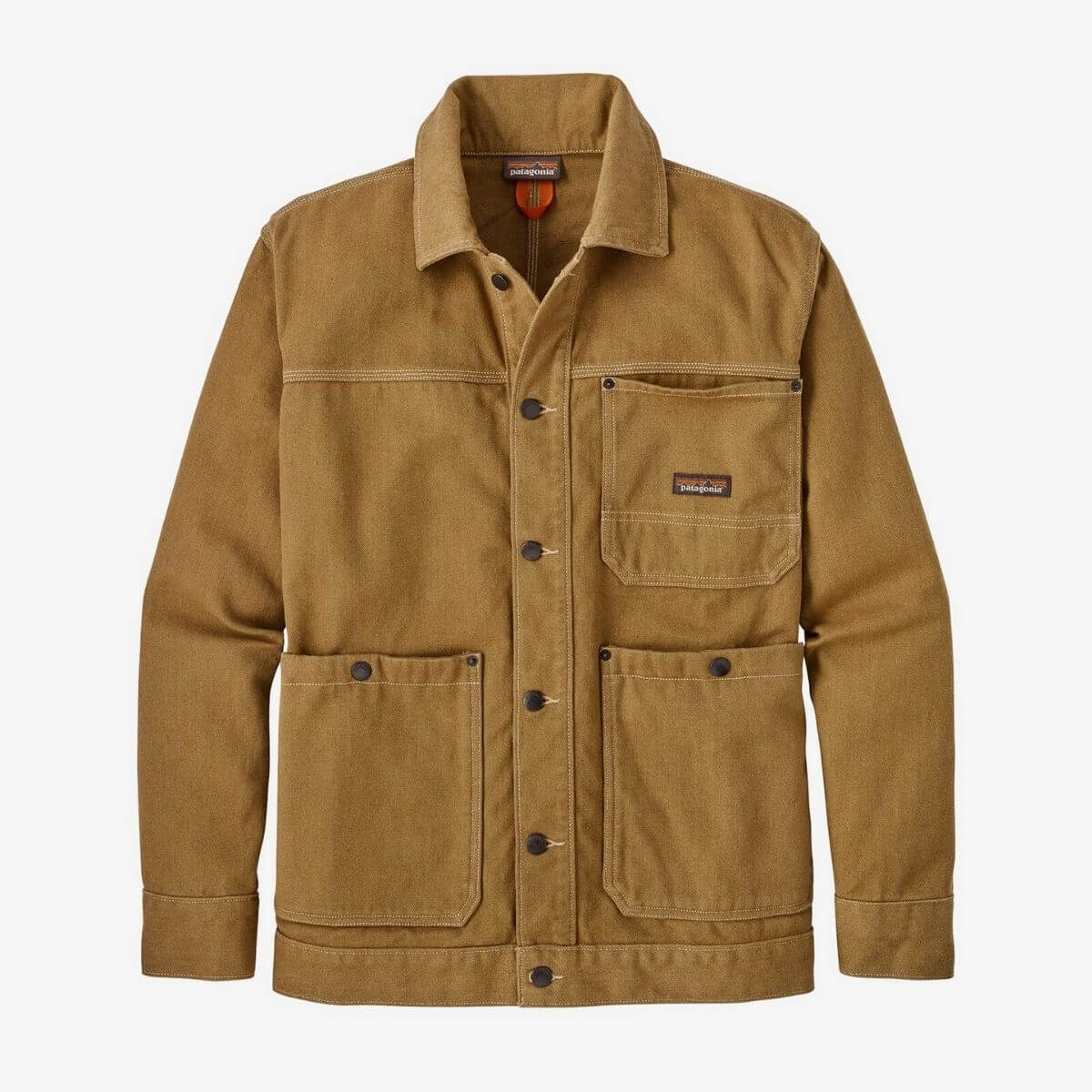 Patagonia is known for its high-quality materials and the environmentally-conscious methods for making their items.
Their clothes are built to last years and not just one season. The jacket is made of hemp, organic cotton, and recycled polyester. It runs a little bigger, so you may need to size down.
Buy the Iron Forge Hemp® Canvas Chore Coat from Patagonia (opens in a new tab).
Carhartt Full Swing® Chore Coat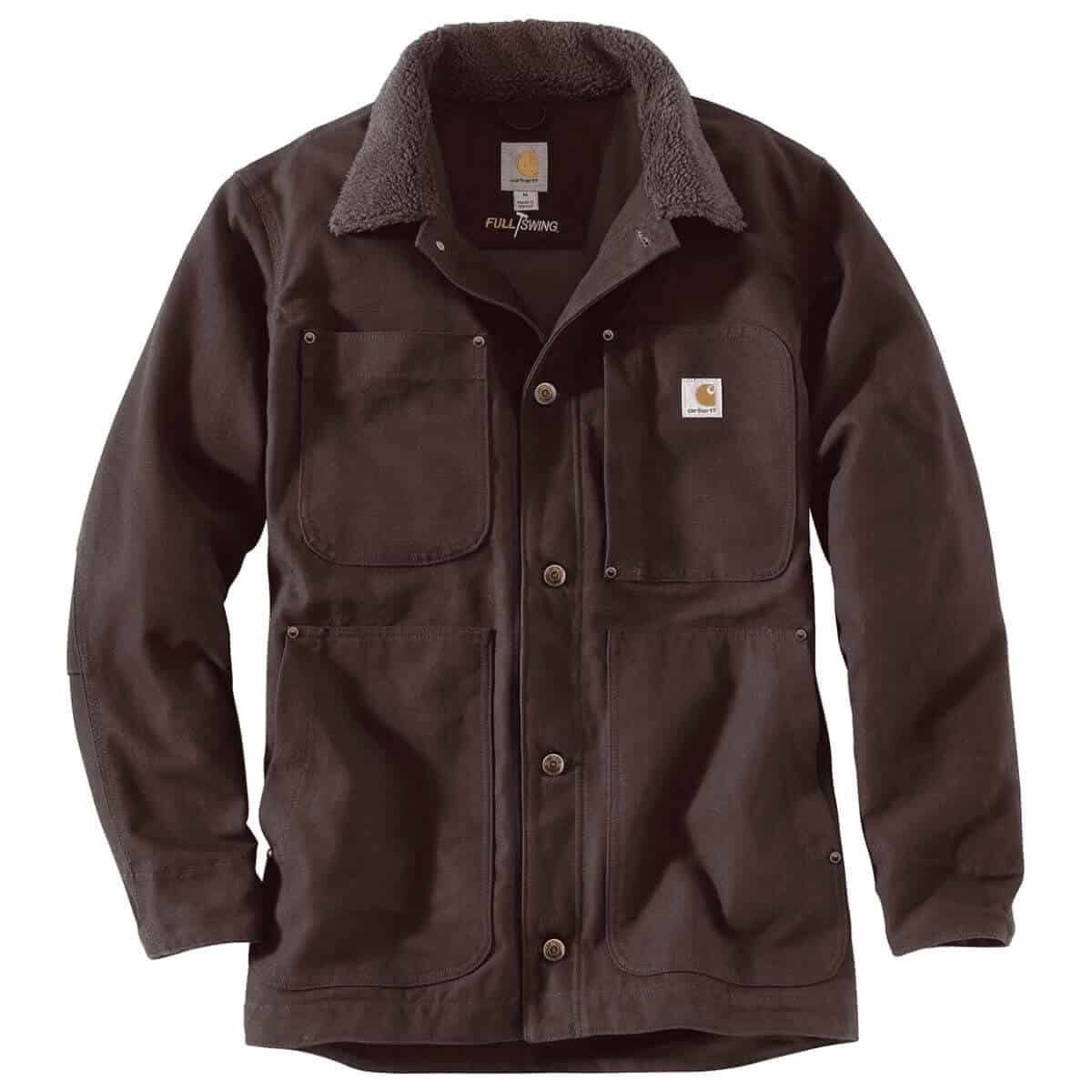 Carhartt has been around for more than 120 years and is known for its workwear that can handle daily wear and tear.
The coat is made of ring-spun cotton duck and has a polyester fleece lining to keep you warm. This one is better for the fall or winter due to its warmth and thickness.
Buy the Carhartt Full Swing® Chore Coat from Amazon (opens in a new tab).
Universal Works Bakers Chore Jacket
The chore jacket by Universal Works is made of mid-weight selvage denim in the UK. Although it's not the traditional version of the chore coat, it does have buttons and multiple pockets like a traditional one.
Buy the Universal Works Bakers Chore Jacket from End Clothing (opens in a new tab).
A.P.C. Andre Technical Chore Jacket
For a modern chore coat that still has the button closure and four pockets, go with A.P.C. The beige-colored jacket is the perfect neutral color to wear during the spring or fall.
A.P.C. is known for its simple, luxury, functional, and high-quality clothing. Their chore jacket doesn't disappoint.
Buy the A.P.C. Andre Technical Chore Jacket from End Clothing (opens in a new tab).
Todd Snyder Japanese Knit Chore Coat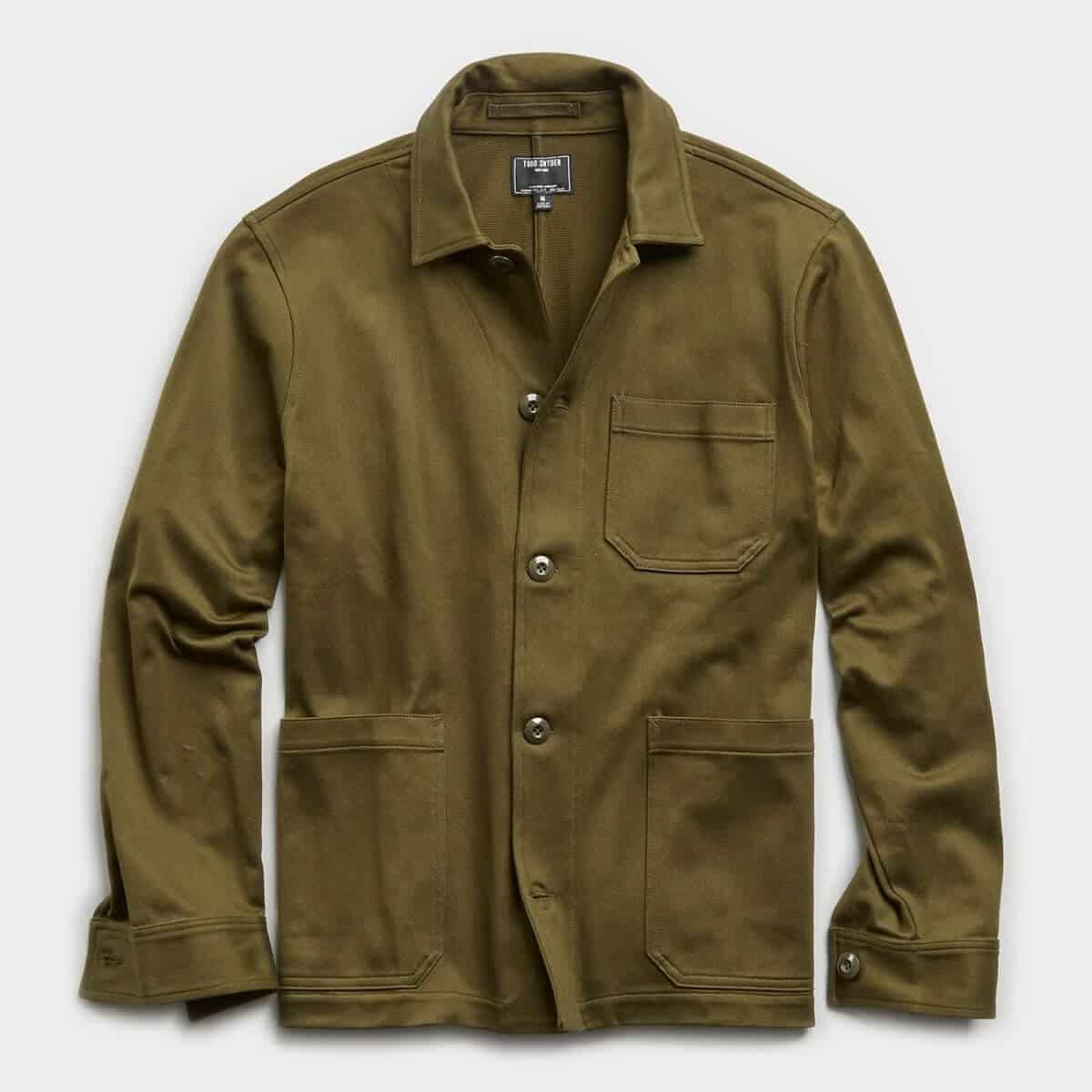 Todd Snyder produces well-crafted clothing that looks just as great. The Japanese Knit chore coat is completely made with cotton.
It has three pockets and button closure. It has a vintage look, and over time, it'll continue to look better.
Buy the Japanese Knit Chore Coat from Todd Snyder (opens in a new tab).
Taylor Stitch The Ojai Jacket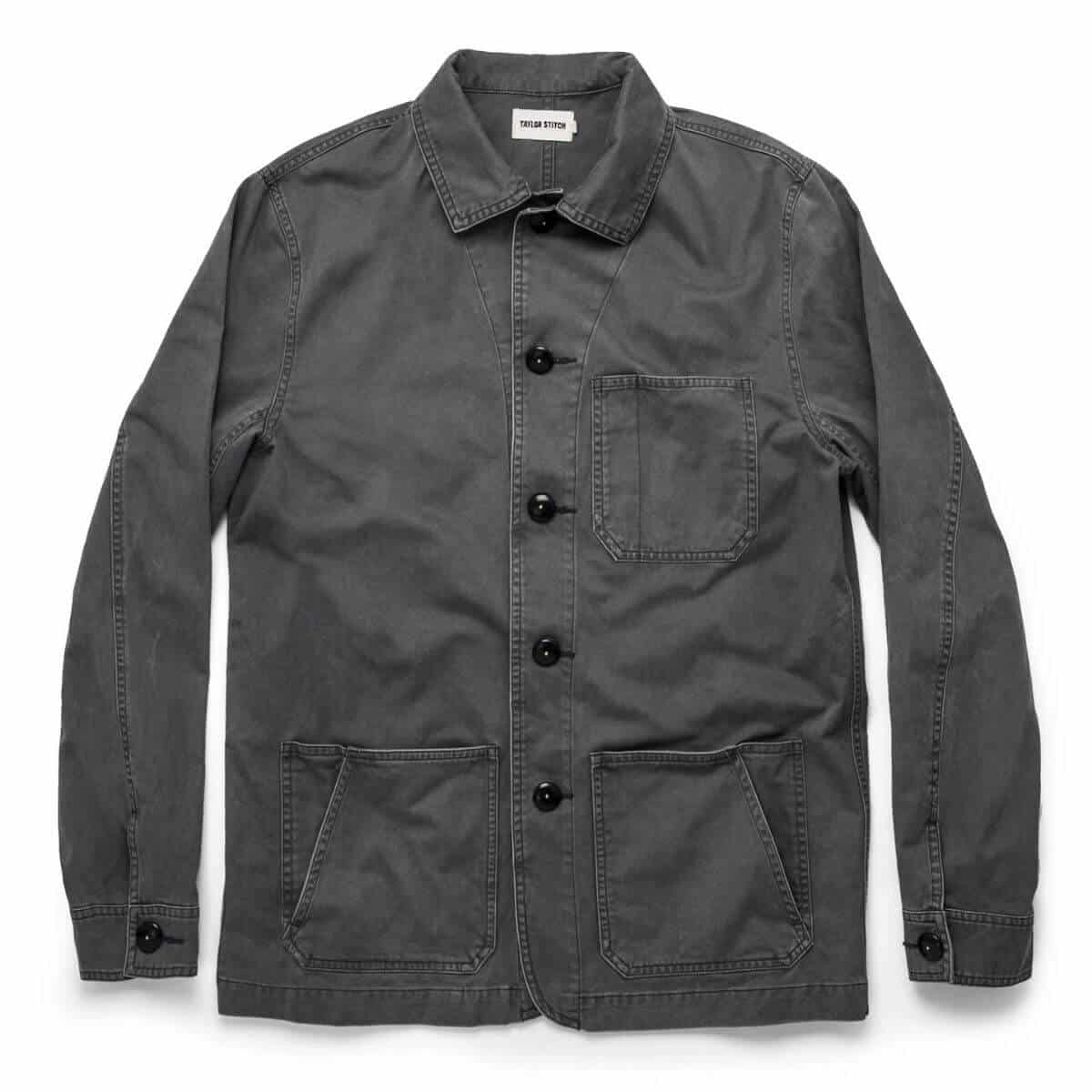 The Ojai Jacket is a unique version of the chore jacket that looks incredible. It's on the lighter side, so you may be able to wear it in the summer if it isn't too hot.
The jacket is made of cotton and is washed to give a softer and more broken-in feel.
Buy The Ojai Jacket from Taylor Stitch (opens in a new tab).
Frequently asked questions
What is a French chore jacket?
It's a chore coat that originated in France. Normally they're a bright indigo color.
What do you wear with a chore coat?
You can wear jeans, chinos, or twill pants. For shoes, sneakers, boots, or loafers look great. For shirts, t-shirts, henley shirts, and sweaters are perfect.
What is the warmest work jacket?
Look for one that's thick and has fleece lining, such as the Carhartt chore coat.
Conclusion
Chore coats have been around for a long time. Long enough to be considered a classic. Originally, they were designed for outdoor work. However, they've become a stylish and timeless jacket that can handle a beating.
More resources:
Featured image courtesy of Todd Snyder.