Green pants are a style essential because they can be a substitute for blue or black jeans. Learn the right things to wear with green pants.
We receive a commission when you buy through affiliate links on this page.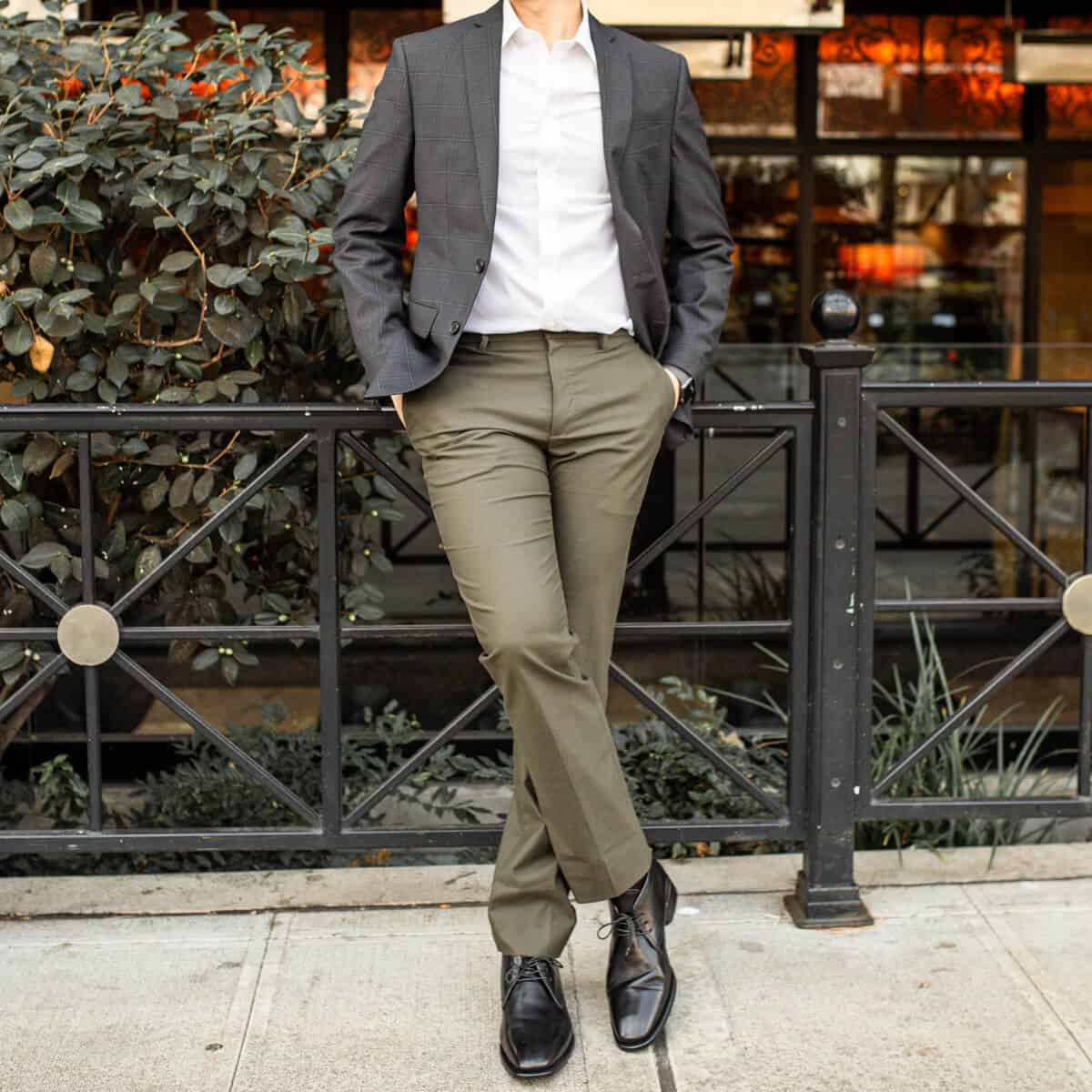 When you think of green pants, what comes to mind?
Chances are, you think of bright, vibrant, and bold green pants or military uniforms.
Related article: How to style a quilted jacket
Green pants are an excellent addition to your wardrobe. The key is to wear the right shades of green.
Light or dark and muted greens are the best for pants.
Light green is perfect for spring and summer outfits, while dark green is for fall and winter.
Green pants are versatile and elevate your style.
Whether you wear chinos, trousers, or jeans, add a green pair for variety.
The following are various ways you can style green pants.
Olive green trousers with an overcoat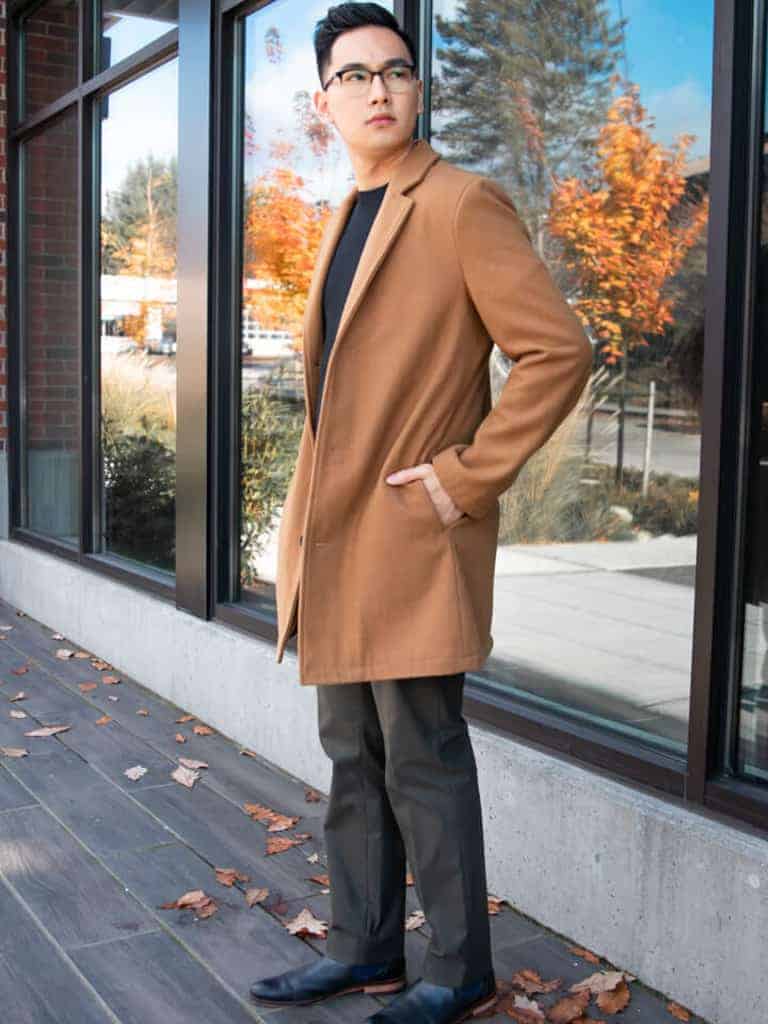 The best way to make your green pants outfit more elegant is to wear trousers and an overcoat.
An overcoat goes halfway down your thigh. It provides a fashion-forward and sophisticated look.
Also, overcoats keep you warm. So, it's ideal for colder temperatures.
You can wear a wool, cashmere, or polyester overcoat.
Wool and cashmere are more elegant, while polyester is excellent for keeping you dry in the rain.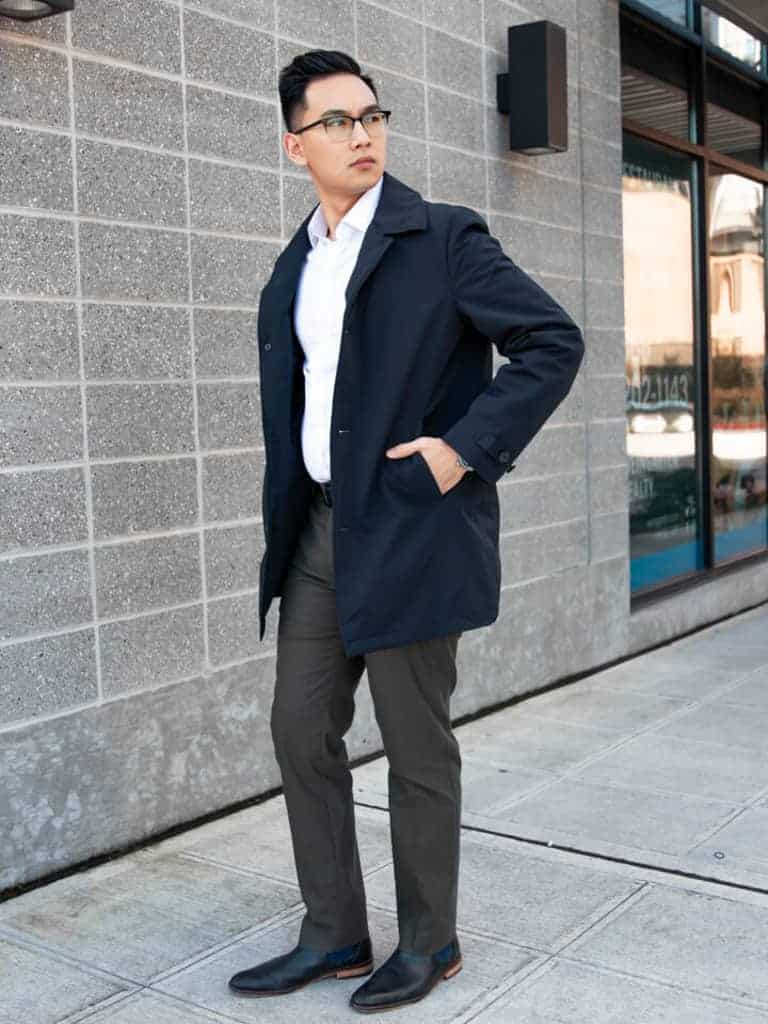 When you wear an overcoat with dark green trousers, wear dress sneakers or boots.
Chelsea, chukka, and lace-up boots are all excellent choices. It's not too formal and ensures you look sharp.
Green shorts and a t-shirt
Olive green shorts with a white t-shirt are flawless on a warm day.
To complete your outfit, wear leather sneakers, loafers, or sandals if you're going to the beach.
Warm days are also excellent for accessories like hats or sunglasses.
Related article: What does OOTD mean?
Green pants with a denim jacket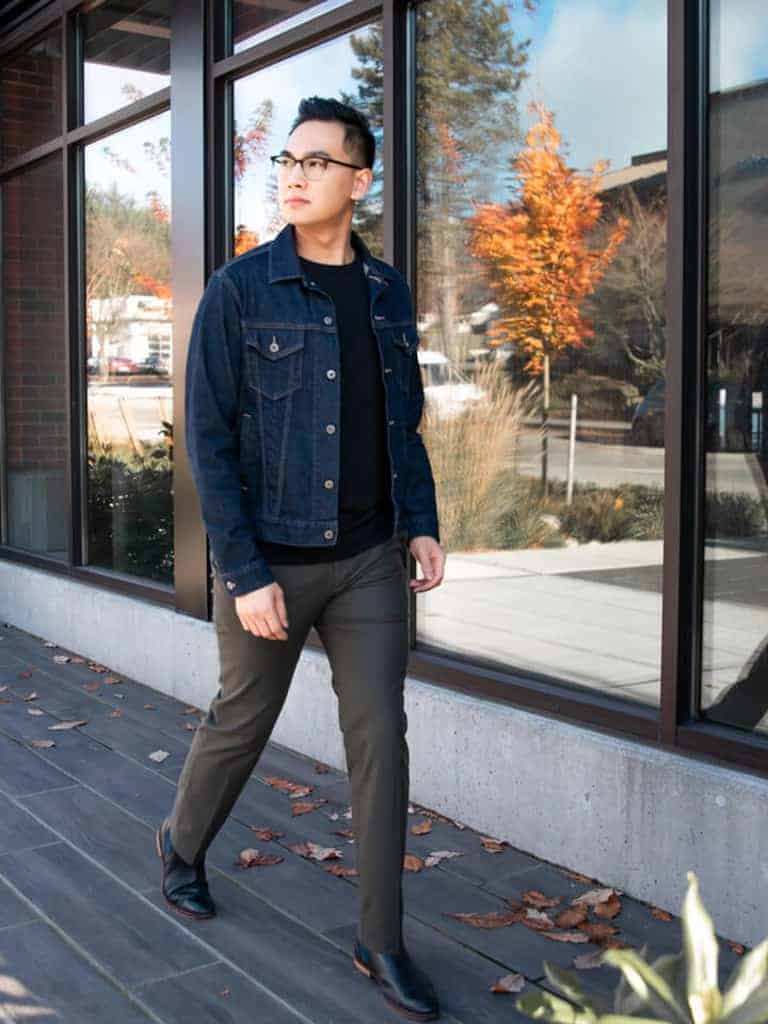 A denim jacket is lightweight and casual. Since green pants are versatile, you can wear them casually with a denim jacket.
It's ideal for a mild day when you need a light jacket.
Also, you can skip the jacket and wear a denim button-up shirt.
Dark denim looks best with olive green pants, and if you wear light green pants, you can wear light denim.
When you pair a denim top with green pants, wear sneakers or boots.
A clean pair of leather sneakers or boots are the perfect way to finish the outfit.
Olive green suit
Blue, black, and grey suits are the most common. Change it up by wearing an olive green suit.
You can wear a green t-shirt or white button-up shirt under the blazer.
If you wear a button-up shirt, you can wear a tie or skip it depending on the formality level.
For shoes, black leather dress shoes, Chelsea, or lace-up books are excellent.
Green trousers with a quilted jacket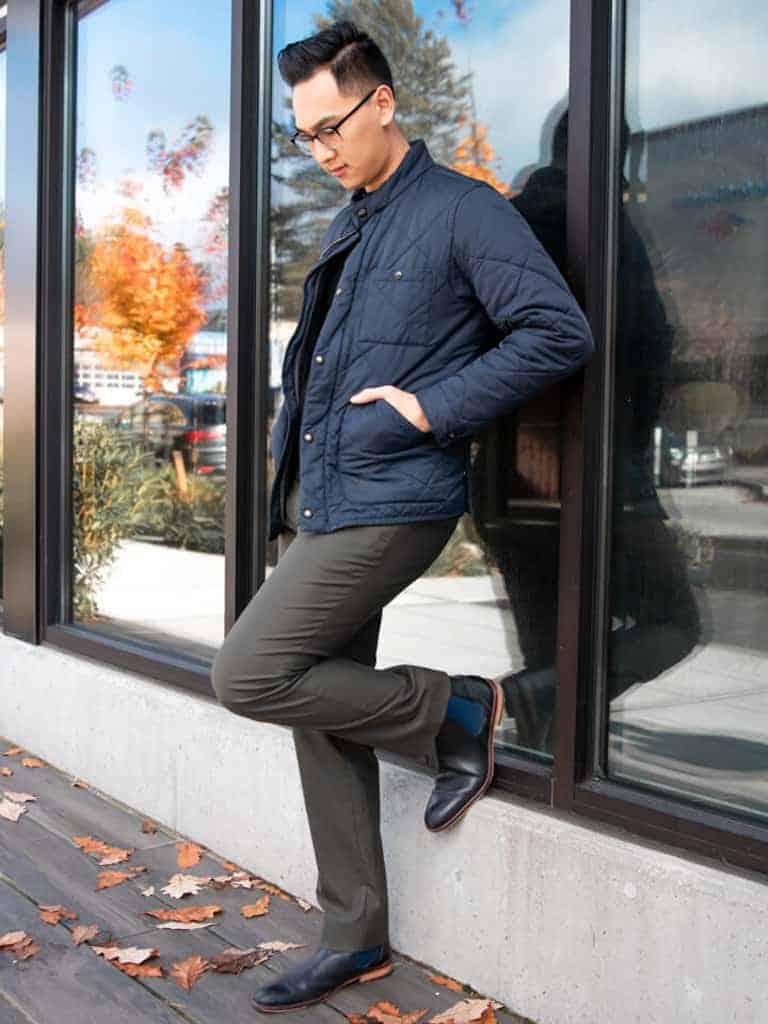 Quilted jackets are another excellent casual outerwear item to pair with green pants.
They have pockets of goose or synthetic down for insulation. The texture and warmth make quilted jackets stylish and functional.
Under the jacket, wear a t-shirt, turtleneck, or button-up. For shoes, boots and sneakers look best.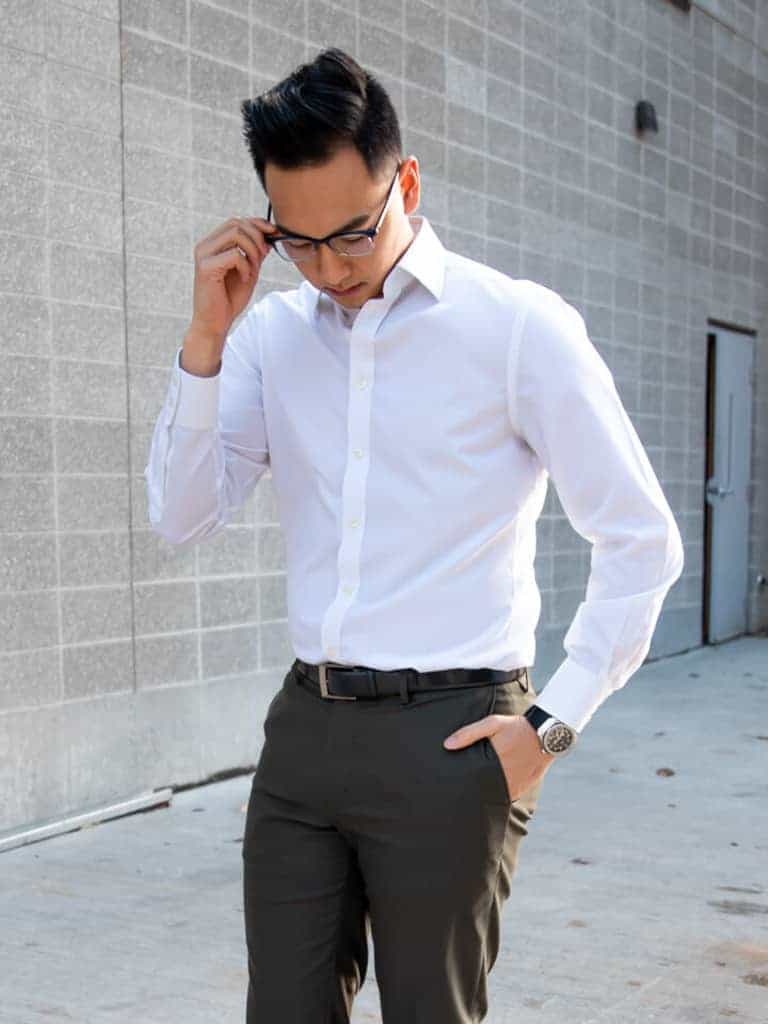 A crisp button-up shirt looks phenomenal when you tuck it into green trousers. You can layer it with a sport coat or overcoat.
If you're not wearing a tie, be sure to leave a button or two undone. It gives you an elegant, calm, and confident look.
Since you're wearing a button-up, wear a polished pair of boots, loafers, or dress shoes.
Colors that look good with green pants
Almost every color you'd wear with blue or black jeans pair well with green pants.
Black, white, beige, grey, blue, and tan are excellent colors to wear.
To dress well in green pants, consider how you want to look. Think about whether you want a monochromatic outfit or one with contrast.
An example of a monochromatic outfit is green pants with a dark green overcoat.
An outfit with contrast is olive green pants with a white button-up shirt.
Since green pairs well with many colors, it's a versatile and must-have pant color.
When not to wear green pants
Green pants go well with many colors. But, there are two colors to avoid, bright orange or red.
Orange and red provide contrast, but the colors clash with green. It creates a distracting outfit.
If you want to wear an outfit with contrast, wear green pants with a white, brown, or yellow top.
Also, the only exception with red is to wear burgundy. Since it's a darker shade, it gives a similar effect as brown.
Conclusion
Green pants are stylish. They provide an alternative to blue or black jeans, chinos, and trousers.
Whether you wear light or dark green pants, your outfits will look fantastic.
Neutral colors look the best with green, but you can try other colors and shades.
Avoid wearing orange or red with green pants. Other than that, green pants are versatile and need a spot in your wardrobe.
Featured photo by David Em/Next Level Gents.
About David Em
Founder
David Em is the founder of Next Level Gents, the ultimate destination for tips and advice about style, grooming, fitness, and success.