Green pants can be a difficult color to style. However, learning the fundamentals will make you confident in wearing the versatile and timeless color.
Estimated reading time: 7 minutes
We receive a commission on purchases made through links on this page. For more information, read Affiliate Disclosure.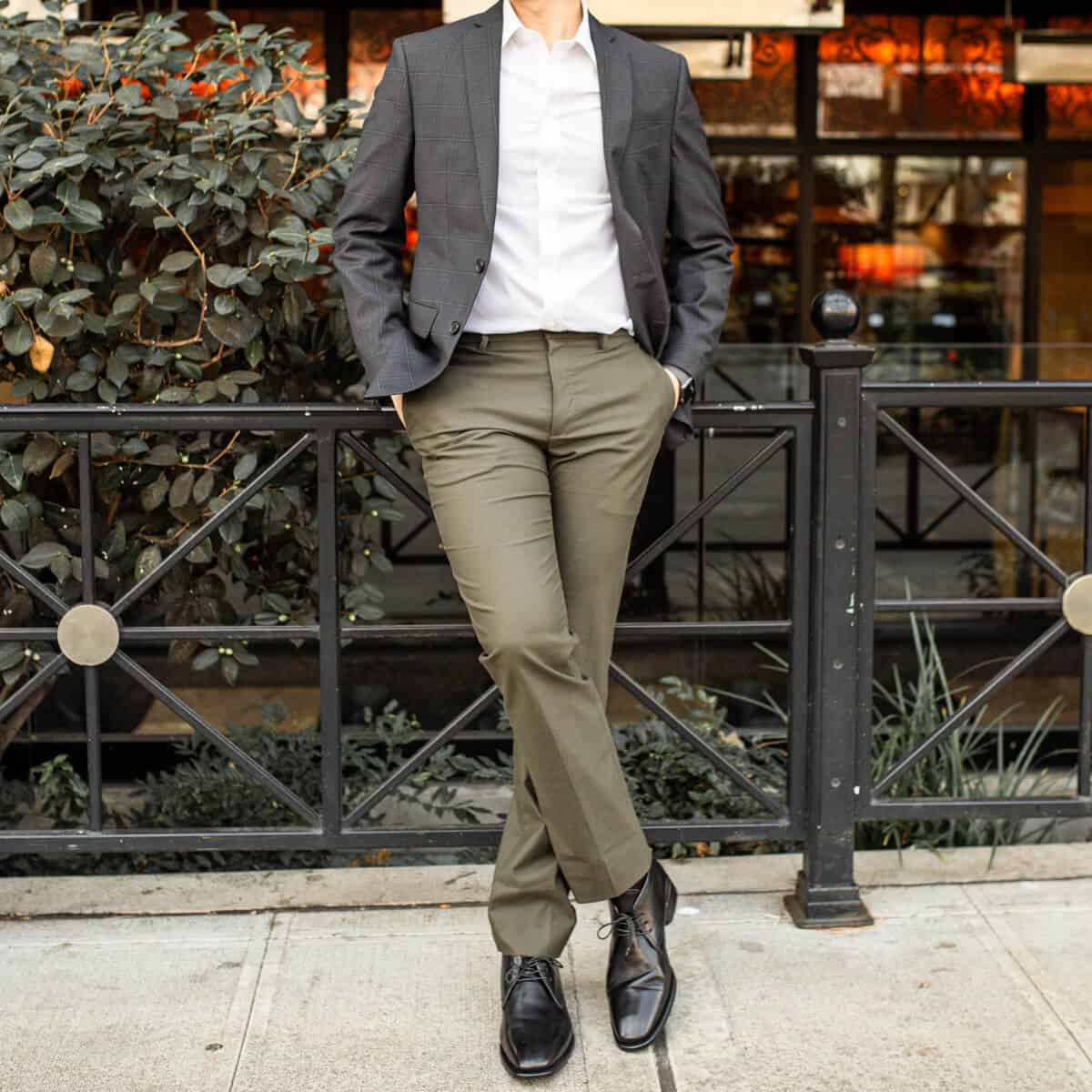 Why should I wear green pants?
It's a style essential and the color is what makes the biggest difference. When you're looking for them, stay away from the bold and bright colored ones and find ones that are muted and olive.
During the fall and winter, green is the perfect color to wear.
Olive green pants
This is the best color to go with. Olive is a darker shade of green that can almost be considered a neutral color, and also known as military green. It's a rich color and provides a feeling of elegance.
Another amazing thing about these pants is that you can buy chinos, jeans, corduroy pants and dress pants in olive green. They come in many styles.
These pants are also great for any season, although fall and winter are the two most popular season for them. It's a color that can be worn with fall and summer colors. During the fall, pair it with a camel coat and in the summer, a white button-up.
When not to wear olive green
Although, olive green pairs well with many colors. There's one color to not combine and that color is red.
Red is on the other side of the color wheel, which causes contrast and that's a good thing. However, the reasoning behind this isn't because they are complementary. In most cases, contrast is the way to go.
You should stay away from pairing red and green because it is generally associated with Christmas.
Instead of getting a "wow, you look great!", chances are it'll lead to a "wow, aren't you festive." Unless you're going for a festive look, stay away from this combination.
There's one way to wear the red and green combination. That's to wear burgundy. Darker shades of red go well since it delivers contrast and is more subtle.
You need olive green pants
This darker shade of green makes it easy to pair with other colors.
They are versatile, meaning you can wear olive green any time of the year.
It's unique. Many people don't even try to pull off an outfit with them. Khaki, blue jeans, black or navy are classic essentials, but when you wear green pants you'll stand out.
Green pants outfit ideas
The following are 6 example outfits wearing green pants:
1. Camel coat and black Chelsea boots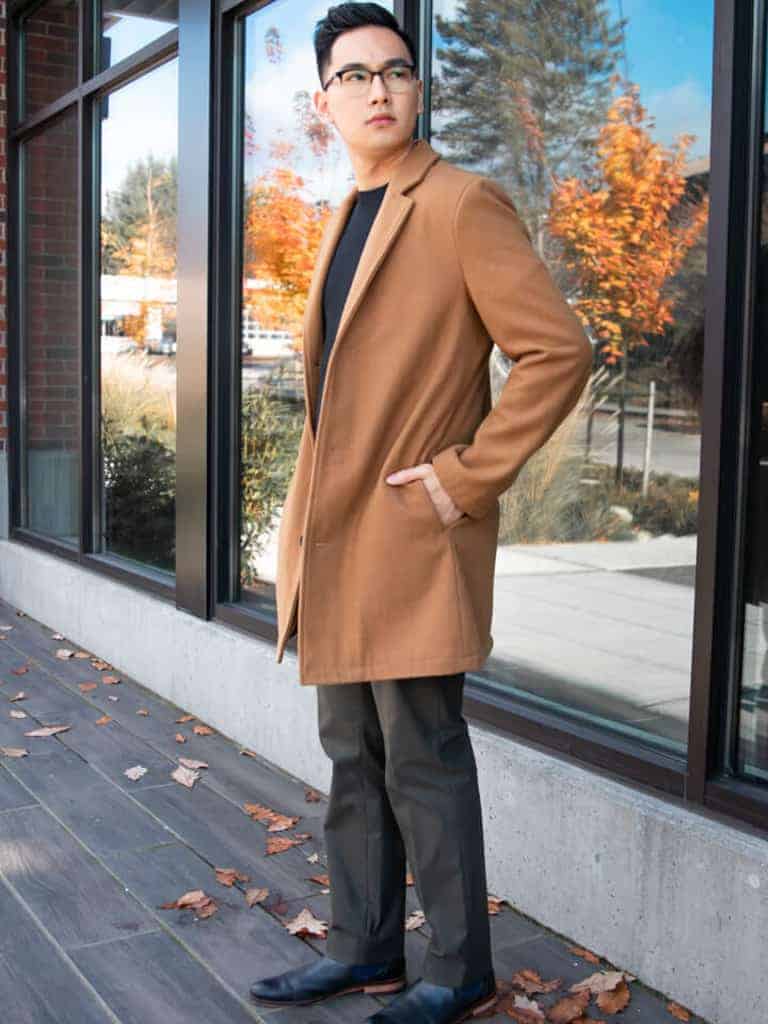 Shop the look:
Camel coats look great when paired with these pants. Trucker, corduroy, and other camel or beige-colored jackets work too.
2. Black overcoat, white button-up, and black Chelsea boots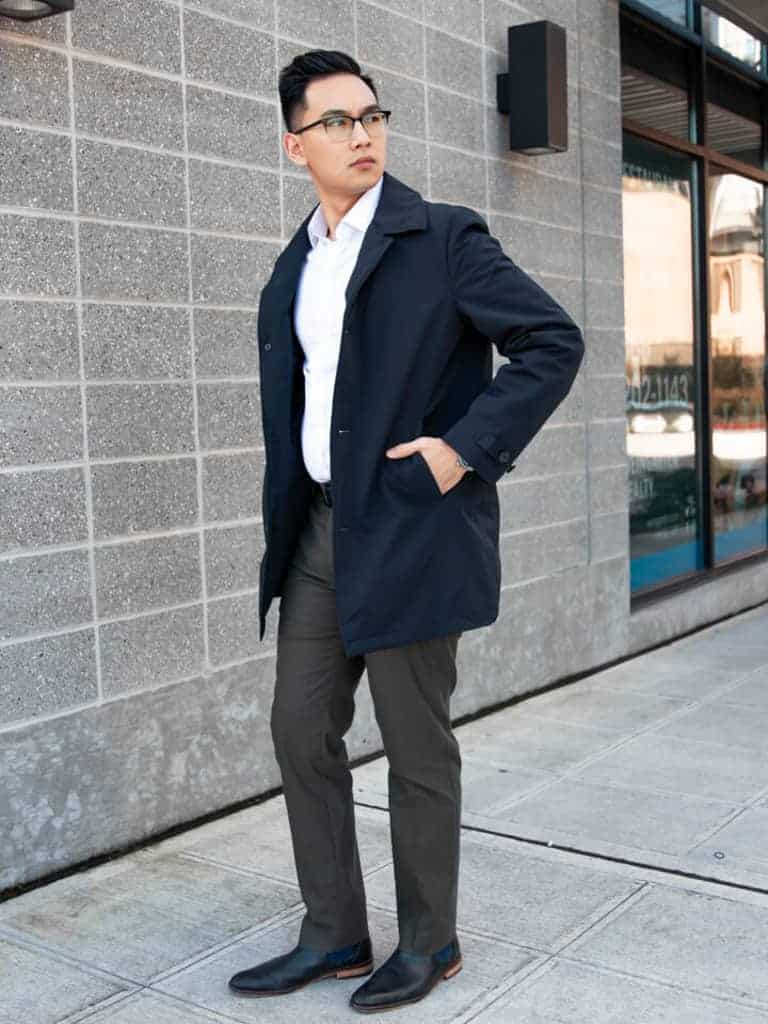 Shop the look:
A black raincoat can be switched out for a black denim jacket, overcoat, topcoat, or other black jackets.
3. Blue denim jacket and black Chelsea boots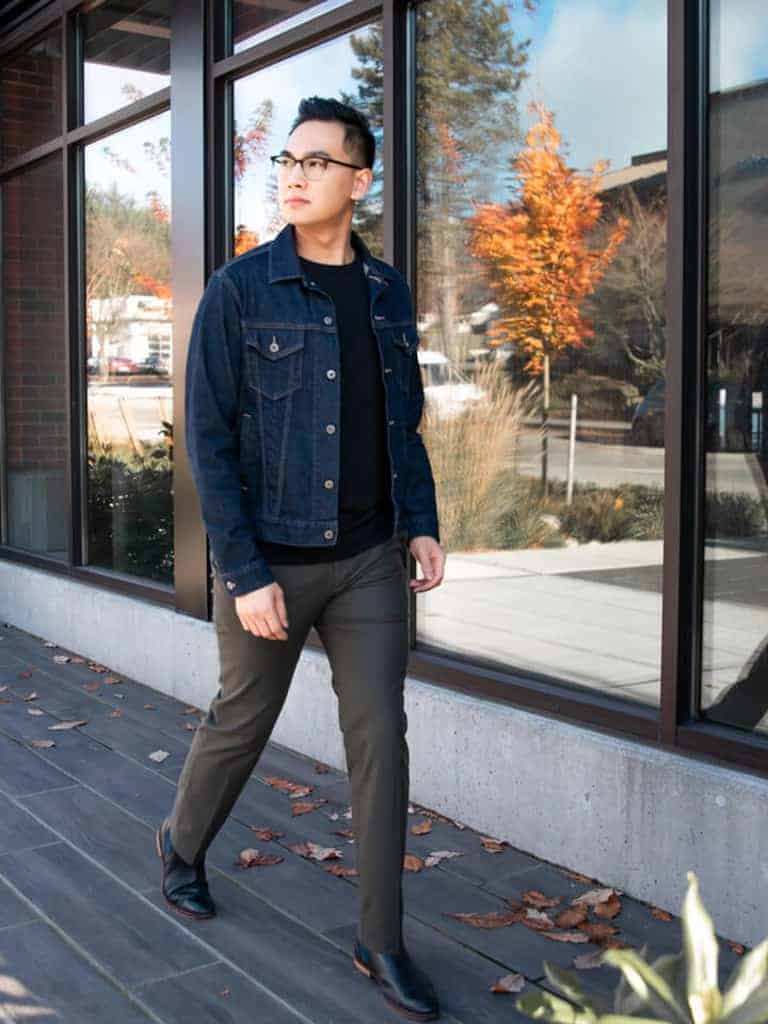 Shop the look:
Aside from the dark blue denim jacket, you can wear light blue. When you're wearing a light blue denim jacket, it creates a more casual and light feel. Just be aware of that as you plan your outfits.
4. Navy quilted jacket and black Chelsea boots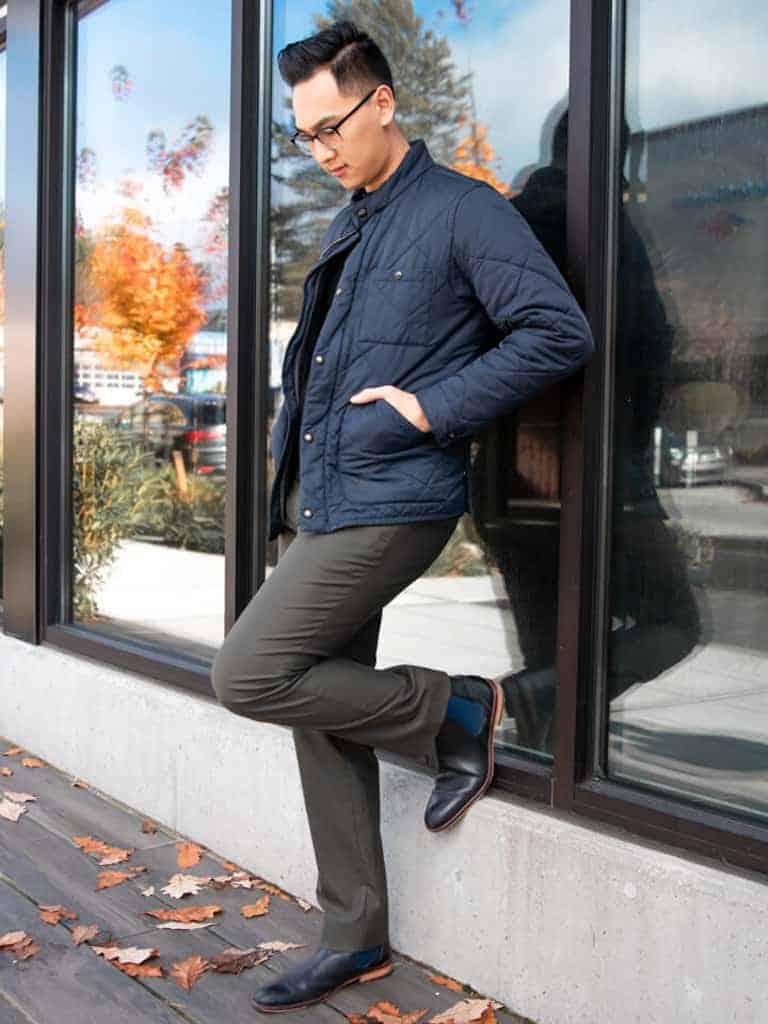 Shop the look:
In this example, I wore a quilted jacket. Topcoats, overcoats, and trench coats are great alternatives for this type of outfit.
5. Black t-shirt and Chelsea boots
Shop the look:
When you're wearing a t-shirt with olive pants, you can tuck them in or leave it untucked. Both ways look great. Side note: you can wear a white t-shirt as well.
6. White button-up and black Chelsea boots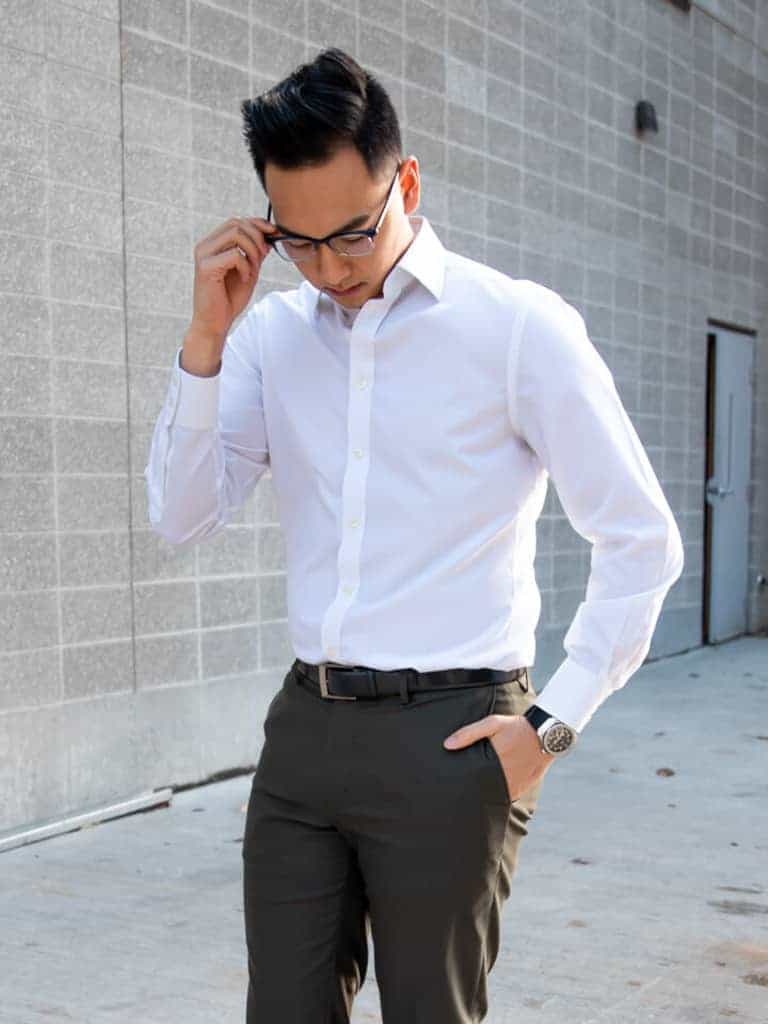 Shop the look:
The classic white button-up looks phenomenal when you pair it with olive green trousers. It's a timeless look that can be layered with an overcoat or a sport coat.
To dress this outfit down and make it more casual, you can get a casual button-down and wear it untucked.
Frequently asked questions
What color shirt looks good with olive green pants?
The key to pairing colors with olive pants is to create contrast. You should use colors that are lighter or darker than them. Black, white, beige, grey, blue, camel, and tan look great with olive green pants.
What are the best shoe colors to wear with green pants?
Olive pants are very versatile and can mesh well with many wardrobes. Grey, beige, brown, black, and white are great shoe colors.
What can I wear with green dress pants?
Green dress pants look great when worn with a dark grey sport coat and black leather shoes.
More resources:
Featured photo by David Em/Next Level Gents.