A quilted jacket is excellent during the colder months. It looks stylish and keeps you warm. Learn how to style it dressed up and casually.
Estimated reading time: 3 minutes
We receive a commission on purchases made through links on this page. For more information, read Affiliate Disclosure.
Table of contents
Why should I invest in one?
Quilted jackets are essential clothing items to have in your wardrobe because they provide warmth and are versatile.
Related: 5 best peacoats for warmth and style
The diamond-shaped quilting provides pockets of insulation and warmth. Functionality is in its stylish design.
Another benefit of wearing a quilted jacket is that it's lighter, shorter, and less bulky than other outerwear. Overcoats, trench coats, and parkas are either long or very thick.
Although thick and long outerwear has its time and place, quilted jackets are perfect for layering and chilly weather.
Related: How long should a tie be?
Casual wear
Whether you're meeting a friend for coffee or taking a walk outside, the quilted jacket is an excellent option to top off your outfit.
What makes the quilted jacket appealing is the ability to layer it. Underneath, you can wear a short-sleeve or long-sleeve shirt with different levels of thickness.
The following is an example of a casual outfit. It includes a sleek pair of jeans, a turtleneck sweater, and black sneakers.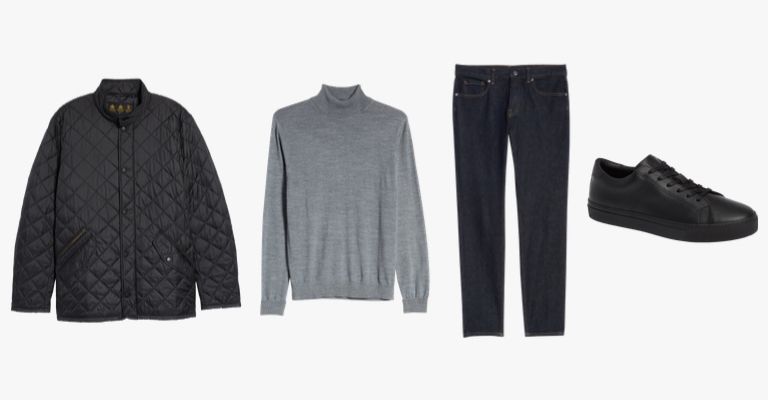 The items in the outfit are as follows:
Dressed up
Versatility is one of the best features of the quilted jacket. It's a great alternative to the traditional sport coat, which allows you to wear it to the office or a business meeting.
To dress it up, wear dress pants, a button-up shirt, and a tie, which is optional. The following is an example of how to make it look more formal.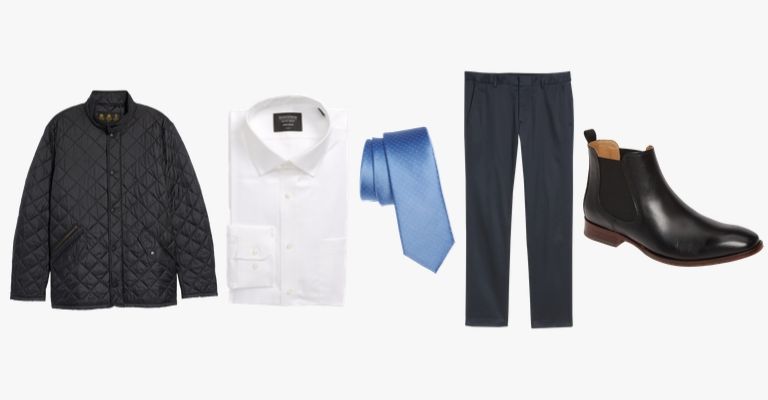 The items in the outfit are as follows:
Conclusion
The quilted jacket is the perfect top layer for fall and winter outfits. It adds texture to your outfit, and that makes your outfit look more interesting. It looks great and keeps you warm in the colder months.
More resources:
Featured photo by David Em/Next Level Gents.