Take your gym outfits to the next level by buying from the best men's workout clothing brands. You'll look and feel exceptional.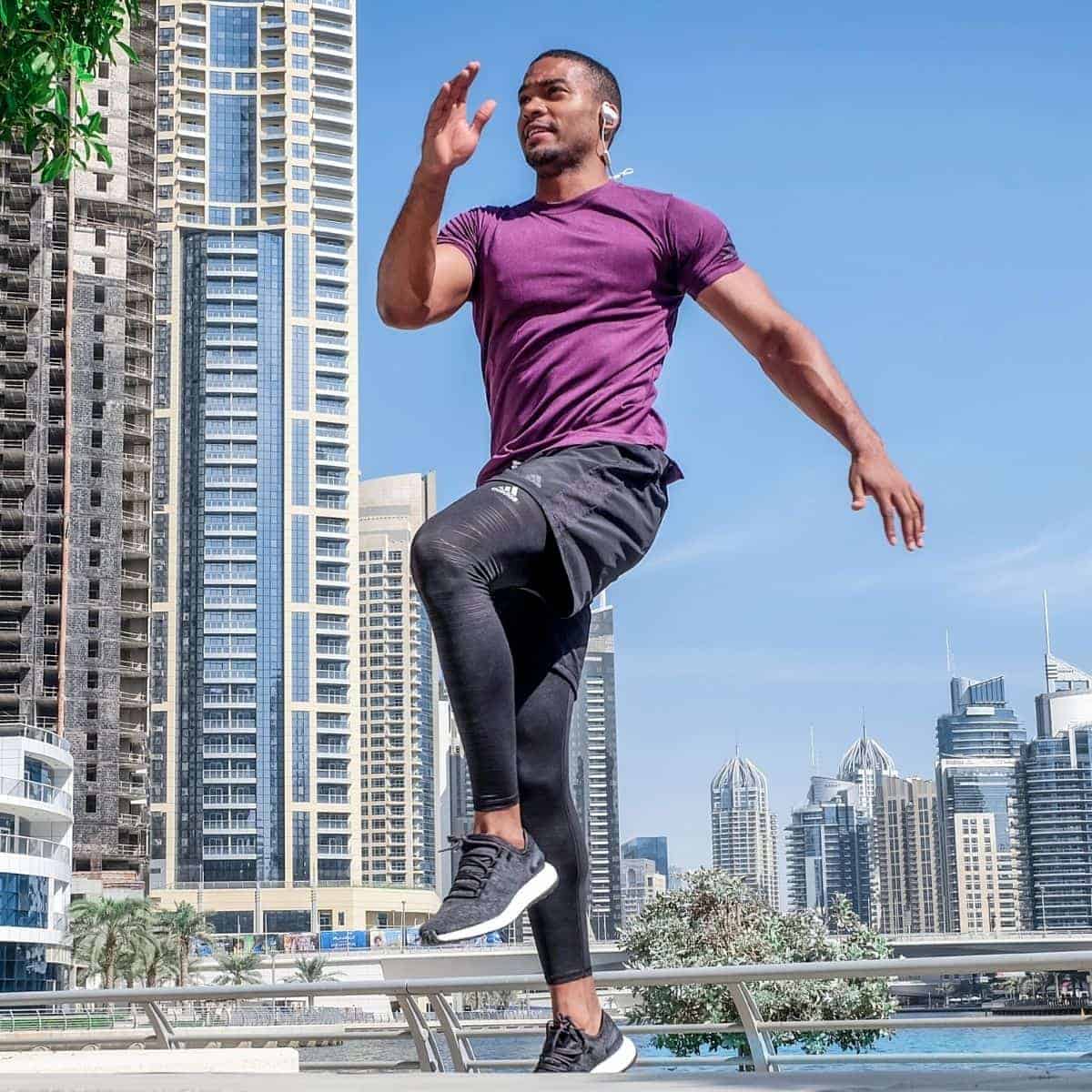 When it comes to workout clothing, the goal is to be comfortable while wearing stylish and functional clothes.
Related: 7 best shoulder exercises to add size
While you're training, the clothes must allow you to stay cool and perform at your best. The following are the best men's workout clothing brands.
1. Adidas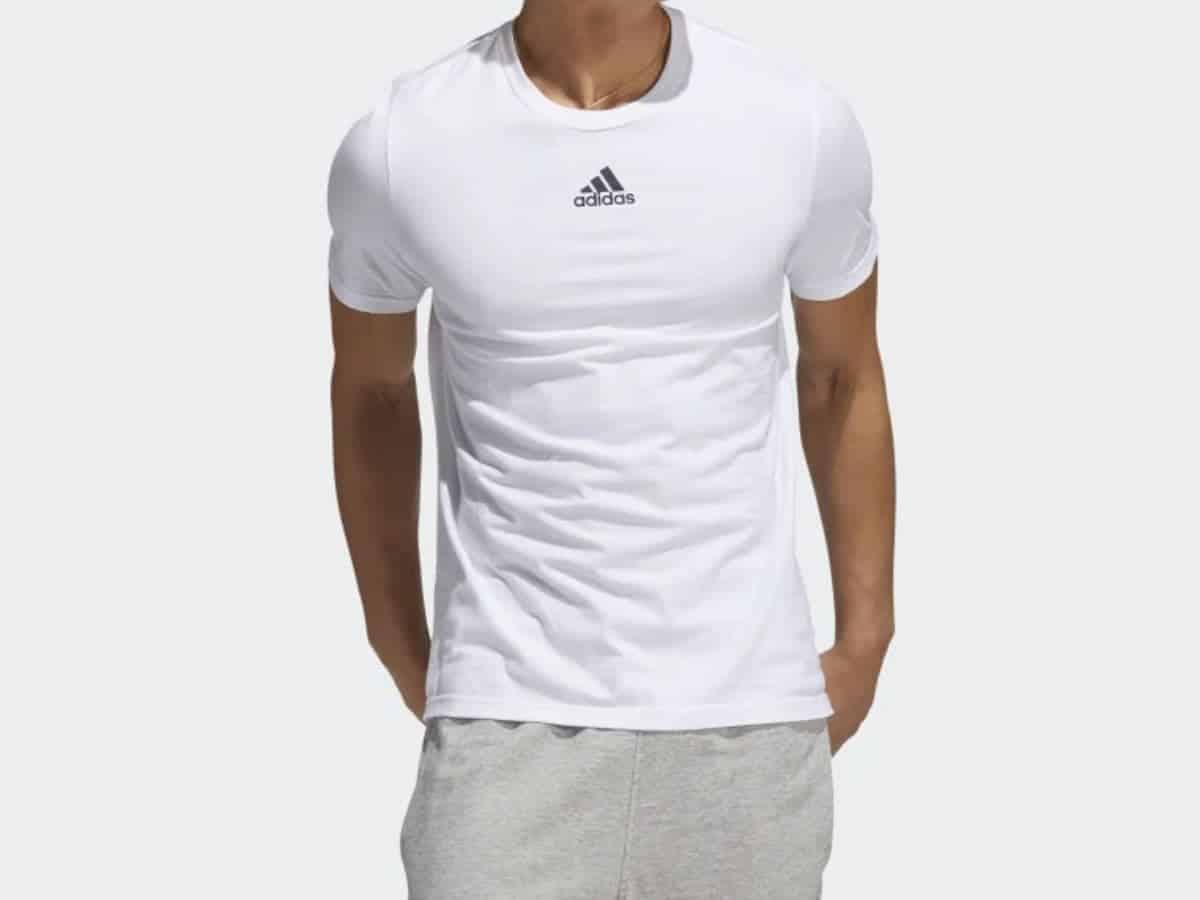 Price range: $$
Shop for men's workout clothes from Adidas.
Adidas is the second-largest sportswear brand in the world. The Germany-based company makes shoes, apparel, and accessories.
For workout clothing, Adidas has you covered. Plus, most of their items aren't too expensive. Workout shirts go for $15 to $30, and shorts range from $30 to $65.
Adidas offers a wide variety of items based on the type of training you're doing. Whether you're in the gym, hiking, or playing sports, you can find well-designed and sustainable items.
2. Allbirds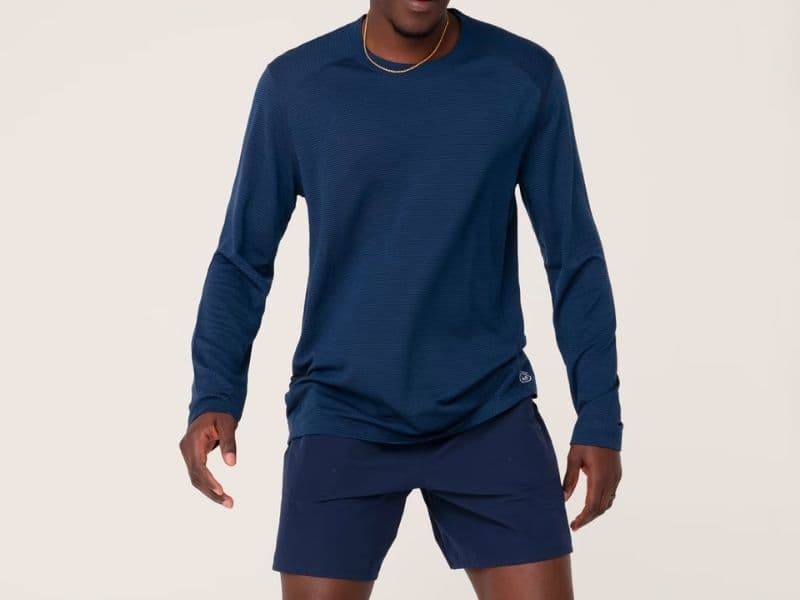 Price range: $$
Shop for men's workout clothes from Allbirds
Allbirds grew in popularity due to their comfortable, sustainable, and iconic wool shoes.
Now, Allbirds focuses on the expansion of products with men's workout clothes as an option.
Allbirds only offers a long-sleeve tee, short-sleeve tee, and running shorts. But, the items are excellent because they're breathable, lightweight, and flexible.
Each of the activewear pieces is a blend of wool and recycled materials. They're great for the planet and your workout.
3. Alo Yoga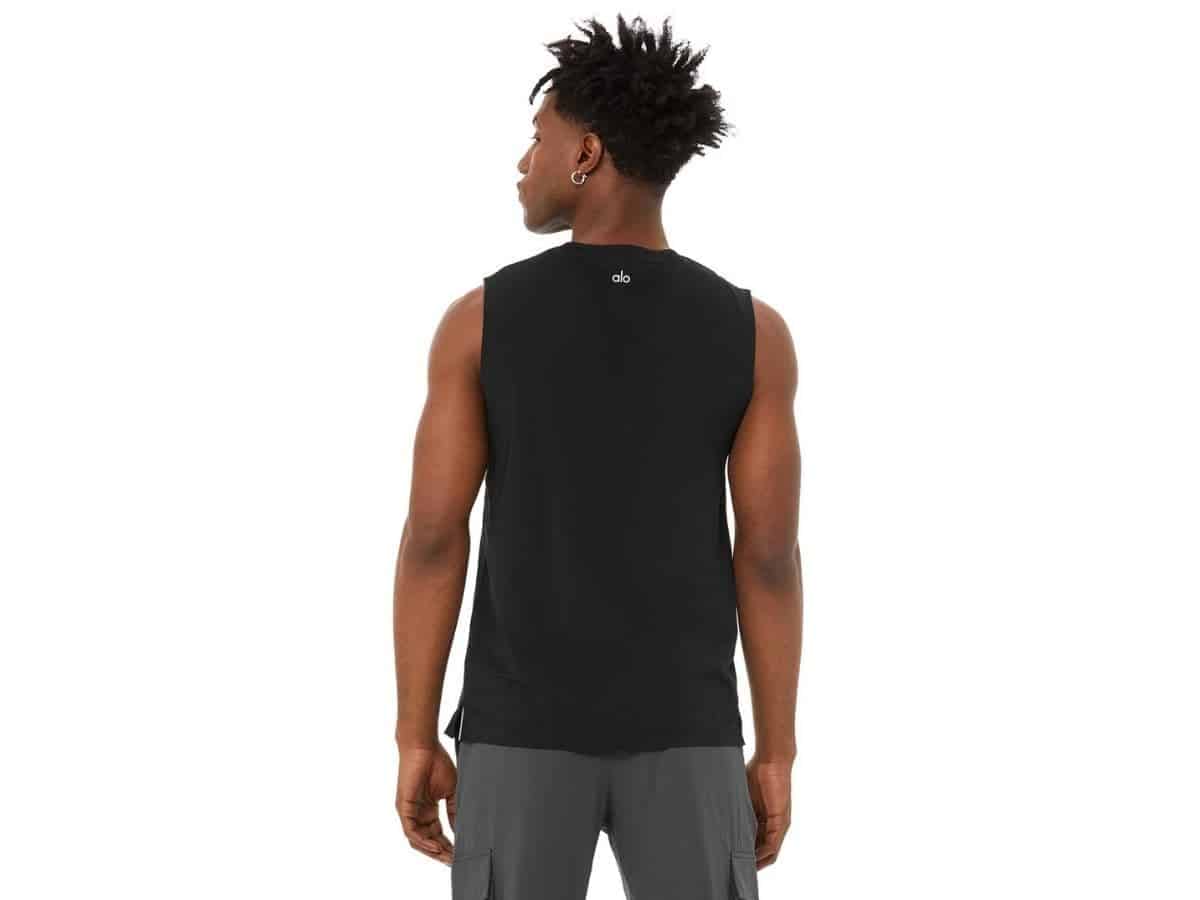 Price range: $$$
Shop for men's workout clothes from Alo Yoga.
Alo Yoga is an upscale brand based in Los Angeles, California. While it's mainly focused on yoga clothing, Alo is excellent for regular gym clothes, as well.
Many of the clothes are minimally designed and allow you to perform your best.
Functionality and breathability are two of the first things you'll notice about wearing Alo clothing.
One of the best items is the Idol Performance Tank. It's $78 and ultra-lightweight, giving it a seamless feel. The material is lightweight pique and it's odor-resistant.
4. Amazon Essentials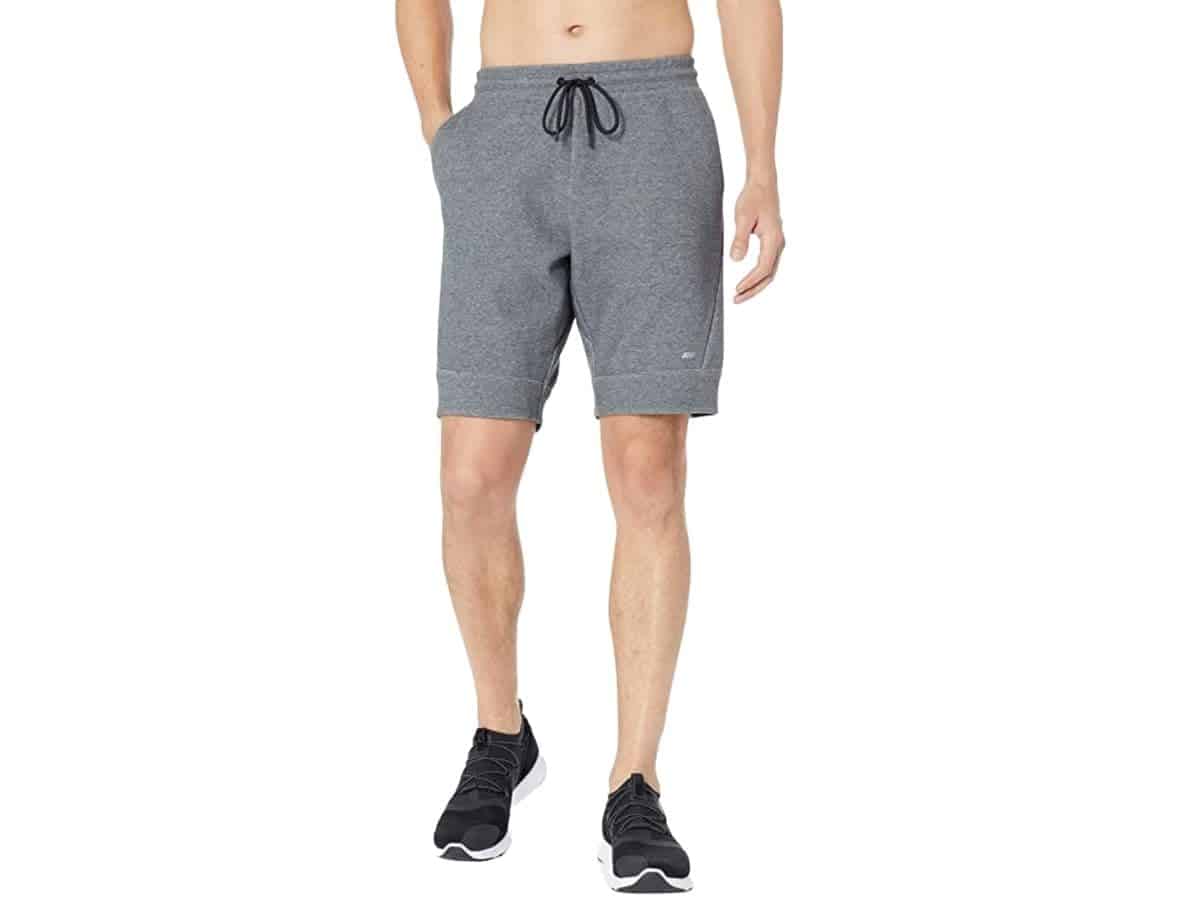 Price range: $
Shop for men's activewear from Amazon Essentials
If you're looking for the lowest-priced workout clothing, Amazon Essentials is where you need to look. Almost every item costs less than $30, with the majority being less than $20.
Amazon Essentials offers all types of activewear. You'll find shorts, joggers, hoodies, and tank tops. You also have plenty of options when it comes to color.
While it's a cheaper option, the activewear from Amazon Essentials lasts longer than other lower-priced brands. Also, there isn't a big logo, which makes it more appealing.
The Tech Fleece 9-inch Active Short is $20.90 and is one of their best items. It's soft, lightweight, and has a moisture-wicking jersey fabric made with a blend of cotton and polyester.
5. Beyond Yoga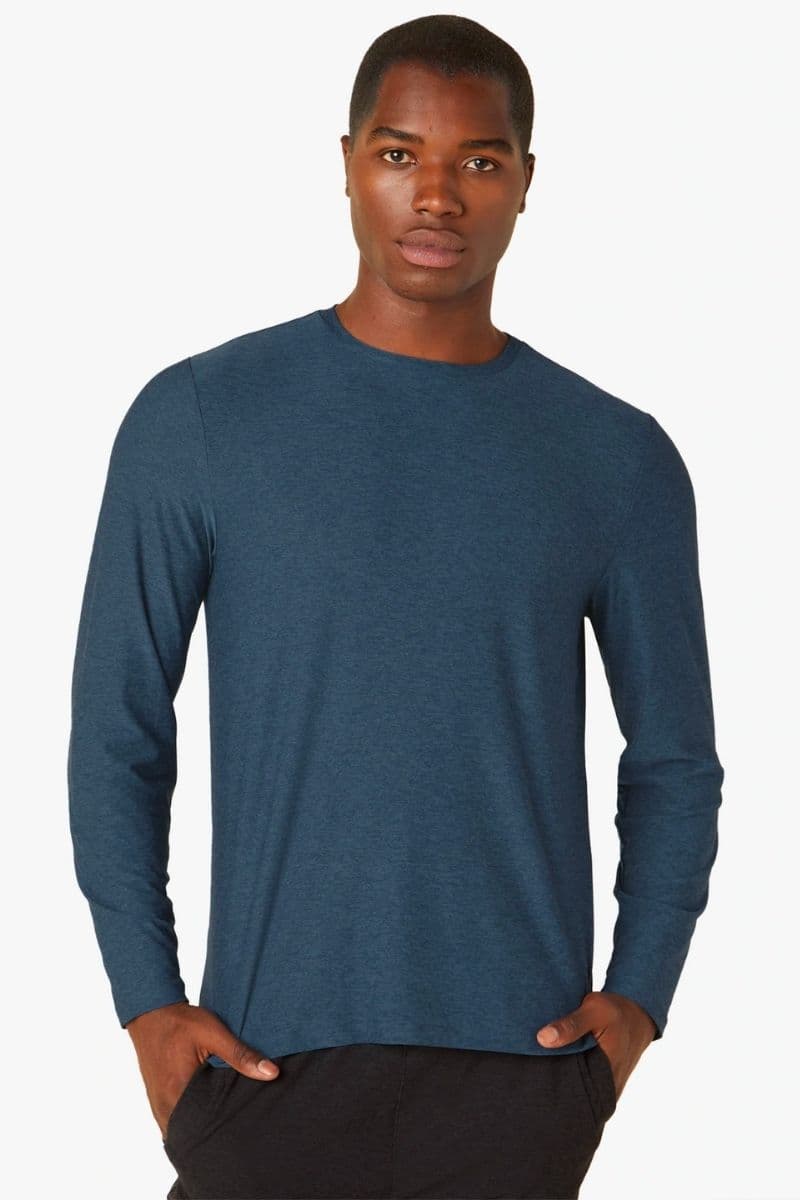 Price range: $$$
Beyond Yoga makes some of the most comfortable activewear clothes.
Whether you lift weights, run, or do yoga, check out Beyond Yoga. You'll find stylish, well-fitting, soft, and breathable pieces.
The Featherweight Always Beyond Crew Tee is one of the best workout t-shirts on the market.
It doesn't tug or feel restrictive. So, you can focus on your workout and perform at your best.
Beyond Yoga also offers joggers, shorts, and long-sleeve shirts.
6. Brooks Running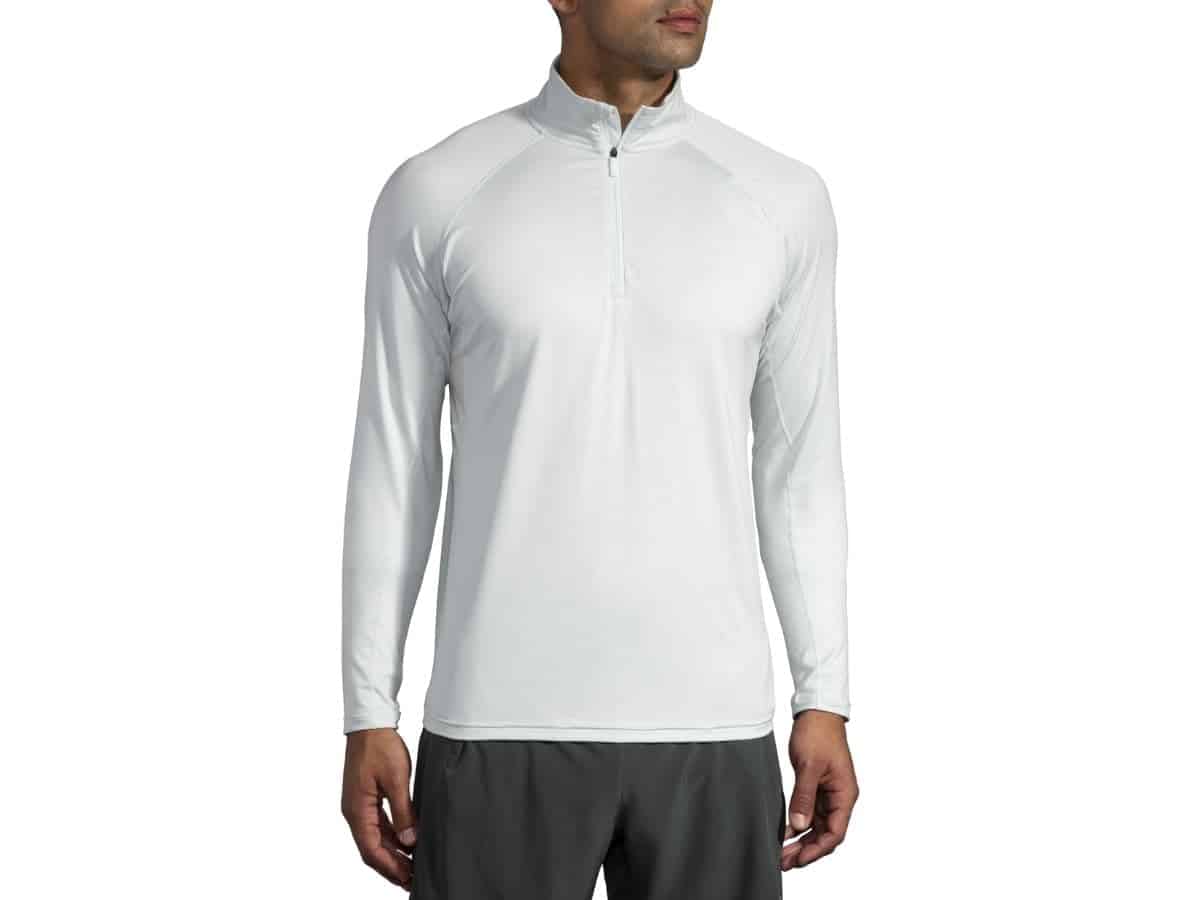 Price range: $$$
Shop for men's workout clothes from Brooks Running.
Brooks is a Seattle-based company known for its running shoes and gear. However, it also makes excellent clothes for various types of workouts.
In addition to running shoes, Brooks offers shorts, joggers, tank tops, and jackets. Whether you're working out in a gym or outdoors, you can find solid picks from Brooks.
When it comes to price, Brooks is a mid to high-priced brand. However, investing in Brooks workout clothing is worth it because it'll last years. Even with the toughest workouts.
The Dash 1/2 Zip is an excellent pick for $70 from Brooks. It's for outdoor workouts, but you can also wear it as a light layer to the gym. Whether you need heat or ventilation to cool down, the Dash 1/2 Zip will do the trick.
7. Gymshark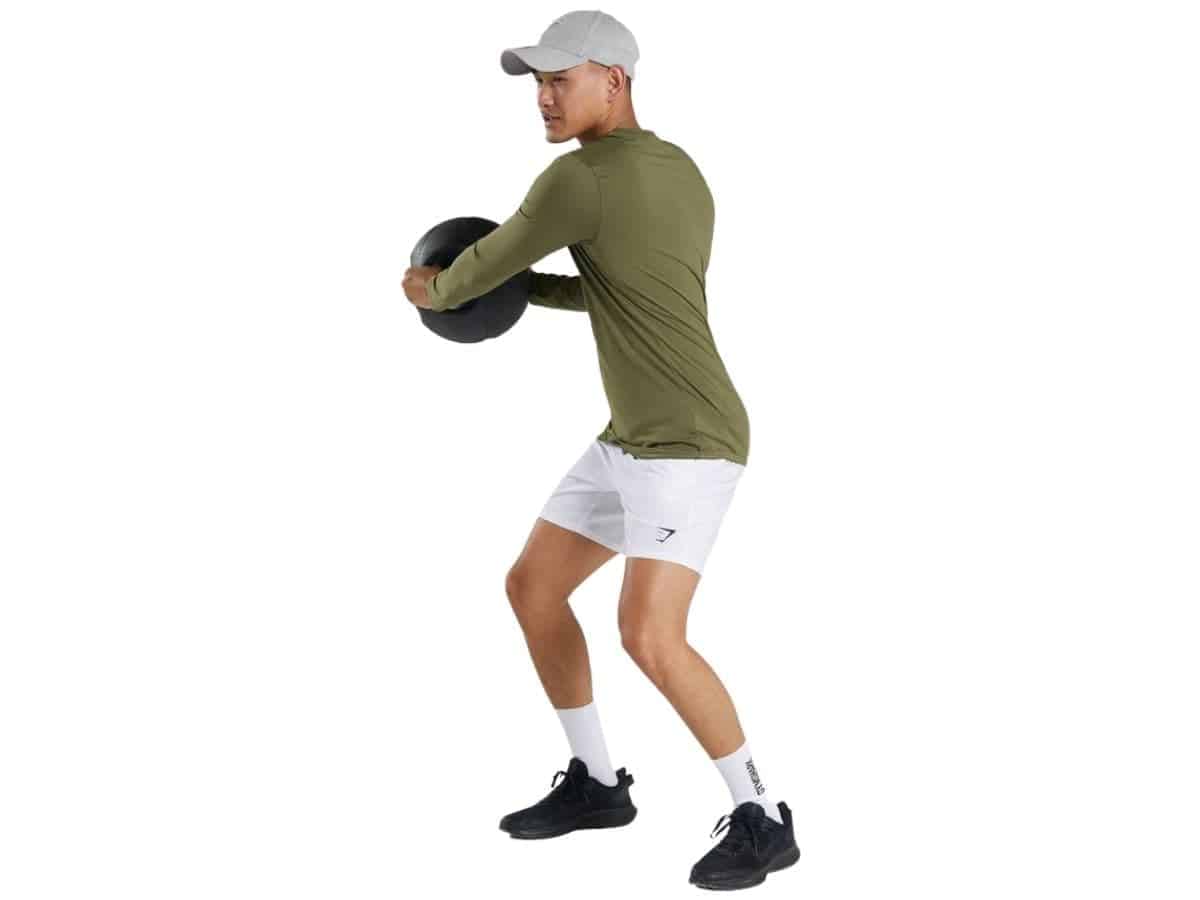 Price range: $
Shop for men's workout clothes from Gymshark.
If you go to gyms or have a social media account, there's a good chance you've heard of Gymshark. The UK-based fitness clothing and accessory brand provides a way to spend less and look good at the gym.
Gymshark became popular because it understood the culture of gyms. It's also known for having more of a trendy style. Plus, it fits bodybuilders and those with larger proportions.
Whatever your gym style, you can find it at Gymshark. It offers tank tops, stringers, t-shirts, joggers, sweatpants, shorts, and loungewear.
While Gymshark offers many options, one of their best pieces is the Arrival Long Sleeve T-Shirt. It's $25, comes in 5 different colors, and is sweat-wicking. If you prefer long sleeves for working out, this is an excellent choice.
8. Lululemon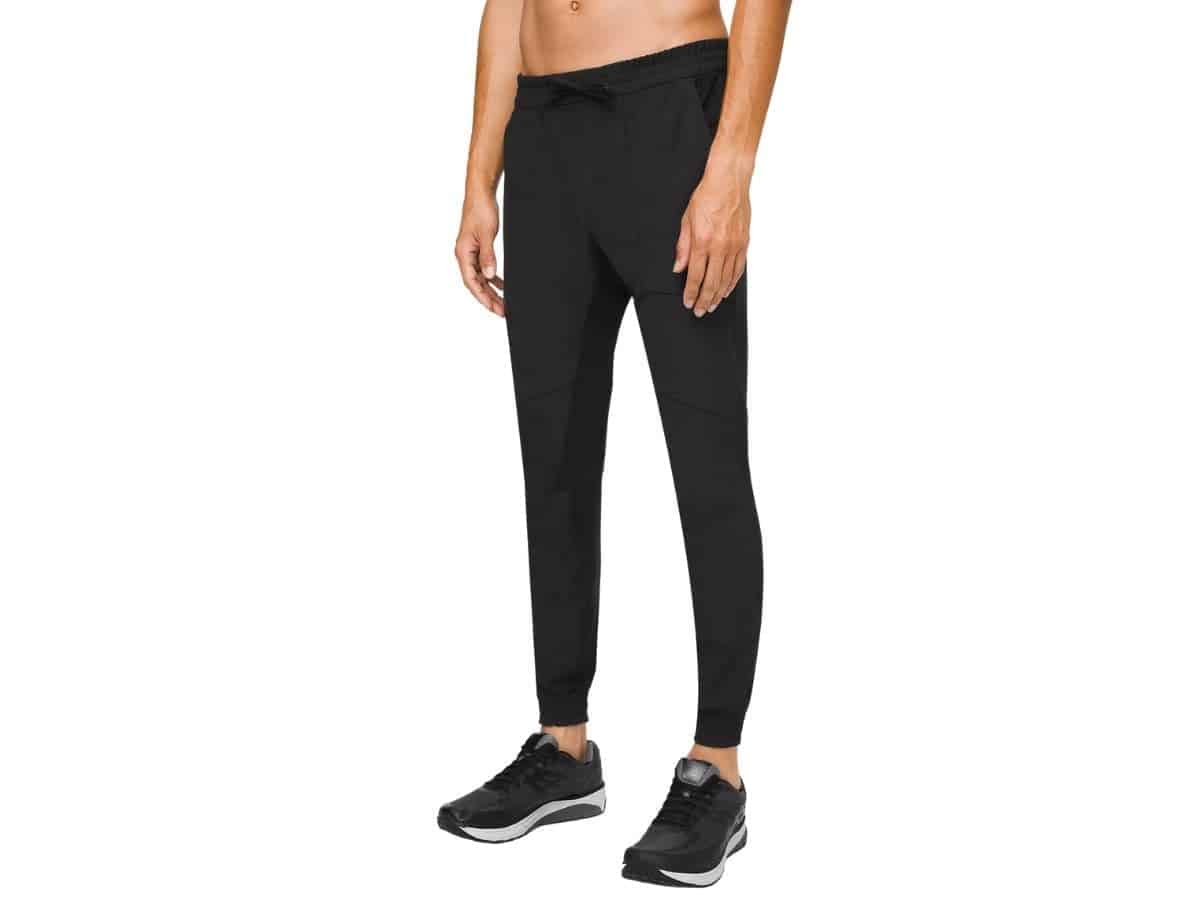 Price range: $$$
Shop for men's workout clothes from Lululemon.
Lululemon is a Canada-based athletic apparel company that grew in popularity due to its yoga wear. However, Lululemon is now one of the top premium brands for men's workout clothes.
What makes Lululemon special is that the clothes will last years. You can wear it to go hike, run, or lift weights at the gym. Most of the items are abrasion-resistant and built to last.
While Lululemon makes excellent workout clothes, you can also find loungewear, technical clothing, and button-down shirts.
For working out, the 29-inch License to Train Jogger is one of the best items. It's a $128 pair of joggers. If that's within your budget, it's worth the investment.
It has a classic tapered fit, which isn't too tight. It's also abrasion-resistant and has water-resistant panels.
9. Nike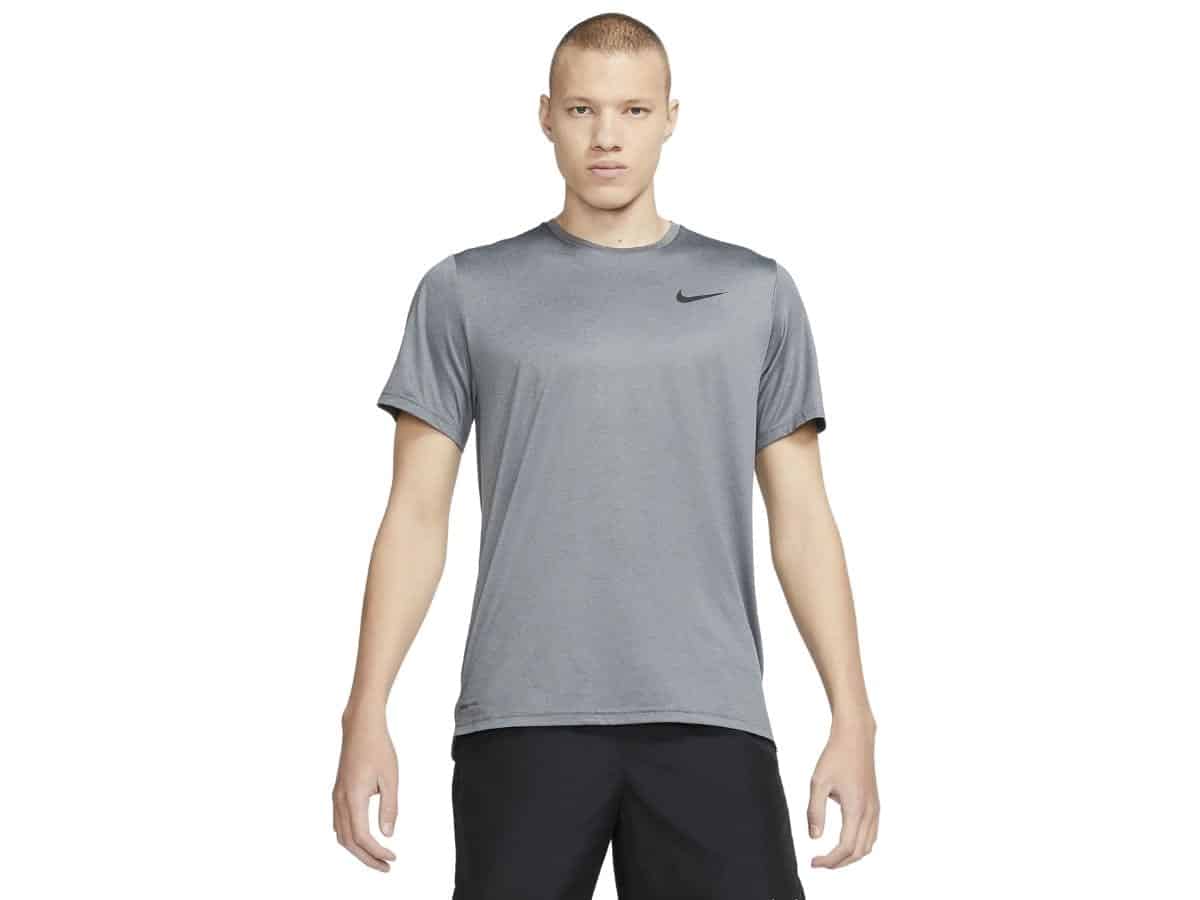 Price range: $$
Shop for men's workout clothes from Nike.
Since launching in 1964, Nike has become the world's largest sportswear brand. The Portland-based company makes shoes, clothes, and accessories for all types of physical activity.
If you're unsure of what brand to buy from, Nike is a proven choice. You'll find lasting and stylish pieces.
For pricing, Nike has a wide range, which goes from $50 to $200. You can also find many high-quality items on sale. It just might not be the latest release.
While many styles come and go, one of the best and most highly-rated workout items is the $35 Nike Pro Dri-FIT Short-Sleeve Top.
It's a sustainable polyester and spandex blend that's lightweight and breathable. It keeps you cool, dry, and comfortable.
10. Olivers
Price range: $$$
Shop workout clothes for men from Olivers
Olivers offers a modern and luxury take on men's workout clothes. Not only do the clothes look well-tailored, but they're also functional.
An example is the best-selling All Over Short. It has a 7.5-inch inseam, perfect for exercise because it won't restrict your movement.
Also, the fabric is water-repellent, moisture-wicking, and soft. You can wear the All Over Short to the gym or run on a trail.
Olivers also offers clothes for outside of the gym.
If you're meeting friends or going on a date, wear a long or short-sleeve oxford shirt with the Passage Pants.
You'll look stylish while being comfortable.
While Olivers is an upscale brand, it's worth the investment.
The products are durable, and Olivers offers a 365-day guarantee.
So, the brand will repair or replace products with manufacturing defects.
11. Hylete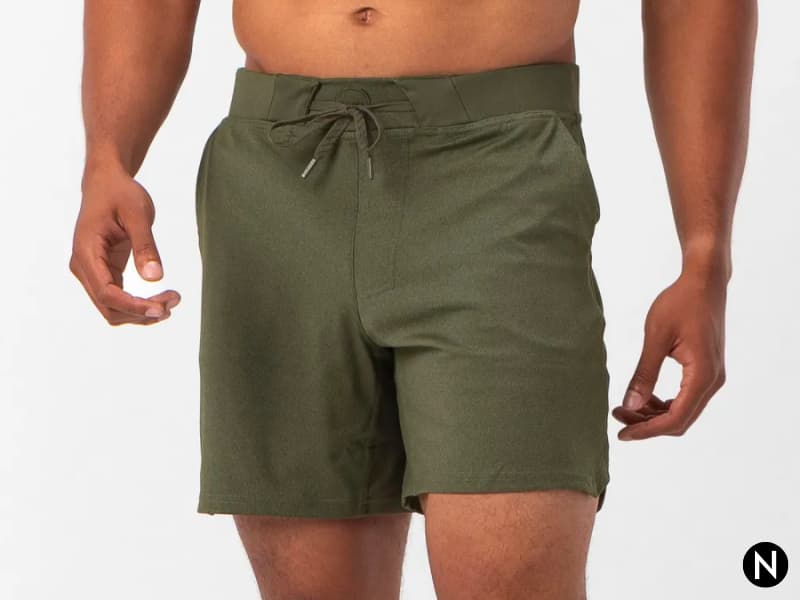 Price range: $$$
Hylete offers excellent workout clothes. The brand stands out because it fits muscular structures well.
Also, the pieces are all about functionality. You can exercise and stretch without restriction.
Hylete also has workout clothes for all seasons. You can find items for indoor and outdoor activities.
12. On Running
Price range: $$$
Shop for men's workout clothes from On Running.
On Running is a relatively new company, as it was founded in 2010. It's a Swiss brand that's most known for its ultra-comfortable running shoes.
Less commonly known, On Running makes excellent men's workout clothes. While it's a premium brand, the gear is top-notch and worth considering.
On Running focuses on making lightweight clothing. When you're working out, your clothes shouldn't weigh you down. Whether you choose a top, jacket, pants, or shorts, you'll be ready for a high-performing session.
The two-colored Lightweight Shorts are $79.99. They're versatile, breathable, and made with sustainable materials. It works well for training at the gym or running on a trail.
13. Patagonia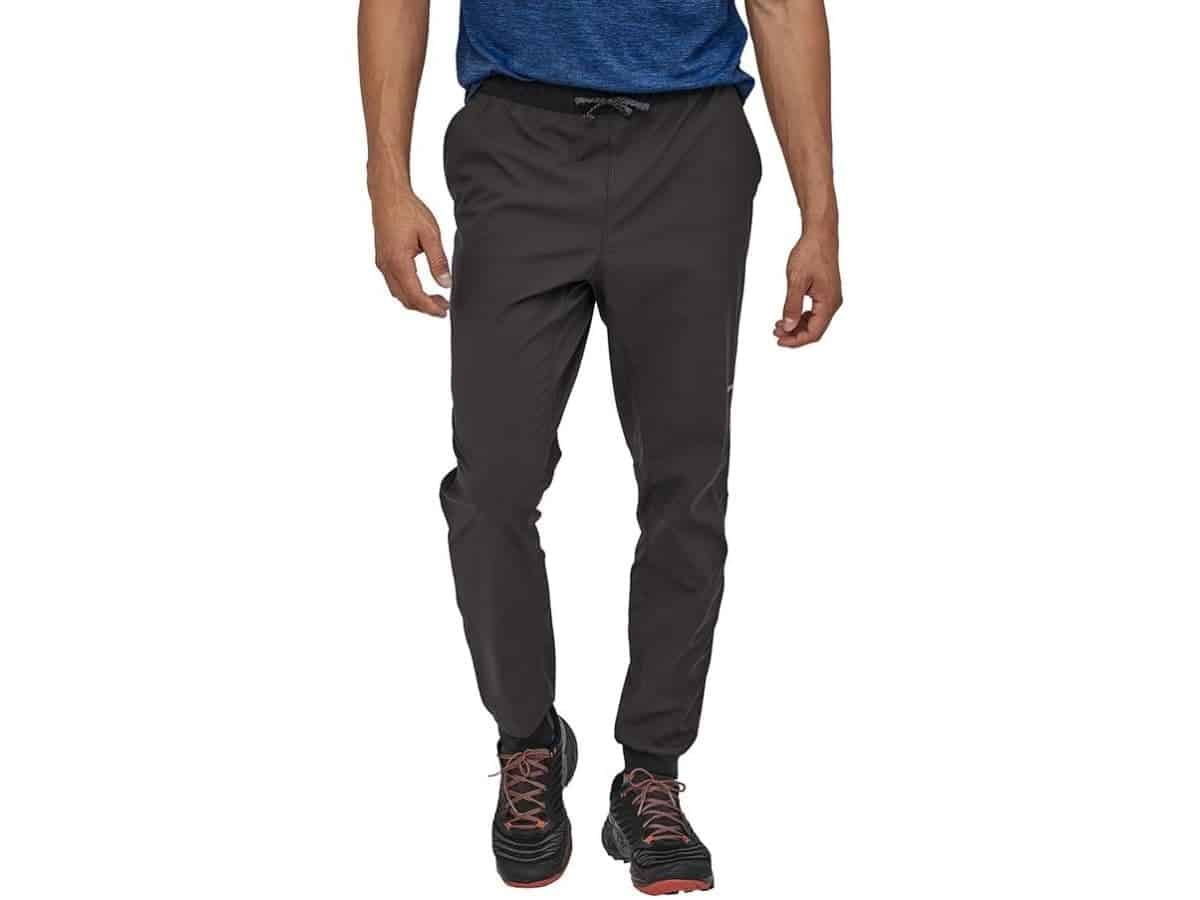 Price range: $$$
Shop for Patagonia men's workout clothes from Backcountry.
Patagonia is a California-based company known for its outdoor clothing. While the clothes are expensive, Patagonia uses premium materials to make durable and sustainable clothing.
Plus, Patagonia gives 1% of its sales to preserving and restoring the Earth.
If you're looking for upscale workout clothes that dry quickly, wick away sweat, offer excellent ventilation, Patagonia has plenty of options.
The Terrebonne Joggers are high-performing, comfortable, and lightweight. It's one of their best pieces. You can get them for $89 from Backcountry.
14. Rhone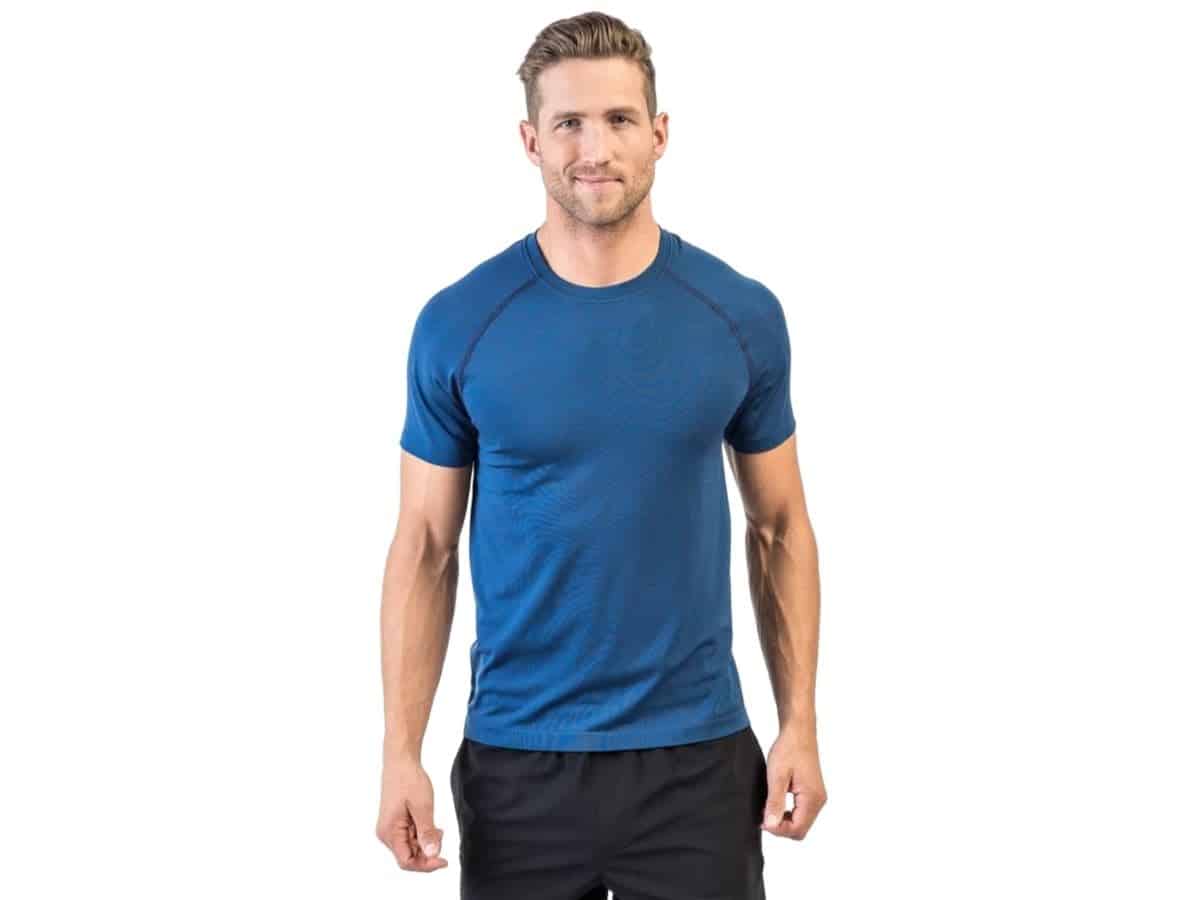 Price range: $$$
Shop for men's workout clothes from Rhone.
Rhone is a premium men's athletic clothing brand based in Connecticut. It offers everything you'd need for a workout. Plus, Rhone has technical clothing that you can wear outside of the gym.
Aside from being a premium brand, Rhone is also innovative. The workout clothes increase your performance by offering four-way stretch and using moisture-wicking and cooling technology. The clothes dry quickly and do an excellent job at fighting odor.
All of Rhone's items have a minimal design and look incredible. They fit well and are comfortable to wear.
The Reign Tech Short Sleeve is perfect for a tough workout. It has a seamless body-mapped mesh construction, is comfortable and breathable. Plus, the anti-odor features ensure you stay smelling fresh.
15. Salomon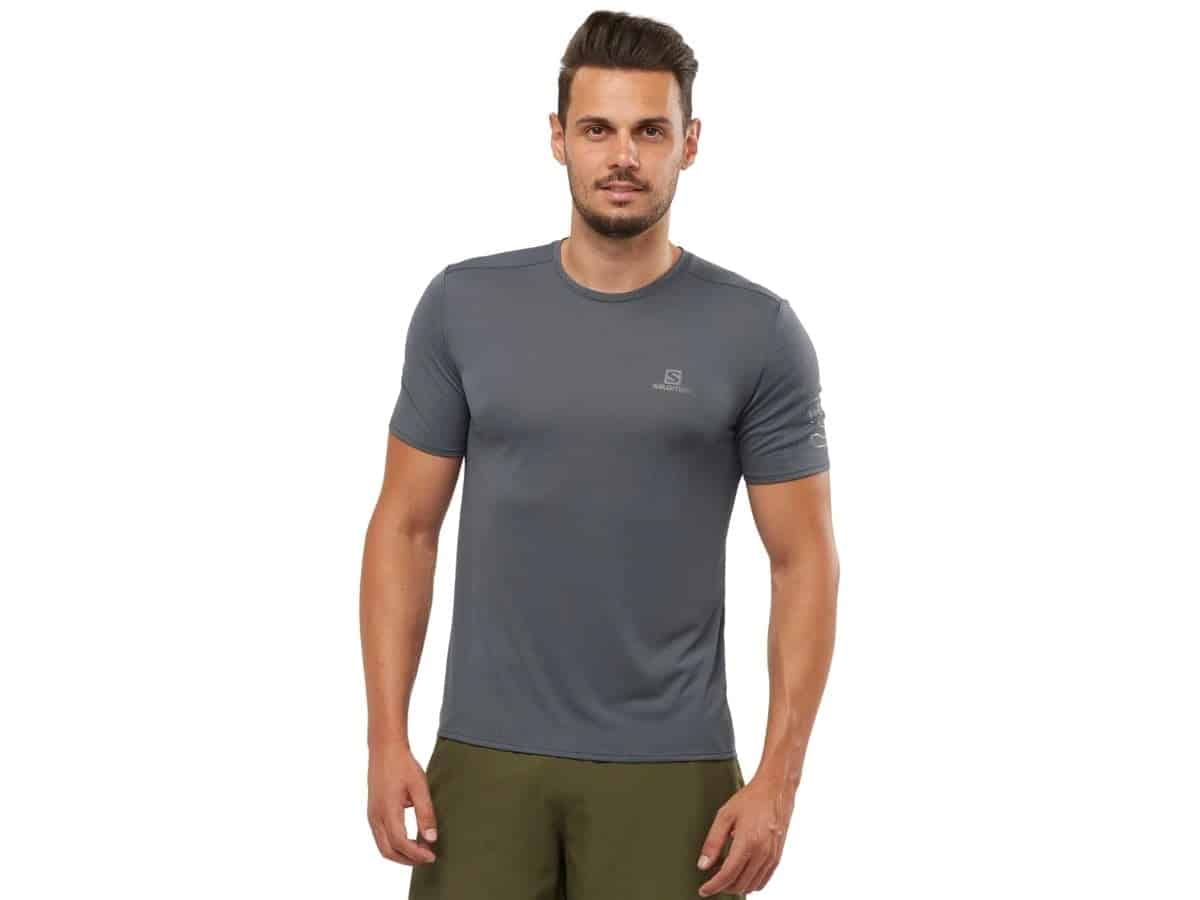 Price range: $$$
Shop for workout clothes from Salomon.
Salomon is a French company known for its running and hiking apparel and shoes. While it's not known for weight-lifting clothes, Salomon's clothing is excellent for any type of workout.
It's a premium brand that offers everything you'd need to wear to perform your best.
Versatility is one of the reasons Salomon is a successful brand. The items can be worn indoors or outdoors.
Salomon is also constantly having sales. Keep an eye out because you can find great deals on their premium workout clothes.
One of their best pieces is the XA Trail shirt. It's $55 and is made from bamboo charcoal, which is unique compared to other brands.
It does an excellent job with moisture and odor management. You'll stay fresh and dry throughout the entire workout.
16. Smartwool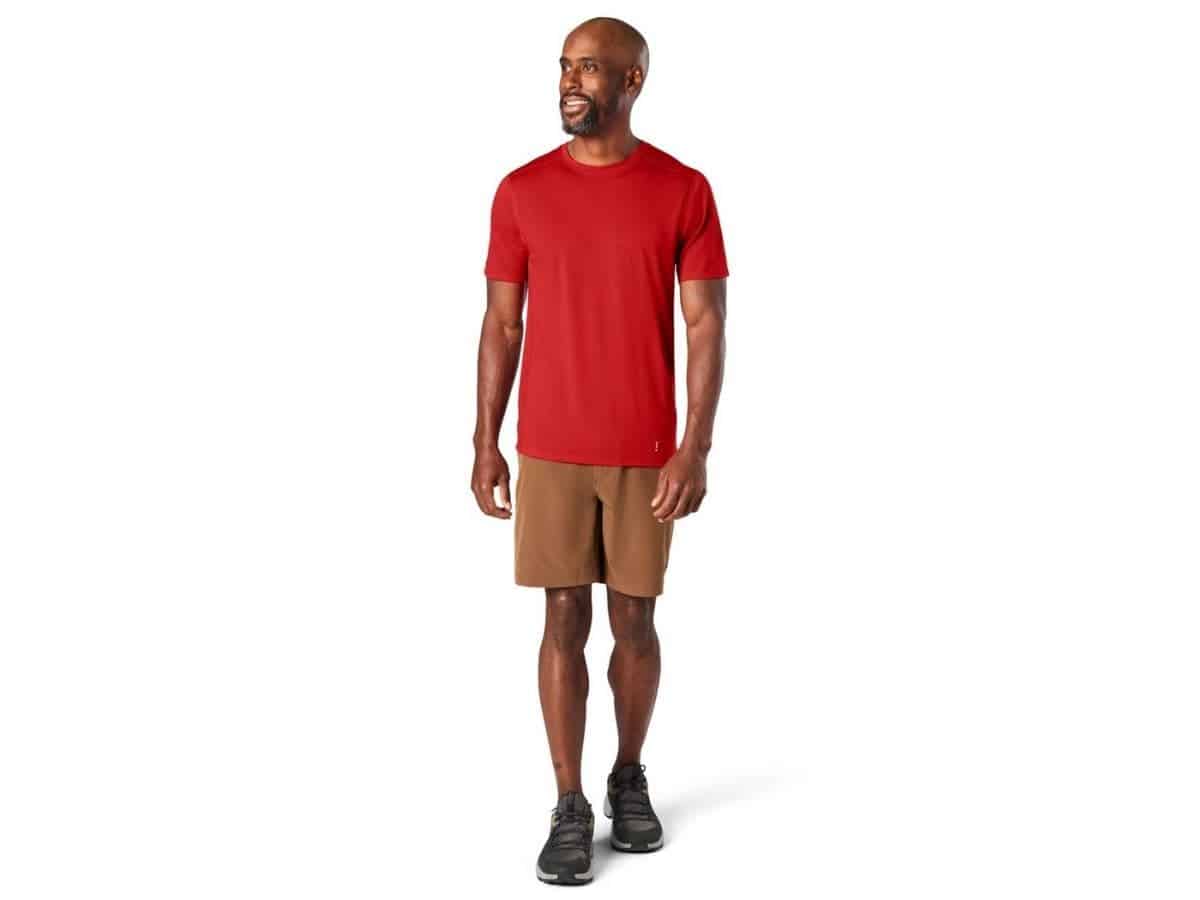 Price range: $$$
Shop for workout clothes from Smartwool.
Smartwool is a Colorado-based company that makes some of the best apparel in the world. It takes a different approach, as most of the items are 100% Merino wool.
Whether you need workout underwear, socks, pants, beanies, or shirts, Smartwool has you covered. The material, durability, and comfortability that Smartwool offers are hard to beat.
A must-have item from Smartwool is the Merino 150 Base Layer Shirt. It's $75 and comes in a few colors.
The shirt is breathable, soft, and lightweight wool. It's durable and keeps you dry. Plus, it offers UPF 20+ for sun protection.
You can wear Smartwool items to the gym or outdoors. It also works well in all seasons and temperatures. You'll be glad you chose it.
17. Ten Thousand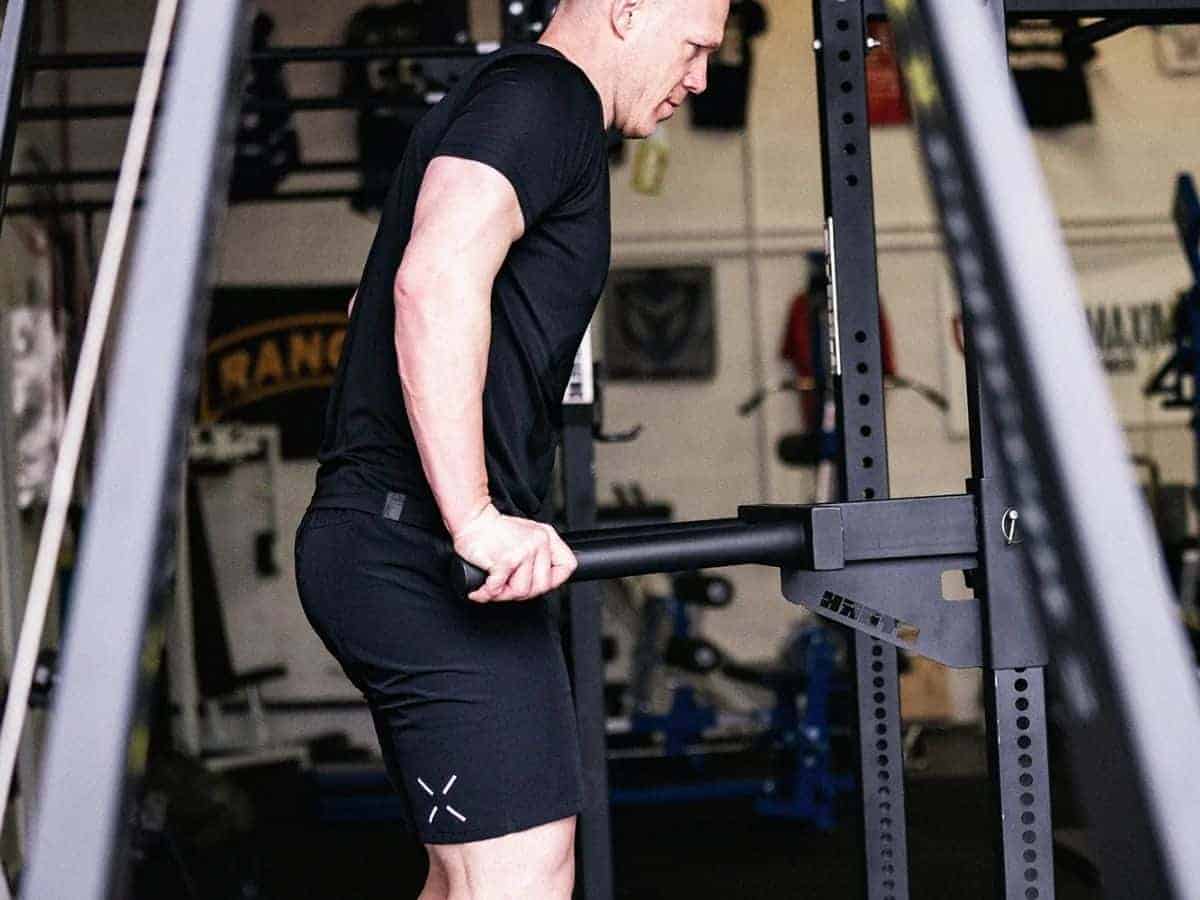 Price range: $$$
Shop for workout clothes from Ten Thousand.
Ten Thousand is a New York-based premium men's activewear brand. It's solely focused on men's workout clothing and offers a wide range of shirts, shorts, pants, and accessories.
Each item that Ten Thousand offers are strategically designed and backed by extensive research.
They're durable and will last a long time. Ten Thousand is serious about durability. There's a lifetime guarantee for the products.
For working out, the Foundation Short is an excellent pick. It's $68 with a built-in liner and $58 without it.
The shorts come in several good-looking neutral colors, and it's unrestrictive, which won't affect your range of motion.
18. Under Armour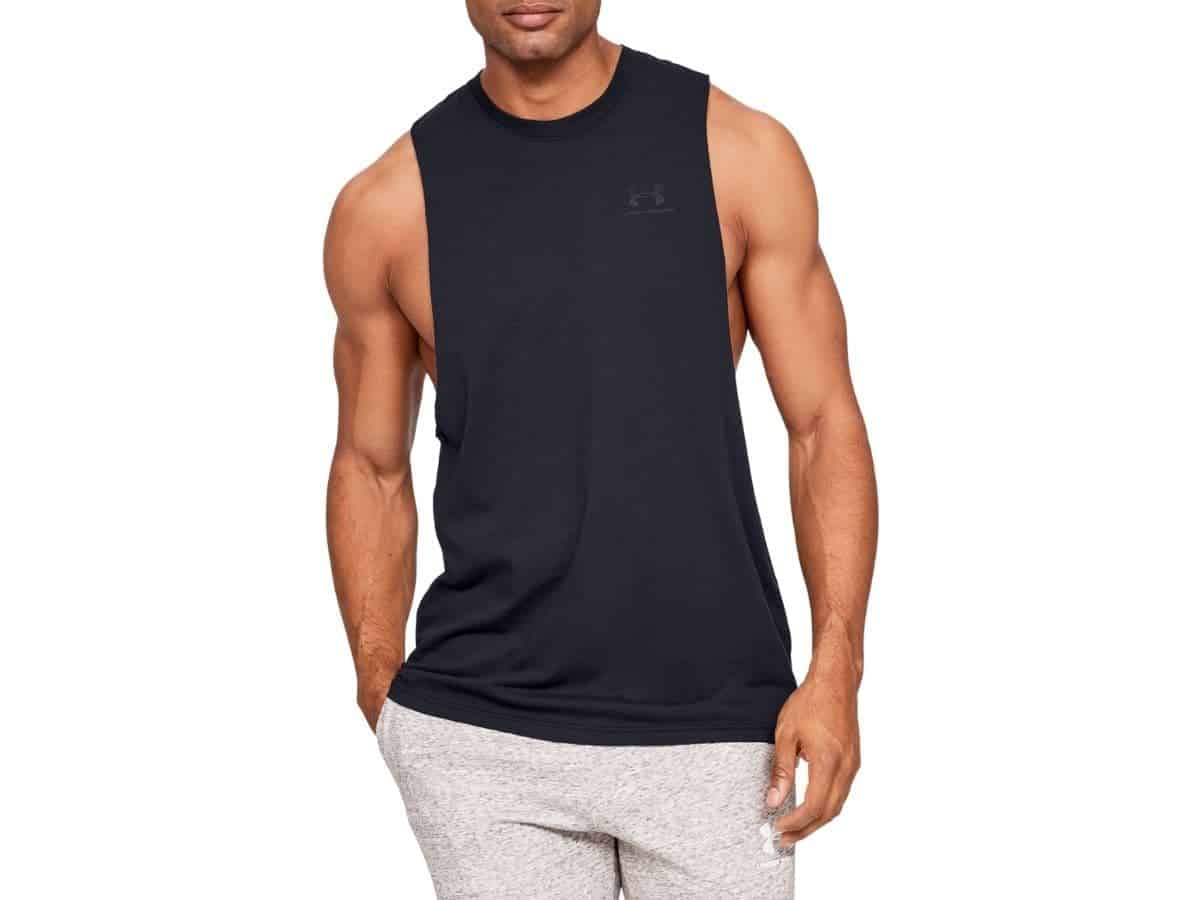 Price range: $$
Shop for workout clothes from Under Armour.
Under Armour is a Maryland-based company that's up there with Nike and Adidas. While it's not as big or popular, Under Armour is still a massive brand.
Under Armour offers workout gear, sports equipment, and many other items for an active lifestyle.
Focusing on their men's workout gear, it's one of the best brands because you get good quality for a lower price.
You can constantly find Under Armour items on sale. Whether you're looking for shirts or pants, you can find them for less than $50.
If you're working your upper body and want to exercise freely, the UA Sportstyle Left Chest Cut-Off Tank is the piece you need to have. It's $25, and the soft cotton and polyester blend make it comfortable to train in.
19. Vuori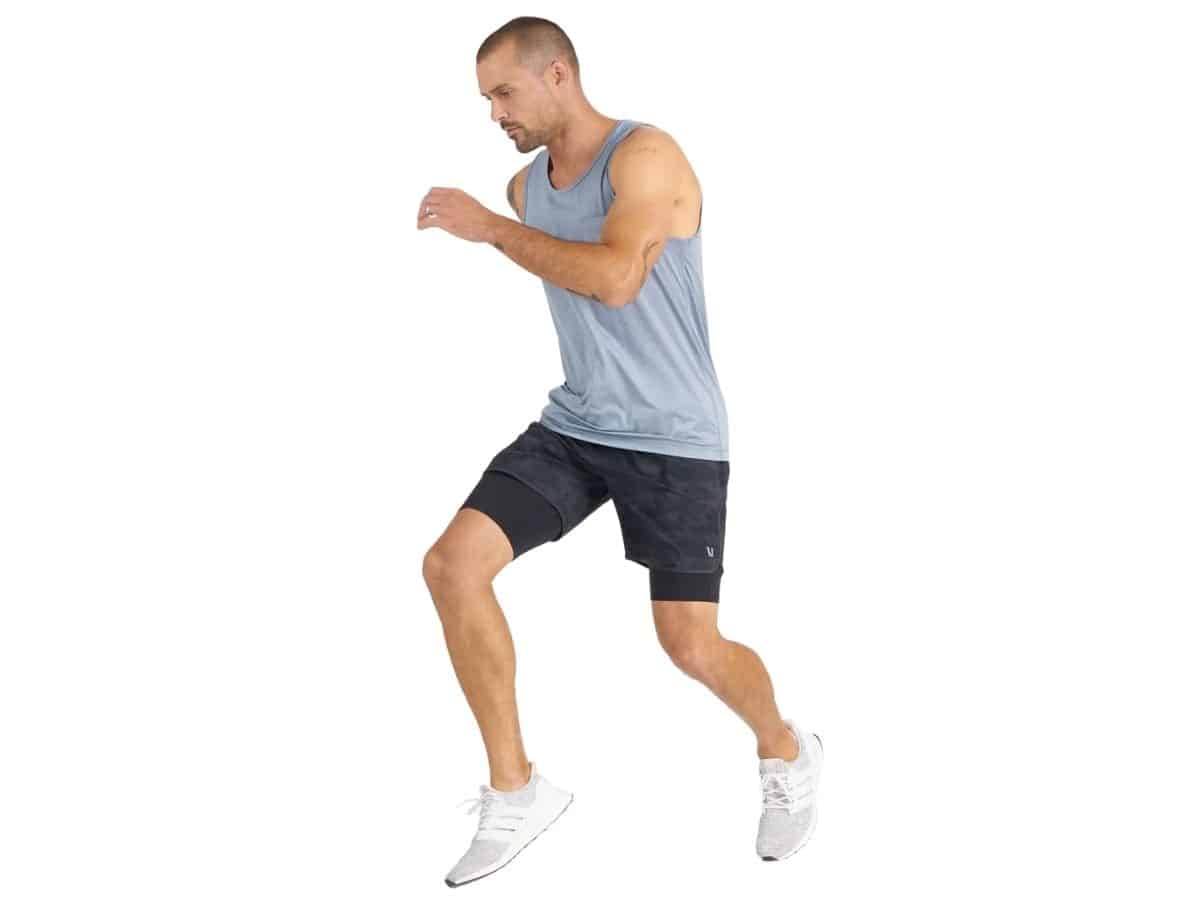 Price range: $$$
Shop for workout clothes from Vuori.
Based in California and founded in 2013, Vuori is a relatively new company. However, it's become a superb brand for activewear.
For men's workout clothing, Vuori has a good selection. You can get shorts, shirts, and pants. They're well-crafted and provide breathability and comfort for any workout.
The items that you'll find from Vuori have a minimalistic and simple design. With most of the clothes, you can choose between a variety of colors. While it's colorful, the tones are muted and not too bright.
One of the best pieces for working out is the Stockton Short. It's $76, has a camo pattern and a built-in short liner.
It's everything you need in a pair of workout shorts, as it's moisture-wicking, quick-drying, and anti-odor.
Frequently asked questions
The following are answers to common questions about men's workout clothes.
What should men wear for working out?
Your workout gear must revolve around comfort, breathability, style, and performance. Typically, breathable shorts and a sweat-wicking t-shirt are an excellent combination. You can also wear joggers that allow you to move freely and a long-sleeve shirt or workout hoodie.
Where can I find cheap workout clothes?
For cheap workout clothes, Amazon Essentials is the best choice. You'll get the best deal for decent durability and quality.
How do you deep clean workout clothes?
If a regular wash isn't enough, try deep cleaning your workout clothes by investing in a sports detergent or using a home remedy. In a container, mix 1/4 cup of white distilled vinegar and one cup of water. Then, let it soak for 30 minutes. Finally, you can rinse it and put it in the washing machine.
Conclusion
There are many men's workout clothing brands. The best one for you depends on the type of workouts you do and your budget.
When it comes to high-quality exercise clothes, they must be breathable, flexible, and comfortable. With the right gear, you'll have a better and more enjoyable workout.
Featured image courtesy of Canva.
About David Em
Founder
David Em is the founder of Next Level Gents, the ultimate destination for tips and advice about style, grooming, fitness, and success.