Increase your shoulder size by doing the best shoulder exercises. Aside from size, you'll have stronger shoulders, and it may relieve pain.
The best shoulder exercises are more than just a necessary part of a complete workout program.
Related: Bodyweight workout plan for beginners
They also help you get closer to the ideal V-shaped body. It offers the illusion of a smaller waist while also increasing the definition of your entire body.
In particular, studies have shown that shoulder exercises alleviate discomfort and reduce the risk of future dislocations.
When it's all said and done, you just want a better physique, and that's enough motivation to start.
Related: What's Tabata training?
Your shoulder muscles grow more quickly than other muscles if you're new to working out. However, this isn't to say that shoulder exercises are simple.
Many gym-goers dread shoulder day because the exercise can be very difficult if done correctly. Almost every upper-body workout relies heavily on the shoulders.
Related: 11 best back exercises to build muscle
Strong shoulders are crucial for optimum performance and a well-rounded, fit physique due to their critical function, a tremendous range of motion, and propensity to bulge beneath your shirt like two cannonballs.
No shoulder workout routine is complete without the following exercises. Incorporate them into your routine.
Related: 12 best bicep exercises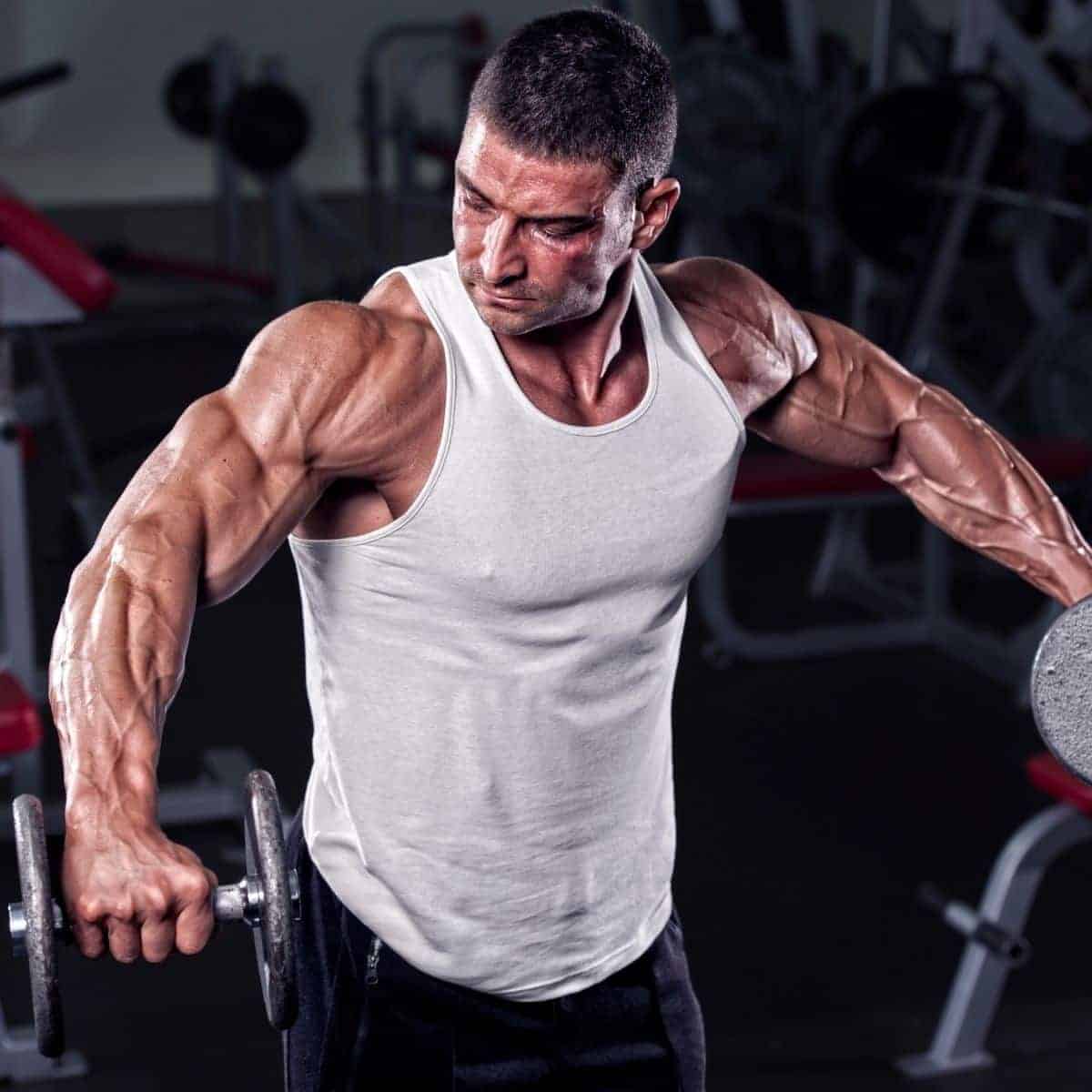 1. Standing Dumbbell Press
The standing dumbbell press encourages shoulder development better than a sitting press, despite the reality that it may result in a lower one-rep max.
Even though you'll be lifting less weight, the standing shoulder press demands greater stability.
So, you'll be actively developing your core and balancing your physique while you work your shoulders.
With dumbbells in each hand, stand with your feet shoulder-width apart.
Then, lift the weights to the side of your shoulders. Make sure your arms are at a 90-degree angle.
Then, push the dumbbells up and continue until the dumbbells are almost touching in the middle. Tighten your core and extend your arms just before they're fully straightened.
Slowly bring the dumbbells back down, pause, and repeat. Do 3 sets of 12 reps and rest for 20 seconds.
2. Front Raise
The front raise targets the front part of your deltoids. It may be done with dumbbells, a weight plate, or a barbell.
Don't go overboard with the weight because it can lead to bad form, which results in discomfort or an injury.
To do the front raise, hold the weight in front of you and keep your hands at hip height. Your core should be firm and your feet should be parallel to your shoulders.
Then, raise the weight to shoulder level. Make sure you retract your shoulder blades and keep your arms straight.
Pause for one second when you get to the top of the position and slowly bring it back down. Do 3 sets of 15 reps and take a 20-second break in between sets.
3. Reverse Pec Deck Fly
To target the rear part of your deltoids, this exercise employs a pec deck machine. It's an excellent way to build muscles in your back and shoulders.
Start by facing the machine and adjust the seat so the grips on both sides are at shoulder level.
Then, with your palms facing inward, grasp the handles in your hands. Tighten your torso and thrust your arms out to the side, all the way through.
The end of the position is when your arms are to your sides and you feel a nice squeeze in your back.
Hold it for one second and slowly bring it back to the starting position. Do 3 sets of 12 reps and take a 20-second break in between sets.
4. Reverse Cable Crossover
The reverse cable crossover is one of the most popular shoulder exercises. It involves D-handles attached to the upper pulleys of two cable machines.
To do the exercise, use your left hand, grasp the right-hand handle of the machine, and vice versa.
Then, bring the cables in front of you at chest level to form a cross. Maintain locked elbows and keep your arms level with your shoulders.
Slightly lean forward and stretch your arms as far as the cables will allow before bringing them in.
Pause at the top of the position and slowly bring it in. Do 3 sets of 15 reps and take a 20-second break in between sets.
5. One-Arm Cable Lateral Raise
The one-arm single lateral raise targets the middle part of your deltoid muscles.
The cables provide tension throughout the entire movement, similar to the reverse cable crossover.
Start with your feet shoulder-width apart and stand sideways to the cable machine. Then, grab the D-handle with the opposite hand from the pulley.
Raise the cable using only your arms and shoulders, keeping your core firm and your shoulders back.
Take your arm slightly above shoulder level and hold it there for 3 seconds before slowly returning to the starting position.
After doing all of your reps, switch arms. Do 3 sets of 10 reps with a 20-second break in between.
6. Push Press
The push press is a cornerstone of heavy-compound exercises. Start light and gradually increase the weight. The exercise is done while standing.
Begin by placing the barbell on your upper chest, palms up, elbows out, and upper arms parallel to the floor.
Then, slightly bring your hips back with a small bend in your knees. Push the barbell over your head.
At the top of the position, the barbell should be directly above you. Hold the position for 2 seconds and slowly lower the bar back down to your chest. Do 3 sets of 10 reps with a 20-second break.
7. Dumbbell Lateral Raise
The dumbbell lateral raise is similar to the cable lateral raise. However, dumbbells require a lot of stabilization. It's an excellent exercise for your deltoids.
To get started with the movement, use lighter dumbbells. Then, work your way up to heavier weights.
Start with your feet shoulder-width apart and slightly lean forward with your shoulders back.
Then, raise the dumbbells to shoulder height. Focus on lifting with your elbows first and not your wrists or hands. Pause at the top of the movement for one second and slowly lower it back.
At the bottom of the movement, don't rest the dumbbell on your legs. Instead, hover them right off of your hip.
Then, repeat for 3 sets of 12 reps and take a 20-second break in between sets.
Frequently asked questions
The following are answers to common questions about shoulder exercises.
Do shoulders respond better to higher reps?
For bigger shoulders, do a mix of using heavier weights for lower reps and lighter weights for higher rep training. With dumbbell or barbell presses, use heavier weights. For exercises, such as lateral raises, go for higher reps.
How many shoulder exercises should you do?
Choose three to four shoulder exercises to do. Make sure you target each of the three aspects of your shoulder muscles.
Should shoulders be worked out alone?
You can either combine your shoulder workout on chest day or dedicate one day to it. Both work well. However, dedicating a day to your shoulders allows you to put your entire focus towards it.
Conclusion
When you're working out your shoulders, remember the three aspects, the front, middle, and back.
By targeting the different parts, you'll build bigger three-dimensional shoulders. It'll give you a nice V-tapered body.
Featured image courtesy of Canva.
About David Em
Founder
David Em is the founder of Next Level Gents, the ultimate destination for tips and advice about style, grooming, fitness, and success.