If you're looking to create a habit around exercise and get rid of your excuses, exercise at home. Learn an effective bodyweight workout plan.
Estimated reading time: 4 minutes
Table of contents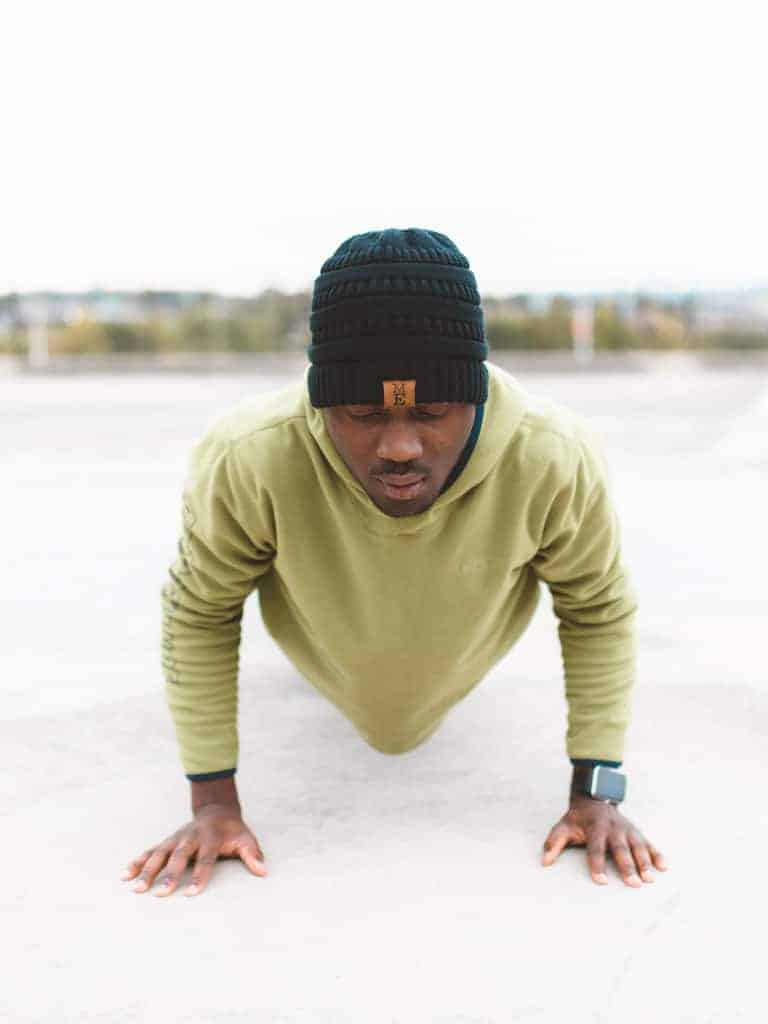 Benefits of bodyweight exercises
Doing a bodyweight workout, also known as calisthenics, is one of the best ways to get in shape and start exercising more often.
It's also one of the oldest and most effective training methods (Source: American Council on Exercise).
The following are 5 benefits of bodyweight training:
No equipment required: You don't need a gym membership or weights. All you need is yourself which is great because it'll save you money.
Simple and short: Time is one of the most common reasons people don't exercise. If time is a concern for you, bodyweight workouts can be done quickly and the exercises are simple to do.
Workout at home: Another great reason to do bodyweight workouts is that you can exercise at home. You can do it anytime and anywhere. This saves you time and will allow you to be more efficient.
Train for real-life: Have you heard about the people that can lift heavy weights but can't move furniture? That's where bodyweight exercises have an edge. It trains you for real-life situations.
Easy to remember: When you're lifting weights, the movements and form can be difficult to remember. When you're working out at home, the exercises are easy to remember which allows you to focus on your form.
Warm-up first
Before you start working out, make sure you warm-up to prevent injuries. The best way to warm-up is to do a dynamic warm-up.
According to a study by the Journal of Human Kinetics, dynamic warm-ups are great for getting your heart-rate up and it also leads to better results. Their study also proved that a dynamic warm-up led to better performance than static stretching.
Here are a few dynamic warm-up exercises (Source: Journal of Human Kinetics):
| Exercise | Length of Time |
| --- | --- |
| High Knees | 30 seconds |
| Butt Kicks | 30 seconds |
| Lateral Shuffles | 30 seconds each way |
| Back Pedal | 30 seconds |
| Elbow to Opposite Knee | 30 seconds |
Beginner routine
In this bodyweight workout, the focus will be higher reps, shorter rest periods, and higher intensity. According to a study by BioEx and UFTM, the effects of high-intensity bodyweight training are similar to weight-training.
So, you can benefit from doing a bodyweight workout consistently. As you get stronger, you can increase the number of reps and rounds.
The following exercises are a great beginner workout routine:
20 Push-ups.
20 Crunches.
25 Jumping Jacks.
30 Squats.
30-second plank.
Note: Take a 30-second break then repeat this circuit 2 more times for a total of 3 rounds.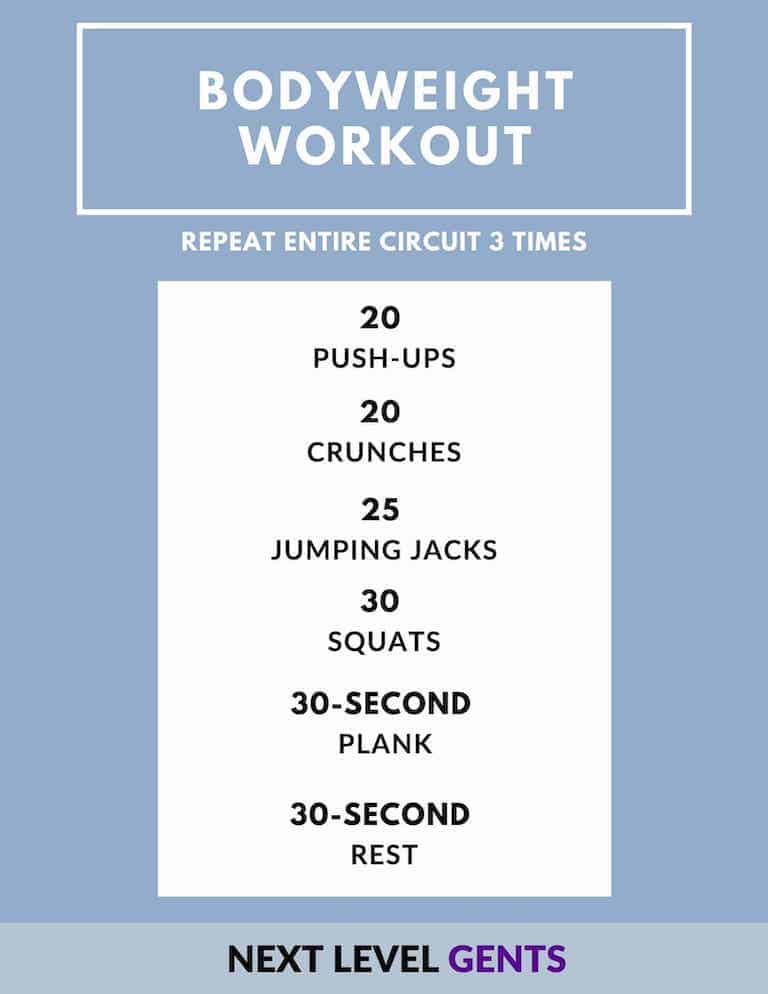 Frequency
Do this workout routine 3 to 4 times a week. However, it's important to note that you should incorporate a day of rest between workouts so your body can recover.
Therefore, your workouts shouldn't be on consecutive days. On your rest days, make sure you stay hydrated and eat nutritious meals.
Tips for starting a workout routine
The following are 3 tips for starting a bodyweight workout routine:
Start slowly: If you can't do all of the reps, that's OK because you're just starting out. It's more important to pace yourself and start slowly than to rush in and risk getting injured.
Make a commitment: There'll be days where you're pumped up to workout and days you aren't. These feelings are normal and the best way to be consistent is to make a commitment to yourself. When you commit, you're more likely to follow through on what you said you would do.
Keep it positive: Your goals, self-talk, and attitude are important when it comes to implementing exercise into your life. Make sure you keep these things positive because change takes time but if you're consistent, you'll see results.
Conclusion
Working out at home is convenient and effective. Bodyweight exercises are a great way to build a habit around exercise and get in shape. After being consistent with home workouts, you can invest in home-gym equipment, online classes, or join a gym.
More resources:
Featured photo by Unsplash.