At-home workout routines can be as effective as the gym. The key is to put in the time, effort, and consistency. Start a routine today.
You can lose weight, get stronger, fitter, and build muscles without the gym.
The key is to have a solid at-home bodyweight workout routine.
At-home workouts are excellent, as you save time and money. You can exercise anytime and in the comfort of your home.
Before you start a new workout routine, talk to your healthcare provider. If your doctor approves, there's no reason not to start.
The following is a bodyweight workout routine you can do at home.
Bodyweight at-home workout routine for beginners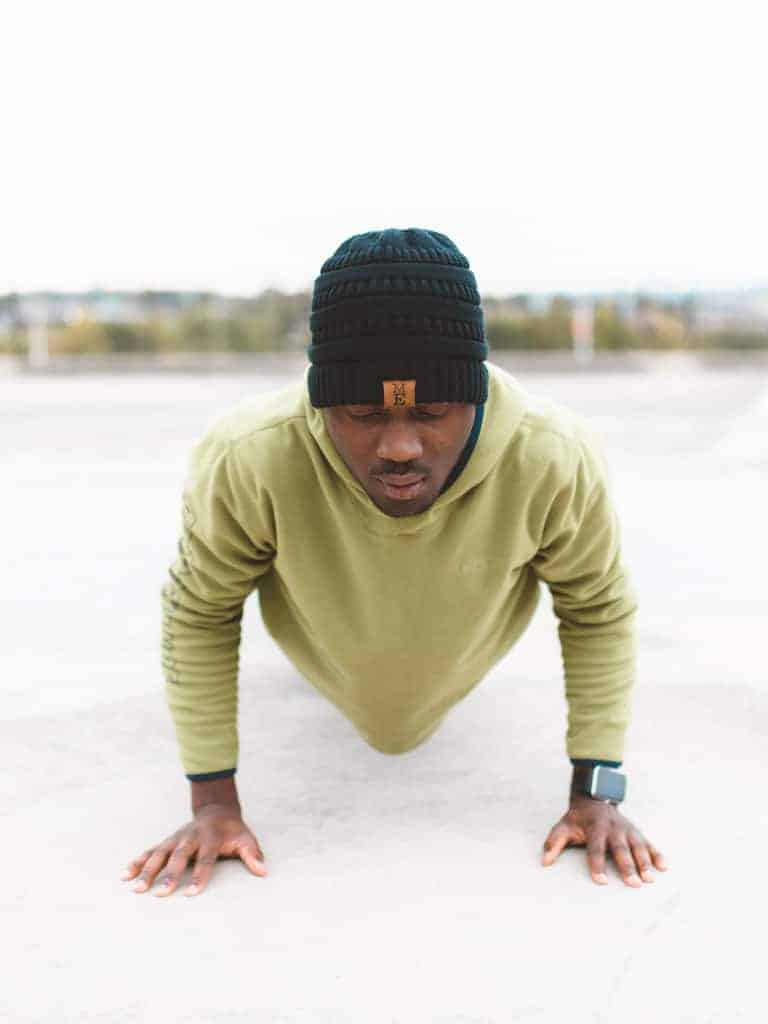 An excellent beginner at-home workout routine doesn't need equipment. Also, it's short and focuses on intensity.
According to an Elsevier study, high-intensity bodyweight training produces similar results to weights.
It consists of more reps, shorter rest periods, and higher intensity. As you get stronger, increase the number of reps and rounds.
Do three rounds of the following routine. Also, take a 30-second break between circuits:
20 push-ups.
20 crunches.
25 jumping jacks.
30 squats.
30-second plank.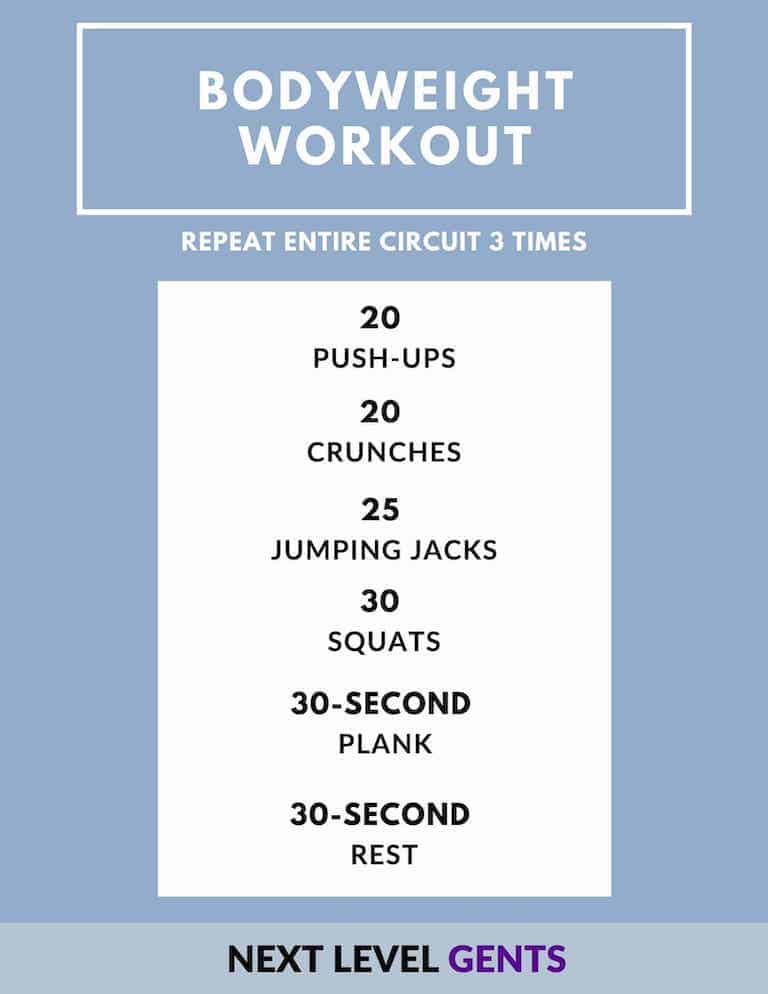 How to warm up before your workout
Before you begin your workout, take time to warm up. It raises your body temperature, increases blood flow, and prevents injuries.
The Journal of Human Kinetics recommends dynamic warm-ups.
It's better than static stretching because it produces better performance and results.
The following are the dynamic warm-up exercises that you should do:
High knees for 30 seconds.
Butt kicks for 30 seconds.
Lateral shuffles for 30 seconds.
Back pedal for for 30 seconds.
Elbow to opposite knee for 30 seconds.
A warm-up will take five to ten minutes.
While it doesn't take much time, the benefits are enormous. It'll prepare all the muscle groups for the workout.
Frequently asked questions about at-home workout routines
The following are answers to questions about bodyweight exercises and at-home workout routines.
How often should you work out?
The frequency of your workout routine depends on your training level.
If you're a beginner, train two or three days per week. If you're intermediate or advanced, train three to five days per week.
Be sure to rest and eat nutritious foods between workouts to allow your muscles to recover.
How long should a beginner workout at home?
The National Heart, Lung, and Blood Institute recommends 30 minutes of exercise for beginners. Then, you can build up to 45 minutes or longer.
You can do your exercises at one time or throughout the day.
For example, you can do 15 minutes of strength training and a 15-minute walk later in the day.
How do beginners get fit?
As you begin a fitness program, remember that it takes time.
With consistency and hard work, you can get fit. It's best to start slowly and build up over time.
Also, have a positive mindset and attitude about your progress.
The workout is one aspect of your path to getting fit. The other parts include nutrition, hydration, and rest.
What are the hardest bodyweight exercises?
If you're ready for a challenging bodyweight workout, do the following exercises:
L-sit
Handstand press-up
One-handed chin-up
Single-leg squat
Planche
Add one or all the exercises to your routine when you're ready. Practice good form and don't push yourself too far.
Conclusion
Bodyweight exercises can build muscle. So, you don't need to go to the gym.
At-home workouts are convenient, practical, and flexible.
As you get stronger, do more reps, increase the intensity, and slow down the exercises.
With consistency, you can boost your health, confidence, and results.
Featured image courtesy of Unsplash.
About David Em
Founder
David Em is the founder of Next Level Gents, the ultimate destination for tips and advice about style, grooming, fitness, and success.