Are you looking to add mass to your biceps? You're in luck because there are many effective exercises to help you build bigger biceps.
If you're like most people, you want bigger biceps. You want your arms to look good regardless of what you're wearing.
Related: 7 best shoulder exercises to add size
To build bigger biceps, make sure you're doing effective exercises. While dumbbell curls work well, they aren't the only exercises to add size.
Before diving into the best bicep exercises, it's important to understand the muscle group.
Your biceps are on the front side of your upper arm. It consists of two muscles, a short and long head working together as one.
Tendons, which are tough connective tissue, connect your biceps to your shoulder joint and forearm bones.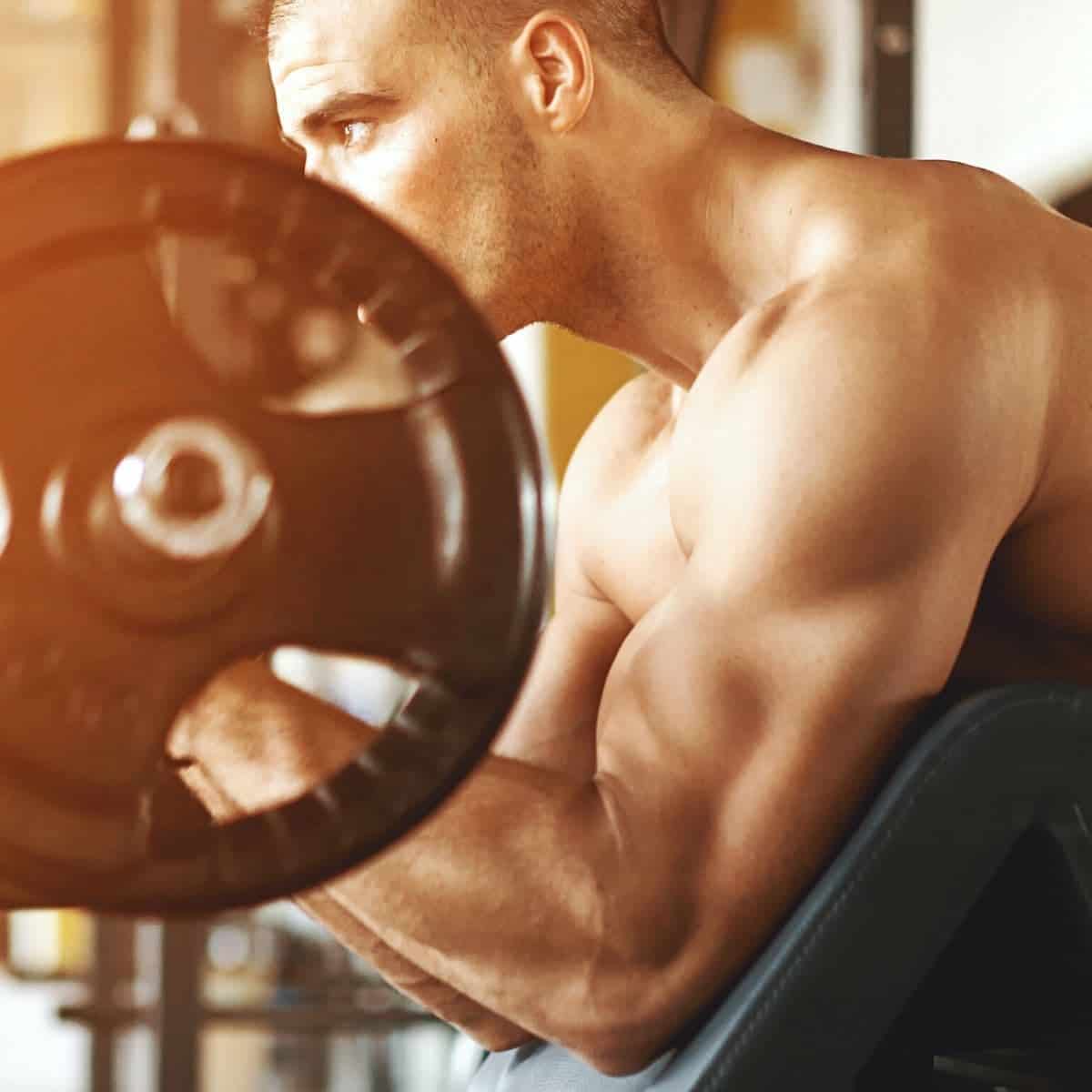 Your biceps are responsible for allowing you to flex your elbow and rotate your forearm.
Now that you know what your biceps are and their purpose, learn how to make them bigger.
Related: The 5 best kettlebells to buy
How to build bigger biceps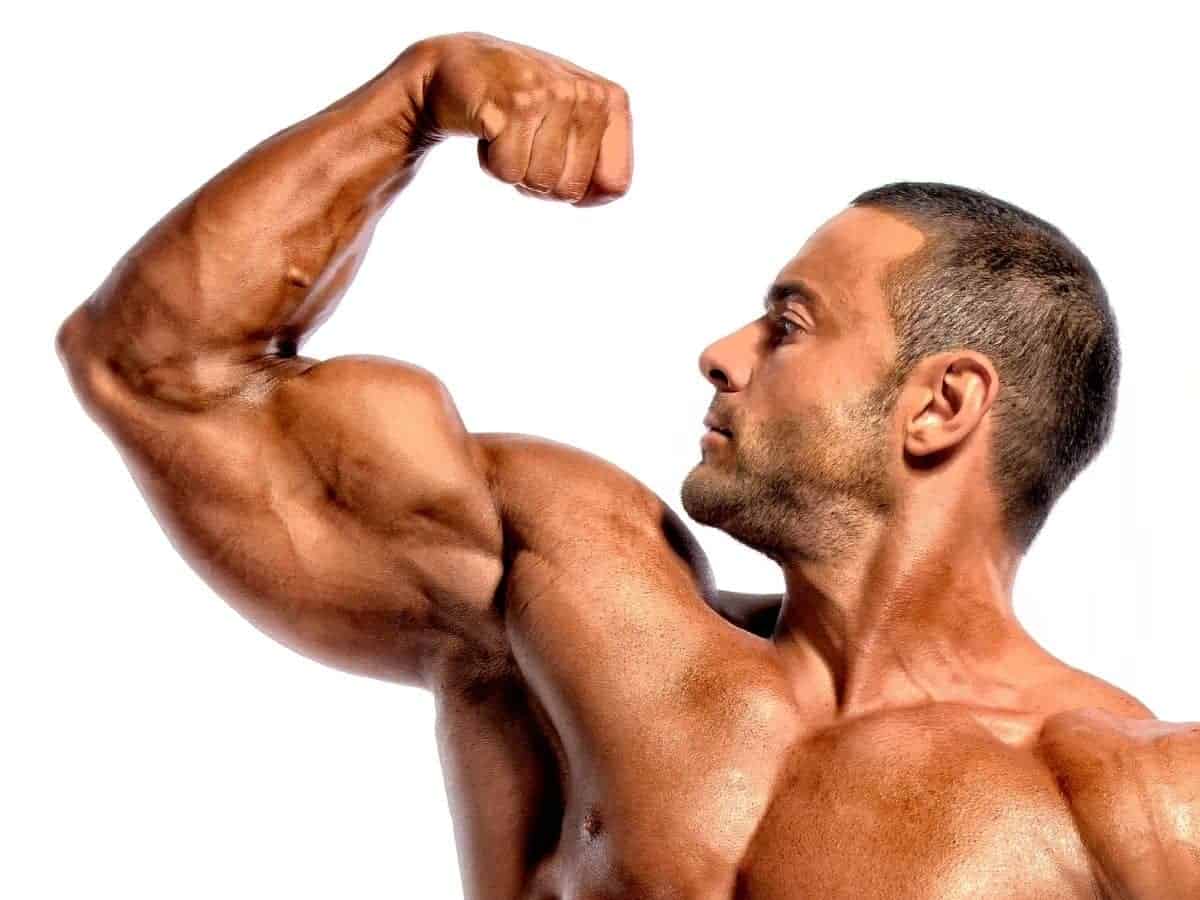 A combination of compound exercises, such as pull-ups and those that isolate your biceps are required to build big and strong biceps.
You can do exercises that isolate your biceps on a back day, or you can dedicate a day to your arms.
Related: 11 best back exercises to build muscle
Regardless of your routine, make sure you focus on the long and short head instead of one. You can work both heads by using different angles and exercises.
Also, make sure you move through the entire range of motion and squeeze your biceps at the top of the movement. It ensures that you get the most out of each rep.
When you lower the weight, do it slowly. Breathe in and count to three as you lower the weight.
You'll have full control and have a better workout, as your biceps will feel more tension.
Now, you're ready for the exercises. The following are the best bicep exercises for growth. They're also relatively easy to learn, and the equipment is widely available at most gyms.
1. Dumbbell curl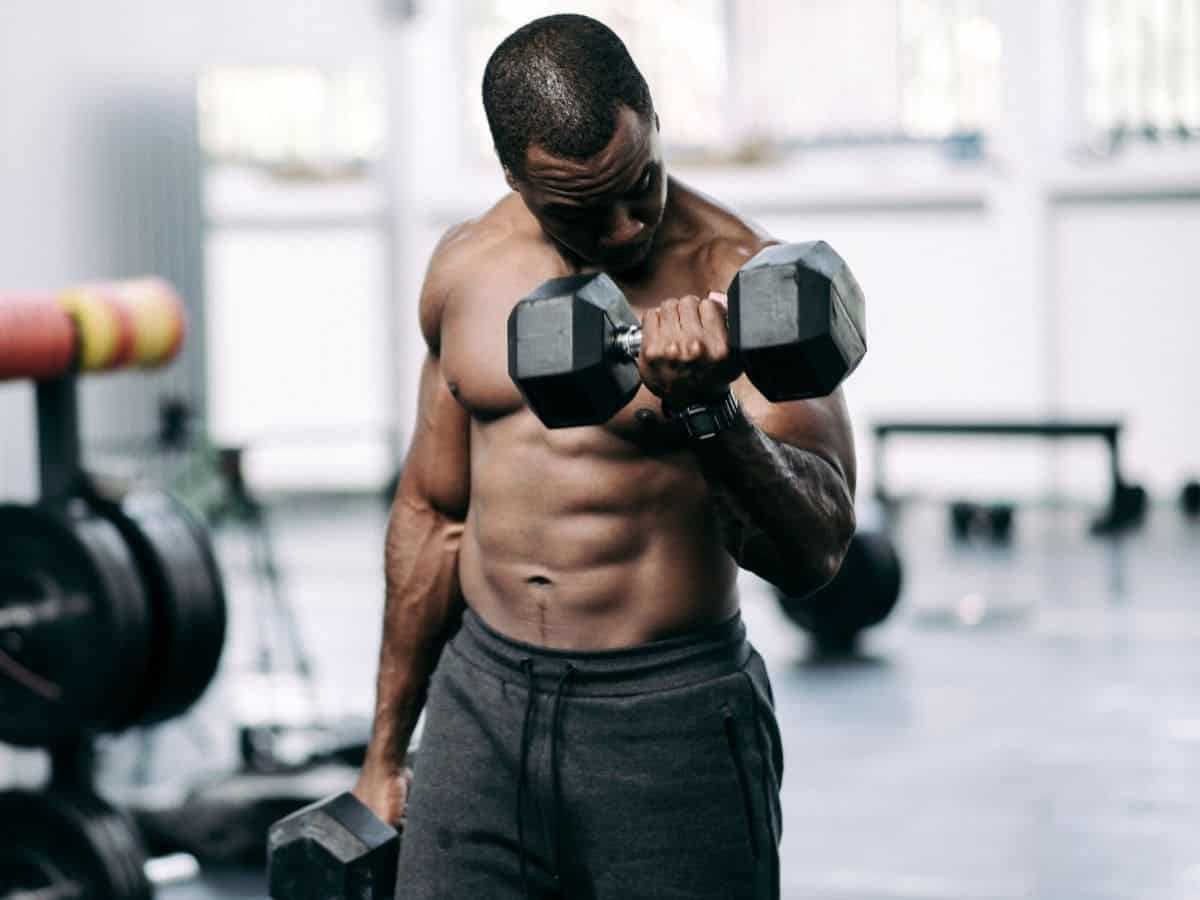 You can do dumbbell curls while you stand or sit. Dumbbell curls are a classic exercise that people have been doing for many years.
It's a tried and true exercise that builds your biceps when done properly. The key is to keep the movement controlled and slow.
By having a dumbbell in each hand, your biceps will work equally as hard since one can't pick up the slack from the other.
To do dumbbell curls, hold the dumbbells in your hands with your palms facing up, and rest your arms at your side.
Then, keep your elbows close to your body and your back straight. Bring the dumbbells up to your shoulders without moving your elbows forward or backward.
The final step to complete a full rep is to slowly lower the weight down to your side. You can also do both or one arm at a time.
If your elbows move forward or backward, the weight is too heavy. Get lighter dumbbells to maintain proper form.
2. Hammer curl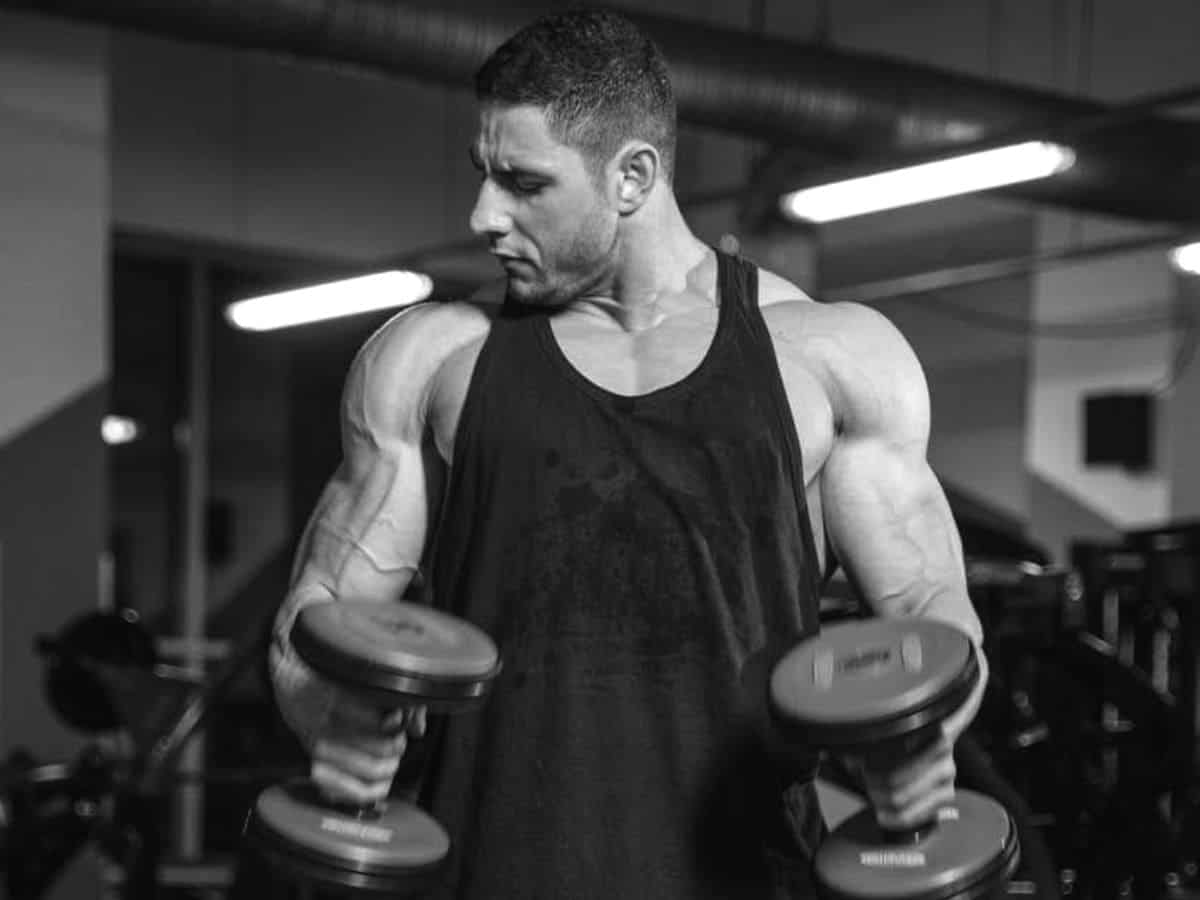 Hammer curls are similar to the popular dumbbell curl. However, the difference is how you hold the dumbbell.
Instead of facing your palms up, you'll hold the dumbbells with your palms facing in toward your body.
Then, you'll curl the dumbbell to your shoulder while keeping your palms facing in for the entire movement.
The final step is to lower the weight with your palms facing in. It's like you're holding a hammer.
With a regular dumbbell curl, you're working the short head. Hammer curls allow you to target the long head.
It's a beneficial exercise for developing bigger biceps.
3. Rope cable curl
The rope cable curl is a must-do exercise for adding size to your biceps. While dumbbells work well, the rope cable curl provides constant tension.
The movement is similar to the hammer curl, as you'll hold the rope with your palms facing in.
Once you have the rope in your hands, position your feet shoulder-width apart and slightly bend your knees.
With your elbows tucked at your sides, curl the rope up toward your shoulder.
At the top of the movement, slowly twist your hands in so your palms are facing you. Then, slowly lower the cable to the starting position.
The twist at the top of the movement targets the short head, while the rest of the curl targets the long head of your biceps.
4. Chin-up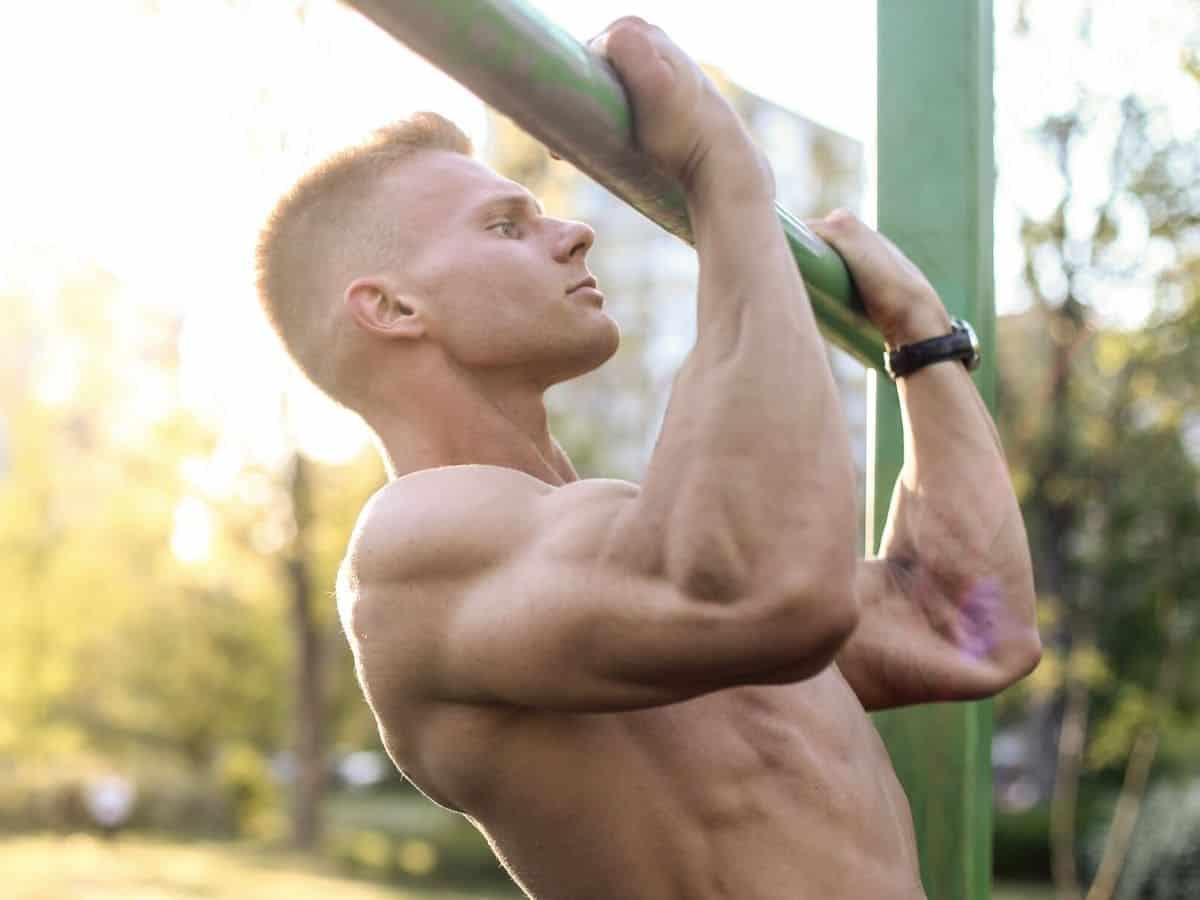 Chin-ups are compound movements as they target your back, biceps, and core. While they don't solely focus on your biceps, it's an excellent exercise.
Chin-ups are so good that you can do them and skip all of the other bicep exercises, and your biceps can still grow.
To do a chin-up, grab a pull-up bar with your palms facing you. It's known as a palms-up grip.
Then, lift your chest, tighten your core, and pull yourself up. At the top of the movement, pause for one second. Then, slowly lower yourself down to the starting position.
If you're not able to do bodyweight chin-ups, you have a couple of options.
First, get a box that allows you to easily grab the bar. Then, jump to the top of the movement where your chin is above the bar. Hold it for one second and lower yourself as slow as possible.
The second method is to use an assisted chin-up or pull-up machine. You'll select a weight, put your knees on the pad, and do chin-ups while focusing on squeezing your biceps.
5. Preacher curl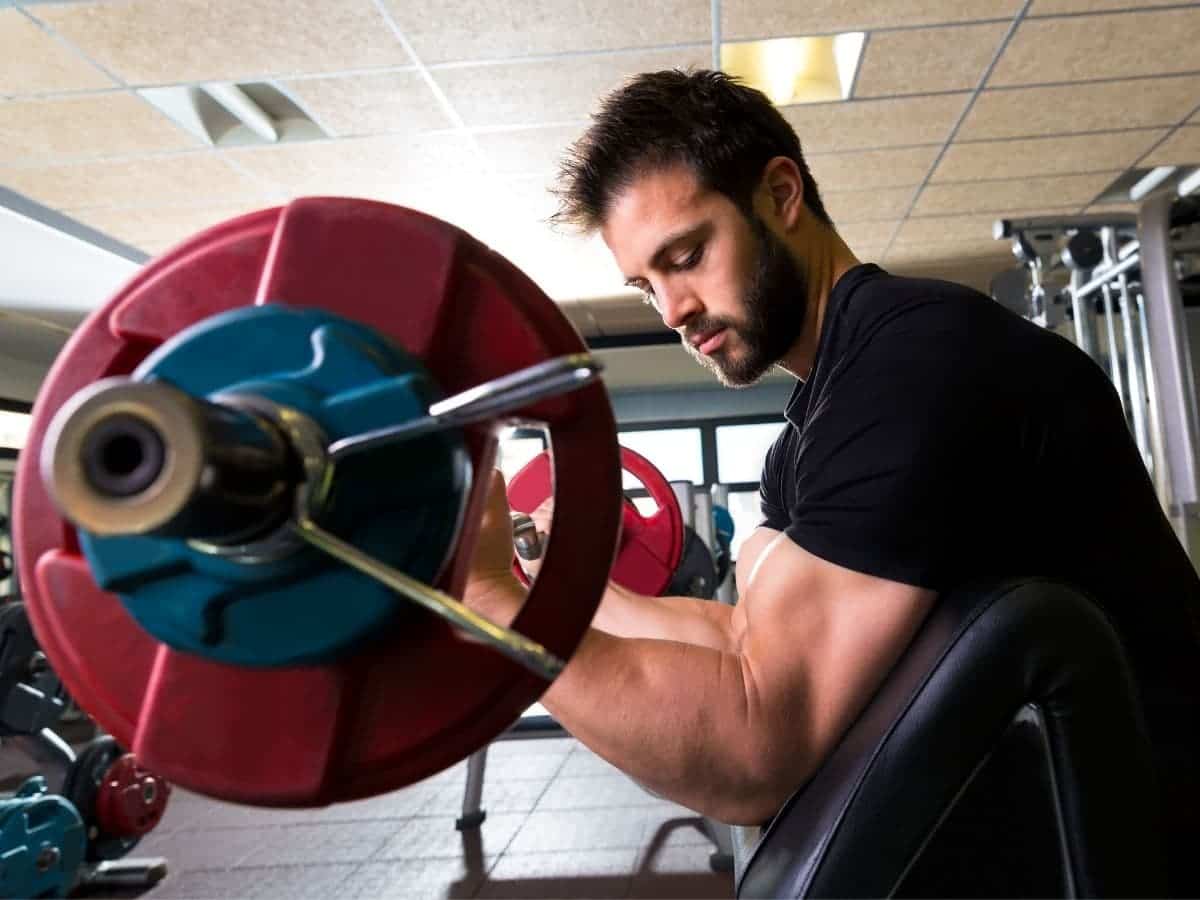 Preacher curls are an excellent addition to your bicep workout routine. It gives your biceps an incredible pump and is known for building the peak, as it targets the short head.
The preacher curl requires a preacher bench, which you sit on with your chest against the pad. The pad is angled for your arms to rest on.
Once you get to the preacher bench, you can use dumbbells, a barbell, or an EZ bar. Regardless of what you use, you'll effectively work your biceps.
To do a preacher curl, sit on the bench. Adjust the height to position your armpits at the top of the slope on the pad.
With the weight of your choice in your hands, lower the weight and fully extend your arms. Make sure you don't extend too far or fast, as it can hurt your elbow.
Then, curl the weight up while you keep your arms on the pad the entire time.
Squeeze your biceps at the top and slowly lower the weight back to the starting position.
6. EZ bar curl
An EZ bar curl is like a barbell curl. However, it uses an EZ bar, which is an angled bar that has a zig-zag shape.
EZ bars are excellent for curls because it's more comfortable to hold. Your wrists are at a more neutral position, which doesn't cause any pain and reduces the chances of an injury. It also allows you to lift more weight.
Once you find an EZ bar, hold the inside grips with your palms facing up. Then, put your elbows at your side with the bar in front of you.
Curl the EZ bar up as high as you can go and squeeze your biceps at the top of the movement. Then, slowly lower the bar back down.
7. Concentration curl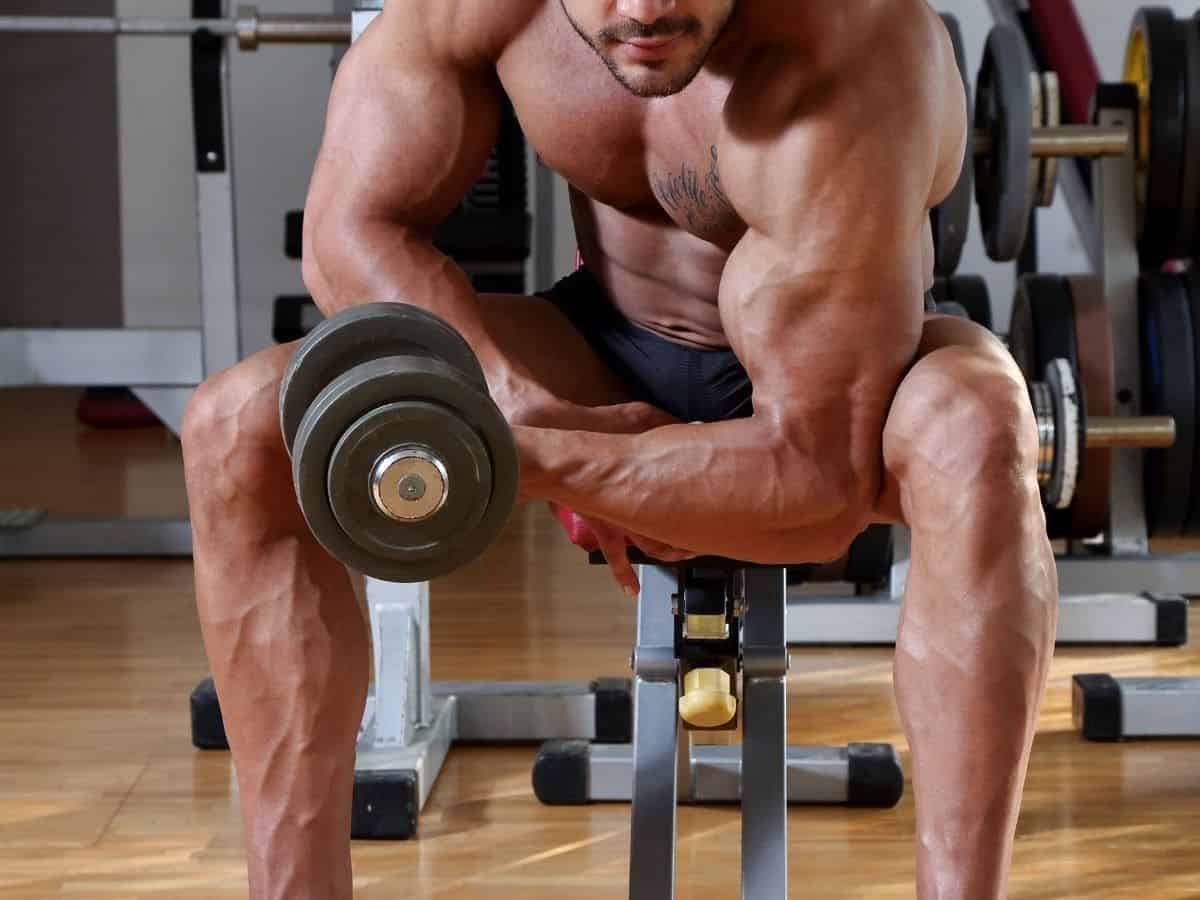 Concentration curls are another classic exercise. The benefit of doing concentration curls is that you can't use your shoulders to swing the dumbbells up.
Instead, it allows you to solely use your biceps because it stabilizes your elbow and shoulder. As a result, you get a better workout.
Another benefit is that you'll focus on one arm at a time. Due to the nature of the movement, you'll build a strong mind-muscle connection.
To do concentration curls, grab your dumbbell of choice and find a bench. Sit on the edge of the bench with your legs opened.
Then, lean forward with your back straight, grab the dumbbell, and put your elbow on the inside of your knee. If you're starting with your right arm, rest your elbow against your right knee and vice versa.
Curl the dumbbell up toward your shoulder without moving your elbow or shoulder.
Pause for a second at the top and slowly lower the dumbbell until your arm is fully extended. After finishing your set, switch arms.
8. Reverse grip inverted row
The inverted row is also known as the supine row or bodyweight row. It's an excellent exercise for your back.
However, the reverse grip method is a brutal exercise for your biceps, as well.
To do the reverse grip inverted row, you'll need a Smith machine or power rack.
Then, adjust the height of the bar to be at the same height as your waist.
It's important to note that you can position the bar lower. However, the lower the bar, the harder the movement.
After you position the bar, get under the bar. Think of it as a floor bench press. That's where you'll want the bar to be.
Then, grab the bar with your hands facing up and shoulder-width apart. Pull yourself up like you're doing a row and pause for one second. Then, slowly lower yourself.
If the movement is too easy, lower the height of the bar. If it's too challenging, increase the height. The goal is to feel a nice burn in your biceps.
9. Seated underhand cable row
The seated underhand cable row has a similar effect as chin-ups do. It targets your back and biceps.
The underhand grip makes your biceps work harder than an overhand grip. Since the goal is to grow your biceps, use the underhand method.
If your seated cable row machine has a V-shaped handle, swap it for a bar or something that allows you to hold it with your palms faced up.
Once you have the proper attachment, keep your back straight and pull the cable toward your belly button.
Pause at the top of the movement and feel the squeeze in your biceps. Then, slowly extend your arms back out.
10. Resistance band curl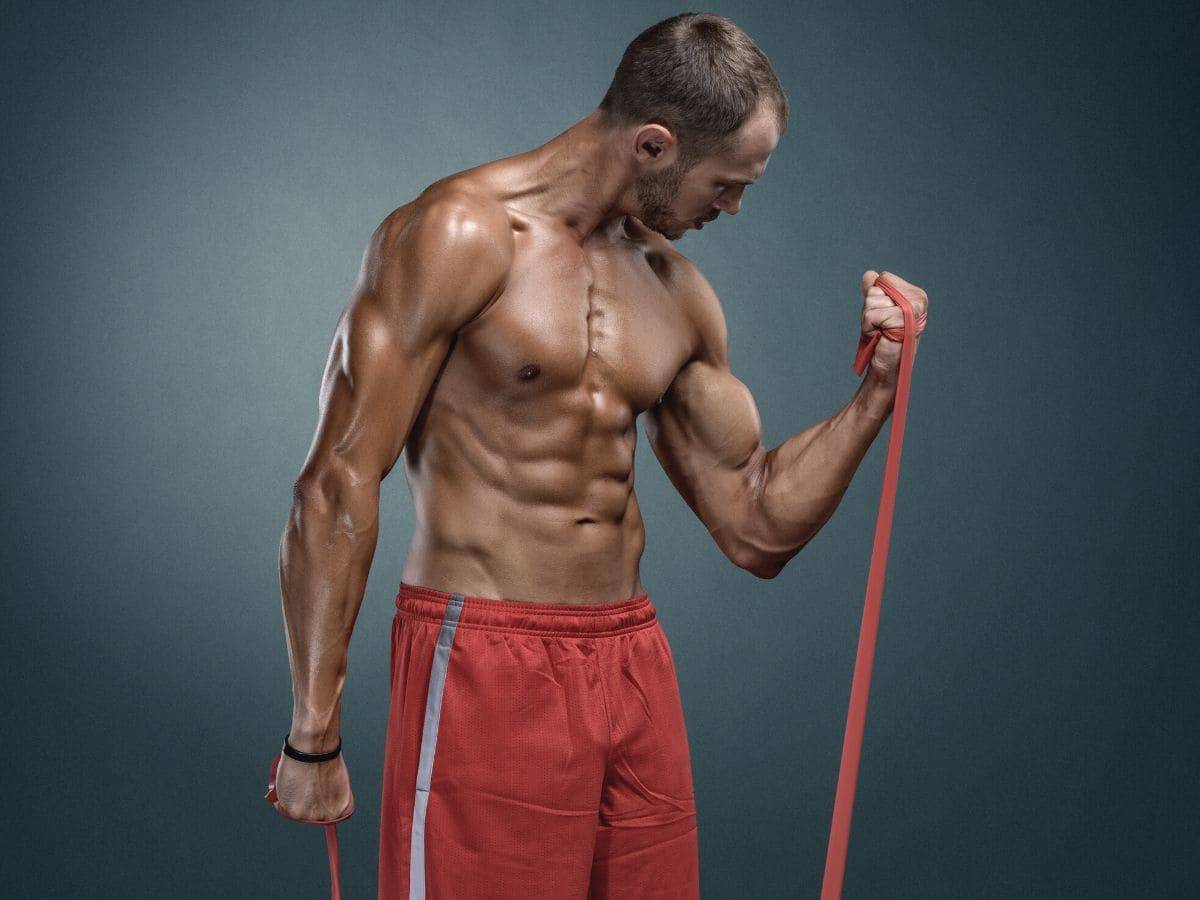 Resistance bands are an excellent alternative to bars, dumbbells, and cables.
With resistance bands, you'll have tension throughout the entire curl movement.
Not only is it beneficial for your biceps, but you'll also feel like you had a great workout.
Some resistance bands have handles, while others don't. Handles are helpful because it gives you something to grip.
However, you can still hold the resistance band without a handle. It may be a little uncomfortable, though.
To do curls with resistance bands, stand on it and grab the ends. With your arms at your side and elbows tucked in, slowly curl it up to your shoulder.
Squeeze for one second at the top and slowly lower the resistance band down.
Make sure you keep the resistance band secure under your feet. If you accidentally let it go, it can fling up and hit you or someone nearby.
11. Zottman curl
Zottman curls are effective at growing your biceps and forearms. It's a unique exercise because you'll curl up one way and lower the weight a different way.
With the Zottman curl, you'll work the short and long head of your biceps. The goal is to keep the entire movement controlled. By doing so, you'll get the best results.
To do the Zottman curl, you'll need a pair of dumbbells. The first part of the movement is like a standard dumbbell curl.
At the top of the movement, turn your wrists and face your palms out. Then, slowly lower the dumbbells to your thighs. Twist your wrist again to face your palms back up.
It may feel awkward at first. Take it slow and you'll get the hang of it. Your biceps and forearms will also thank you.
12. Overhead cable curl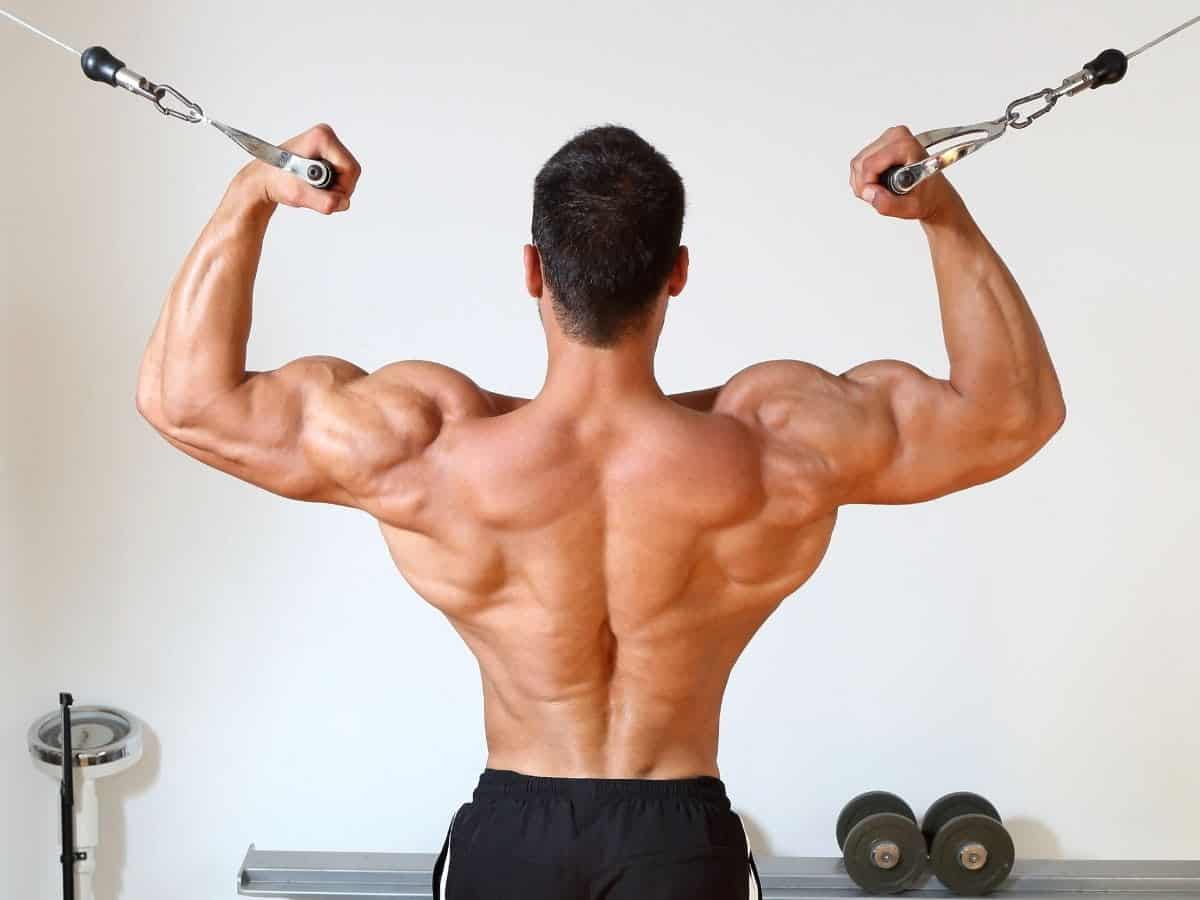 The overhead cable curl is also known as the cable flex curl or Superman curl.
It's an excellent exercise for adding size to your biceps because it provides tension throughout the movement.
It also works your biceps independently, as you'll have a cable in each hand.
To perform an overhead cable curl, find a cable machine with handles on the cables. It must be wide enough for you to extend your arms to the side without blocking you.
Adjust the cable to place the handles slightly above you. Then, grab the handles and keep your elbows at shoulder level.
Curl toward your shoulders as if you're flexing your biceps. Pause for one second and slowly extend your arm to the starting position.
Frequently asked questions
The following are answers to common questions about biceps.
How often should I train my biceps?
There isn't a rule about how often you should train your biceps. However, it's best to allow at least one day of rest before training them again. Typically, you can get good results by working them once or twice per week.
How many reps and sets should I do for bicep exercises?
With bicep exercises, choose three exercises. Then, do three sets of each exercise. When it comes to reps, select two exercises and do 15 to 20 reps. With the last exercise, choose a heavier weight and do six reps.
Are push-ups good for building biceps?
While push-ups engage your biceps, they mainly work your chest, triceps, core, and deltoids (shoulders). The best compound exercise for your biceps is a pull-up or chin-up.
Conclusion
To grow your biceps, do exercises that target the long and short head. Many types of curls will help you add size to your arms.
By consistently working your biceps and allowing them to rest in between sessions, you'll see good results.
Featured image courtesy of Canva.
About David Em
Founder
David Em is the founder of Next Level Gents, the ultimate destination for tips and advice about style, grooming, fitness, and success.