There are many Apple Watch bands that you can upgrade to for a more stylish or functional option. Swap yours to change the look.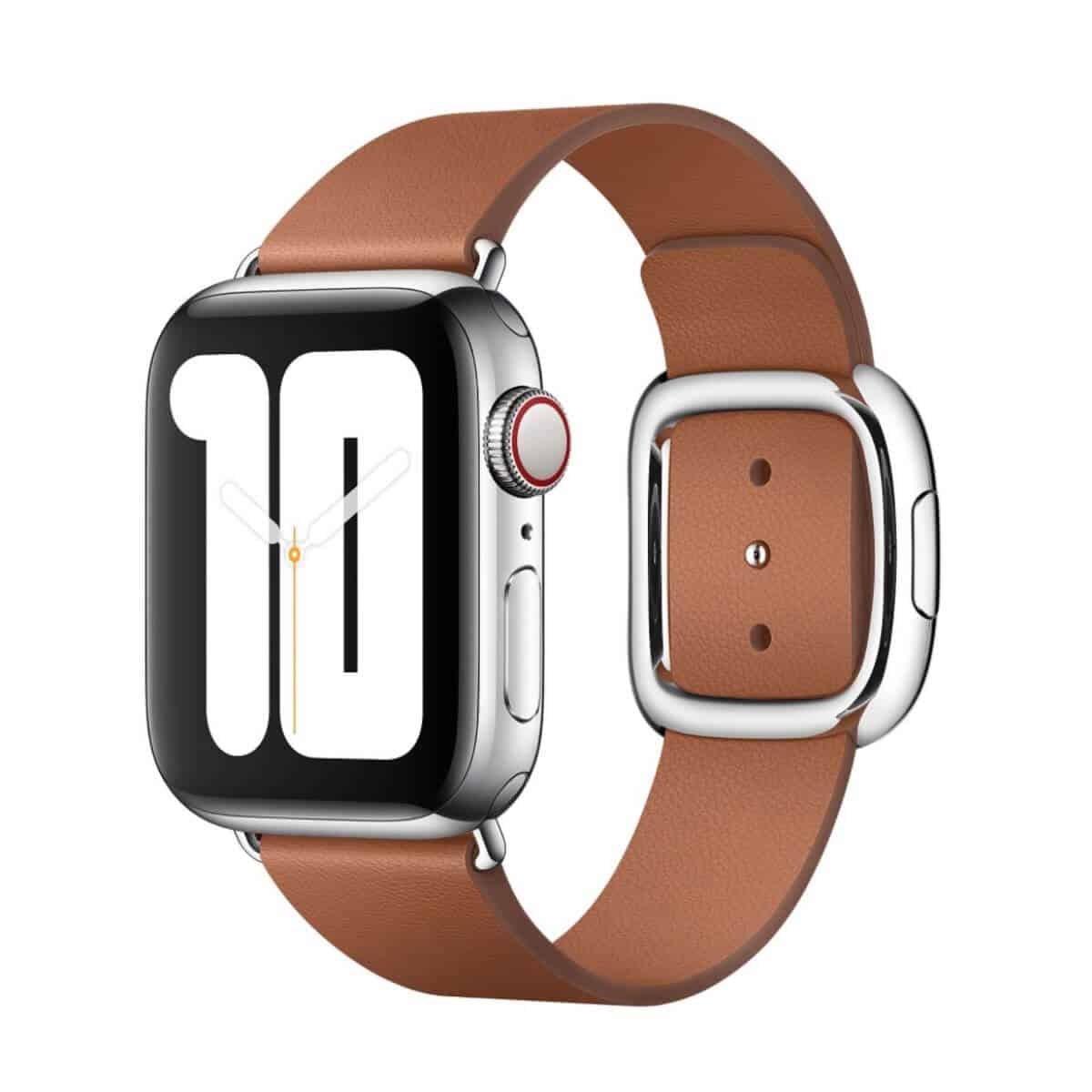 Estimated reading time: 7 minutes
We receive a commission on purchases made through links on this page. For more information, read Affiliate Disclosure.
Why you should have multiple bands
You can have one band that you wear all of the time, or you can have multiple, which allows you to have different looks.
Related: 12 best accessories for men
By having several options, you can reserve one for everyday wear, and another for exercise. Some bands are made specifically for swimming, and others for a classy event.
If you have traditional watches, you probably have more than one. Not only are the cases different colors, but the straps are too.
Related: Complete guide to chronograph watches
You might have a black or brown leather strap, suede for a more casual look, and even mesh straps.
With a traditional watch, you must buy a new one to have a different style. That can add up to a lot of money.
Instead of buying several watches, you can buy bands for your Apple Watch and swap them out at any time.
How to change the band
Swapping out your Apple Watch band is a quick and seamless process. Take the following steps to change your brand.
Time needed: 1 minute.
How to change your Apple Watch band:
Flip your Apple Watch around.

Make sure the face of your watch is down.

Press the top oval button and push the top band to the side.

The button will unlock the band, and you can easily slide it out.

Press the bottom oval button and push the bottom band to the side.

This will release the bottom band.

Grab your new bands, and slide it in.

When you slide it in, the band will lock into place.
It's a simple process that'll take a minute or less. You can quickly change the look of your Apple Watch by swapping out the bands.
Best Apple Watch bands
Whether the purpose will be for exercise or to look stylish, there's a band for you. The following are the best Apple Watch bands:
Most stylish bands
The following are the most stylish Apple Watch bands:
Apple Saddle Brown Modern Buckle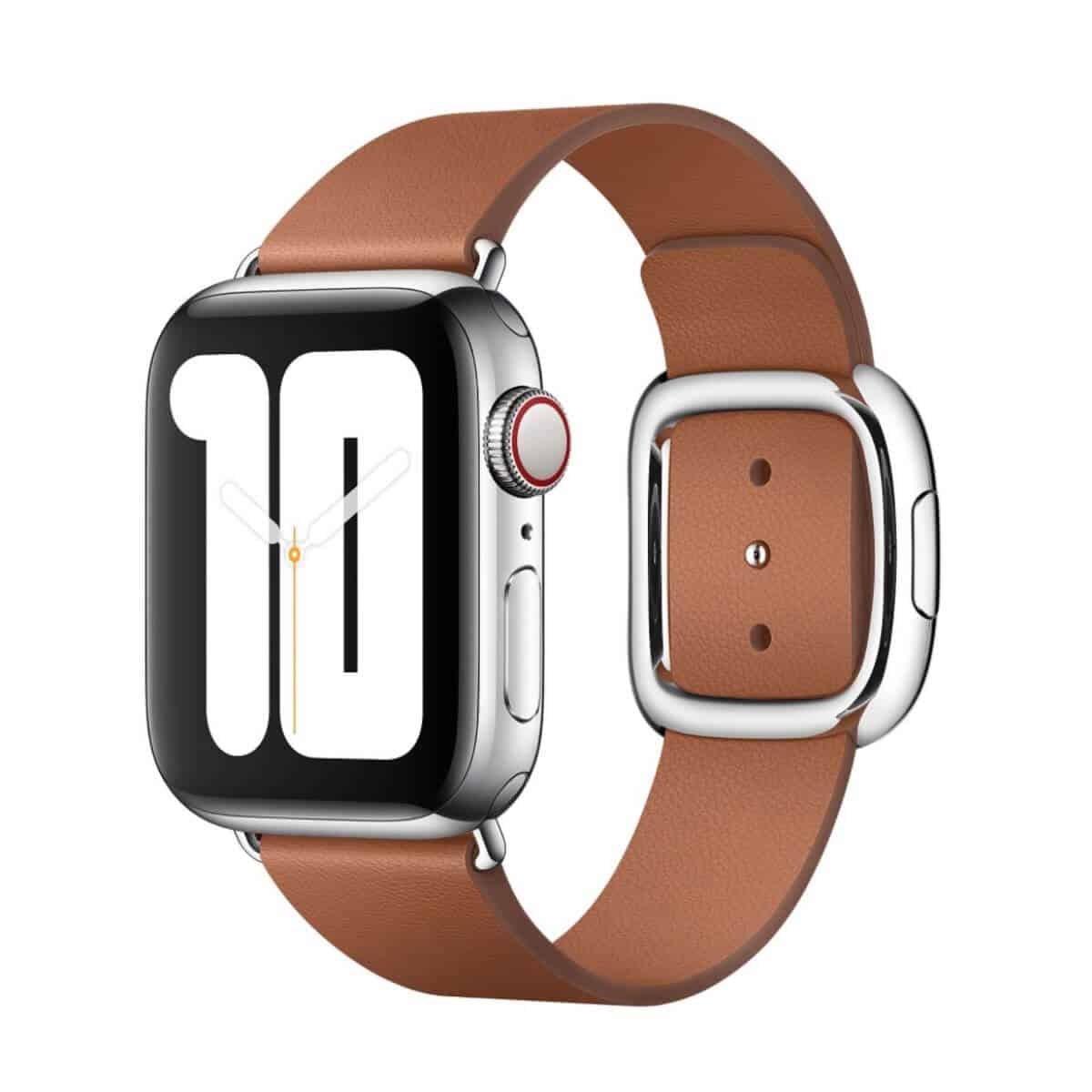 The band by Apple is made of Granada leather, which is high-quality and heavyweight leather. The buckle is a two-piece magnetic closure, which keeps it secure on your wrist.
Since the Apple Watch band is made of high-end leather, it's perfect for work, a date, a business meeting, or anywhere that requires you to dress up.
Buy the Saddle Brown Modern Buckle from Apple (opens in a new tab).
Apple Space Black Milanese Loop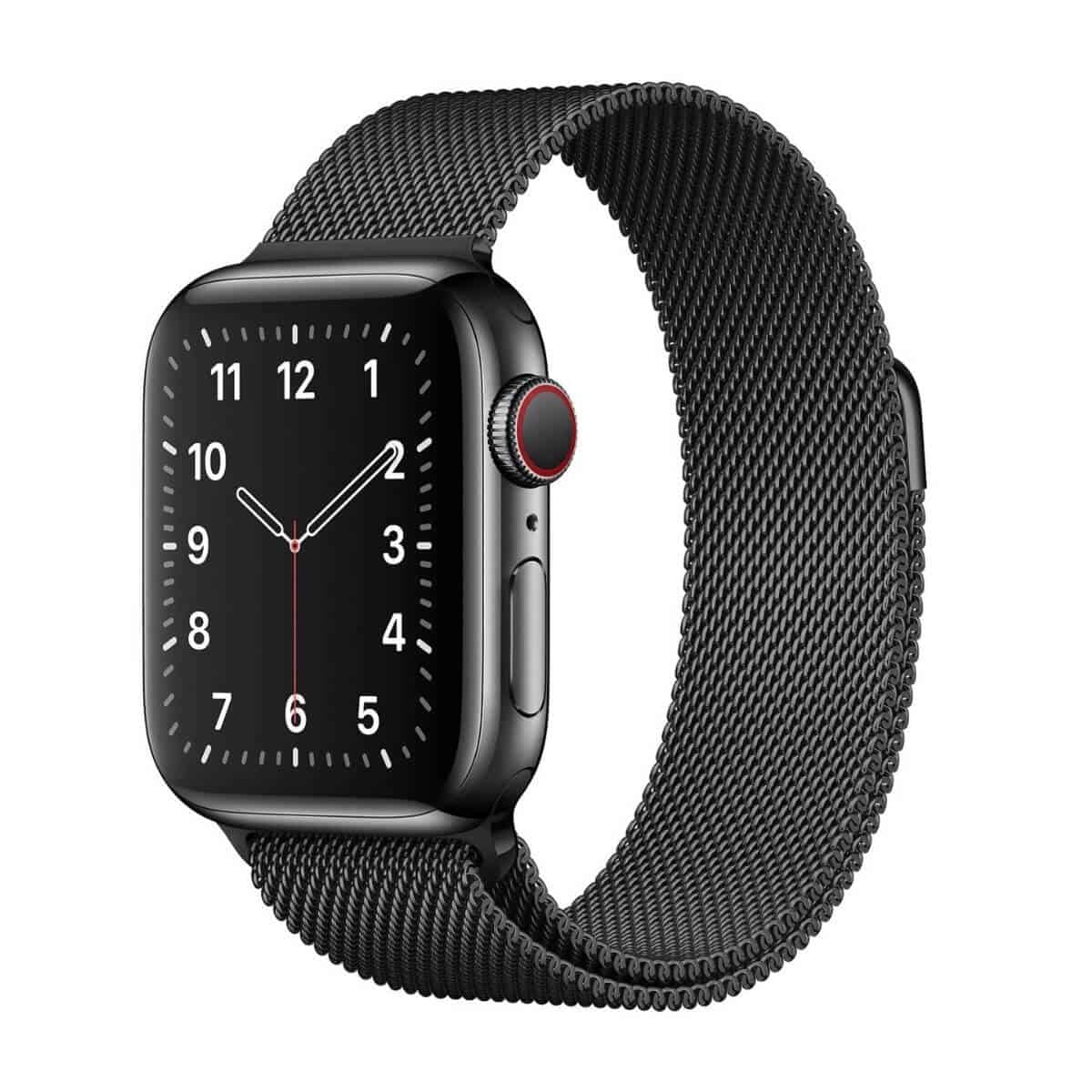 The Milanese Loop band is one of the most popular options. It's made of stainless steel mesh and wraps smoothly around your wrist. The band is completely magnetic, which makes it easy to find the perfect fit.
Buy the Milanese Loop from Apple (opens in a new tab).
Nomad Modern Strap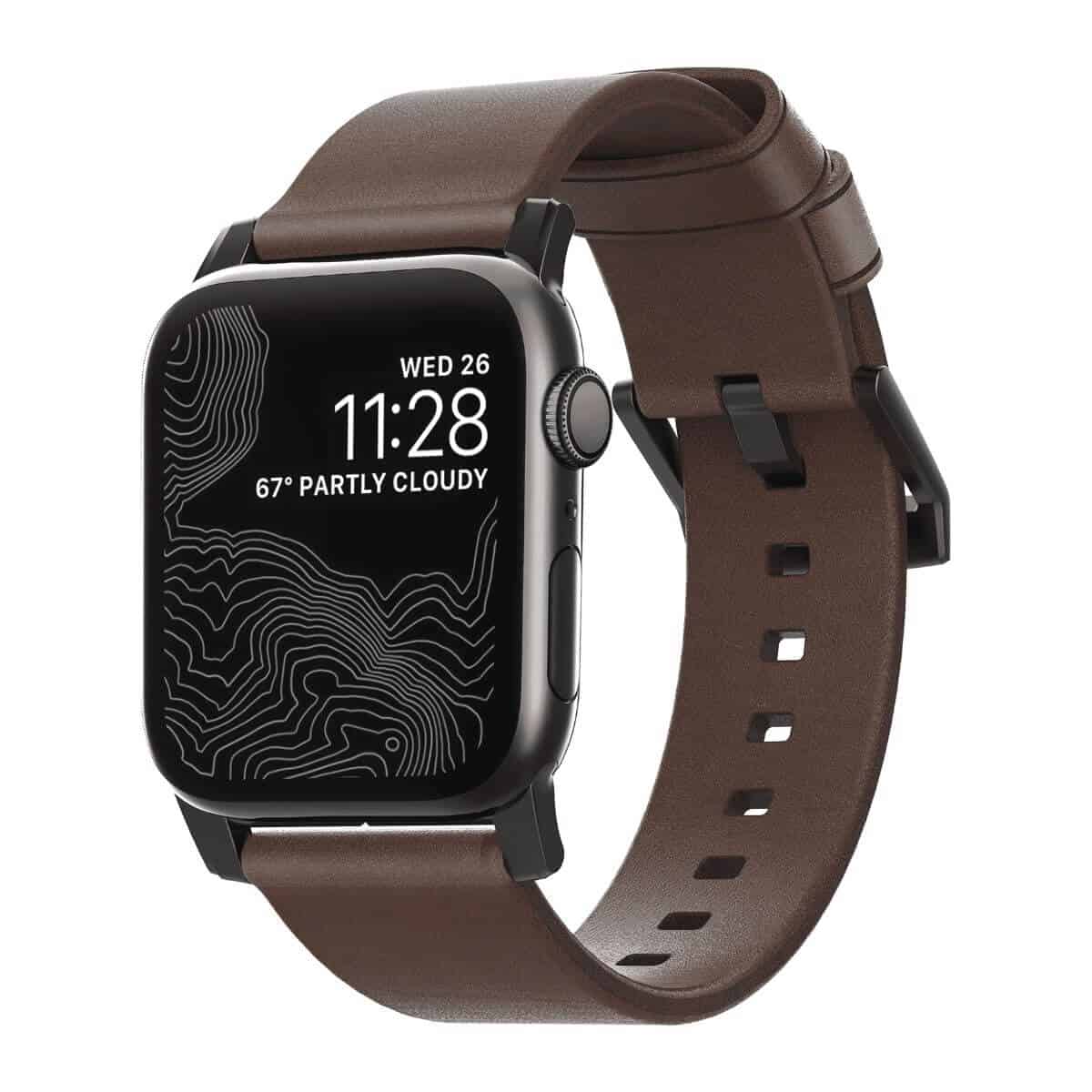 Nomad has become one of the top brands for tech accessories. The Modern Strap is made in the United States and of Rustic Brown Horween leather.
The buckle is a marine-grade 316 stainless steel and built with a high tolerance.
Anytime that you'd want to wear a classy watch with a leather strap, you can use the Nomad Modern Strap.
Buy the Nomad Modern Strap from Amazon (opens in a new tab).
iiteeology Stainless Steel Band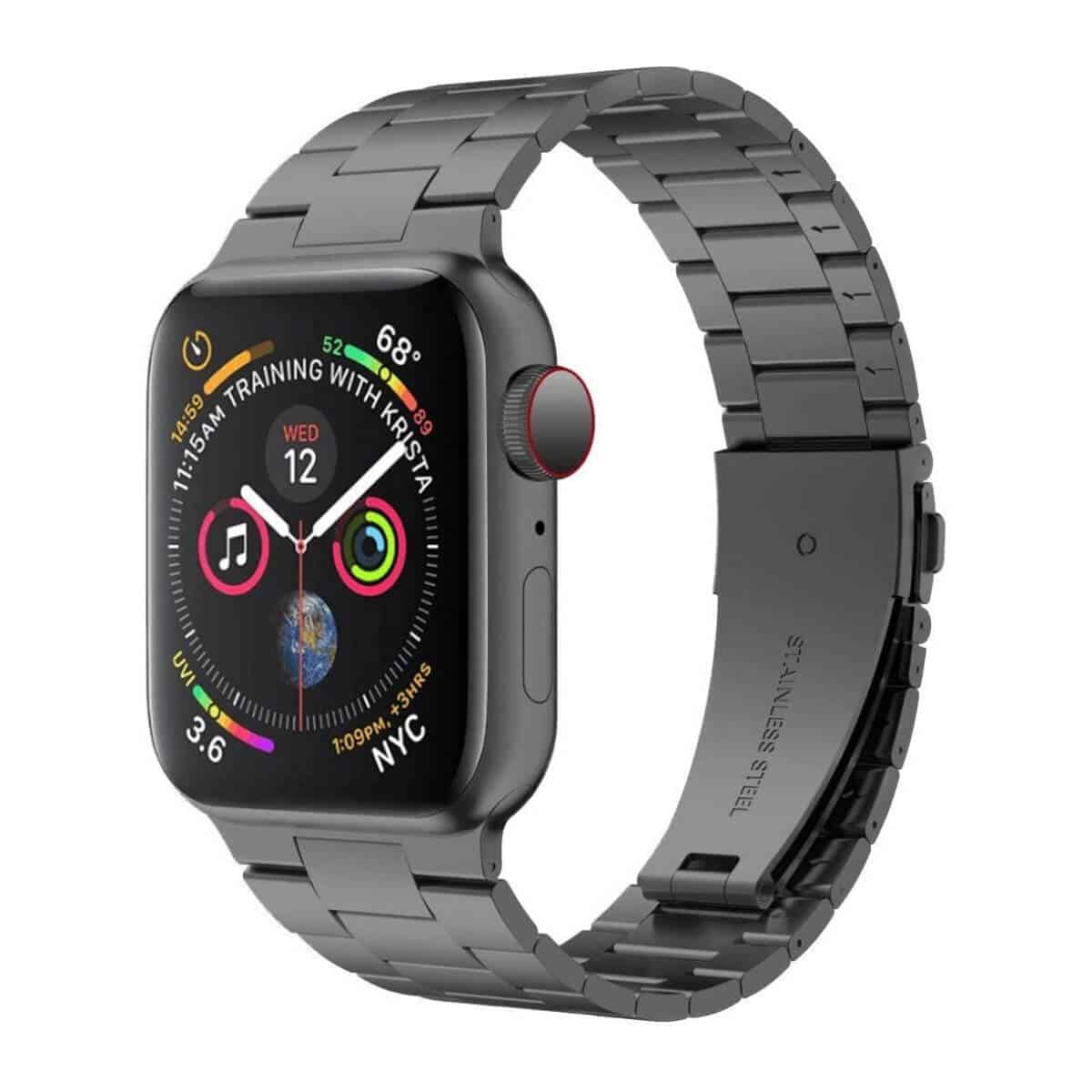 The iiteeology stainless steel band offers a classic metal watch look. It looks excellent dressed up or worn casually.
If it doesn't fit perfectly, you can remove a few of the links based on your wrist size.
Buy the iiteeology band from Amazon (opens in a new tab).
Carterjett Olive Nylon Band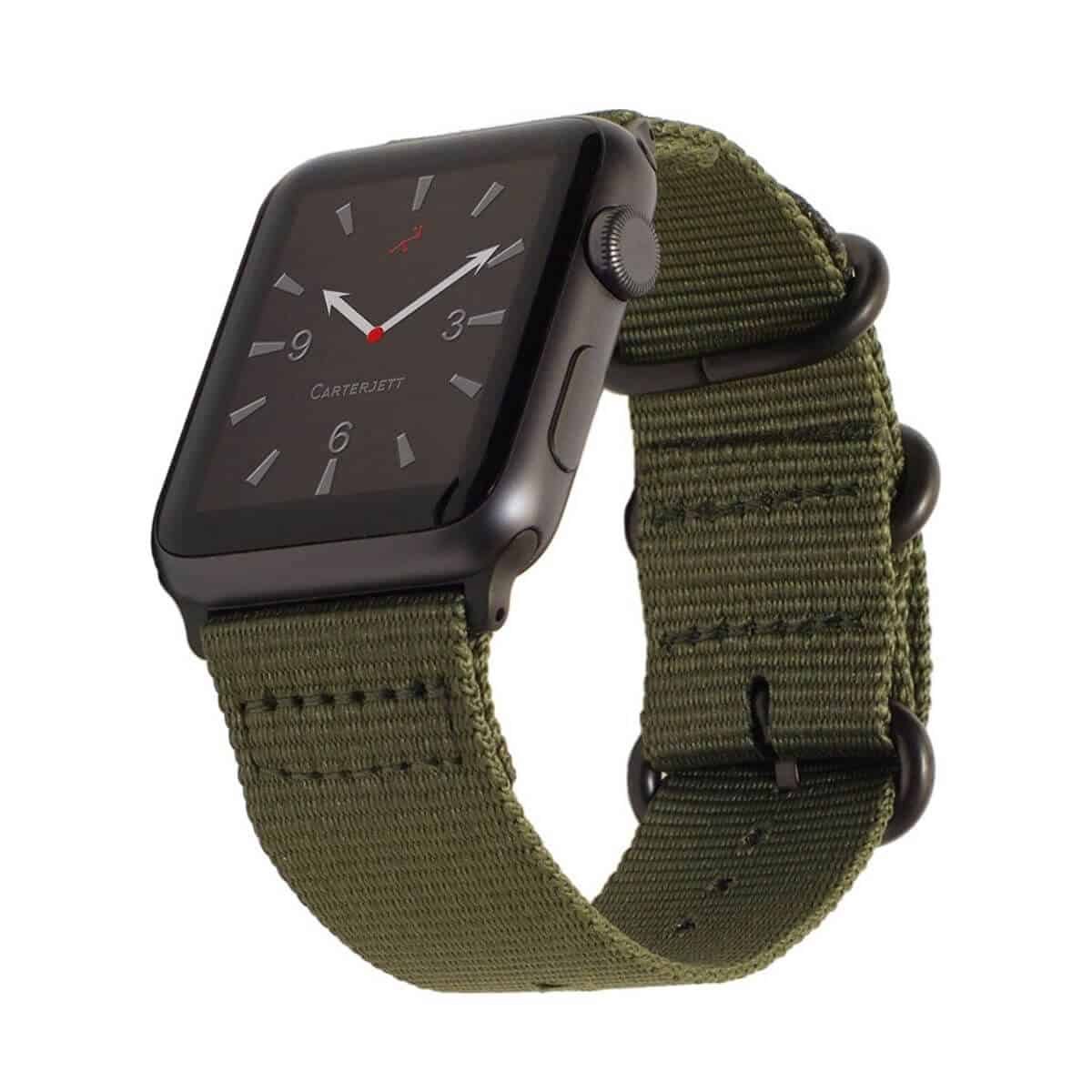 Carterjett's Nylon band is durable, soft, and comfortable. It has a militaristic strap, and it's easy to clean. It's great for casual wear, and you don't have to be afraid about ruining it or getting it dirty.
Buy the Carterjett Olive Nylon Band from Amazon (opens in a new tab).
Best bands for exercise
The following are the best Apple Watch bands for exercise:
Apple Sport Band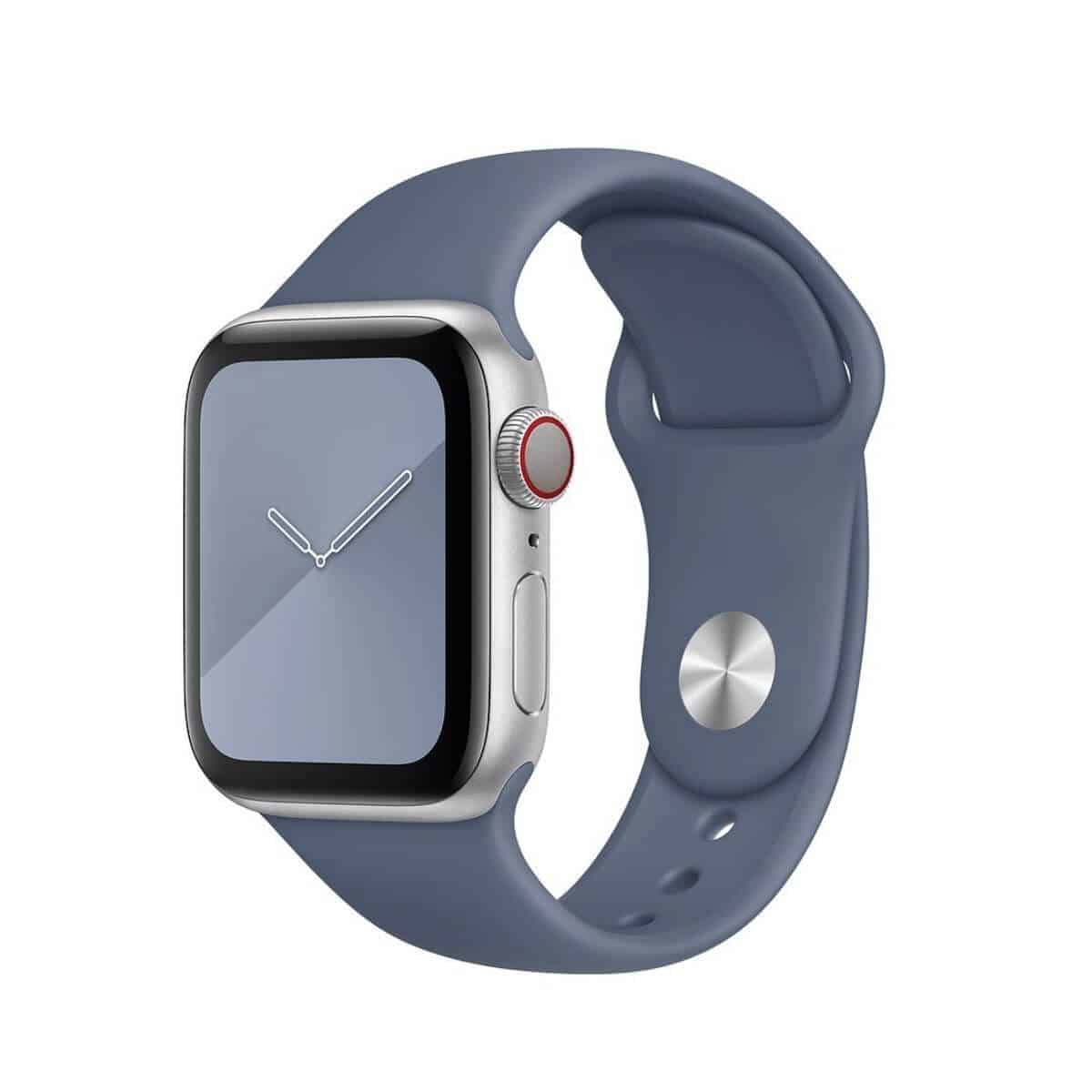 The Apple Sport Band is made of fluoroelastomer, which is a synthetic rubber. It's soft, smooth, durable, and comfortable.
The material is perfect for exercise, whether you're running or swimming. It's also easy to clean, which will ensure you maintain good hygiene.
Buy the Sport Band from Apple (opens in a new tab).
Nike Sport Band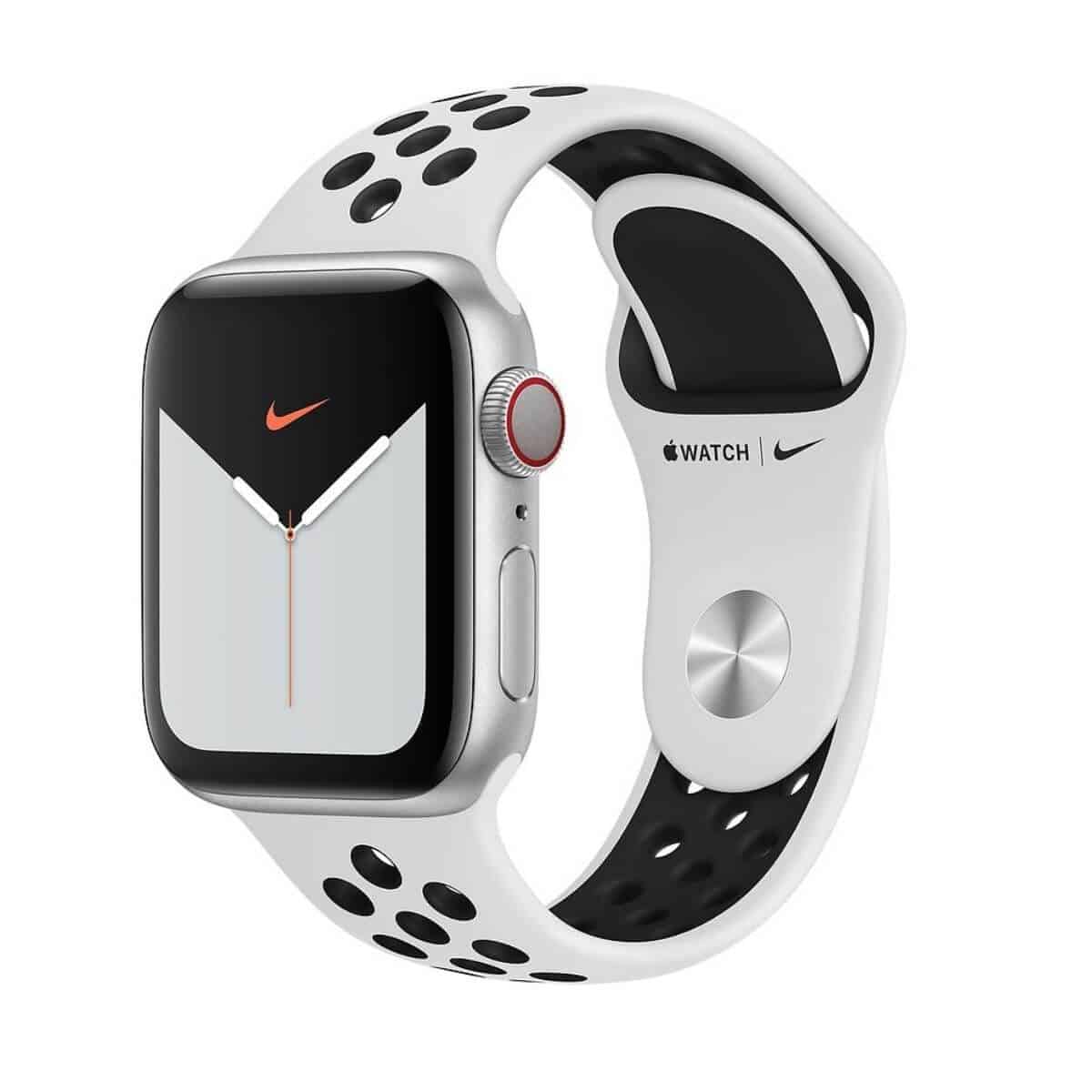 The Nike Sport Band is also made of fluoroelastomer. The holes make it breathable, and comfortable for working out. It's a functional band that fits well and feels smooth on your skin.
Buy the Nike Sport Band from Apple (opens in a new tab).
Carterjett Silicone Tire Tread Band
The Carterjett Silicone band has a tire tread pattern, which makes it unique. It's lightweight, durable, and flexible, making it a great choice for an active lifestyle.
The band is also waterproof, so it's excellent for swimming and water sports.
Buy the Carterjett Silicone Sport Band from Amazon (opens in a new tab).
Frequently asked questions
Are 3rd party Apple Watch bands good?
Yes, there are plenty of great 3rd party options. Generally, they're cheaper and are available in the same colors and styles.
Can a 42mm band fit on a 38mm Apple Watch?
No, the bands are specifically designed for the size of the watch. Therefore, you'll need a band made for the 38mm Apple Watch because the 42mm band will be too wide.
Why are the bands by Apple so expensive?
Although what's expensive is relative. The bands by Apple are made of high-quality materials and marketed as a luxury product.
Conclusion
Having multiple bands for your Apple Watch is an excellent way to diversify your watch collection without buying more watches.
You can use a band for exercises, such as hiking, running, the gym, or swimming. You can also get bands that are more classy and look great with a suit, such as a leather band.
More resources:
Featured image courtesy of Apple.