A camp collar shirt has very little structure and is perfect for the summer. It gives you a relaxed and stylish look.
We receive a commission when you buy through affiliate links on this page.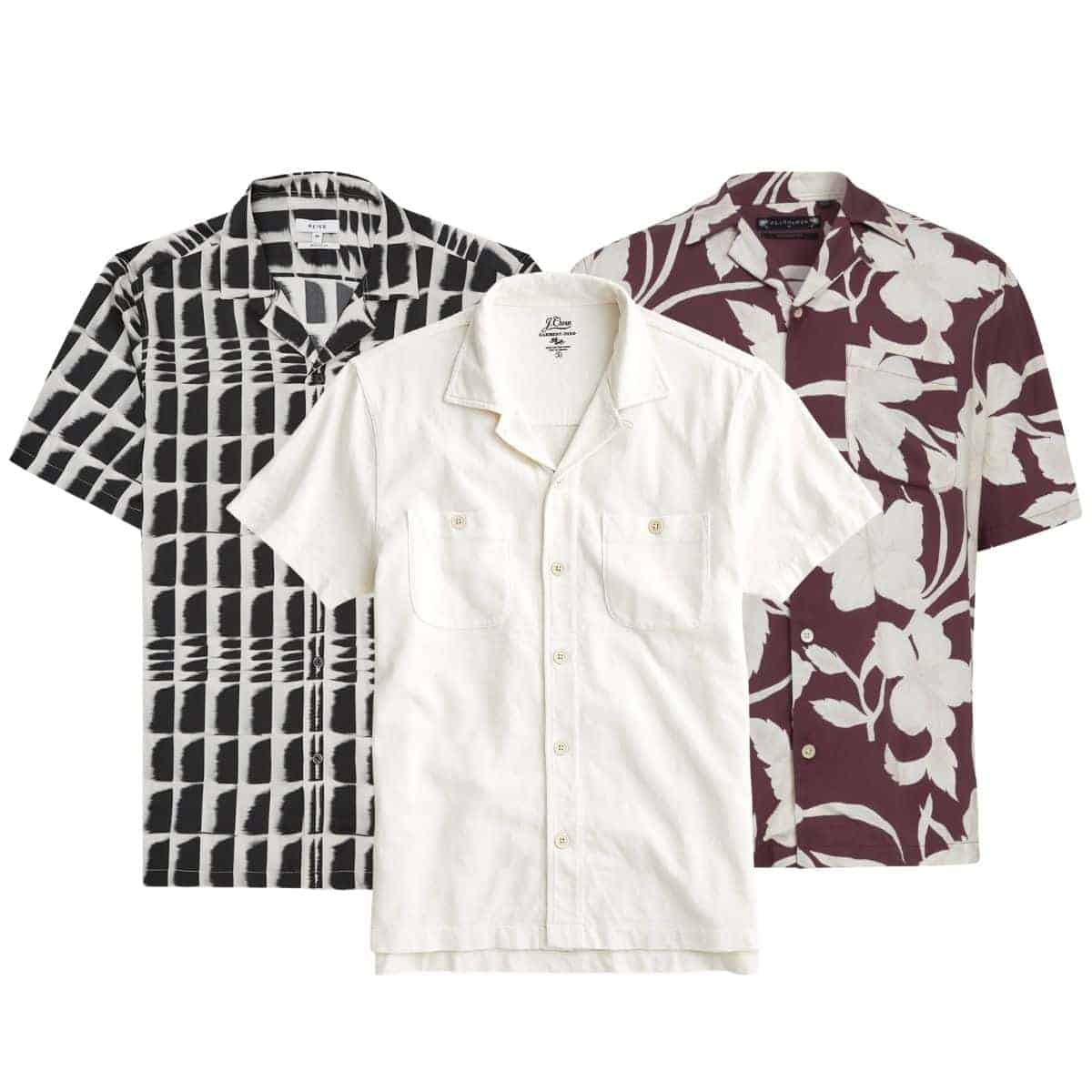 What's a camp collar shirt?
The camp collar button-up shirt is a warm-weather staple. It's a button-up shirt designed to lay flat on your body and open at your neck.
Related: The best sandals for men
They're not a new or innovative shirt style. However, they've become popular recently because of how stylish they look and cool they keep you during warm weather.
Camp collar shirts have many different styles and patterns. The most common one that may come to mind is a Hawaiian shirt. It's also known as a Cuban collar shirt.
Many vacation shirts have a structure of a camp collar shirt because it provides comfort during the hot temperatures.
Due to the flat, open, and unstructured collar, it's a casual shirt. You won't be wearing a tie with it.
The camp collar shirt is also a great way to take your casual summer outfits to the next level. Swap out your t-shirts for them to enhance your style.
It has a more relaxed fit and looks, which allows for more airflow. More airflow means more comfort.
Best camp collar shirts
The following are the best camp collar shirts that you can buy right now:
1. Reiss Dennis Printed Cuban Collar Shirt
Reiss created the Dennis Cuban Collar Shirt with an abstract design while keeping the colors monochrome. It's definitely a statement piece that'll make you look cool and confident during the summer. Pair it with grey chinos or jeans and white sneakers.
Buy the Dennis Printed Cuban Collar Shirt from Reiss for $160
2. AllSaints Jardin Shirt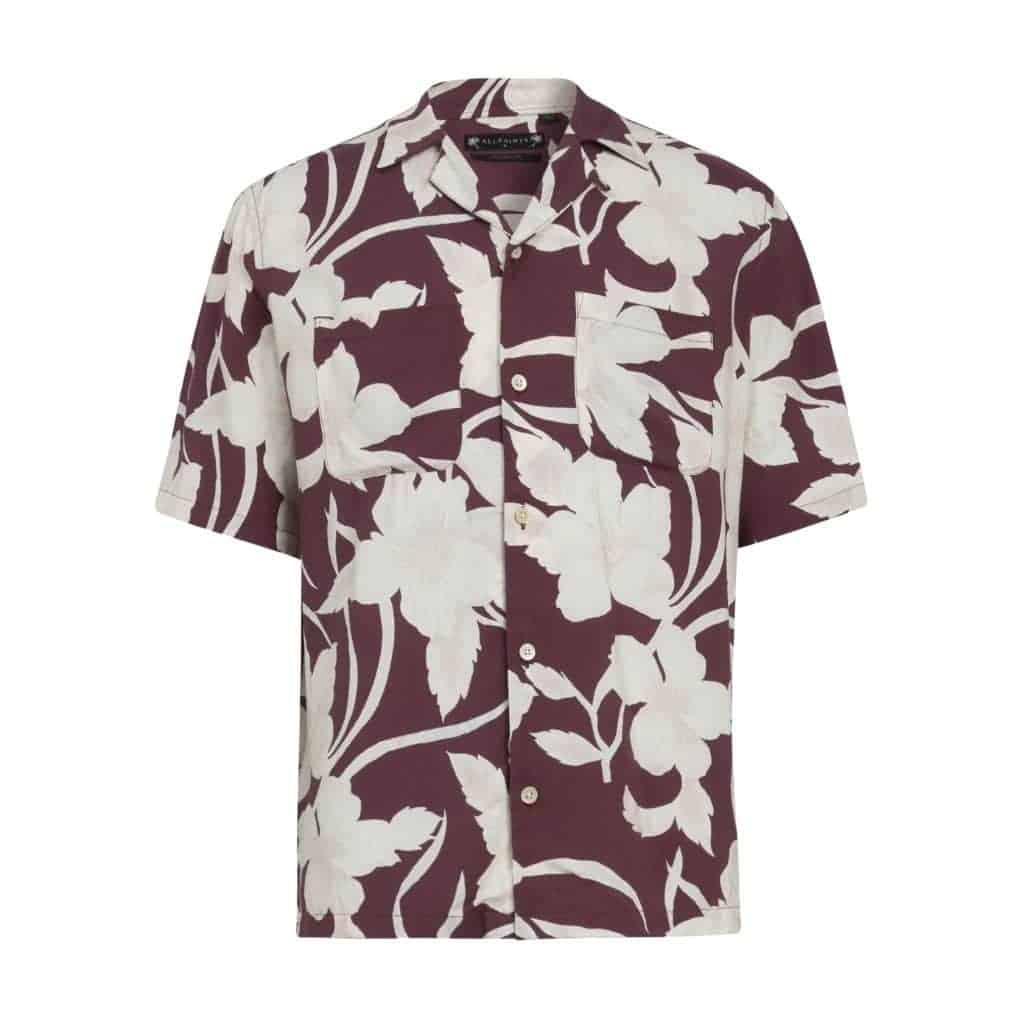 The Jardin Shirt by AllSaints has Japanese-inspired florals. It's made with sustainable viscose, which means it's eco-friendly and cool. It's the perfect shirt to wear while you're on vacation. Wear it with black chinos or jeans and loafers.
Buy the Jardin Shirt from AllSaints for $139.
3. Paul Smith Classic-Fit Short-Sleeve Linen Shirt
If you want to stay away from prints and love solid colors, Paul Smith offers an excellent camp collar shirt in navy. It's made with linen, so you'll be comfortable throughout the day. Wear it with white, beige or light grey chinos or shorts. For shoes, sneakers and loafers will look great.
Buy the Classic-Fit Short-Sleeve Linen Shirt from Paul Smith for $195.
4. J.Crew Short Sleeve Camp Collar Harbor Shirt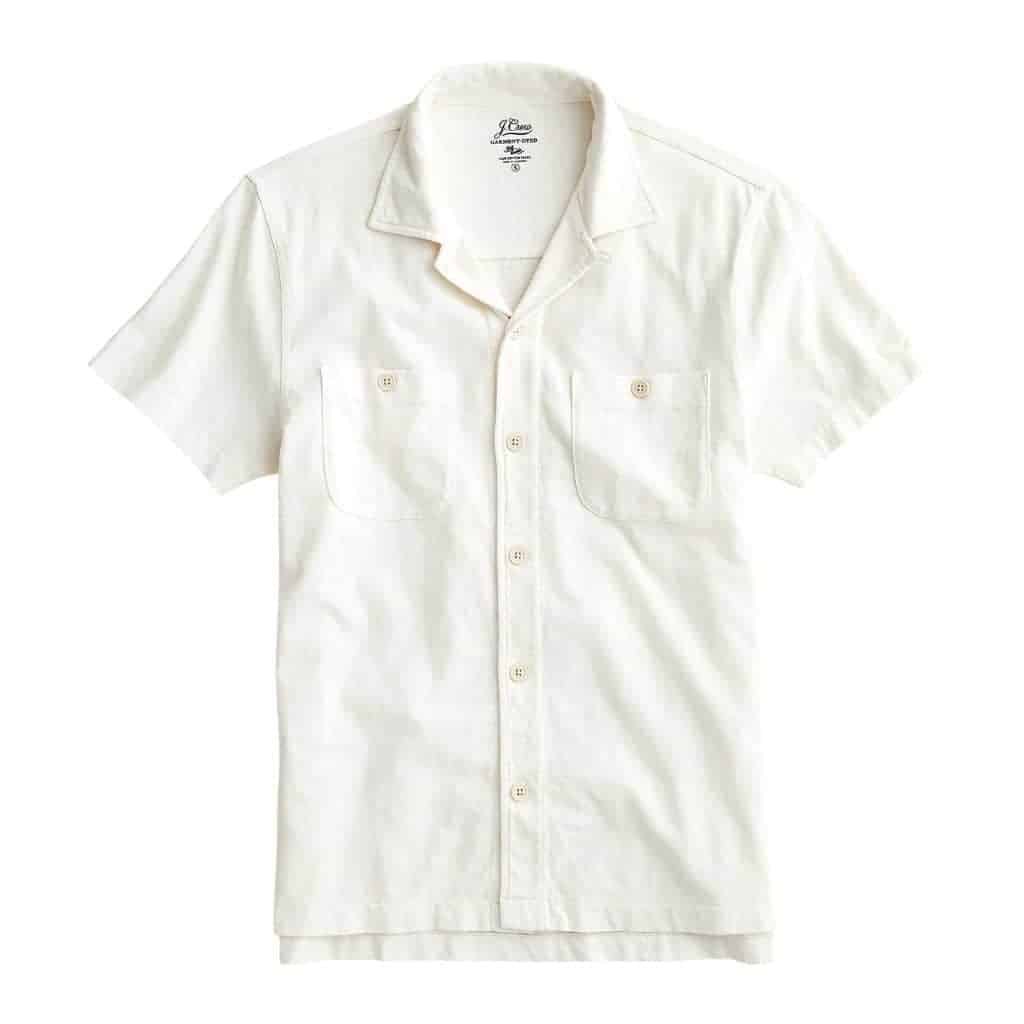 The short-sleeve camp collar shirt by J.Crew is a must-have. It comes in 6 different solid colors, and the chest pockets add a nice casual touch. The Harbor Shirt is made with slub cotton, which is soft, lightweight, and extremely comfortable. Wear it with dark chinos or shorts and sneakers or loafers.
Buy the Short-Sleeve Camp Collar Harbor Shirt from J.Crew for $69.50.
What to wear with it
Camp collar shirts look best when you wear them with a pair of chino shorts and clean sneakers or loafers. You can also wear them with chinos or jeans.
Related: The best dress sneakers for men
If it's cool enough to wear layers, the shirt looks great with a t-shirt underneath or a light jacket. Bomber jackets and unstructured blazers work well with them.
When you're wearing a camp collar shirt, it's important to leave the shirt untucked because it's not a formal shirt. It's meant to be worn for casual summertime occasions.
Based on the color and pattern of your shirt, choose your pants and shoes wisely. The shirt is a statement piece and is the first thing people will notice about your outfit.
If you're wearing a shirt with busy patterns, keep your pants and shoes minimal. If your shirt is a solid and neutral color, you may be able to get away with more unique pants and shoes.
Conclusion
If you don't have a camp collar shirt, it's time to get one because it'll become a staple in your summer wardrobe.
Whether you're going to the beach or hanging out in the sun, the camp collar shirt will allow you to stay cool and enjoy the heat in style.
Featured image courtesy of Reiss, J.Crew, and AllSaints.
About David Em
Founder
David Em is the founder of Next Level Gents, the ultimate destination for tips and advice about style, grooming, fitness, and success.