Sandals keep you comfortable and cool in the summer. They're also a casual alternative to loafers. Find out what the best sandals for men are.
Estimated reading time: 8 minutes
We receive a commission on purchases made through links on this page. For more information, read Affiliate Disclosure.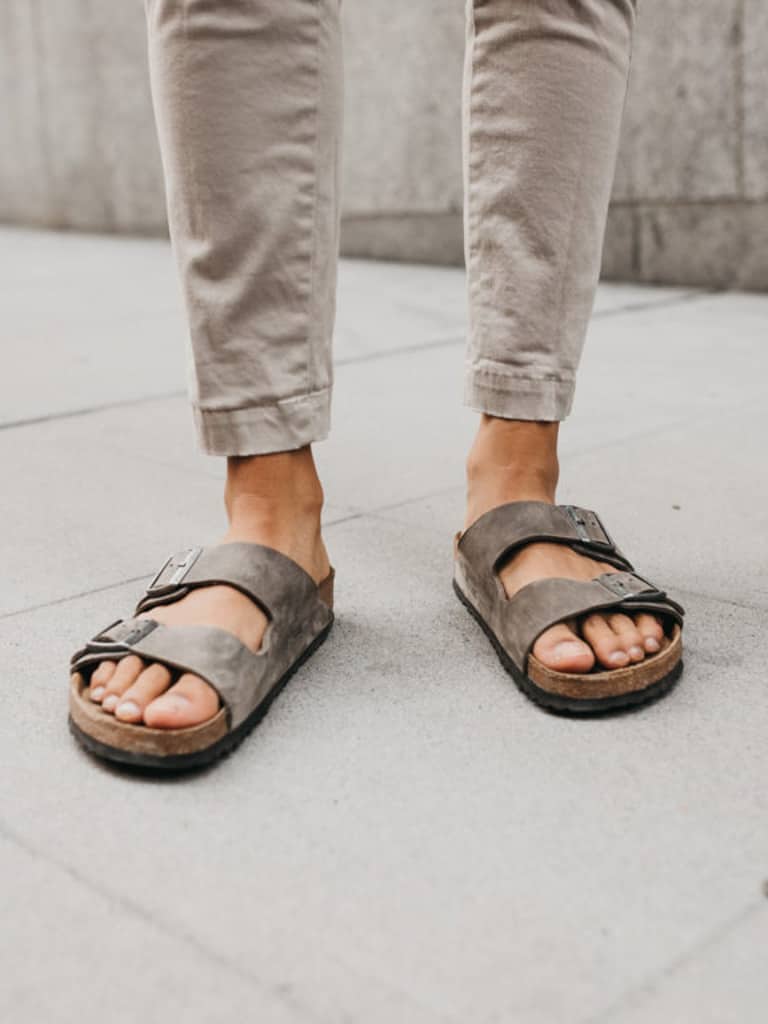 Sandals vs. flip flops
The two most common open-toed shoes are sandals and flip flops.
When you compare the two, sandals are better than flip flops because they offer more foot support and look better.
To look stylish during the summer, wear closed-toe shoes that have a low cut, such as sneakers or loafers.
Related: Penny loafers guide
If you're going to the beach, pool, or spending time at a resort, sandals are the way to go.
Due to looks and functionality, sandals are the best option when it comes to open-toed shoes.
Important features
Buying the right one is important. Look for the following features when you're buying a pair of sandals:
Versatility: During warmer weather, sandals are versatile shoes. You can wear them at the beach, park, an easy hike, and when you're running errands.
Functional: When your feet are stuck in a shoe and socks, they get sweaty and uncomfortable. The open-toed design naturally cools your feet and gives you airflow.
Durability: Look for high-quality straps and a thick sole. Durability is important because you won't need to replace them often.
Tips for wearing sandals
Sandals look best when you wear them with shorts or cuffed pants. The pants you wear depends on the occasion.
If you're attending a summer event that requires you to wear something other than jeans or shorts, wear chinos.
Rolling up your chinos allows you to determine the length while being more dressed up. Avoid wearing socks or baggy pants with sandals because it doesn't look stylish.
That said, your feet need to be clean and cut your nails. Since your feet will be exposed when you wear sandals, make sure they look their best.
Best sandals for men
The following are the most comfortable and best-looking sandals:
1. Birkenstock Arizona Soft Slide Sandal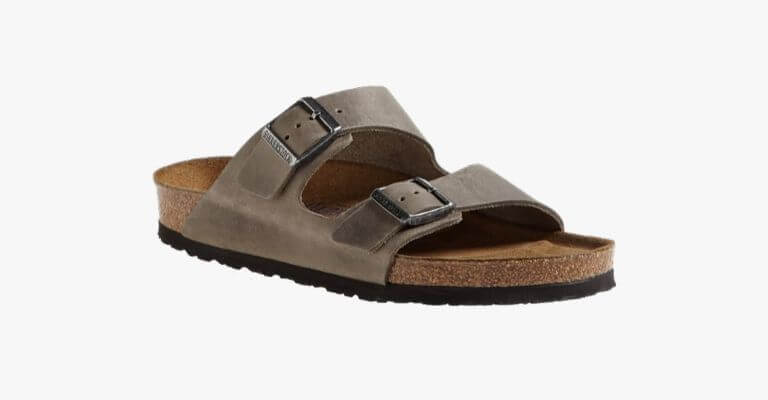 Birkenstock's Arizona Soft Slide Sandals are great sandals for men. The Arizona style has been a favorite among many since 1973. They've stood the test of time.
It's an iconic sandal that'll become one of your go-to footwear items for the summer. For being a pair of sandals, they're also versatile. You can wear them with chinos, jeans, and shorts. You can also wear many different tops, including t-shirts, casual button-down shirts, and lightweight sweaters.
The footbed is made of cork and latex, which mold to your feet over time. It also has an additional foam layer for more comfort. The more you wear them, the more comfortable they become.
Buy the Birkenstock Arizona Soft Slide Sandal from Nordstrom for $134.95.
2. Mephisto Shark Sandal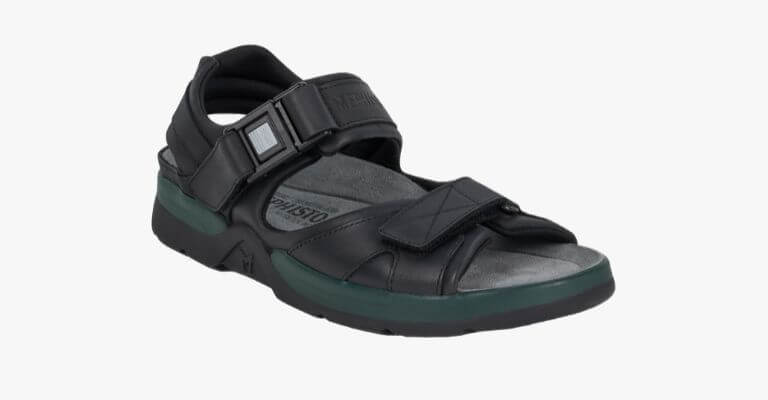 The Mephisto Shark Sandal is comfortable, durable, and hand-crafted with Earth-friendly materials. It has a quick-release ankle strap, which makes putting it on and removing it easy.
It also has integrated Soft Air Technology that allows you to go about your day effortlessly. Mephisto's ultimate goal with the sandal is comfort, and they definitely achieved it.
Due to the styling of the sandals, they're designed to be worn casually. They won't look good with a button-up, so wear a crisp t-shirt with shorts or cuffed pants.
Buy the Mephisto Shark Sandal from Nordstrom for $295.
3. Teva Hurricane XLT 2 Sandal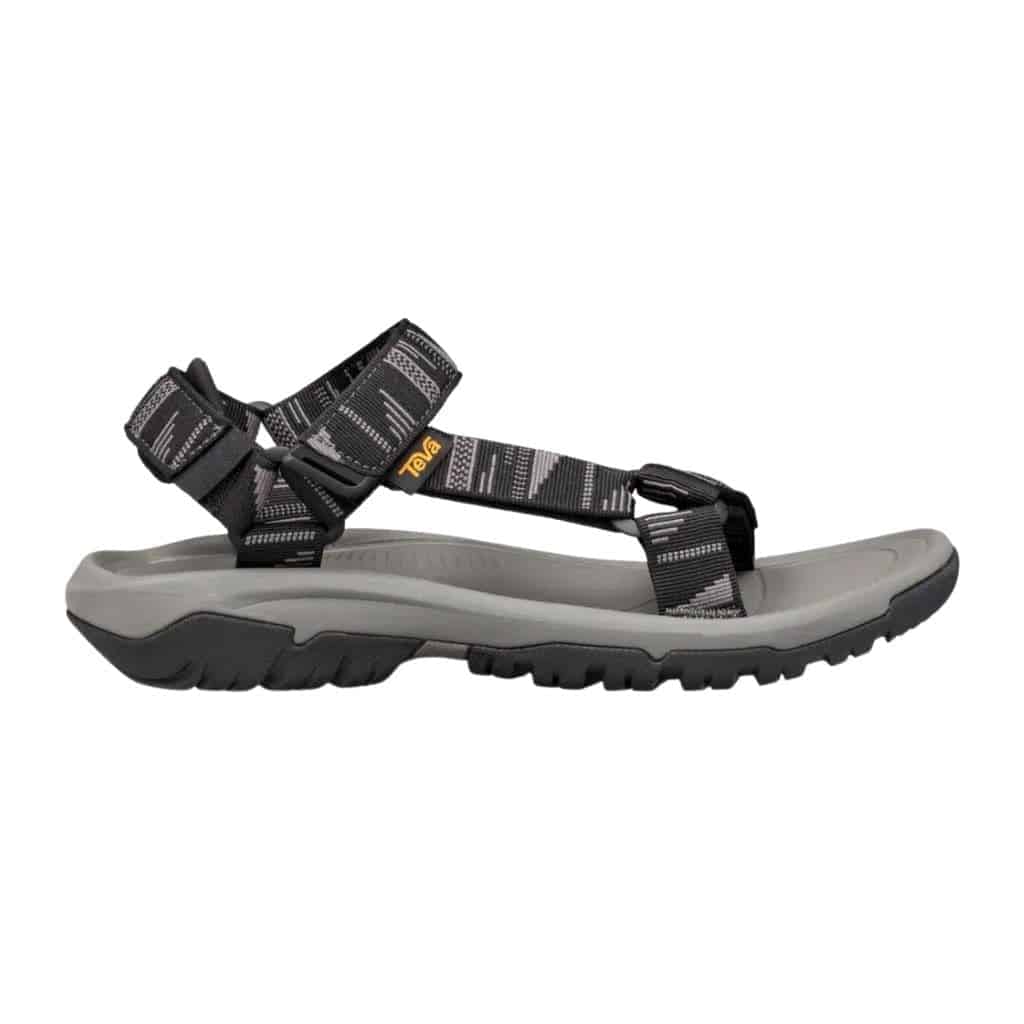 Teva's Hurricane XLT 2 Sandal is the second version of their iconic sandal. It's an excellent choice for day-hikes that aren't too difficult. It has a hook-and-loop closure, which makes it easy to put on and take off.
Another great feature of the Teva sandal is that it's recyclable. Once you can no longer wear your Teva sandals, you can send them back. Teva has a program to create new sandals using the old ones.
Being a lightweight and supportive sandal, the Hurricane XLT 2 is a must-have for outdoor activities. You'll be able to stay cool, comfortable, and walk with traction on uneven ground.
Buy the Hurricane XLT 2 Sandal from Teva for $70.
4. Chaco Men's Z/Cloud Sandals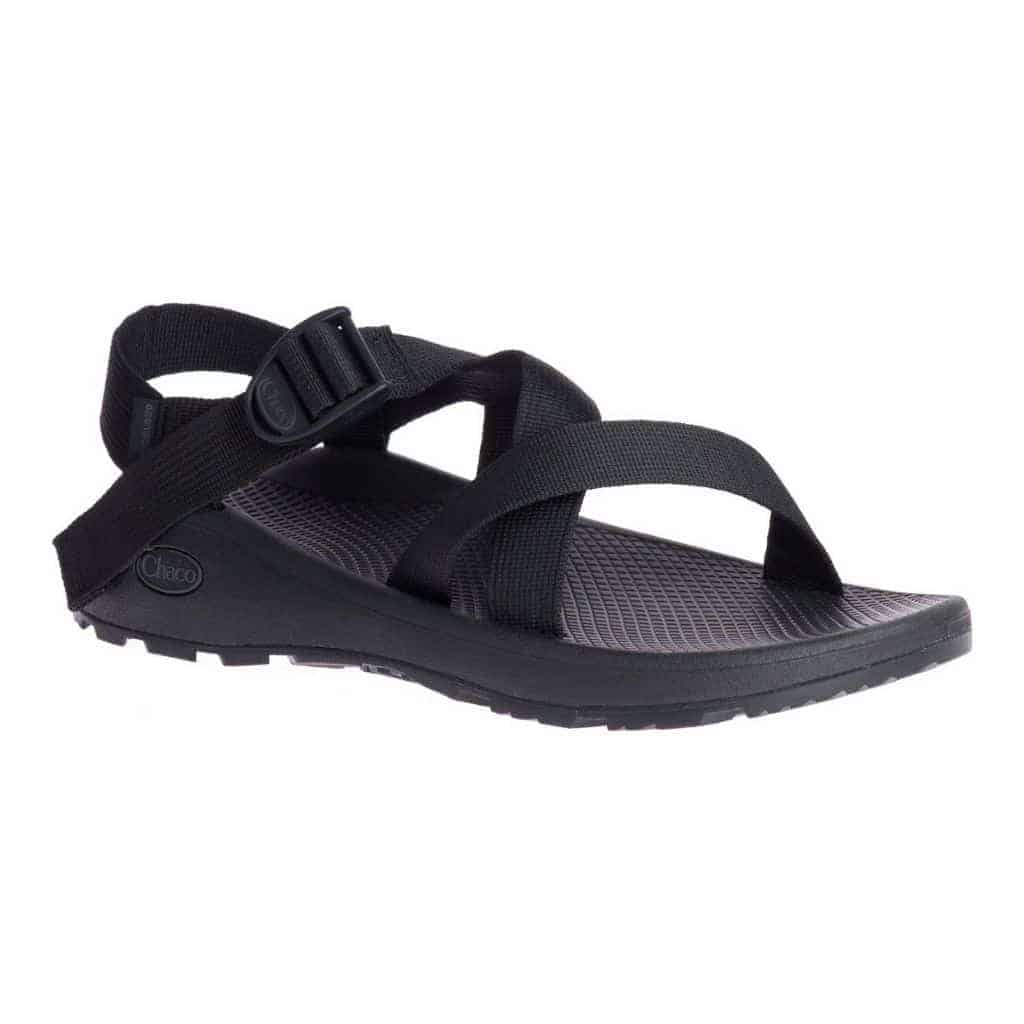 There's a reason Chaco called it the cloud series. The Z/Cloud sandals offer an ultra-soft and nicely cushioned footbed. It has a soft texture that isn't rough on your feet either.
The black-on-black color combination is a great choice because it's minimal. It doesn't draw a lot of attention to your feet, and it's versatile because you can wear it for many different activities.
Wear them on vacation, on a light hike, to the beach, or running errands in the heat of summer.
Buy the Men's Z/Cloud Sandals from Chaco for $100.
5. Ecco Yucatan Sandal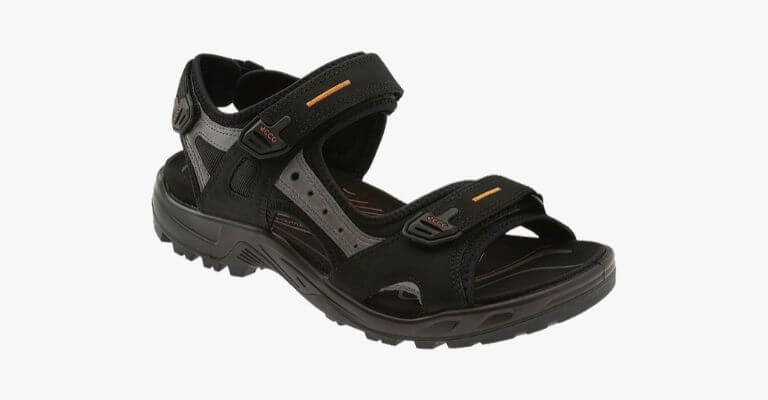 If you're looking for sandals that are tough enough to endure daily walking and hardcore hikes, the Yucatan Sandal from Ecco is an excellent choice. They have a strong grip, which gives you traction on different terrain.
The Yucatan Sandal is designed to be worn for outdoor activities, so it's not one that you'll be able to wear with chinos or a button-up shirt.
While it may look a little chunky, it's surprisingly lightweight. Once you wear them a few times, the footbed will mold to your feet. It'll give you long-lasting cushioning and stability.
Buy the Yucatan Sandal from Ecco for $135.
6. Salvatore Ferragamo Atina Slide Sandal
The Salvatore Ferragamo Atina Slide Sandal is made in Italy with calfskin leather, is stamped with Gancio branding, and has a nicely cushioned footbed. If you're looking for an open-toed designer sandal, it's the best choice.
You can wear the Atina Slide Sandal with shorts, chinos or jeans. It's a streamlined sandal that adds a nice touch of luxury. When you're wearing the sandals, be sure to pair them with your favorite black leather watch.
Buy the Salvator Ferragamo Atina Slide Sandal from Bloomingdale's for $595.
7. Nike Victori One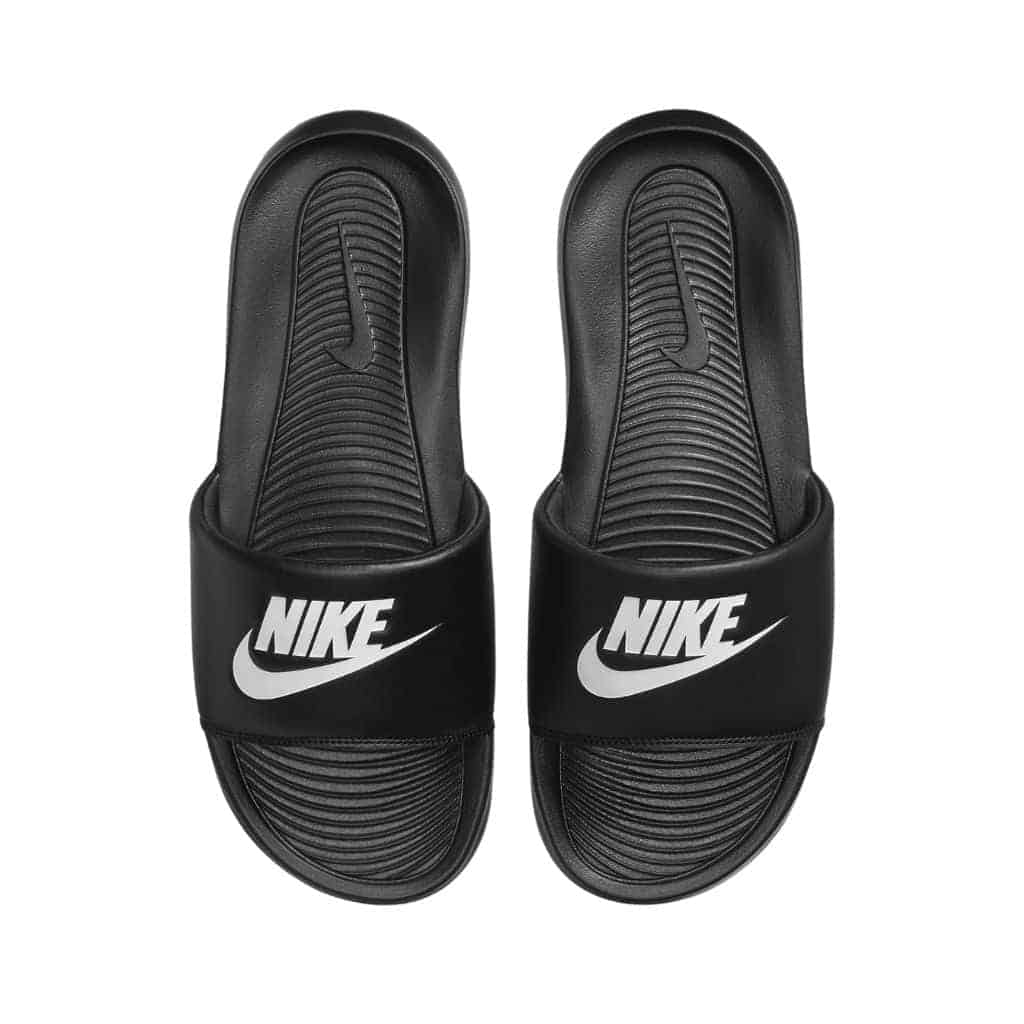 When it comes to sandals and slides, Nike is one of the most popular choices. The Victori One slides are stylish, soft, and designed to be worn when you're not moving around too much.
They have a contoured grip pattern, which holds your foot in place. It's comfortable to walk in. However, it's not designed for walking miles or hiking. Wear it when you're going to the beach or relaxing outside.
Buy the Victori One Slides from Nike for $30.
8. Keen Newport H2
Hiking, walking, and going in the water are all things that you can do with Keen's Newport H2 Sandal. It's a top-notch sandal because of its versatility and durability.
The polyester webbing upper is waterproof and durable. It can endure any situation that you put it through. Keen is all about the combination of performance and comfort. It shows through the Newport H2 Sandal.
Another benefit of the Keen sandals is that they're washable. Just make sure you use a small amount of detergent and put the washer using the gentle setting.
Buy the Newport H2 Sandal from Keen for $110.
Alternative summer shoes
Since sandals aren't the most fashion-forward summer shoe, the following shoes are great options if you're concerned about style:
Boat shoes.
Low-top sneakers.
Loafers.
Conclusion
For most occasions, you should wear loafers or boat shoes instead of sandals. If you decide to wear sandals, make sure you cuff your pants or wear shorts. Whether you're on vacation or wanting airflow for your feet, sandals will give you support and comfort.
Additional resources:
Featured photo by David Em/Next Level Gents.