In warm weather, you need to stay comfortable while looking stylish. Shorts will do the trick when it's hot and sunny.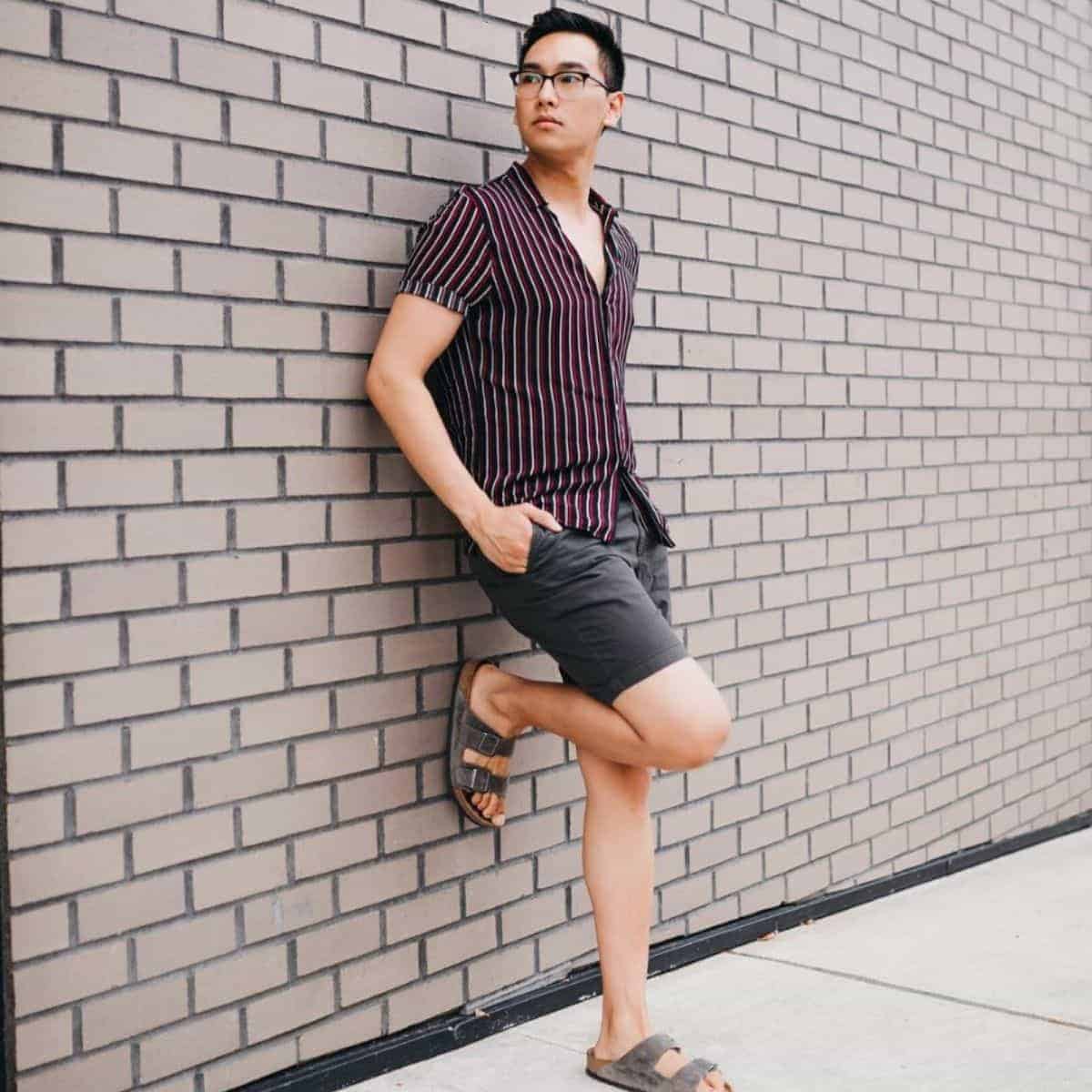 Shorts are a warm-weather staple. When the temperature rises, put away your jeans and pull out your shorts or linen pants.
If you don't want to wear long pants, shorts are the way to go.
There are many types, lengths, and fits. The one you choose depends on the activity.
Are you going to a cookout, to the beach, or shopping?
Regardless of the activity, shorts should end above your knees.
So, the ideal inseam length is around five to eleven inches.
If you're ready to upgrade your shorts, the following are the best options.
Olivers All Over Short
The type of shorts that you'll wear for a casual get-together is different than the pair you'll wear for an outdoor workout.
If you're going on a hike, run, or doing any form of exercise, the All Over Short by Olivers is exactly what you need. They're versatile and built for performance.
The fabric is water-repellent, moisture-wicking, soft, lightweight, and features a 4-way stretch. It's a modern, multi-purpose, and stylish exercise short.
The shorts are so amazing that Olivers offers a 365-day guarantee.
They'll repair or replace them with a fault outside of normal wear and tear for up to 12 months after your purchase.
Everlane The 9″ Performance Chino Short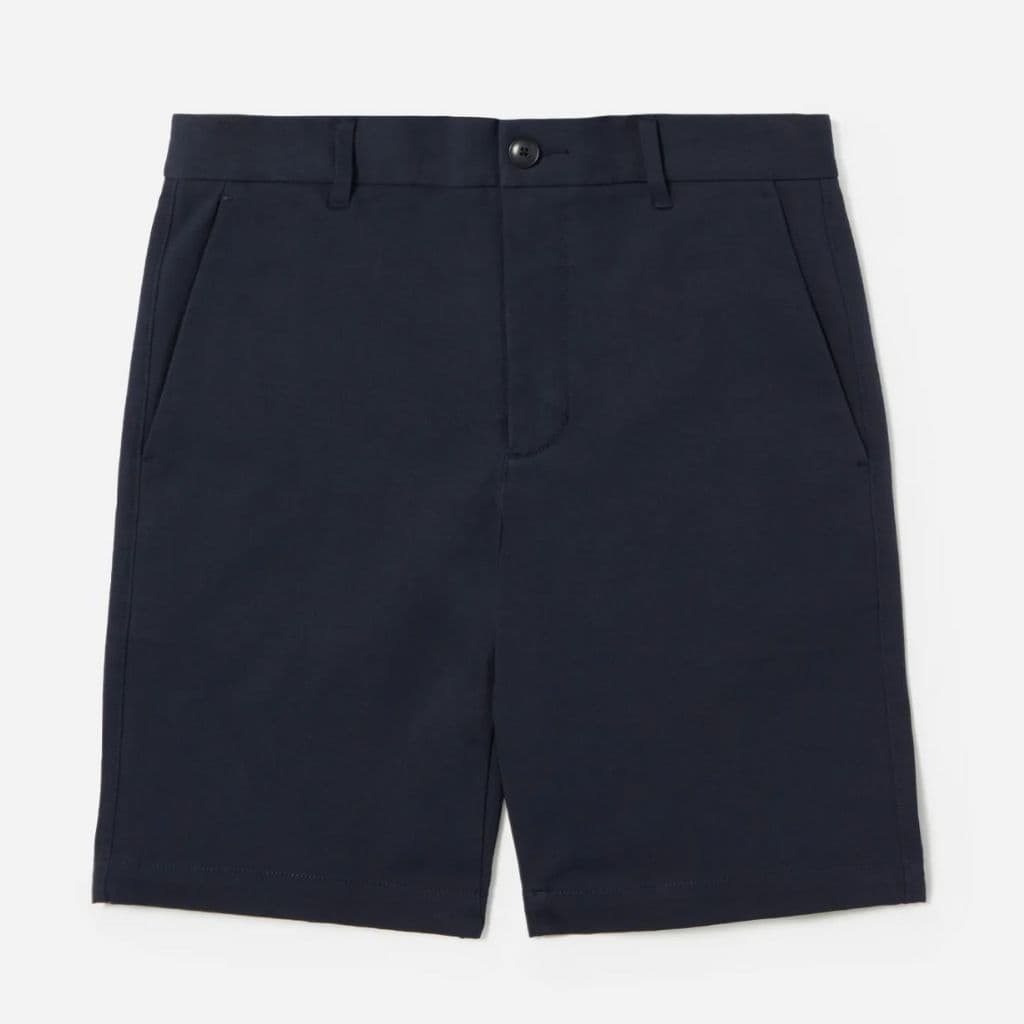 As the temperatures rise, put away your full-length jeans and chinos. It's time to bring out the shorts.
The Performance Chino Short by Everlane is exactly what you need to look stylish and stay cool during the summer.
It wicks away sweat, dries quickly, and has a 4-way stretch. It guarantees comfort and functionality.
Everlane offers shorts in black, navy, slate grey, and stone. The neutral colors are perfect for a versatile wardrobe.
Columbia Silver Ridge Cargo Shorts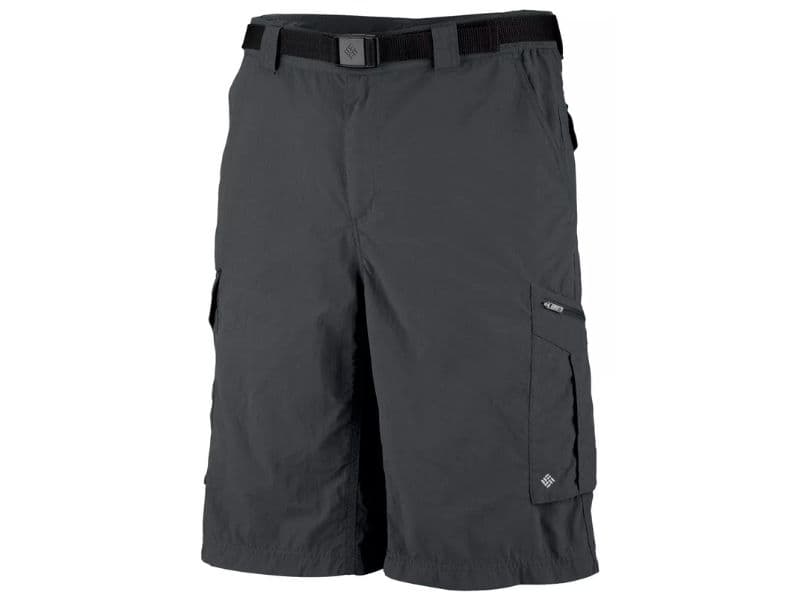 Columbia's Silver Ridge Cargo Shorts are versatile and functional.
Also, they're an excellent choice if you want an inseam longer than five or seven inches.
Columbia offers ten and twelve-inch inseams, ideal if you have longer legs.
They also feature UPF 50 sun protection and dry quickly.
You can wear them on a hike, to the beach, or while you run errands.
Lululemon Commission Short 9″ Warpstreme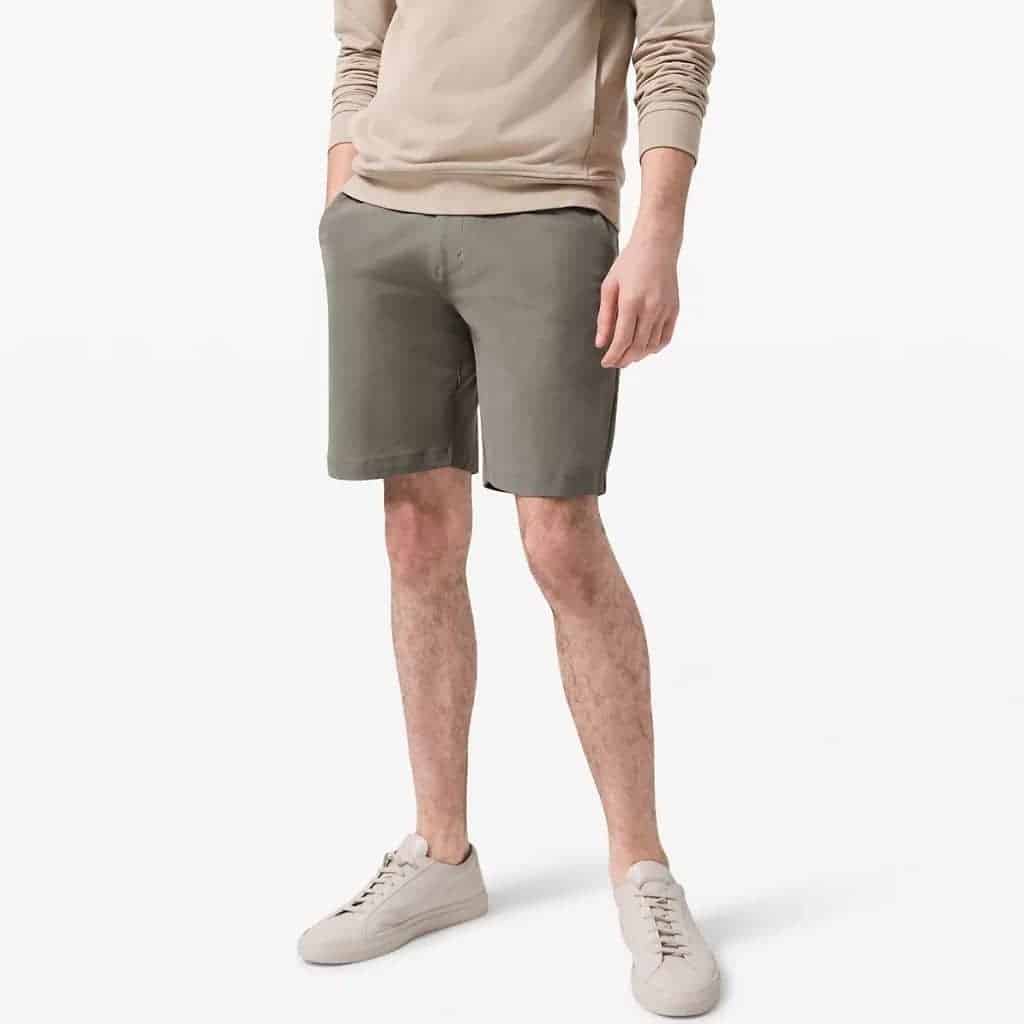 If you're looking for shorts that you can wear while you're running errands or spending a day at the beach, Lululemon's Commission Short is a must-have.
It comes in black, navy, and grey sage. They're all colors that look stylish and match with many tops.
The Commission Short is made with Warpstreme fabric, which is quick-drying, breathable, wrinkle-resistant, has a 4-way stretch, and feels smooth.
They also have secure pockets. The sides have zippers, and the back is secured by buttons. You can securely carry your small belongings.
J.Crew 9″ stretch short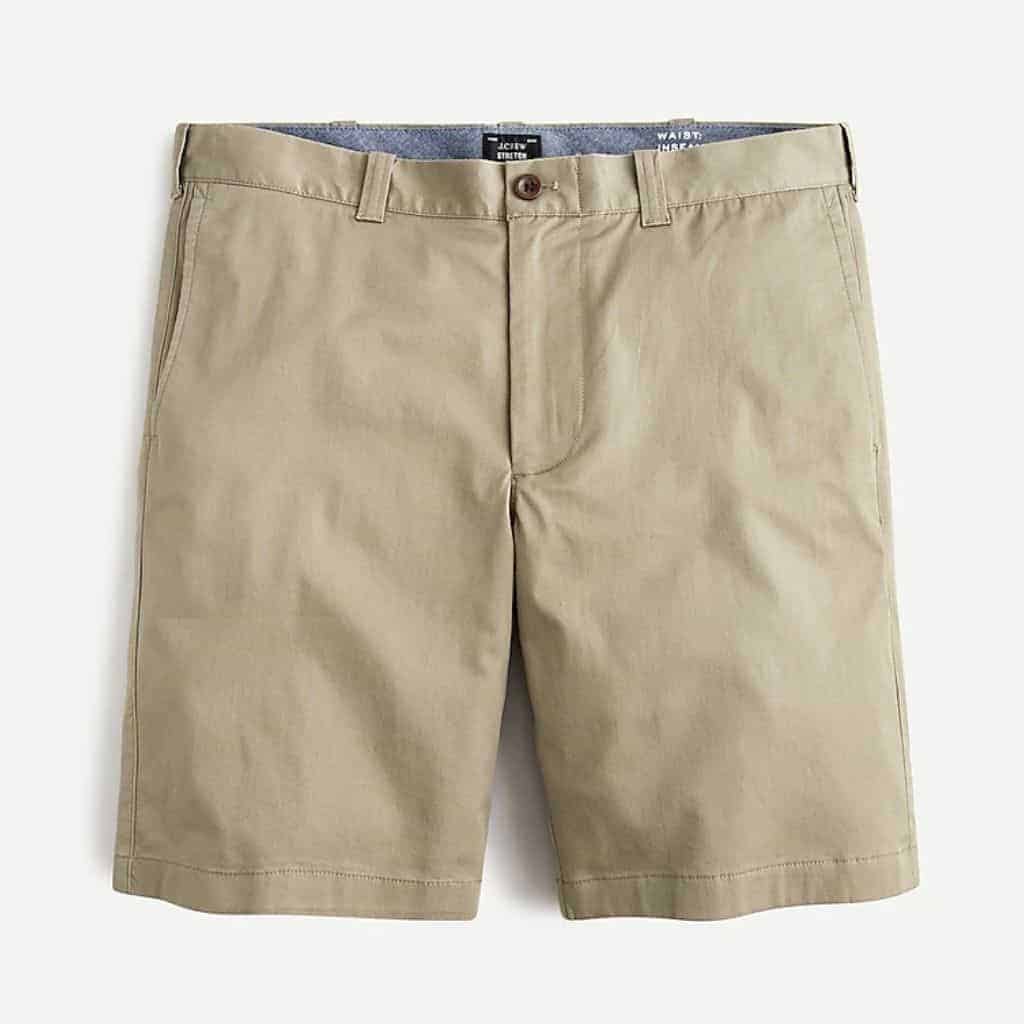 With shorts, it's all about comfort. While they allow you to cool off, it's also important to find one that's not restrictive.
The J.Crew stretch short is the ideal pair of shorts that look stylish and allow you to freely move around.
It's designed to be worn for a variety of activities.
If you're looking for shorts that have lighter shades, J.Crew offers many different colors that are perfect for spring and summer.
You can get a pair in Dusty Salmon or Faded Bluegrass. If you like grey or black, they offer that, too.
Kuhl Renegade Short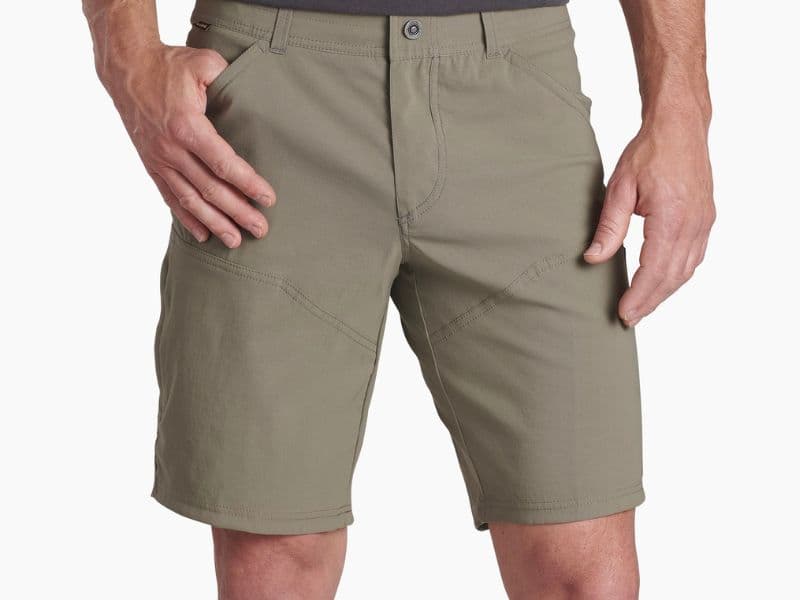 Few brands live up to the quality, durability, and functionality standards of Kuhl.
The Renegade Short from Kuhl comes in nine stylish and neutral colors.
While they're not shorts to wear with a button-up, they're ideal for outdoor activities.
The shorts offer UPF 50+ sun protection, a water-repellent finish, and breathability.
Also, they feature eight pockets. You can hold your phone, sunglasses, wallet, keys, and other everyday carry items.
Patagonia Baggies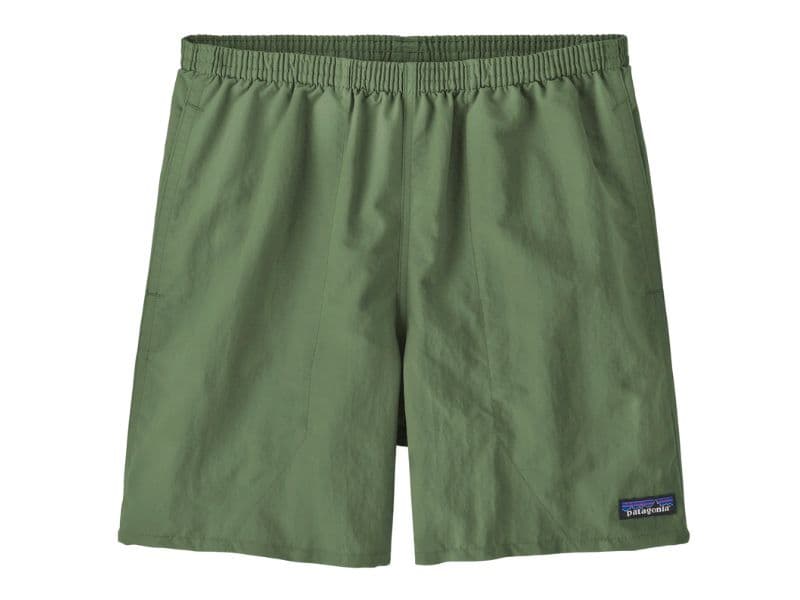 Patagonia Baggies are comfortable and fun, as they're available in 17 colors.
The nylon material and water-repellent finish allow you to wear them anywhere.
You can get them wet, and they'll dry quickly.
Aside from many colors, Patagonia offers five or seven-inch inseams.
The lengths are excellent for lounging or doing outdoor activities.
Since 1982, Baggies have been a summer staple.
Vuori Aim Short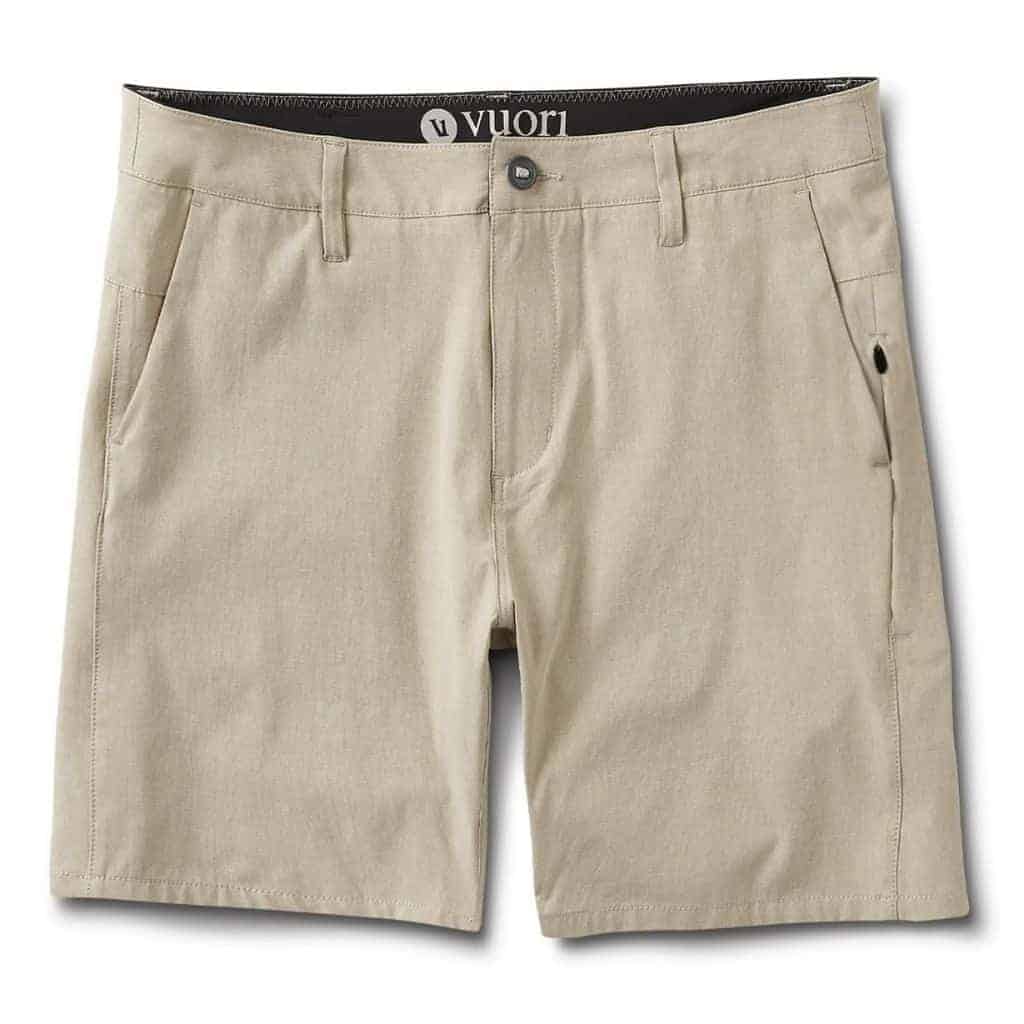 The Vuori Aim Short is stylish, versatile, comfortable, and durable. It's everything that you'd want in a pair of shorts.
Vuori offers two classic colors, charcoal and khaki. Wearing them, you'll know you look great and can do any activity comfortably.
The Aim Short is lightweight, wicks away moisture, and has several zip pockets for you to store your belongings.
They also have a modern and tailored fit. If you have larger legs, it's best to go one size up.
Rhone 9″ Commuter Short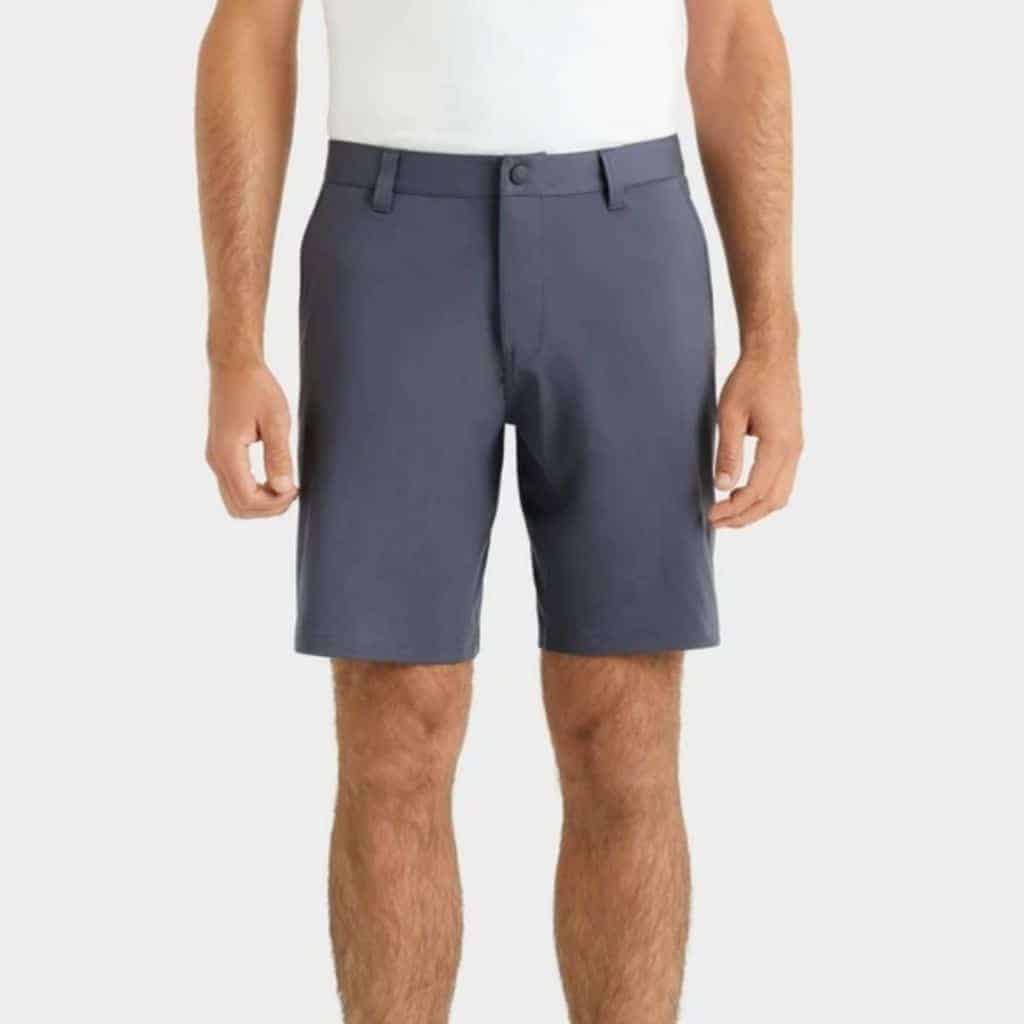 Rhone is committed to making high-quality clothes, and they aren't afraid to spend more money on their fabric than other brands.
The Commuter Short is excellent because it's designed to fit you perfectly.
Rhone offers a 7-inch, 9-inch, and 11-inch inseam, which means you can find the perfect pair for your height.
It also has Flex-Knit fabric, which offers a 4-way stretch and the ability to be worn during many different activities.
Comfort is the right word to describe the Commuter Short because they feel soft, smooth, and stretchy.
There's a good chance that they'll become one of your go-to shorts.
AG Wanderer Modern Slim Shorts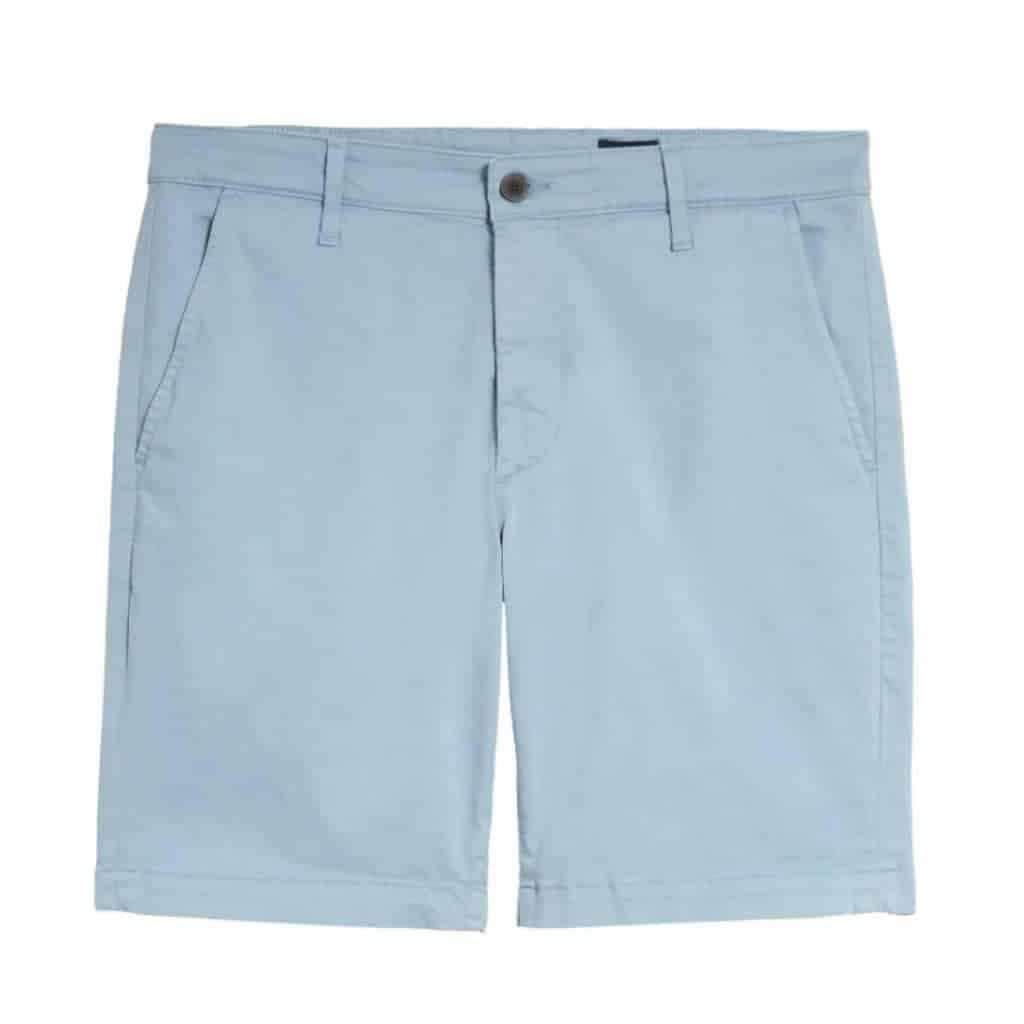 If you're spending the day out in the sun or on the water, the AG Wanderer shorts are a great pick.
They have a slim fit and are made with stretch cotton to make sure you look stylish with a t-shirt or polo.
AG offers the chino shorts in navy, light blue, and white. All three colors look great, and will keep you looking put-together.
Faherty All Day Shorts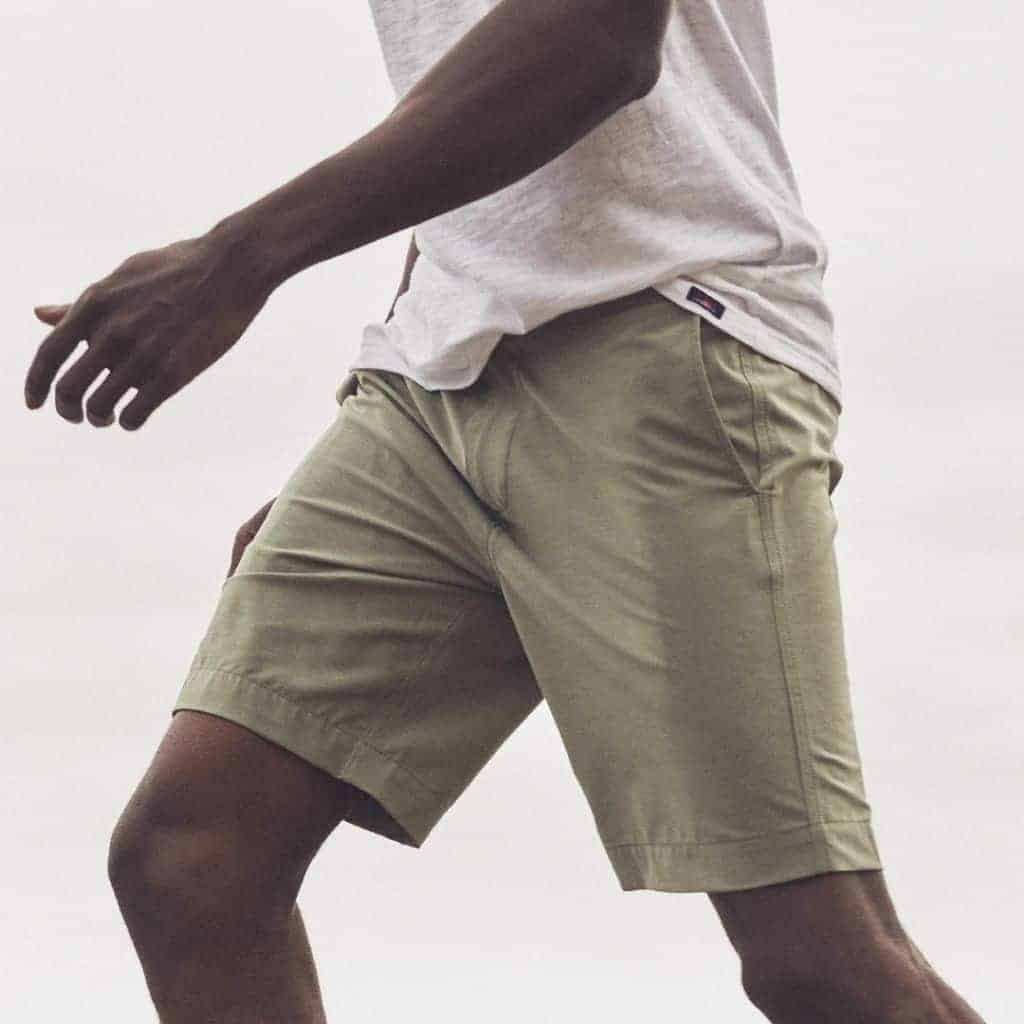 Faherty's All Day Shorts are designed for a day at the beach or lounging around on a sunny day.
They're made with eco-friendly fabric, which combines recycled plastic bottles with cotton.
The shorts come in many different colors, including shades of blue, grey, olive green, and red.
The All Day Shorts offer great mobility, breathability, durability, have quick-drying qualities, and are stylish.
Amazon Essentials Classic-Fit 9″ Short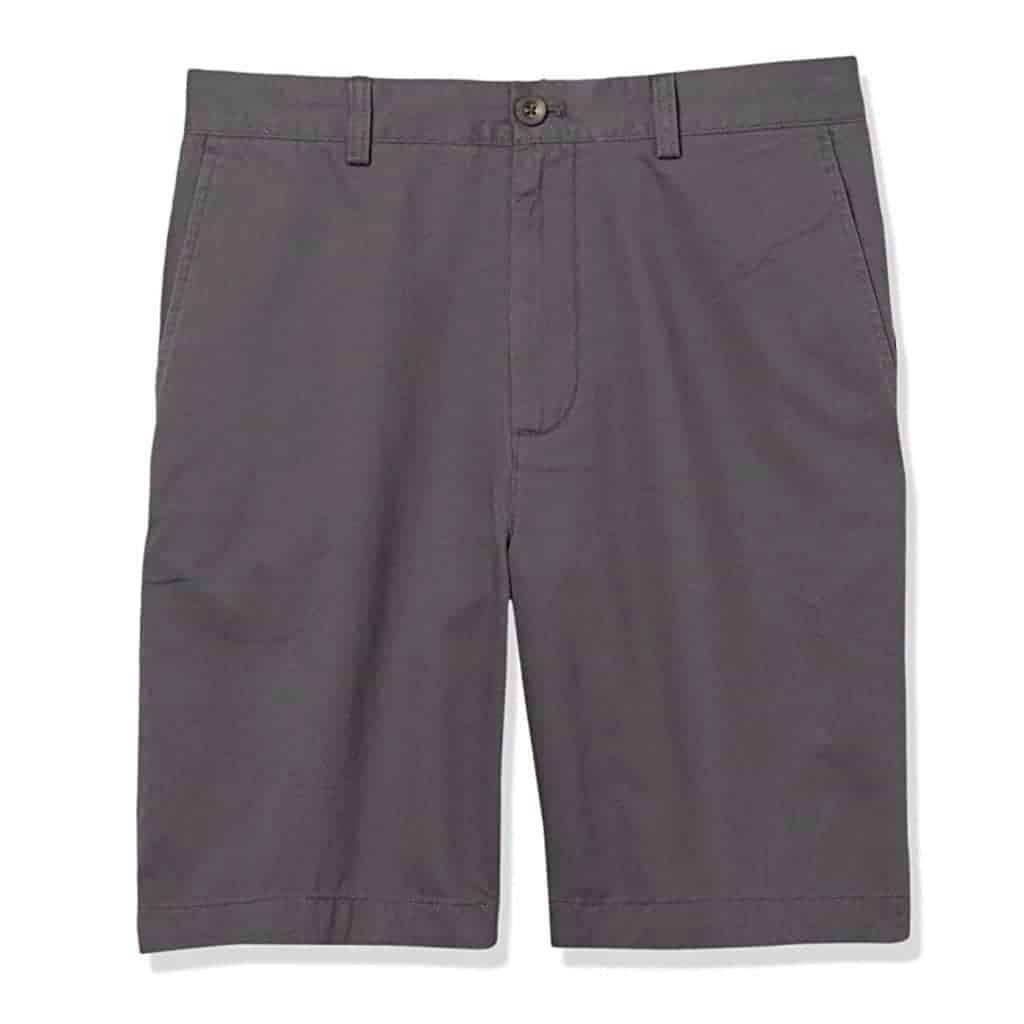 If you have big legs and want a pair of shorts that cost less than $20, Amazon Essentials is the one you'll want to go with.
They're minimal shorts that come in many different colors and prints. They're made with 100% cotton and have button closures to hang onto your small items.
The classic fit is designed for bigger legs because it has a flat front and is roomier.
Frequently asked questions
The following are answers to common questions about shorts.
What's the best length for men's shorts?
The best length for shorts depends on your height. It can range from five to eleven inches, as your proportions are the essential aspect. The ideal length is to have the shorts end about two inches above your knees.
Can I wear shorts with skinny legs?
Yes, as long as the shorts are slim. Baggy shorts will make your legs look skinnier.
Are men's shorts getting shorter?
Shorter shorts are trendy and driven by celebrities. But, the classic length is about inches above your knees. It's timeless and looks better than short shorts.
Conclusion
Shorts are essential because they allow you to enjoy the heat in style.
You can wear them with dress sneakers, boat shoes, loafers, or sandals.
With shorts, you'll feel the breeze on your legs and get a nice tan. Remember to wear sunscreen.
Elevate your warm-weather style today by getting a pair of stylish shorts.
Featured image by David Em/Next Level Gents.
About David Em
Founder
David Em is the founder of Next Level Gents, the ultimate destination for tips and advice about style, grooming, fitness, and success.