During the summer, lightweight pants are essential. That's where linen comes in. Linen pants are lightweight and breathable.
Estimated reading time: 6 minutes
We receive a commission on purchases made through links on this page. For more information, read Affiliate Disclosure.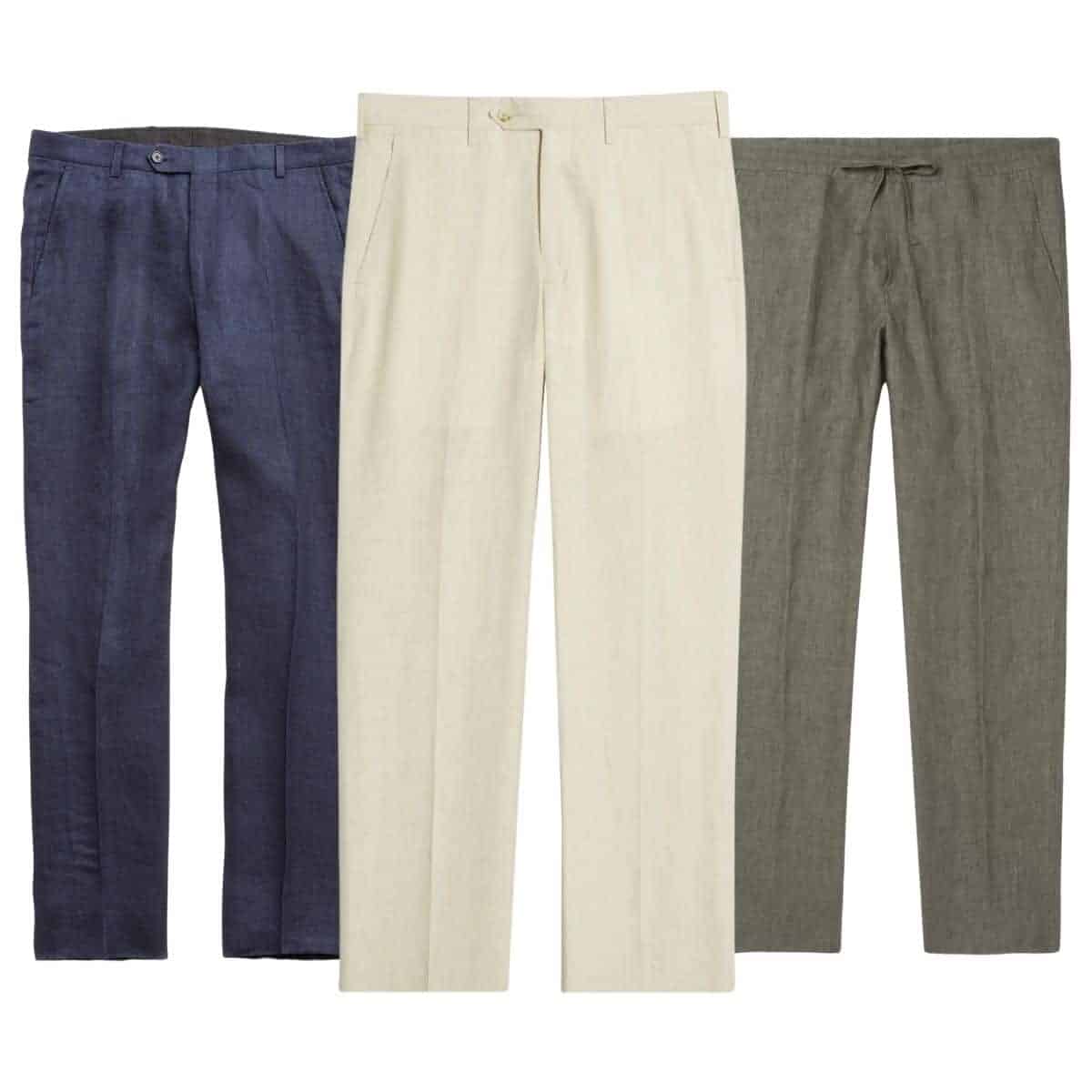 Why wear linen pants
If you're not a shorts guy, linen pants are what you need in the heat of summer. They're long pants that are breathable, lightweight, and can dry quickly.
Related: How to roll up shirt sleeves
Linen is a natural plant fiber. It's strong, durable, and has moisture-wicking capabilities. Linen pants are perfect for hot summer days.
When you're wearing linen pants, avoid wearing linen shirts. Instead, the goal is to create contrast in textures. Wear cotton shirts or button-ups. A camp-collar shirt looks great, as well.
Best linen pants
The following are the best linen pants that'll keep you cool in the heat.
1. Mango Linen Pants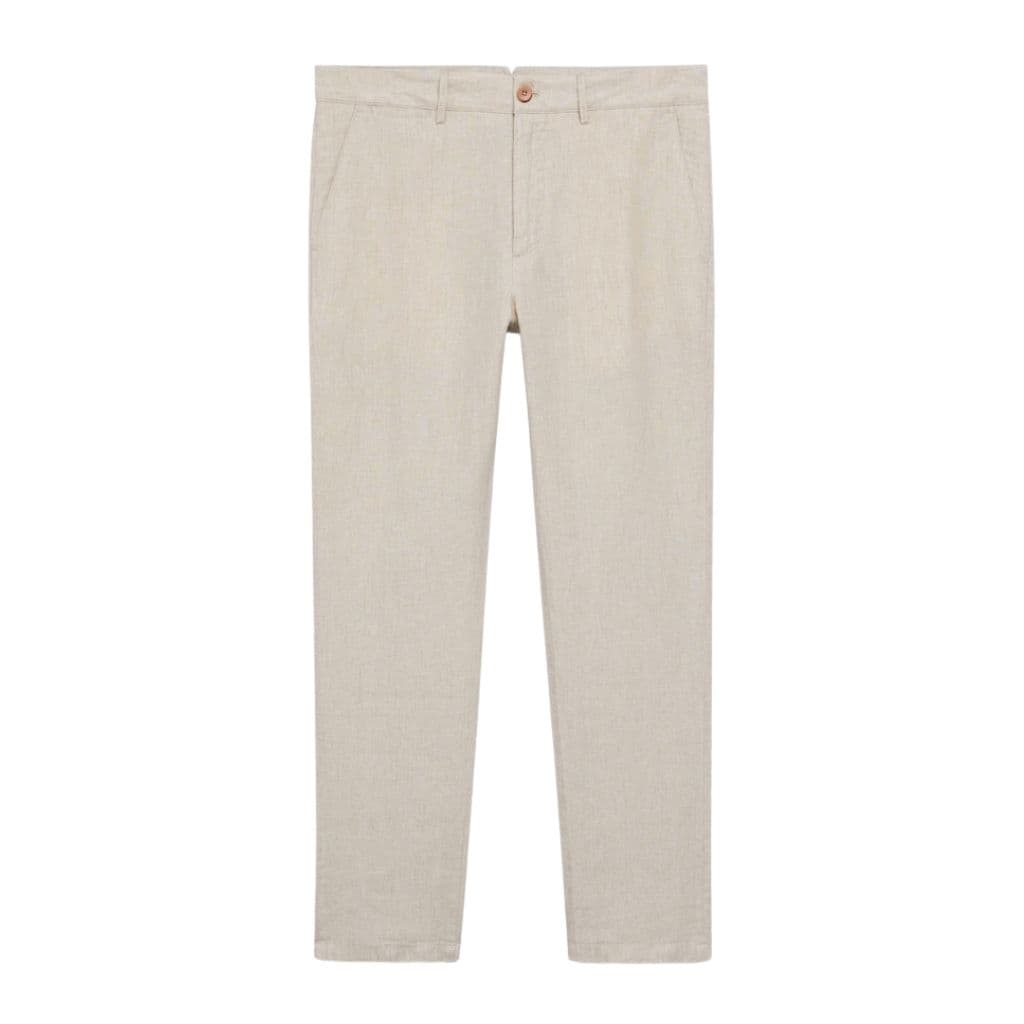 Mango offers slim-fit linen pants in ecru, navy, sky blue, and brown. All of the colors look nice for summer outfits, and the fit is spot-on. It's a great choice if you're looking for a tailored fit with an elegant summer look.
Buy Linen Pants from Mango for $69.99.
2. Todd Snyder Linen Sack Suit Trouser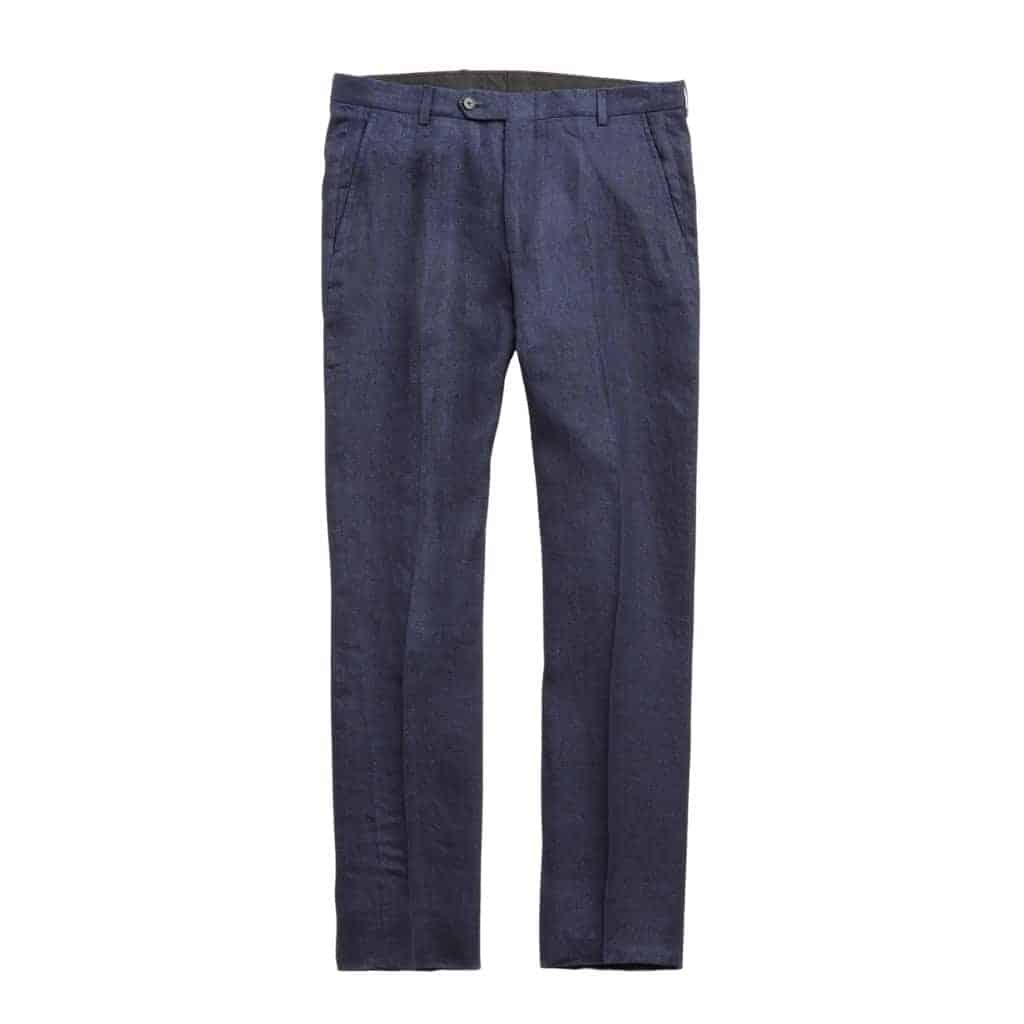 Todd Snyder took inspiration from vintage suits to create the Linen Sack Suit Trouser. It's made in the USA with 100% indigo linen from Italy and has a relaxed fit. You can pair it with a beige button-down shirt or a t-shirt with loafers or dress sneakers.
Buy the Linen Sack Suit Trouser from Todd Snyder for $348.
3. Berle Solid Linen Dress Pants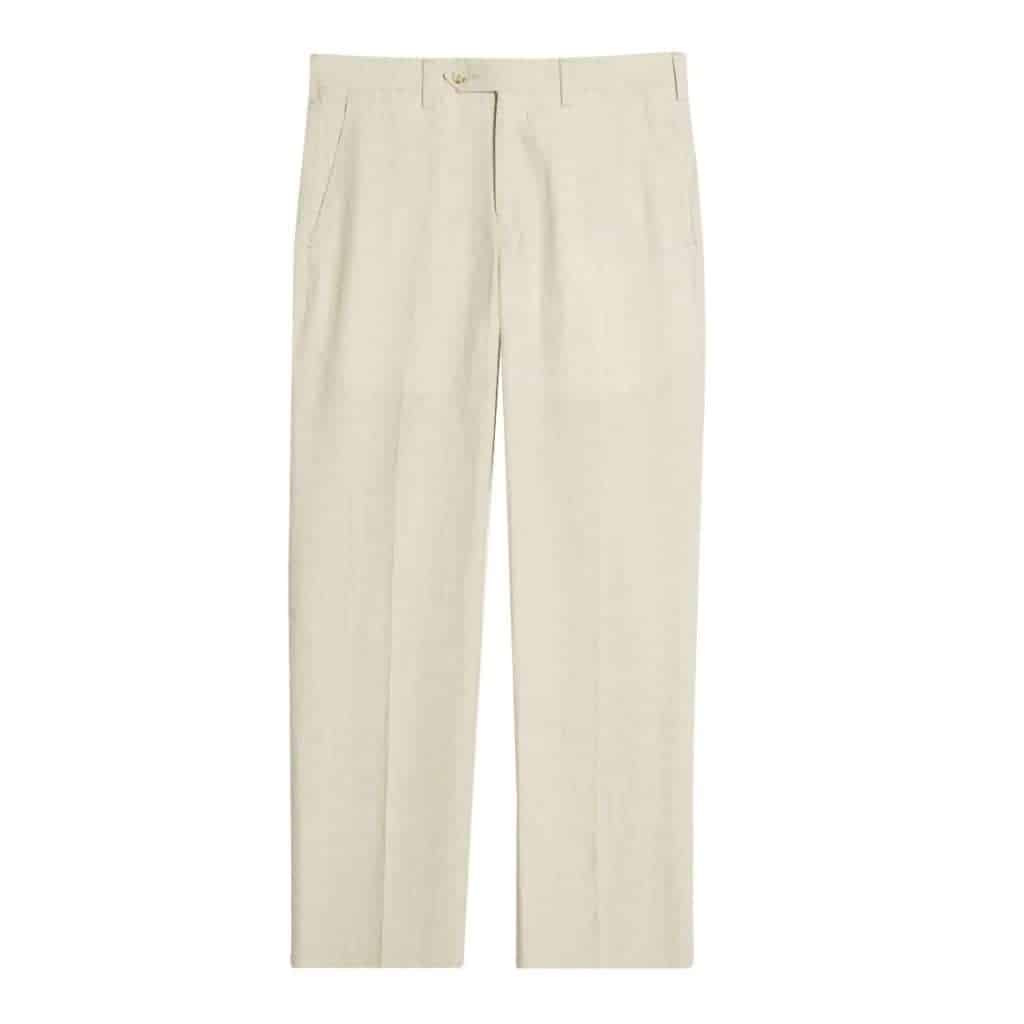 Looking for a pair of linen pants to wear with a summer suit or lightweight sport coat? Berle offers solid linen dress pants that you need to have. It has a soft feel and a tailored fit, which means you'll look incredible and feel comfortable.
Buy Berle Solid Linen Dress Pants from Nordstrom for $125.
4. Tod's Linen Trousers
If you want to look stylish, bold, and luxurious, Tod's has the perfect pair of linen trousers. The white trousers from Tod's have a relaxed feel and elevate your summer outfits. When you're wearing white linen pants, be careful of sweating through them or getting wet because you may be able to see through them.
Buy Tod's Linen Trousers from Mr Porter for $695.
5. Boglioli Linen Suit Trousers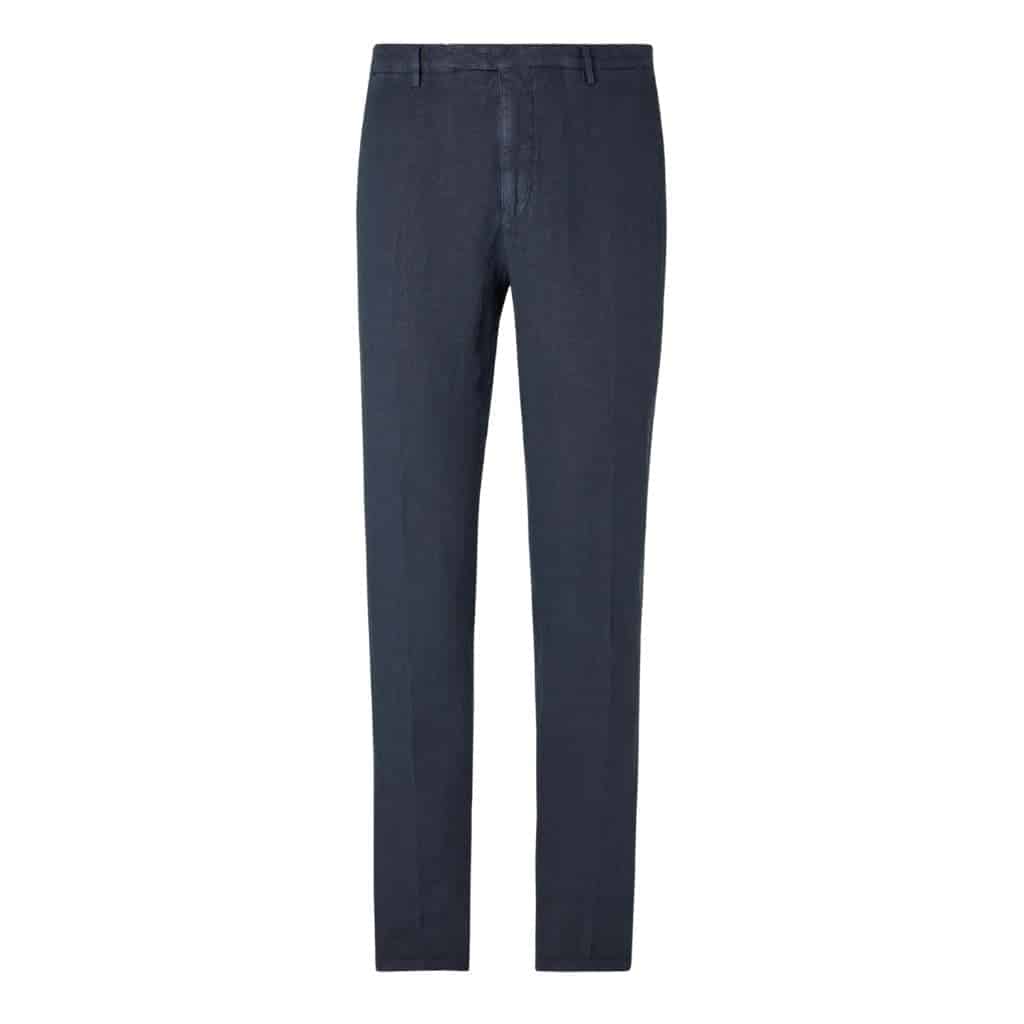 Boglioli is known for making excellent formal attire. If you're dressing up with a summer suit, Boglioli's linen suit trousers are essential. They have a slim fit, which gives you a tailored look. The Italian-made linen material ensures that you look dapper while wearing breathable clothes.
Buy Boglioli Linen Suit Trousers from Mr Porter for $470.
6. Loro Piana Linen Drawstring Trousers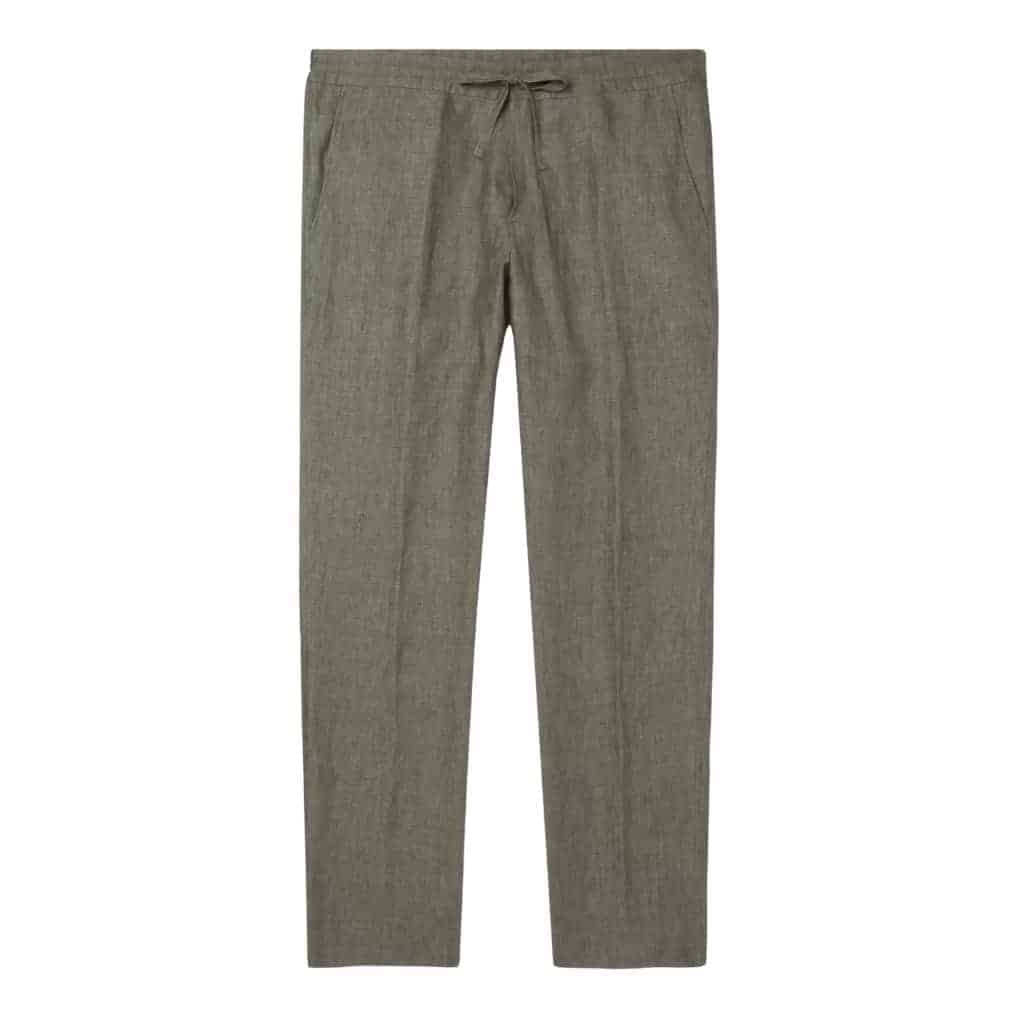 Drawstring linen trousers are an excellent addition to your warm-weather wardrobe because they're breathable, comfortable, stylish, and the waist is adjustable. Loro Piana makes them with a slim fit and unfinished hem, which allows you to get them tailored for the perfect length.
Buy Loro Piana Linen Drawstring Trousers from Mr Porter for $595.
7. Cubavera Delave Linen Pants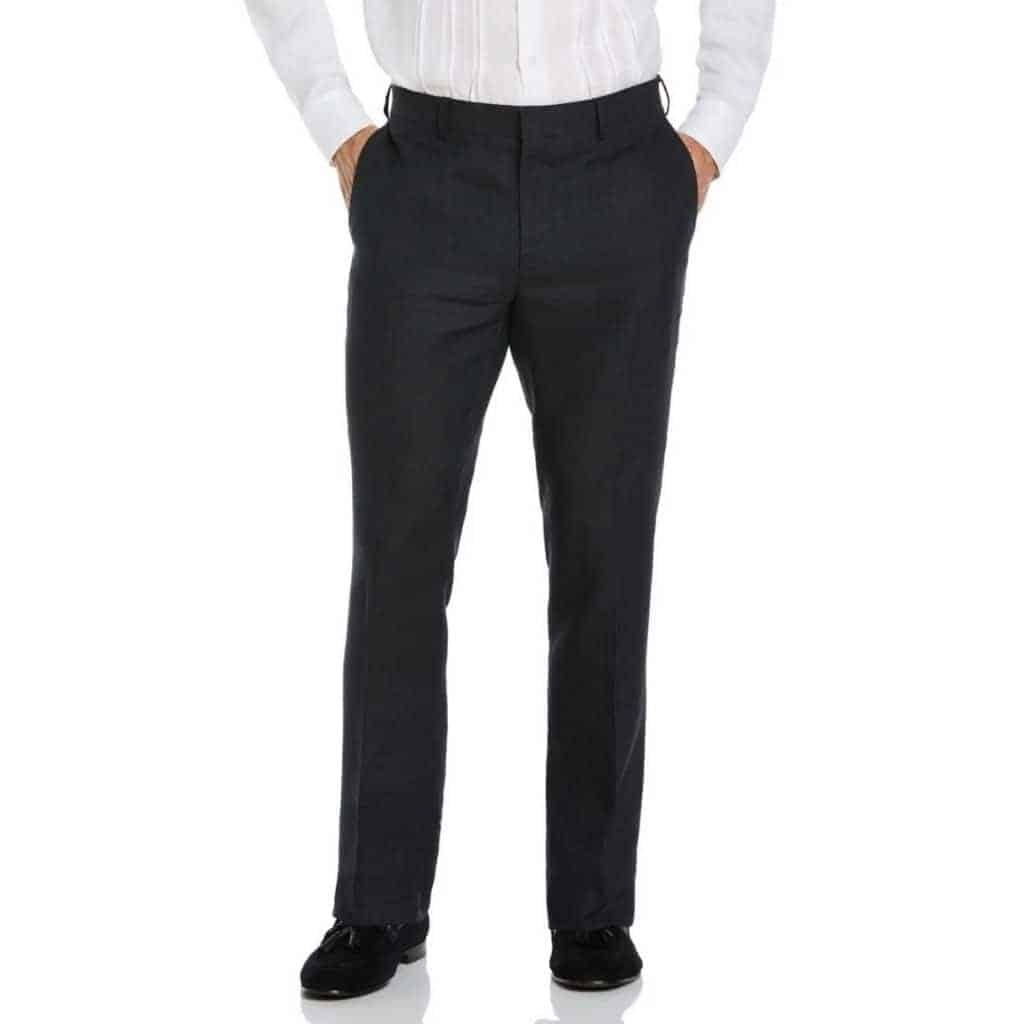 Cubavera is a Perry Ellis brand that's all about tropical and modern styling. The Delave Linen Pants have a classic fit and give you a sophisticated look. It comes in black, blue, white, and beige. All of the colors work well for the summer.
Buy the Delave Linen Pants from Cubavera for $79.99.
Conclusion
Linen pants are one of the best types of pants to wear in the summer because they're breathable, cooling, quick-drying, and lightweight. They also pair well with many different types of clothes. For shoes, they look best with minimal sneakers, sandals, and loafers.
More resources:
Featured image courtesy Todd Snyder, Nordstrom, and Loro Piana.
About David Em
Founder
David Em is the founder of Next Level Gents, the ultimate destination for tips and advice about style, grooming, fitness, and success.