Whether you're going on vacation or want new summer pants, linen pants are essential. They're lightweight, breathable, and stylish.
If you're not a shorts guy, linen pants are what you need in the heat of summer. They're long pants that are breathable, lightweight, and can dry quickly.
Related: How to roll up shirt sleeves
Linen is a natural plant fiber. It's strong, durable, and has moisture-wicking capabilities. Linen pants are perfect for hot summer days.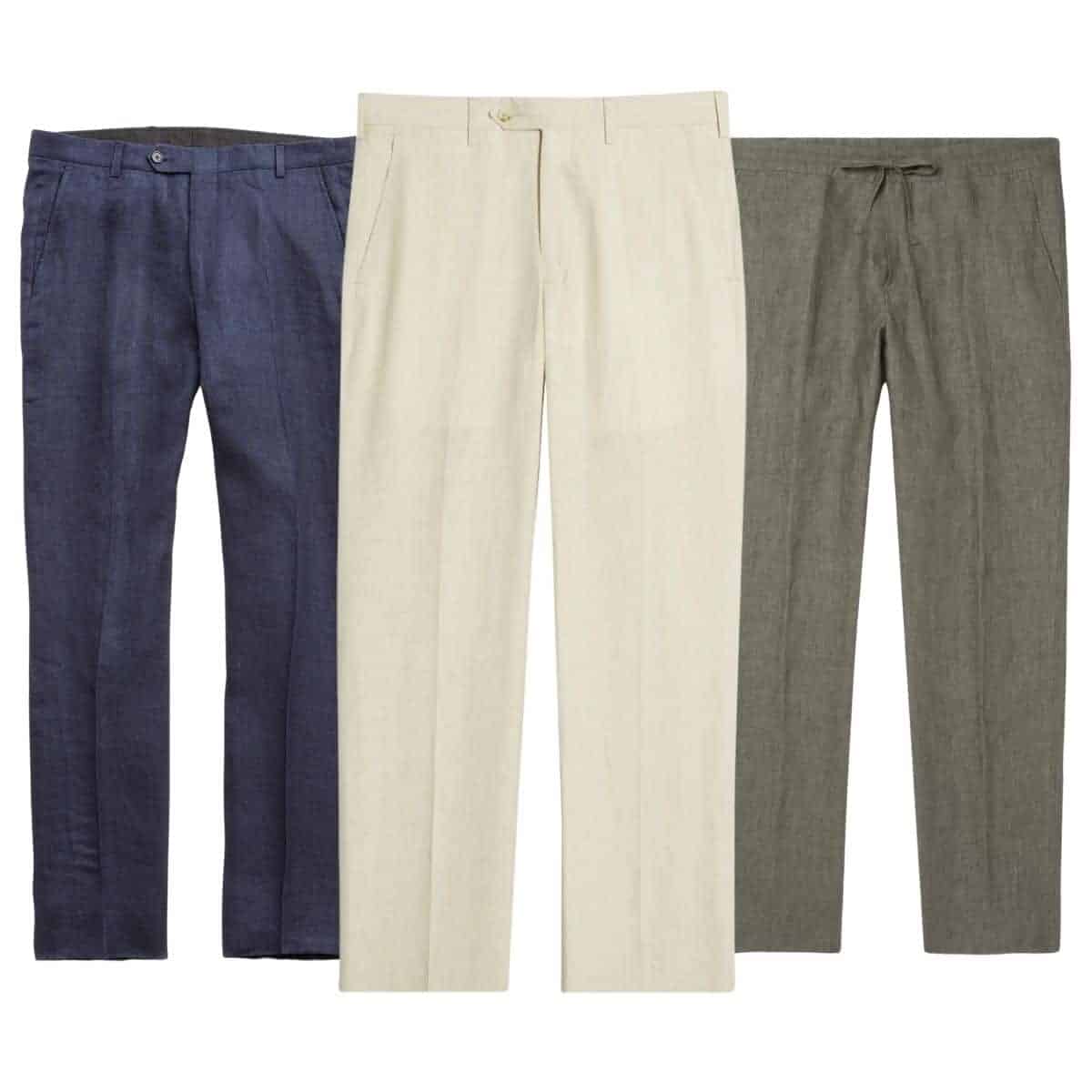 When you're wearing linen pants, avoid wearing linen shirts. Instead, the goal is to create contrast in textures.
Wear cotton shirts or button-ups. A camp-collar shirt looks great, as well.
The following are the best linen pants that'll keep you cool in the heat.
Charles Tyrwhitt Italian Linen Pants
If you want linen pants that look dressier, Charles Tyrwhitt has the ideal pair.
The Italian Linen Pants come in stone or navy. Both colors are versatile and fashionable.
Also, Charles Tyrwhitt added a permanent crease to keep the pants sharp.
The pants have a slim fit, but there's still enough room to move around without restriction.
Mango Slim-Fit Linen Pants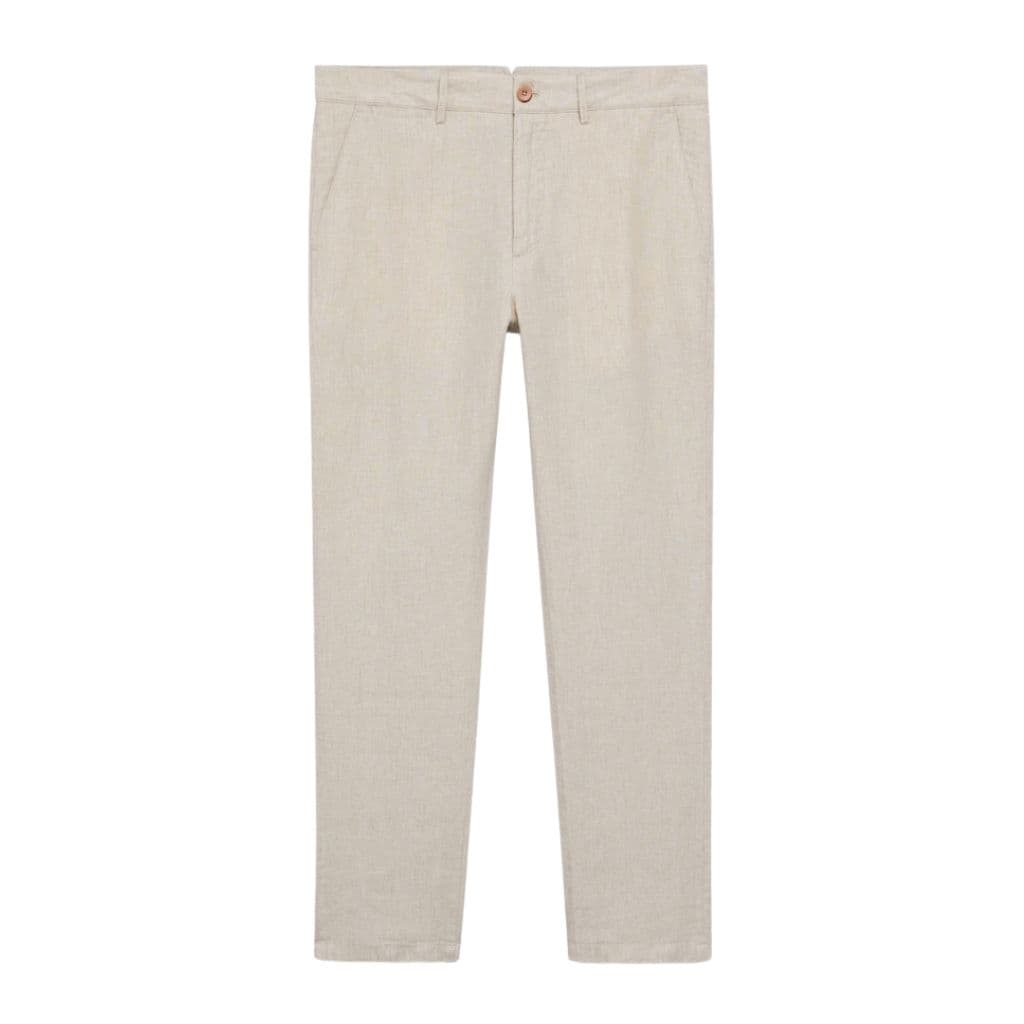 Mango offers slim-fit linen pants in ecru, navy, sky blue, and brown. All of the colors look nice for summer outfits, and the fit is spot-on.
It's a great choice if you're looking for a tailored fit with an elegant summer look.
Wythe Flat Front Cotton Linen Twill Chino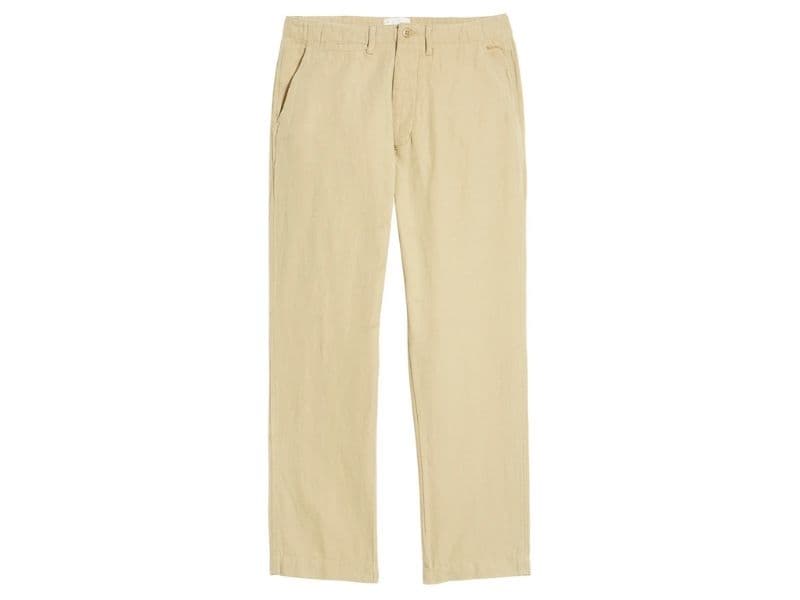 Wythe offers a stylish and longest-lasting linen chino. Out of the package, the chinos have a soft and lived-in feel.
The material is a proprietary slub-twill fabric. It uses unbleached and undyed cotton yarns.
The chinos also have a loose fit, giving you a vintage look.
Pair them with a loose-fitting shirt and chunky shoes to complete the outfit.
Berle Solid Linen Dress Pants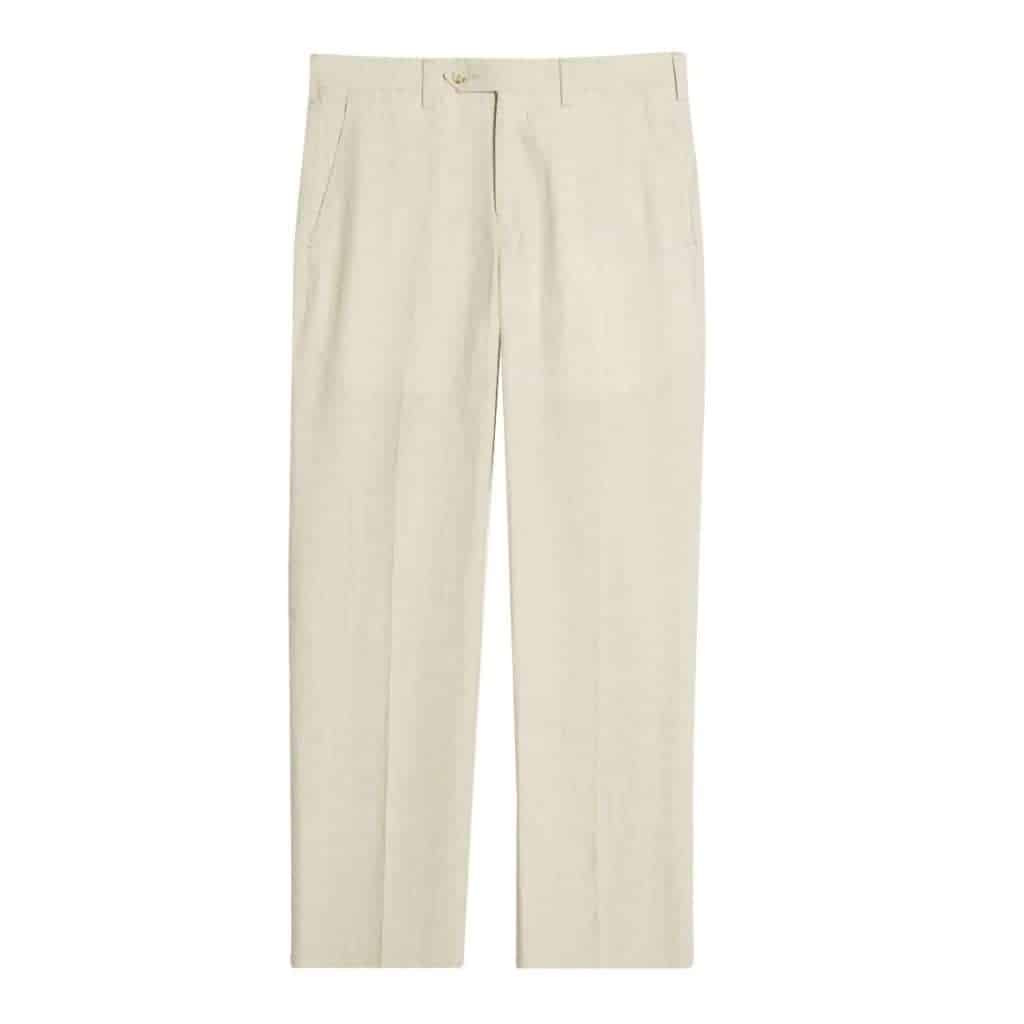 Looking for a pair of linen pants to wear with a summer suit or lightweight sport coat?
Berle offers solid linen dress pants that you need to have.
It has a soft feel and a tailored fit, which means you'll look incredible and feel comfortable.
L'Estrange London The 24 Trouser Linen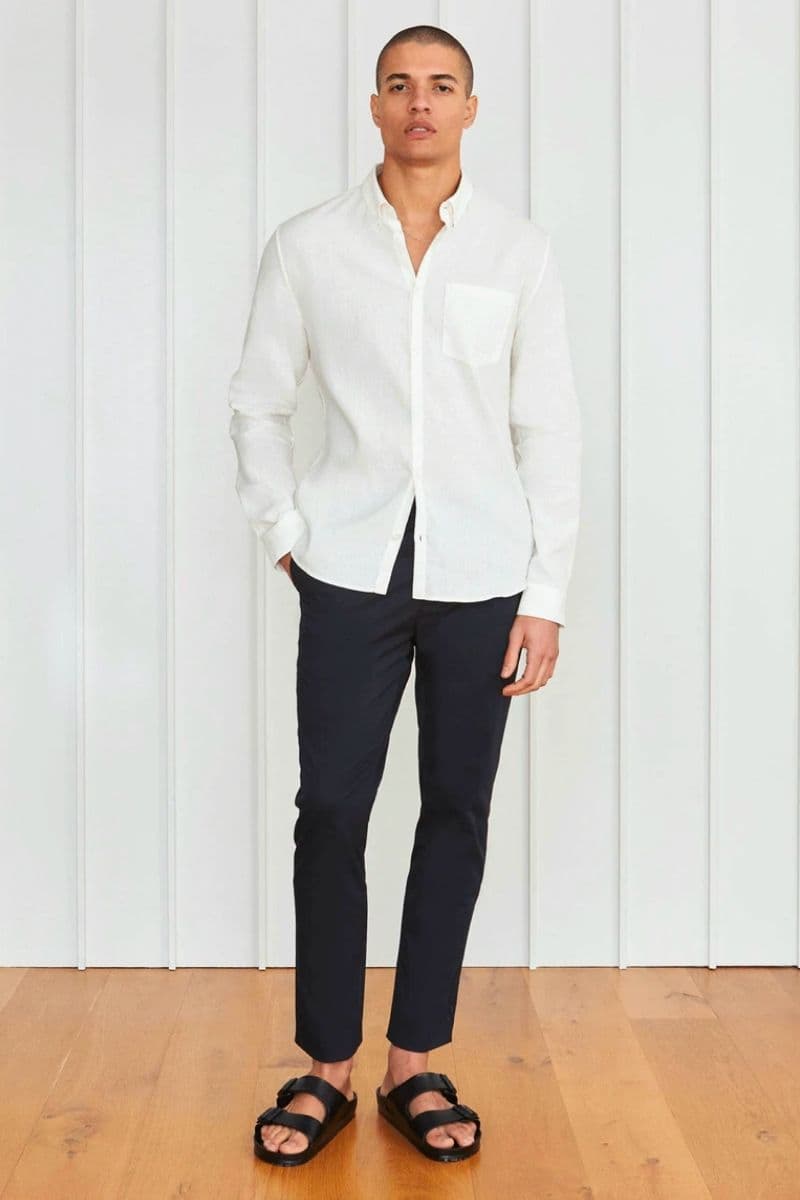 The 24 Trouser Linen from L'Estrange London is breathable, effortless, and stylish.
It's a linen and cotton blend with a small amount of elastane for stretch.
L'Estrange London offers the trousers in four neutral colors.
They're also structured and less sheer. So, you can get away with wearing the darker colors in cooler months.
You can also dress it up or down, as the classic silhouette is versatile.
NN07 Karl Linen Trousers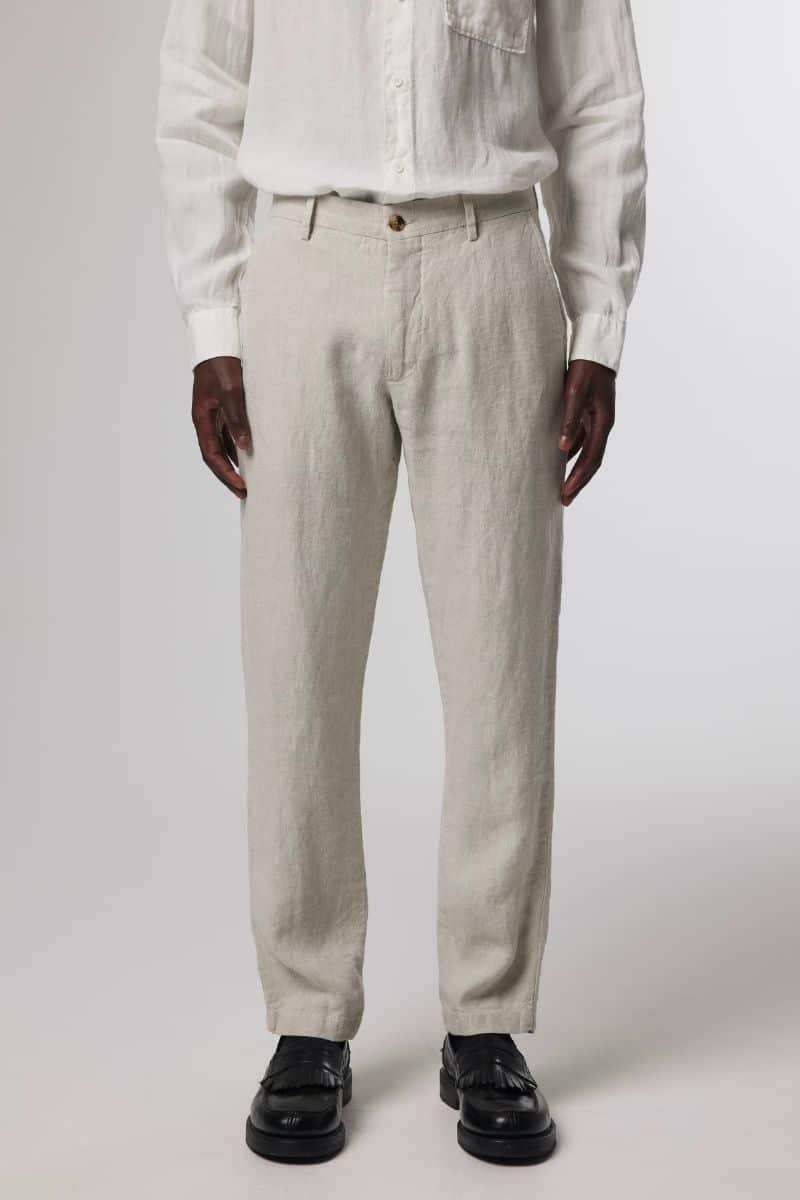 The NN07 Karl Linen Trousers are slightly tapered chinos. They're the perfect length, as they'll fall right on your ankles.
If you like a looser fit, they're an excellent choice.
You can choose between various neutral colors. The darker ones can transition into other seasons if the temperature permits.
Boglioli Linen Suit Trousers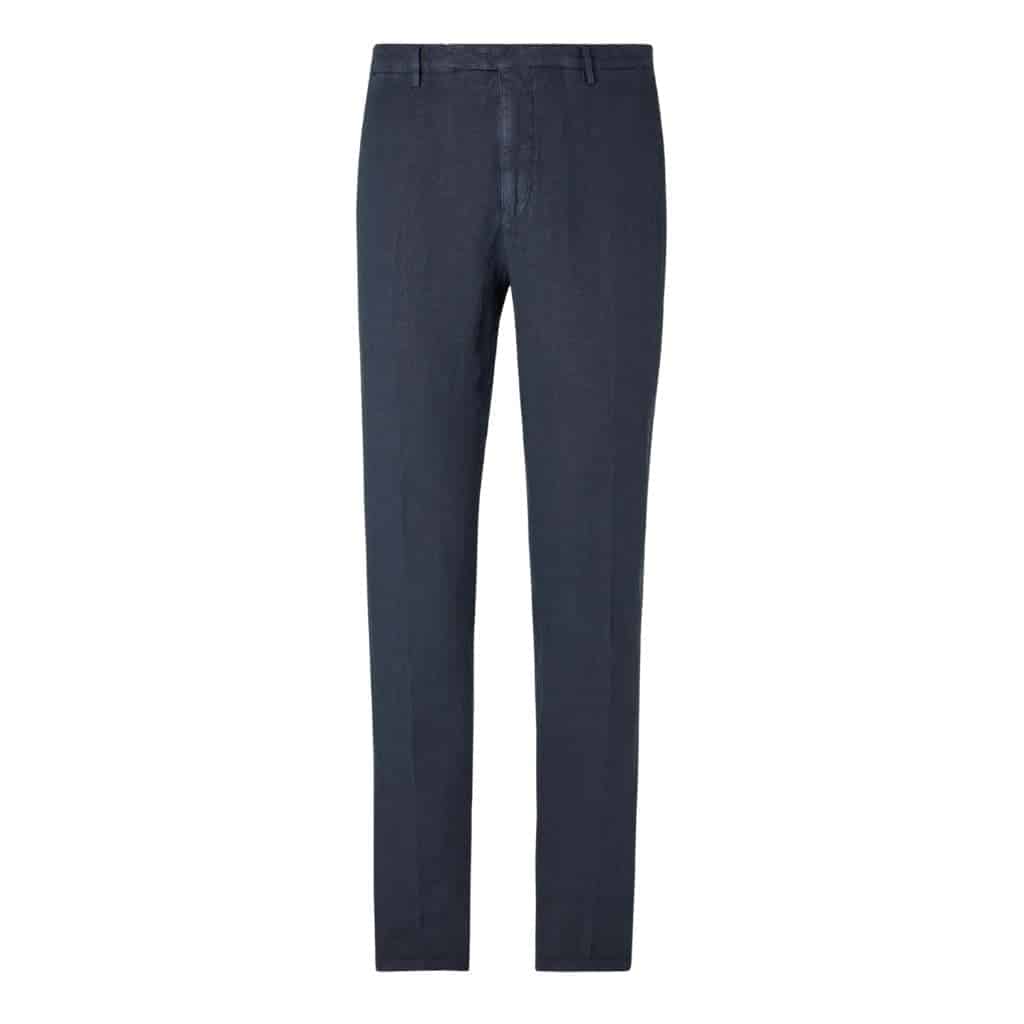 Boglioli is known for making excellent formal attire. If you're dressing up with a summer suit, Boglioli's linen suit trousers are essential.
They have a slim fit, which gives you a tailored look.
The Italian-made linen material ensures that you look dapper while wearing breathable clothes.
Loro Piana Linen Drawstring Trousers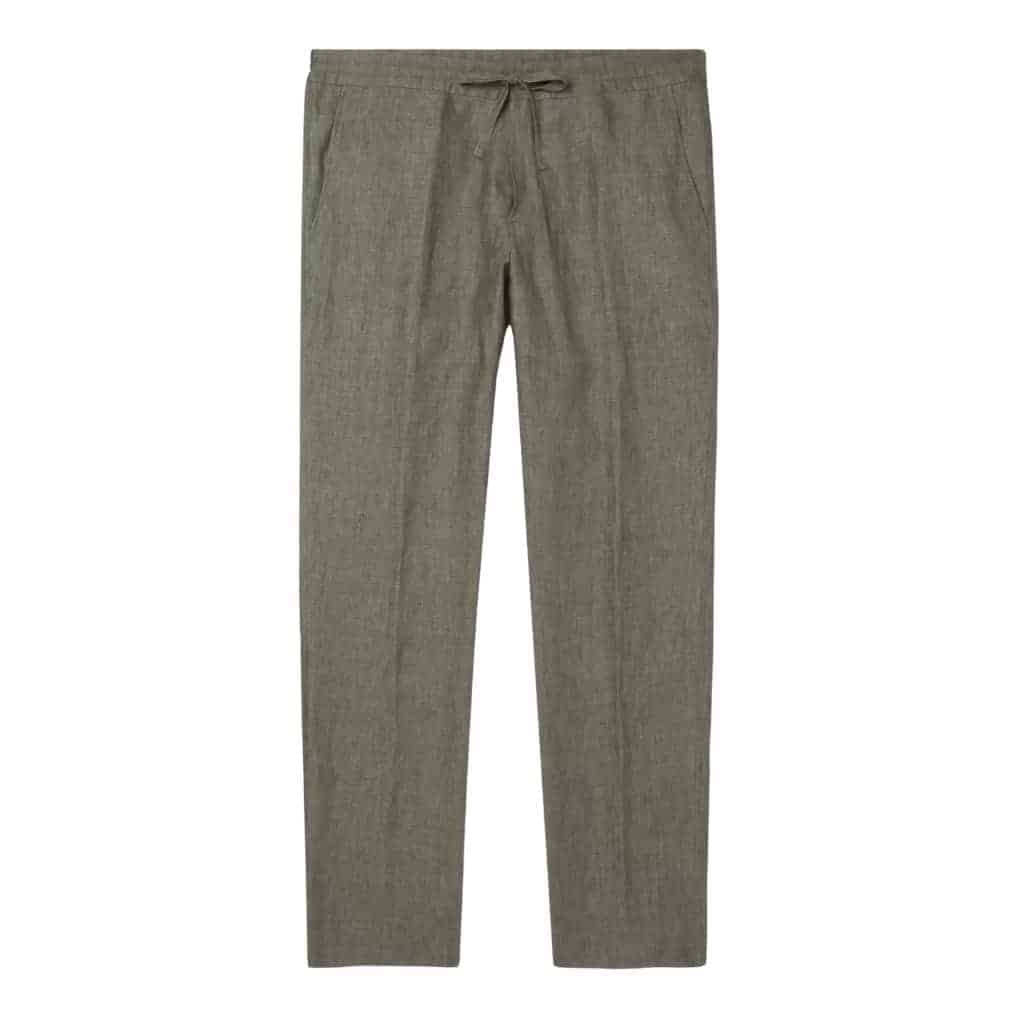 Drawstring linen trousers are an excellent addition to your warm-weather wardrobe because they're breathable, comfortable, stylish, and the waist is adjustable.
Loro Piana makes them with a slim fit and unfinished hem, which allows you to get them tailored for the perfect length.
Cubavera Delave Linen Pants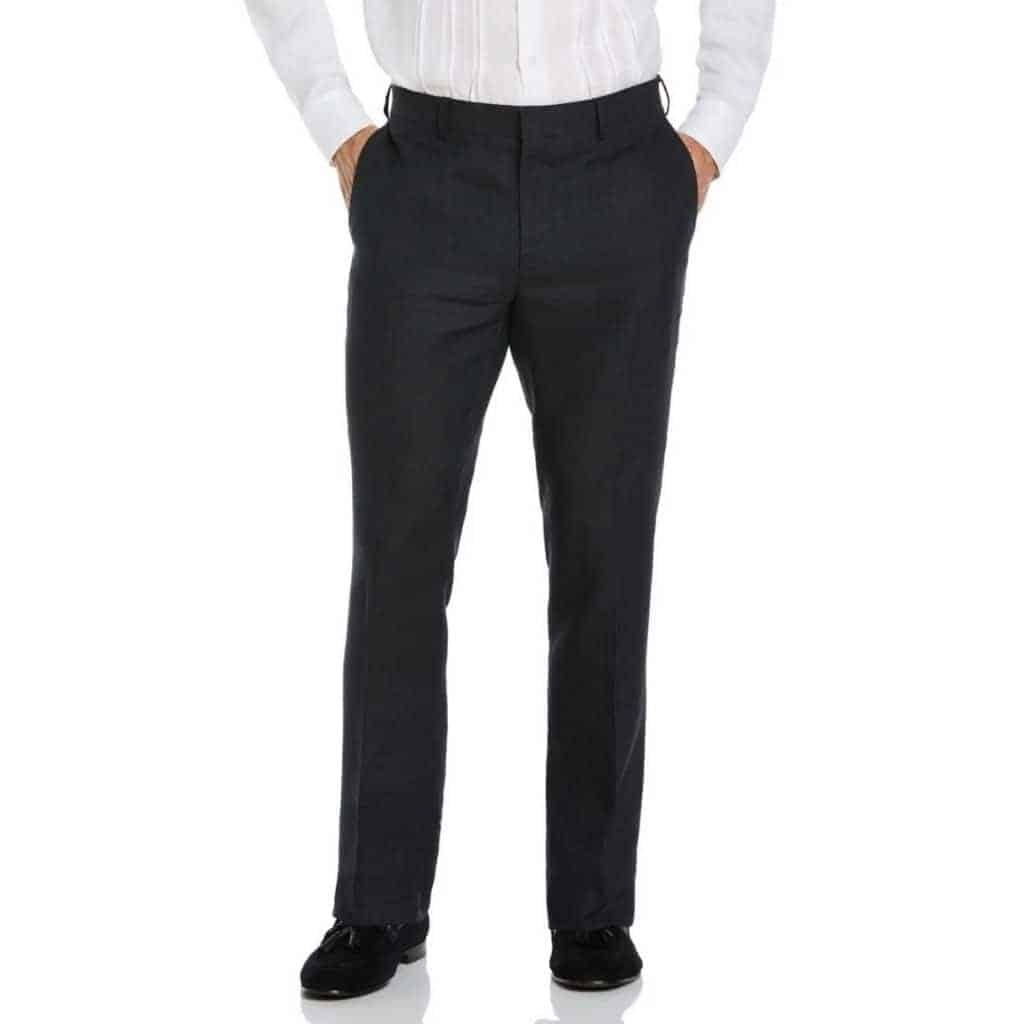 Cubavera is a Perry Ellis brand that's all about tropical and modern styling.
The Delave Linen Pants have a classic fit and give you a sophisticated look.
It comes in black, blue, white, and beige. All of the colors work well for the summer.
Tommy Bahama Beach Linen Elastic-Waist Pants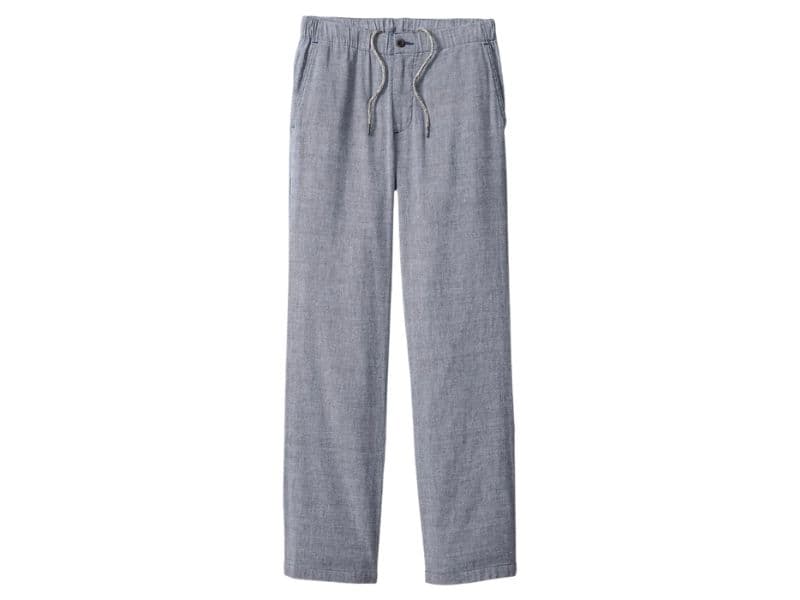 Tommy Bahama's Beach Linen Pants are perfect for a day in the sun. The pants are roomy with a straight-leg fit.
Its material is a linen and cotton blend with a touch of spandex for stretch.
You can choose between black or shades of blue or beige.
The Beach Linen Pants aren't designed for formal attire and lack a tailored fit.
So, it's best to wear them with casual summer outfits.
Frequently asked questions about linen pants
Get answers to common questions about linen pants.
Are linen trousers fashionable?
Linen trousers exude elegance and fashion when it comes to men's style. Aside from looking good, linen trousers are breathable and soft. In warm temperatures, you'll stay cool and dry.
What kind of shoes goes with linen pants?
Linen pants are more casual yet refined, even when you wear them with a blazer. So, wear them with loafers, dress sneakers, or derby shoes.
What kind of shirt goes with linen pants?
Linen pants are excellent for summer. Wear them with a t-shirt, polo, or button-up shirt. If you wear a button-up or polo shirt, leave a few buttons undone. It'll give you an effortless and confident look.
Conclusion
In hot temperatures, skip the jeans, chinos, and wool trousers. If you want to wear long pants in the heat, there's no better option than linen pants.
The lightweight and breathable pants are stylish, classy, and dry fast.
Whether you're spending the day on a boat or walking around town, do so in linen pants.
Pick up a pair today to take your summer style to the next level.
Featured image courtesy Todd Snyder, Nordstrom, and Loro Piana.
About David Em
Founder
David Em is the founder of Next Level Gents, the ultimate destination for tips and advice about style, grooming, fitness, and success.