The t-shirt is a classic and versatile shirt that every man owns but not everyone looks good in them. Here's how to style a t-shirt, the right way.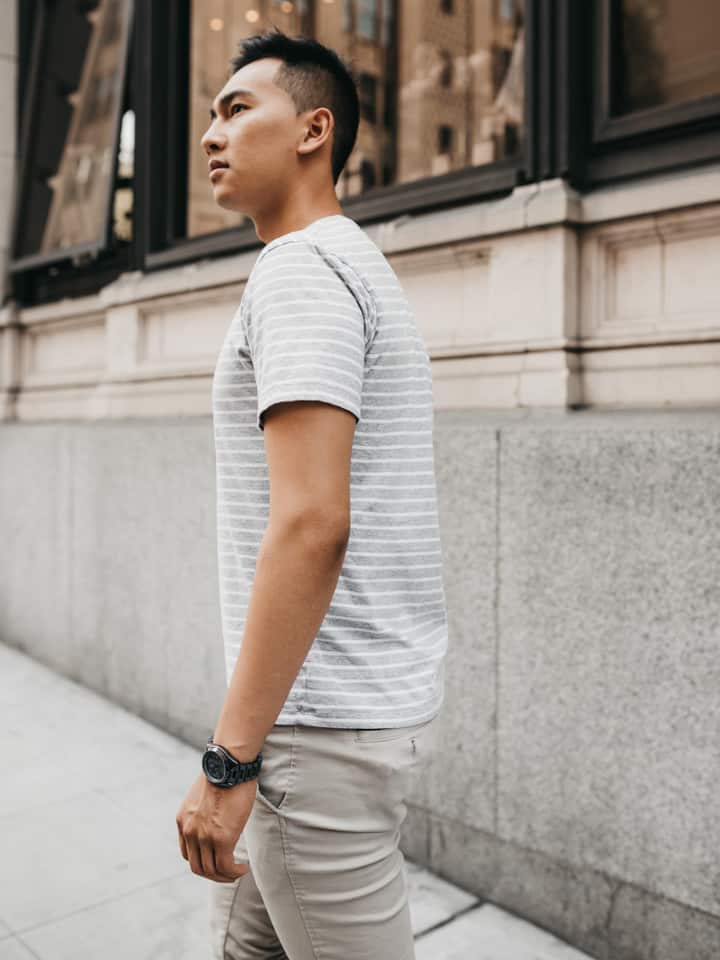 This post contains links to products from one or more of our advertisers. We may receive compensation when you click on links to those products. For more information, read Affiliate Disclosure.
Editor's note: This post was originally published in August 2018. It's been freshened up with new pictures and commentary on October 31, 2019.
Contents:
History of the t-shirt
The t-shirt began as an undershirt.
During the 19th century, many workers used the t-shirt to form a two-piece suit to wear underneath uniforms or with trousers. During this time, the U.S. military also adopted the cotton t-shirt as the official undershirt.
In 1942, the cover of LIFE magazine shared one of the first photos of a printed t-shirt.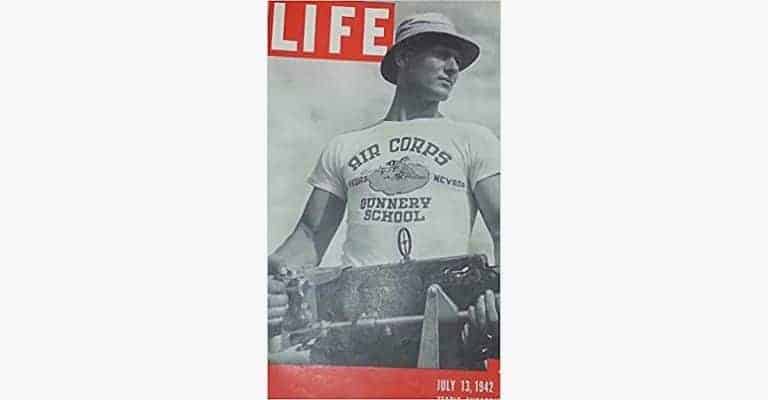 The tee shirt or t-shirt is named after the T shape. It's a functional shirt style to wear in the warmer months such as spring and summer because it helps keep you cool.
Different types
Not all t-shirts are short-sleeve crew necks. The following are the different types of t-shirts:
The crew neck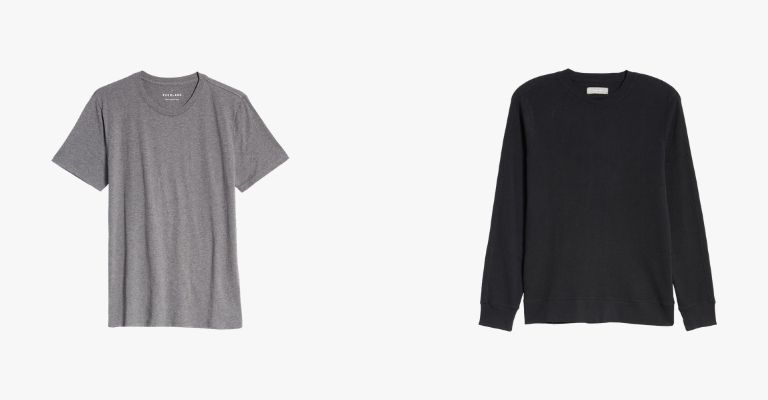 The crew neck t-shirt is a versatile and classic t-shirt style that most men have. The neckline is round and fits snug around the base of your neck.
Crew neck t-shirts are great to wear alone or as a base layer. You can wear a button-down shirt unbuttoned with a t-shirt underneath, or a nice white crew neck undershirt with a dress shirt.
There are many options that make the crew neck t-shirt a favorite among many men.
The v-neck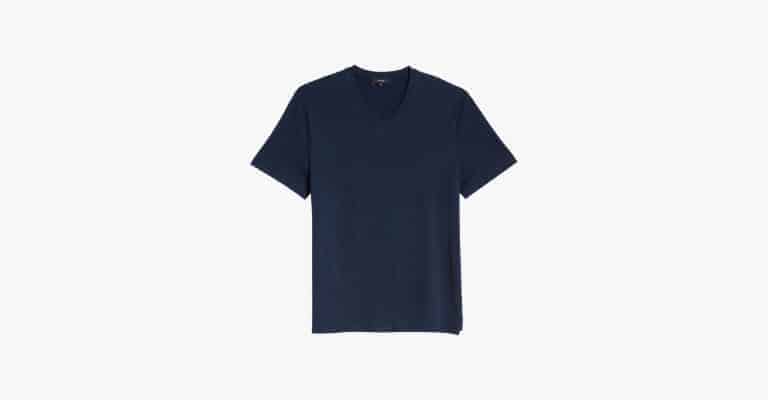 The v-neck t-shirt is made as both, short and long sleeve shirts. This neck style has a less formal feel than a crew neck.
It also draws a person's eye's towards your midsection, so if you're a bit heavier, it would be best to wear a crew neck or henley.
V-neck t-shirts work well when you wear button-ups with a couple of buttons unbuttoned. This will ensure that you hide the undershirt when the first few buttons are undone.
The henley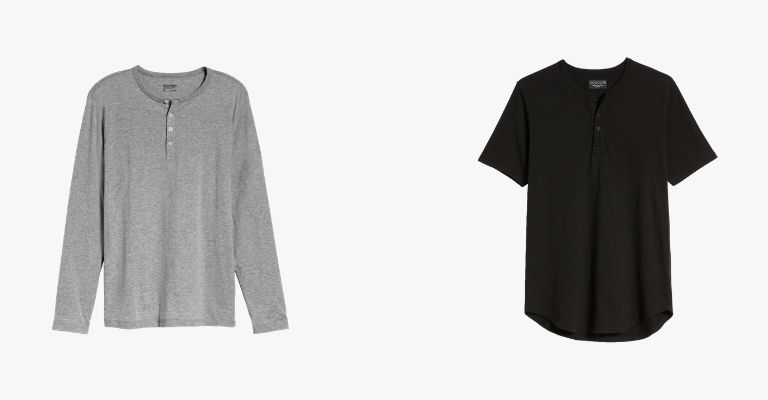 The henley is a hybrid between a classic t-shirt and a polo. They're distinguished by their buttons, which are often worn with a few undone.
Henley t-shirts look best when they're simple and without any prints. They're perfect for a casual day and if you want to swap out your classic crew neck t-shirt.
How it fits
A well-fitting t-shirt will not only feel better, but you'll also look better. Before considering how to style a t-shirt, you need a t-shirt that fits well.
The key to nailing the perfect fit is to focus on accentuating certain body parts and to not feel suffocated.
Here are tips for getting the perfect fit:
Size
The perfect t-shirt should have a snug fit. It shouldn't be too baggy or too tight because you'll look unflattering. You should be able to move comfortably and without restrictions.
Neck
Your t-shirts neckline should fit snug without being too tight. On the flip side, if there's a large gap around your neck when you lift your arms, it's too big.
Shoulders
The key to nailing your fit is to ensure the seams of the t-shirt line up with your shoulder line.
If it goes past the edge of your shoulders, it'll be too baggy. If it doesn't reach your shoulders, it's too small.
Arms
Your t-shirts sleeves should be fitted around your arms and the length should end halfway down your biceps.
If you have a muscular build, the sleeves will naturally fit more on the tighter side and it may help to look for slightly shorter sleeves.
Stomach
Nailing the fit around your stomach can be difficult. Most guys opt for a larger size to make sure that their stomach isn't popping through the shirt.
However, it's important to wear a t-shirt that conforms to the natural shape of your body. Doing so, you'll look your best.
Length
Length can vary depending on the purpose of your t-shirt.
If you're wearing an undershirt, it should be long enough to be tucked in. If you want to wear a t-shirt casually, the length should end right above your belt line.
Best colors
Neutral-colored t-shirts are basics that you need to have. They're traditional and classic colors that'll pair well with many outfit combinations. The essential colors are: white, black, grey, and navy blue.
How to style a t-shirt
What makes the t-shirt great is that it's a classic staple and pairs easily with different outfits. It's definitely a casual piece of clothing but can be paired with other items to dress it up a bit.
Here's your complete guide on how to style a t-shirt, broken down by color.
White t-shirt outfits
The white tee was made popular by pioneers like James Dean, Marlon Brando, and Steve McQueen. All three men wore the simple white t-shirt well.
The best part about the white tee is that it looks great with all skin tones.
White t-shirt with trousers: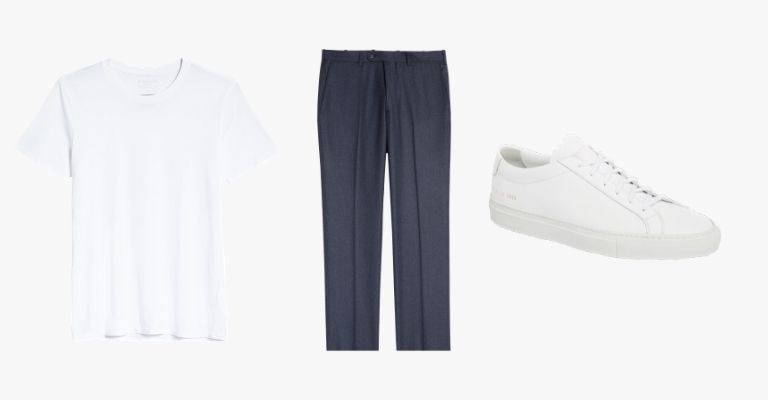 Shop the look:
White v-neck t-shirt with jeans: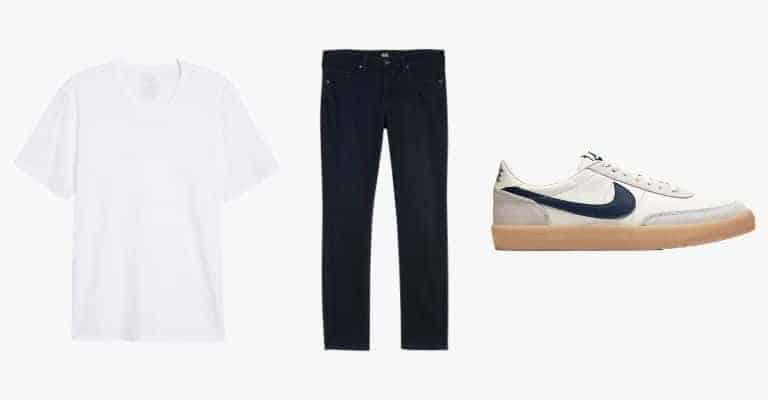 Shop the look:
White henley with jeans: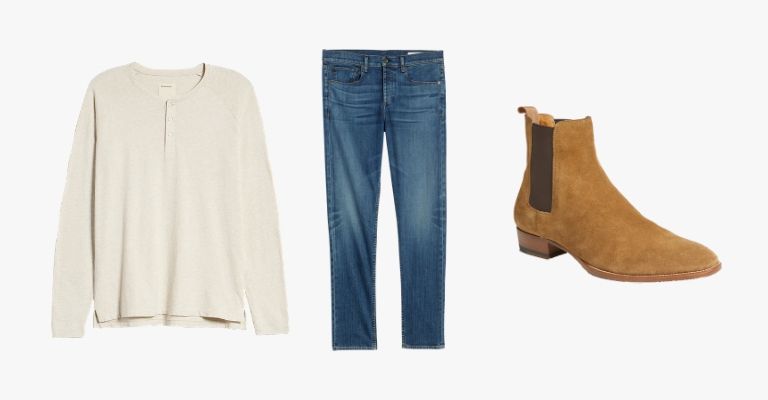 Shop the look:
Black t-shirt outfits
Black is seen as sleek and modern. Wearing a black t-shirt can take a casual tee up a notch. The only downside to a black t-shirt is that the color fades faster than the other colors.
Black t-shirt with white jeans: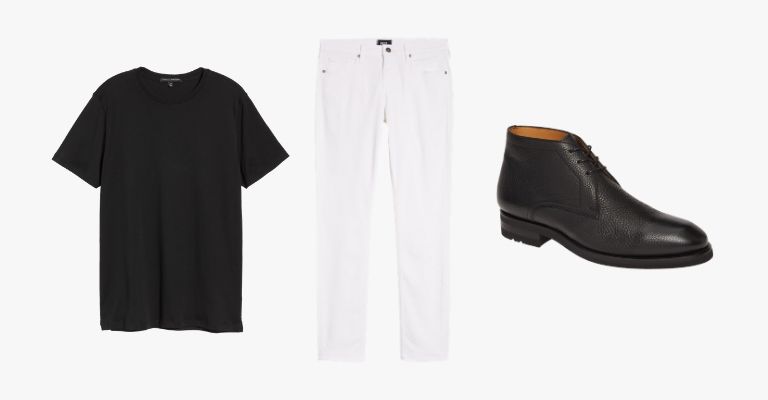 Shop the look:
Black v-neck with blue jeans: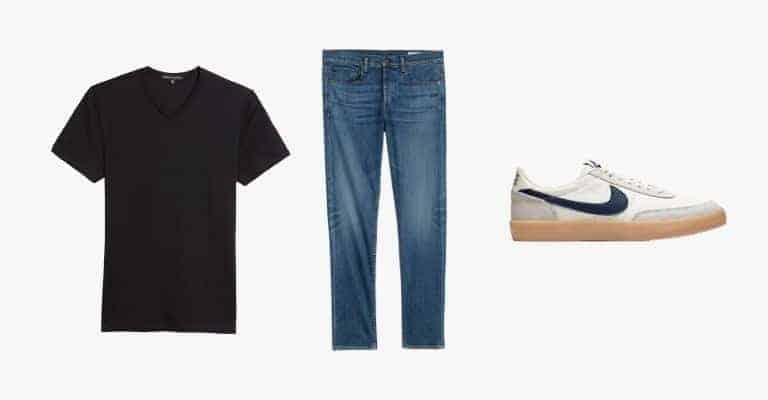 Shop the look:
Black henley with black jeans: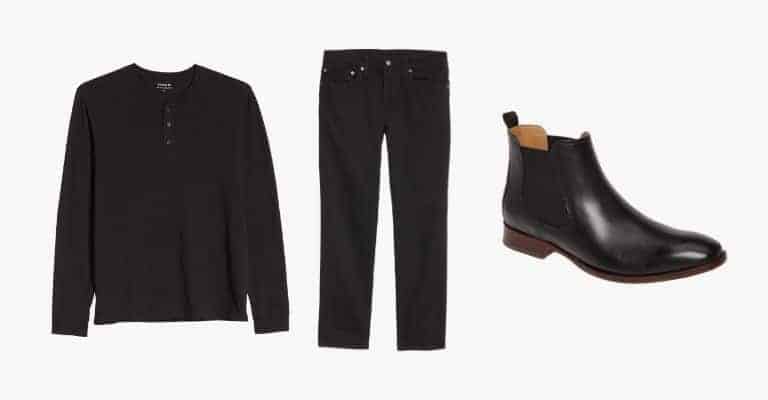 Shop the look:
Grey t-shirt outfits
Grey t-shirts come in many shades. Overall, grey is a flattering color to wear and can enhance the natural shape of your body. Be cautious of sweat marks because they're easily visible on grey t-shirts.
Grey t-shirt with black jeans: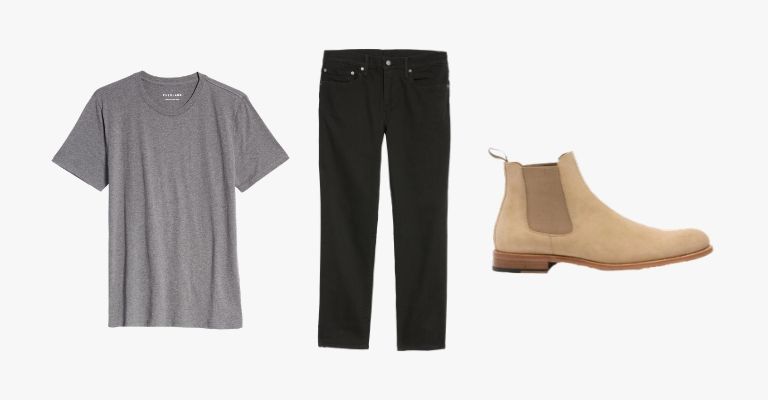 Shop the look:
Grey v-neck with blue jeans: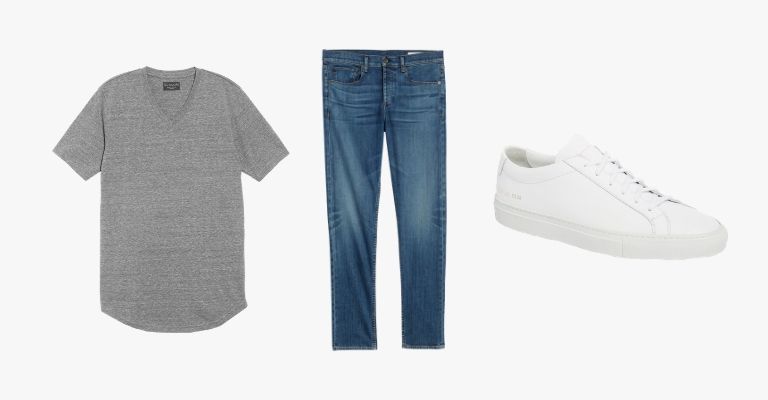 Shop the look:
Grey henley with blue jeans: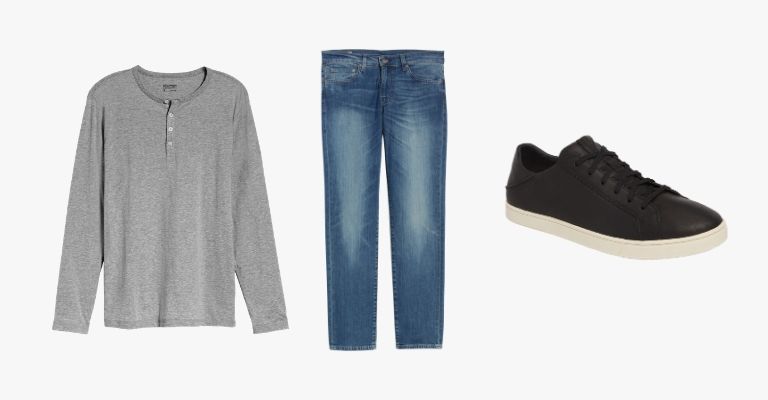 Shop the look:
Navy t-shirt outfits
Navy isn't as bold as black, but it always looks good. Wearing a navy t-shirt will make you look sharp when you pair it with a nice pair of jeans, chinos, or khakis.
Navy t-shirt with khaki pants: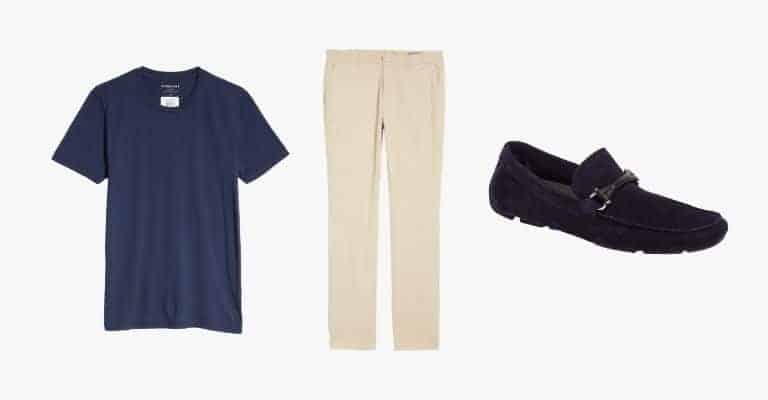 Shop the look:
Navy v-neck with grey jeans: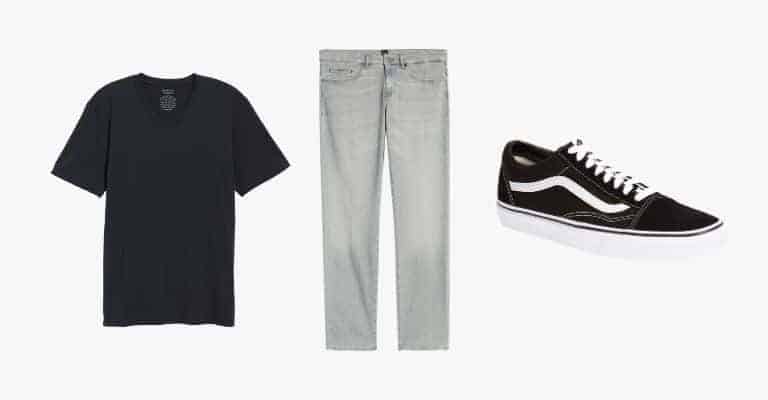 Shop the look:
Navy henley with black jeans: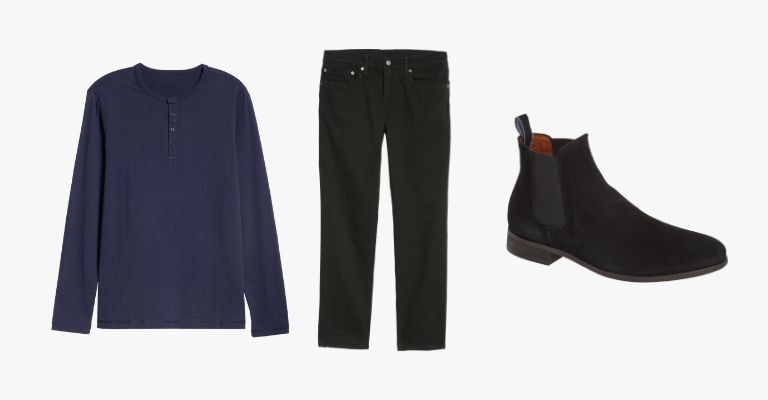 Shop the look:
Different functions
Not all t-shirts are made equal. Some t-shirts are created to be worn by itself, while others are used as undershirts. Make sure you aren't wearing a t-shirt as an undershirt and vice versa.
Conclusion
T-shirts are a classic staple that has become popular among every man. The humble tee is versatile and having a well-fitted t-shirt can uplevel your style. By focusing on the perfect fit and color, you'll feel and look great wearing it.
Additional style resources
Want to learn more about style, or what to wear in warm weather? The following are a few additional resources:
Featured photo by David Em/Next Level Gents.