If you want to get a good cardio workout at home, indoor cycling bikes are a fantastic option because they're quiet and effective.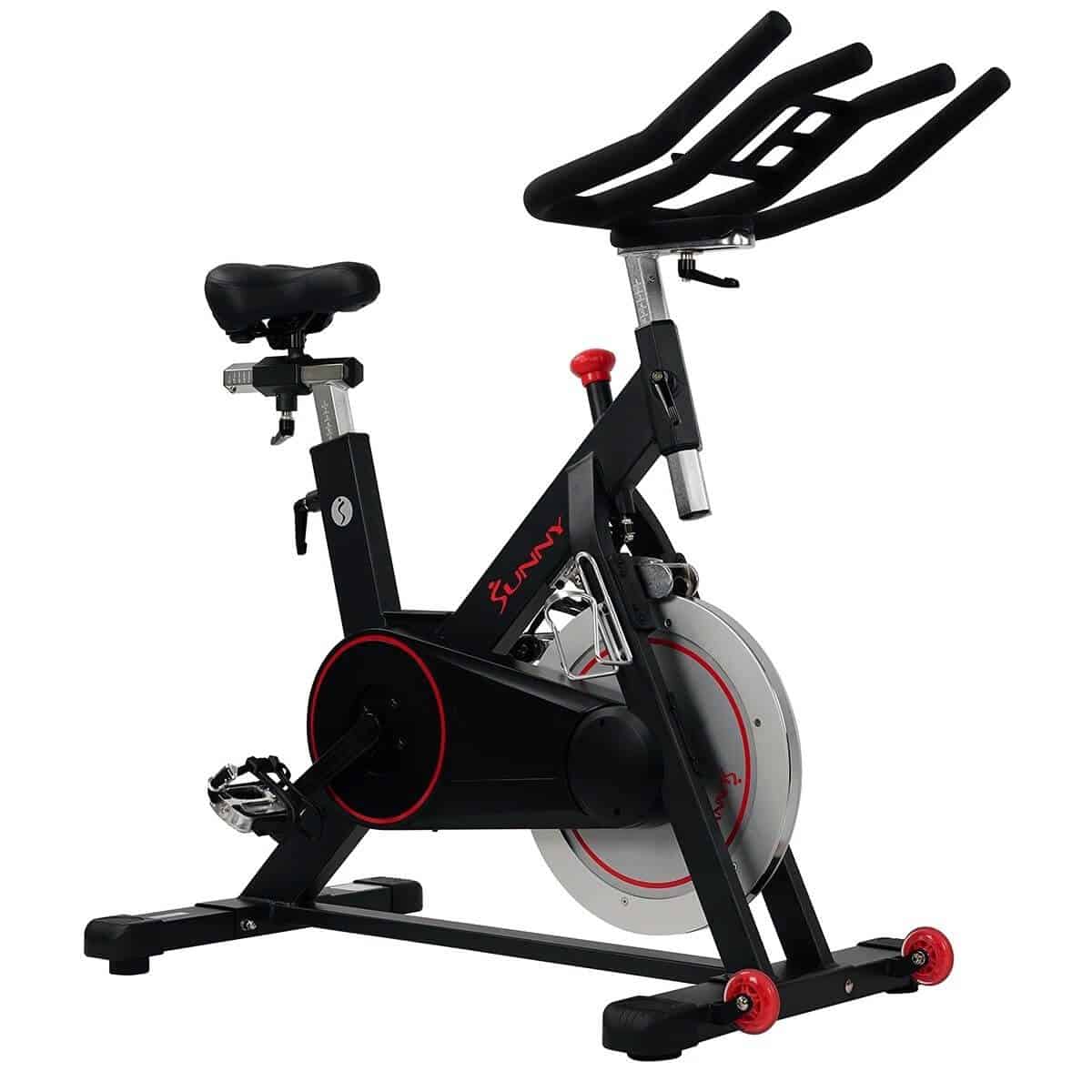 Estimated reading time: 6 minutes
We receive a commission on purchases made through links on this page. For more information, read Affiliate Disclosure.
Why get an indoor cycling bike
Indoor cycling or spinning is one of the best ways to exercise at home. Due to their size, they don't take up as much space as other exercise equipment. This makes them great for a home of any size.
Related: Best at-home ab exercises
According to Better Health, cycling is a low-impact form of exercise, which makes it better for your joints.
When you run or walk, all of your weight is on your legs. When you sit on a bike, there's less weight on your legs.
Aside from being good for your joints and building muscle, cycling is a form of aerobic exercise.
It's good for your heart, brain, blood vessels, and releases endorphins, which make you feel great (Source: Harvard Health).
An indoor cycling bike is beneficial for you regardless of your fitness level because you can make adjustments that suit you.
Related: Beginner home workout routine
Since you can adjust the resistance, you can start at a low setting and work your way up to higher resistance, more time, or longer distances.
It's the perfect way to increase your fitness level, strength, and stamina at your own pace.
Features and details to look for
When you're looking for a spin bike that costs less than $1,000, you must ensure that you don't sacrifice quality.
Related: 9 best adjustable dumbbells of 2021
There are high-quality bikes that cost less than $1,000 and there are low-quality ones.
The following are the features of a high-quality indoor cycling bike:
Heavy-duty flywheel. A heavy flywheel ensures safety and smoothness, especially when you're pedaling faster. Look for one that's 30 pounds or heavier.
Belt drive. Older spin bikes usually have a chain drive system. However, using a belt drive will be more efficient, smooth, and last longer.
Magnetic resistance. Most belt drive bikes have magnetic resistance instead of friction systems. When you increase the resistance, the magnets will get closer together. It's better than friction resistance because they'll never touch, which means they'll last longer.
Adjustable seat. To ensure you have the best experience, comfort is key. An adjustable seat will allow you to get into the best position for a great workout.
Multi-position handlebars. This is also an essential feature when it comes to comfort.
In addition to the bike features, make sure there's a money-back guarantee, a good warranty, and a return policy.
In the event that it gets damaged or you don't like it, you want to make sure you can get your money back.
Top 3 indoor bikes under $1,000
The following are the best indoor cycling bikes that cost less than $1,000:
1. Schwinn IC4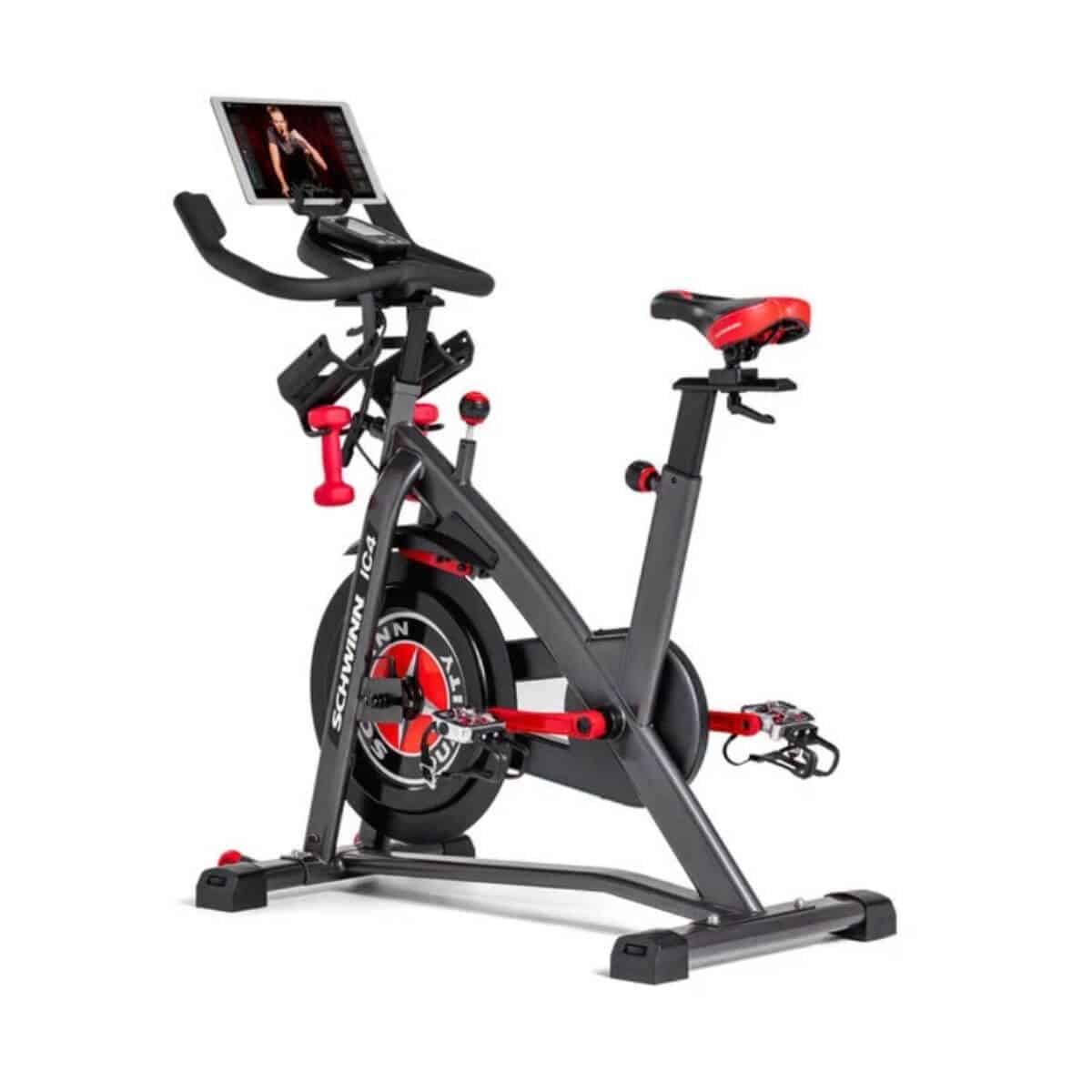 The Schwinn IC4 is an exceptional magnetic resistance indoor cycling bike. It's designed to work with Peloton® and Zwift® apps, which allow you to stream thousands of classes.
The IC4 offers a smooth and quiet ride that you just can't beat. It's sturdy and can handle up to 330 pounds.
Buy the Schwinn IC4 for $899 from Amazon (opens in a new tab).
Full list of specifications

48.7″ L x 21.2″ W x 51.8″ H
Magnetic resistance with 100 micro-adjustable resistance levels.
40-pound flywheel.
Bluetooth connectivity.
330 pounds is the maximum user weight.
The assembled product weighs 106 pounds.
Requires a wall adapter.
LCD and media rack.
2. Sunny Health & Fitness SF-B1805 Magnetic Indoor Cycling Bike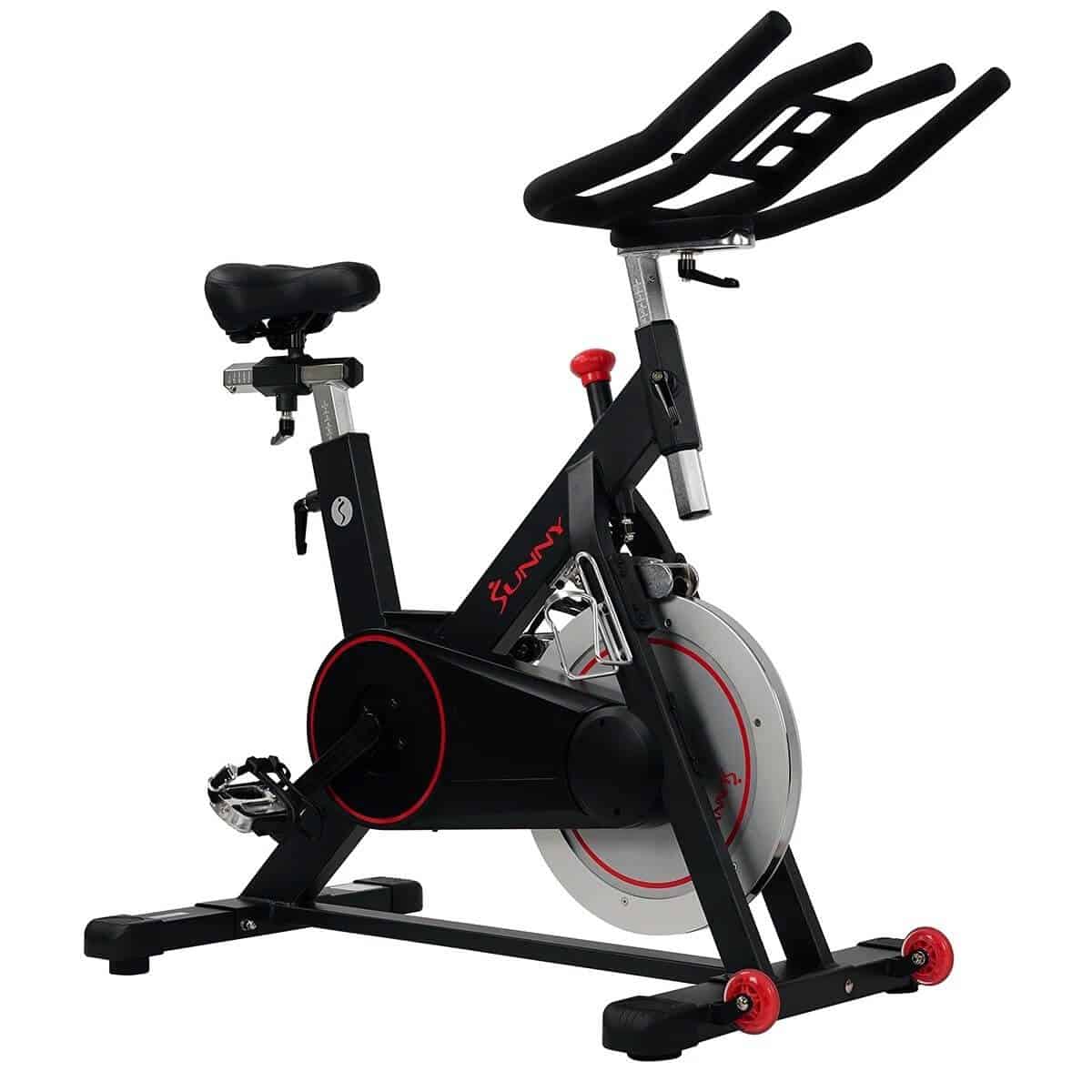 The Sunny Health & Fitness B-1805 is their number one best-seller. It's a magnetic belt drive indoor cycling bike that can handle up to 300 pounds.
It has a device holder so you can follow your favorite classes on your phone or tablet.
The 44-pound flywheel ensures consistent momentum throughout your ride, which will give you a smooth and realistic experience.
Buy the Sunny Health & Fitness B-1805 for $679 from Amazon (opens in a new tab).
Full list of specifications

10″ L x 8″ W x 3″ H
Adjustable magnetic resistance.
44-pound flywheel.
300-pound weight capacity.
The assembled bike weighs 125.7 pounds.
4-way adjustable handlebars and seat.
3. YOSUDA Indoor Cycling Bike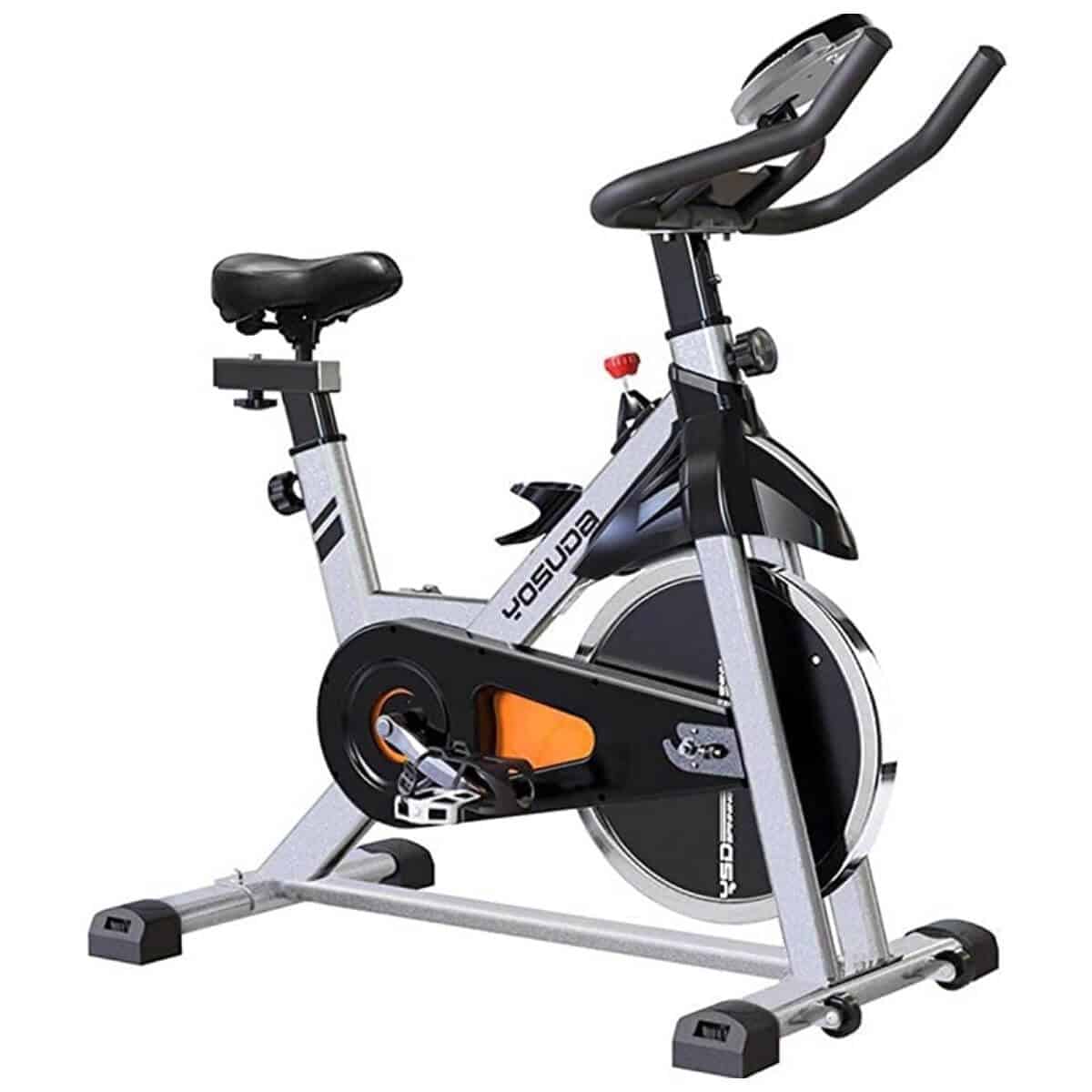 As the most affordable option on this list, the YOSUDA bike is the number one best-seller for exercise bikes on Amazon.
It's easy to assemble and has a sturdy frame. The design is sleek, and it offers a smooth ride.
The only downside is that it uses friction resistance, the maximum weight capacity is less, and the flywheel is lighter than Schwinn and Sunny Health.
Buy the YOSUDA bike for $340 from Amazon (opens in a new tab).
Full list of specifications

40″ L x 22″ W x 45″ H
35-pound flywheel.
The maximum user weight is 270 pounds.
2-way adjustable handlebar.
4-way adjustable seat.
Continuous infinite resistance adjustment allows you to simulate real road riding.
Uses wool for friction resistance.
Frequently asked questions
Is it worth buying a spin bike?
A spin bike is worth buying because it's one of the quietest pieces of exercise equipment and is easy to maintain. Your experience doesn't matter, you'll get a good workout in, and it's easier on your joints.
Do I need a mat under my spin bike?
You don't need a mat under your bike. However, it's good to have since it'll protect your home's floor.
How long should you spin for?
Spin classes are normally 45 minutes to an hour. However, you can spin for as long or as short as you'd like.
Conclusion
Regardless of your fitness level, an indoor cycling bike is an excellent way to exercise at home. Finding a high-quality spin bike that's less than $1,000 is possible, you just have to understand what features are important.
More resources:
Featured image courtesy of Sunny Health & Fitness.
About David Em
Founder
David Em is the founder of Next Level Gents, the ultimate destination for tips and advice about style, grooming, fitness, and success.