Men shave their legs for performance reasons, such as being an athlete or bodybuilder. If you're not in that category, don't shave your legs.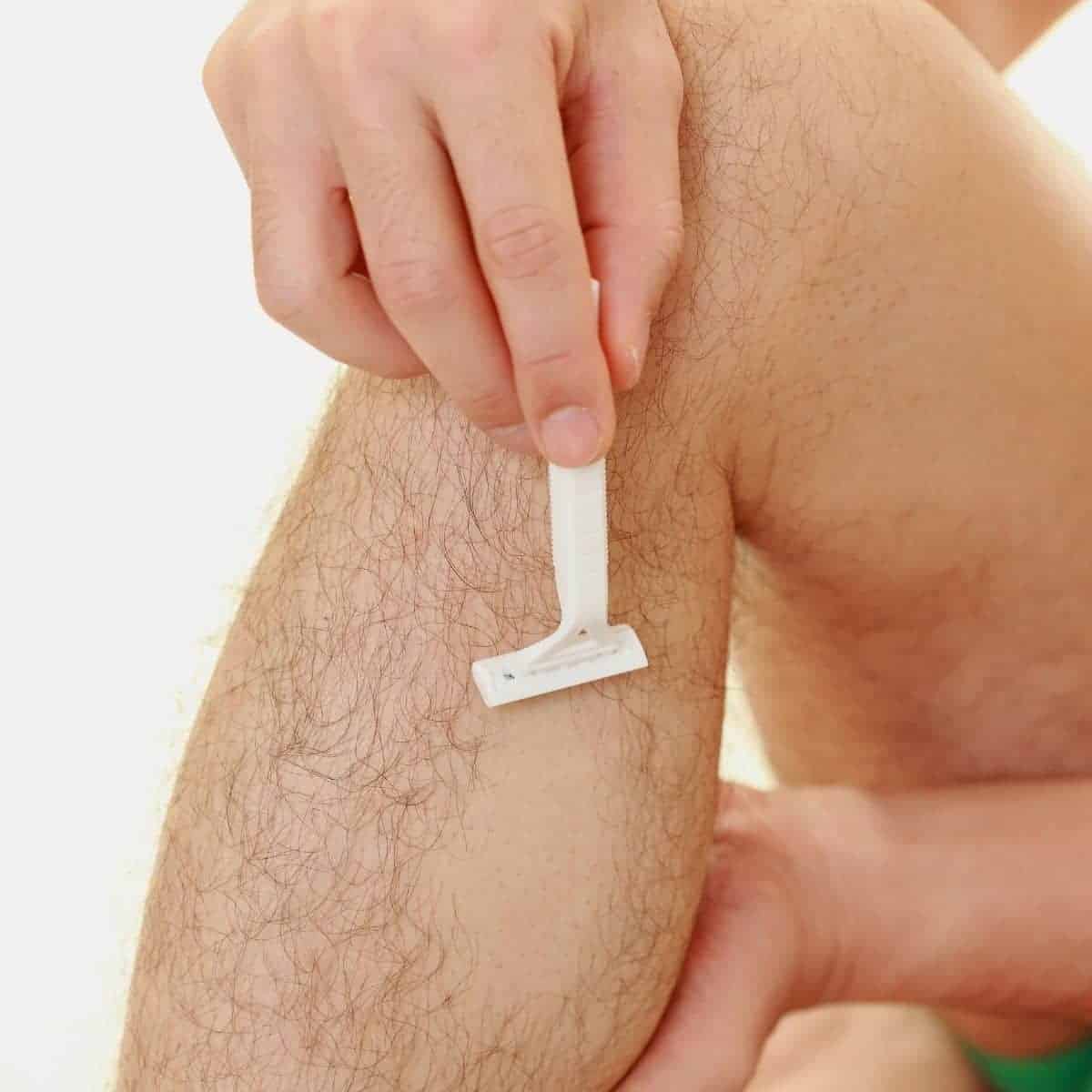 Are you unsure about what to do with your leg hair? If so, you're not alone. A lot of men run into the dilemma of whether or not to shave their leg hair.
Related: The best electric shavers for men
Nowadays, manscaping is more common and widely accepted. Men are becoming more conscious and putting more effort into how they look.
If you want to look polished and well-groomed, your leg hair plays a role when wearing shorts.
In short, the answer is that most men don't need to shave their legs. Instead, it's best to trim it.
However, there are exceptions. Learn who should shave their legs, why most men should trim them, and how to do it.
Related: How to properly wash your hair
Why men shave their legs
There are several reasons why men would shave their legs. The first and most common reason is that they're an athlete.
Typically, competitive swimmers and bodybuilders shave their legs. They do it for performance, comfort, and to show their muscles.
Another reason to shave your legs is if you're getting a leg tattoo. If you don't shave them, your tattoo artist will.
Related: The 40 best tattoo ideas for men
Lastly, if you want to have clean-shaved legs, do it. With shaved legs, you'll feel the breeze. It can help keep you cool and comfortable in hot temperatures.
Just make sure you keep them moisturized and use a good razor or electric shaver to prevent nicks and cuts.
Why you shouldn't shave your legs
If you're not a competitive athlete, getting a tattoo, or are on the fence about shaving your legs, there are several reasons not to.
First, it can be challenging to maintain. Shaving your legs takes time and patience. If you want to shave your legs clean, you'll need to create a maintenance routine.
As the hair on your legs grows back, it'll be time to shave again. If you aren't willing to take the time to maintain clean-shaved legs, don't shave them.
Second, as your leg hairs grow back, it can itch. It's similar to the feeling of an itchy beard.
Moisturizing your legs is crucial to prevent itchiness. However, it may not stop your legs from itching. Instead of risking it, you can choose not to shave your legs.
Lastly, you may not look good with shaved legs. It can affect your attractiveness and draw unwanted attention.
Since the majority of men don't have shaved legs, if you do, you'll stand out. Think about whether or not you want all of that attention before shaving your legs.
Trim, don't shave
If your leg hairs are unruly and you don't want to shave them clean, the answer is trimming. For the majority of men, trimmed leg hairs are a good look.
It's the perfect middle ground, as your legs will look clean and well-groomed without attracting all of the attention.
Trimming is an excellent way to tame long and bushy leg hairs. It's also easier to maintain.
With regular trimming, you'll feel comfortable, your leg hairs won't get tangled, and you'll look good in shorts.
How to trim your leg hair
If you've decided that trimming is the way to go, take the following steps to properly trim your leg hairs.
Find a private space to trim your legs. Make sure you can easily clean up afterward.
Put a 1/4 inch or 3/8 inch guard on an electric trimmer.
Brush your leg hairs down towards your feet.
Trim your leg hairs in the same direction towards your feet. Trim the upper and lower part of your legs separately. It allows you to focus on sections.
Determine whether or not you want to go shorter.
Clean the trimmer with a brush.
Clean up the hairs off of the ground.
Maintain it by trimming once per month.
Conclusion
If you're like most men, there's no need to shave your legs. Instead, tame unruly and long leg hairs by trimming them.
Use a 1/4 inch or 3/8 inch guard to ensure you look well-groomed. You'll also feel all-day comfort.
Featured image courtesy of Canva.
About David Em
Founder
David Em is the founder of Next Level Gents, the ultimate destination for tips and advice about style, grooming, fitness, and success.