For a healthy scalp and hair, learn everything you need to know about properly washing, cleaning, and drying your hair or shaved head.
We receive a commission when you buy through affiliate links on this page.
Washing your hair is something you've done your entire life. It's something you don't think about anymore, like washing your hands or face. While it's something that seems so simple, it's not.
Related: Best fade haircuts and hairstyles for men
It's more than applying shampoo, conditioner, and getting out of the shower in two minutes. Instead, there's a proper way to wash your hair that ensures hair and scalp health.
Before diving in the right way to wash your hair, one of the most important tips is to use the right water temperature.
Related: 8 best short haircuts for men
Avoid hot water at all costs because it can damage your scalp and hair.
Lukewarm water is the best for keeping your hair healthy. Hot water may be more comfortable and relaxing, but lukewarm water protects your hair.
Related: The best deodorants for men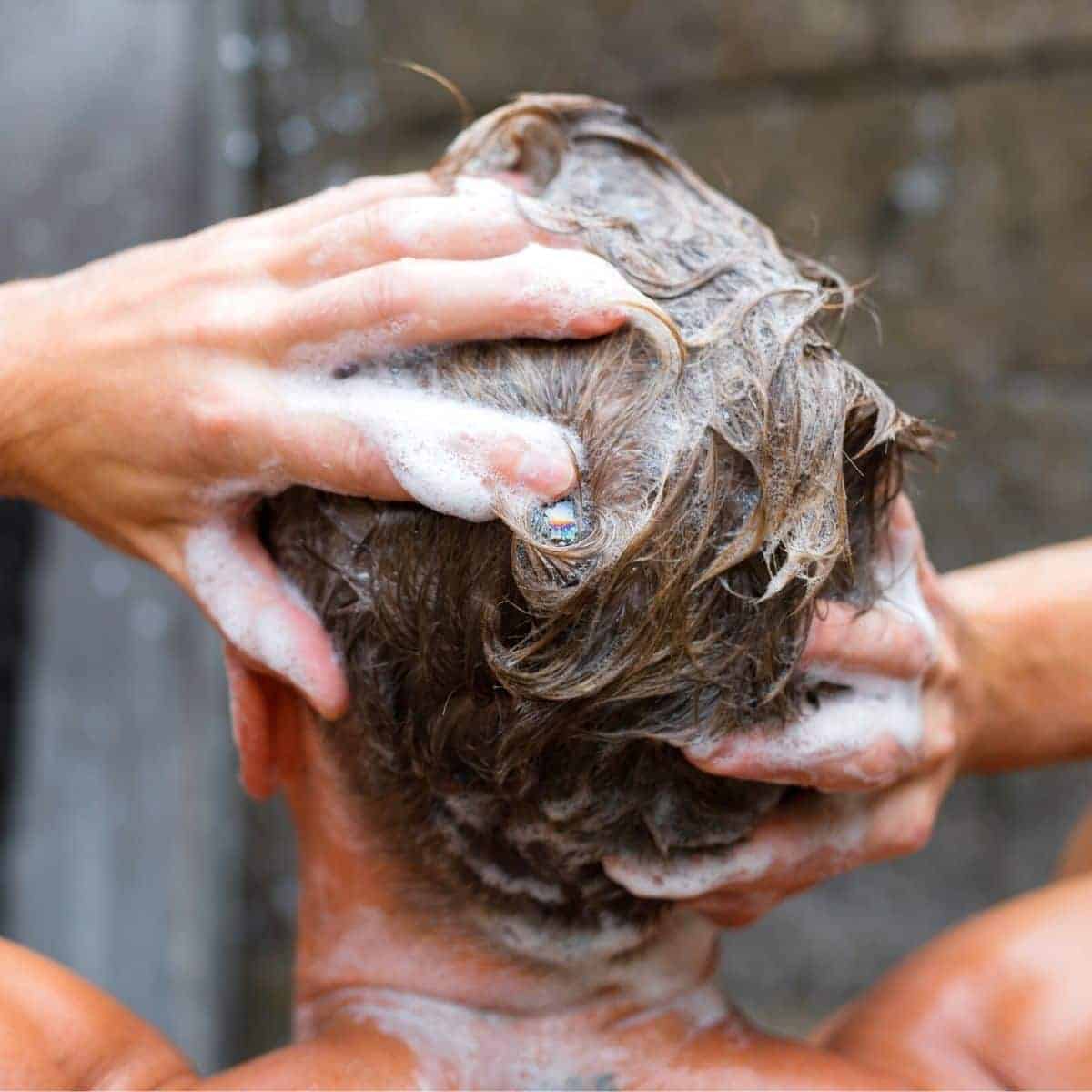 Shampoo
Shampoo is an important product when it comes to cleaning your hair. It removes dirt and oil from your hair and scalp.
While shampoo does an excellent job at cleaning, you don't need to use it every day. Instead, wash your hair with shampoo every other day or three times per week.
That doesn't mean you can't take a shower every day. You can still do that and get your hair wet. However, you don't want to use shampoo every day because it can dry out your hair.
Related: How to use hair clay
It's also best to not get your hair wet every day unless you're sweaty from working out or using hair products. If that's the case, then rinse your hair thoroughly with lukewarm water.
If you don't need to get your hair wet, keep it dry by wearing a shower cap.
Aside from the frequency of using shampoo, make sure you're using the right type. There are two main factors, your scalp and hair type.
If you have an oily scalp, avoid shampoos that are focused on extra hydration and moisture. Instead, look for a clarifying shampoo or one that focuses on balance or strengthening.
If you have a dry scalp, you'll want to use a shampoo that promotes hydration and provides moisture.
After you've determined the best type of shampoo for your scalp type, you can narrow down the choices by understanding your hair type.
Most shampoos will indicate the hair type that it's made for. It'll say for thin, thick, straight, wavy, curly, or colored hair.
Typically, fine or thin hair requires a clarifying shampoo or one that volumizes, while thick hair requires one that promotes hydration.
Regardless of your hair type, use a shampoo that's free of sulfates and silicones. Over time, they can dry out and damage your hair.
Typically, sulfates and silicones are used to provide a nice lather. While it gives you a feeling of being clean, it doesn't mean anything. Suds don't equal a good clean.
To properly use shampoo, thoroughly wet your hair. Then, pour a quarter-sized amount into your palm. You can use less if you have short hair and more if you have long hair.
The next step is to spread the shampoo in your hands by rubbing your palms together. The most important step is applying the shampoo.
Make sure you use the tips of your fingers, not your nails, to gently scrub and massage the shampoo into your scalp. This is really important. Focus on massaging your scalp instead of rubbing the shampoo into your hair.
Naturally, it'll cleanse your hair, especially when you're washing it out. Being gentle is another important tip because it'll minimize breakage and hair loss.
Once you cover your entire scalp, spend a minute or two rinsing the shampoo out of your hair. Be thorough because leaving shampoo in your hair leads to scalp buildup and can dry out your hair.
Conditioner
Conditioner is another essential hair care product because it protects your hair shafts from damage.
While shampoo cleans your hair, it also leads to dryness. That's why conditioner is important. It'll moisturize, hydrate, and soften your hair.
The American Academy of Dermatology Association recommends that any time you use shampoo, be sure to follow it with conditioner. You can even use a conditioner every day.
When you're applying conditioner, be gentle. Instead of massaging the conditioner into your scalp, focus on covering the ends of your hair.
You can even use a comb to help evenly spread the conditioner. Once you've applied conditioner to your hair, let it sit for two minutes.
Some conditioners require more time, so check the label for product-specific instructions. After letting the conditioner sit, rinse your hair and finish up your shower.
Drying your hair
Once you get out of the shower, use a towel and gently pat your hair until it's almost dry.
As a side note, if you have long hair, wring it out before you get out of the shower. Otherwise, your hair will take longer to dry and you'll be dripping water everywhere.
Then, blow dry it on the lowest heat setting 6 inches away from your hair, and keep it moving to prevent hair damage. If you don't have a hairdryer, use the towel to pat your hair until it's dry.
However, it's best to get a hairdryer because it allows you to thoroughly and safely dry your hair.
With a hairdryer, never use high heat because it can damage your hair. Instead, use the lowest heat setting possible.
It's also important to keep the hair dryer about 6 inches away from your hair and move it back and forth so it's not focused on one spot the entire time.
The following is the recommended hair dryer:
T3 Cura LUXE
5 heat settings.
Lightweight and easy to use with automatic pause sensor.
Digital IonAir technology to leave your hair smooth.
Dries your hair very fast.
Buy the Cura LUXE from T3 for $295.
Shaved head
Now, what if you have a shaved head? Even without hair, oil and dirt build-up on your scalp. Caring for a shaved head is easy.
Use a dime-sized amount of shampoo two to three times per week. Every day, use a moisturizing conditioner made for shaved heads.
After you shower, gently pat your head dry with a towel. It's also important to moisturize your head and apply sunscreen if you're going outside.
Conclusion
Learning how to properly wash your hair is essential. It'll lead to healthier and better-looking hair. You'll also minimize hair loss.
Moving forward, use shampoo every other day or every few days. Use conditioner every day and be gentle when you're drying your hair.
Featured image courtesy of Canva.
About David Em
Founder
David Em is the founder of Next Level Gents, the ultimate destination for tips and advice about style, grooming, fitness, and success.