Hair clay is one of the most versatile and best hair styling products. Learn everything you need to know about using hair clay.
What's hair clay?
When it comes to hair styling products, clay is one of the most popular and effective options.
Related: 12 best body washes for men
Hair clay is excellent because it offers a matte, natural-looking finish and a medium hold.
You can also find clays with light and strong holds, but a medium hold is a classic characteristic of hair clay.
Related: 12 best wallets for men
The best part about hair clay is that it works for almost every hairstyle.
It's also good for everyday use because the matte finish and medium hold work well with loose or messy hairstyles that require a hold or volume.
While it gives your hairstyle a good hold, it's also pliable. You can touch it and restyle it without worrying about losing the hold.
Related: Should men do their eyebrows?
Additionally, you won't have to worry about your hair crunching or flaking.
If you want a formal hairstyle with a high shine, use a wax or pomade. Otherwise, clay is your best option.
Whether you have short, medium, or long hair, hair clay will work for you.
Hair clays are often made with kaolin or bentonite.
Many of them also have other nourishing oils and ingredients that help with the hold, scent, and benefit your hair and scalp.
Related: 15 best men's swim trunks
As a side benefit, clay is the best choice if you have oily hair because it neutralizes the oil. It's also great if you have thin hair because it'll give your hair a fuller appearance.
Hair clay offers such a great hold that you would think it's difficult to wash out.
Related: 7 best hair conditioners for men
However, washing it out is surprisingly easy. Most come right out with water, while others may require shampoo.
Despite some needing shampoo, you only need to clean it once.
You won't have to go through cycles to get it out. Clays wash out very easily.
Related: 15 best men's bomber jackets
When you're shopping for hair clay, you'll find that there are so many products available. Great hair clay is solid and offers a matte finish.
How to use it
Regardless of your hairstyle, the steps are the same. Take the following steps to style your hair with clay:
Start with clean hair and towel-dried hair that's free of product residue and slightly damp.
Use a hairdryer to create the shape of your hairstyle if you have long hair. With short hairstyles, you can skip the hairdryer.
With clean hands, scoop a dime or pea-sized amount with your finger.
Warm up the clay in your hands by rubbing your hands together.
Start in the back and spread the clay evenly throughout your hair, including the underside.
Style your hair. Use a comb or brush to create the shape and volume that you want. If you don't want a perfect look, just use your hands.
Check all sides to make sure it's what you wanted. You can use a little more clay or hairspray for flyaways.
For the amount, less is more. If you have shorter hair, you can use less and with longer hair, you'll need more.
Related: What's retinol, and do I need it?
However, a pea-sized amount is a great place to start because you can always add more.
Also, warming up the clay is one of the most important steps.
It prevents lumps and clumps in your hair when you're applying it. It also makes it easier to work through your hair.
Related: Oxford shoes: Everything you need to know
Thanks to clay, you'll have a perfect and effortless hairstyle.
Throughout the day you can restyle it, as clay gives you a firm hold, but it's still pliable.
When you restyle your hair, make sure you have access to hand sanitizer or a sink because you'll feel residue on your hands, due to the nature of the clay.
Related: 8 best chore coats for men
It'll leave your hands a bit sticky so wash them after you restyle your hair.
If you haven't used clay before, you'll notice it's stiff right after you finish styling your hair with it.
Give it some time to sit. After about 15 minutes, you'll notice that it feels more relaxed.
Related: 10 best Tom Ford colognes
Recommended hair clays
To save you time from trial and error, the following are the absolute best hair clays.
Layrite Cement Clay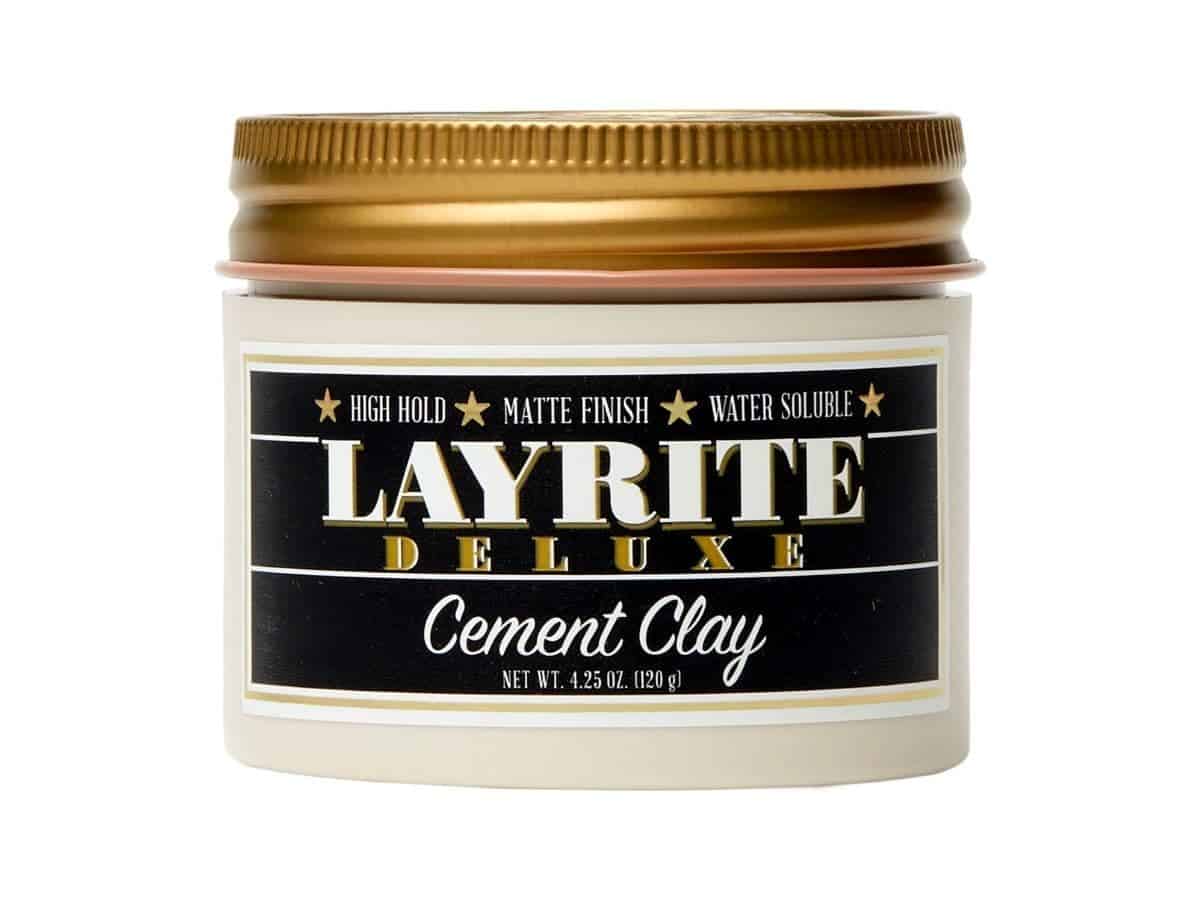 Layrite Cement Clay is incredible because it meets all the criteria of a perfect hair clay. Plus, it's made in the USA.
It has a high hold, so your hair will stay in place all day. It also offers a matte finish, perfect for messy or dry structured hairstyles.
Washing out the clay is easy, as Cement Clay is water-soluble. You can clean your hair with just water.
The Cement Clay also has Layrite's signature mild cream soda scent. Overall, Layrite's clay is the first one you should consider.
Hanz de Fuko Claymation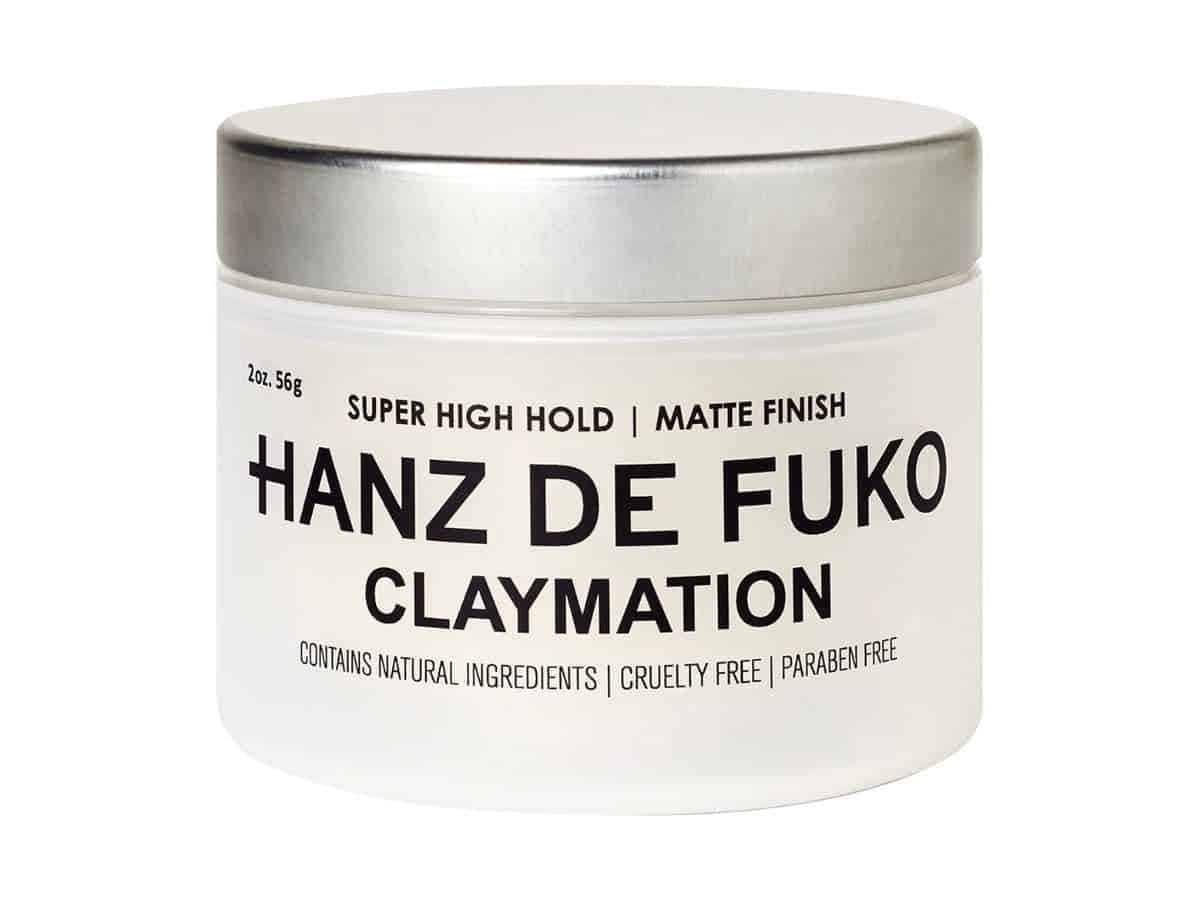 Claymation is Hanz de Fuko's most popular hair styling product. Claymation is a clay-wax hybrid. So, it'll have a semi-matte finish.
While it claims a super high hold, it's more of a regular high hold. It's still an incredible product.
Hanz de Fuko's Claymation has a nice scent, as it's earthy with a hint of citrus.
The key ingredients are beeswax, bentonite, and kaolin, three classic ingredients for hair clay.
It also has jojoba oil, castor seed oil, and sunflower seed oil for nourishment.
Kevin.Murphy ROUGH.RIDER Strong Hold. Matte Clay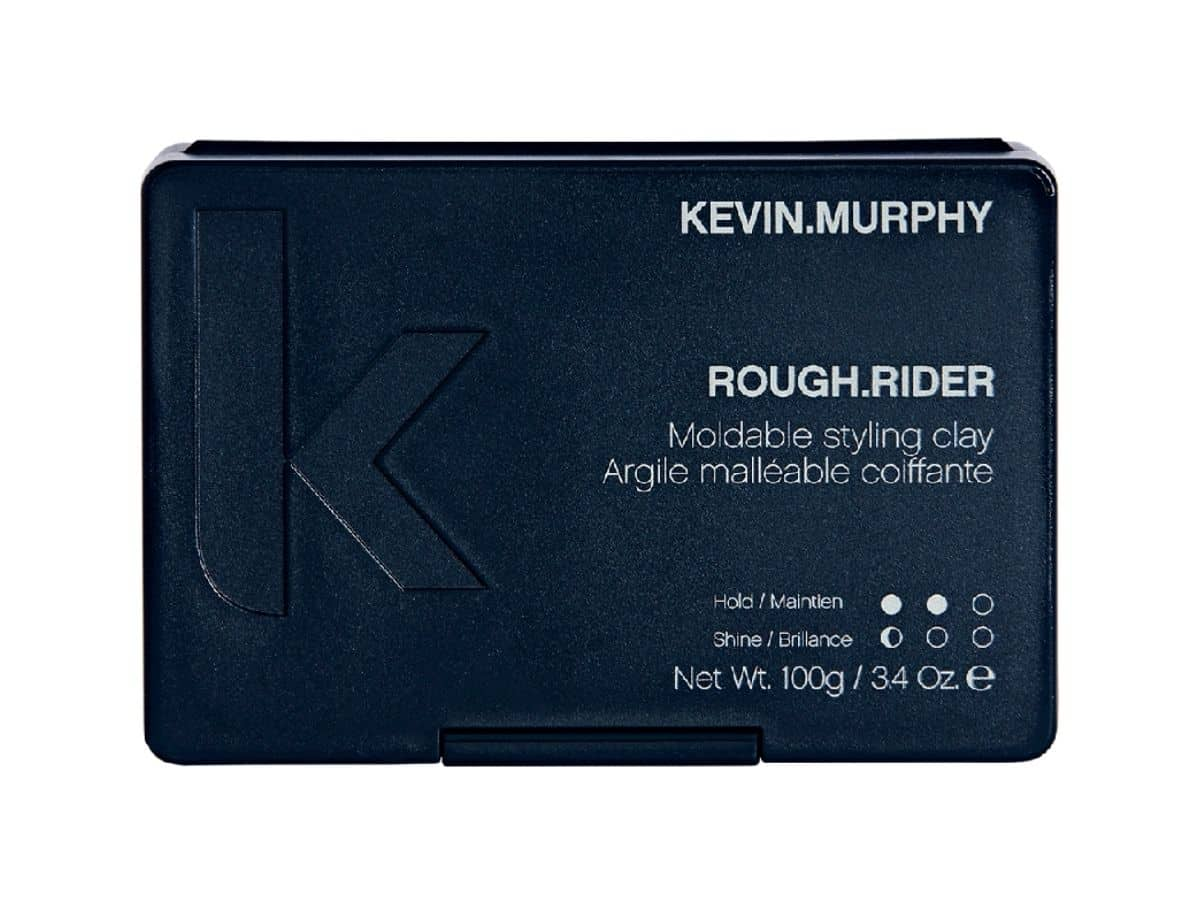 ROUGH.RIDER by Kevin.Murphy is a unique hair clay because it has an oily and gritty texture.
However, it's not greasy. It also spreads throughout your hair easily and is very moldable.
The hold is incredibly high for all types and lengths of hair. Plus, it has a light and elegant scent.
While ROUGH.RIDER is an excellent hair clay, it's hard to wash out. It's not the oil that's the problem, it's the grittiness that's left on your hair.
As long as you're fine with doing a deeper clean when you wash it out, ROUGH.RIDER is a must-try hair clay.
Lockhart's Authentic Matte Clay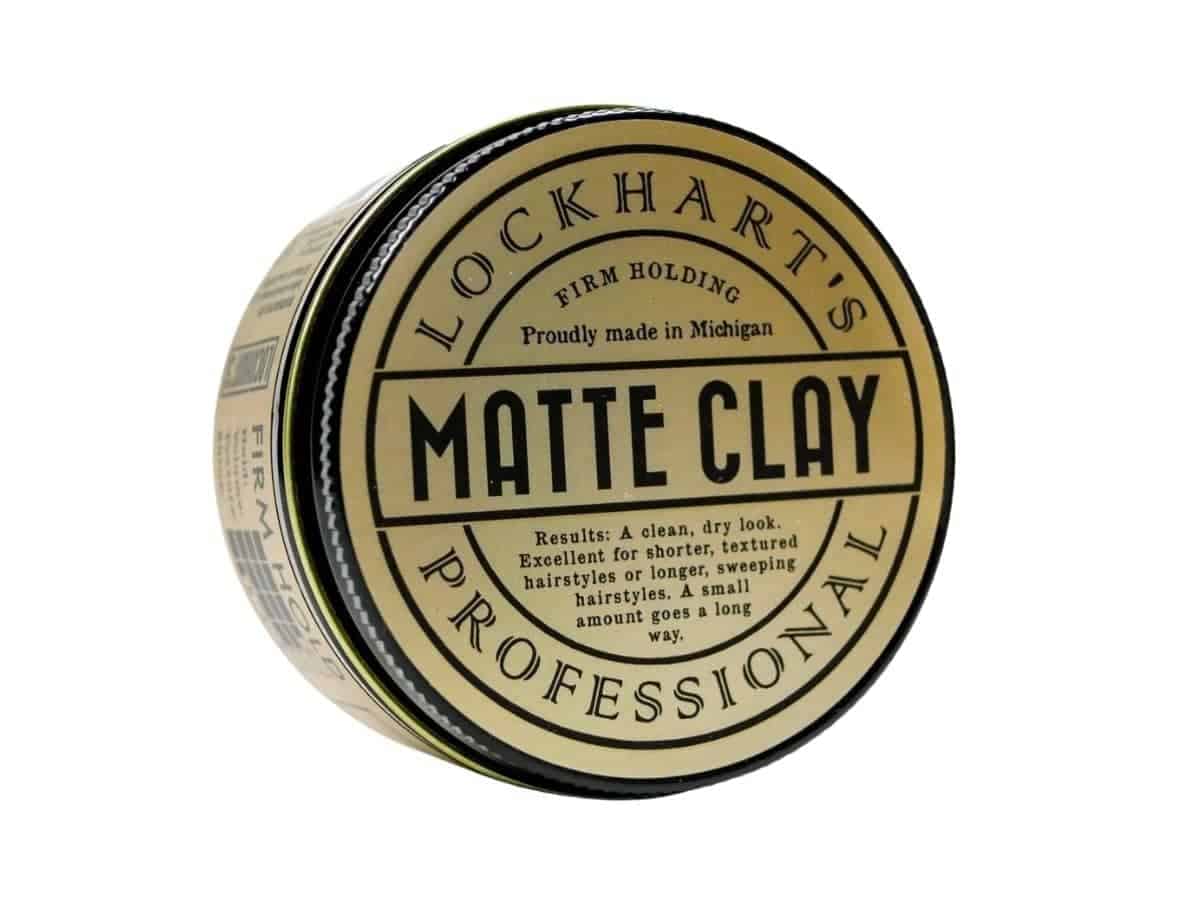 If you have a messier hairstyle or one that doesn't need to be perfectly shaped, Lockhart's Authentic Matte Clay is your ideal product.
The primary ingredient is beeswax. However, it offers easy application when styling your hair.
The best part is the natural and effortless look.
The clay has a subtle scent of lavender, earthy moss, and musk. It's also made in the USA.
Smooth Viking Hair Styling Clay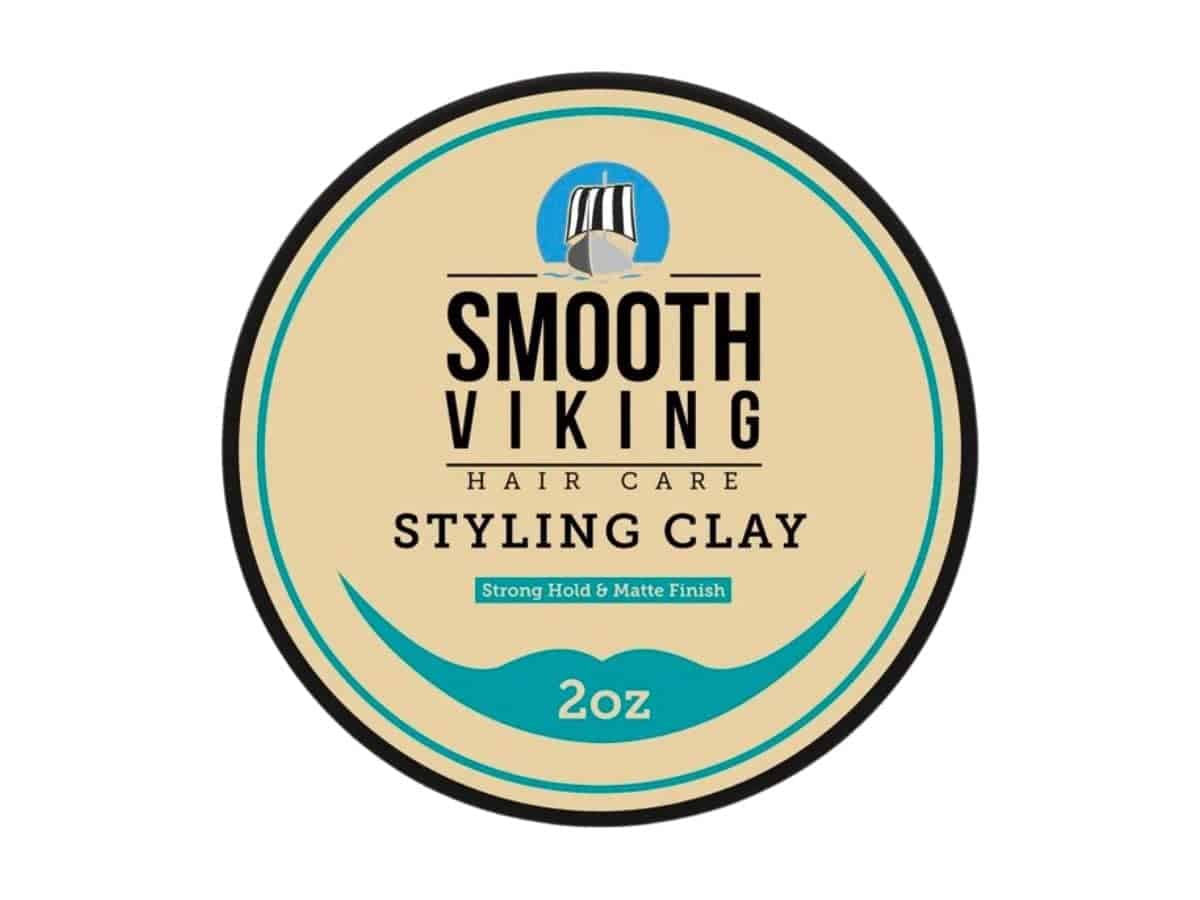 The Styling Clay from Smooth Viking is one of the cheapest.
However, it works well due to its powerful hold and matte finish. It's a reliable hair clay with natural ingredients.
The clay is free of oil, making it easy to wash out.
There are two drawbacks, size and smell. It has a unique and subtle smell that isn't the best.
Also, it comes in a 2-ounce container, which is smaller than its competitors.
If you want a low-cost and proven hair clay, Smooth Viking is the one.
Related: 10 best mustache waxes
Conclusion
Hair clay is one of the best hair styling products for everyday use. It gives your hair a matte finish while offering a medium hold that'll stay all day long.
It also works with almost every hairstyle that doesn't require a shiny finish.
Now that you know how to use hair clay and why it's such a great product, pick some up today.
Featured image courtesy of Canva.
About David Em
Founder
David Em is the founder of Next Level Gents, the ultimate destination for tips and advice about style, grooming, fitness, and success.