Pubic hair protects your genitals and reduces friction. If you want to shave pubic hair, learn the proper and safest way to do it.
Your pubes are there to protect your genitals. They protect you from dirt, debris, bacteria, and friction.
But, you can shave your pubes for various reasons.
Related article: How to properly wash your hair
Some people find it more attractive, while others do it to feel clean.
You may also remove it due to your partner's preferences or prepare for sexual activities.
Regardless of the reason, make sure you understand the proper way to shave or trim it.
The following is your complete guide to shaving pubic hair.
How to shave your pubes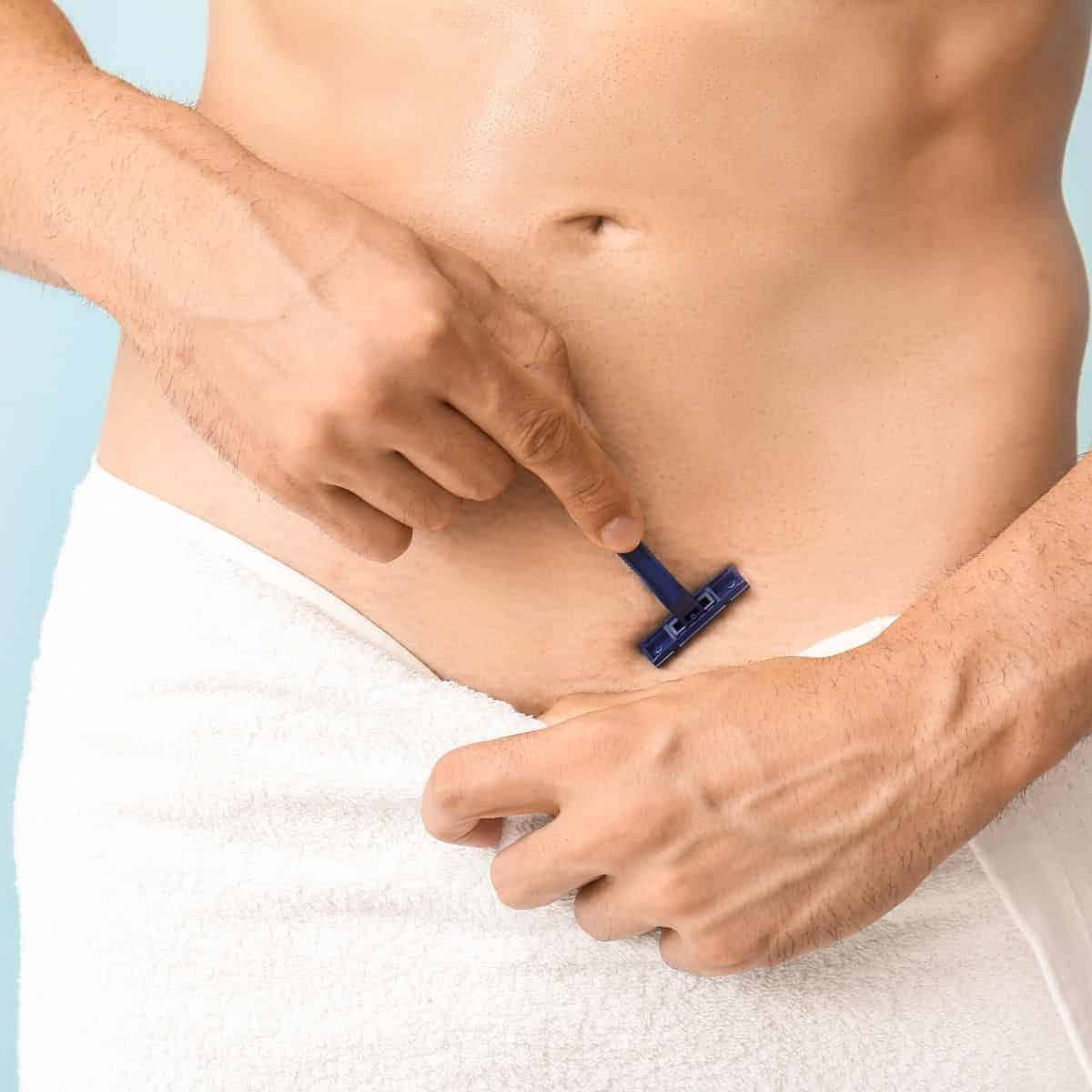 Before you take a razor to your pubic hair, understand the steps. To get the best results, take the following steps.
Step 1: Trim long pubes
The first step is to trim the excess hair.
When you trim the longer pubes, the shaving process will be easier. Also, it offers better visibility.
So, trim your pubes to the stubble before you shave them.
Step 2: Take a warm shower or bath
The next step is to soften your pubic hair and skin. So, take a warm shower or bath.
It allows you to get a closer shave. Also, it makes the razor glide smoothly.
Another reason to bathe or shower is that it rinses off the hair that you trimmed.
Step 3: Apply shaving cream
Shaving cream or gel is essential because it acts as a buffer between the razor and your skin.
It also softens your hair, which helps the shaving process.
After you apply it, let it absorb into your skin and pubic hair before you shave.
Step 4: Hold your skin taut and shave with light strokes
After you apply shaving cream, it's time to grab your razor.
Pull your skin taut with one hand and lightly shave with your other hand.
Guide the razor in the direction that your hair grows. It'll reduce irritation.
It's essential to hold your skin taught. If you don't, it can lead to cuts.
Also, rinse the razor with every pass to prevent clogging.
If necessary, apply more shaving cream.
Step 5: Rinse your genital area
Once you finish shaving, rinse off your genital area. Use cool water to clean up and close the pores.
After you rinse, check for areas that you missed.
If you need to shave again, apply shaving cream. If not, you're ready for the next step.
Step 6: Dry and moisturize
After you rinse, use a towel to pat your genital area dry. Then, moisturize the area you shaved.
It's essential to use a gentle moisturizer to reduce the risk of irritation and dryness.
The moisturizer will soothe your skin and prevent ingrown hairs.
Different methods to remove pubic hair
There are several ways to shave or trim your pubic hair.
The first method is to use a razor. It's an inexpensive and straightforward route.
But, it makes you vulnerable to cuts, ingrown hairs, and razor burn.
If you use a razor, make sure you have steady hands, use shaving foam or gel, and a soothing lotion after.
Waxing is the second option to consider.
You may be hesitant about using hot wax on your pubic hair, but it provides consistent pubic hair removal.
Wax removes hair from the roots, which provides longer-lasting results.
If you wax your pubic hair, expect to do it every four to six weeks.
The third option is to use a depilatory cream. It's a hair removal liquid that dissolves your pubes.
A drawback is that your genital area is delicate. The cream may cause irritation or itchiness.
Trimming with an electric razor is the fourth method. An electric razor provides a fast and safe way to trim your pubic hair.
The main drawback is that it won't be as smooth as a razor.
Also, the results won't be as consistent or last as long.
The fifth option is to trim with scissors. It's a straightforward option, but you need to be careful with the sharp ends.
If you want the most control over the hairs you remove, use the sixth option, tweezers.
While plucking each hair takes a lot of time, it can also be painful.
If you decide to pluck your pubes, reduce the pain by washing the area with warm water and holding the skin tight.
Pubic hair shapes and styles
While shaving or trimming pubic hair, you can form different shapes and styles.
Whether you go bare or leave a bush, it's up to you.
The following are the different pubic hair shapes and styles:
Bare
Neat triangle
Trimmed
Letters
Arrows
Landing strips
There are also stencils that you can use to shape your pubic hair.
When shaving your pubes into shapes, be careful and take your time.
Make it a fun activity to express your creativity, but focus on preventing cuts.
Frequently asked questions about shaving pubic hair
The following are answers to common questions about trimming and shaving pubic hair.
What do I do if I cut myself while shaving pubic hair?
If you get a cut while shaving your pubic area, take the following steps:
Rinse your pubic area with warm water.
Apply a cool compress until it stops bleeding.
Apply a healing ointment.
Should I shave my pubic hair before having sex?
No, don't shave pubic hair before you have sexual intercourse. Instead, wait at least one day after you shave.
Small cuts make you susceptible to infection.
Also, your skin is sensitive after shaving. So, it can lead to irritation.
Why should you shave pubic hair?
There are many reasons to shave your pubic hair. But, it's a personal preference, as you don't need to.
By shaving your pubic hair, you can achieve a cleaner appearance, fresh feel, and better smell.
It also makes your genitals look more prominent.
What happens if I don't shave my pubic hair?
It's safe, natural, and hygienic to keep your pubic hair. Also, it won't grow longer forever.
The hair growth process thins out toward the ends. It'll likely break off over time.
According to the International Society for Sexual Medicine, it can be safer to leave your pubes alone.
Conclusion
Pubic hair removal is a personal choice. You can leave it alone, trim, or shave it.
When you shave or trim your pubes, practice safe and hygienic habits. Also, take your time to avoid cuts.
If you're afraid to shave your genitals bare, trim them. Trimming makes maintenance easier.
Featured image courtesy of Canva.
About David Em
Founder
David Em is the founder of Next Level Gents, the ultimate destination for tips and advice about style, grooming, fitness, and success.