A Dopp kit or toiletry bag is the best way to organize your personal care items when you travel. Take one on every trip you go on.
We receive a commission when you buy through affiliate links on this page.
The Dopp kit is also known as a toiletry bag. The name comes from Charles Doppelt, a leather craftsman in the early 20th century.
Doppelt called it a toilet bag. Now, it's more known as a Dopp kit, which comes from his name.
It's an essential item because it holds your grooming items and more.
You can fit a toothbrush, face wash, shampoo, and nail care items.
Also, it acts as a barrier, protecting the other items in your suitcase or bag from a spill.
If you use a plastic bag for your toiletries, now is the time to switch to a Dopp kit.
Whether you're traveling for a week or going on an overnight road trip, you'll find it beneficial.
The following are the best options available.
Some are stylish leather materials, while others are waxed canvas for water resistance.
Tooletries The Koby Bag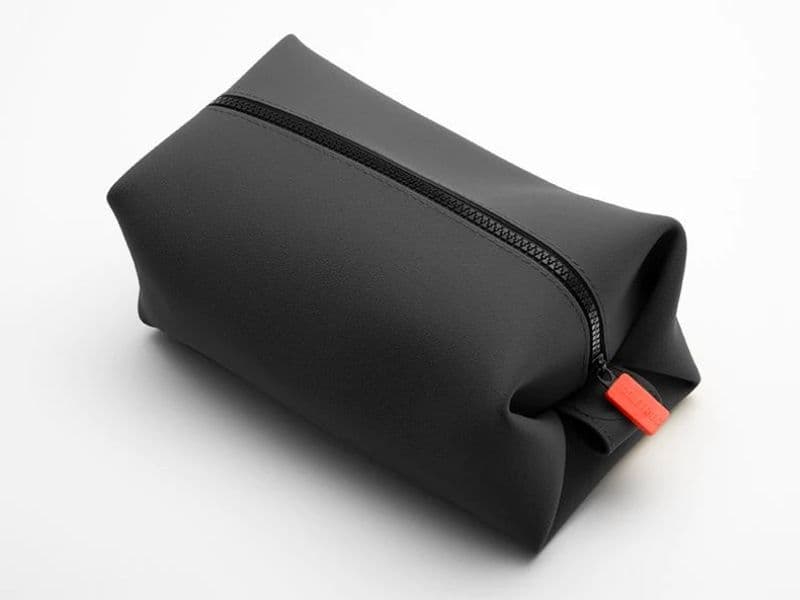 Dimensions (LxWxH): 10x6x6 inches
The Tooletries Dopp kit is a top choice because it's silicone, making it waterproof.
It features a minimal and stylish design. You can choose between charcoal or green.
The Koby Bag has a heavy-duty and leakproof zipper.
It keeps everything contained in your bag and protects outside items from spills.
The main drawback is the handle. Most Dopp kits have a handle that you can slip your whole hand into.
The Koby Bag only has enough space for your finger. But, it's not a dealbreaker.
The Tooletries Dopp kit is still functional, stylish, and practical.
Aer Travel Kit 2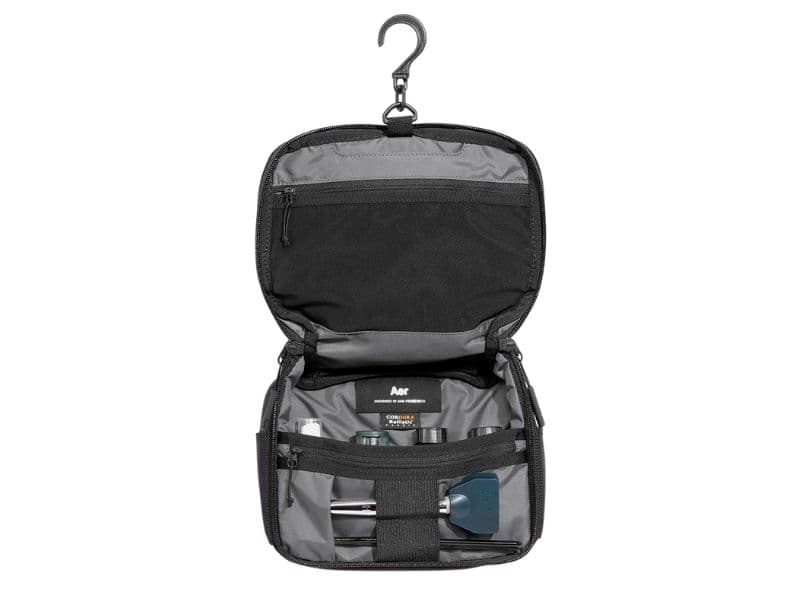 Dimensions (LxWxD): 9×6.5×3 inches
Aer's Travel Kit 2 is a hanging toiletry bag.
It's one of the most durable options, as the exterior is 1680D Cordura® ballistic nylon. Also, the exterior is water-resistant.
On the outside, there's a toothbrush pocket and another quick-access pocket.
Inside, there's a mesh pouch with a zipper and slots for your grooming items.
Aer treats the liner with an antimicrobial coating. It prevents odor and bacterial growth.
The Travel Kit 2 is spacious, durable, and compact when zipped.
State Bags Bensen Dopp Kit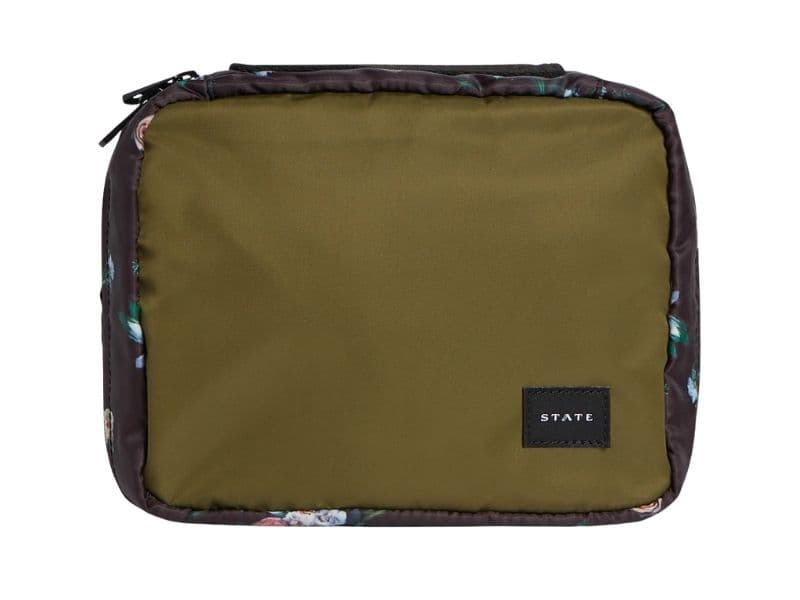 Dimensions (HxWxD): 6.89×8.9×3.0 inches
The Bensen Dopp Kit from State Bags is versatile, as it's excellent for short or long trips.
There are 14 color options, and you can add your initials for $20 to personalize your bag.
The colors and patterns that State Bags offers are unique, such as camo, airplanes, and dragons.
Of course, you can get black if you want a subtle and timeless Dopp kit.
You can fit a lot in the Bensen. It expands into three sections and hangs. So, you'll have streamlined access to your items.
Depending on the bag you choose, there are different materials.
State Bags offers nylon, polyester, and canvas. It's best to get a water-resistant one.
Eagle Creek Pack-It Wallaby Packing Organizer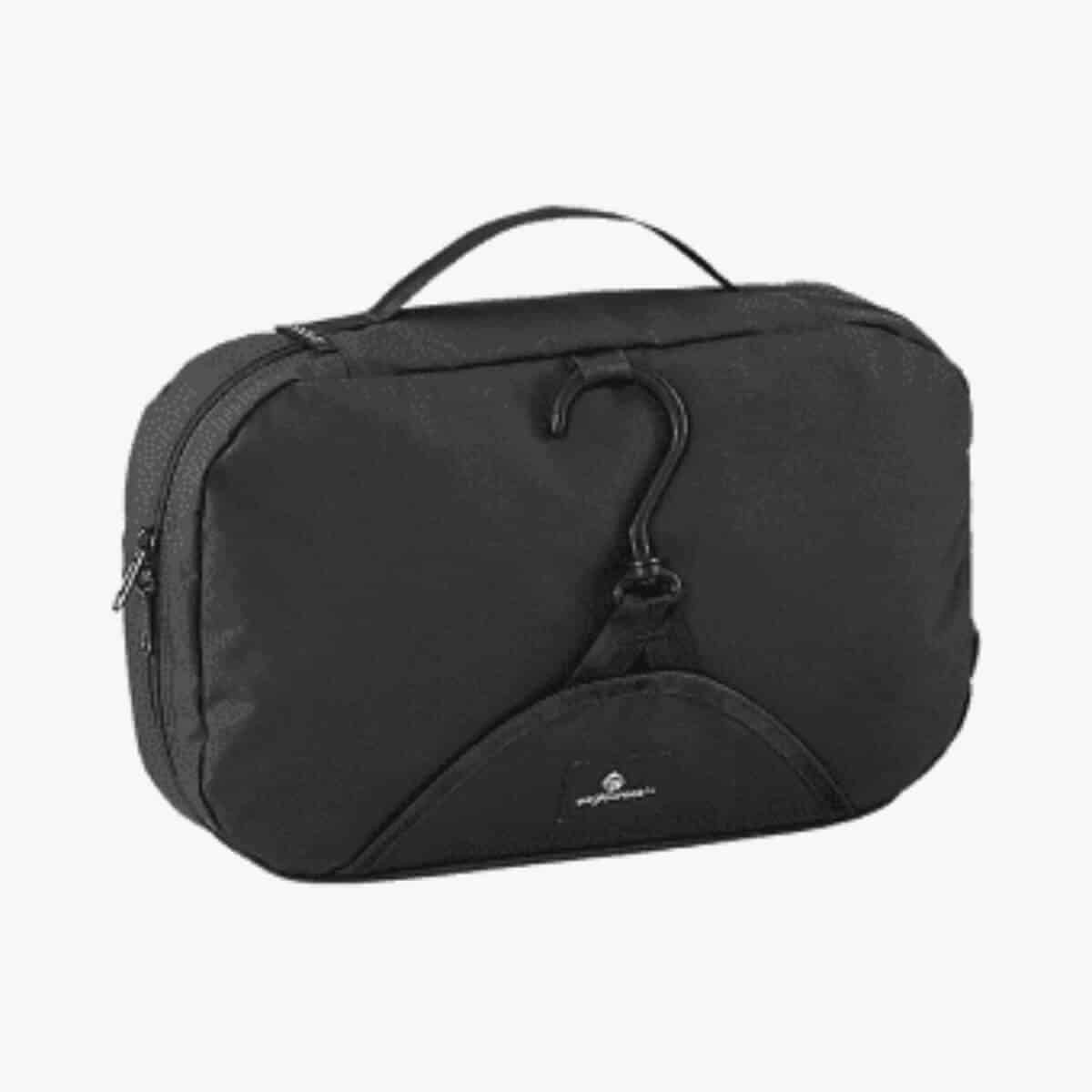 Dimensions (LxWxH): 9.75×7.75×3 inches
Eagle Creek's Pack-It Wallaby Dopp kit is excellent because it's 300D polyester.
It's resistant to water and stains. Also, you can put it in the washing machine.
As a hanging toiletry bag, it offers a ton of space.
There are three compartments, with one being a plastic pouch.
It protects your items from spills and is transparent, making them easy to find.
The Eagle Creek toiletry bag is on the larger end.
So, it's best to use it for longer trips or a larger suitcase.
Vetelli Hanging Toiletry Bag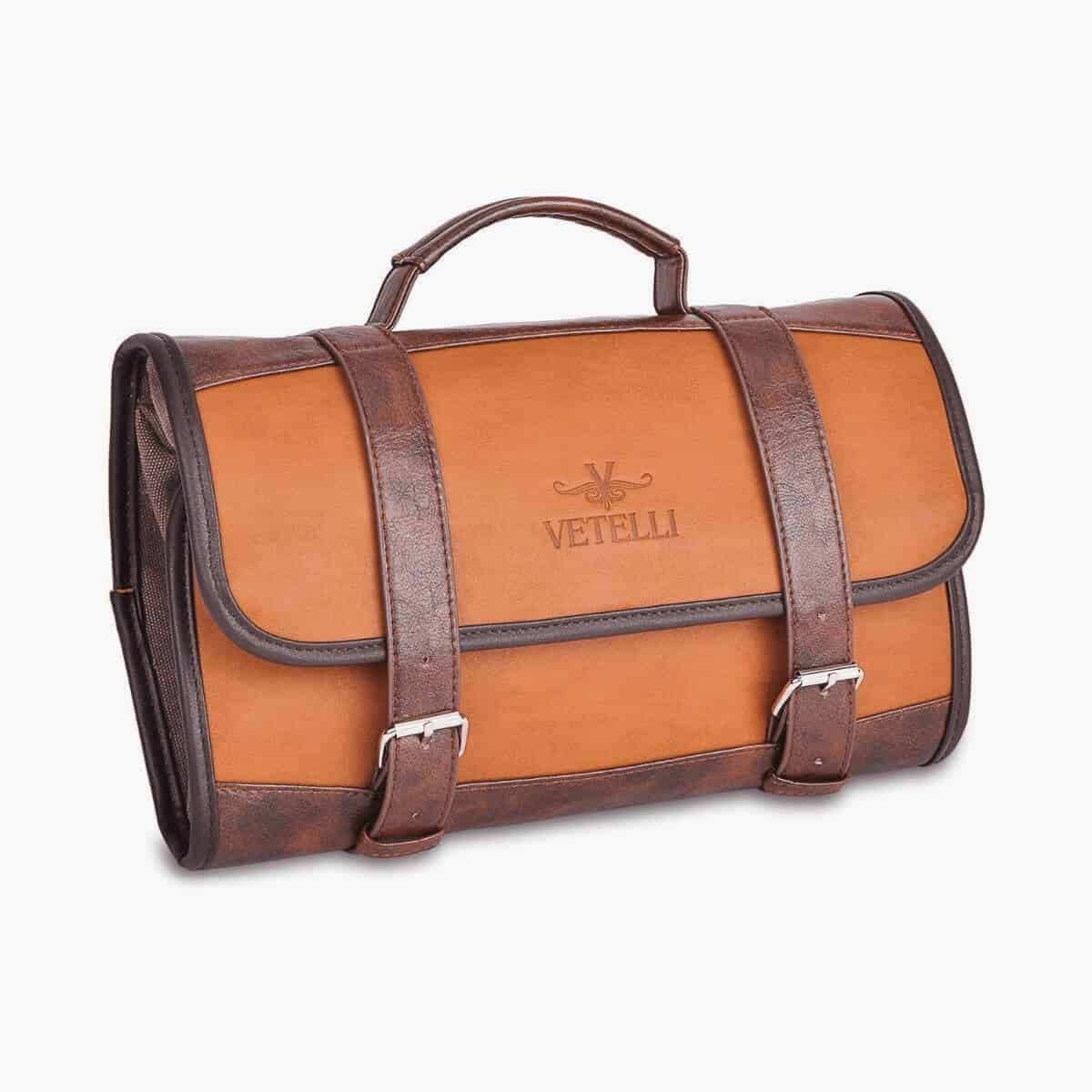 Dimensions (LxWxH): 12x8x2 inches
Vetelli's hanging toiletry bag is compact but extends out to 20.5 inches.
It has four interior pockets. Two of them have zippers, while the other two have a button closure.
Your items will be secure, so nothing will fall out.
The leather exterior and canvas pockets are high quality and durable.
As long as you're a fan of the light brown color, you can't go wrong with the Vetelli Dopp kit.
Shinola Leather ZipTravel Kit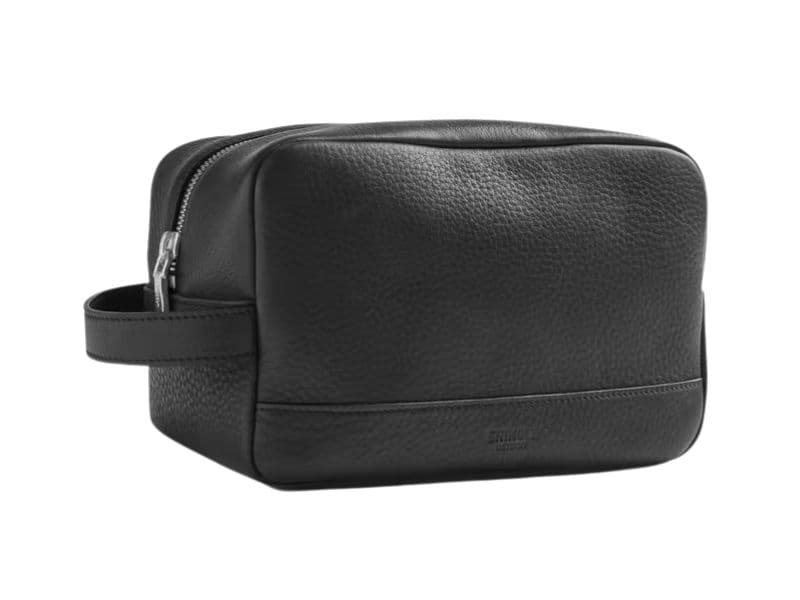 Dimensions (HxWxD): 5.5x9x5 inches
If you want an American-made toiletry bag, get the Shinola Leather Zip Travel Kit.
It features a quality leather exterior and a nylon interior. The lining is water-resistant and easy to clean.
Inside, you'll also find a compartment that fits one card.
So, you can keep your grooming essentials and a credit card that gets the most use.
The Shinola Dopp kit is spacious and luxurious.
Give the leather extra care and avoid direct sunlight to ensure it lasts.
Frye Logan Leather Travel Kit
Dimensions (LxWxH): 15x7x8 inches
Frye's Logan Travel Dopp is a tasteful option. The exterior is high-quality leather with a broken-in look.
The leather gets better with time. But, be careful not to scratch or damage it too much.
You can choose between dark brown, cognac, and slate. All the colors look stylish and elevate your travel experience.
Aside from the leather exterior, the interior is polyester.
It's not waterproof. So, be careful with liquid items.
If you want a leather toiletry bag that's on the larger end, get the Frye Logan Travel Dopp.
Victorinox Werks Traveler 6.0 Toiletry Kit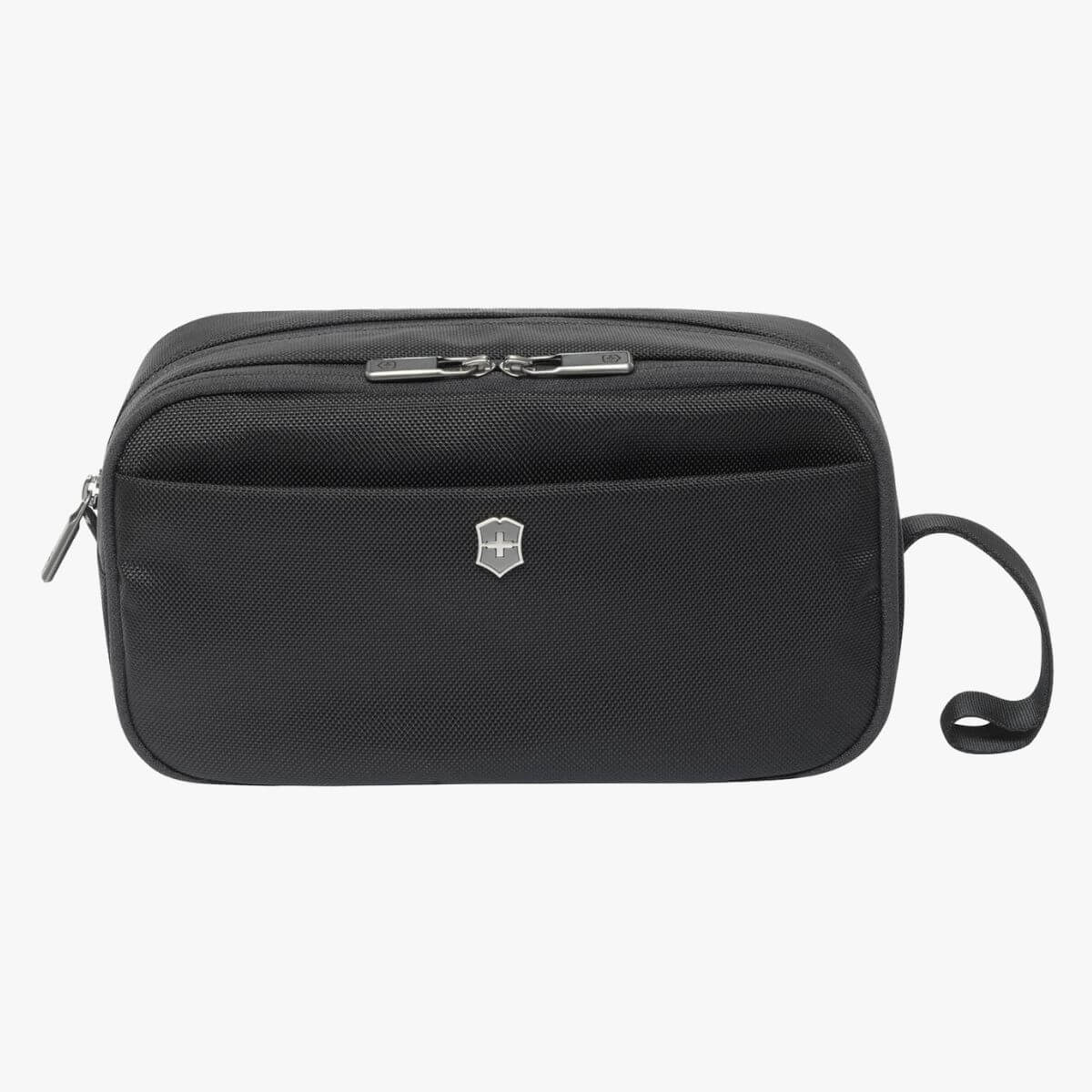 Dimensions (HxLxW): 4.3×11.8×6.3 inches
The Werks Traveler 6.0 Toiletry Kit from Victorinox is versatile and a classic.
It has a front pouch and two compartments with zippers and padding.
The toiletry bag is nylon, which protects your items from the elements.
There's also a tab for you to hang or hold the bag.
The Victorinox Dopp kit is compact, stylish, and durable.
Timberland Travel Kit Toiletry Bag Organizer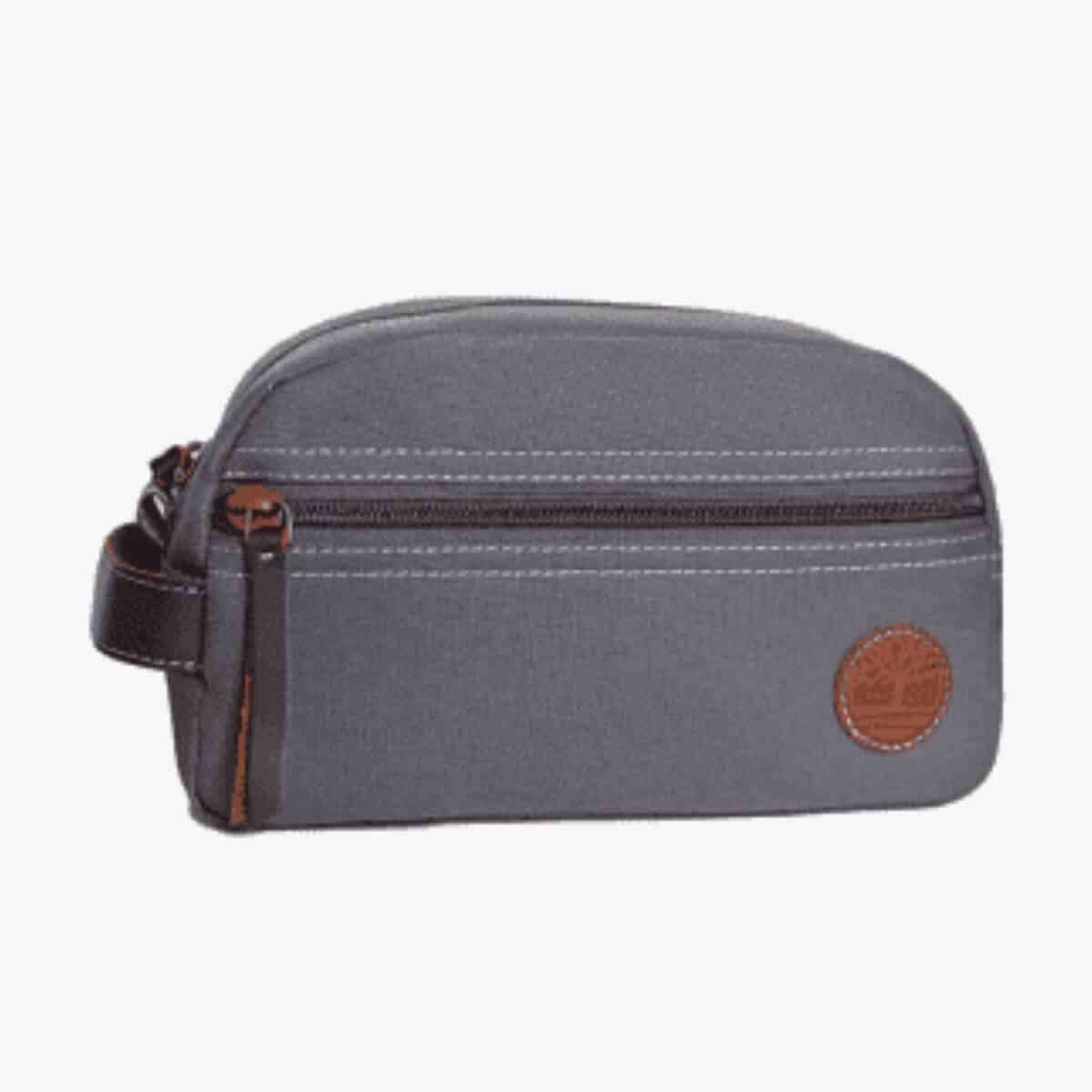 Dimensions (LxWxH): 8.6×5.9×4.8 inches
Timberland's toiletry bag is durable and fashionable.
It features a canvas exterior that resists water and scratches.
The canvas is paired with leather tassels and accents, creating a stylish combination.
But, there's a drawback, the fabric interior. So, make sure you don't spill anything inside.
It also includes a TSA-approved refillable plastic bottle. The bottle is ideal for shampoo, conditioner, or body wash.
The Timberland toiletry bag is an excellent choice, and it costs less than $20.
WANT Les Essentiels Kenyatta Organic Cotton Dopp Kit
Dimensions (WxHxD): 9.8x6x4.7 inches
WANT Les Essentiels offers an excellent organic cotton Dopp kit.
It's named after Jomo Kenyatta International Airport in Nairobi. The brand says the toiletry bag is for longer voyages.
The bag has a removable nylon interior, making it easy to clean.
It also has magnetic side closures and an interior snap-closure pocket.
The Kenyatta Dopp kit features a luxurious black and gold design. It's timeless and durable.
Herschel Supply Co. Chapter Travel Kit (Standard, 5L)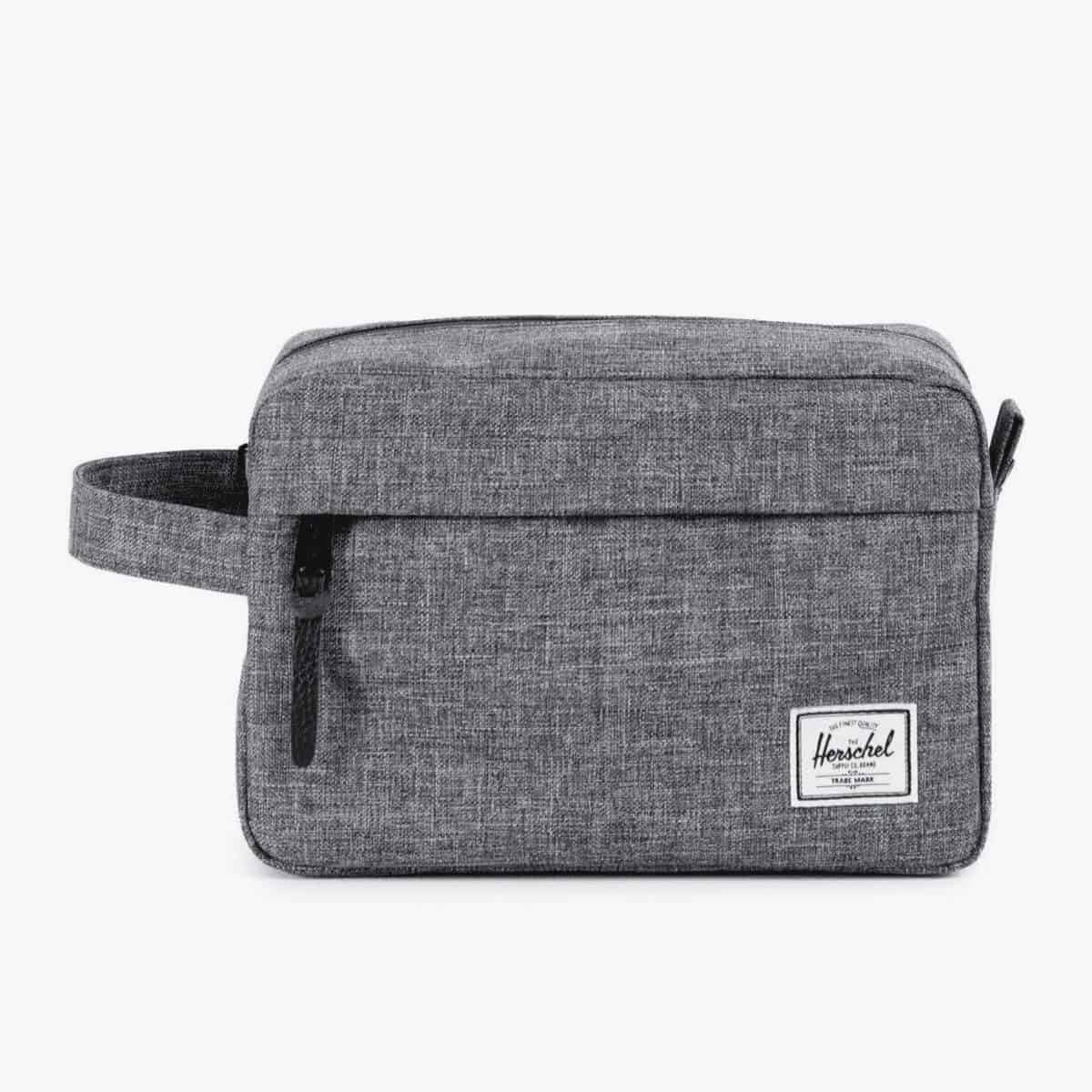 Dimensions (HxWxD): 6×9.5×4.5 inches
Herschel Supply Co. offers a spacious and stylish Dopp kit in 24 colors. With so many colors, finding the ideal design is a breeze.
The Chapter Travel Kit has a front pocket and main compartment with a waterproof zipper.
While it's a versatile and sturdy toiletry bag, the interior is fabric. So, if you spill anything, it'll leak through.
If you get the Chapter Travel Kit, make sure you store liquids in a container with a good seal.
Nomatic Toiletry Bag V2 (Small)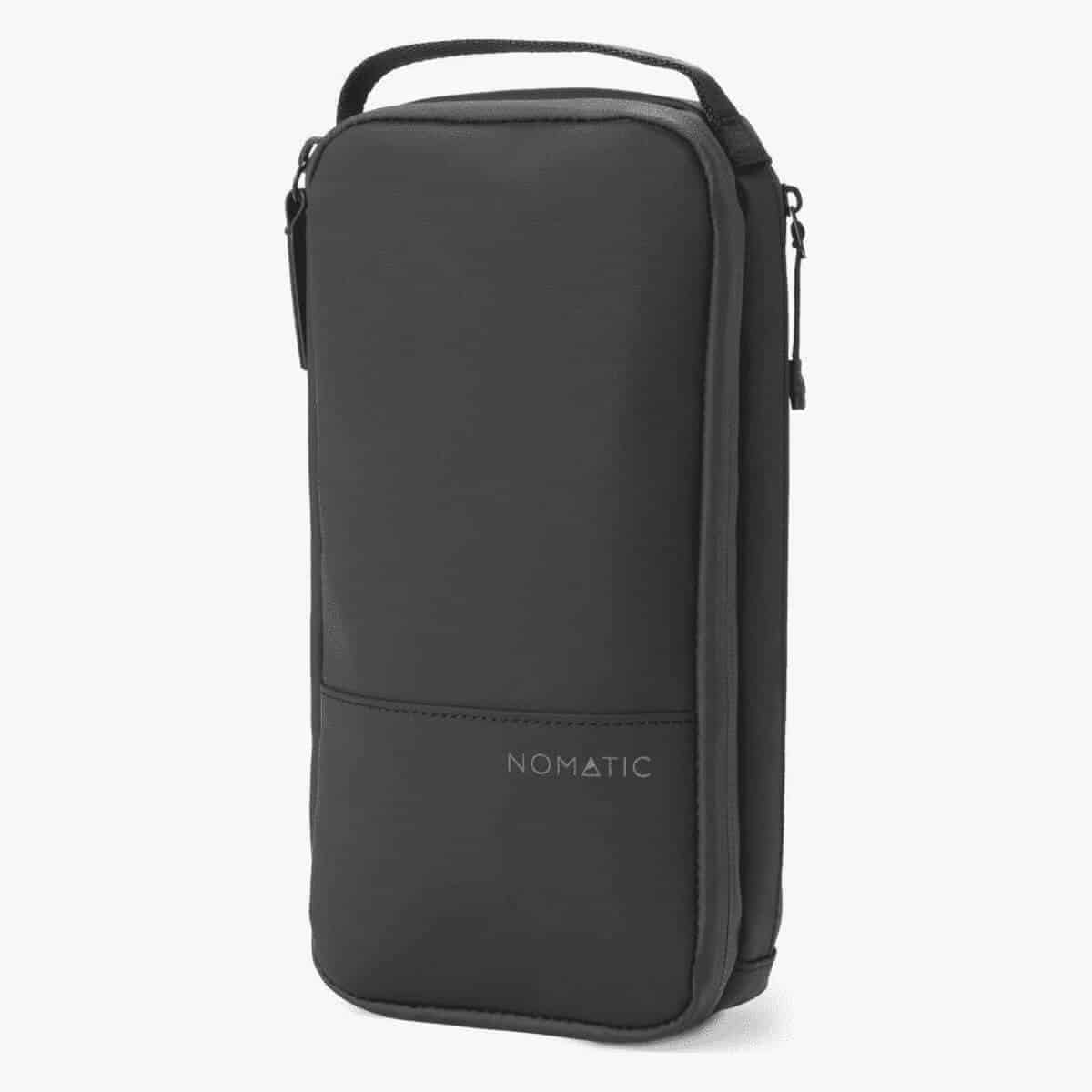 Dimensions (LxWxH): 10.5x5x1.7 inches
The small toiletry bag from Nomatic is sleek and functional.
While the Dopp kit does everything you'd expect, it has several extra features.
Nomatic offers a toothbrush pocket and hanging strap. So, you can hang it or leave it on the counter.
There are two transparent and one hidden compartment.
Put the items you want to find fast in the transparent ones.
Also, the bag is water-resistant and durable.
It's on the pricier end of toiletry bag prices, but it'll last you many years of use.
Conclusion
When it comes to organizing your personal care essentials, a Dopp kit is essential.
You can use it for travel or contain your products at home.
No single toiletry bag is perfect for everyone. Instead, it depends on the number and types of products you use.
A good Dopp kit offers plenty of space and water resistance. It should also be easy to clean.
Toiletry bags are incredibly useful. So, pick one up today.
Featured photo by David Em/Next Level Gents.
About David Em
Founder
David Em is the founder of Next Level Gents, the ultimate destination for tips and advice about style, grooming, fitness, and success.