Keeping your grooming products organized when you travel is essential. Toiletry bags, also known as Dopp kits, will make traveling easier.
We receive a commission on purchases made through links on this page. For more information, read Affiliate Disclosure.
Why you need a toiletry bag
The toiletry bag, or Dopp kit, holds all of your grooming essentials. It's a compact and organized way to keep your skincare products, and everyday carry items in one spot. Generally, the small bags are made of waxed canvas or leather.
In the early 20th century, a leather craftsman named Charles Doppelt invented the toiletry bag. At the time, he called it the toilet bag. Now, it's referred to as the Dopp kit, which is derived from his last name.
There are many items you can store in a toiletry bag. Whether you're going on an overnight road trip or spending a week on an island, the toiletry bag is a great way to keep your small items organized. The following are items that you can fit in a Dopp kit:
Money
Comb
Body wash
Shampoo and conditioner
Razor
Toothbrush and toothpaste
Deodorant and cologne
Medicine
With the number of items you can pack, a good toiletry bag is a travel staple and is worth the investment.
15 best men's toiletry bags
From luxury leather to water-resistant hanging bags, the following are the best toiletry bags for men.
Hanging
Nomatic Toiletry Bag V2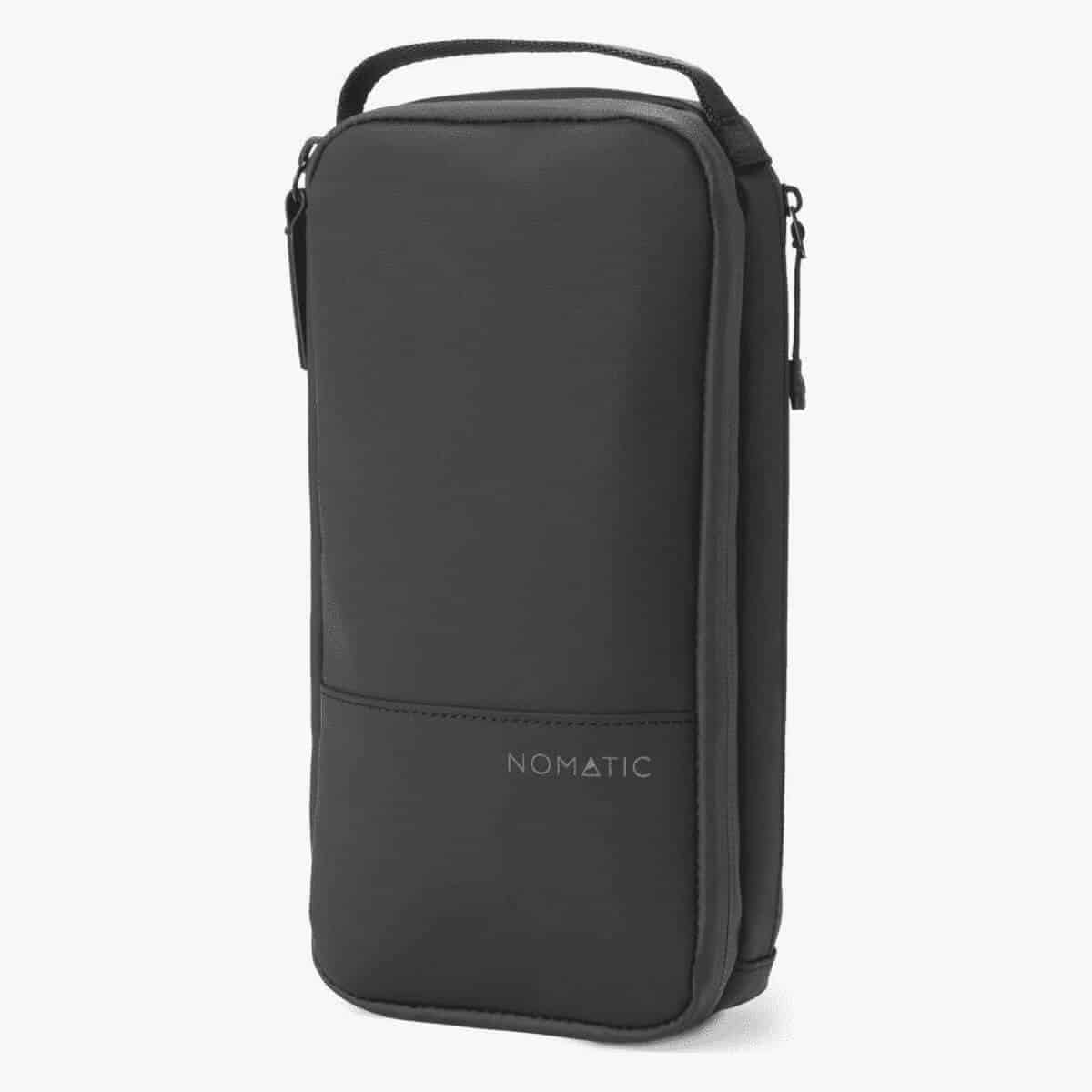 Nomatic created a minimal, durable, and water-resistant toiletry bag that has plenty of space.
KomalC Genuine Buffalo Leather Hanging Toiletry Bag
The KomalC bag is made of high quality, full-grain buffalo leather. It also has a water-resistant interior.
Eagle Creek Pack-It Wallaby Packing Organizer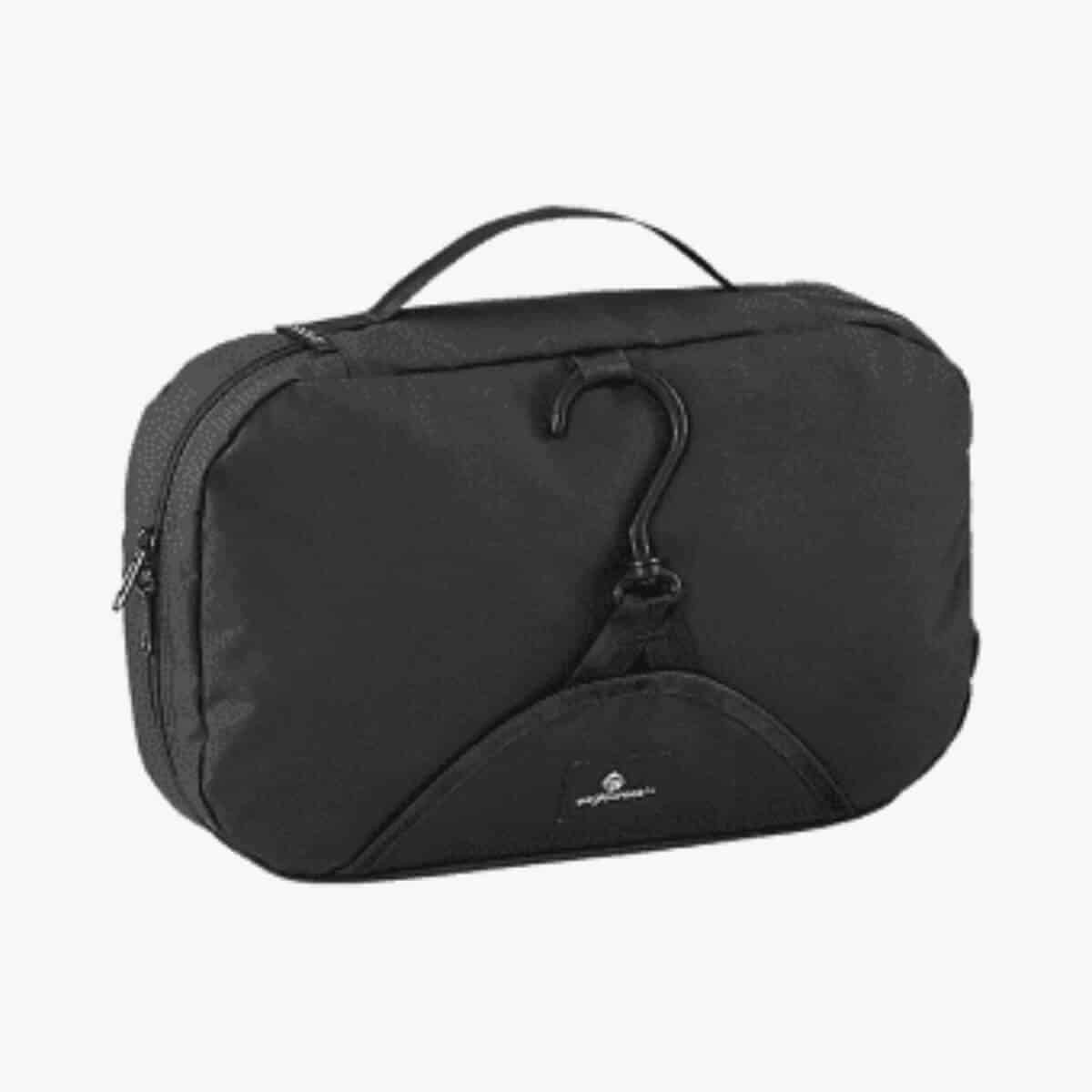 The water-repellent Eagle Creek organizer is small and compact. It's perfect if you don't need much space.
Vetelli Hanging Toiletry Bag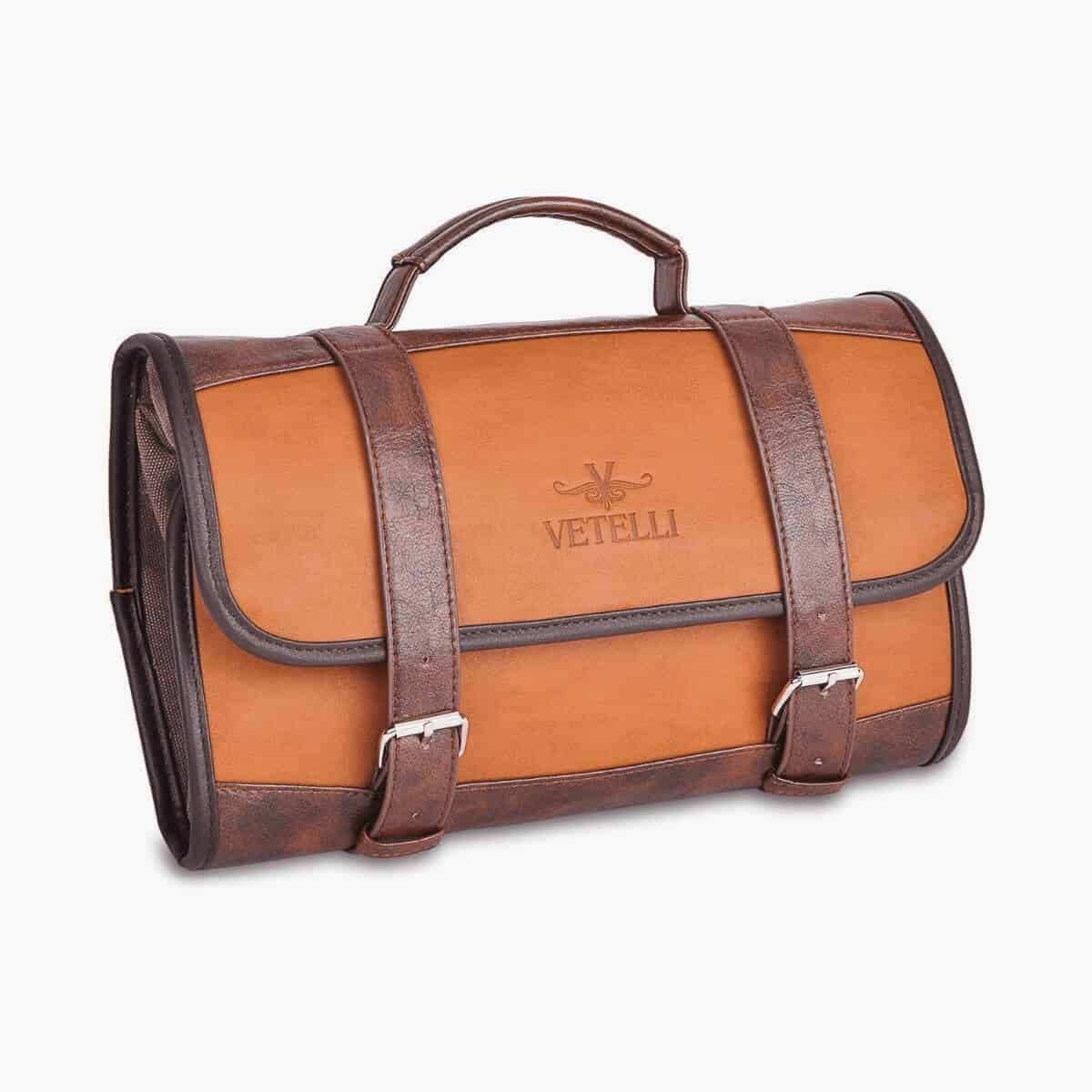 An elegant Dopp kit that stands out. Vetelli's bag is made with water-resistant leather and is easy to clean.
Leather
Coach Dopp Kit 18
The Coach Dopp kit is clean, minimal, and has nice dark brown leather.
Bottega Veneta Woven Leather Toiletry Kit
A toiletry with the signature Bottega Veneta woven leather.
Filson Unisex Weatherproof Leather Travel Kit
The Filson leather travel kit is waterproof and made in the USA. The dark brown leather looks incredible, and it's the perfect small bag for travel.
Shinola Leather Zip-Top Travel Kit
Shinola created an American-made leather travel kit, which looks luxurious and simple.
Frye Logan Leather Travel Kit
Frye is known for its high-quality leather. The travel kit is held to the same standard, creating a durable and eye-catching Dopp kit.
Canvas, polyester, and nylon
Victorinox Werks 6.0 Dopp Kit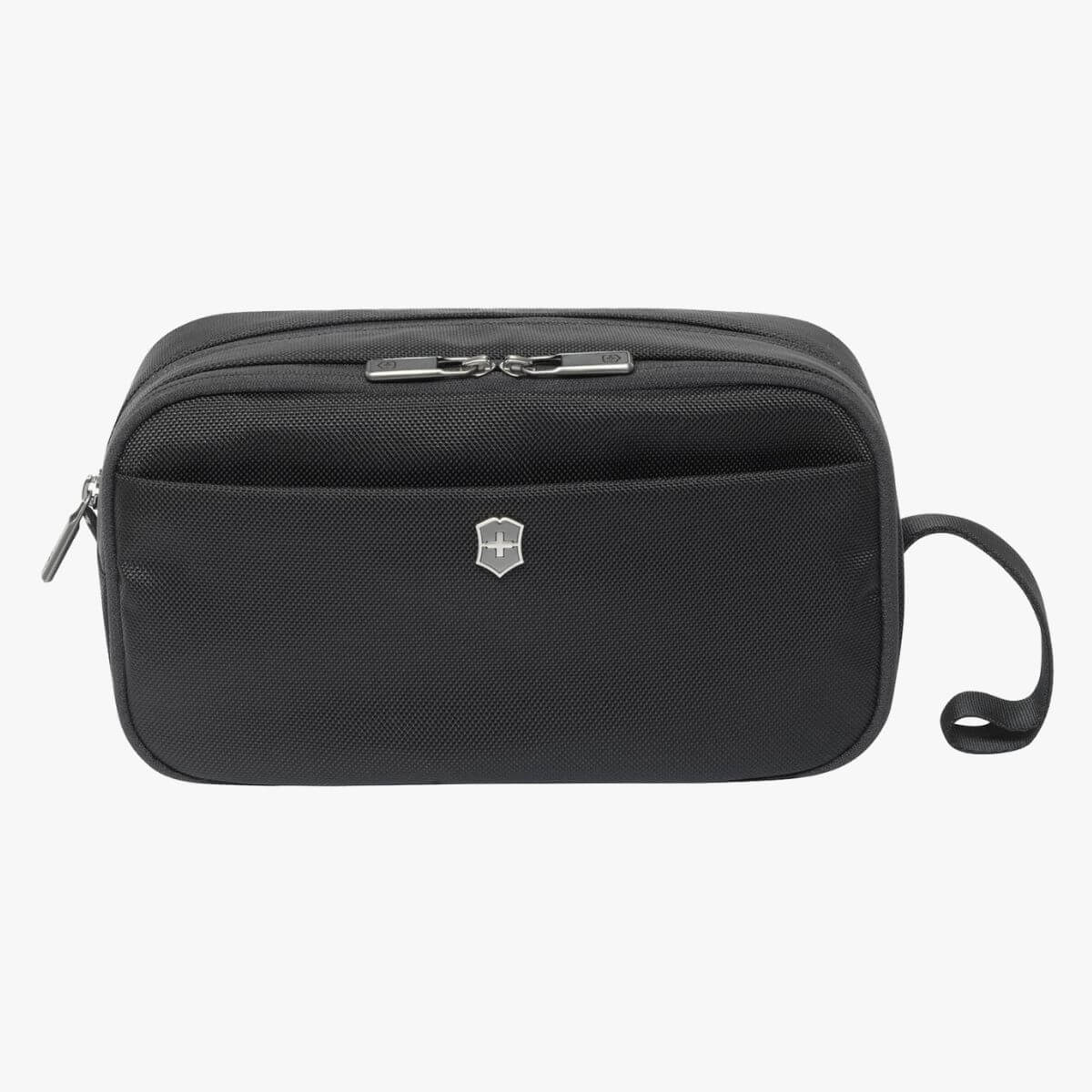 The nylon Victorinox Dopp kit is spacious, which allows you to organize all of your grooming products in a secure place.
Timberland Men's Travel Kit Toiletry Bag Organizer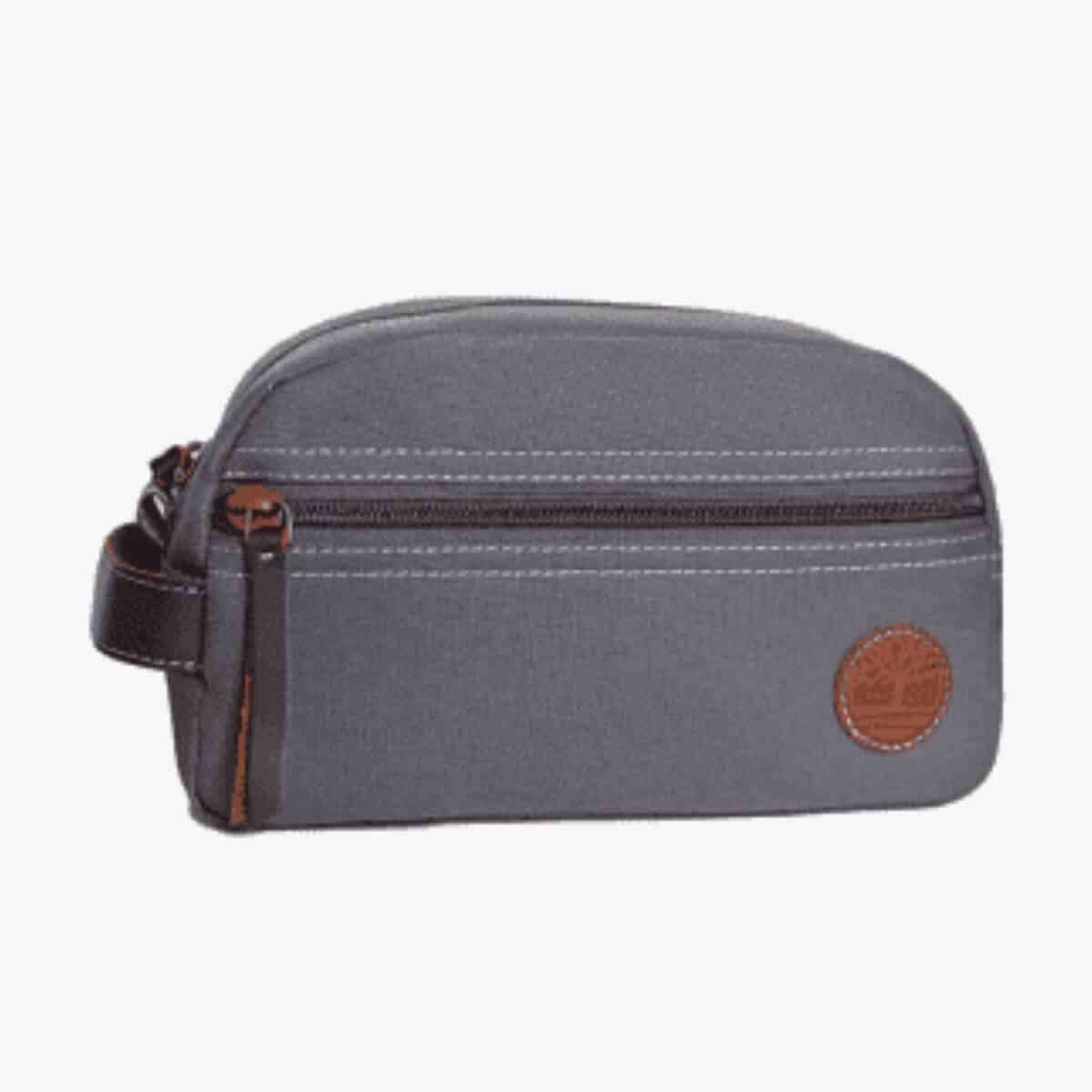 Timberland is a well-known brand. Their pouch includes a TSA approved refillable plastic bottle, which is great for shampoo, conditioner, or body wash.
WANT Les Essentiels Men's Kenyatta Dopp Kit
The Want Les Essentials bag is made with organic materials and has magnetic side closures.
Herschel Chapter Travel Kit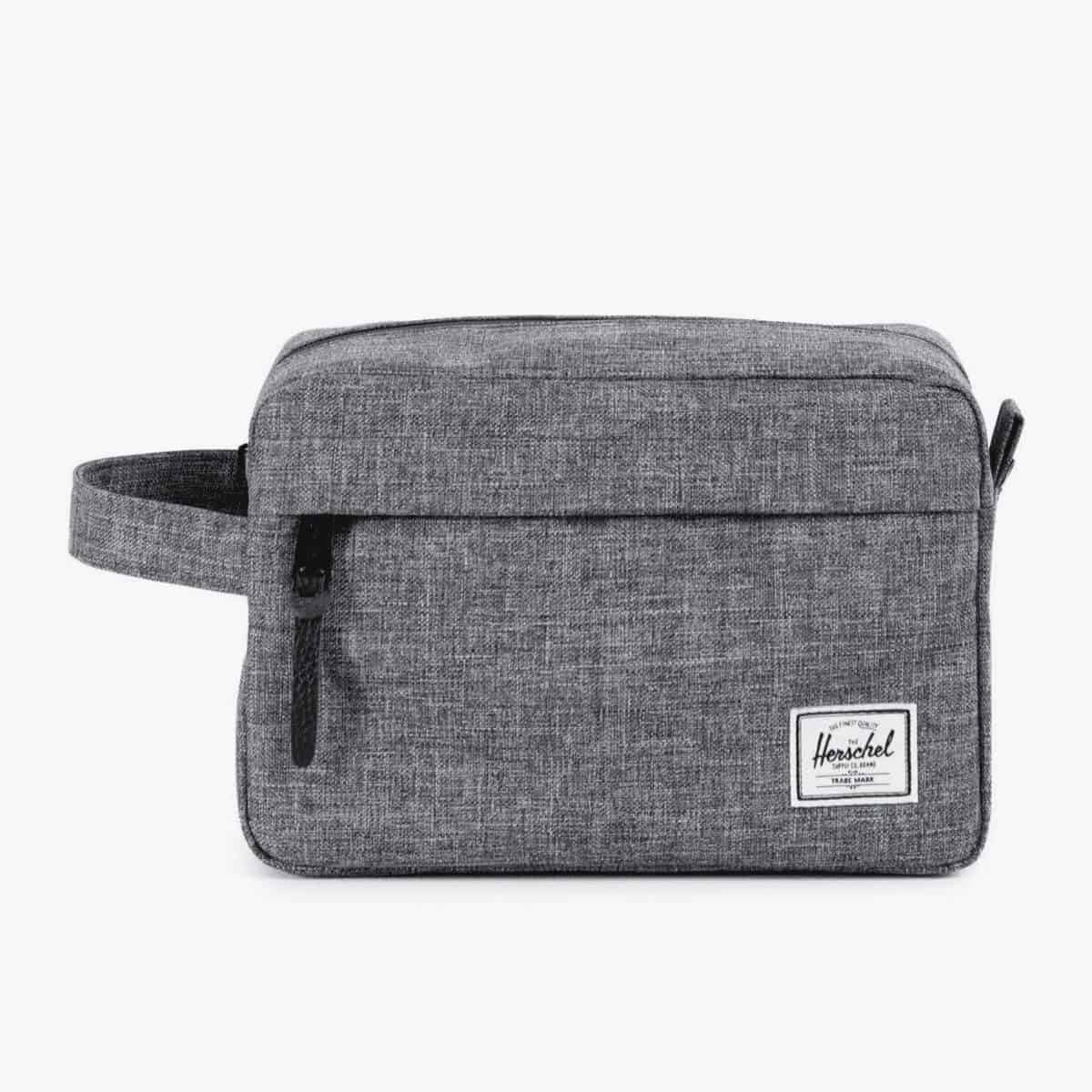 A great toiletry bag that's simple, durable, and stylish.
the DOPP KIT Canvas Toiletry Bag
A long-lasting, hand-waxed canvas Dopp kit that has a leather handle. The choices of color are earth-toned, which is timeless.
Tumi Richards Travel Kit
The Tumi toiletry bag has an anti-bacterial lining and a designated loop for your toothbrush. It's a sturdy bag that can fit all of your essentials.
Dopp kit packing tips
Aside from the items you need, it's best to travel as light as possible. The following are tips to make the most out of your toiletry bag:
Use solids: To avoid spills or leaks, travel with solids instead of liquids. The other benefit of a solid is that you can cut it into a smaller piece.
Take what you use daily: It's easy to get distracted and pack more than you need. Therefore, pack the items that you normally use daily.
Consider the destination: If you're stuck trying to figure out if you need something, think about what's available near your destination. If you're staying at a hotel, will they have the item? Is there a store nearby where you can purchase it?
Collapsible toothbrush: To save space, use a collapsible toothbrush and razor. They're easier to pack and will give you room for other items. Philips Sonicare and quip, both have collapsible or two-piece toothbrushes.
Conclusion
The toiletry bag is an essential bag to have for travel and to keep your products organized at home. The number of things that you pack depends on your skincare routine, and the number of products you have. Regardless, a Dopp kit is the perfect travel companion to keep your grooming products in one place.
More resources:
Featured photo by David Em/Next Level Gents.