Dress socks are thin and made to ensure your shoes fit well. Learn about the best men's dress socks that are comfortable and stylish.
Anytime you wear dress shoes, wear dress socks. They're an essential part of your wardrobe and ensure you look well-dressed.
Dress socks are available in various colors, patterns, lengths, and materials.
Solid colors are more formal, and colorful designs are more casual.
The most important rule for wearing dress socks is to ensure the color matches your pants. If your pants are navy, wear navy socks.
Another essential aspect is the length. You can choose between mid-calf and over-the-calf.
Over-the-calf socks are more formal and ensure they don't slip down.
Mid-calf socks can be more comfortable, as they don't go up as high.
The length you choose depends on what you find most comfortable.
If you're ready to get a pair of dress socks, the following are the best options.
Boardroom Socks Black Merino Wool Over the Calf Dress Socks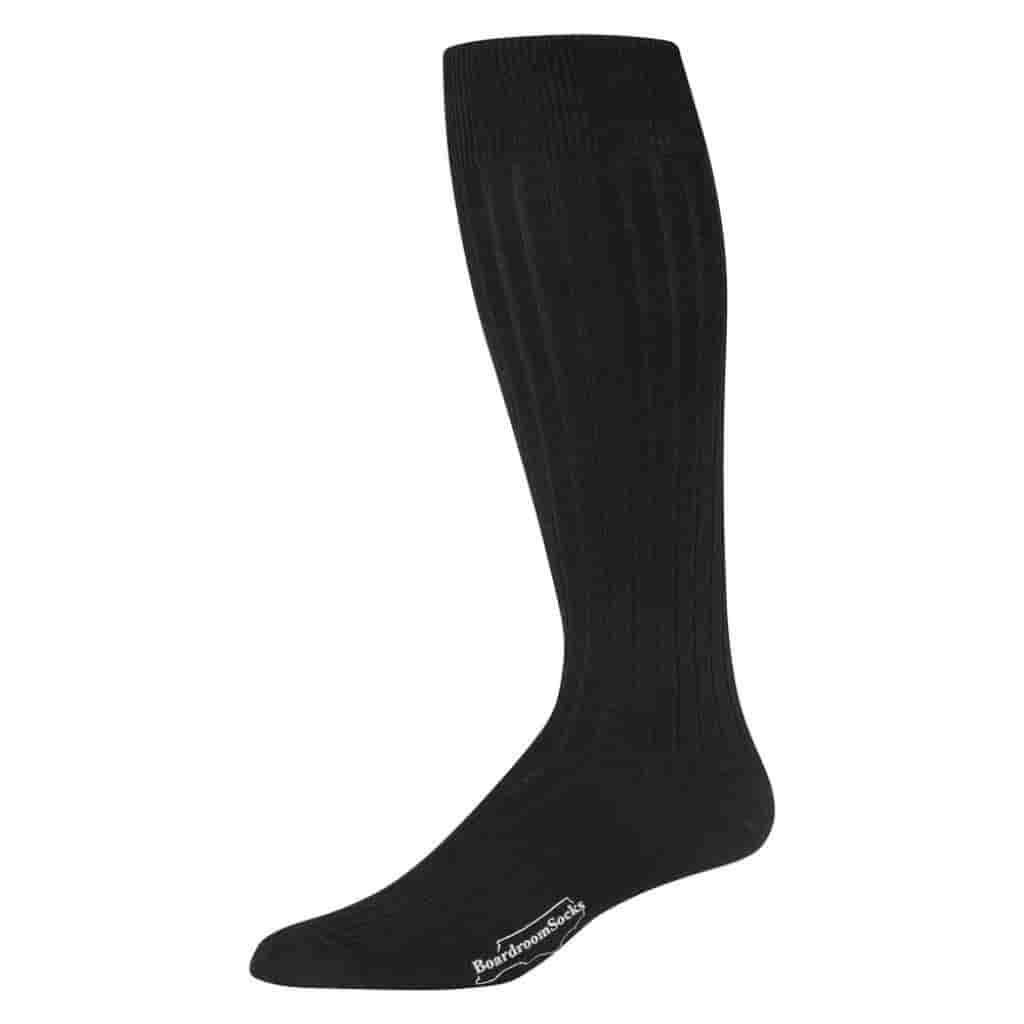 Boardroom Socks produces high-quality dress socks in North Carolina.
The company's black over-the-calf dress socks are the top pick.
It's the most formal because you can wear the dress socks with a black suit.
Also, the length ensures they don't bunch at your ankles.
The socks are a blend of merino wool, nylon, and spandex. So, your feet will stay dry and comfortable all day.
Bonobos Soft Everyday Socks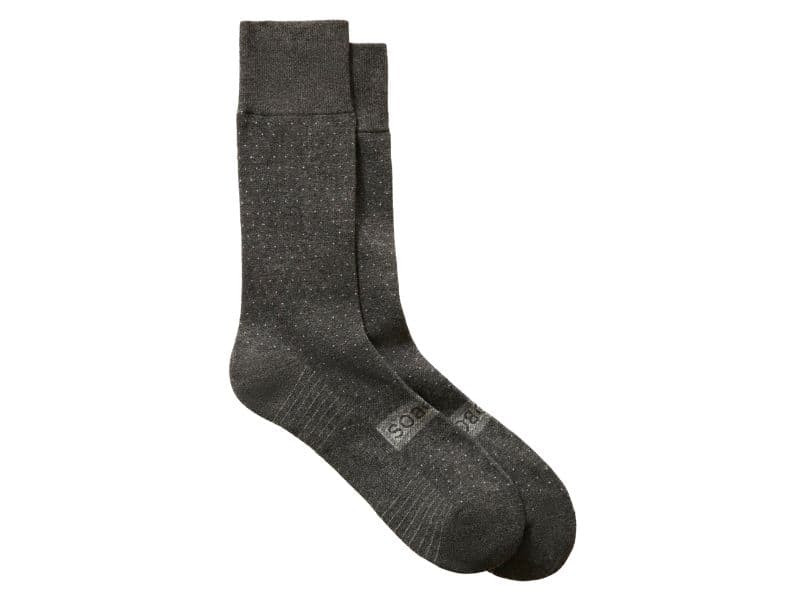 The Soft Everyday Socks from Bonobos are a pair you can dress up and down.
It's a blend of Pima cotton, polyester, and spandex. There's also mesh ventilation, offering breathability.
The socks go halfway up your calves and have a ribbed cuff to hold them all day.
You can choose between 11 colors and patterns. So, you'll have a pair for formal and casual days.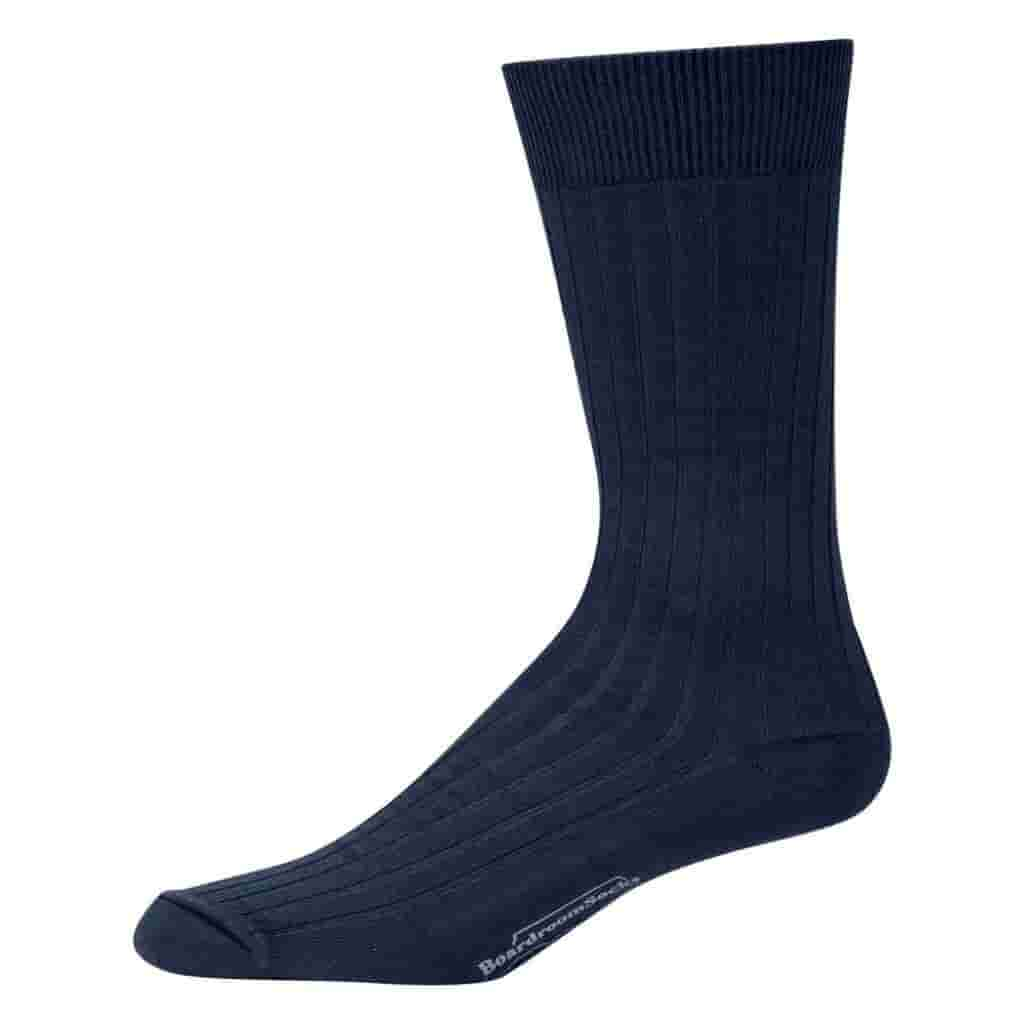 Navy is an excellent color for socks because of its versatility.
Boardroom Socks offers a high-quality pair of Pima cotton mid-calf dress socks in navy.
They feature a premium and soft feel, making them one of the most comfortable.
The socks also have a reinforced heel and toe, ensuring longevity and durability.
Nordstrom Over the Calf Wool Socks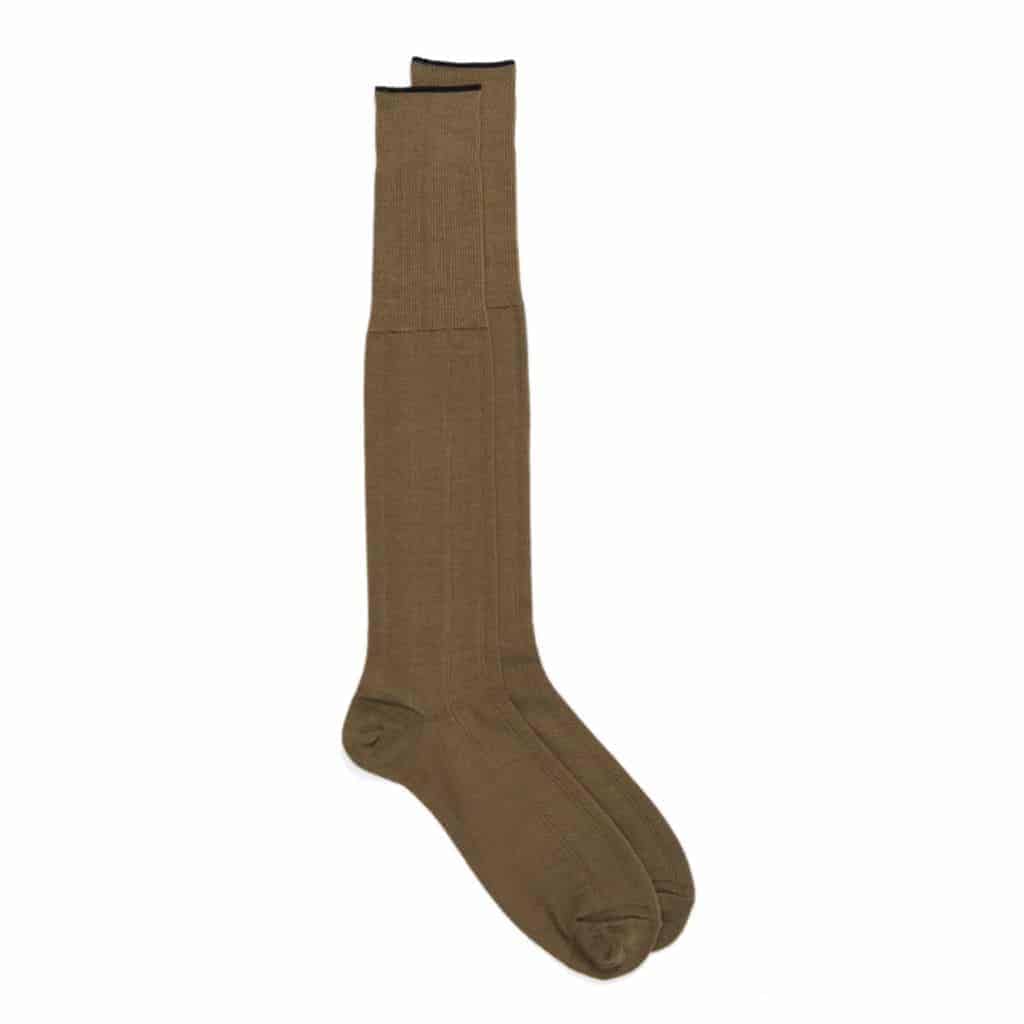 Nordstrom's over-the-calf dress socks are a blend of Merino wool, nylon, and spandex.
They're lightweight, breathable, and comfortable. Also, they look good and stay up all day.
If you want a formal pair of socks, consider the ones from Nordstrom.
The socks run a bit large. So, you may need to exchange them for a smaller size.
Allen Edmonds Mid-Calf Merino Cool Dress Socks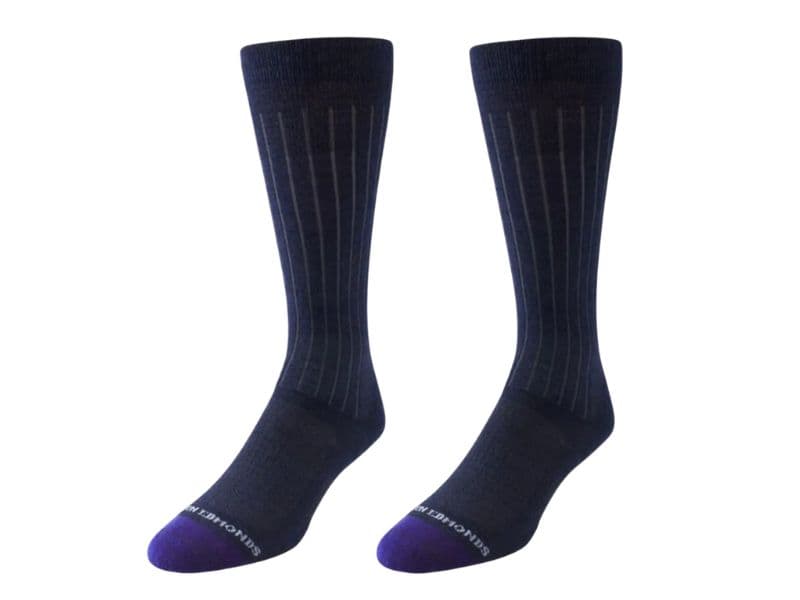 Allen Edmonds makes some of the best dress shoes. So, it's no surprise they also offer excellent dress socks.
Allen Edmonds partners with Wigwam to make them.
The mid-calf socks are Merino wool, nylon, polyester, spandex, and Tencel.
Also, they have a SmartSilver treatment. It protects your socks from odor and bacteria.
Another benefit is the seamless toe. Your dress shoes will have a streamlined and comfortable fit.
Gold Toe Metropolitan Dress Socks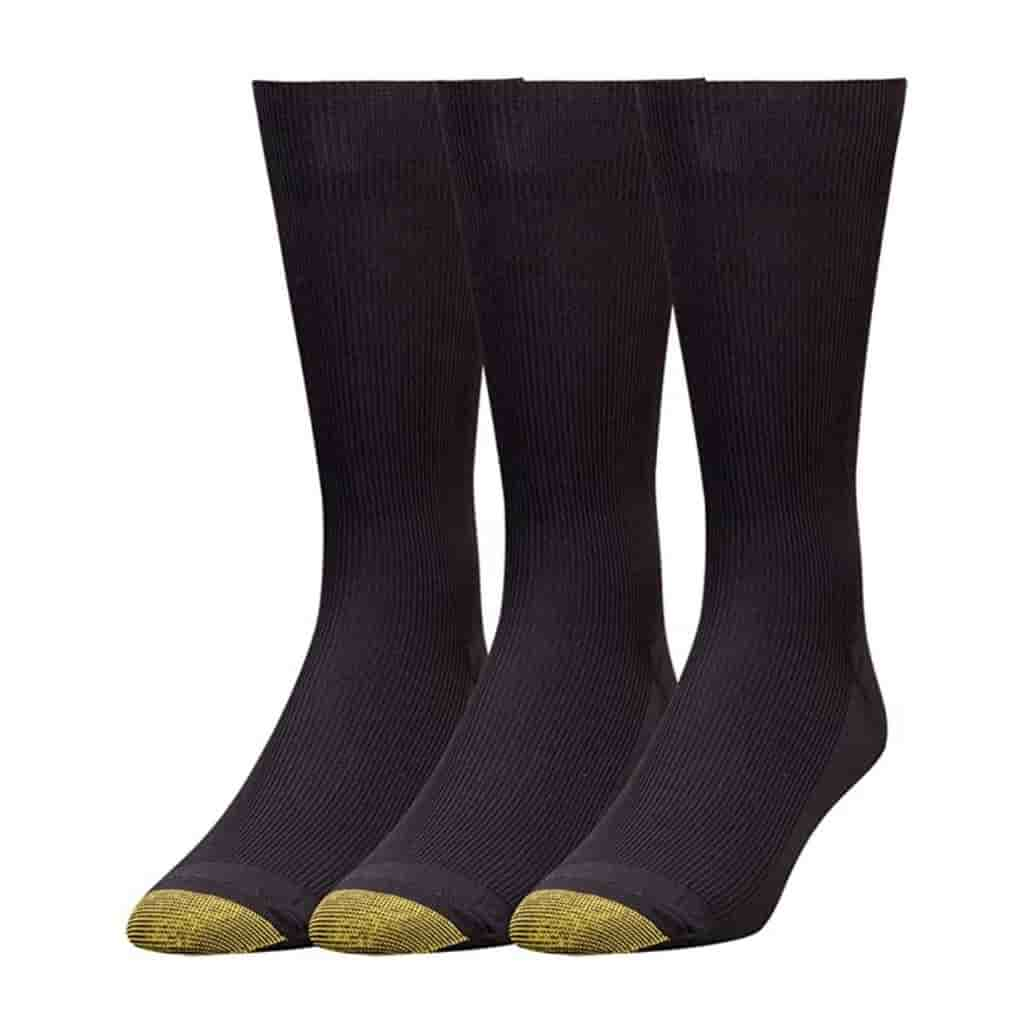 Gold Toe knows socks, as the company is the third-largest sock producer in the United States.
The Gold Toe mid-calf dress socks are 99% nylon and 1% spandex.
They're soft, durable, and have reinforced heels and toes. Also, you can get a set of three pairs for less than $20.
While the socks are synthetic materials, they'll last years.
Bombas Ribbed Dress Over the Calf Socks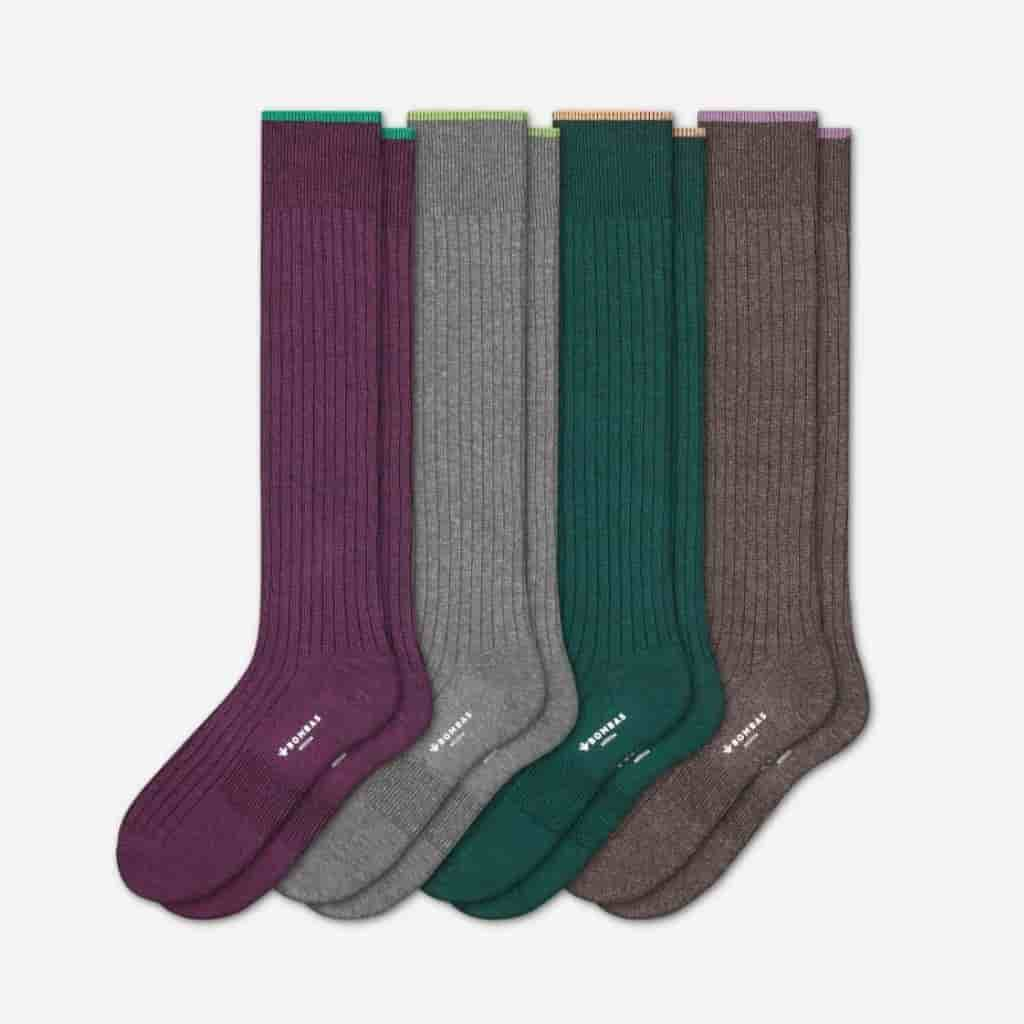 If you want to do good while buying socks, Bombas is the brand to choose.
With each pair you buy, Bombas donates a pair to a homeless shelter.
Aside from doing good, the dress socks are comfortable and soft.
The socks are a blend of cotton, polyester, nylon, and spandex.
Also, they have a seamless toe. So, you won't feel a bump between your feet and dress shoes.
Boardroom Socks Purple Square Knots on Black Merino Wool Over the Calf Dress Socks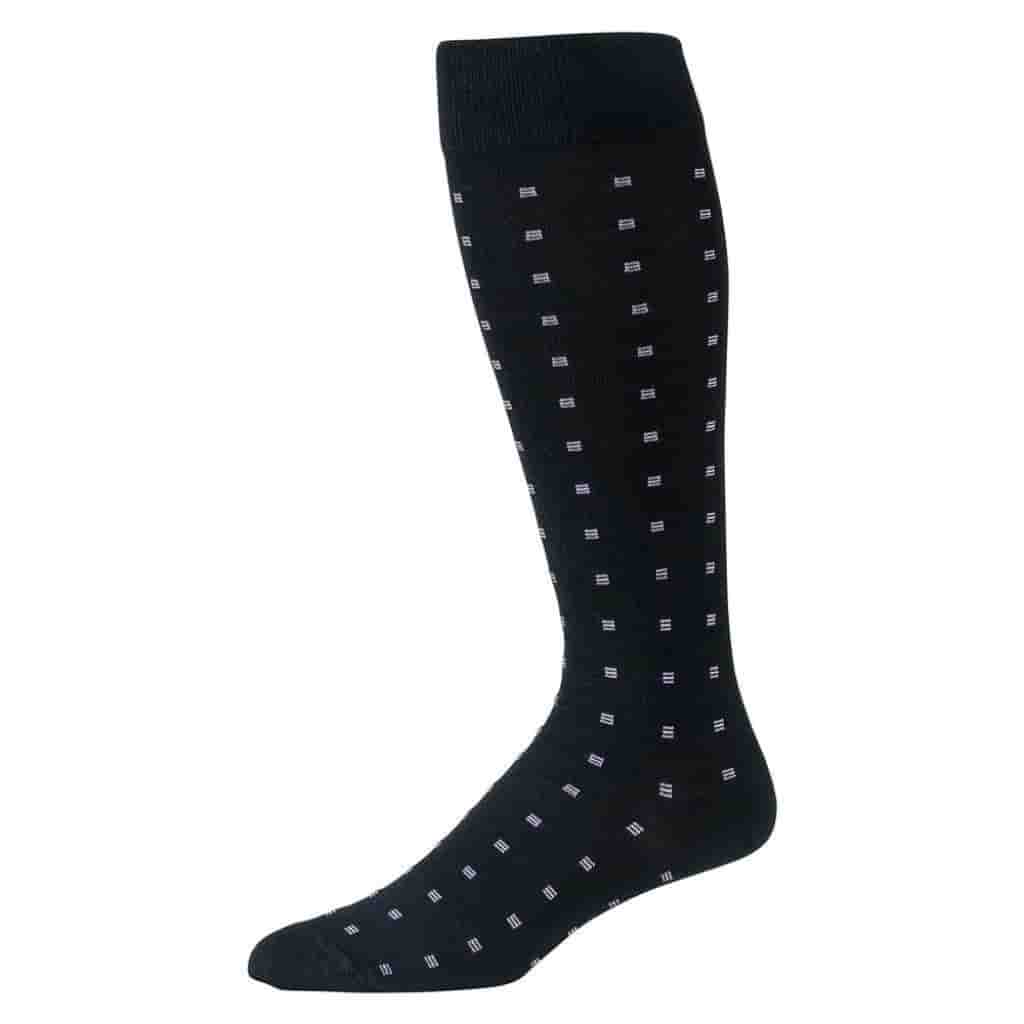 If you already have dress socks in solid colors, you can explore patterns.
Stripes, dots, and squares are a few of the many patterns available.
Boardroom Socks offers a pair of Merino wool socks in black with small purple squares. They're minimal, simple, and classy.
You can enjoy the benefits of a pattern without drawing too much attention to your socks.
Easton Marlowe Cotton Patterned Dress Socks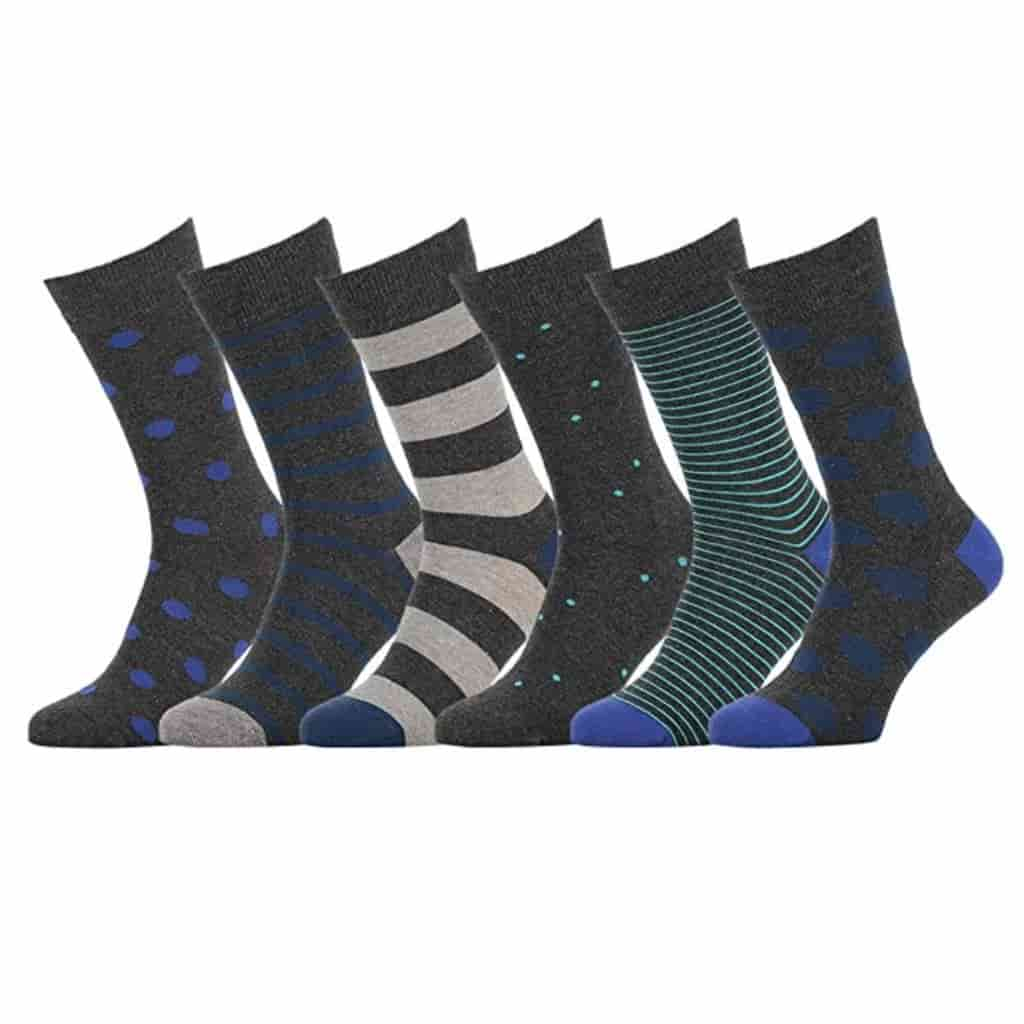 Easton Marlowe is the best choice if you want six socks with various patterns for less than $20.
Some patterns are subtle, while others are bold and vivid.
The dress socks are a blend of cotton, polyamide, and elastane. They're also pre-washed for softness and the perfect fit.
Due to the patterns, Easton Marlowe's socks are ideal for more casual occasions.
Mack Weldon Silver Extended Crew Dress Sock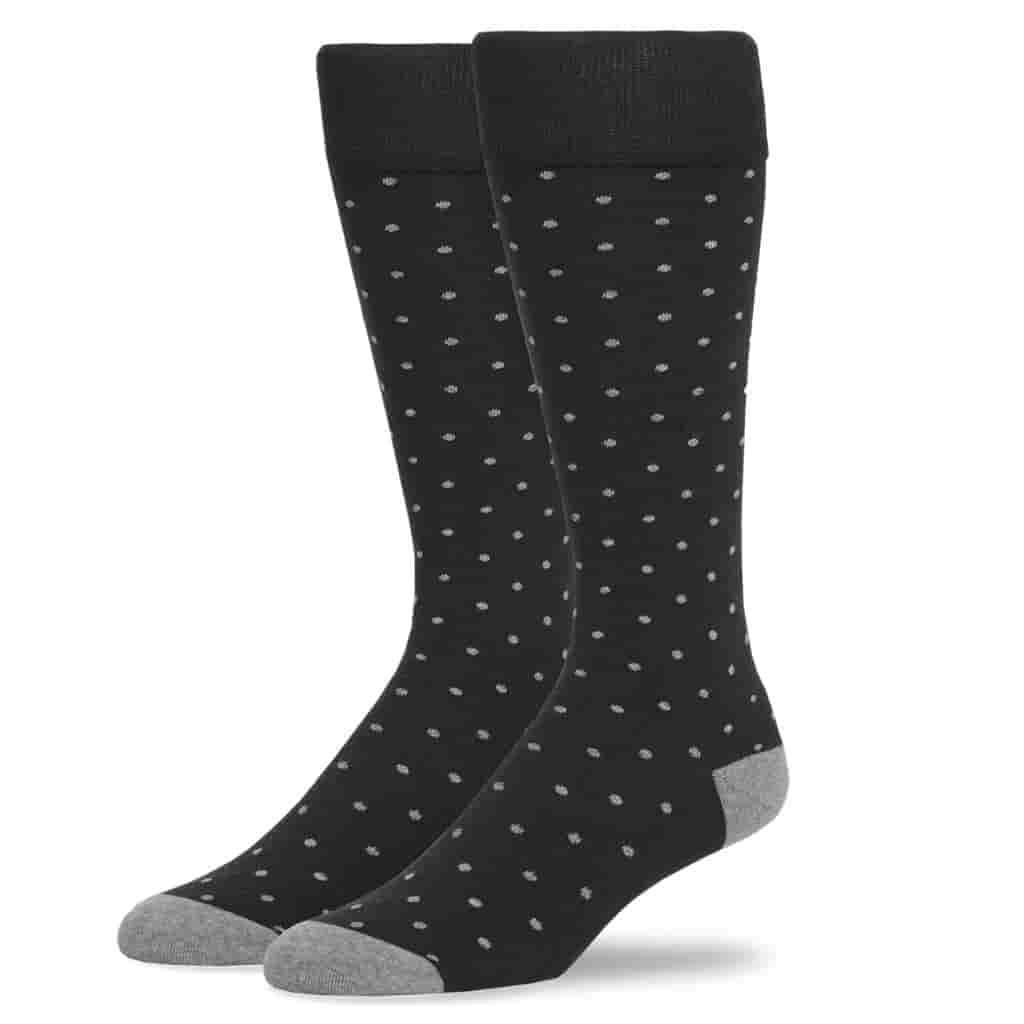 Meck Weldon offers a premium pair of dress socks. While each pair is $24, they're worth it.
The socks are a blend of anti-odor silver and super-fine Pima cotton.
They also feature cuffs to stay in place over your calves.
The footbed features a cushion that makes your dress shoes more comfortable.
With the Mack Weldon socks, you'll have breathability and comfort. Also, you won't have to worry about odor.
Frequently asked questions about dress socks
The following are answers to common questions about dress socks.
What's the best material for dress socks?
The fabric of dress socks varies, as cotton, wool, polyester, and nylon are common.
The best materials are Merino wool and Pima cotton.
Pima cotton is softer and better for comfort. Merino wool is better for wicking away moisture and keeping your feet dry.
How thick should dress socks be?
Dress socks are thin and have a slim fit. The ideal pair is thin and comfortable.
Also, it shouldn't be bulky around your ankles. The bulk is why dress socks can't be thick.
Conclusion
When you go to the office, a wedding, or anywhere else that calls for dress shoes, you need to wear dress socks.
Be sure to match your socks with the color of your pants.
The best options are exceptional due to materials, breathability, comfort, and durability.
High-quality socks will last a long time and ensure you look stylish.
Featured image courtesy of Boardroom Socks, Mr Porter, and Gold Toe.
About David Em
Founder
David Em is the founder of Next Level Gents, the ultimate destination for tips and advice about style, grooming, fitness, and success.