Instead of neglecting your socks, learn about the different men's socks styles, what colors you need to have, and the best brands.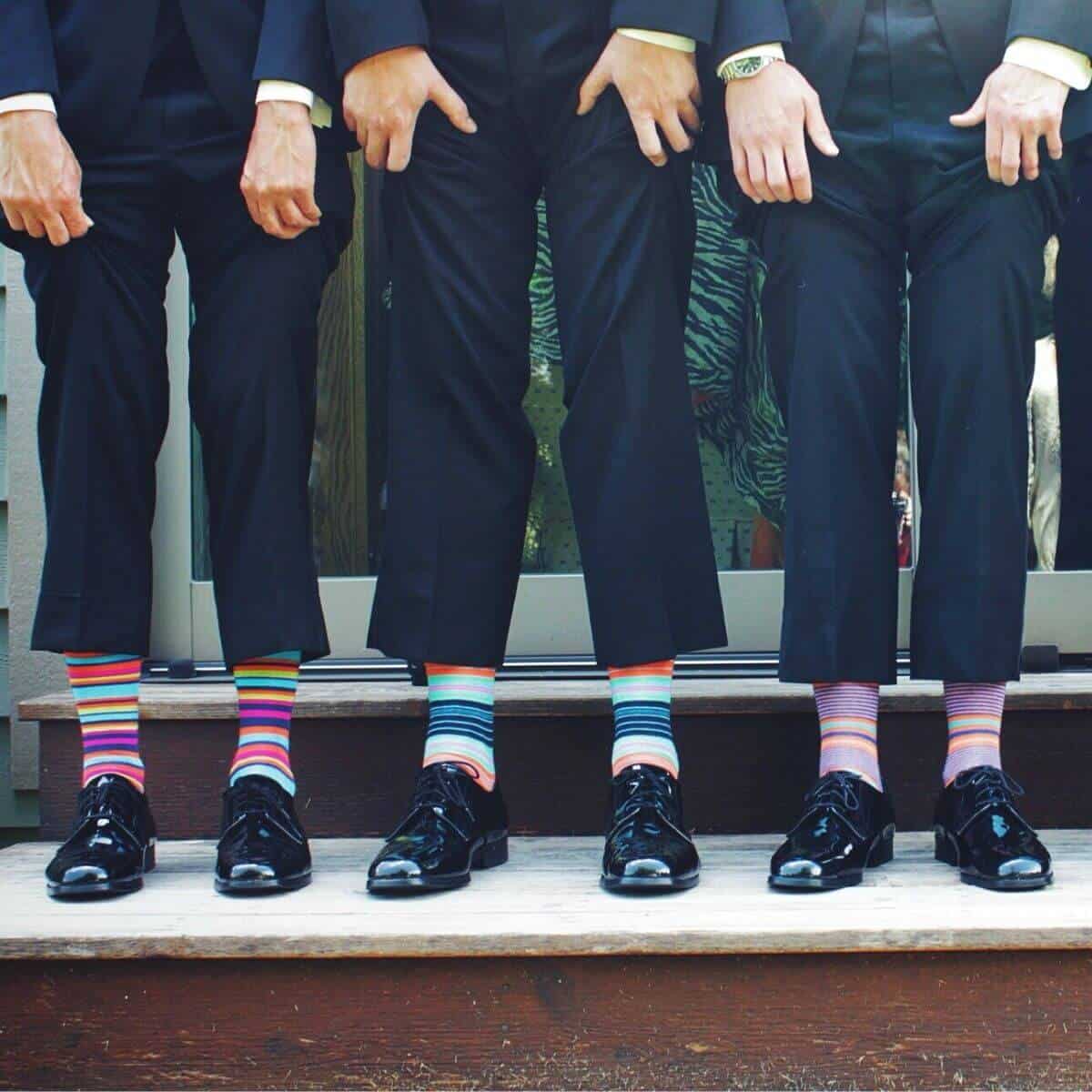 The purpose and history of men's socks
Socks have a primary function of protecting your feet. However, they also keep your feet comfortable, dry, and even help with your style.
Related: 6 types of shoes that you need to have
They're one of the oldest types of clothing that are still being used today. Although they've evolved to match the current needs of humans, the main function remains.
The first socks were worn back in the Stone Ages. They didn't look the way socks do now. Instead, they were animal skins wrapped around the ankle for warmth and comfort.
In ancient Greece, Hesiod, a famous poet, wrote about the importance of keeping your feet warm by using socks. In his written account, he called them piloi, which were made from animal hair.
Years later, the Romans wrapped their feet in leather or woven fabric. They began sewing fabric together resembling the fitted socks you wear today, which they called udones.
During that time, socks were also being made in ancient Egypt. The oldest pair of knitted socks were found at Oxyrhynchus on the Nile in Egypt. They had split toes and were worn with sandals.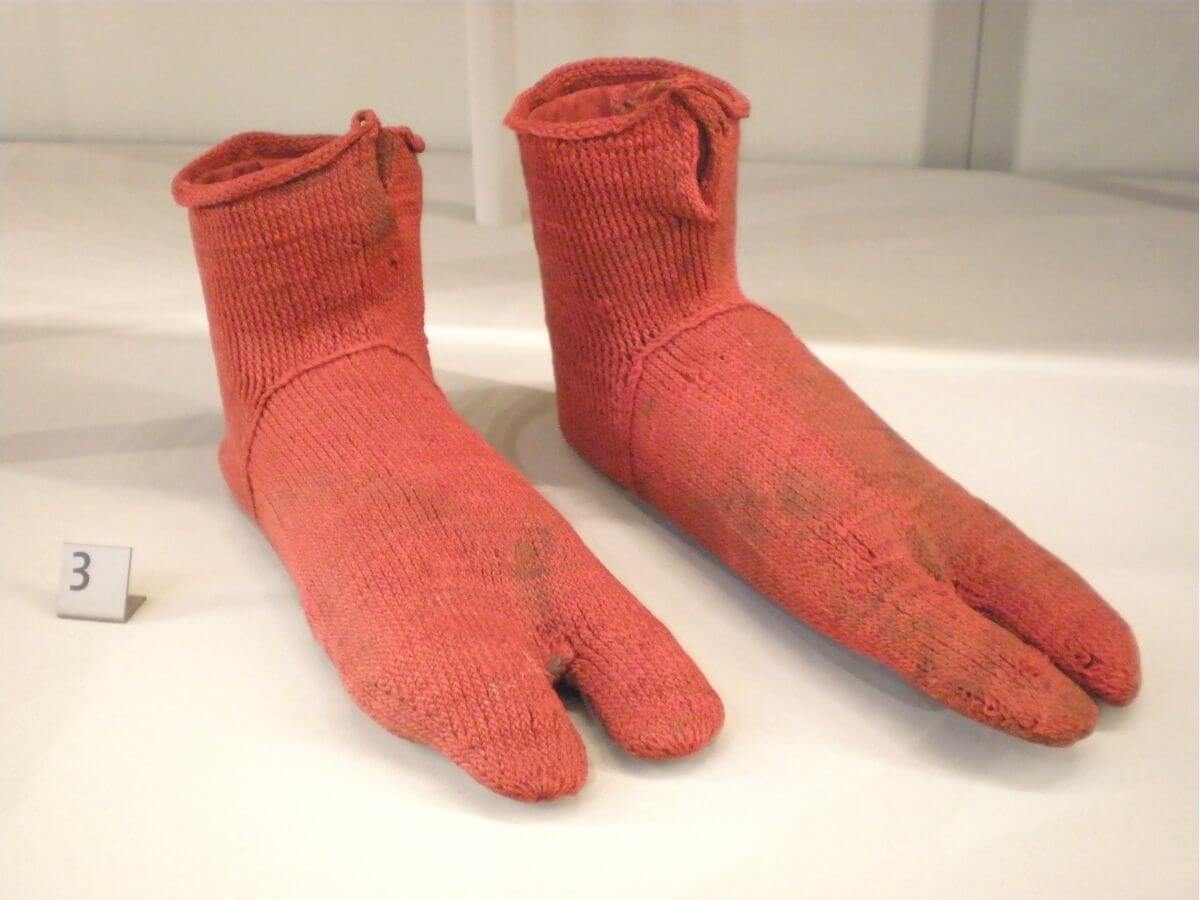 By the middle ages, men's socks became a tight and bright cloth that covered the lower half of your leg. It was considered a form of luxury and a sign of nobility.
The invention of sock knitting machines in the 18th century decreased the prices for socks, and they became available to the general public.
Now, socks are made of different materials, have different lengths, and serve a variety of purposes.
Some are made for wearing with dress pants, while others are meant to protect your feet from harsh weather.
Sock lengths and materials
There are many different types of men's socks. The one you choose depends on your style and the purpose.
It's common to confuse sock type and length. Sock type refers to the material, instead of the length.
The following are men's socks lengths:
No-show: Socks are necessary for comfort and avoiding stinky shoes. For the sockless look, wear no-show socks. Find a pair that has a grip on the heel, so it doesn't slip off your feet.
Ankle or athletic: Ankle socks are also known as athletic socks. They're meant to sit above the ankle, which protects your ankles and heels. Ankle socks are meant for physical activity, so you shouldn't wear them to look stylish.
Mid-calf or crew: Mid-calf socks are commonly worn with dress pants. There's an athletic version that's worn for physical activities. They extend beyond your ankle, and right below the largest part of your calf. Mid-calf are the most common sock length, which can be found in various colors and materials.
Over-the-calf: If you want a pair of socks that won't slide down, wear over-the-calf socks. They're great for wearing trousers, as well.
The following are different materials:
Wool: One of the earliest materials used for socks was wool. They're great for insulation and protecting your feet. Wool absorbs a high amount of moisture. It can hold a third of its weight in moisture before it starts to feel wet.
Cotton: The most common material for men's socks is cotton. It's affordable, comfortable, and durable. It's a great choice because cotton socks are easy to find, and breathable, which is good for your feet.
Silk: For black-tie and formal events, wear silk socks. They're the most expensive of the men's socks, and they don't last as long as other materials.
Cashmere: If you want luxury and warmth at the same time, cashmere is the right material for you. Cashmere socks need to be hand washed and shouldn't go in the dryer.
Synthetics: Nylon and polyester are two common synthetic materials. Unless you're wearing them for physical activity, it's best to avoid wearing socks made of synthetic materials because they're not as comfortable or breathable.
Types of socks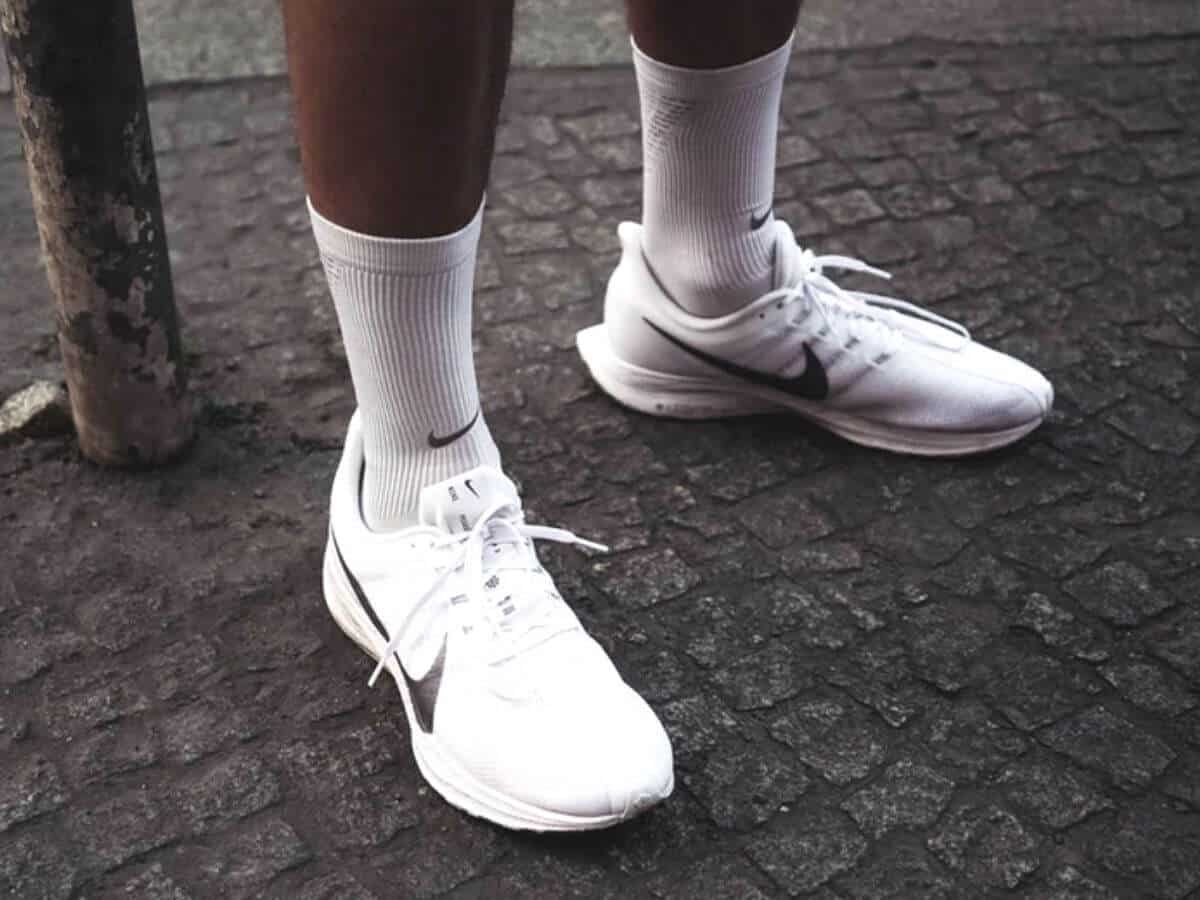 The type of sock refers to the purpose, which are listed as follows:
Athletic and performance socks. Athletic socks keep your feet from sliding in your shoes, prevent blisters, and bad odor. The goal is to enhance your athletic performance while being comfortable.
Dress socks. If you're wearing a suit or casual clothes, wear dress socks. There are many colors and patterns. However, it's best to stick with darker colors and match your socks with your trousers.
Hiking socks. When you're hiking or doing other outdoor activities, you need heavy-duty socks. They're made to withstand bad weather and extreme temperatures. Moisture-wicking wool is a great material to look for, and synthetic hiking socks work, too.
Matching socks and pants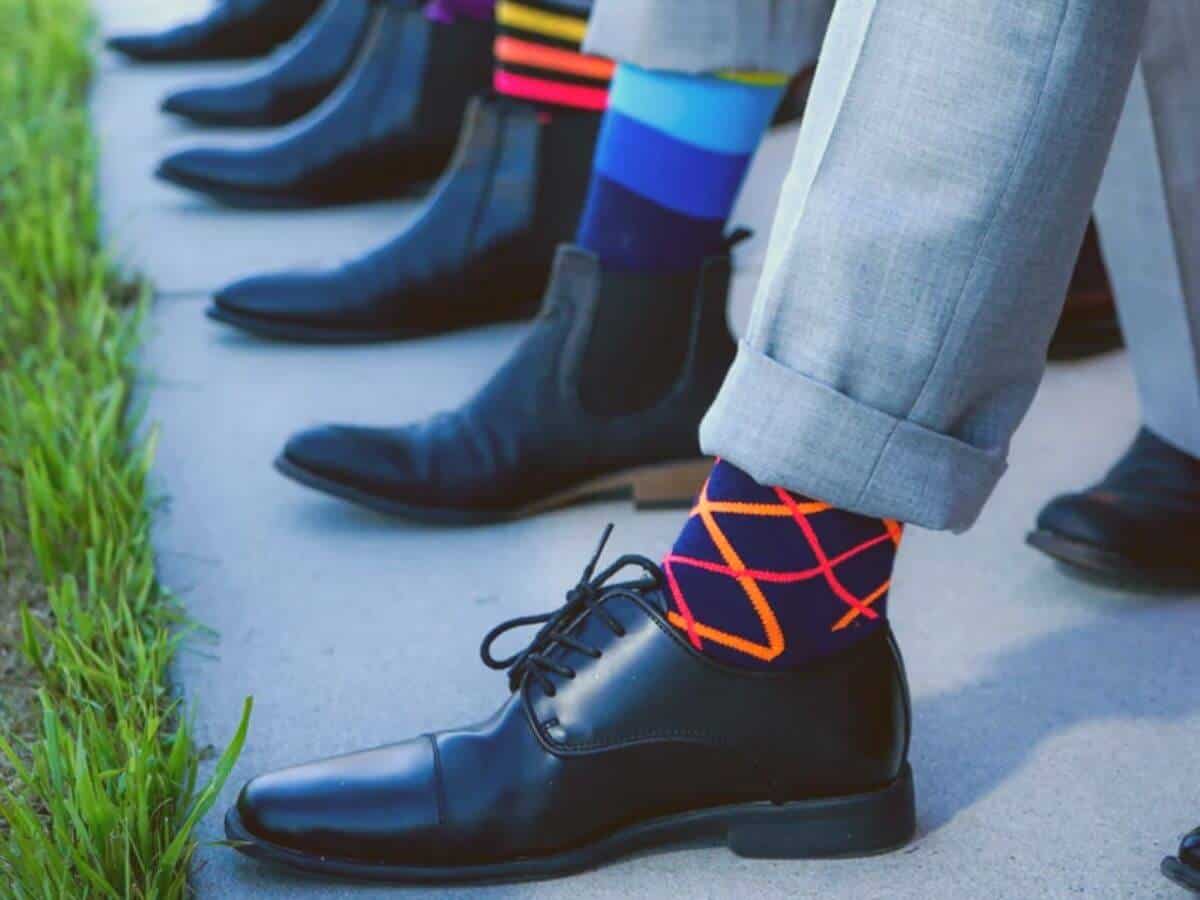 Different sock lengths and types are made for different occasions. Understanding when to wear a specific sock will help you master your style.
It'll also give your outfit the perfect finishing touch.
The following are sock lengths with the appropriate occasion and outfit:
No-show socks are perfect for warm weather. They're great when worn with shorts and cropped or cuffed pants.
No-show socks look the best when worn with low-top sneakers or any type of loafer.
Ankle socks are meant to sit at your ankles and should only be worn for physical activities.
Most ankle socks are meant to be used as athletic socks, which means they pair best with athletic shorts, joggers, and sneakers.
Mid-calf socks are also known as crew socks. You can go two ways with this length. If you're doing any sort of physical activity, wear performance crew socks.
If you're wearing chinos, trousers, or casual pants, wear mid-calf dress socks.
Over-the-calf socks are the dressiest length. Often, they're made with high-quality materials, such as silk or wool. Wear over-the-calf socks with trousers and suits.
Note: If you're wearing shorts, stick to no-show or ankle socks.
What makes socks high-quality?
It's important to invest in high-quality socks because they'll protect your feet, shoes, and are built to last.
Instead of buying new socks regularly, invest in quality. It'll save you money in the long run.
When you're on the search for a new pair of socks, consider the following features:
Wicks away moisture. Choose moisture-wicking socks because it'll push moisture away from your foot and to the surface of the socks. This feature will allow your feet to breathe and reduce friction.
Snug with padding. The right socks will have a snug fit and padding. A snug fit is important because it'll prevent the socks from bunching together and looking bulky. Padding is crucial because it'll reduce the impact of your foot hitting the ground, and prevent blisters.
Made with natural materials. High-quality natural materials will ensure the socks last. Wool and cotton are the two most popular and for a good reason. Wool is great for warmth, and cotton is lightweight. Both are must-have socks and will get you through every season.
Wearing colorful men's socks
Colorful socks are trendy and can make you stand out. However, it's important to do it the right way.
It's best to wear colorful socks for casual occasions, and to ensure it matches a part of your outfit. If you can match the socks with your pants, it's even better.
Having an understanding of what colors go together is also important. You want to avoid wearing colors that clash because it'll ruin the look of your outfit.
If you're wearing patterns, keep it simple and subtle. It never hurts to go with the classics, such as stripes or dots.
Recommended men's socks
The following are great socks based on categories:
Frequently asked questions
How do you keep your socks from slipping down?
The key to keeping your socks up is to wear over-the-calf socks.
What socks should and shouldn't I wear with business or formal attire?
Dark-colored dress socks that match your trousers are the best option for business and formal attire. You should never wear white or athletic socks.
When should I replace my socks?
You should only wear a pair of socks once before putting them in the wash. If your socks are ripped or punctured, it's time to get a new pair.
Besides quality socks, how can I make sure they last long?
Keep your nails trimmed and moisturize your heels. Doing these two things will reduce the amount of friction and sharpness, which will make your socks last longer.
Conclusion
Socks are often overlooked. However, they're an essential part of your wardrobe because they protect your feet, and can be the perfect finishing touch for any outfit.
When you're choosing a pair of socks, always choose comfort instead of looks, and if you can get both, that's a win-win.
Featured photo courtesy of Pexels.
About David Em
Founder
David Em is the founder of Next Level Gents, the ultimate destination for tips and advice about style, grooming, fitness, and success.