When shopping for socks, you've likely come across Bombas. Learn whether Bombas socks are worth the money and why.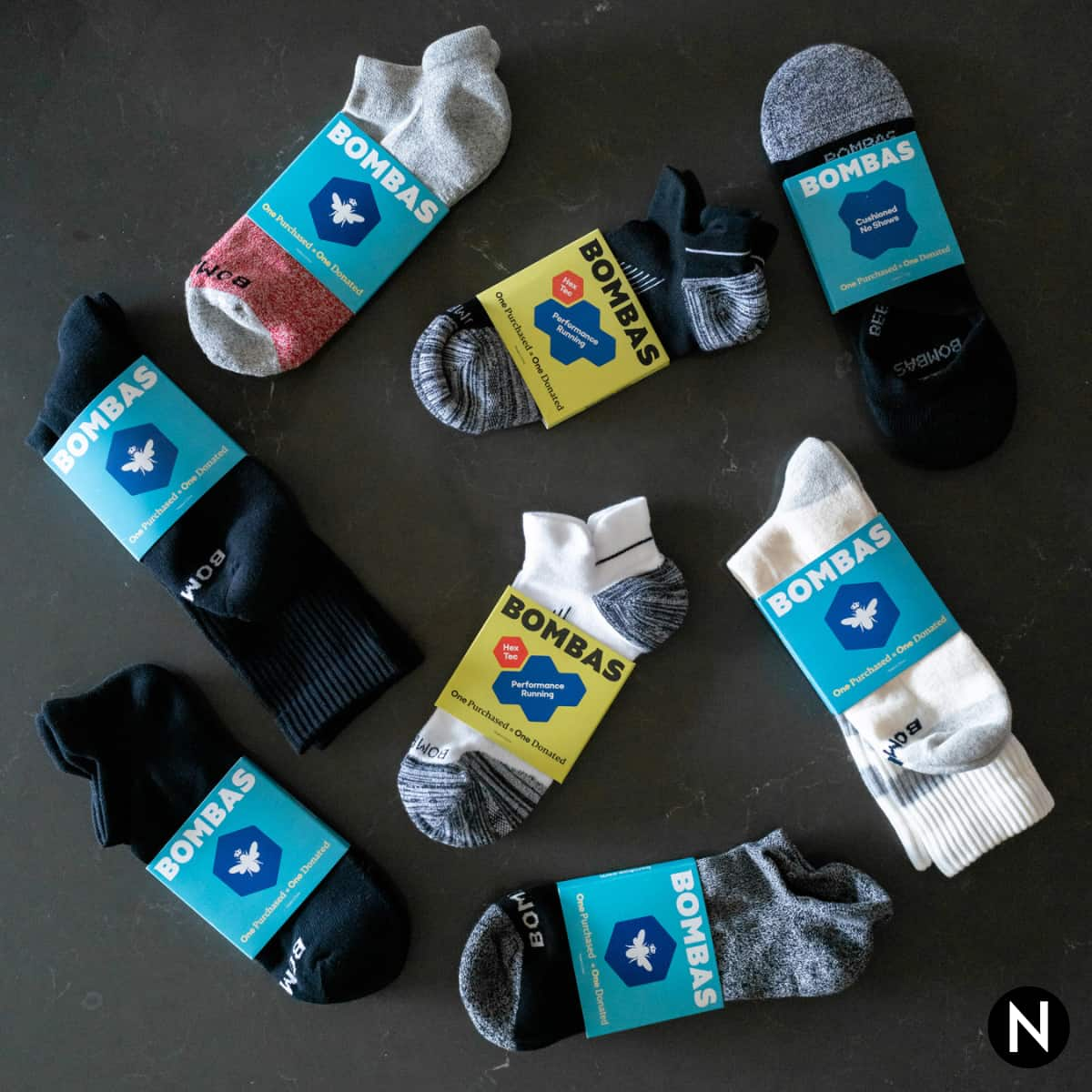 Bombas is an apparel brand making an impact in communities. Bombas is this article's sponsor, but it doesn't influence our opinions or evaluations.
What to know about Bombas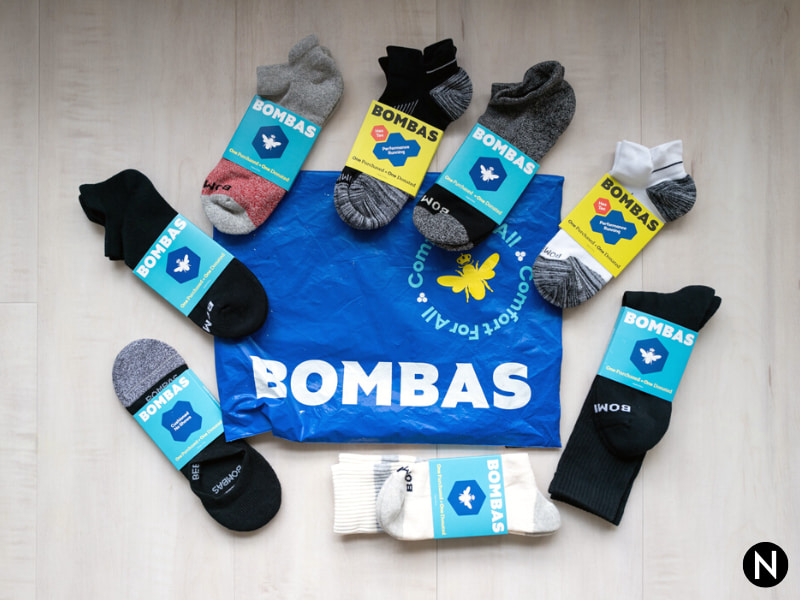 Bombas is a brand founded in 2013 by David Heath and Randy Goldberg.
Since the beginning, its mission has been to create quality clothing items and help those in need.
Every time you buy an item, Bombas donates one to those who are less fortunate. Today, it has given back to the community with more than 75 million items.
The brand started with socks. Now it offers other things, like underwear, t-shirts, and slippers.
Shop from Bombas for aesthetic gear that performs well and benefits communities.
The best Bombas socks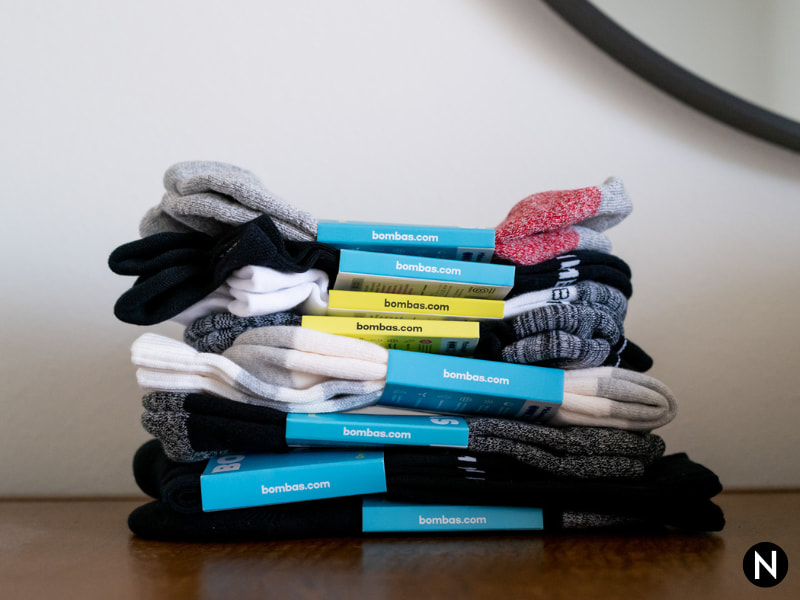 Socks are an essential part of every outfit. They protect your feet, regulate moisture and temperature, and provide comfort.
Socks don't get the attention they deserve. Since they do so much, investing in quality ones is a must.
Bombas socks are some of the best options for all seasons and activities.
The following are excellent choices that deserve a spot in your drawer.
Cushioned No Show Socks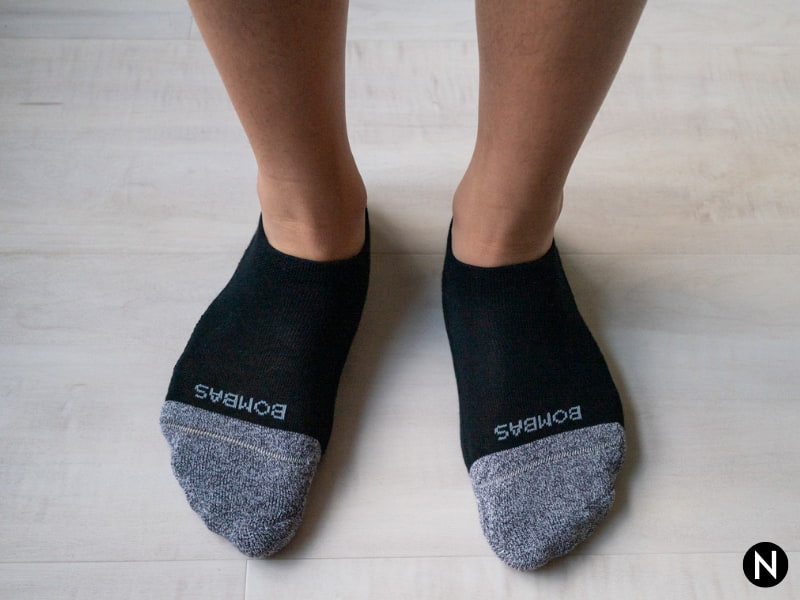 No-show socks that work are hard to find. The Cushioned No Show Socks from Bombas are a pair that work.
The socks have a lightweight blend of cotton, polyester, elastane, and nylon.
While they're too thin for cold weather, they're perfect for spring and summer.
They're best to wear with athletic shoes, sneakers, or loafers.
Bombas also offers a cushioned footbed, which ensures comfort. It's a feature that makes them superior to most no-show socks.
The only drawback of the Cushioned No Show Socks is they're a bit snug around the toes.
Solids Ankle Socks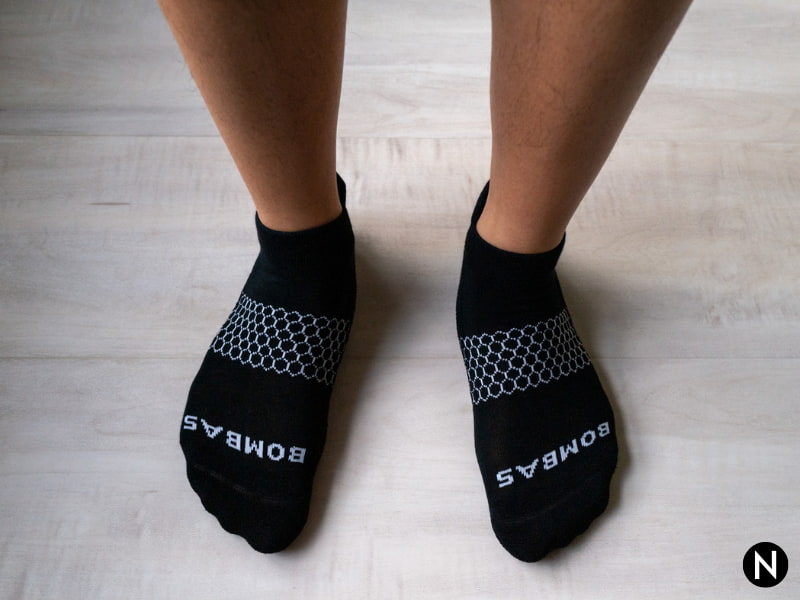 The Solids Ankle Socks feature everything that makes Bombas popular. They're a blend of cotton, polyester, and elastane.
They have the famous Honeycomb Arch System, giving your foot the support it needs. It also helps with keeping the shape of the socks after many washes.
The Solids Ankle Socks are excellent for sneakers and athletic shoes. It's a pair for year-round wear.
A drawback of the Solids Ankle Socks is they're thinner than other Bombas socks.
They may wear out faster than alternate styles. But they remain durable and backed by a guarantee.
Tri-Block Ankle Socks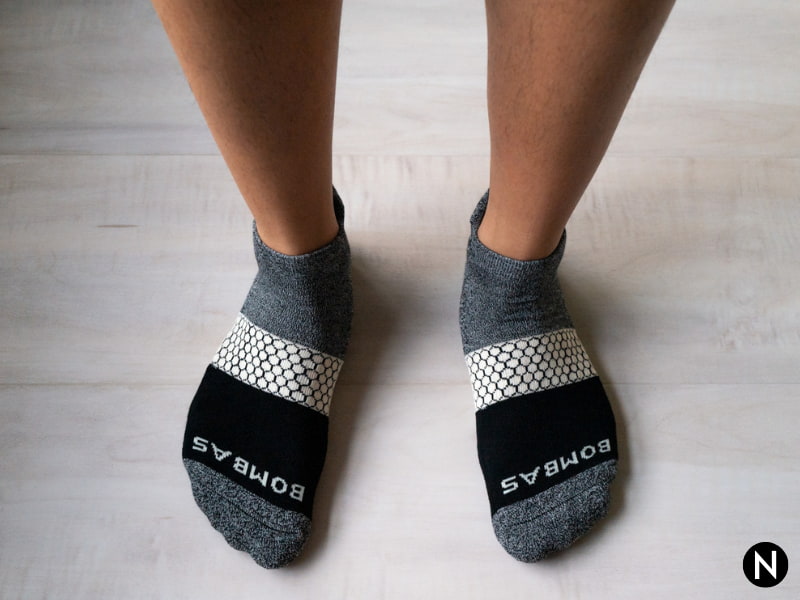 The Tri-Block Ankle Socks are comfortable and come in fun colors.
Your shoes cover the socks. But the different designs add personality when taking them off.
Bombas divides them into several parts. The heel features a cushion and Y-stitching to prevent them from slipping.
Then, there's the Honeycomb Support System for your arch. It allows you to walk or run errands in comfort.
The end of the socks features a seamless toe and cushioning for support.
Running Ankle Socks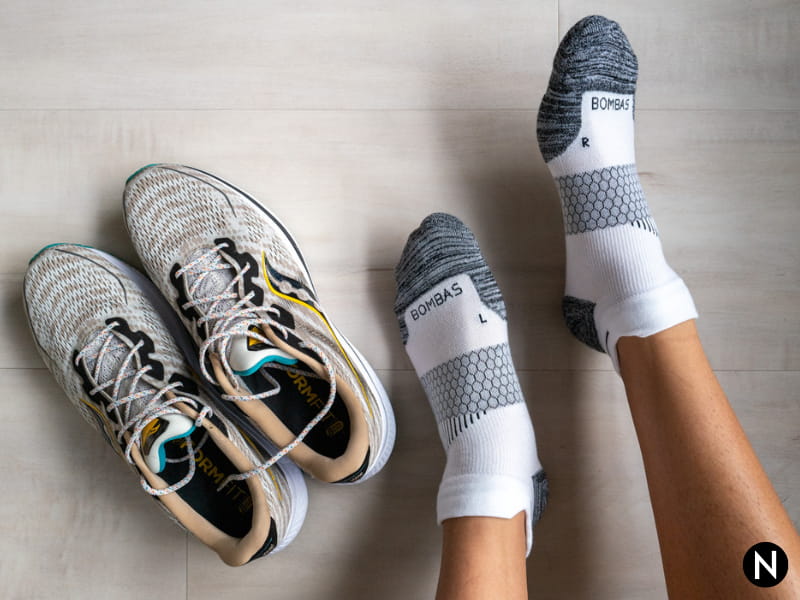 A quality pair of running socks help your performance, comfort, and support.
The Running Ankle Socks from Bombas are excellent for runs and lifting sessions at the gym.
They feature Hex Tec, ensuring your feet stay cool and dry.
Each sock also contours for your left and right foot. So, check it before wearing it.
Another aspect that makes the Bombas running socks worth it is the blister tab. It prevents blisters and ensures comfort.
Solids Calf Sock
If you want casual and minimal calf socks, get the Solids Calf Sock.
They're everyday socks, but the simple design offers a refined look.
They come in white, black, grey, and navy. The neutral options allow you to wear them with many outfits without standing out.
The socks also have Stay-Up Technology. It ensures your socks stay up without being too tight.
The only drawback of the Solids Calf Sock is the thickness of the ribbing on the calf.
It's on the thin side. So, sharp nails may lead to wear and holes.
Regardless, the Solids Calf Sock is an excellent choice for daily wear.
Vintage Stripe Calf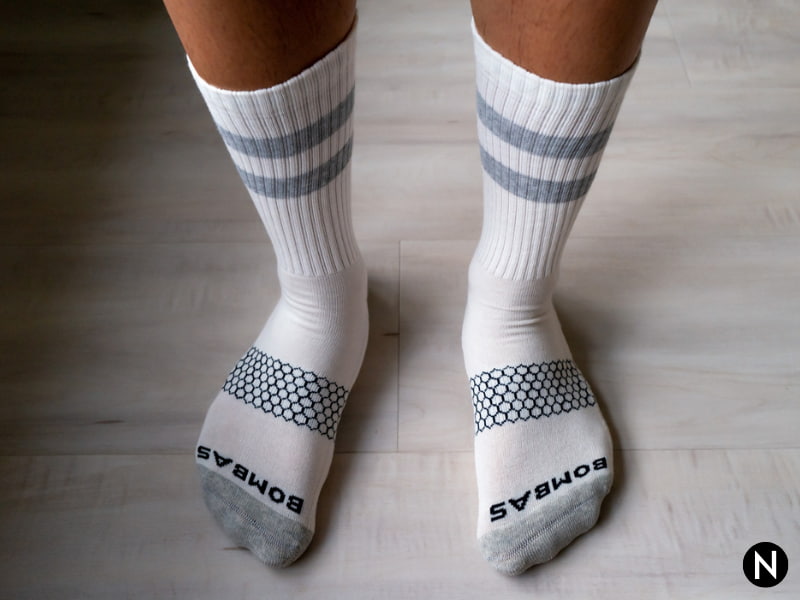 The Vintage Stripe Calf socks are a pair of must-haves in your wardrobe. They offer a classic look with two horizontal stripes.
You can wear them with shorts or jeans. They look fantastic with athletic shoes and sneakers.
Since they have casual styling, avoid wearing them with dress shoes or loafers.
The Vintage Stripe Calf is a pair you can wear year-round.
Why Bombas socks are expensive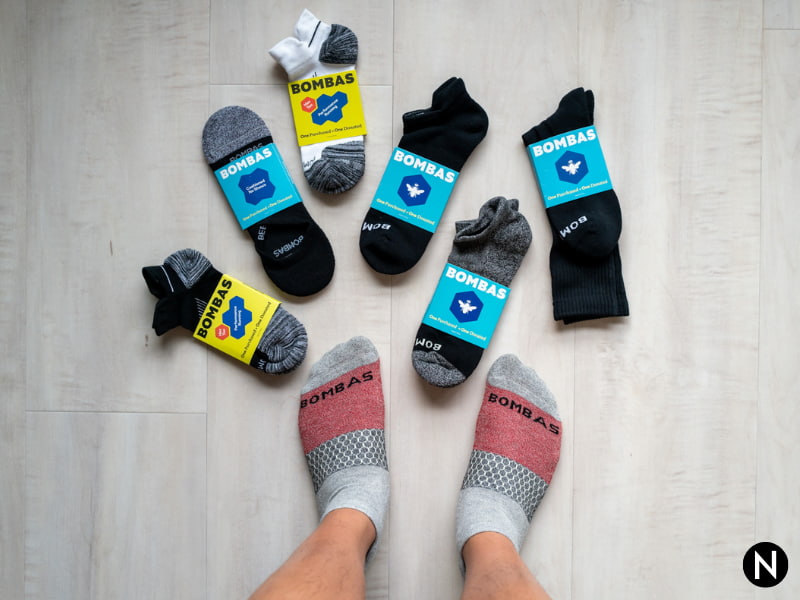 It's no secret that Bombas socks cost more than others. A pair ranges from $13 to $36.
If you can buy a pack of three socks for $13, why would you choose Bombas?
While there are cheaper options, Bombas is superior. Its socks are worth the investment.
They feature patented sock design, durability, quality, philanthropy, and fair employee wages.
Also, Bombas offers a happiness guarantee. Contact their customer support for a replacement or refund if you have any issues.
Aside from being worth the money, Bombas runs sales and coupons.
So, you can sign up for the mailing list or wait for a sale to save on the socks.
Also, new customers can get 20% off through the Bombas website. It's an excellent way to stock up on all your sock needs while saving money.
How to wash Bombas socks
How you wash your socks plays a significant role in their lifespan. It ensures they don't shrink, become thin, or tear.
It's best to wash your socks from Bombas on a gentle cycle with cold water and mild detergent.
If you have Merino Wool or Performance socks, skip the fabric softener.
Then, tumble dry them on low. If you have compression socks, skip the dryer and allow them to dry by air.
By caring for your socks, you can avoid many durability issues and keep them comfortable.
Frequently asked questions
How do Bombas socks fit?
The socks from Bombas fit true to size. If you're at the larger end of the range, size up. It's also essential to check what Bombas recommends. The sizing can vary by sock style.
Where are Bombas socks made?
Most socks from Bombas are made in the USA, China, Taiwan, and Peru. While some socks may come from outside of the USA, it doesn't mean the quality is poor. Bombas has a B Corp Certification. It means they meet the highest standards.
Did Bombas start on Shark Tank?
Bombas appeared on Shark Tank in Season 6, Episode 1. The founders were seeking $200,000 for 5% equity. Daymond John made a deal to invest $200,000 for 17.5% equity. Today, Bombas is one of the most successful companies from Shark Tank.
Conclusion
Your socks can make or break your outfit. They affect how you look and feel.
Whether you need a pair of no-shows or dress socks, Bombas is an excellent brand for quality options.
The socks don't slip and are very comfortable. Aside from performing well, you're helping others when you buy.
Bombas socks are worth the hype and money. If you're ready to buy a pair or two, visit Bombas and check out their best-sellers.
Related: The Best Designer Brands
Featured image by David Em/Next Level Gents.
About David Em
Founder
David Em is the founder of Next Level Gents, the ultimate destination for tips and advice about style, grooming, fitness, and success.