First impressions are created by putting together looks, sounds, and how a person feels. Learn how to make a great first impression.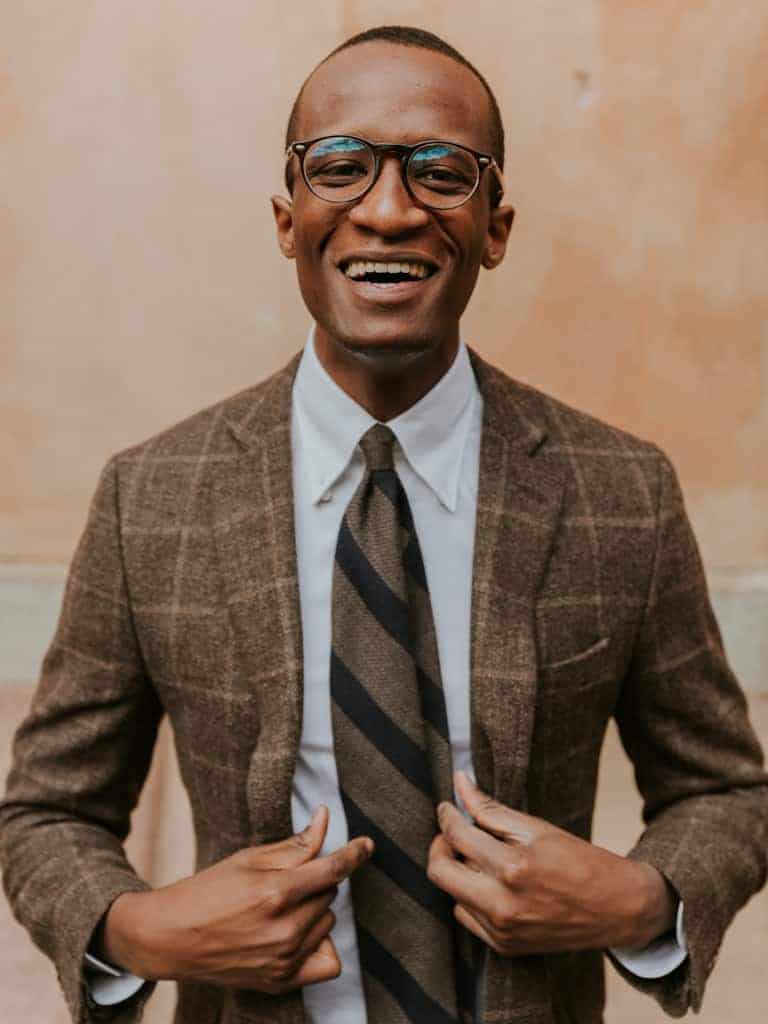 Why first impressions are important
First impressions can significantly impact different aspects of your life. From your career to relationships, the first time you meet someone can be the deciding factor of what's to come.
Related: Top 30 self-improvement books
Throughout life, you've heard people say, "don't judge a book by its cover". It means that you shouldn't assume anything about someone before you meet them.
That's wise and a great way to live. However, a study by Current Directions in Psychological Science states that most people "judge a book by its cover".
For example, if you're wearing baggy and torn clothes, people will look at you differently than if you're dressed up in a well-fitting suit.
That's why it's important to understand that people may make assumptions about you and learn how to make a great first impression.
10 ways to make a great first impression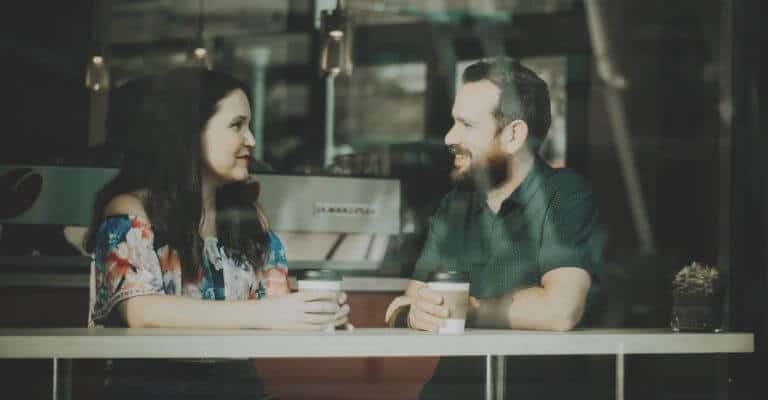 The following are 10 important tips to help you set the tone for any meeting or relationship:
1. Smile
When you smile, you're setting yourself up for a great first impression. A genuine smile is one of the best ways to introduce yourself.
You'll feel happier, more confident, trustworthy, and respected. It's also a great way to put you and the other person at ease.
2. Make eye contact
Eye contact is important because it portrays confidence and shows that you care about what the other person is saying.
Good eye contact will result in a great first impression where you'll be perceived as dominant, personable, skilled, confident, and trustworthy.
To make great eye contact, relax your gaze, and don't stare too hard. When you stare intensely, you might make the other person uncomfortable.
You can make it more natural by taking a break every 10 seconds by looking to the side, laugh, nod, or acknowledge the person you're talking to. This will make the conversation feel lighter and easier.
If you're talking to a small group of people, use the same 10-second rule but instead of taking a break, look at somebody else.
By looking at everyone, you'll make them feel included and important.
3. Use their name
When you remember someone's name and use it in the conversation, they'll feel important.
People want to be remembered. Repeating their name naturally throughout the conversation will show that you're a caring and genuine person.
Using their name will also build a deeper connection, and the next time you see that person, they'll remember you as the person that made them feel valued.
4. Talk less, listen more
Active listening is a great skill to learn because it'll help you make unforgettable first impressions.
You may love to talk but learn to be an active listener because you'll make others feel like they're being heard and respected.
When they're talking, give them your full attention and practice making good eye contact. If you monopolize the conversation or show that you're distracted, it can show that you don't care or want to be there.
As you hear people's stories, you'll also grow in your compassion and empathy.
5. Dress to impress
Your first impressions begin with what you wear and how you look. Whether it's an interview or a date, understand the dress code so that you're not underdressed or overdressed.
You don't need to buy expensive clothing. However, you need to ensure you're clothes are clean and in good condition.
Make sure they fit properly and that you're looking sharp. Smart casual attire is a great middle-ground if you're unsure of how to dress.
6. Encourage others and be positive
People want to be encouraged and feel good about themselves. When you're positive and uplifting, others will enjoy being around you because you make them feel good.
Having a positive attitude, regardless of what you're going through will make you stand out and leave the interaction on a positive note.
Others will walk away thinking about how great you made them feel.
When you're an encouraging and positive person, people will be attracted to you and you'll be more approachable.
7. Be yourself
Although the goal is to make a great first impression, you can't forget to be yourself because that's what makes you unique.
When you are being yourself, you'll be more confident, act with integrity, and you'll be happy knowing people like you for who you truly are.
8. Find common ground
As the other person is talking, search for common ground. When you find things to relate to and talk about those things, people will feel an instant connection.
It's an easy way to build trust and make the conversation enjoyable.
If they say something you can relate to, follow it up with a story or comment about that same topic.
It'll make you feel like a friend instead of a stranger and the other person will feel that you have a lot in common.
When you've found common ground, ask more questions and dig deeper. Not only will you learn more about the other person but they'll also be happy talking about something they enjoy.
9. Have a great handshake
A great handshake will exude confidence and show politeness. When you shake someone's hand, look them in the eye, be firm, and squeeze tightly. It's a simple thing, but many people don't take advantage of it.
If you don't already have a firm handshake, start doing it every time you introduce yourself.
Aside from how you're perceived, physical touch is important for building a connection (Source: Berkeley).
10. Put your phone away
Eliminate distractions to show that the other person has your full attention and that you want to be there.
Having your phone out or checking it during a conversation comes off as rude or that you don't care, even if that isn't your intention.
Leave your phone out of sight or reach until the end of the interaction. Giving someone your full attention will make them feel special.
You'll show that you care, which is one of the most important things when it comes to first impressions.
How to nicely end a conversation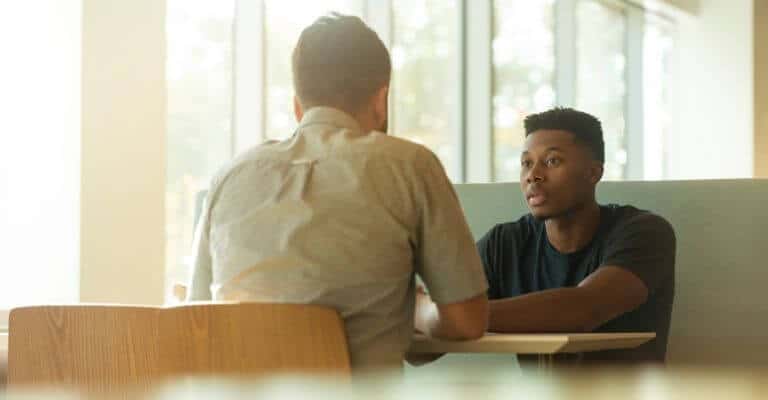 Whether you have somewhere to be or the conversation is getting boring, here's how you can end a conversation while being polite.
How you end the conversation also depends on how it started. The following are examples of what you can do:
Unintended connection. If you're out running errands and happen to connect with someone, that's great. In this case, you can choose whether or not you want to see them again. If you do, ask them for their contact info and say you have to go. If you don't want to see them again, just say that you have to be somewhere and that you'll see them around.
At a party. When you're at parties or networking events, ask the other person to introduce you to someone. You can ask if they know someone who specializes in something you want to learn more about. On the flip side, you can introduce them to someone you know then exit the conversation as they talk.
Use a classic exit line. Using a classic exit line is a foolproof way to end a conversation. You could say you need to use the restroom, find someone, have somewhere to be, or that you need to get back to work.
Plan a time to meet. If you've enjoyed the conversation then plan a time to meet again. When you're about ready to end the conversation, look at the time, say that you only have a few more minutes, and plan a time to meet again.
Frequently asked questions
What are words that describe a first impression?
A positive first impression can be described as humble, likable, open, interesting, intelligent, and joyful.
Can first impressions change?
Although the first impression can set the tone, over time, it can change. As you get to know someone, or they get to know you, you'll find that there's more than the first impression.
Conclusion
You only get one chance to make a great first impression, and by using these tips, you'll make it an unforgettable one.
Not only will you make the other person feel good, but you'll also make great connections, which could lead to new opportunities.
Featured photo by Unsplash.
About David Em
Founder
David Em is the founder of Next Level Gents, the ultimate destination for tips and advice about style, grooming, fitness, and success.