Readers are leaders. Books help you expand your mind and capacity. Here's a list of the 25 best success books to help you take life to the next level.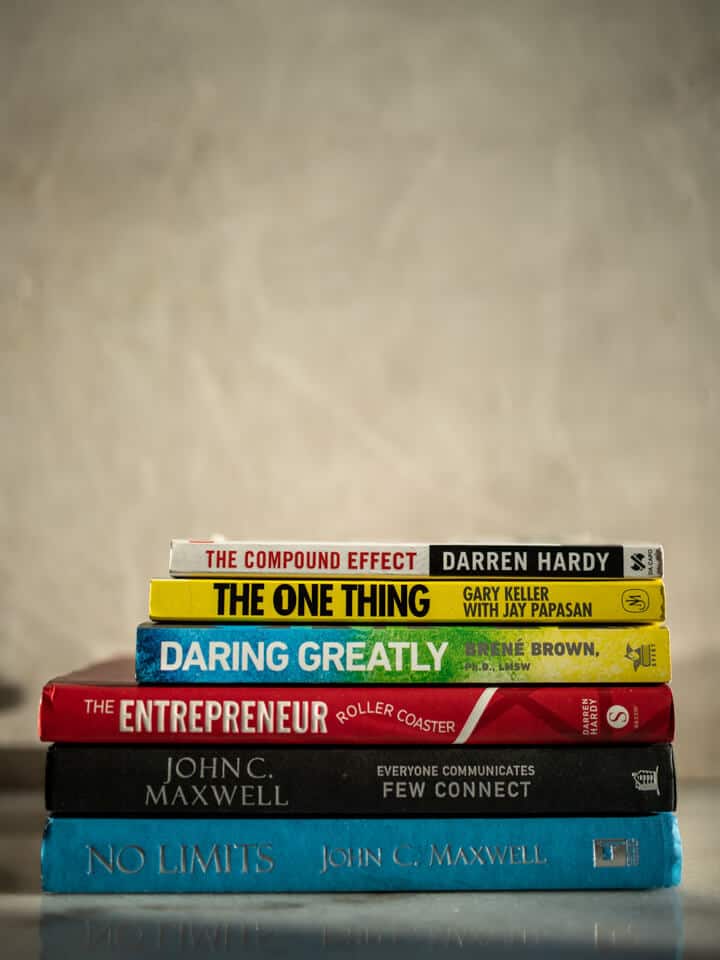 This post contains links to products from one or more of our advertisers. We may receive compensation when you click on links to those products. For our affiliate disclosure, visit this page.
1. How to Win Friends and Influence People by Dale Carnegie
How to Win Friends and Influence People teaches you life skills to make other people feel important. By taking an interest in other people, you are more attractive. Not just by looks but by character and personality. This classic tops the list of best success books.
2. The One Thing by Gary Keller
The One Thing is all about the one thing. What is the one thing you can do right now to make everything else easier? This book is all about prioritizing and focusing on one thing to become extremely productive.
3. Start with Why by Simon Sinek
Start with Why is all about your mindset. Why is the reason people do things, make decisions or purchase products. It only makes sense to start with why.
4. Focal Point by Brian Tracy
Focal Point teaches you how to achieve your dreams and goals faster and easier. Where we focus our energy is our focal point. Learn how and where to apply your time to be successful.
5. The Magic of Thinking Big by David Schwartz
The Magic of Thinking Big teaches you where to start when developing the most important belief in success, the belief in yourself. David shows us how to feel fully capable of doing what we want to do.
6. Think and Grow Rich by Napoleon Hill
Think and Grow Rich is all about mindset and thinking things into fruition. Napoleon Hill teaches us how to have a money mindset and that wealth begins with your mindset.
7. No Limits by John Maxwell
No Limits helps us increase our capacity to be able to achieve anything. John Maxwell acknowledges how we tend to limit ourselves in many areas of our lives and teaches us how to "blow the cap off" of our capacity.
8. The Compound Effect by Darren Hardy
The Compound Effect is all about the power of the small, daily choices we make. These daily steps can create HUGE results.
9. Daring Greatly by Brene Brown
Daring Greatly is about having the courage to be vulnerable. Doing so leads to true confidence and strength.
10. Boundaries by Henry Cloud and John Townsend
Boundaries teach us how to say no. By learning to say no (which can be hard), we will be able to take control of our lives and not be subject to others controlling our lives.
11. Everyone Communicates, Few Connect by John Maxwell
Everyone Communicates, Few Connect teaches us how to truly connect with people. This book is very good at helping with communication skills. John Maxwell is the author of many of the best success books and is an accomplished leader in personal development and leadership.
12. The Entrepreneur Roller Coaster by Darren Hardy
The Entrepreneur Roller Coaster shows that entrepreneurship is a roller coaster. Darren Hardy shows us what it takes to start a business and how to prepare for the ups and down of entrepreneurship. He provides useful and timeless information for anyone who is thinking about starting a business.
13. The 48 Laws of Power by Robert Greene
The 48 Laws of Power explains principles to gain and stay in power. Simple a must read.
14. The Miracle Morning by Hal Elrod
The Miracle Morning teaches us that you must start the day off with "wins" and personal development. Having a dedicated morning routine will change your life.
15. Extreme Ownership by Jocko Willink and Leif Babin
Extreme Ownership is exactly what it sounds like. This book teaches us how to lead and how important your team is.
16. I Will Teach You to Be Rich by Ramit Sethi
I Will Teach You to be Rich is a personal finance book that teaches you the different areas of personal finance you must take ownership over and thrive in. Ramit covers topics ranging from credit score to budgeting.
17. You Are a Badass by Jen Sincero
You are a Badass helps you overcome fears and doubts. By taking risks and confronting your fears, you will live a more free and successful life.
18. Multipliers by Liz Wiseman and Greg McKeown
The book Multipliers teaches how to be a great leader by making everyone else better. By helping others, you will grow and so will your organization, business, etc.
19. The Go-Giver by Bob Burg
The Go-Giver explains the principles of success. This book shows us the power of giving and taking your eyes off of yourself to focus on helping others.
20. The Power of Now by Eckart Tolle
The Power of Now is all about the present. Eckhart Tolle explains how to let go of fear and pain. By releasing, we can focus on the present and have peace in life.
21. Thinking Fast and Slow by Daniel Kahneman
Thinking Fast and Slow explains the difference between logical and emotional thinking. Daniel Kahneman shows us how to change the way we think.
22. Rich Dad, Poor Dad by Robert Kiyosaki
Rich Dad Poor Dad explains how his father and his best friends father shaped the way he thinks about money and investing. Robert Kiyosaki also teaches how to make money work for you. The is one of the best success books of all-time.
23. How Successful People Think by John Maxwell
How Successful People Think talks about changing your mindset. John Maxwell shows steps to change your way of thinking to improve your life.
24. The 10x Rule by Grant Cardone
The 10x Rule is about figuring out whatever it is you want and multiply the effort and time it will take by 10. People often underestimate the effort it takes to be successful but by doing these things that Grant Cardone teaches, you will succeed.
25. Crushing It! by Gary Vaynerchuk
Crushing It is about growing your personal brand. Gary Vaynerchuk teaches you how to build a business with growing a personal brand and monetizing it. This book is a favorite to many young entrepreneurs and concludes our list of the best success books.
Stay connected with us on Instagram and Facebook!
Featured photo by David Em/Next Level Gents