Jim Rohn was an entrepreneur, author, and speaker. Read his best quotes to expand what you believe is possible.
We receive a commission when you buy through affiliate links on this page.
Jim Rohn was born in Yakima, Washington, in 1930. He began his career working as a stock clerk, and after attending a presentation given by J. Earl Shoaff, his life changed for the better.
Related: 30 best self-help books
Rohn decided to become a direct marketing distributor, then asked Shoaff to be his mentor and learned everything he could.
In 6 years, Rohn earned his first million, then lost it. A few years after that, he made his fortune, once again. The loss resulted in one of his most famous quotes.
Rohn said, "If someone hands you a million dollars, best you become a millionaire, or you won't get to keep the money."
He also said that it was easier than the first time because he knew how to do it.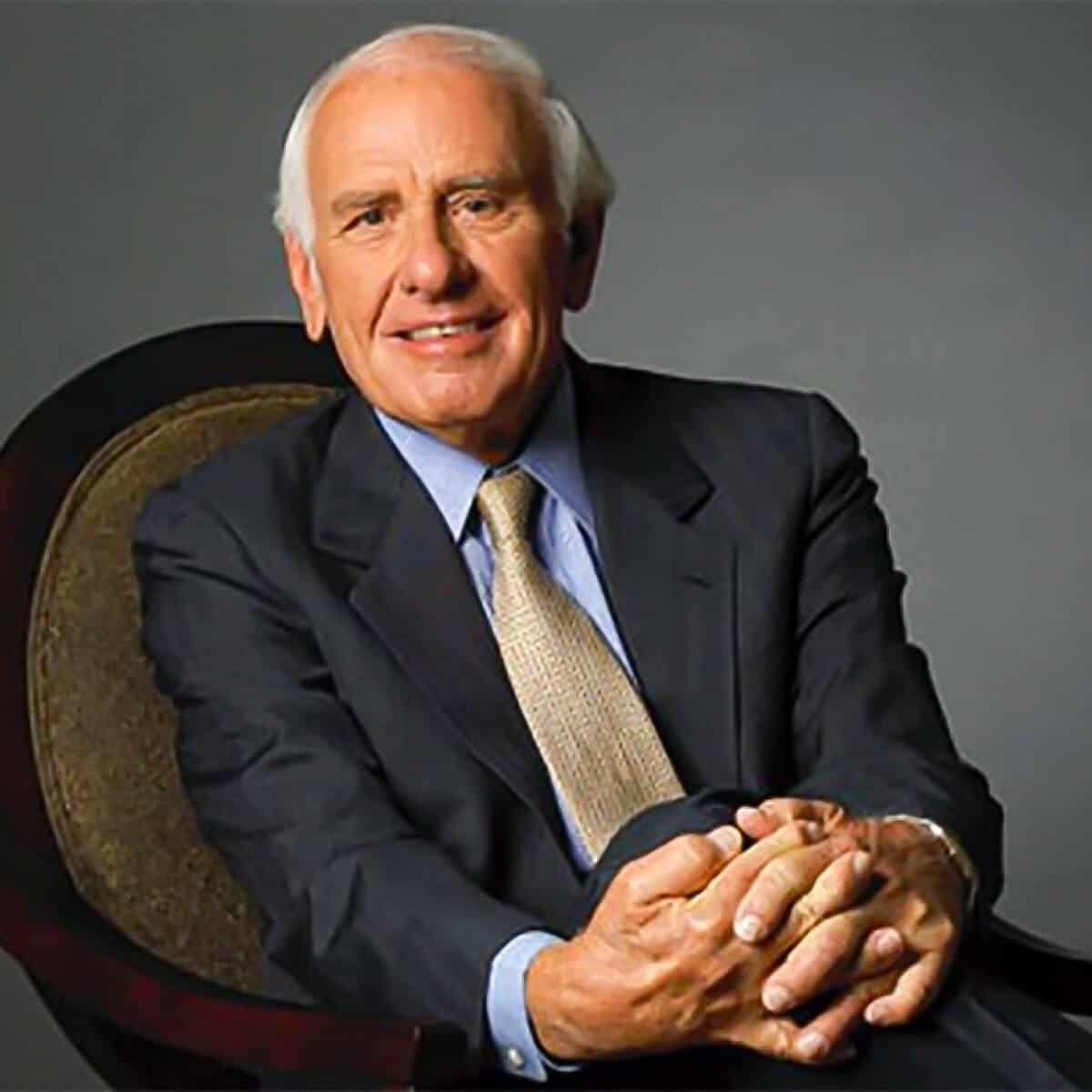 Shortly after, Jim gave his first public speech and began traveling to share his philosophy.
Since then, he has been an instrumental player in personal development and even mentored Tony Robbins.
Throughout his life, Rohn built a net worth of $500 million dollars.
Related: The power of association
Although he passed away in 2009 due to Pulmonary fibrosis, his words of wisdom continue to make a positive impact and change lives.
The best Jim Rohn quotes of all time
1. "If you are not willing to risk the unusual, you will have to settle for the ordinary." -Jim Rohn
2. "Discipline is the bridge between goals and accomplishment." -Jim Rohn
3. "Start from wherever you are and with whatever you've got." -Jim Rohn
4. "Motivation is what gets you started. Habit is what keeps you going." -Jim Rohn
5. "Either you run the day, or the day runs you." -Jim Rohn
6. "Formal education will make you a living; self-education will make you a fortune." -Jim Rohn
7. "Happiness is not something you postpone for the future; it is something you design for the present." -Jim Rohn
8. "We must all suffer one of two things: the pain of discipline or the pain of regret or disappointment." -Jim Rohn
9. "Without constant activity, the threats of life will soon overwhelm the values." -Jim Rohn
10. "Take care of your body. It's the only place you have to live in." -Jim Rohn
11. "Work harder on yourself than you do on your job." -Jim Rohn
12. "Never wish life were easier, wish that you were better." -Jim Rohn
13. "Unlike your fingerprints that you are born with and can't change, character is something that you create within yourself and must take responsibility for changing." -Jim Rohn
14. "You cannot change your destination overnight, but you can change your direction overnight." -Jim Rohn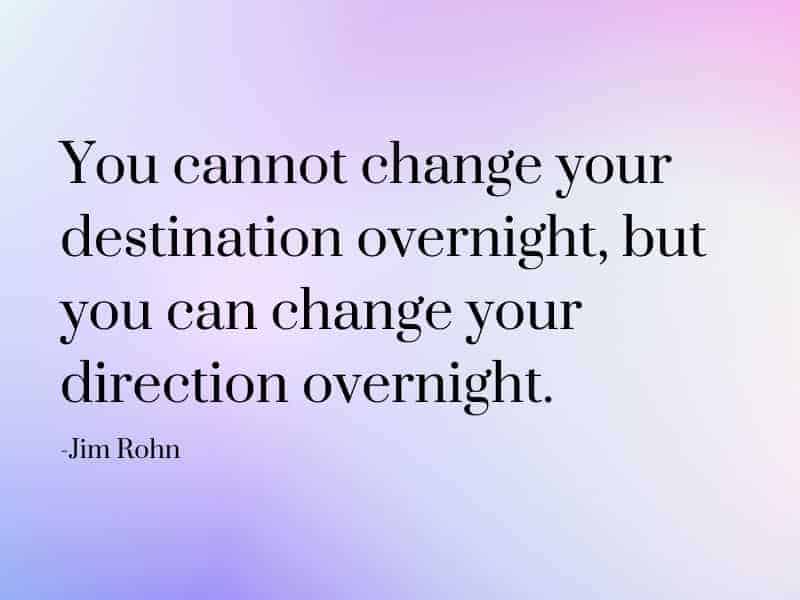 15. "We get paid for bringing value to the market place." -Jim Rohn
16. "Success is steady progress toward one's personal goals." -Jim Rohn
17. "Giving is better than receiving because giving starts the receiving process." -Jim Rohn
18. "When you know what you want, and you want it bad enough, you will find a way to get it." -Jim Rohn
19. "Learn how to be happy with what you have while you pursue all that you want." -Jim Rohn
20. "If you don't design your own life plan, chances are you'll fall into someone else's plan. And guess what they have planned for you? Not much." -Jim Rohn
21. "The more you care, the stronger you can be." -Jim Rohn
22. "Don't say, 'If I could, I would.' Say, 'If I can, I will.'" -Jim Rohn
23. "Whatever good things we build end up building us." -Jim Rohn
24. "Don't wish it was easier, wish you were better. Don't wish for less problems, wish for more skills. Don't wish for less challenge, wish for more wisdom." -Jim Rohn
25. "You are the average of the five people you spend the most time with." -Jim Rohn
26. "If you really want to do something, you'll find a way. If you don't, you'll find an excuse." -Jim Rohn
27. "The challenge of leadership is to be strong, but not rude; be kind, but not weak; be bold, but not bully; be thoughtful, but not lazy; be humble, but not timid; be proud, but not arrogant; have humor, but without folly." -Jim Rohn
28. "The only way it gets better for you is when you get better. Better is not something you wish, it's something you become." -Jim Rohn
29. "Don't let your learning lead to knowledge. Let your learning lead to action." -Jim Rohn
30. "Success is not to be pursued, it is to be attracted by the person you become." -Jim Rohn
31. "If you don't like how things are, change it! You're not a tree." -Jim Rohn
32. "How long should you try? Until." -Jim Rohn
33. "Character is a quality that embodies many important traits, such as integrity, courage, perseverance, confidence and wisdom. Unlike your fingerprints that you are born with and can't change, character is something that you create within yourself and must take responsibility for changing." -Jim Rohn
34. "Your personal philosophy is the greatest determining factor in how your life works out." -Jim Rohn
35. "No one else 'makes us angry'. We make ourselves angry when we surrender control of our attitude." -Jim Rohn
36. "Days are expensive. When you spend a day you have one less day to spend. So make sure you spend each one wisely." -Jim Rohn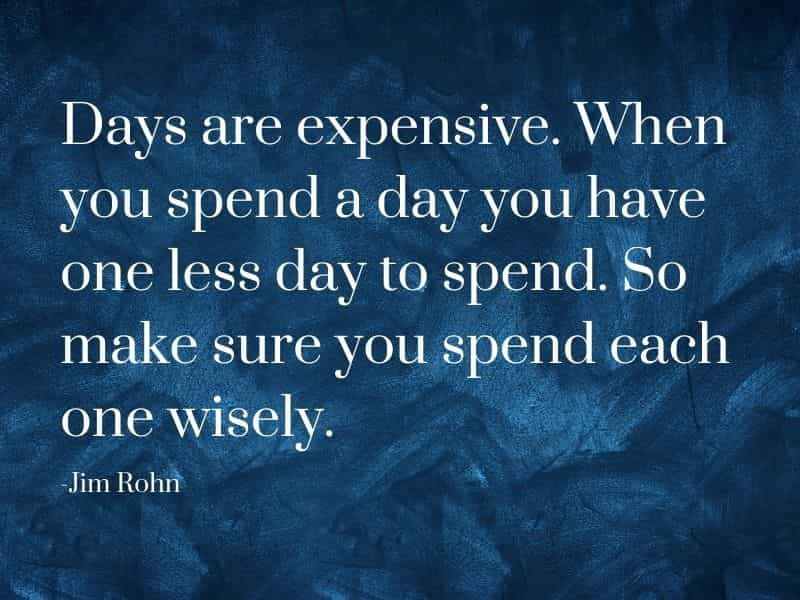 37. "Give whatever you are doing and whoever you are with the gift of your attention." -Jim Rohn
38. "Take advantage of every opportunity to practice your communication skills so that when important occasions arise, you will have the gift, the style, the sharpness, the clarity, and the emotions to affect other people." -Jim Rohn
39. "Life and business is like the changing seasons. You cannot change the seasons, but you can change yourself. Therein lies the opportunity to live an extraordinary life–the opportunity to change yourself." -Jim Rohn
40. "The big challenge is to become all that you have the possibility of becoming. You cannot believe what it does to the human spirit to maximize your human potential and stretch yourself to the limit." -Jim Rohn
41. "Successful people do what unsuccessful people are not willing to do." -Jim Rohn
42. "Success is doing ordinary things extraordinarily well." -Jim Rohn
43. "Whether we are working to improve our health, wealth, personal achievement, or professional enterprise, the difference between triumphant success or bitter failure lies in the degree of our commitment to seek out, study, and apply those half-dozen things." -Jim Rohn
44. "Success is the continual unfolding of the design of your life and pulling it off. That's what success is." -Jim Rohn
45. "Goals. There's no telling what you can do when you get inspired by them. There's no telling what you can do when you believe in them. There's no telling what will happen when you act upon them." -Jim Rohn
Books by Jim Rohn
The following are the top books written by Jim Rohn:
Conclusion
Jim Rohn spoke to more than 6,000 audiences in his lifetime.
Now that you've read his best quotes, you can see why he made a tremendous impact.
As a major player in personal development, Rohn shared that success is a choice. You can achieve your dreams.
Featured photo by jimrohn.com.
About David Em
Founder
David Em is the founder of Next Level Gents, the ultimate destination for tips and advice about style, grooming, fitness, and success.