Looking dapper in your suit comes down to the fit. When you buy a suit, it most likely won't fit. A good tailor can help you look your best.
Estimated reading time: 6 minutes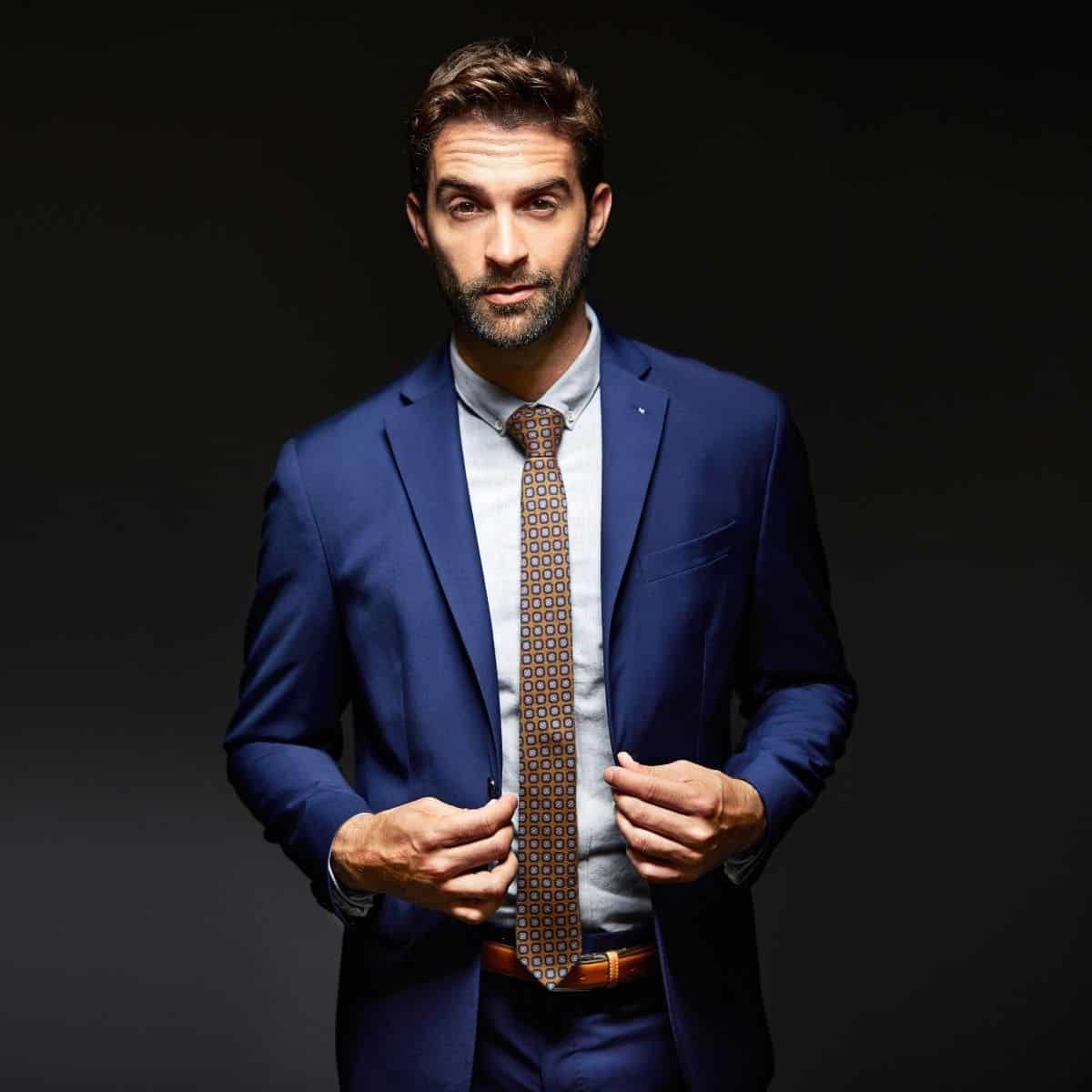 An impeccable suit isn't defined by how much it costs, the style, or the brand. Instead, it's about how well it fits you.
Related: How to wear a suit without a tie
The only guaranteed way to obtaining a perfectly fitting suit is by having it properly tailored to your measurements.
Getting an accurately tailored and well-fitting suit will not only take your outfit to the next level but also enhance your potential of looking more attractive and stylish.
While it's essential to get a correctly-sized suit, it's more vital for it to be tailored in different areas to perfectly fit your body.
Doing this will differentiate you from just someone in a suit to a stylish person in a perfectly tailored suit.
Related: Tie combinations for a blue suit
But how can you get a suit tailored to fit your body perfectly? Learn essential insights to help you get a suit properly tailored.
How a suit should fit
Snug shoulders and tapered sides characterize a perfectly tailored and stylish suit. Some of the aspects to keep in mind during the tailoring process are as follows:
Aim for a suit with a slim, flattering fit and clean lines that highlight your body shape.
The suit shouldn't restrict your movements in any way.
For a business or office suit, it's best to ask the tailor to add slight paddings to the shoulders. However, suits without extra shoulder support are usually more comfortable, don't restrict movement, and are excellent for warm weather.
The jacket sleeve length should reveal about half to three-quarters of an inch of the shirt sleeve.
Aim for a jacket that's not too long or too short. It should be able to cover your bottom but short enough to clearly show your leg line.
Related: 9 best unstructured blazers
How to get your suit properly tailored
Several things come into play to get a well-tailored suit, including fit and style.
It would help to determine the occasion you intend to wear the suit to since the look may vary with different events. For example, wedding suits may have varying features than business suits.
The weather and temperature also play a role when getting a suit tailored because of the type of fabric.
In terms of style, the most skilled tailors will help you decide the best kind of suit and fit.
The following are the most important adjustments to properly tailor a suit.
1. Jacket adjustments
Your suit's jacket can significantly impact how you look. You need to ensure that you get the proper size and the shoulders fit according to your frame.
For a more customized look, you can change the buttons, lapels, vents, pockets, and lining type for your suit jacket.
A poor shoulder fit is usually impossible to correct. So, ensure that you get the precise size for your body.
When the suit fits your shoulders, you can let out or bring in your jacket's sides to make everything fit well.
You'll also want it to fit trim your stomach and chest area with a small tension at the upper button.
2. Tapering or widening pants
Your trousers are an important part of an impeccable suit. The length and shape matter.
You don't want to wear pants with noticeable extra fabric. Instead, wear one that's tapered and accentuates your legs.
Regardless of your height, legs size, or build, getting your trousers tapered will provide you a put-together and refined look.
However, it's also crucial to consider having enough room to sit and walk freely.
3. Waist and seat alterations
Your waist and seat should have a snug fit. Make sure it's not too big or small. It must allow you to sit and stand without feeling uncomfortable.
While an excellent tailor can alter the waist. It should fit well before the alteration.
Your tailor can bring in or let out up to an inch. However, that's the maximum that should be done.
4. Pant hem
A pant hem describes the plain folded part on the fabric's bottom. Most suits usually come with unfinished hems because it allows you to tailor them according to your height and preference.
You need to select the right hem type and size for your suit. Usually, a quarter-inch or half-inch break is perfect. Anything longer risks your trousers being too baggy or long.
What a tailor can and can't do
It's hard to find a perfectly fitting suit off the rack. Therefore, take your suit to a reputable tailor to customize it to your preference and body.
Usually, tailors can't make suits bigger, but they adjust them to be snugger. It's best to buy a suit that's slightly larger than smaller because it's easier to alter.
However, tailors are limited on what they can and can't do. Learn what's possible when it comes to tailoring a suit.
The following are alterations that a tailor can do:
Shortening, narrowing and lengthening the sleeves
Adding buttons.
Altering the suit's hems and cuffs.
Changing the trousers' length.
Tapering and reducing the width of the pants.
Reducing from and adding to the waist.
The following are things a tailor can't do:
Changing the jacket's shoulder width.
Altering the button profile.
Reshaping the jacket's quarters.
The following are alterations that an exceptional tailor can do, but it's not advisable:
Altering the back vent openings.
Shortening the suit's jacket by a small length at the bottom.
Changing lapels.
Fixing the shoulder divots.
Changing the jacket's collar.
Changing the shoulders pad levels.
Conclusion
A well-tailored and stylish suit is essential to have. However, you need to know the specific alterations necessary for a perfect fit.
The most crucial alterations to focus on are those made on the coat, pants, waist, seat, hems, and cuff.
It's also advisable to build a good relationship with your tailor to help you have your best look. It would be best to communicate with your tailor clearly and be straightforward.
Related articles:
Featured image courtesy of Canva.
About David Em
Founder
David Em is the founder of Next Level Gents, the ultimate destination for tips and advice about style, grooming, fitness, and success.