A well-fitting suit makes you look and feel confident. After buying one, get your suit tailored. Learn what to know about alterations beforehand.
If you want to look impeccable when you dress up, get your suit tailored.
It takes your outfit to the next level and makes you look more attractive.
Related article: How to Wear a Suit Without a Tie
Regardless of how much your suit costs or the brand, it won't look good if it doesn't fit well.
While the right size is essential, the only way to get the perfect fit is to tailor it to your measurements.
Your suit must conform to your body's shape while allowing room to breathe and move.
A tailored suit will make you stand out from someone wearing a decent suit to a dapper and stylish person.
Related article: How to Properly Fold a Dress Shirt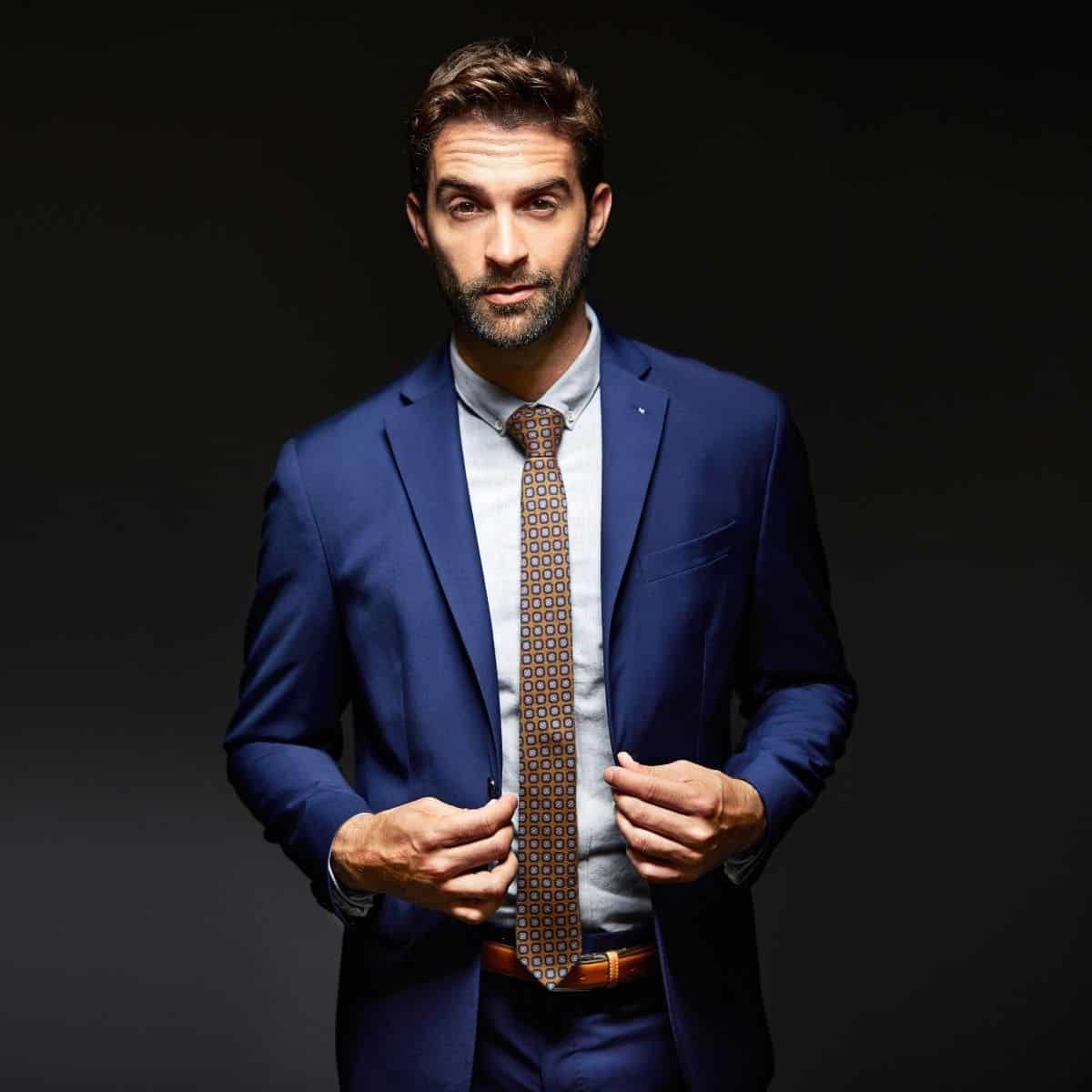 When you get a new one, make your way to the tailor to make the pieces fit better and be more comfortable.
The following is your complete guide to suit alterations. You'll learn how to get the perfect fit without sacrificing quality.
Jacket adjustments
The perfect suit jacket is a balance of the chest, shoulders, and arms.
A disruption in one of the areas leads to issues in another, and it can make the entire jacket look off.
When buying a suit jacket, the shoulders must fit well.
A tailor can't do much to fix shoulders that are too big or small. So, the proper shoulder size is essential.
The pads of the suit jacket should hug your shoulders. It shouldn't be restrictive or hang past your shoulders.
Aside from the shoulders, it's better to have a suit a bit longer or wider. It's easier to remove the excess fabric than add it.
The main alterations you need for a suit jacket are adjusting the sleeves and sides.
Shorten or extend the sleeves based on the length of your arms.
Also, about half an inch of your shirt sleeve cuff should be visible.
Then, let out or bring in the sides to give you a v-taper look.
The stomach and chest area should have a trim fit with slight tension at the upper button.
You can adjust the length of the jacket, as it's all about proportions.
So, the jacket should end about halfway from your neck to the ground.
Other jacket alterations include changing the buttons, lapels, vents, pockets, and lining type.
Related article: The Best Tie Colors to Wear with a Blue Suit
Pant width and taper
The bottom half of a suit is as important as the top.
The ideal fit for suit pants is a balance between the waist, seat, crotch, and legs.
When wearing your pants, you should have a tailored silhouette.
The pants shouldn't have extra fabric, as it'll give you a messy look.
Your tailor can taper or let out the pant legs.
The ideal width is where you can pinch an inch or two of fabric on the sides of your legs.
Your dress pants will be slim while having enough room to sit and walk.
Pant length and hem
The hem of your trousers is the bottom. Many suits come with unfinished hems, allowing you to tailor them to the length you want.
The length of your dress pants depends on the break you want. The following are the different levels and what they mean:
No break: Your pants stop right above your ankles, and your dress socks will show.
Partial (quarter and half) break: Your pants reach the top of your dress shoes and form a small crease.
Full break: Your pants have extra fabric at the bottom, forming a more pronounced crease.
Choose between no break, a partial break, or a full break. Anything shorter is too short, and longer is too long.
The ideal length is no break or a partial break, as a full break is more conservative and can seem baggy.
When you get your suit tailored, hemming your trousers is a must-do.
Waist, seat, rise, and crotch
Another essential alteration to the pants is the waistline. It's an easy one.
The waist should have a snug fit as if you're wearing a belt. A tailor can take in or let out the waist.
Related article: Should You Wear a Belt or Suspenders?
The crotch and rise are two other important alterations.
The ideal rise is where the waistband sits on middle or upper part of your hip. It should be below your belly button.
The crotch is where the seams from the highs meet.
The area should fall flat against your body. It shouldn't be too roomy or too tight.
On the back, you have the seat of your dress pants.
The seat should follow the curves of your year without being skin-tight or too baggy.
When you put on the suit jacket, your outfit should look like a whole streamlined piece. It should be cohesive and tapered.
What a tailor can and can't do
It's hard to find a perfectly fitting suit off the rack. Therefore, take your suit to a reputable tailor to customize it to your preference and body.
Usually, tailors can't make suits bigger, but they adjust them to be snugger. It's best to buy a suit that's slightly larger than smaller because it's easier to alter.
However, tailors are limited on what they can and can't do. Learn what's possible when it comes to tailoring a suit.
The following are alterations that a tailor can do:
Shortening, narrowing and lengthening the sleeves
Adding buttons.
Altering the suit's hems and cuffs.
Changing the trousers' length.
Tapering and reducing the width of the pants.
Reducing from and adding to the waist.
The following are things a tailor can't do:
Changing the jacket's shoulder width.
Altering the button profile.
Reshaping the jacket's quarters.
The following are alterations that an exceptional tailor can do, but it's not advisable:
Altering the back vent openings.
Shortening the suit's jacket by a small length at the bottom.
Changing lapels.
Fixing the shoulder divots.
Changing the jacket's collar.
Changing the shoulders pad levels.
Suit tailoring terms you need to know
Before you get a suit tailored, learn the common terms. You'll be able to communicate clearly and effectively with your tailor.
Bring down: To increase the length of a garment.
Bring up: To shorten the length of a garment.
Functioning buttonholes: Also known as working buttonholes or surgeon's cuffs. They work as a closure, unlike decorative buttons. You can button or unbutton them.
Hem: The end of a garment.
Let out: To resew a garment's seams with extra fabric, making it bigger.
Lining: A suit jacket's inner fabric. It can be unlined, half-lined, or fully-lined.
Seam allowance: The excess fabric on the inside of your seams.
Take in: To taper or make a garment smaller by resewing the seams.
When you talk to a tailor, communication is key. Be straightforward and honest about what you want.
It'll make the process smooth, and you'll be happy with the results.
Frequently asked questions about suit alterations
How much does it cost to have a suit tailored?
The cost to tailor a suit depends on what alterations you need. Taking in or removing the sides can start at $25. If you need a bespoke suit, you can expect to pay at least $1,500. If you bought a new suit and want to make several adjustments, it may cost around $100.
How quickly can I get a suit tailored?
The standard turnaround time for suit alterations is one week. If you need it sooner, talk to a tailor about the possibility.
How much can a suit be tailored down?
If you're buying a suit and are unsure about size, it's better to get one a little too big instead of small. You can alter it to be smaller, but it's hard to make it bigger. When it comes to alterations, you can tailor it two sizes down.
Conclusion
A suit projects elegance, confidence, and authority. It makes you feel powerful, as it commands respect.
How good you look in one is about the fit, rather than the cost or where you bought it.
While you must get a well-fitting suit, the key is to take it to a tailor.
The basic alterations are on the coat, pants, waist, seat, hems, and cuff.
Alterations don't cost much or take much time. So, they're well worth it.
Get your suit tailored as soon as you can.
Featured image courtesy of Canva.
About David Em
Founder
David Em is the founder of Next Level Gents, the ultimate destination for tips and advice about style, grooming, fitness, and success.